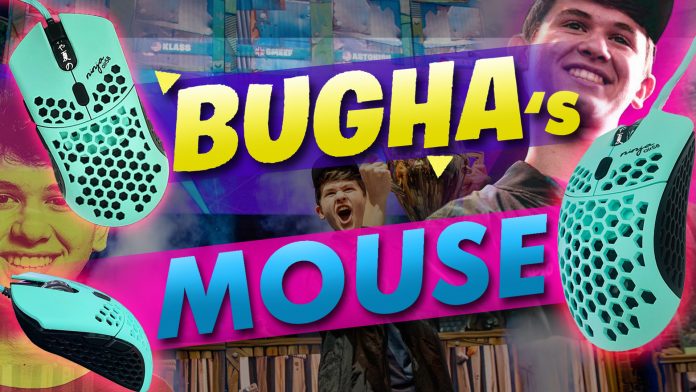 Bugha is the first Fortnite player to win the Fortnite World Cup (Solo) and won a total of $3,000,000 in prize money.
THIS MAN JUST WON THREE MILLION DOLLARS.@BUGHA #FORTNITEWORLDCUP pic.twitter.com/LB43UGGV9h

— Sentinels (@Sentinels) July 28, 2019
Bugha became popular overnight and even one of the most famous and most competitive Fortnite players around the world. With a skill set that could literally win millions of dollars, people from all over the world are starting to follow him on Twitch.
With over 2.8 million followers on Twitch, many have wondered what kind of gaming peripherals he's using. Aside from his keyboard, people are also wondering what type of gaming mouse does he use.
In this article, we covered everything you need to know about Bugha as a professional Fortnite player, as well as the gaming mouse he's using.
Who is Bugha?
Lyle "Bugha" Giersdorf is an American streamer and YouTube content creator who won $3 million at the inaugural Fortnite World Cup. That's a lot of money, especially for a 16-year-old. That's right, at his young age, he's already a multi-millionaire personality.
He's so confident he's going to win the tournament that he even Tweeted, "Today was indeed the day…", just hours before the tournament.
Today was indeed the day… 🏆

— Bugha (@bugha) July 28, 2019
Like many other streamers and gamers, Bugha grinds his way to become a professional. But before he became eligible to compete at the Fortnite World Cup in New York, he had to compete on Fortnite via their Arena mode, where you have to place high to get invited to other game competitions.
Even though Bugha was qualified for the World Cup in Solos' first week, he wasn't considered one of the favorites, especially since bigger, more popular streamers like Tfue had participated in the event.
Bugha's performance in the tournament was consistent throughout and always place higher on top of the Fortnite World rankings.
Bugha's Professional Career
On March 25, 2019, The Sentinels announced that Kyle "Bugha" Giersdorf would represent the organization's Fortnite roster.
Bugha started playing Fortnite since Season 1 and had obviously grown through the years. Before he jumped on the PC platform, he started as a console player and finally decided to switch in Season 3.
But he's not always a part of The Sentinels, as he previously played for other professional teams in the past such as No Clout.
Bugha's Current and Old Gaming Mice
Bugha's Old Gaming Mouse: Final Mouse AIR58 Ninja CBB Edition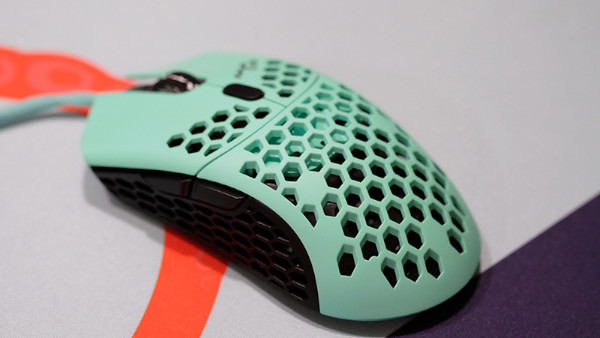 Tech Specs:
Weight: 58 grams | Length: 12.8 cm | Width: 6.0 cm | Height: 4.0 cm | Shape: Ambidextrous | Cable Type: Soft Braided | Cable Length: 1.9 meters | Number of buttons: 5+1 DPI switcher Button type: Omron | Polling rate: 500Hz | Sensor: Pixart PMW3360
The mouse has an ambidextrous design, which makes it perfect for both left- and right-hand users. Unfortunately, the mouse only has side buttons for right-handed users. But note that this gaming mouse only weighs 58 grams. No wonder they named this "Air58" because it's way lighter than the average light gaming mice in the market.
On paper, most light gaming mice weigh just a little below 100 grams, while average and casual gaming mice usually weigh around 100 grams to 125 grams. The super-light design led to more concerns than praise since not many people are not used to a sub-100 gram gaming mouse, let alone a 58 gram one.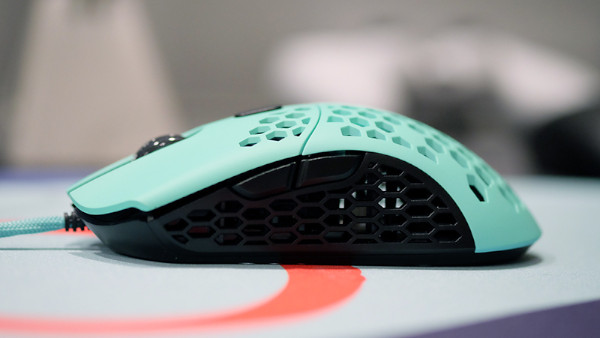 Now, you might be thinking that the gaming mouse is small, too. But no, it actually is just as big as an average gaming mouse. It's designed also fits perfectly for both grip and palm users. Fingertip users might overcalculate their aims because of their super light weight, although it can be fixed by buying a mouse pad with a rough texture to counter the weight.
Another notable design that the Ninja Air58 gaming mouse has is the "hole" design (pun intended). This allows air to circulate more freely under and around your hands, so it's unlikely for most people to sweat while playing, even after hours of scrims.
The design also allows users– fingertip users included, to easily lift the mouse off the ground. And since it's only 58 grams, this shouldn't feel tiring or pressured at all, even for extended use.
Both left and right buttons give off a smooth click. The same can be said with the scroll wheels, too. But some have mentioned that it might be too smooth. Personally, the mouse wheel could use a little textured feel when scrolling as the notch seem to be too soft, at least for me.
The mouse may be made of plastic, but I'm surprised that it doesn't feel cheap at all. In fact, it's comfortably soft. The cables are also one of the most notable features of the mouse. I'm surprised at how light it feels despite its thick appearance.
If you're using a bungee, you may have problems fitting it in due to its thickness. It's also braided but doesn't feel hard at all. If you try to hold the cord, you'll be surprised at how flexible it is.
Performance-wise, the mouse uses a top-tier sensor called Pixard PMW3360. Unlike some gaming mice in the market, the sensors won't randomly spin out of control– which is very important when playing fast-paced FPS games.
The polling rate of a gaming mouse is something people think is as essential as other features. In the case of the Air58, it only has a polling rate of 500Hz. If you're going to compare this with some of the premium gaming mice, you'll see how it falls substantially behind by 500Hz.
On paper, it does look like a huge loss, but in reality, the difference is almost non-existent. Some streamers and professional eSports players are using gaming mice with a polling rate of 1000Hz, but Bugha's achievement is a living testimony that it doesn't really matter unless you specifically wanted a gaming mouse with a polling rate of 100 Hz in the first place.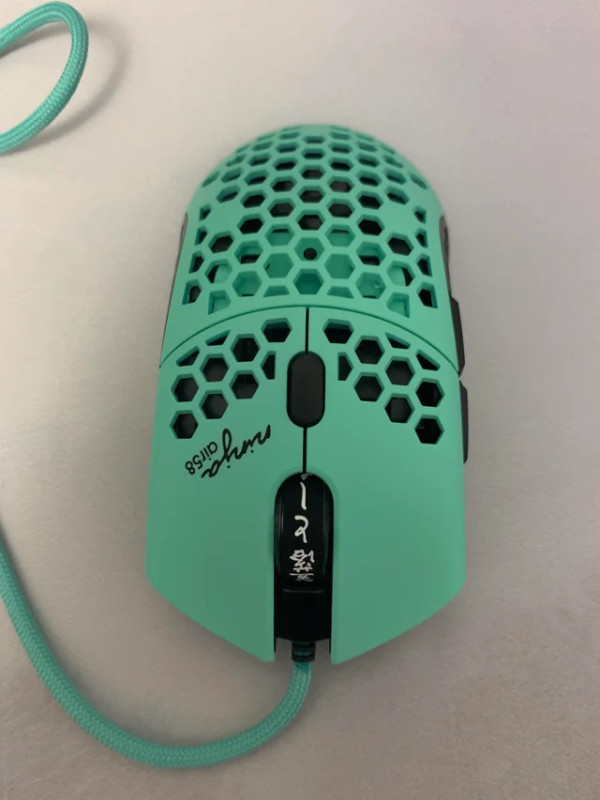 Now, the mouse only has a total of 4 DPI settings, which starts at 400 DPI, 800 DPI, 1,600 DPI, and a max DPI of 3,200. The DPI switch is conveniently located in the middle to make DPI alterations on-the-fly or as needed.
Unfortunately, the mouse lacks significantly in the lighting and customization department. You see, it doesn't have any RGB lights and a dedicated software where you can make customizations and whatnot.
But overall, the mouse delivers despite being leaned towards minimalists. And if you wish to become just as good– or even close as good as Bugha, this mouse will definitely help you become better at aiming. That is if you can still find these available since it's extremely limited.
General Comparison
How does the weight of the mouse feel as compared to a wireless gaming mouse?
Let's take the Logitech G Pro Wireless as an example since it's one of the lightest wireless gaming mice in the market, weighing only 85 grams. To be honest, the Air58 gaming mouse feels more wireless than the Logitech G Pro Wireless since it's about 30 grams lighter. That means gliding and making quick turns feels easier and smoother on the Air58.
However, the Logitech G Pro Wireless still wins over the Air58 in terms of durability because Finalmouse had issues regarding durability in a few of their products in the past.
How does the design feel as compared to a mouse that focuses on ergonomics?
If we compare this with Logitech's DeathAdder gaming mouse– a product famous for its ergonomic design, the Air58's doesn't fall far behind as its design makes up for it. The holes make it easier for users to hold the mouse conveniently and carry it around. Paired with its super lightweight, and the experience feels phenomenal, to say the least.
Since the Air58 doesn't have any dedicated software for any customization, the Razer still wins this comparison if we're to include flexibility and lighting.
Essential Tips You Should Consider When Buying a Gaming Mouse
To be able to become as good as Bugha, you need to pick the right gaming mouse for you. But it's not going to be easy, especially with all the overwhelming choices in the market these days.
So, exactly how can you tell which gaming mouse is perfect for you? Here are some vital aspects you should take note of to pick the best one that will work for you.
What Games Do You Usually Play?
The type of games you play matters when choosing a gaming mouse. Gaming mice are designed to maximize your potential as a gamer, and if you pick the wrong one, you're putting your entire gaming career at risk.
If you play MMORPG games, you know how important it is to connect your skills to execute a smooth combo. By default, your skills are mapped from 1 – 9. And it's not going to be easy to perform a combo if the skills are so far away from your fingertips. This is why a gaming mouse with side buttons should help you greatly.
In the case of FPS gaming, you'll want a gaming mouse that will help improve your aim. You won't be needing plenty of buttons to be as good as Bugha, so even as few as 5 or 7 buttons should do fine.
Note that other gaming mice do have a dedicated sniper button, but considering how people are used to pressing right-click to aim, having to re-learn everything can be a challenge to some.
Do You Need a Wired or a Wireless Gaming Mouse?
Over the past few years, gamers would choose a wired gaming mouse all day, and that's because wired gaming mouse doesn't have any input lag, unlike a wireless gaming mouse.
But as technology improved through the years, wireless gaming mice are starting to compete and perform just as good as wired gaming mice. Take for example Shroud's gaming mice. It's a wireless gaming mouse that performs just as good as any wired gaming mouse in the market.
Ultimately, it boils down to which you prefer, since both have its ups and downs. In general, wired gaming mice are cheaper compared to wireless gaming mice. Also, they have less input lag compared to wireless gaming mice but can sometimes mess with your aim since the wires are known to have the potential to get tangled at times.
Portability is also another factor or reason why you should choose wireless over wired gaming mice. But as mentioned, it boils down to which you prefer and how much you're willing to invest.
Consider the Way You Hold Your Mouse
Another thing you have to consider is the way you hold the mouse. There are many types of grip styles, but there are three known popular ones used by gamers: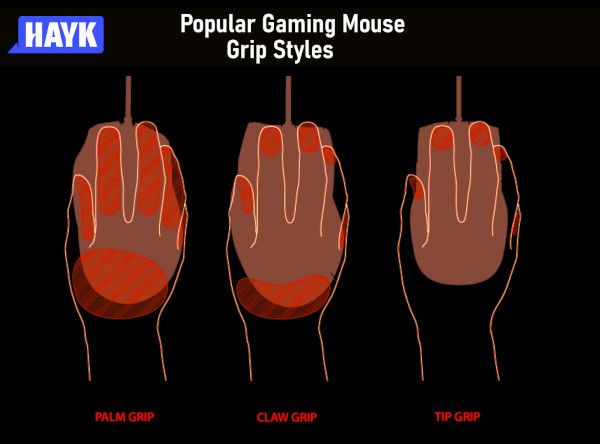 Palm Grip
This grip style is the most common grip style among the three. Most of your palm is rested on the entire body of the mouse. Although it's the most comfortable, it does compromise your aiming skills since your reaction time will be significantly affected.
Claw Grip
This represents the actual "claws" of a bird. Both of your fingers are curved over the left and right buttons, ready to press when the need arises.
Because of its style, you react faster in games and allows you to take full control of your movement to hit your targets more precisely. However, the design isn't recommended for extended use as it can be tiring for long sessions.
Fingertip Grip
Of the three types of grip, this is probably the most tiring since you'll only be holding the mouse with your fingertips. The way you hold the mouse also allows you to have full control of the mouse.
Each mouse is designed not just to improve your gameplay but also to ensure you're comfortable when holding the mouse. Designers and developers of gaming mice these days go to extra lengths by ensuring each mouse is perfect for a specific or two grip styles. On top of that, they also choose to ensure they're best for either FPS or MMO.
Check the Weight
Do you prefer lightweight gaming mice, or do you prefer the heavier one? Weight plays a vital role in gaming that could make or break your overall experience.
Because of this, gaming manufacturers have come up with methods for adjusting the weight of the mouse by adding features such as weight adjustment systems. Note that it's also crucial for you to pick the right mouse pad to maximize your aim potential further when playing games.
DPI and Sensors
Gaming mice have different DPI settings and sensors. On paper, these do vary greatly, but you almost wouldn't notice any difference until you try it out in a game.
For FPS gamers, sensors are probably the most critical feature of a gaming mouse, while the number of buttons matters more for MMO gamers. Furthermore, DPI is also vital for FPS players as this allows them to adjust the mouse's sensitivity easily. But on top of those, ergonomics and comfort play a vital part.
To date, there are two types of sensors: the optical and the laser sensors. The main difference between these has something to do with the DPI setting. Gaming mice with laser sensors can track more than 2,000 DPI, while optical mice can only track between 400 to 800 DPI.
Conclusion
Buying a gaming mouse doesn't have to be dependent on what mouse your favorite streamer or eSports player is using. Ideally, you want to choose which type of gaming mice fits your game style and your personality.
Make sure you read our in-depth buying guide if you're not sure, and tell us in the comment if Bugha's gaming mouse fits your needs.