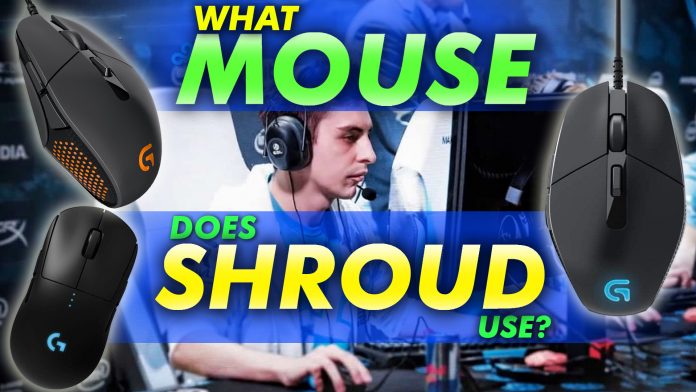 Counter-Strike: Global Offensive retired professional, Michael "Shroud" Grzesiek, is one of the most popular streamers of the game to date. During his four year career, he played with approximately five professional eSports CS:GO teams. With his latest team, Cloud 9, he placed within the top 5 over seven times in national and international tournaments. Four of these finishes were 1st place.
After his retirement in April of 2018, Shroud decided to explore other opportunities as a world-renowned Rifler, or CS:GO support and gaming influencer. He currently lives in California as a full-time streamer on Mixer.
During both his professional eSports and streaming careers, Shroud always uses high-quality, highly responsive, sleek, and sturdy mice for gaming. Below is a list of his current and two most recently used gaming mice with detailed reviews about the pros and cons of each. Enjoy!
What Mouse Does Shroud Use Now?
Currently, Shroud uses the Logitech G Pro Wireless Gaming Mouse with eSports Grade Performance.
Logitech G Pro Wireless Gaming Mouse with eSports Grade Performance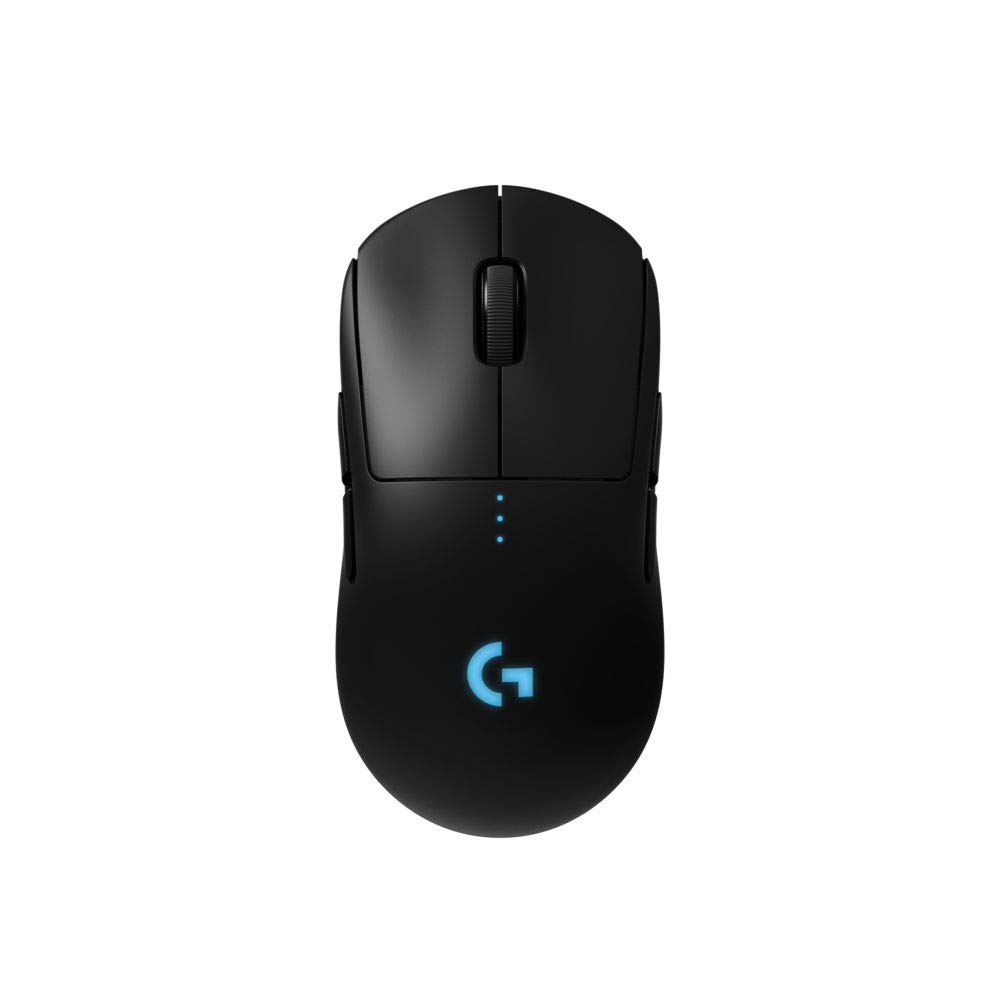 The Logitech G Pro Wireless is incredibly sleek and simple in appearance but it is packed with features. Just from first glance, you would never guess this unassuming mouse is a state of the art gaming mouse.
The mouse itself is a medium size, just over 12cm in length and 6.3cm in width. This makes it the perfect size for a wide variety of hand sizes and grip types.
When you pick the mouse up, you will note that it is incredibly light, weighing in at a minuscule 81 grams. Being a light gaming mouse, combined with the fact that it's completely wireless, makes it possible to create lightning-fast movements with this mouse. It's perfect for games where every millisecond counts, like in first-person shooters (FPSs) and multiplayer online battle arenas (MOBAs).
The G Pro Wireless is completely covered in matte black coating with a simple Logitech logo on top. It is a simple design with only three vertical dots as light-up features. It's a timeless look.
The coating is also highly protective, standing up to sweaty palms from all the intense in-game moments as well as dirt and stains. It never loses gripping property either, which is very important for schedules with long tournaments or gaming events.
Logitech worked with numerous pro gamers for the creation of the G Pro Wireless and one major way the project was impacted is the universal shape. In addition to the simple, timeless finish, they created a simple, timeless shape. The mouse itself is relatively flat with no awkward bumps or grooves. Its shape flows well with a variety of grip types and works well for both left- and right-handed gamers.
Another impressive note is Logitech's LIGHTSPEED technology demonstrated in the G Pro. Even though it is a fully wireless mouse, this technology makes it so that the G Pro can actually transmit signals faster than most wired mice. As a wireless product, gamers never have to worry about a cord in the way or running out of room, but with LIGHTSPEED, they still get a mouse with zero delays or interference. The fifty-hour battery life is just icing on the cake.
It would make no difference the speed at which signals were transmitted if the signals themselves were not properly and quickly sensed. The G Pro Wireless Mouse is built with Logitech's special High-Efficiency Rated Optical (HERO) sensor. This sensor is incredibly sensitive, but consumes little power, contributing to an overall very long battery life. With the HERO sensor, there will be no jittering, angle snapping, smoothing, or prediction — just every movement, click, and roll is translated with 1:1 accuracy in-game.
Lastly, as a bonus, Logitech has made the G Pro Wireless portable, even beyond in-game movements. The USB receiver component has a convenient slot at the bottom rear of the mouse body. Insert it and keep it safe while using the included packaging's durable plastic pedestal to store the G Pro whenever it's not in use. Better yet, with it's sly, unassuming design, take it with you to work or on your next trip! There's no doubt gamers like Shroud love the ability to safely and easily travel with their favorite gear.
This beautiful mouse does have a few cons. The first of which may or may not impact your game, depending on your personal preferences and playstyle. There is no top-side DPI button and there are only a few side buttons. The DPI button is actually located on the bottom of the mouse, which is very uncommon for high-end gaming mice. This seems to have been a stylistic choice for Logitech, so if you use the DPI button in-game or if you need a ton of side buttons, this is not the mouse for you.
Most people will need to save for a few months in order to splurge on this luxury gaming mouse. It is brilliant and impeccably calculated, but it does come at a steep price. With as quickly as technology develops, it will be important to consider the endgame here. As it stands, there are already mice which are comparable in-game for a third of the cost — although they are usually heavier and wired.
Shroud's Previous Mouse
In the past, Shroud has used the Logitech G302 Daedalus Prime MOBA Gaming Mouse and the Logitech G303 Daedalus Apex Performance Edition Gaming Mouse. These gaming mice, designed with the feedback from FPS, MOBA, and performance gamers.
1. Logitech G302 Daedalus Prime MOBA Gaming Mouse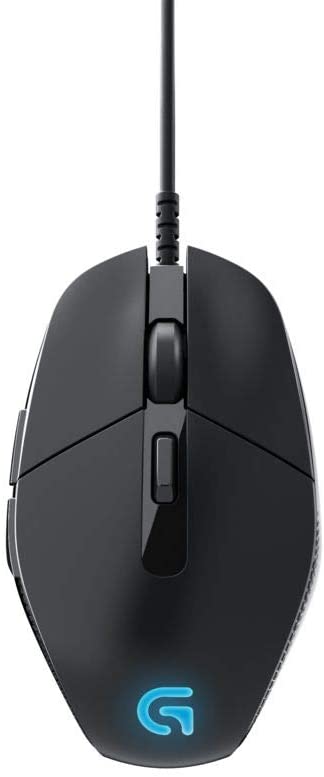 The Logitech G302 Daedalus Prime MOBA Mouse is a prime example of the saying "less is more". It is a very solid and simple mouse build while still providing a very responsive product at an affordable price. It was developed specifically with the input and feedback of professional MOBA players and streamers.
The G302 is about 85 grams, still incredibly light and comfortable, especially for claw grip users. There are 6 buttons with smooth action and response, all contained by a highly aesthetic, mostly ambidextrous design.
The first thing you will notice when you take the Logitech G302 Daedalus Prime out of the box is its simple, yet attractive design. The Daedalus Prime combines matte and glossy textures in a beautiful and functional way, ensuring a slip-free gaming experience. There is a calm, pulsating effect in the side lighting and the Logitech logo.
The six buttons on the G302 include a DPI adjustment button on top of the mouse. Logitech decided to keep the button count relatively low on the Daedalus Prime MOBA mouse because typically players of MOBAs and MOBA-style games don't need many additional in-game buttons. This stylistic choice is true to its name and helps keep the design simple. There are two fully customizable buttons in addition to the left, right, and clickable mouse wheel for a total of six in all.
Due to its simplicity, the mouse is fully functional as a plug and play. However, Logitech also includes some downloadable gaming software to add additional customizations.
Even though the Logitech G302 Daedalus Prime comes at a very affordable price point, Logitech keeps a very responsive mouse design. The G302 touts a 1 millisecond response time ensuring there is no lag, no jerks, and no snapping in-game. It's also rated for 20 million button clicks, meaning regardless of the in-game situation, you can rest assured you'll be able to click to your heart's desire with no delay or diminishing response.
The simple design of the G302 lends itself to immense ease in handling and the small size is especially good for those that use a claw or fingertip grip, as well as those gamers with smaller hands. The G302 Daedalus Prime is made for MOBA games, but it's size and responsiveness make it an excellent gaming mouse for any genre requiring few additional buttons and/or high clicking capabilities.
The sensor on the G302 is highly variable and can be set anywhere within 240dpi and 4,000dpi. Using the DPI switch button located on the top of the mouse, gamers can cycle through four dpi presets in-game. This gives the option to use a different dpi as needed, for example, when sniping at a lower dpi before moving in for melee combat at a much higher dpi. The sensor even performs with a high level of accuracy regardless of the surface on which the mouse is located — including mousepads, polished wood, Formica, and an open notebook.
Even though the dpi button is located on top of the Daedalus Prime for easy in-game accessibility, it is not a combination of up and down buttons. Logitech chose to use a single cycle button, likely for simplicity and clean appearance. This means that if by chance you missed your preferred dpi setting, you would have to cycle back through the other three settings a second time before arriving at it again. It could make for a very hairy in-game scenario and a potentially confusing or frustrating cycling countdown.
The Logitech G302 seems to want to be ambidextrous. It's shape as well as the ability to switch the functionality of the left and right buttons suggest comfortable usability for both left- and right-handed users. However, the two customizable side buttons are not removable but stationary on the left side. Sadly, left-handed gamers would lose the ability to use these buttons in-game with this otherwise ambidextrous mouse.
The much less expensive G302 is a wired mouse, like most mice at its price point. Wired mice lose some movement flexibility and will always have the potential to run short, get caught, or tug. The Logitech Daedalus Prime MOBA does, however, include a 7-ft long USB cord to lessen the potential for these unfortunate events.
2. Logitech G303 Daedalus Apex Performance Edition Gaming Mouse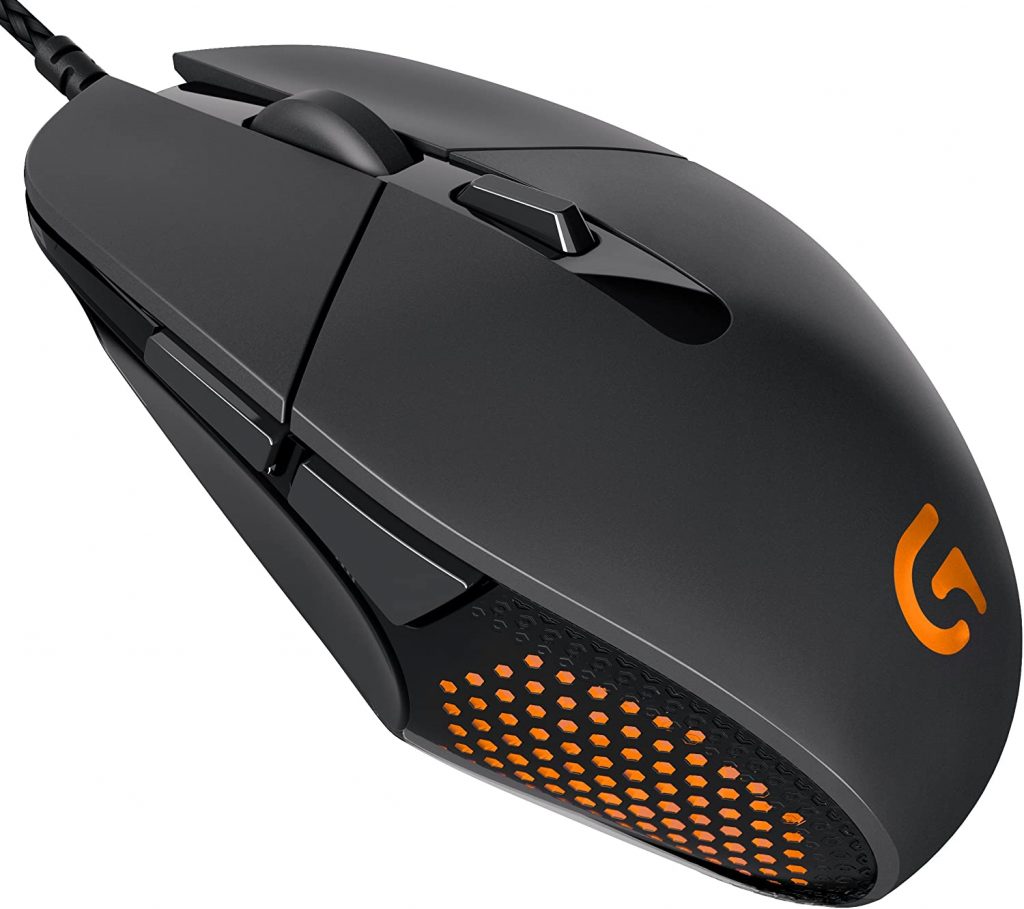 The Logitech G303 Daedalus Apex Performance Edition Gaming Mouse offers an extremely polished technology and performance. It is a fairly simple mouse, most easily described as a general-use repurposed MOBA-optimized mouse. It is basically the G302 with a massive sensor upgrade and additional usability and customizability features. The G303 Apex offers improved usability across multiple genres and a variety of gaming situations. The only exception to this is the case of hardcore massively multiplayer online games (MMOs), as there are only three buttons beyond the basic left, right, and middle click.
The design is sleek and thoroughly illuminated. The mouse itself is relatively small at 4.53" high by 2.56" wide with a depth of 1.46" and somewhat lightweight at 3.07 ounces (approximately 87 grams).
One great thing about the Logitech G303 Daedalus Apex Performance Edition is its physical design. It is nearly identical to that of the Daedalus Prime, however, this features a comfortable resting place for the palm and almost symmetrical shape that is great for left- and right-handed users both. It is highly durable with no shaking or rattling noises and a sturdy build.
An all-new feature not offered in the G302 Prime is the completely customizable lighting scheme. The G303 Apex can cycle through colors continually or select a single color to function in what Logitech refers to as "breathing mode". This is the calm, pulsating illumination Logitech is well-known for. You can even select the speed at which the color will pulsate using the intuitive software included with the Apex Performance Edition mouse.
The Logitech G303 offers an automatic adjustment feature to detect surfaces from within the software. Simply perform a tracking test by moving the mouse in a figure-eight pattern several times. The software will automatically adjust its sensor and you can save this as a new surface profile within your customization settings. On the other hand, there are also two presets available, specifically tailored for Logitech's G-series mousepads.
Speaking of sensors, likely the most advanced part of the Logitech G303 Daedalus Apex is the sensor. Logitech included a PMW3366, a highly-rated precision optical sensor that offers precision tracking at up to 12,000dpi — a whopping 8.000dpi availability increase on the G302 Daedalus Prime. This high-end sensor ensures maximum responsiveness in tracking, smooth at high sensitivities and with minimum acceleration.
In addition to the PMW3366 sensor, the G303 Apex has extremely responsive left and right mouse buttons, each of which is rated for 20 million clicks. The special metal-spring button tensioning system keeps the left and right mouse buttons positioned precisely — reducing pre-travel and backlash.
Like the G302 Daedalus Prime, the G303 Daedalus Apex's dpi button is placed on top of the mouse as a cycling option. It is a little hard to reach while aiming, and the lack of up and down dpi choosing buttons means that in-game cycling can become tedious should you miss the targeted dpi setting.
Also, the ability to be fully ambidextrous is lost on the G303. Similar to the G302, there are two customizable buttons located in the right-handed thumb position. These buttons are stationary, so left-handed gamers would lose the option to utilize these two buttons.
Choosing From Shroud's Favorites
Shroud has used a wide variety of gaming mice over the years, just like how other notable professional competitive players like Bugha, among others. Both in Shroud's time as a professional gamer and, more recently, as he's switched to full-time streaming, he is undoubtedly one of the best Rifler support players in Counter-Strike: Global Offensive, and he needs the best possible mouse to do so.
When choosing a great new gaming mouse to use, Shroud seems to prioritize functionality and usability over all else. With his current mouse, the Logitech G Pro Wireless, the design is so simple, if you didn't know any better, you may mistake it for a non-gaming mouse. Despite this, the G Pro Wireless is one of the most technologically advance mice on the market. And it has the price tag to prove it.
Shroud's previous mice offer much friendlier price points in exchange for some usability and functionality. The most basic is the G302, but basic doesn't mean unusable. Professional gamers all over the world have helped develop and vouch for the ease of use, responsiveness, and design of the G302, as it is a highly-functioning, "nothing but the basics", "nuts and bolts" mouse. It is a wired option, but its long cord tries to alleviate some of the troubles of wired mice. The G302 is an excellent option without all the bells and whistles.
As for the G303 Apex, Shroud himself basically vouches for the G302 in purchasing a similar, but upgraded model. The additional software features of the G303, as well as the greatly improved sensor, make it another great gaming mouse option.
When it comes to FPS and MOBA games, every millisecond counts. You can't allow mouse poor response time, cursor jumping, or click diminishing to slow down your game. One mistake could mean the death of your character and/or the loss of the game. Shroud knows this. His Rifler legacy in CS:GO is a testament to that. Don't waste time and money trying mouse after mouse when there are great options already reviewed and available. It's time to step up your game by stepping up your gear.
If you want to ensure your game is never limited by the mouse you use, try one of Shroud's mice.