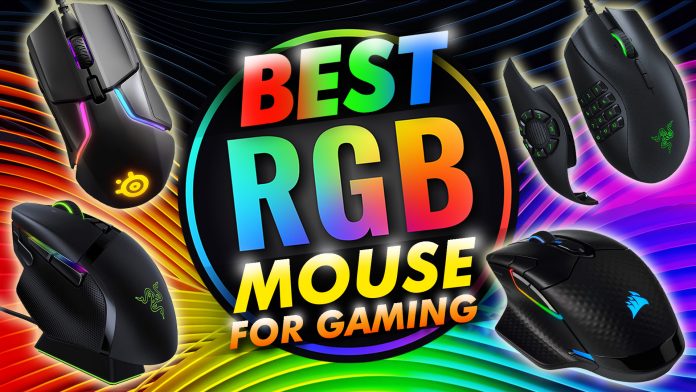 You're almost done with your dream rig. You've got an RGB motherboard, all the RGB fans and RGB LED strips your rig could power, hell, even your 750W PSU has RGB on it. But you're still missing a couple of things: an RGB keyboard, and an RGB mouse. Of course, you won't be skimping on those.
The best RGB mouse for gaming is hard to pin down, but we're here to help. We've put together a list of the best mice with the best lights and even have an article dedicated to those who are looking for lightweight gaming mice, so you're only going to have to compare them based on their features. Check it out and take your pick!
Best RGB Mice at a Glance
SteelSeries Rival 600 | Overall Best Gaming RGB Mouse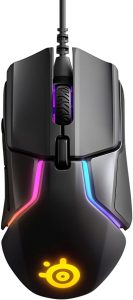 Sensor: TrueMove 3+ Optical Sensitivity: 12,000 CPI Buttons: 7 Connection: Wired
The Rival 600 is SteelSeries' premium flagship mouse, and it truly shows. Under the hood, it features dual optical sensors: one that tracks side-to-side movement and another that detects lift-off. The Rival 600 was created for e-sports players that have a different meta when it comes to moving their mouse around (read: violently, in every direction.) Having that second sensor helps prevent the mouse from tracking anything when it's in the air, even if it's a mere 0.5mm from the mousepad.
Its second big feature is the custom weight system. The Rival 600 gives you the option to place 4g weights on for spots on each side of the mouse. This unlocks a whole new level of customization that adds as much weight as you want to the mouse, and also choose where you want that weight to be. This is an RGB mouse with bright lighting, great comfort, and adjustable CPI settings, with a couple of extra features that we just haven't seen in any other type of mouse.
SteelSeries Rival 3 | Affordable RGB Mouse for Gaming

Sensor: TrueMove Core Optical Sensitivity: 8,500 CPI Buttons: 6 Connection: Wired
For budget seekers that still want high-quality performance, the SteelSeries Rival 3 is the perfect fit for you. It's a budget-priced product that doesn't short you on performance, features, and aesthetics. Its design may be as basic as vanilla ice cream with only 6 buttons, but still has highly customizable RGB lighting and a high-performance sensor that helps you track better (especially if you have a 144hz monitor!)
The Rival 3 tracks up to 8,500 CPI, which is great for those that want it. However, it's going to be more than enough for people who play FPS games, where DPI sensitivity is mostly on the low side. High tolerance means it maintains tracking even if it's moving 300 inches per second, or accelerating up to 35G, which is a feat impossible for even Shroud himself. Overall, this budget RGB mouse punches way above its weight and is a solid choice for budget rigs.
Razer Basilisk Ultimate | Best Palm Grip RGB Mouse for FPS Games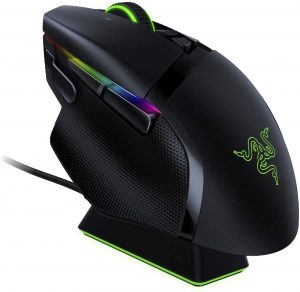 Sensor: Focus+ Optical Sensor Sensitivity: 20,000 DPI Buttons: 11 Connection: Wireless or wired
The Razer Basilisk has long been a favorite in a lot of FPS gaming circles since 2017, thanks to its high-level performance and prevalence in the e-sports scene. Razer generously gave it an update that keeps the same form but with its internals raised to the next level.
Its shape and DPI clutch remain as they were with the original Basilisk, but adds wireless capability along with the fastest sensor Razer ever made. There are even optical switches to reduce latency between presses. There's no doubt about it, this mouse is about fast.
It feels great and plays great, thanks to the ergonomically shaped for palm grips, and the handy dpi clutch lets you switch sensitivities on the fly. It truly feels like a race car in the palm of your hand. The 11 programmable buttons make this a great choice for RTS players who want better APM, and FPS players who need to keep their hands on the WADS keys.
Razer Viper Mini | Best Fingertip Grip Mini RGB Mouse for Gaming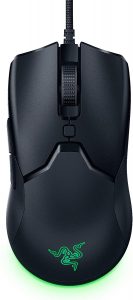 Sensor: Optical Sensitivity: 8,500 CPI Buttons: 6 Connection: Wired
If you play RTS games, have small hands, or just don't like the bulky design of gaming mice, Razer still has you covered. The Viper Mini takes the svelte curves of the original Razer Viper but in a smaller form factor. This shrinkage also makes it a bit lighter, while the middle of the mouse is a little taller to let the hand rest a bit more, as compensation for the shrunken width and length.
The Razer Viper Mini is still a gaming mouse at its core, with a high DPI sensor that can track up to 8,500 DPI. Some extra thumb buttons and minimalist but striking RGB lighting speak to its gaming pedigree. And, like all Razer products, it works with the Synapse software that helps sync up all your Razer RGB peripherals. The only thing that might stop you from buying this is due to its wired setup, but Razer has engineered its cable to have less drag than traditional wires.
Razer Naga Trinity | RGB Mouse for MMO Gaming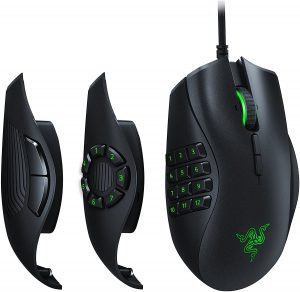 Sensor: Optical Sensitivity: 16,000 DPI Buttons: 19, 14, or 9 Connection: Wired
Naga has been the go-to for MMO gamers who need quick access to many different keys. The Razer Naga Trinity is the ultimate interpretation of this idea: it features a customizable thumb grip that lets you choose to have not 9, not 14, but 19 buttons. So if you're playing something as key-heavy as EVE Online, this is the perfect mouse for you.
We particularly like the MOBA array, which offers seven buttons circled around your thumb. It has enough buttons to map multiple abilities or macros for max customizability, and unlike the biggest module, feels a lot more ergonomic.
Despite being modular, the mouse still feels very solid. Strong magnets snap the side panels into place, keeping them from wiggling. Otherwise, nothing has changed between the Naga Hex and this one, at least externally. This mouse is highly recommended for people who play MOBAs, MMOs, RTS, or graphic artists that bind their tools to keys for easy access.
Logitech G502 Lightspeed | Modular Weight Wireless RGB Mouse for Gaming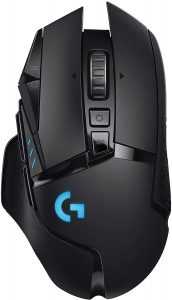 Sensor: Hero Sensor Sensitivity: 16,000 DPI Buttons: 8 Connection: Lightspeed Wireless
The G502 Lightspeed from Logitech is an ergonomically designed wireless gaming mouse, part of Logitech's pricier line of wireless mice. Its design is based on the G502 Proteus Spectrum, only this time with Logitech's supreme wireless technologies: lightspeed wireless connection, and Powerplay wireless charging.
Its sharp, edgy angles lend a very geometric design to the G502, making it look straight out of Blade Runner. Though its sharp angles look like they could slice your hand, it's actually one of the most comfortable mice we've ever tried out. Its curves wrap around your thumb and support the entire hand.
A cool feature of this mouse is its customizable weight attachment, letting you shift the mouse's center of gravity and add at 16 grams to its total weight, which is great for people who want steadier, less erratic movements. High customizability is hard to come by when it comes to mouse, and this feature might make it stand out amongst the other RGB gaming mice.
Logitech G203 Lightsync | Best Budget RGB Mouse for Gaming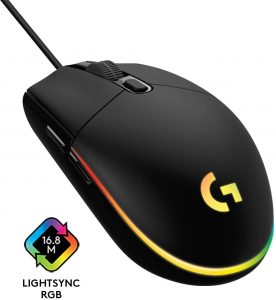 Sensor: Optical Sensitivity: 8,000 DPI Buttons: 5 Connection: Wired
There may be a ton of "budget" gaming mice with a lot more RGB in them, but none of them can hold a candle to the reliability of the Logitech G203 Lightsync. Mimicking the design of mice like the G304, the Lightsync is a three-zone RGB wired gaming mouse that's as simple and minimalist as they come, with Logitech's reliable engineering powering the whole thing.
This all-around trooper is consistent in delivering stable performance in such a sleek, small form factor. Its sensor is rated for up to 8,000 DPI and has responsive switches that ensure a smooth operating experience.
It's very similar to the G203 Prodigy except for the inclusion of the three-zone RGB lighting on this model, compared to the single-zone lighting for the Prodigy. Not a huge change design wise, but it does make for a more striking look than its predecessor. Besides, when has extra RGB not been a good thing?
Corsair NightSword RGB | Top RGB Mouse for MOBA Gaming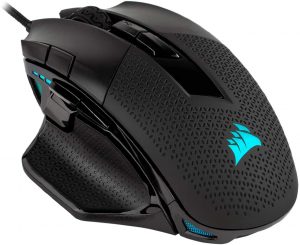 Sensor: Optical Sensitivity: 18,000 DPI Buttons: 10 Connection: Wired
This highly customizable beast of a mouse is specifically designed to cater to right-handed claw-grip gamers that play MOBA, RTS, and FPS games. It has all the programmable buttons and sensors a gamer could ever need, plus an option to add six underside weights to adjust the mouse's center of gravity.
But it doesn't stop there. Corsair's proprietary iCUE software doesn't just control your RGB lighting, it also tracks how the NightSword's customizations affect the way you play, giving you recommendations on what you can do to further up your game.
It's slightly bigger than the average gaming mouse, which is great news for gamers with bigger hands. It also offers users a rubber-covered finish, a roomy thumb rest, and 10 easy-to-access mouse buttons for total control.
Corsair Dark Core RGB Pro SE | Ergonomic RGB Mouse for Gaming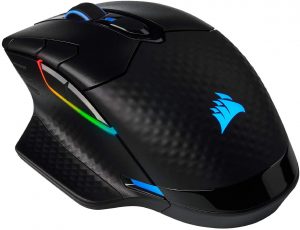 Sensor: Optical Sensitivity: 18,000 DPI Buttons: 8 Connection: Wireless
This high-end wireless RGB mouse is a comfortable, ergonomically designed mouse that still manages to look cool. It features a high arch that makes relaxing during long sessions of gaming or work possible.
Compared to the G502 Lightspeed, it looks and feels a lot less angular and sharp, making it easy for anyone to adapt to it pretty quickly. Internally, the Dark Core is one of the most advanced RGB gaming mice Corsair has ever released.
USB-C support and Qi wireless charging are just the tip of the iceberg. It can switch between 2.4 GHz wireless mode through its dongle, or Bluetooth if you want to switch over the mouse to another device. A removable magnetic wing helps you customize its feel however you wish.
Corsair Ironclaw RGB | Best RGB Gaming Mouse for Large Hands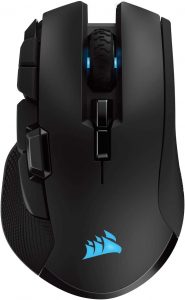 Sensor: Optical Sensitivity: 18,000 DPI Buttons: 7 Connection: Wired
Corsair's mice prioritize comfort a lot, and the Ironclaw is a great example of it. It's the best mouse we've ever had for people with big hands. Design wise, it uses a strange combination of materials that don't look like they belong in a gaming mouse, but somehow work extremely well together to create an ergonomic experience.
Smooth matte plastic dominate the mouse, accented by rubber sides with a diamond print, adding group. A uniquely wavy scroll wheel is coated in rubber allowing for better control over the speed. Instead of the traditional single material for the mouse's chassis, Corsair opted to insert each material in their own panels that adds to the overall excellent fit of the mouse.
It feels really cozy when using this mouse. The curved, domed fit feels perfect for righties. It feels strangely weighty for a wireless mouse, and we wished there was a bit more customization in terms of weights, such as removable panels. This weight however makes the mouse feel very premium.
HyperX Pulsefire Surge RGB | Best Looking RGB Mouse for Gaming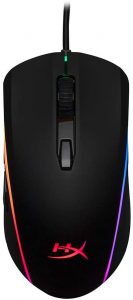 Sensor: Pixart PMW-3360 Optical Sensitivity: 16,000 DPI Buttons: 6 Connection: Wired
Finally, we have the HyperX Pulsefire Surge, which we think is the best-looking RGB mouse in this lineup. If you're looking for a mouse with as much RGB as possible, its 32-zone RGB lighting is here for you.
A high DPI sensor that goes up to 16,000 DPI gives gamers flexibility to customize how quick their flicks should be. It looks even more amazing with all the lighting modes built into the mouse, which are still customizable over HyperX's app.
Nice clicky switches, a Pixart 3389 sensor, and a smooth look and feel all make for a high-quality mouse that looks as good as it plays. If there's a category for being the ultimate RGB mouse, the HyperX Pulsefire Surge stands alone in it.
Frequently Asked Questions
What is an RGB mouse?
An RGB mouse is a mouse that's equipped with RGB LED lights for aesthetic purposes. Having more lights on your mouse does not necessarily make you better at video games, improve your aim, or increase your APM – they just look pretty.
More often than not, RGB mice are purchased to complement an already fully-RGB rig, where even motherboards and RAM are fitted with RGB lights. These mice are recommended for anyone who wants their PCs to look like a unicorn vomited on it and made it magical – which is 90% of our office.
What to look for in a RGB mouse?
When choosing an RGB mouse, you can't just look at which ones have the best lighting effects. Your mice have to work accurately so you can hit those clutch flicks at overtime, and not just sit there and look pretty. Here are some basic definitions about the features all RGB mice have so you have a better idea on what you need:
Grip: Refers to how the mouse is held. The most common ones are palm grip, claw grip, and fingertip. Palm grips are the most popular, taking up 50% of the market and is not limited to only gamers. Claw grips, the second most popular, is usually chosen by people who play RTS games, as it allows them to have more room to control additional buttons on the mouse and also improve mouse movement. Tip grips are the most extreme, with minimal contact between the hand and mouse. This grip uses fingertips to steer the mouse for super-fast movements and less strain on the hands and wrist.
CPI: Counts per inch refers to how many times the mouse sensor reads the mousepad for every inch it's moved. It's commonly referred to as DPI in many circles. The lower your CPI, the further you have to move your mouse to move the cursor.
Jitter: This refers to the inaccuracy of a mouse sensor reading the surface it is tracking. It often occurs at higher mouse movement speeds or high CPIs. Jitter makes your cursor "jump" in erratic patterns, which are truly perilous when you're trying to aim properly or make a misclick when playing an RTS.
Angle snapping: also known as prediction, angle snapping takes data from your mouse sensor and modifies its output to attempt smoother movements. For example, drawing a line with your mouse will make the line look jagged, especially when using higher sensitivity. Angle snapping smooths out these movements and gives you a straight line instead. For gaming, this usually isn't preferable as your hand and mouse have to work in a 1:1 ratio, which makes angle snapping a handicap instead of a boost. Thankfully, all mice on this list have this feature disabled by default.
Mouse acceleration: The most reviled feature among gamers, mouse acceleration means that software makes your cursor will move faster than you move the mouse. This is bad because your sensor won't read your input 1:1, making you overshoot your target. This feature essentially introduces an uncontrollable variable that's hard to predict, and can really mess with mechanics such as recoil control.
Control speed / malfunction rate: refers to the speed at which mice can be moved while keeping its sensor tracking accurately. The gaming mice in this list will track accurately even at slow speeds, but low CPI players often move their mice across large distances at very high speeds. With those kinds of speeds, not all mouse sensors will retain their accuracy. This is a variable to keep in mind when choosing your mice to ensure better accuracy when tracking your targets.
IPS: Essentially means "inches per second," it measures the effective maximum tracking speed a mouse sensor is rated for. The higher the IPS, the better it can keep up with high-speed movement and maintain accuracy. RTS players choose high IPS mice so they can keep their APMs up.
Lift-off distance: a popular metric in mousehead circles that doesn't really affect many gamers, LOD refers to how high your mouse has to be raised before the sensor stops tracking its surface. Some prefer to use mice with low LOD because they play at a low sensitivity, and often have to lift their mouse to "reset" their position.
How do I control an RGB mouse?
Your RGB mouse will likely come with partner software that allows you to control your mouse's RGB lights. Corsair, Logitech, SteelSeries, and Razer bundle their mice with software that allows them to control the lighting not just on their mouse but on other related peripherals as well. For example, if you pick up Logitech mice and pair it with other products in their G Pro line, you can set their RGB lights and patterns to match – or don't. Enjoy your customizability!
How to sync Corsair RGB mouse and keyboard?
Corsair's CUE LINK software makes it very easy for people who use Corsair peripherals to sync their RGB lighting. Sync up your mouse, keyboard, headphones, RAM, cooler, and even PSU with just this software. Boot up the software and let it look for which devices are compatible with CUE. From that point, just set which color or patterns you want to see and it'll sync right up!
What is the best gaming RGB mouse?
The best RGB gaming mouse, in terms of light zones, is the HyperX Pulsefire Surge RGB. However, it's a very basically designed mouse that some gamers might find lacking. If customization is important for you, the Razer Naga Trinity, with the option to add more buttons and weights, is the best choice.
More importantly, it is the one that feels right in your hand. While there are ergonomic or ambidextrous options, feel is what will make or break a mouse for you. Try different ones and see which mouse works for you!
Do I need an RGB mouse for gaming?
While RGB is not important to keep you at the top of your game, it is important to have a gaming mouse especially if you plan to play at the highest level. RGB gaming mice are designed to perform at a higher capacity than what regular bargain bin mice are capable of. The RGB is a nice touch and overall improves the look of your rig, but it is absolutely not needed to improve your game.
But of course, don't let that stop you.
Wrap Up
That wraps up this list of the best RGB mice for gaming. Our recommendations for the best RGB mice for gaming are: the SteelSeries Rival 6 for its unparalleled features and performance, the HyperX Pulsefire Surge for its great looks and RGB customizability, and the Razer Naga Trinity for the high number of button layouts you can load it up with. Make sure that the mouse you pick works well with the games you want to play!
Recap: Top 11 Best RGB Mice 2021