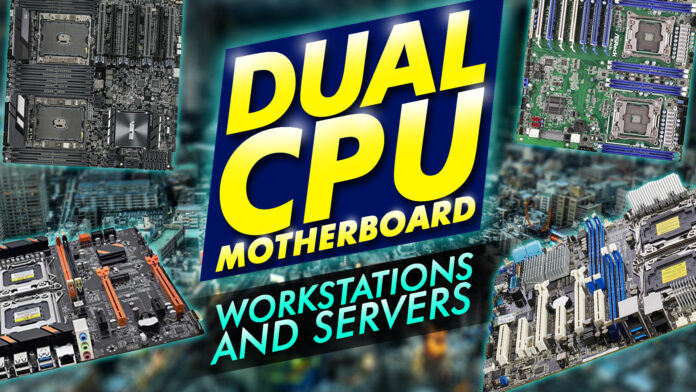 When building or buying a PC, it can be tough to figure out what arrangement of components works best within your budget for your needs. You'll have to pick the best motherboard for your Ryzen 5 or Intel processor and make sure it's compatible with the rest of the components.

However, one component that often gets overlooked is the motherboard or more popularly known as MOBO, the bedrock for everything else that often determines which other components you can use.
Things get even trickier when you need to purchase non-standard components for specialized tasks like heavy-duty workstations or servers. That is why we put together a list of the six best motherboard dual CPU, highlighting what each one does best and providing a helpful buyer's guide and FAQs.
Here is What Experts Have to Say About Motherboards with Two Processors
If you aren't aware yet, yes, there are motherboards that let you put not one but two CPUs. But this kind of technology has some limitations in what you can put in.
For starters, the two processors you're going to be putting in must have the exact same model or you'll encounter problems down the line. That means both CPUs don't have to be the same type so long as they have the same physical and logical cores.
Moreover, it needs to also have the same RAM speed compatibility and TDP or Thermal Design Power.
While it may seem great to mix and match CPUs, we don't really advise you to get different CPUs and do builds like these.
Who Needs Motherboards with More Than One Processor and What are these Actually Used For?
A straightforward explanation as to what this does is so you can get more processing power, more threads and core count, more RAM slots, and even more PCIe lanes. So, if you think you still need more power and isn't contented with what a single MOBO can offer, then this might just be the type of motherboard you'll want to get.
Dual CPU motherboards are a great solution for people who builds a PC that can take at least a dozen of HDDs and SSDs. Altogether, with the RAM and sheer processing power, a hundred terabytes of storage shouldn't be a problem at all.
People who are into content creation will want to get a dual CPU motherboard since it makes image and video processing a lot faster. Moreover, software that primarily uses parallel processing like medicine, drug development, and science, will also greatly benefit from these kinds of builds.
Can You Use A Dual Socket Boards for Gaming?
Since combining two CPUs are better than one, is it better to utilize these kinds of motherboard builds instead?
The answer is yes, dual CPU motherboards can be used for gaming like any other single-processor only motherboards. But you won't get what you're expecting to reap from it.
You see, even though they seem great on paper, there's a reason why the traditional one-processor-only MOBOs are still what people want to get. Video game developers don't design their games to use all of these threads and cores because games are not programmed for parallel processing. Additionally, all the extra PCIe slots, RAM slots, as well as SATA connections will be of no use to you since HDDs and SSDs today are more than enough for a handful of your favorite games.
In a real-world scenario, you won't get any extra power or performance from having another processor and could even be the cause of FPS drops and issues like jittering or stuttering. In most cases dual CPU issues can be resolved by disabling the second processor. Even then, the performance will still be noticeably slower.
So, if you're thinking about using this for gaming, then you're better off investing in a motherboard and CPU combo to ensure they perform perfectly compatible with each other. If you're interested, you can also read our roundup of White AM4 Motherboards, which is perfect for people who builds Ryzen Threadripper PCs.
If Not for Gaming, What are Motherboards with Two CPUs For?
To be clear, dual CPU motherboards are designed for productivity tasks. If you're looking to maximize your productivity work, investing in a dual CPU motherboard might be the best move to make. After all, more cores will definitely help speed up your video and image rendering processes.
Because how technology evolves so fast, you can now find cheaper alternatives that offer other features such as portability and accessibility. Check our best laptop for programming to see if you're better off with a laptop instead. Alternatively, you might just need a little GPU upgrade to meet your rendering standards. So, if that's the case, then check our single-slot GPU for work.
Best Dual CPU Motherboards: The Reviews
1. ASUS Z10PE-D8(ASMB8-IKVM) Dual LGA2011-v3 CPU Server Motherboard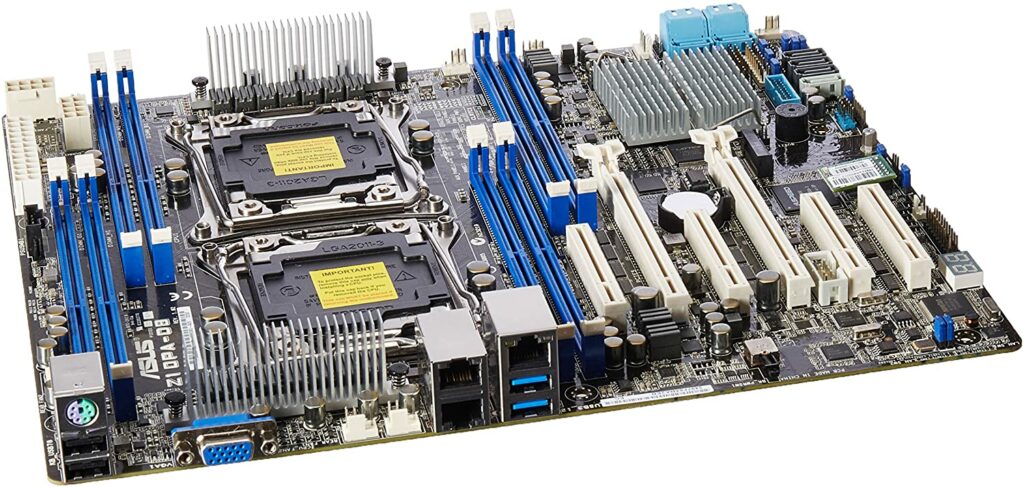 ASUS is one of the premier motherboard manufacturers, with its founding over three decades ago focused on making products for high-end processing. That said, the ASUS Z10PA-D8 is a bit outdated but is still the best dual CPU motherboard for parallel processing.
For starters, the Z10PA-D8 boasts six PCI-E slots, three of which are GEN3 and two of which can operate at x16 depending on the slot management. You do not need to worry about HDDs or SSDs storage either, as this MOBO supports ten different SATA3 connections with one able to operate at M.2.
For a dual CPU motherboard that uses the LGA 2011 v3 socket, the C612 chipset offers a superior range of configuration options. That said, one of the most significant issues of the Z10PA-D8 is how close the CPU sockets sit to one another, not allowing adequate space to use more reliable water coolers.
While not the most powerful motherboard on our list, the Z10PA-D8 offers eight memory slots with a maximum capacity of 512 GB. That said, this MOBO's age shows itself a bit in handling RAM with a frequency of only 2400 MHz.
If you don't want to get anything but the best yet still thinks the ASUS Z10PE-D8 still falls short, then you'll definitely love the ASUS Z10PE-D16. It has 8 more memory slots, 2 more SATA 3 connector, up to 1024 GB maximum memory, 3 more memory channels, has 2 more USB 2.0 ports, and more.
2. ASRock Dual CPU Motherboard EP2C612 WS Supports Socket LGA 2011 R3 Intel Xeon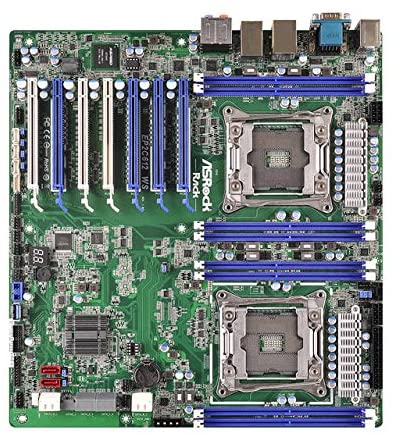 ASRock is another Taiwanese company that started making high-end MOBO's with a particular focus on industrial computing. That makes the ASRock Rack Motherboard EP2C612 WS a perfect candidate for server banks, though it is not the most updated entry on our list.
In many respects, the LGA 2011 v3 socket makes this model excellent for a contemporary workstation or small-scale server, and the C612 chipset is reliable as ever. Much like other dual CPU motherboards of this era, the EP2C612 WS can support a maximum of 512 GB of memory capped at 2400 MHz.
However, the EP2C612 WS exceeds some of its contemporaries with seven PCI-E slots, three of which run at x16 no matter the other slot usage. Another quality that makes it ideal for small-scale servers is its storage availability, featuring ten SATA3 ports, one of which can be run in M.2 for HDDs and SSDs.
Outside of the fact that the EP2C612 WS runs the previous generation's socket, there is not much to dislike about it. While it lacks some of the more niche options in terms of RAID software compatibility, it still allows for 0, 1, 5, and 10 configurations.
3. ASUS WS C621E Motherboard for Two-way XEON CPU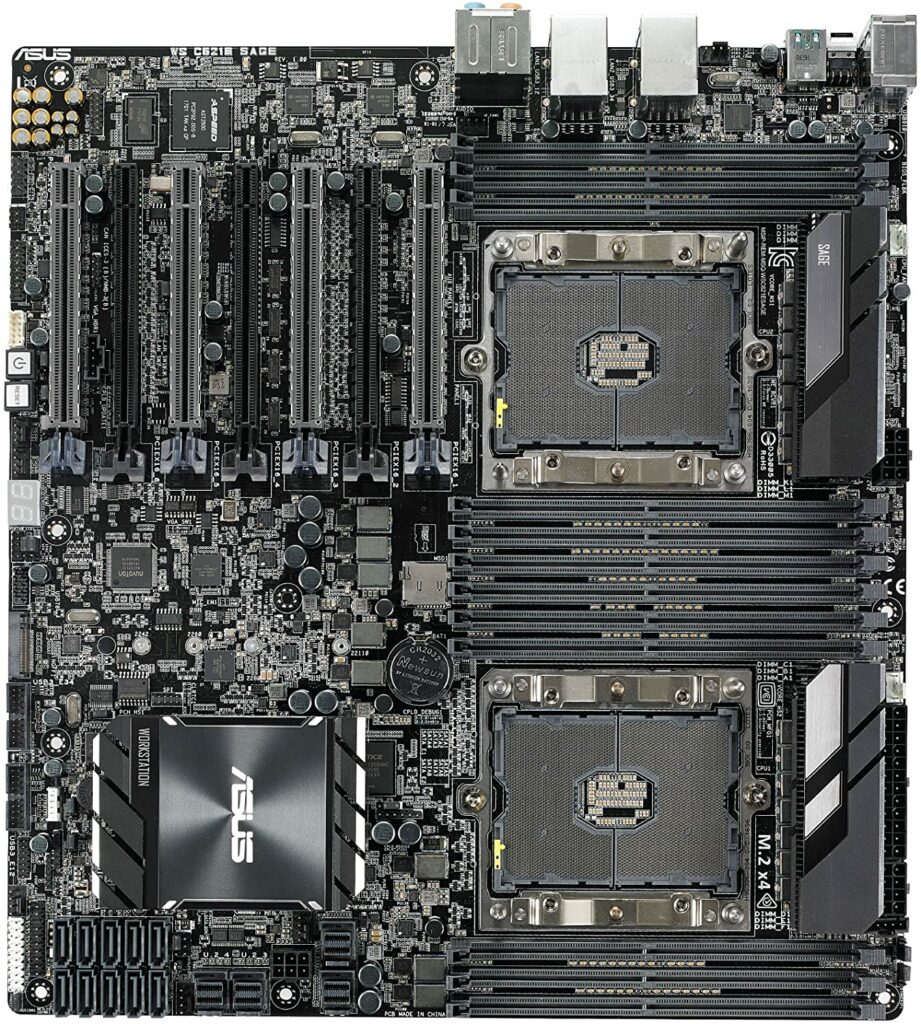 ASUS makes another appearance on our list, but this time, the company's focus on high-end motherboards fully delivers with its latest model. However, the WS C621E Sage will not work as well for all applications due to a focus on computing as opposed to storage. On the plus side, it boasts an LGA 3647 socket, allowing for the most advanced CPUs out of any Intel motherboard on our list. Even better, it comes with a whopping 12 memory slots, allowing for a maximum of 768 GB of RAM.
To ensure you do not worry about peripherals, the WS C621E Sage comes with seven PCI-E Gen3 slots, three of which run at x16 regardless of the configuration. Of course, the C612 chipset makes another appearance, so you do not have to worry about storage capacity.
One thing that might dissuade you from the WS C621E Sage is how complicated it can be to set up. This MOBO comes with an integrated GPU to set up four-way SLI or CrossFire-X if desired.
4. Supermicro H11DSI-NT Dual AMD EPYC 7000-series CPU Motherboard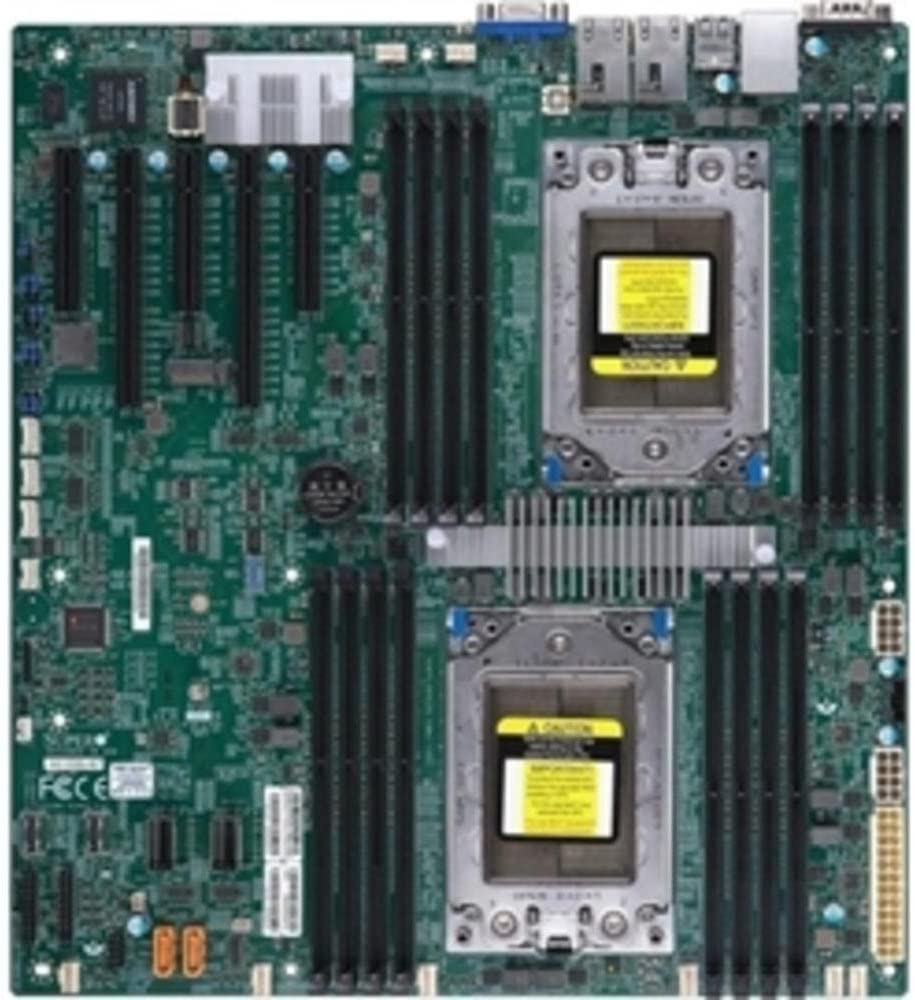 Of the different manufacturers on our list, Supermicro is the only company that specializes in server systems. The Super Micro Computer H11DSI-NT is also the only MOBO on our list that works with AMD CPUs.
Specifically, this dual CPU motherboard comes with a CPU Socket P and goes one step further by providing you two CPUs to go along with it. Even better, it comes with dual 7702 CPUs, which offer an astounding 64 processing cores in total– though this can lead to heating issues without a sufficient cooling system.
That said, the H11DSI-NT is best suited for crunching data given its chipset arrangement with a sharp disparity in slots. If you need a dual CPU MOBO for parallel processing, this entry comes with 16 memory slots that can handle a whopping 2048 GB.
However, you have to trade all of those RAM slots for a shortage of PCI-E slots, which sits at a paltry four, making this a poor option for rendering. Thankfully, the lack of PCI-E slots does not impact the H11DSI-NT's storage capabilities as it can support up to ten SATA3 connections.
5. Andifany X79 Dual CPU LGA2011 Motherboard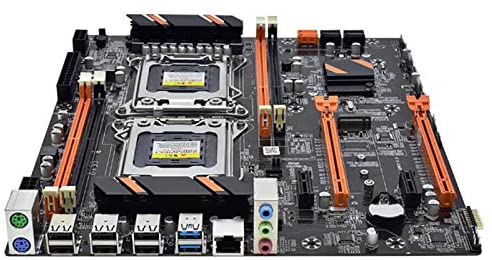 Andifany has to be an exceedingly new company as it does not have an online presence and does not specialize in anything particular. While that might make you suspicious, you can take a chance at this unfamiliar MOBO to get great value that is otherwise difficult to find with more prestigious brands.
The Andifany 411892 skews more towards the professional-grade as opposed to the industrial-grade that the previous models do. For one, it comes with only quad or four memory slots that max out at 64 GB– of which you can only use DDR3 instead of the superior DDR4.
On top of that, the Andifany 411892 employs an X79 chipset, which is outdated even amongst the previous-generation entries on our list. On the other hand, the chipset seems perfect for professional use given its copious eight USB ports, providing plenty of options for connecting peripherals.
Users who have to keep their work on them will appreciate the seven storage slots this MOBO provides, with quad or four PCI-E M.2 slots. It is also worth noting that many of the more powerful and robust dual socket boards on our list have a larger form factor than the Andifany 411892.
6. X99 Dual CPU Server Motherboard LGA2011-3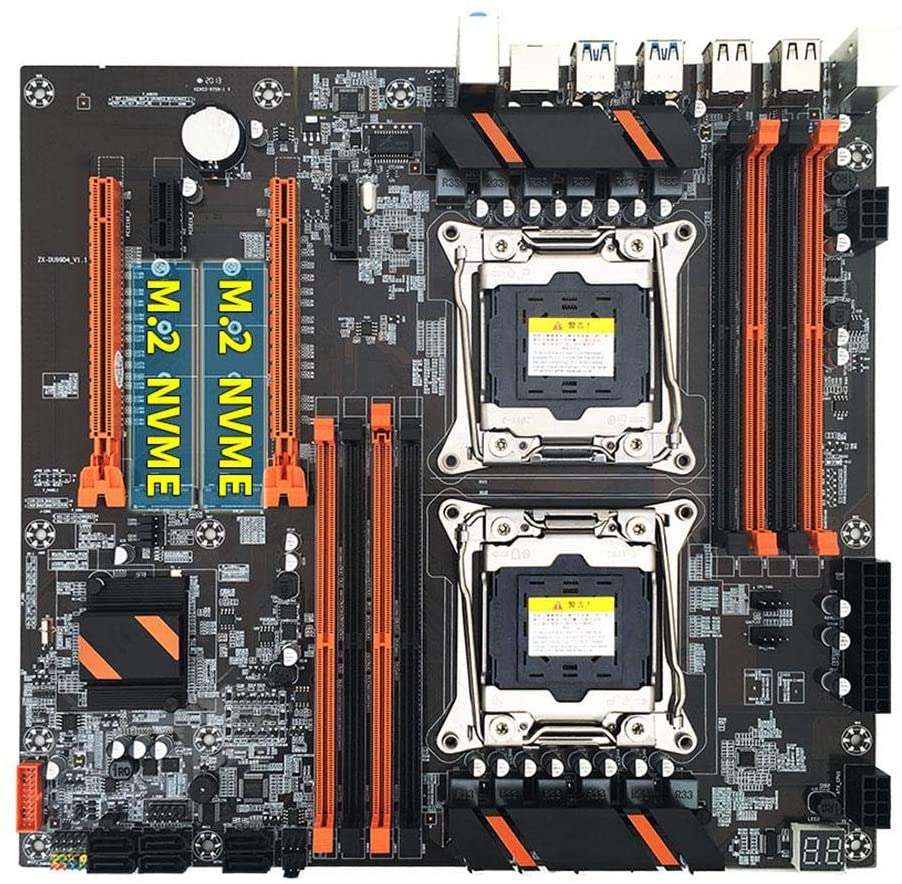 Settencas is another relatively unknown brand with little to no online presence or a specialization in anything. However, this dual CPU MOBO offers solid value without falling too far below the obsolescence line.
While the X99 chipset is a bit outdated, it still allows the LGA 2011 v3 socket to install decent Intel Xeon CPUs. This motherboard seems more focused on professional workstations as opposed to industrial server rooms. It comes with eight USB ports, which benefit a workstation's demand for peripherals. On top of that, it comes in a small form factor to help you save space.
The Settencas dual CPU motherboard also provides plenty of storage options with six SATA3 slots and two dedicated M.2 slots. On the other hand, it suffers from a dearth of PCI-E slots, with only four– not to mention a cramped socket design that threatens higher core temperatures without adequate space for proper cooling.
Buyer's Guide
Socket
Given the purpose of a dual CPU motherboard, the socket is arguably the most important aspect for a couple of reasons. When selecting a motherboard socket, the most basic consideration is the brand of processor you use, with Intel and AMD using far different architectures. On top of that, both brands use different architectures for various grades and generations of chips.
Memory
This consideration can be a bit tricky as memory is easily one of the more important specs for most PC applications, but you do not need as much as a MOBO can provide. Even consumer-grade motherboards allow you to install far more memory than you will ever actually use.
That said, dual CPU motherboards tend to work with extremely taxing software that can quickly take up your memory and cause a slowdown or crash if you do not have enough. On the other hand, most of the motherboards we examined allow for 500 GB of memory capacity or more, which only robust industrial purposes could hope to tax.
Storage
For most purposes, storage is an aspect where you need to meet a certain minimum requirement. If you need a dual CPU motherboard for managing a database, you will want to make sure you get copious amounts of storage.
It is worth noting that storage is one of the few considerations where you have multiple types of slots, with the most common being SATA, M.2, and U.2. Some manufacturers also allow you to convert some of the storage slots into adapters to get more storage or different storage slots.
PCI-E
Consumers often overlook PCI-E slots when considering a MOBO because of their technicality. PCI-E slots might be most well-known as GPU slots, but they are used for a wide range of different peripheral cards, with GPUs being one of the least important for a motherboard that has dual CPU support.
That said, if you need a dual CPU motherboard for video or CGI rendering, make sure it has sufficient graphics cards CPUs capability. However, there is just as good of a chance that you will want to get and use the PCI-E slots for storage, wireless cards, and other adapters.
Chipset
The chipset is another cryptic aspect of motherboards that consumers tend to overlook. For single CPU motherboards, the chipset plays a much more significant role in data transfer and pathing.
For dual CPU boards, the chipset often impacts which slots you can use in conjunction and any variable rates, depending on the configuration. The same applies for pathing, though it tends to focus more on PCI-E pathways– some dual CPU motherboard memory paths may change as well.
FAQs
How Does a Dual CPU Motherboard Work?
A dual CPU motherboard works similarly to a single CPU motherboard, but it often has increased transfer limits. For instance, CPU bus speed and cache tend to be higher for dual CPU systems, increasing the speed at which the system crunches raw data.
This arrangement also allows dual CPU motherboards to better manage peripherals and storage and allows for more memory. Keep in mind, though, dual CPU motherboards rarely max out all the components' capabilities, but they compute multiple processes relatively quicker.
Is a Dual CPU Motherboard Good for Gaming?
The short answer is that it does not really matter as the CPUs do little of the heavy lifting when gaming. As long as the CPUs do not bottleneck the GPU, you do not need to worry about it.
It is also worth noting that only the highest-end GPUs threaten to bottleneck even moderately recent CPUs, with most games not even utilizing a full CPU's multi-core structure. The only instance where a dual CPU motherboard should be used for gaming is if you also stream, in which case the second CPU handles the streaming processes.
What To Look For
Given the common purpose of a dual CPU motherboard, memory is likely one of the more important factors to consider– though most boards offer more capacity than you are likely to use. Besides memory, storage is another potential aspect, though it matters more for managing a database than computing.
The number of PCI-E slots might come into play depending on adapters or particular workstations, especially those that render. Finally, the chipset will often limit the best configurations available, limiting the pathways depending on how you set your system up.
Recap: Top 6 Dual CPU Motherboards in 2022