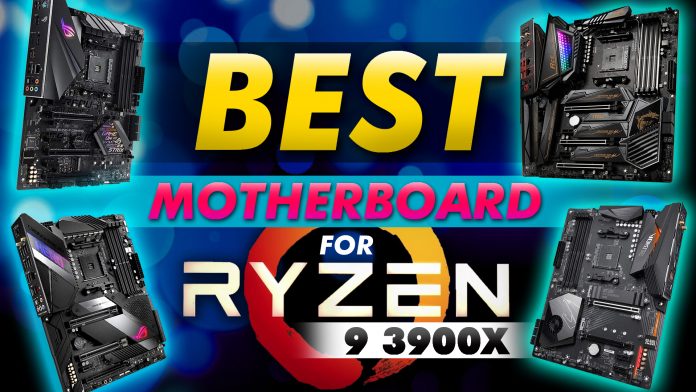 Picking out the right complementary parts for your new PC is much like piecing together the human body. While you may have decided on the Ryzen 9 3900x CPU, and metaphorically the brain, finding out how to fit the rest of the parts on the skeleton of your PC is also a necessary step.
In this case, the motherboard is the metaphorical skeleton, allowing you to attach various cards, drives, and devices. Without proper compatibility, you may end up with a PC that doesn't work the way you envisioned. Below we will touch on the 9 best motherboards for the Ryzen 9 3900x and their various specifications.
The Top Motherboard Options for Ryzen 9 3900x
Best Value B450 Motherboard
ASRock B450 Steel Legend
RAM Slots: 4 | Max Number of GPUs: 2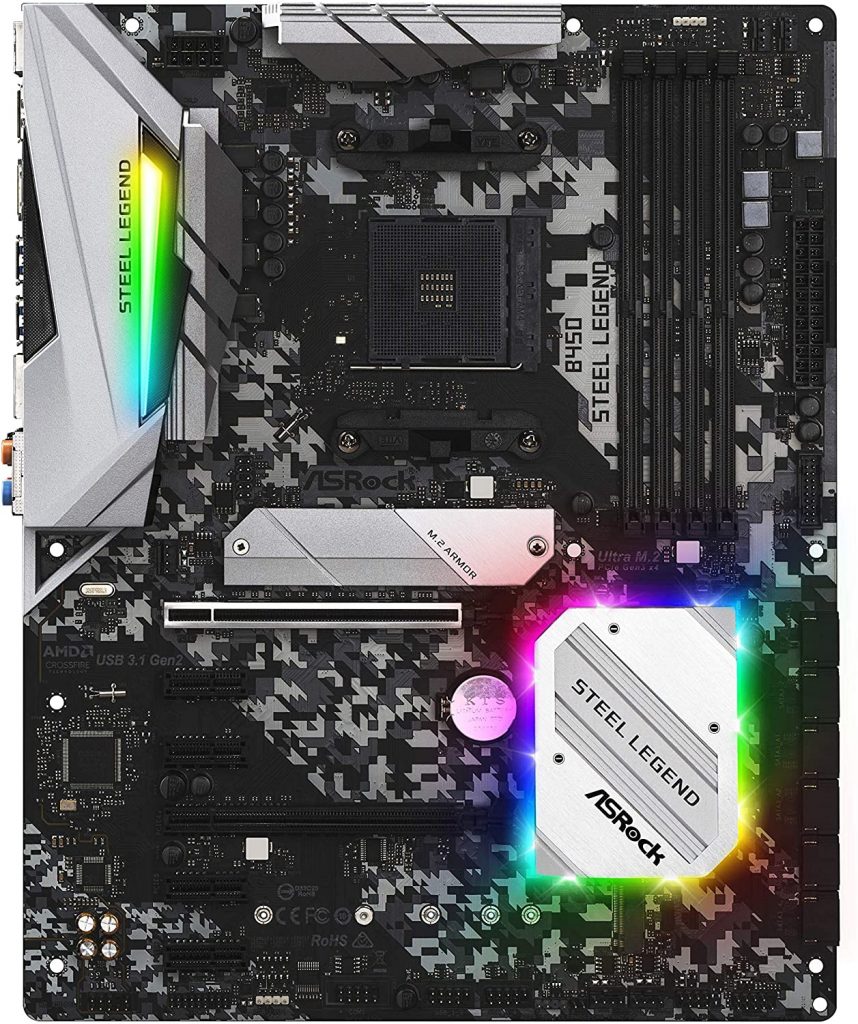 This board is similar to the TUF board from ASUS due to its durability and reliable build quality. However, the lighting on the ASRock Steel Legend board is leaps ahead, providing the looks in addition to the tough reliability.
While the durable materials and components may keep your board healthy in the long run, the ability to control the onboard RGB lighting with Polychrome RGB will allow for your own custom aesthetic. Allowing you to control the lighting on LED strips, CPU fans, cpu coolers, and other RGB devices. Polychrome covers the full gambit of devices with their lighting control. This also includes Polychrome Sync, which will connect all of the aforementioned devices for one synchronized lighting scheme.
As for the components, the board features two PCIe 3.0 slots, support for up to 64 GB of dual-channel DDR4 RAM, and AMD Quad CrossFirex. As far as IO is concerned, you will see the standard inclusion of USB 2.0 and 3.1 ports, including Type A and C. You will also have access to both HDMI and display port, supporting up to 4K resolutions.
Feature Rich Gaming Centric Motherboard
ASUS ROG Strix B450-F
RAM Slots: 4 | Max Number of GPUs: 2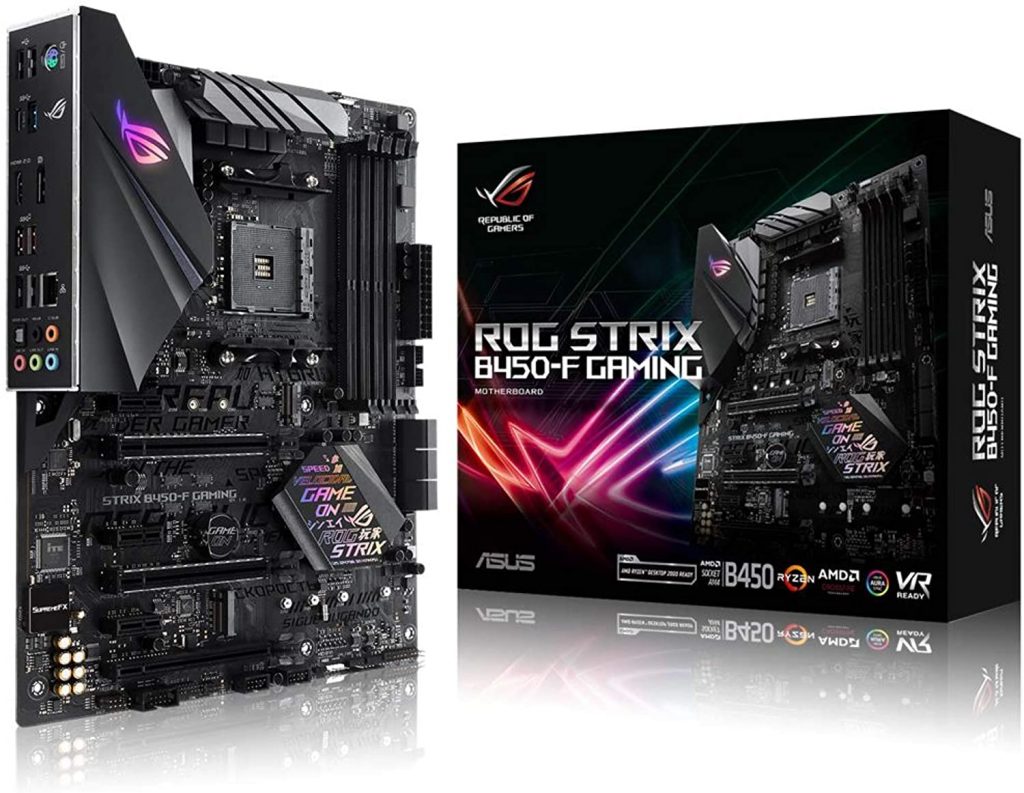 Another board out of the ASUS ROG series, the Strix B450-F Gaming motherboard not only features top of the line performance, but it also marries the customization seen in the above-mentioned boards. A popular full-sized ATX board, you will get all of the specifications you'd expect out of a gaming motherboard.
Featuring five-way optimization with autotuning and "Fan Xpert", you'll be able to monitor and maximize overclocking while not overheating your components. Also giving you the option to create multiple profiles, the ability to customize your performance and change it on the fly is a unique feature to this edition of the Strix motherboard.
As with the aforementioned ASUS ROG, you will also have access to the Aura Sync lighting system. However, the Strix also features two additional RGB headers for full lighting control and customization of your board's aesthetics. This also includes the ability to sync across other ASUS peripherals, so all of your devices have the same lighting profile.
This board is a great option for those looking for a stable level of operation whether stock or overclocked. It is a high quality, feature-rich motherboard and is an excellent choice for AMD Ryzen 9 3900x gaming or streaming build.
Best For Heat Management
MSI MEG X570 ACE
RAM Slots: 4 | Max Number of GPUs: 3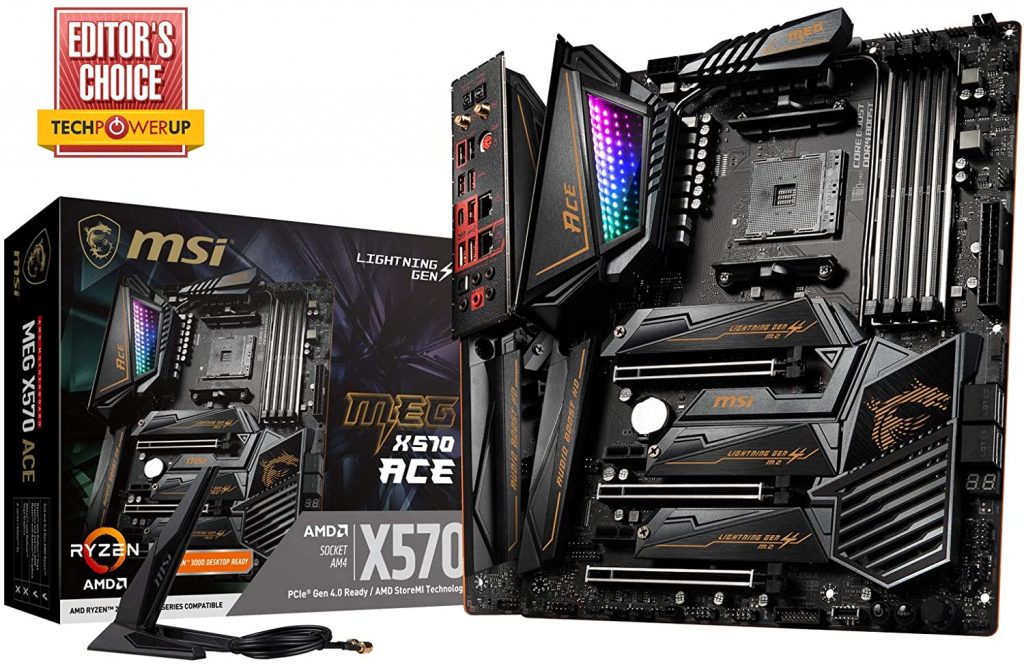 The cream of the crop when it comes to high-end gaming, the MSI X570 Ace features all of the top of the line specifications and hardware you can expect out of an AM4 socket motherboard. With an advanced thermal layout, the extended heat pipes, Frozr heatsink design with Frozr technology, and the Frozr M.2 shield will keep temperatures low during your gaming sessions. This also includes smart cooling with automatic fan speed control through their AI tuned system. Allowing for ramping during high-stress gaming through "BOOST" mode, it also features a "Silence" mode while doing low-intensity processes.
The MSI Ace also features all of the complementary components you would expect out of a high-end board, including WIFI 6 with MU-MIMO and speeds up to 2.4 Gbps. Not stopping at WIFI, this board also includes Bluetooth 5.0, covering the full range of wireless connections. Also featuring Audio Boost HD, you will get pristine in-game audio as well as media playback.
Best For High Speed Networking
Asus ROG X570 Crosshair VIII Hero
RAM Slots: 4 | Max Number of GPUs: 2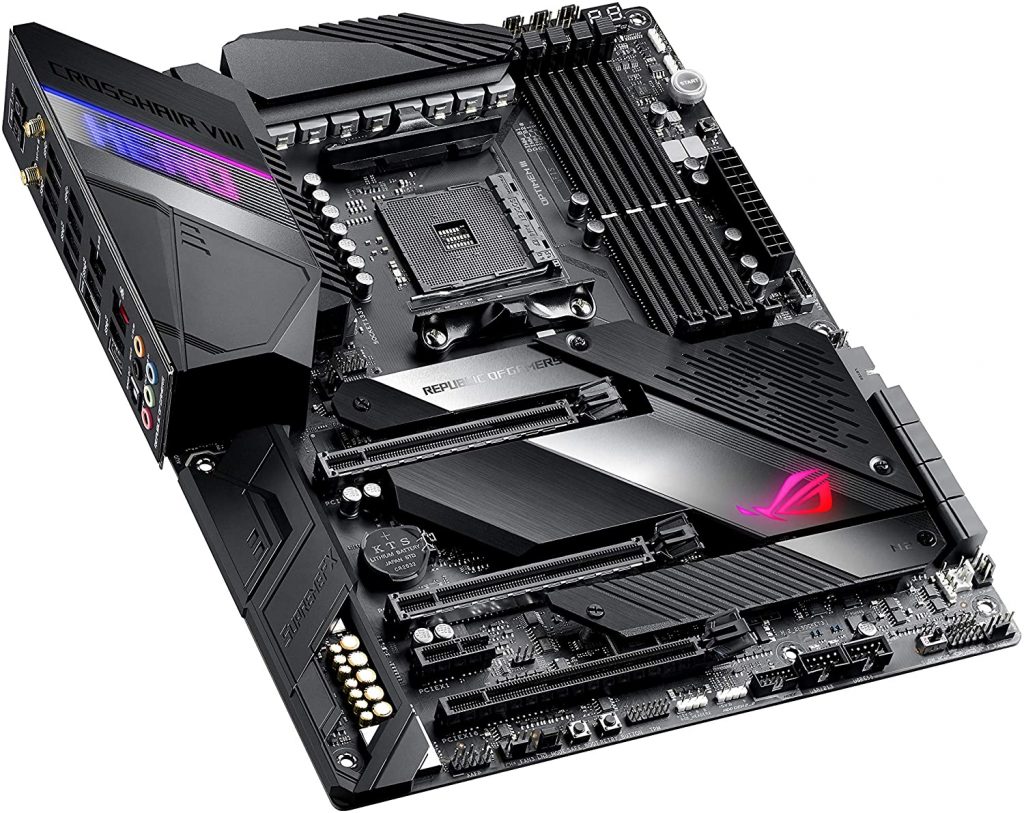 The Asus Rog X570 is an ATX motherboard built for high-speed gaming and connections. Featuring a 2.5 Gbps LAN port, intra-network file-sharing or large bandwidth ISP connections will easily be supported by this board. This will allow for speedy game and media downloads without the need for external LAN hubs.
In addition, this board also features WIFI 802.11 Ax connectivity, so wireless gaming or productivity will be possible when out of reach of an ethernet connection. Built with the ASUS "LANguard" protection, this board has lightning-fast connections with a premium build quality.
The ROG X570 also features dual PCIe 4.0 M.2 slots, supporting NVMe SSD RAID for increased drive performance and customization. This means you will not only get fast networking access to media and files, but your ability to store and write those files will also see increased performance.
While the physical hardware is top of the line, the aesthetics don't fall short in this iteration of the ROG motherboard lineup. Supporting Aura Sync RGB lighting, which will compliment any other ROG devices or peripherals, you'll be able to customize the lighting on your motherboard in the same fashion as any ROG mouse or keyboard.
Best For Gaming Audio
MSI MPG X570 GAMING EDGE WIFI
RAM Slots: 4 | Max Number of GPUs: 2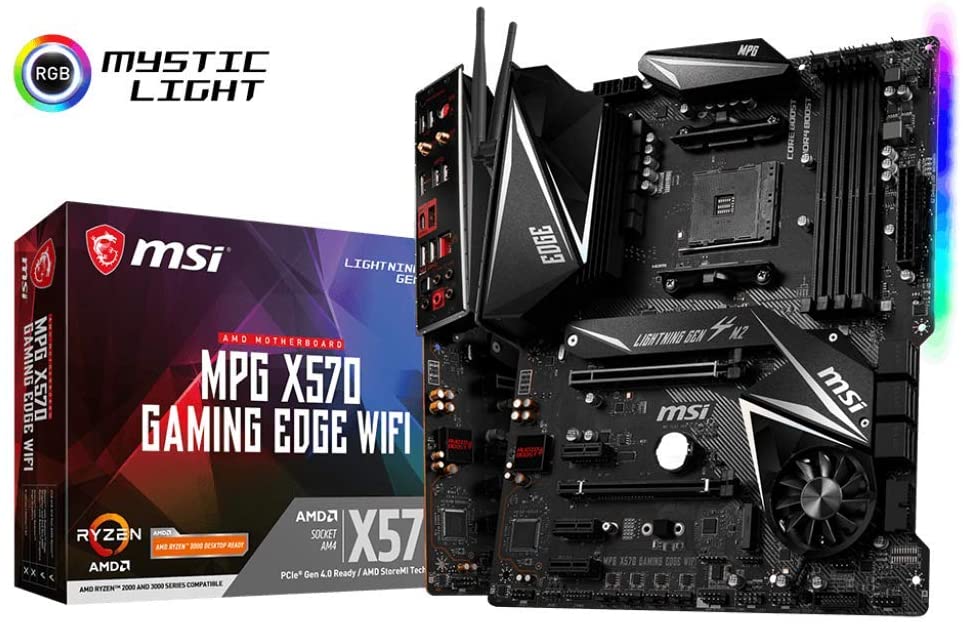 A long-standing and reliable manufacturer of motherboards, MSI has released a value-driven board with the MPG X570 Gaming Edge. An ATX board, it is built with an AM4 socket for compatibility with the RYZEN 2nd and 3rd generation of processors, including the Ryzen 3900x. Supporting WIFI 5 802. 11AC, it also supports MU-MIMO for reliable wireless connections on a congested home network.
The MSI Gaming Edge also features AUDIO BOOST technology with NAHIMIC 3 software, so in-game sounds are detailed and immersive. Interpreting the different levels of audio cues while gaming or watching movies, NAHIMIC smooths out levels for clear voices, allows for bass boosting, and enhancing treble for crisper sound effects. This also translates to communicating with teammates while playing, canceling out outside ambient audio, static, and echos while stabilizing voices.
Specification wise, this board features an industry-standard two PCIe 4.0 slots and dual-channel DDR4 memory supporting up to 128 GB. As for the IO panel, the board includes two USB 3.2 Gen 1 ports, two USB 3.2 Gen 2 ports, two USB 2.0 ports, as well as onboard HDMI support.
Best Micro ATX Motherboard for Ryzen 9 3900x
ASRock AM4/X570M Pro 4
RAM Slots: 4 | Max Number of GPUs: 1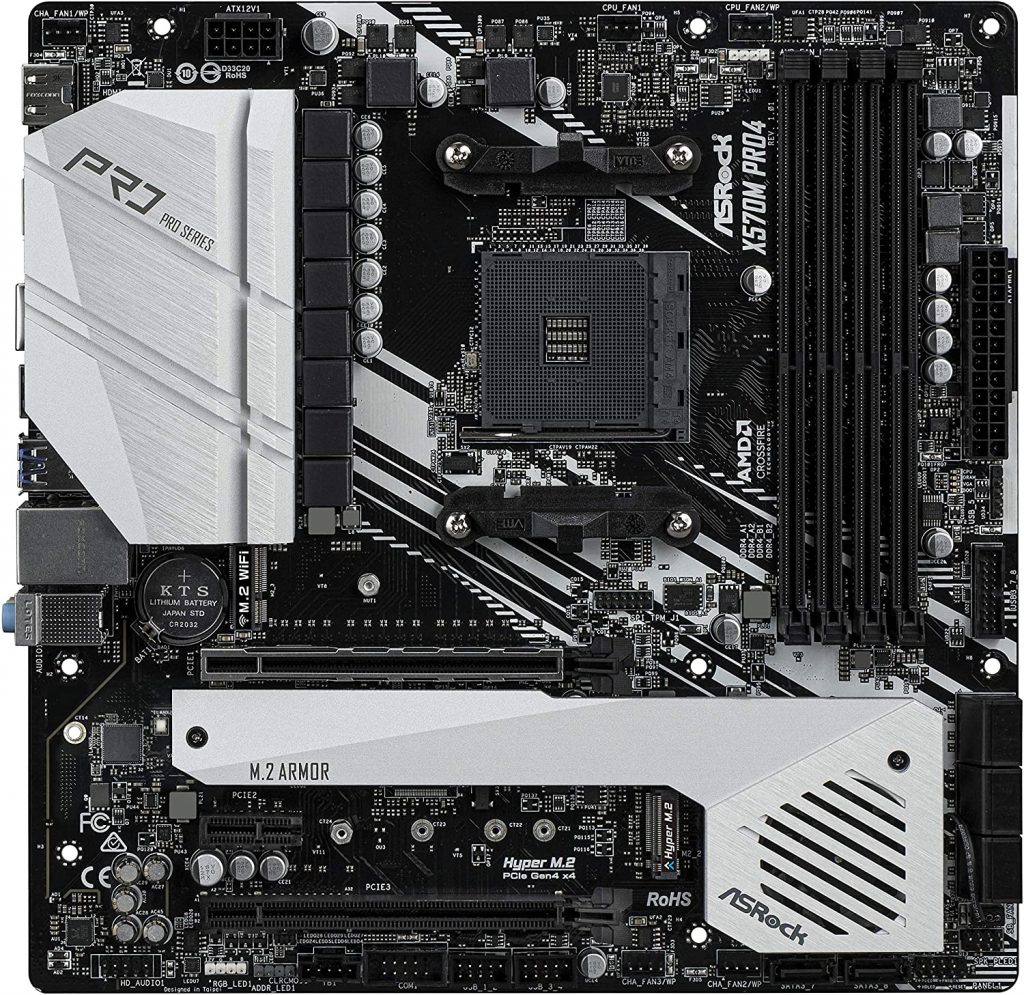 The ASRock Pro 4 comes with all of the usual features you would expect from a gaming motherboard, but with the added feature of coming in a micro ATX form factor. This means low profile cases and builds can still garner all of the top-end power associated with full-sized ATX boards.
As for IO, the ASRock Pro 4 features your standard lineup of USB 3.2 Gen 1 and Gen 2, USB Type C, PS/2, as well as support for both HDMI and display port. Built with dual-channel DDR4 memory up to 128 GB, it also features two PCIe 4.0 slots with support for M.2 SSD NVMe RAID.
Best For Durable Gaming Rigs
ASUS AM4 TUF Gaming X570-Plus
RAM Slots: 2 | Max Number of GPUs: 2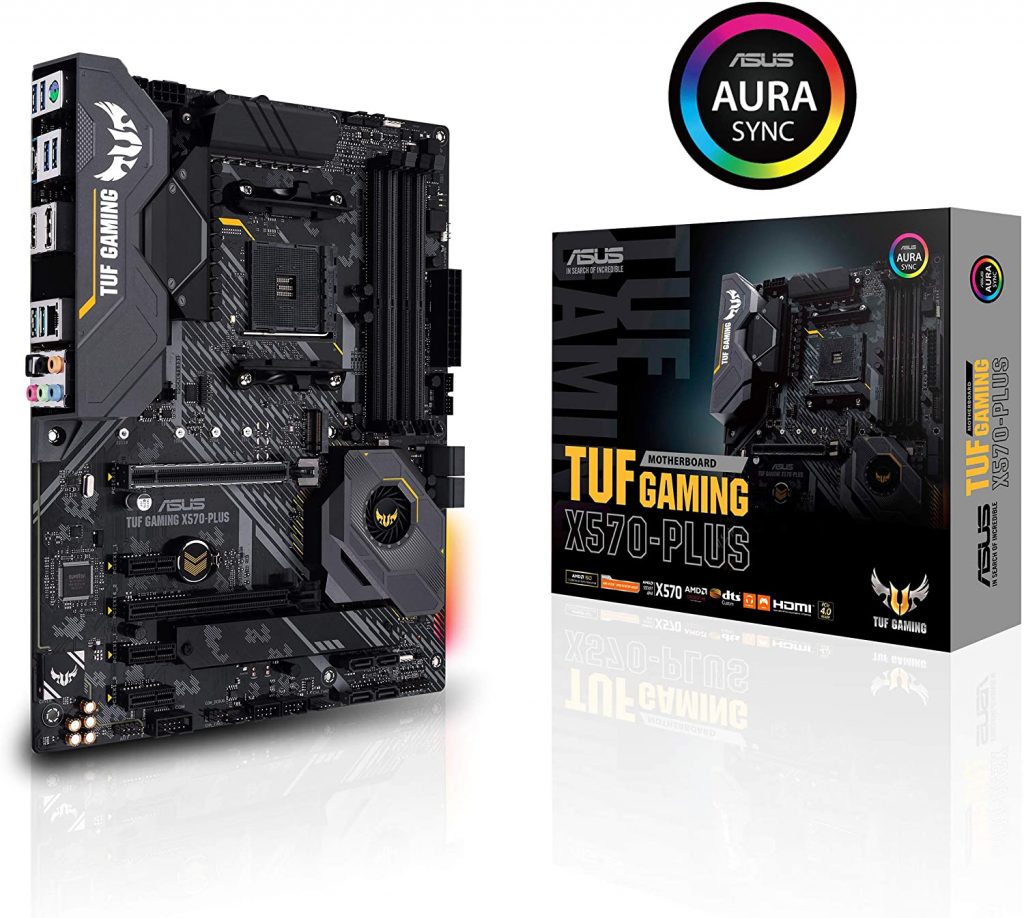 Another motherboard from ASUS, the TUF X570 Plus sets itself apart from the crowd by featuring a durable build quality and military-grade materials. Whether your PC is located in an abnormal location such as a garage, or perhaps you travel consistently with your gaming rig, having a tough and reliable motherboard built into your PC can save you the hassle of malfunction down the road. The TUF X570 Plus also features upgraded cooling and power options, providing a reliable gaming experience regardless of conditions.
Supporting multiple generations of the Ryzen processor lineup, it also supports AMD CrossFireX technology with dual PCIe slots. As with the above mentioned, it supports two channels of DDR4 memory up to 128 GB. The IO is another point of pride on the TUF X570 Plus, featuring the typical USB 3.2 Gen 1 and Gen 2, USB Type C, PS/2, as well as both display and HDMI ports.
Best ATX Motherboard for Ryzen 9 3900x
Gigabyte X570 AORUS Elite
RAM Slots: 4 | Max Number of GPUs: 2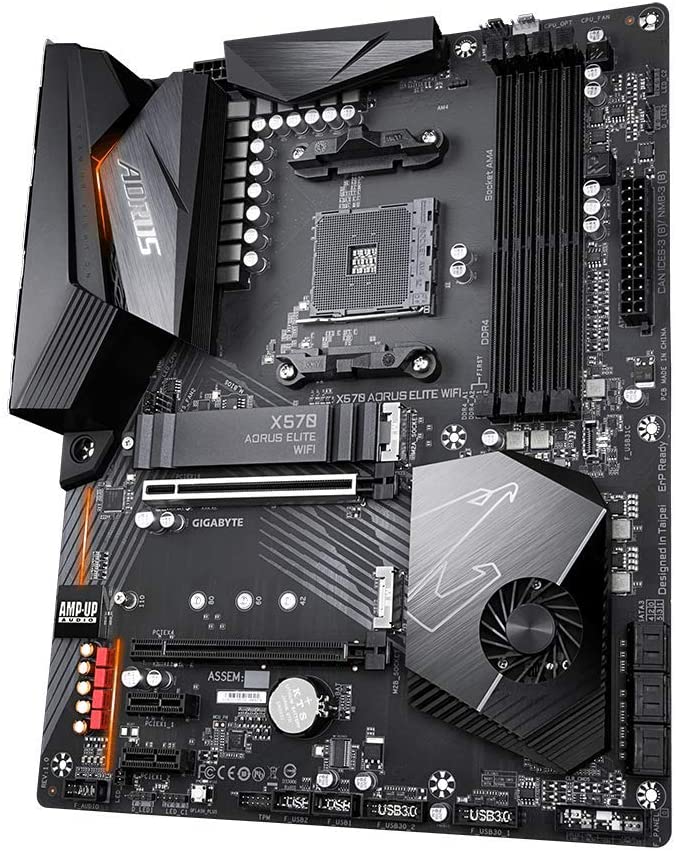 The Gigabyte Auros Elite features top of the line specifications, but the main selling point addressed by Gigabyte is its focus on RGB Fusion 2.0. Giving you the ability to control the RGB lighting both on board, as well as external RGB devices. This also includes addressable LED light strips, allowing you to customize the interior of your case. Supporting five-volt strips, you can control up to 300 LED lights with various lighting patterns and speeds.
As for the specifications on the board, it features dual PCIe 4.0 slots and 802.11 AC WIFI in a full-size ATX form factor. The IO is substantial, with multiple USB 2.0 and 3.2 ports, as well as one HDMI port. The HDMI 2.0 port supports up to 4K resolution and full HDR.
Best For High End Gaming
ASRock X570 Phantom Gaming X
RAM Slots: 4 | Max Number of GPUs: 3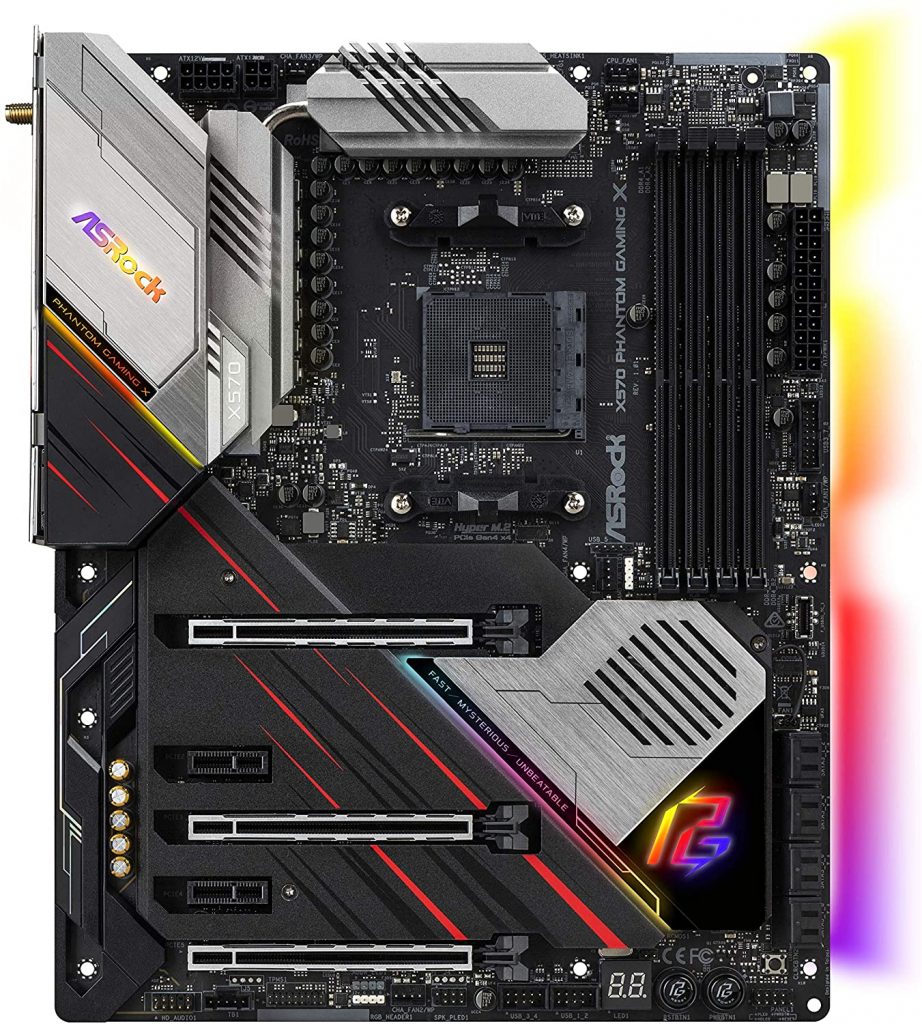 The premium motherboard from ASRock, the Phantom Gaming X is a motherboard for the hardcore gamers who emphasize performance and top tier specifications. No leaf was left unturned by ASRock, covering all its bases from wireless connectivity to hardware compatibility.
Supporting dual-channel DDR4 memory up to 128 GB and three PCIe slots, not only will you be able to implement your current components, but the room for expansion makes this motherboard future proof. In addition, the wired and wireless connectivity on this board leaves nothing to be desired. It supports 2.5 Gbps LAN, while also supporting 2.5 GHz WIFI 6 802.11 ax. The wireless access also extends to peripherals, supporting Bluetooth 5.0.
While it may be a juggernaut in performance, it also features the above mentioned RGB customization tools that ASRock implemented in their other boards. Polychrome Sync and Polychrome RGB will give you access to the full suite of lighting customization previously mentioned. Peripherals, hardware, and LED strips will be controllable and synced with your own lighting profiles.
What to Look for In a Motherboard
The foundation for your new Ryzen 9 3900x gaming PC build will require a few key components. Drives, RAM, CPU, and your case will all be necessary preliminary pieces to consider when building your rig.
However, arguably the most important piece and the core of your PC will be your motherboard. Acting as the glue to all of your components, it is what dictates which devices you will be able to implement in your PC, and more importantly, which CPU you will be able to use. Because the CPU is pivotal in determining both gaming and productivity performance, being able to marry the right motherboard and CPU is an important decision.
As we touched on the above motherboards, they are all AM4 socket boards supporting the Ryzen 3900x. You can also check this link if you're looking for the best motherboard to pair for a more affordable processor alternative, Ryzen 5 3600. However, there are a number of alternative sockets that will fit various CPUs. These include:
sTRX4 – Supporting 3rd generation Ryzen Threadripper
LGA 2066- Supporting Skylake and Kaby Lake
LGA 1151 – Supporting 8th and 9th generation Intel Core
Those CPUs listed, among others, will dictate the socket type and ultimately the motherboard you are able to use. But the choices extend further than just the socket type, as the connectivity, ports, and slots will all play a part in your decision.
Motherboard Form Factor
There are three main form factors of which your motherboard will feature. These will determine the size, and more importantly, the number of components you will be able to implement on your motherboard. The exoskeleton of your computer, its case, will be entirely decided on the form factor of your motherboard. A full-sized ATX will most likely be unable to fit into a low profile case, so keeping that in mind before buying one or the other is an important step.
The three form factors are:
ATX – 12 x 9.6 inches
Micro ATX – 9.6 x 9.6 inches
Mini ITX – 9.0 x 7.5 inches
The above mentioned will be able to accommodate a certain number of RAM slots, GPUs, expansion slots, and SATA ports.
PCI Express Slots
The PCIe slots on your motherboard are what dictate the devices and components you will be able to build into it, and potentially expand upon in the future. WIFI cards, graphics cards, and RAID cards will all depend on the size and number of PCIe slots. There are four different sizes of PCIe slots, as well as the various iterations of the slots themselves. Currently, PCIe 4.0 is the standard on most up-to-date motherboards, however, some may feature PCIe 3.0. The four sizes include x1, x4, x8, and x16, which all determine the number of pins, and subsequently the connectivity, of your various cards. The standard for devices such as graphics cards is x16, so if you are looking to run multiple GPUs on your PC, having multiple PCIe x16 ports will be necessary.
RAM Slots
RAM, or random access memory, is one of the simplest determining factors in how much workload your PC can handle simultaneously. Anything from word processing programs, web browsers, or gaming all eat up this temporary storage. Your motherboard will feature a number of DIMM slots, usually between two and eight, that will be the connection point for your RAM. It is simply plug and play at that point, allowing you to put RAM in one or all of the slots. There will be a maximum supported RAM limit, so keep that in mind when you are looking through the various motherboards.
IO
The various ports on the rear panel of your motherboard, or the IO, will dictate which devices and peripherals you will be able to connect directly to the motherboard. While you will also be able to connect devices such as monitors into your GPU, the motherboard will determine the number of USB ports, Ethernet ports, and sound ports that you will have access to. Having the option for onboard video output may also be something that is important to you, giving you the option for increased display outputs from either HDMI or display port.
One of the more important inputs, however, is the speed of your Ethernet connection. If you are looking to do high-speed file transferring, gaming, or media consumption, having more than a 1 Gbps LAN connection may be something you should consider. Motherboards will oftentimes have various port speeds, so keep that in mind when you are shopping for your new board.
Other Features to Consider
In addition to the barebones connections upon which you will be able to expand with cards and devices, there are a few built-in features that may come out of the box with your motherboard of which to consider. Built-in WIFI connections or Bluetooth can often times save you the hassle of expanding with a card down the road, and more importantly, taking up precious PCIe slots. While these may be an afterthought on laptops where they are fairly standard, desktop motherboards can oftentimes fall short when supporting these features.
Recap: Best Motherboard for Ryzen 9 3900x at a glance.
Keep in mind all of the above-mentioned options when looking into which motherboard you would like to support your Ryzen 9 3900x, as your experience and ability to expand your PC down the road will depend on its layout. Size, whether it is Mini ATX or full-sized, will also dictate the case to house your PC. Building a PC is much like putting together a puzzle, so do your research to ensure all of your components are compatible.