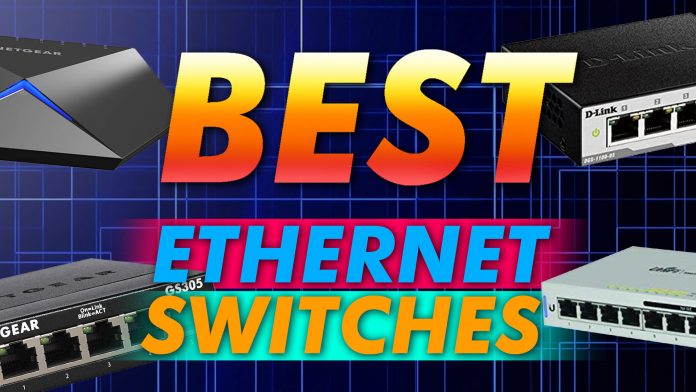 Although setting up wired networks requires tedious work, they are much faster and more reliable than their wireless counterparts. Whether you're building a home entertainment system or putting together an elaborate network for your business, a wired connection is usually the way to go.
However, choosing the best Ethernet switch for your network is no easy task. There's an abundance of these devices available on the market, and they come in various types that meet the demands of specific functions like gaming or streaming. Buy the wrong product, and you'll end up with more problems than solutions.
Fortunately for you, we took the initiative and did the necessary research to help you make an informed decision. In this guide, we cover the different types of Ethernet switches (managed, smart-managed, and unmanaged) to help you determine which is most suitable for your needs.
Best Unmanaged Ethernet Switches
An unmanaged switch is ideal for people who are setting up their first network and want this experience to be hassle-free. These types of switches are known for their plug-and-play functionality and are usually used for home and small business networks. While unmanaged switches don't have the versatility and customizability of managed devices, they are much more affordable and user-friendly.
TP-Link TL-SG105 5-Port Gbe Ethernet Switch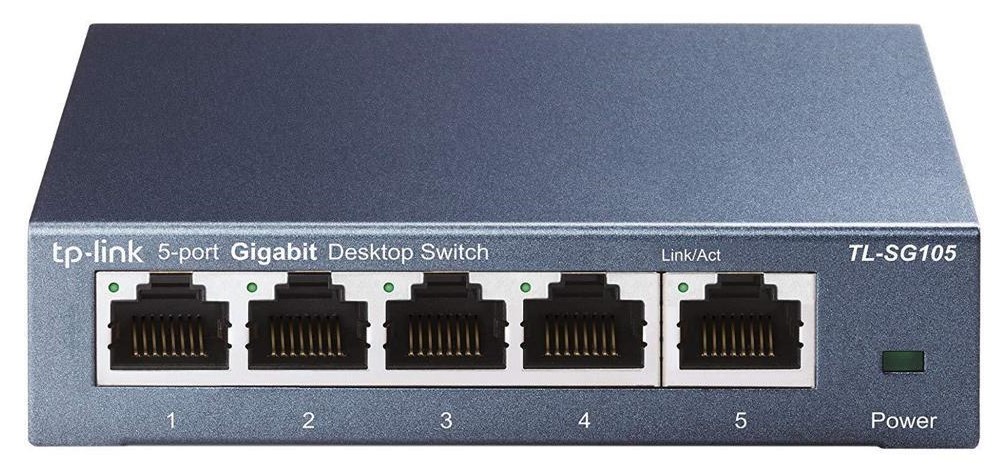 The TP-Link TL-SG105 is a five-port network switch that provides an inexpensive solution for expanding your home or small business network. This switch requires no configuration whatsoever and is designed primarily for beginners. It also has a sturdy metal case that prevents damage in case of accidental drops.
In terms of features, the TL-SG105 has automatic traffic optimization to prioritize the delivery of latency-sensitive data like video and voice. It also has a 1 MB buffer size, which may not seem like much on paper, but is perfectly adequate for a five-port switch. A PoE port would have been nice, but you really can't complain, especially at this price point.
Overall, the TL-SG105 is an excellent option if your intended home or business network is going to consist of only a few devices. It is easy to set up and offers remarkable value for the money.
TP-Link TL-SG108 8-Port Gbe Ethernet Switch

If you admire the simplicity of the TL-SG105 but need more ports for your network devices, the TP-Link TL-SG108 is for you. Even though this eight-port switch doesn't have the bells and whistles offered by managed alternatives, it is more than enough for the typical home and small business network.
In essence, the TL-SG108 is a TL-SG105 that offers more ports (you could probably tell by their model numbers). It has the same plug-and-play functionality, traffic optimization feature, and sturdy metal case design. It also lacks the PoE support we were hoping to see with the TL-SG105.
However, the TL-SG108 has several notable upsides like double the buffer size and a faster switching capacity while only costing a few dollars more. It is a great option if you intend to connect more than four devices or if you're looking to expand your network in the future.
If you don't need the customizability of a managed switch, the TL-SG108 offers exceptional value for the price.
NETGEAR JGS-524 24-Port Gbe Ethernet Switch
The NETGEAR JGS-524 is the most expensive unmanaged switch on this list and for good reasons. Although this network switch is technically unmanaged, it has a web interface that contains configurable settings like link aggregation and traffic optimization. This feature can be accessed through any device connected to the switch and cannot be disabled, so you must set a password to ensure no one tampers with your traffic.
If you run a large office network that transfers large amounts of data at a time, the JGS-524 has an impressive 48 Gbps switching capacity, allowing each port to blast speeds of up to 2 Gbps. These remarkable numbers make this switch ideal for workgroups, laboratories, departments, or growing businesses looking for exceptional performance at a reasonable price.
The JGS-524 has a versatile mounting design that supports both desktop and rackmount placements. The switch itself has a metal case and fanless design, making it ideal for noise-sensitive working environments.
However, a few users have complained about the warranty coverage of this network switch. While NETGEAR boasts of lifetime protection and next business day replacement, some users claim that it takes so to get in touch with customer service as they put you on hold for hours on end. Other than that, the JGS-524 is a reliable and secure network switch that requires very little configuration.
NETGEAR GS308 8-Port Gbe Ethernet Switch

The NETGEAR GS308 is an eight-port unmanaged switch with integrated administrative options to help you monitor network traffic. If you're a business owner worried about employees wasting bandwidth on cat videos, this switch is for you.
The GS308 has a plug-and-play design that is suitable even to the least experienced network builder. It automatically connects to any modem or router and requires no configuration.
Aside from administrative oversight, the GS308 also offers other built-in functions that can benefit your business, such as auto-negotiation and no-block switching. These features work to deliver the highest speeds between the switch and an end device and ensure maximum throughput at wire speed.
Unfortunately, the GS308 has a disappointing buffer size of 128 KB. During high network congestion, the limited buffer size can affect the data delivery performance of the switch. On the other hand, if you're going to use it for a home network where few devices are being used at a time, the GS308 is perfectly fine.
NETGEAR GS305 5-Port Gbe Ethernet Switch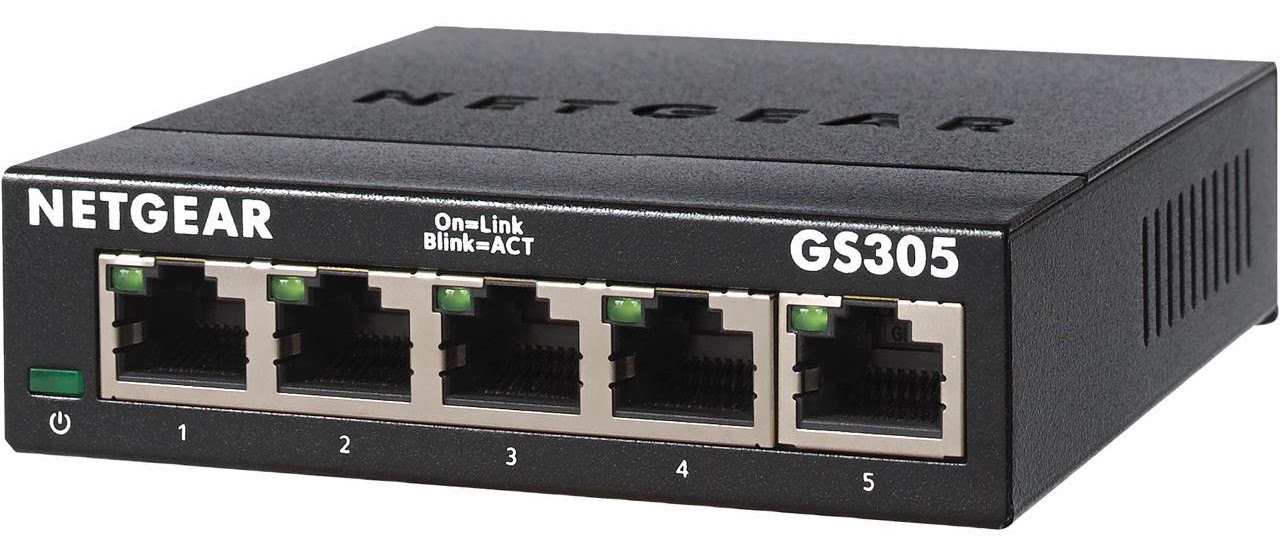 The NETGEAR GS305 is ideal if you're setting up a small home network consisting of four or fewer devices. It requires no configuration and has a compact, durable, and versatile design that is suitable for either desktop or rackmount placement.
Although the GS305 is virtually identical to the GS308 in terms of design and build quality, it has one notable performance upside: the 1 MB buffer size. Even if the GS305 has fewer ports than the GS308, it is much better at handling traffic congestion owing to the considerably larger buffer. This feature makes this switch ideal for home networks where devices are always connected to the internet simultaneously.
In terms of network features, the GS305 comes with both auto-negotiation, traffic control, and a non-blocking switching architecture to ensure maximum throughput at wire speed. The silent fanless design of this switch makes it ideal for noise-sensitive work environments. It is also embedded with energy-efficient technology that keeps power usage at a minimum.
Best Smart Managed Ethernet Switches
Partially managed switches or smart switches offer more customizability features than unmanaged alternatives while lacking some of the options found in fully managed switches. Generally, smart switches are more secure than the options listed above and are thus more appropriate for larger business or enterprise networks. They're also ideal for people who want a certain degree of control over their home networks.
NETGEAR GS110EMX 10-Port 10Gbe Ethernet Switch

The NETGEAR GS110EMX is one of the best switches you can get for more complex home or business networks. It has eight Gbe ports and two 10Gbe ports that will benefit people who have ultra-fast fiber internet connections.
Despite providing exceptional performance, the GS110EMX stays silent in noise-sensitive work environments owing to the passive cooling design. However, it can get too hot when both 10Gbe ports are in use, affecting network delivery. Some users have even reported that the switch becomes unresponsive when left running overnight. You can avert this issue by placing the device in an area where it can get active cooling.
In terms of network management, the GS110EMX offers basic VLAN, QoS, and IGMP control through the user-friendly software interface. Like many of the unmanaged options on this list, this switch supports automated optimization for voice, video, and data traffic.
The GS110EMX has an integrated energy-efficient technology that optimizes power usage based on the number of ports in operation. For instance, when this switch isn't delivering data being transmitted by the internet connection, it automatically reduces power consumption.
Ultimately, the GS110EMX is ideal for people who want to set up configurable networks for their home or office systems and can look past the steep price.
NETGEAR Nighthawk S8000 8-Port Gbe Gaming Switch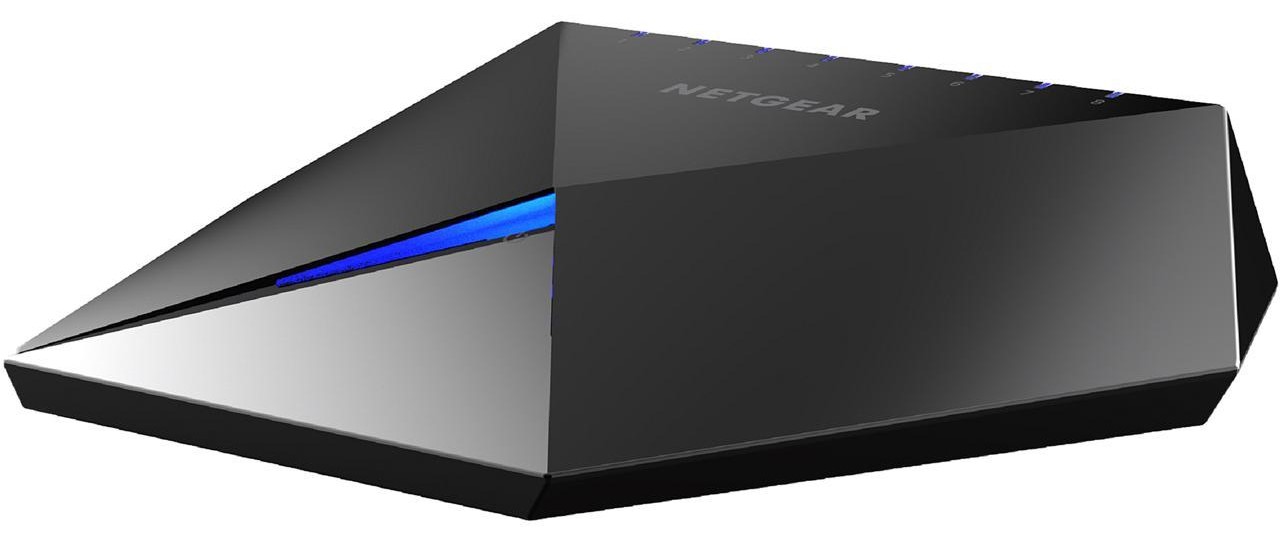 The NETGEAR Nighthawk S8000 (GS808E) is widely known as one of the best-looking pieces of networking equipment on the market. This switch has a zinc-alloy enclosure with a gamer-inspired design to match the high gaming performance it provides. It also has a blue light to match the lighting on your gaming rig.
NETGEAR boldly claims that the GS808E delivers 99% lower latency than a basic network switch and rightly so. You will experience practically no difference between using this switch and connecting your devices directly to your router.
The GS808E has a gaming dashboard that lets you track real-time network insights and auto-diagnostics. From there, you can also configure network management options like QoS and IGMP among others. Using this switch together with a Nighthawk router will make it even easier to monitor and regulate.
If you're new to network configuration and would rather have it at default settings, that's perfectly fine and you shouldn't run into any issues.
While the GS808E stays quiet owing to the fanless design, it comes with a power adapter that makes a whining noise when the switch is under load. This issue shouldn't be a concern if you're going to connect only a few devices, but it's worth keeping in mind.
All in all, the GS808E offers remarkable gaming and streaming capacity to ensure a pleasing user experience.
D-Link DGS-1100-05 5-Port Gbe Ethernet Switch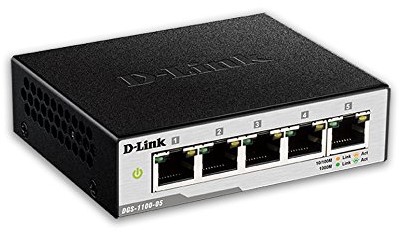 The D-Link DGS-1100-05 is a budget-friendly solution for people who want a partially-manageable home or small business network. For such a compact device, this switch offers essential network management features like VLAN and QoS (both 802.1p and DSCP). It also allows you to access real-time statistics remotely without installing any software.
The DGS-1100-05 has a simple and intuitive management interface that allows for the selection of tagged or untagged for each VLAN on each interface. This switch is also capable of port-based VLAN if you're so inclined.
For more efficient energy usage, the DGS-1100-05 has a feature that automatically cuts down on power consumption when port utilization is low. If you're going to use this switch for your small business, this technology can help you save on electricity consumption and stay within your budget.
The only downsides we could nitpick for the DGS-1100-05 is the lack of rackmount support and its tendency to revert to factory defaults after power outages, compelling you to reconfigure the device.
Overall, the DGS-1100-05 is an excellent smart-managed network switch for a SOHO environment and is well worth the price.
Best Managed Ethernet Switches
Fully managed switches provide much more complex network management options than any of the products considered above. They offer the highest level of security and give you complete control over your network. These devices demand more of your attention as they require constant firmware updates through a comprehensive management interface.
However, you must have a good understanding of networking technology to take full advantage of managed switches. If you're going to use them for your enterprise system, you might need the help of dedicated personnel to set up your network.
TP-Link Jetstream T2500G-10TS 8-Port Gbe Ethernet Switch

The TP-Link Jetstream T2500G-10TS is an enterprise-grade switch designed exclusively for growing businesses and workgroups that need high-performance networking solutions. It offers an advanced set of management features like STP/RSTP/MSTP, 802.1Q VLAN, QinQ, 802.3x flow control, and port mirroring while being equipped with two SFP slots for added flexibility.
The T2500G-10TS provides maintenance and security functions such as IP-MAC binding, DHCP snooping, storm control, loopback detection, and cable diagnostics. It even has a control lists feature that restricts access to sensitive network resources by denying packet delivery based on destination MAC address, IP address, TCP/UDP ports, and VLAN ID.
While the T2500G-10TS can double as a plug-and-play device, it isn't intended for that use (you're better off getting an unmanaged switch that costs so much less).
One of the most common complaints about this switch is the lack of constant firmware updates. Although it does well out of the box, the lack of software support could lead to performance deterioration over time.
All in all, this switch is more suitable for more knowledgeable network administrators who are looking to provide a cost-effective solution for their small to medium-sized businesses.
Ubiquiti UniFi 8 60W 8-Port Gbe Ethernet Switch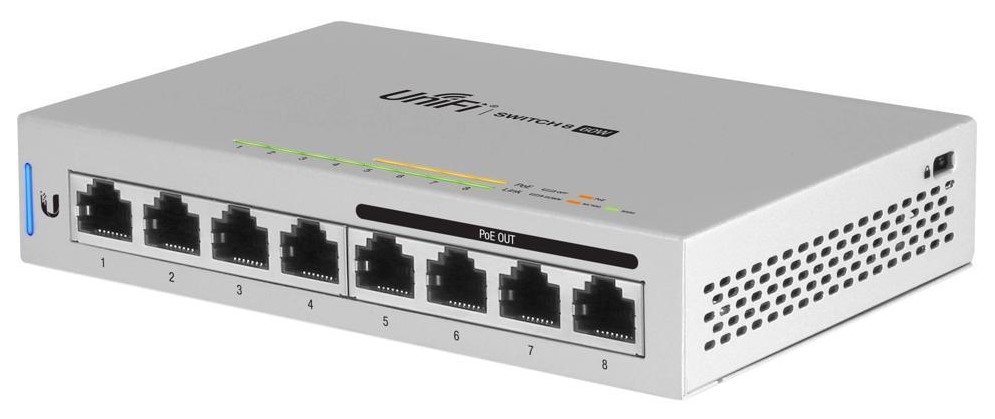 The Ubiquiti UniFi 8 60W takes premium enterprise-level networking technology to home consumers and small business markets, offering eight ports, four of which with 802.3af PoE+ support. This switch can run seamlessly with other UniFi products like access points and surveillance cameras.
With a switching capacity of 16 Gbps and a 4 MB buffer size, the UniFi 8 60W is capable of simultaneously processing traffic on all ports at a line rate without any packet loss. That means this switch can handle delivering data to up to seven end devices without loss in performance. However, it tends to warm up when under load due to the passive cooling design.
If you intend to configure the UniFi 8 60W, you're going to have to purchase a proprietary controller separately since it doesn't have a web-based interface. The UniFi controller software is easy to set up and is an excellent unified tool for all your networking equipment. It allows you to view the status of your home or office network and manage them remotely.
Overall, the UniFi 8 60W is an excellent choice if you're looking for maximum performance. It comes at a steep price, but you'll be hard-pressed to find a better-performing switch.
How to Choose the Best Ethernet Switch for Your Home or Office Network

Picking out the best Ethernet switch may seem like a straightforward decision when, in reality, there are a lot of factors that come into play. Not all switches are created equal, and with the vast array of options on the market, you must know what separates one product from another. That way, you can identify the aspects that are important to your home or office network and ultimately make an informed purchase.
Types of Ethernet Switches
The primary function of every Ethernet or network switch is to facilitate internet and information transmission across compatible devices. However, there are several types of switches that cater to different circumstances and scale of use. In the broadest terms, there are two types of switches, namely: modular and fixed.
Modular/Stackable Switches
These types of switches are tailor-made for professional networks. They give you unrestricted expansion capabilities, allowing you to add more modules as your network grows and control them as a single entity. While these devices provide unparalleled flexibility, they come at steep prices. Additionally, you don't need the complexity these switches offer unless you plan on connecting an entire neighborhood to your home network.
Fixed/Standalone Switches
Unlike modular switches, fixed switches are unexpandable and are more suited for home and small business use. These types of switches are appropriate if you only need to connect a few devices to your network.
Fixed switches can be divided further into three categories: unmanaged, partially managed, and managed.
These types of switches are the most commonly used in home and small business networks. They are popular because of their plug-and-play nature that requires no complicated setup. All you have to do is plug them in, connect your devices, and forget they even exist.
Unmanaged switches are also significantly cheaper than the other types. They require no software updates or any sort of tinkering. However, these devices can't be modified and are particularly suited for people who have no experience managing networks and are looking for user-friendly solutions.
Partially Managed/Smart Switches
Smart switches provide some degree of control over your home or office network. While they aren't as modifiable as managed switches, smart switches let you secure your network and set up advanced features like QoS and VLAN.
These types of switches provide the highest level of security and give you full control over your home or office network. With managed switches, you can update the firmware and configure practically every aspect of your network through a web-based interface. Traffic management and remote monitoring are a couple of features that these switches can offer.
A prevalent issue with many managed switches is their tendency to revert to default settings from time to time. They require you to reconfigure your network through their interface every time this happens. Managed switches are understandably expensive and are designed primarily for organizations and growing businesses with capable networking personnel.
Number of Ethernet Ports
Once you've determined which type of switch is most suitable for your network, the next consideration should be the number of ports you need. Make sure that you choose a switch with enough ports to accommodate all your devices.
For instance, if you want to connect your computer, gaming console, and smart television to your network, you can easily get away with a five-port switch. However, you may want to consider getting an eight-port variant if you plan on expanding your network in the future.
Ethernet switches with 16 to 48 ports are usually reserved for medium to large businesses unless you have an entertainment center or an absurd amount of internet-enabled devices at home.
Network Speed
Modern switches can be categorized generally according to their supported network speeds:
Ethernet at 10 Mbps

Fast Ethernet at 10/100 Mbps

Gigabit Ethernet (Gbe) at 10/100/1,000 Mbps

10 Gigabit Ethernet (10Gbe) at 10/100/1,000/10,000 Mbps
The first kind is practically obsolete as it provides speeds that are too slow for contemporary standards. On the contrary, 10 Gigabit Ethernet supports the fastest speeds but is reserved for specialist cases like high-end graphics development since the average desktop computer still struggles to use its full bandwidth. That leaves you with Fast Ethernet and Gigabit Ethernet as the most common interfaces found in consumer network switches today.
Your choice between Fast Ethernet and Gigabit Ethernet should depend on your internet subscription. There won't be any noticeable difference between the two if your internet subscription provides speeds of less than 100 Mbps. Conversely, a Fast Ethernet network switch used to transmit a 1,000 Mbps internet connection will only result in a bottleneck.
In other words, get a Gigabit Ethernet network switch if your internet subscription provides speeds of at least 1,000 Mbps or if you plan on upgrading your subscription in the future. Fast Ethernet is also quickly becoming outdated, which is why all the network switches we listed above support Gigabit Ethernet.
Buffer Size
Ethernet switches can only send and receive so much data at once that they get congested during high network activities. Routine office procedures like simultaneous system updates can cause network switches to perform poorly due to packet rejection.
In the event of network congestion, network switches have memory buffers that can temporarily store data. Ethernet switches with large buffer sizes can handle congestion better and take longer to start rejecting packets.
If you're setting up a network for an office that houses multiple bandwidth-hungry devices, you need a buffer size of at least 4 MB. Otherwise, 1 MB should be enough for most home and small business networks.
Price
As a rule of thumb, prices of network switches increases with the number of ports. Unmanaged switches are the most budget-friendly since they are highly in-demand owing to the convenience and simplicity they offer. One the other hand, managed switches cost significantly more, but they still provide excellent value, especially if you need a limited number of ports.
In our honest opinion, you're better off with unmanaged switches if you don't have experience modifying networks. Getting a managed switch will only bump up your costs and complicate your installation process.
Build Quality
Ethernet switches can either be placed on top of a desktop table or mounted to a wall. Although they are stationed in place and rarely the subject of accidental falls, these devices are still bound to endure regular wear and tear. You must ensure that your switch can withstand the test of time. For this reason, all our picks above have durable materials like metal cases and copper ports.
Other Features to Look for in an Ethernet Switch
Ethernet switches have so much more to offer besides manageability and fast supported network speeds. Although the mentioned aspects are equally important, the features below give switches added versatility to take your home or office network to the next level.
Power Over Ethernet
Network switches that support PoE have ports that can power compatible devices and transmit data at the same time over one cable. This feature simplifies the cabling process in areas inaccessible to power outlets and significantly cuts network costs. PoE comes in handy if you office gadgets like IP cameras, VoIP phones, or wireless access points. It also works with some smart home devices such as intercoms, keyless entry systems, and lighting controls.
Quality of Service
QoS is another feature you might want to integrate into your home or office network. This feature enables switches to differentiate traffic, allowing you to manipulate the data being forwarded by the device so you can prioritize more important traffic.
Ethernet switches without QoS can't distinguish time-sensitive data and deliver data on a first-come-first-served basis. Streaming movies on a home theater system connected to a multi-device network can affect the video quality. If you don't want to experience a similar scenario, choose a switch that enables QoS.
Monitoring Capabilities
Monitoring is a network switch feature suited for business owners who want to keep an eye on their employees' internet activity. This feature also caters to people who run large residential businesses like apartments or motels since it helps keep tabs on users connected to the network to maintain exclusivity and privacy.
Quick Recap
Best Unmanaged Ethernet Switches
Best Smart Managed Ethernet Switches
Best Managed Ethernet Switches
Final Words
That concludes our comprehensive guide in choosing the best Ethernet switch you can get today. We hope this guide will help you in making an informed decision. Ultimately, it all boils down to your intended use and your knowledge of networking technology.
If you need a switch for a small home network with fewer than five end devices, you can't go wrong with the TP-Link TL-SG105 or the NETGEAR GS305. The D-Link DGS-1100-05 also works great for this purpose if you want a more customizable smart-managed switch.
For homes and offices with five or more end devices, TP-LINK TL-SG108 and NETGEAR GS308 are excellent plug-and-play options. On the other hand, NETGEAR GS110EMX offers more management options while having two more ports.
If most of your end devices are used for gaming or streaming (i.e., PC, PlayStation 4, Xbox One), the NETGEAR Nighthawk S8000 is the ideal choice because of its low latency feature and unique design.
Do you have plenty of smart devices at home? The Ubiquiti UniFi 8 60W has four 802.3af PoE+ ports to power your equipment. It also has an excellent management software that lets you track network activity remotely.
Both the NETGEAR JGS-524 and the TP-Link Jetstream T2500G-10TS are enterprise-level equipment that are designed for businesses that have large amounts of end devices and need a secure network.