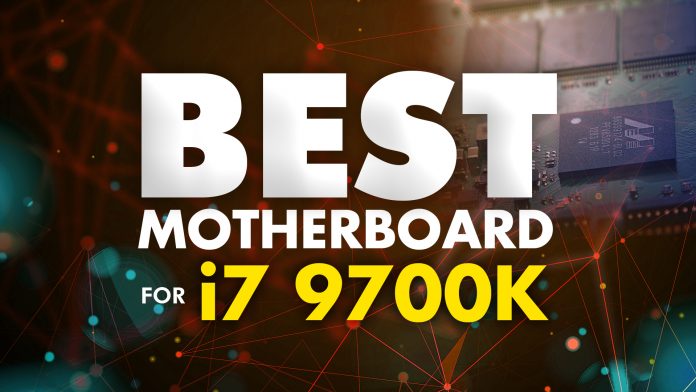 The ninth generation of Intel Core CPUs is out in the market, and the i7 9700K is among the popular option in the high-end processor market. Although it is still based on the 14 nm lithography from the sixth generation, it is a significant upgrade from the i7 8700K. Intel has managed to cram two additional true cores into the i7 9700K while increasing the boost clock from 4.7 to 4.9 GHz. Moreover, it has maintained the 95W TDP of the i7 8700K.
RELATED: The 8 Best Graphics Cards Under $100
The i7 9700K may be slightly overshadowed by the i9 9900K in single-threaded performance, but both CPUs tie in gaming benchmarks. So if you're a gamer looking to upgrade from an older processor, the i7 9700K makes more sense. Of course, you will need to pair it with a brand new 300-series motherboard. The i7 9700K is compatible with the H310, B360, H370, Z370, and Z390 series chipsets. However, anything outside the Z390 is not recommended if you want to leverage the full features of the i7 9700K like overclocking.
On the other hand, you can check this link if you want to look for a motherboard for Ryzen 53600.

Let's take a look at the 10 best motherboard for the i7 9700K.
This guide should help you find the most deserving home for your new processor.
Gigabyte Z390 AORUS Ultra
Best Motherboard for Overclocking with Excellent VRM Cooling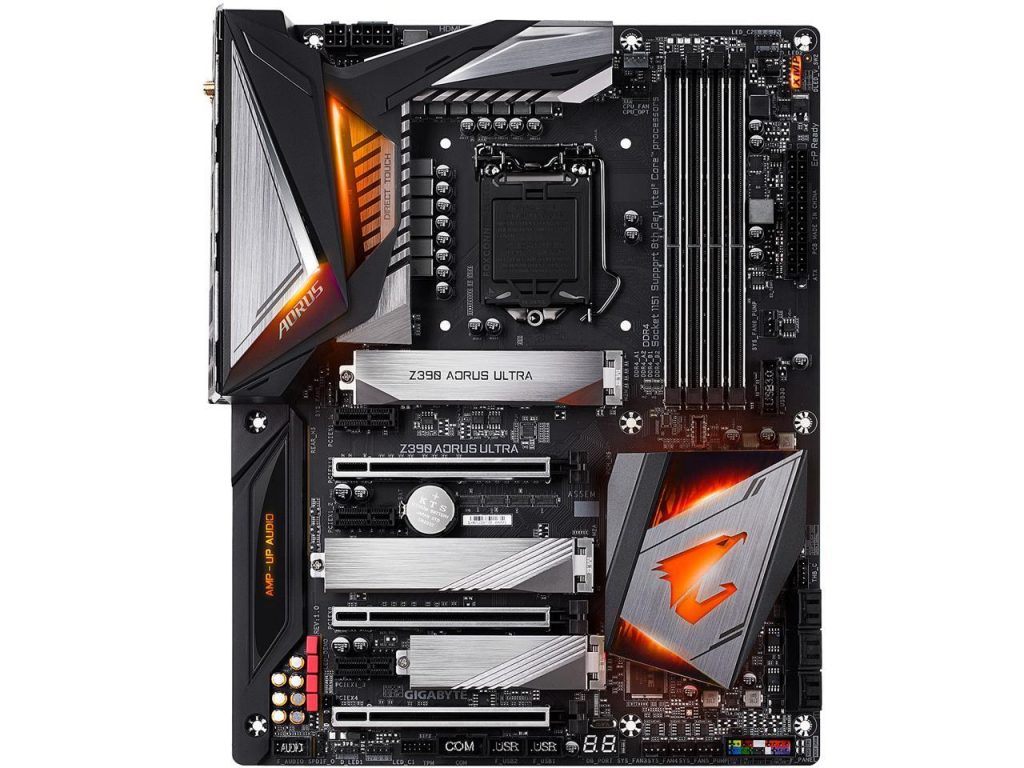 The Gigabyte Z390 AORUS Ultra is designed to help you take full advantage of the i7 9700K. This motherboard has support for dual-channel DDR4 and M.2 SSD devices to avoid throttling and bottlenecking when loading data into memory. The maximum capacity for each DIMM slot is 32 GB, with an overclocking frequency of up to 4133 MHz.
While most motherboards from other manufacturers have dual M.2 slots, the Z390 AORUS Ultra comes with triple PCIe Gen3 x4 M.2. It also comes equipped with Wave 2, the latest wireless solution from Intel that is capable of providing up to 1.73 GB/s for a seamless online gaming experience.
The Z390 AORUS Ultra also features an advanced thermal design that has a multi-cut heatsink with a Direct Touch Heatpipe along with thick thermal pads that help manage temperatures during hardcore gaming sessions or when overclocking the i7 9700K.
This motherboard has a sleek design along with a monochrome palette. It does have ultra-durable protection for I/O, memory, and PCIe slots. Additionally, it enables you to customize the colors of your system through the RGB Fusion application. The app has also been completely revamped to give you full control over the LED lights.
ASUS ROG Maximus XI Hero
Best Out of Box Performance Motherboard for the i7 9700K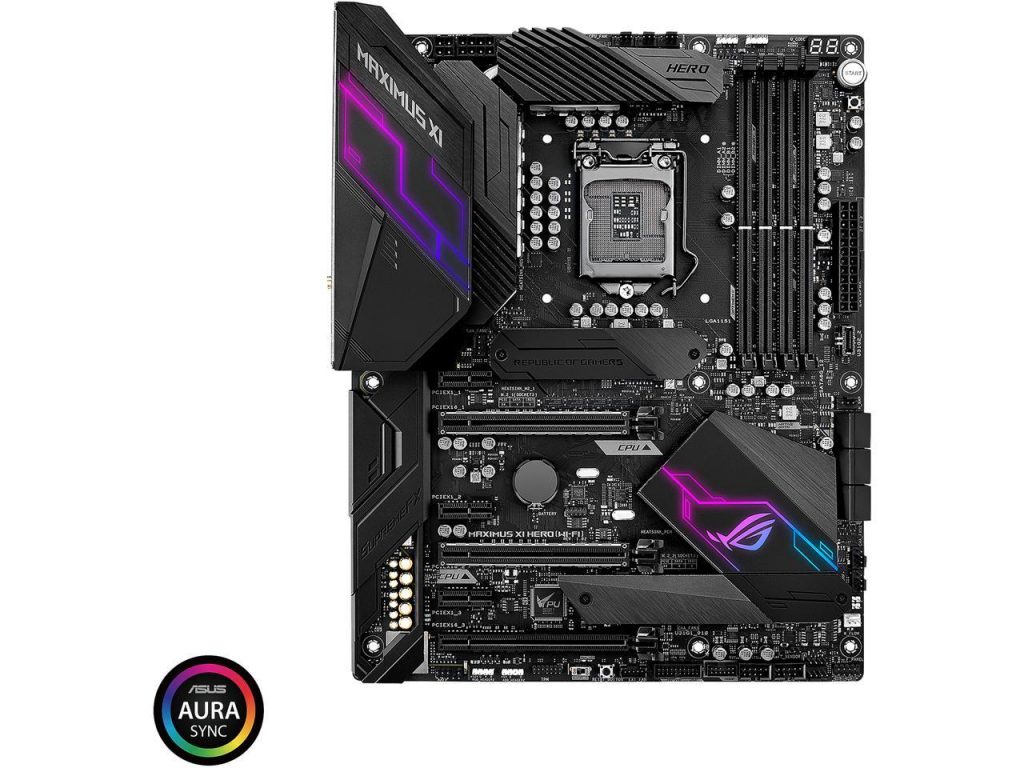 The ASUS ROG Maximus XI Hero is a Z390 series motherboard that prides itself on its high-quality sound and voice system. SupremeFX and Sonic Studio III allows you to distinguish one sound tune from another when playing games. Moreover, the front panel has dual op amps that help improve the overall audio quality. If you often use in-game voice chat, this chipset is capable of delivering your speech to other players without noise or distortion.
The Maximus XI Hero features dual M.2 slots. You have the option to change the capacity of each slot from the BIOS. This motherboard has thermal sensors that can detect the temperature of the chipset. When the temperature exceeds a specific set value, theses sensors are activated to start cooling the system automatically. It is also a great option if you plan on overclocking your i7 9700K since it allows you to squeeze every bit of MHz from your processor. Additionally, it is integrated with the 5-Way Optimization technology of ASUS that allows you to have complete control of every aspect from audio to storage. For even more customization, you can access the more advanced ROG UEFI BIOS.
The Maximus XI Hero also features GameFirst V that optimizes the network traffic for online gaming or video streaming.
MSI MEG Z390 Godlike
Best Flagship, Beautifully Engineered Motherboard for i7 9700K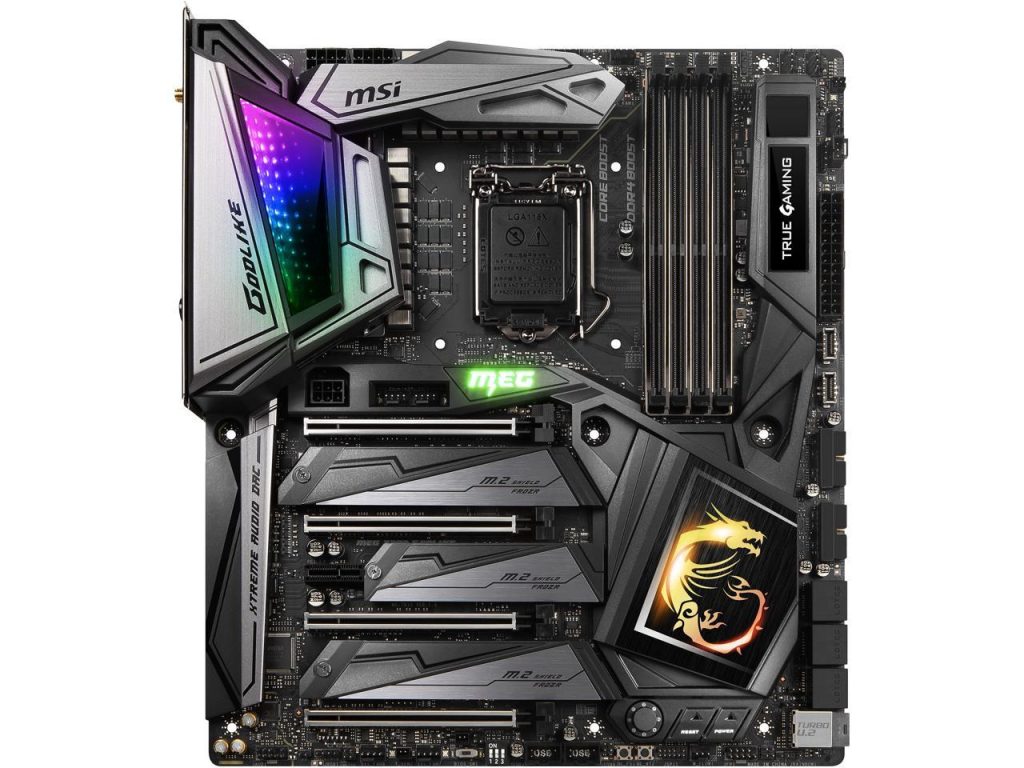 The MSI MEG Z390 Godlike is an outstanding motherboard in terms of functionality. It supports dual-channel DDR4 memory than can be overclocked to 4600 MHz and comes with triple M.2 slots.
The MEG Z390 Godlike also has a feature called Killer xTend Technology. It is a built-in capability to use the WiFi adapter as a connection to the internet and a wireless extender at the same time. Killer xTend also keeps your gaming and streaming traffic prioritized over the network traffic from other connected devices.
MSI integrated the Xtreme Audio DAC to this motherboard. It gives you excellent audio output at 384k Hz/32-bit through a 6.3 mm headphone jack that delivers breathtaking sound quality.
The MEG Z390 Godlike is also capable of limitless lighting effects that are customizable through the Mystic Light RGB application. Additionally, the OLED display on the dashboard not only displays useful information but can also be personalized to show GIFs.
Gigabyte Z390 AORUS Master
Best Motherboard for Getting the Big Overclocks out of the i7 9700K CPUs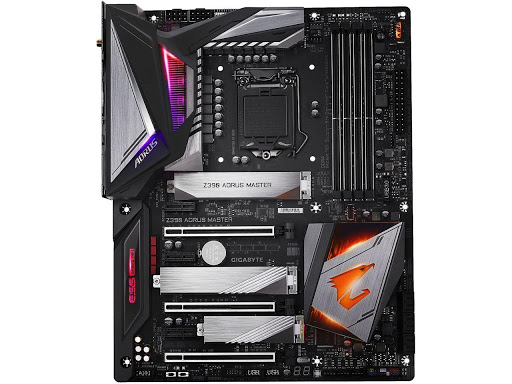 The Gigabyte Z390 AORUS Master is a motherboard from the company's flagship series that is capable of exceptional performance. It sports a design that is thermally engineered with Fins-Array heatsink, a heat pipe, and a thermal baseplate. This structure not only improves the performance of the chipset, but it also protects it from sinking heat. Additionally, it offers a thermal solution for SSD devices to prevent the motherboard from throttling and enhance heat dissipation.
The Z390 AORUS Master offers surround sound audio powered by gold capacitors to ensure a stable audio system. Like the Z390 AORUS Ultra, this motherboard features Wave 2 wireless technology to give you up to 1.73 GB/s. It also has a unique feature called Turbo Charge that provides super-fast charging for mobile devices through the USB 3.0 port.
ASUS Prime Z390-A
Motherboard for i7 9700K with the Best Bios UI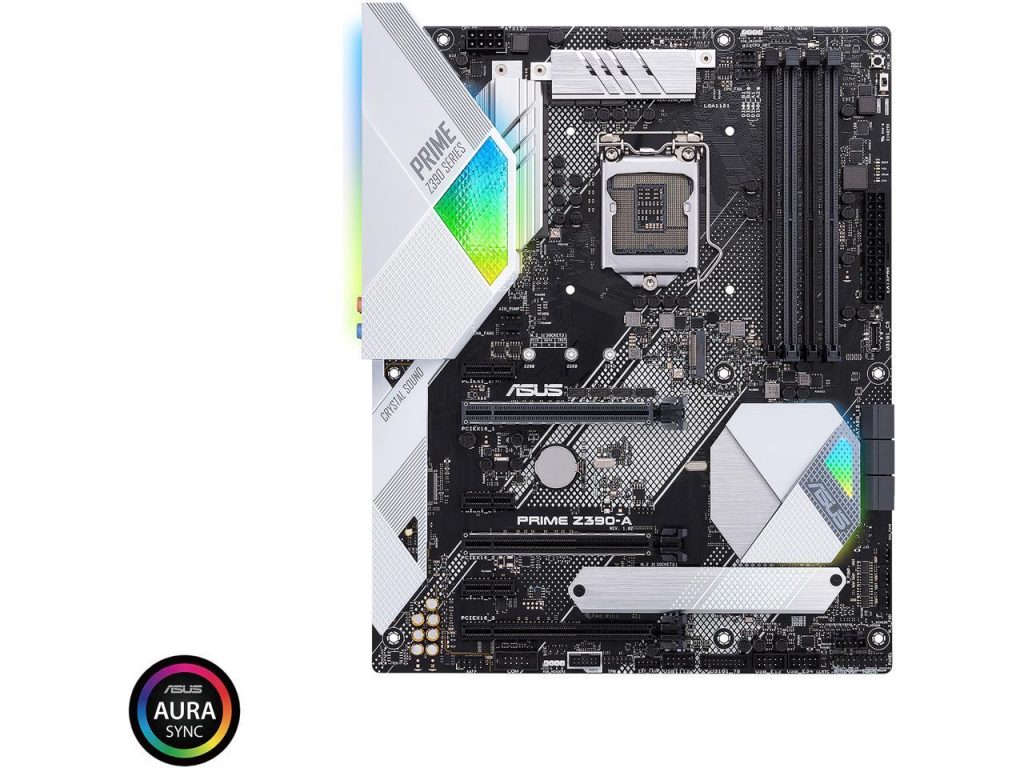 The ASUS Prime Z390-A offers one of the most exciting features for the i7 9700K. This motherboard automatically overclocks your processor based on smart predictions and thermal telemetry. Additionally, each header on this chipset can dynamically reference three thermal sensors to give you a comprehensive overview of its temperature and make adjustments accordingly.
The Prime Z390-A comes with dual M.2 slots that can support up to 32 GB/s of data transfer speeds. In terms of connectivity, it has backward-compatible USB 3.1 Gen 2 Type-A and USB 3.1 Gen 2 Type-C ports. This motherboard also features Fan Xpert that gives you full control over the fans to cool your system manually.
The memory on the Prime Z390-A has greater stability and an improved frequency margin because of a couple of integrated technologies. OptiMem II reduces the vias by rearranging memory signals to lessen crosstalk, while T-Topology boosts the overclocking memory capacities.
MSI MPG Z390 Gaming Edge AC
Best Budget Motherboard for the i7 9700K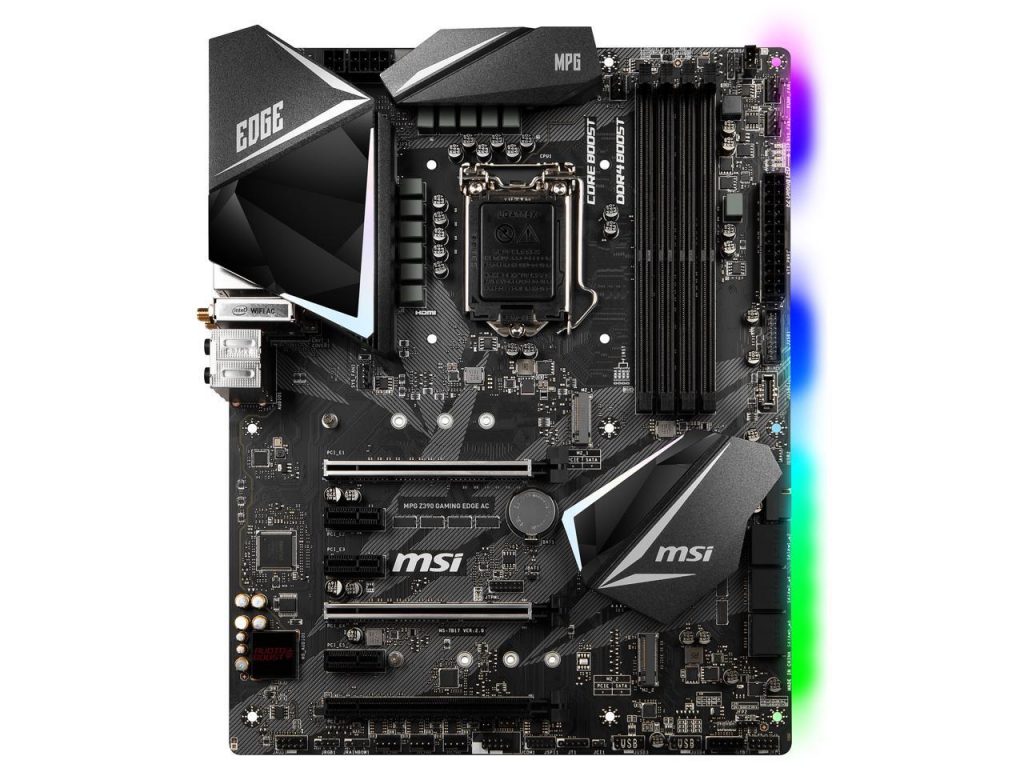 The MSI MPG Z390 Gaming Edge AC is a motherboard that was developed with the help of Intel. With both constructors working together, you can expect this chipset to be packed with features optimized for the i7 9700K.
The MPG Z390 Gaming Edge AC can support up to 64 GB of DDR4 RAM and two twin-turbo M.2 PCI-Express Gen3 x4 slots. Moreover, this motherboard comes with several ports for other functions such as HDMI, USB, and DisplayPort. It also gives you maximum control over the color combination through the Mystic Light application.
The heavy heatsinks on the MPG Z390 Gaming Edge AC make the temperature much more manageable. There are also numerous fan headers installed to ensure you have command over the thermal dissipation of your system and boost performance.
MSI integrated Audio Boost 4 and NAHIMIC 3 into this motherboard to provide you with studio grade sound quality for a more immersive gaming experience. They also allow for precise and neat sound when you speak with other players through voice chat.
ASUS ROG Strix Z390-E Gaming
A Solid Motherboard with Lots of Features at a Reduced Price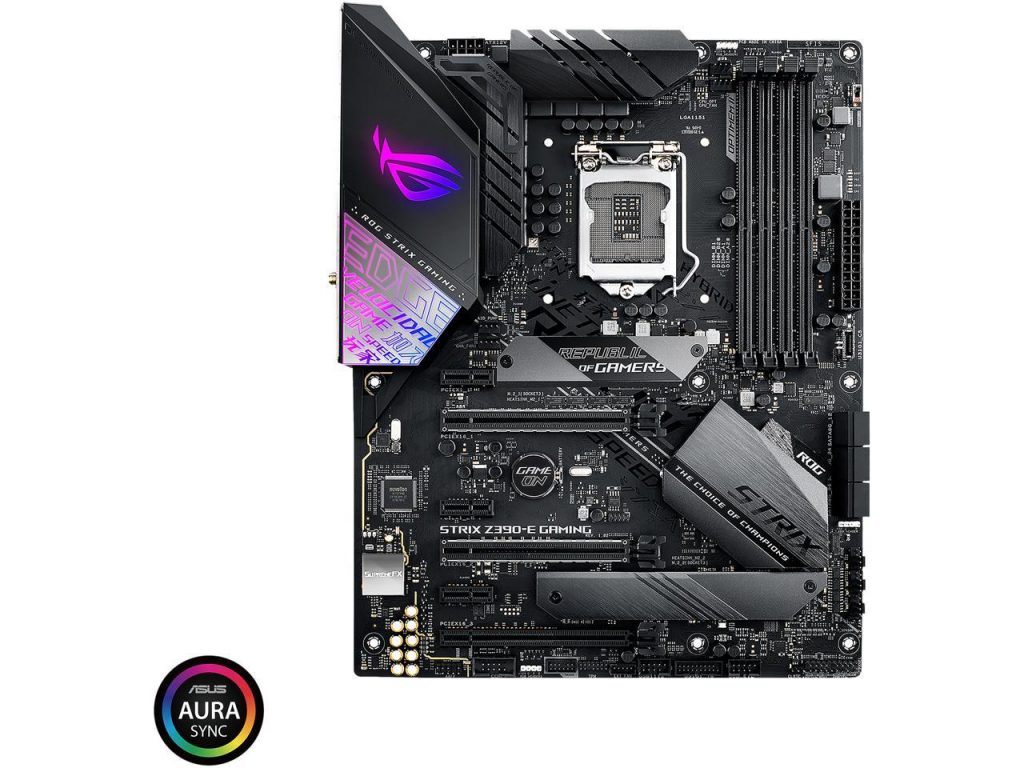 The ASUS ROG Strix Z390-E Gaming is a motherboard that was developed to give you enhanced gaming experience with AI Inter-clocking while offering exciting computing features at the same time. Like the Prime Z390-A, it is capable of automatically overclocking your processor based on smart predictions and thermal telemetry.
The ROG Strix Z390-E Gaming also has a comprehensive design with cooling options that can be easily configured through the UEFI BIOS or the Fan Xpert 4 software. It has a dual-channel RAM architecture and has a total of four DIMM slots. Each slot can support up to 16 GB of memory storage. Moreover, a couple of PWM/DC fans can be found in the chipset to ensure that your processor maintains a cool temperature.
In terms of sound, the ROG Strix Z390-E Gaming also stands out. It integrates the SupremeFX S1220A audio solution with Sonic Studio III to create an aural landscape that creates a more immersive gaming experience. It also has integrated Bluetooth 5.0 technology and Intel Optane Ready for better memory management.
Overall, the ROG Strix Z390-E is an excellent motherboard for both gaming and multimedia. Additionally, it can easily support all the necessary software needed for video editing or 3D rendering.
ASUS ROG Strix Z390-I Gaming
Best Mini ITX Motherboard for the i7-9700K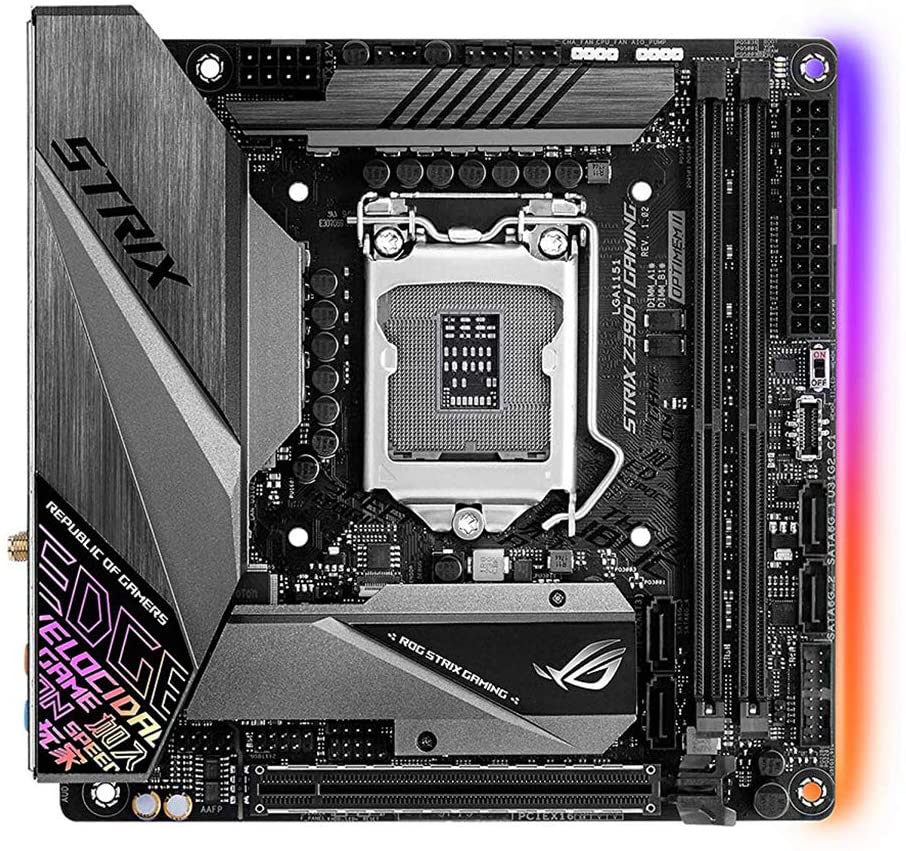 If you want to build a small form factor system, consider getting the Asus ROG Strix Z390-I Gaming. This motherboard has plenty of features geared towards meeting the demands of gamers.
Although it is a compact motherboard, the Strix Z390-I Gaming manages to incorporate two display inputs: DisplayPort and HDMI 2.0. It also features onboard WiFi, so you won't have to purchase a wireless adapter separately.
The Strix Z390-I Gaming features two M.2 slots with thick aluminum shields and two SATA 6 Gb/s ports for high-speed storage. On the rear panel, it has the following array of USB ports:
2 x USB 3.1 Gen 2 Type-A

1 x USB 3.0 Type-C

2 x USB 3.0 Type-A

2 x USB 2.0
The PCIe x16 slot has metal-reinforcement to secure your graphics card when you move the system around. If you have a bulky and heavy card, the reinforcement also prevents it from sagging over time.
In terms of ventilation, the ROG Strix Z390-I Gaming has plenty of fan headers. If you want to add some flair to your gaming rig, this motherboard also supports Aura Sync, allowing you to synchronize the lighting effects of your components and create an ambiance based on your preferences.
Unfortunately, the ROG Strix Z390-I Gaming doesn't support NVIDIA SLI or AMD Crossfire because of its compact form factor. It is also limited to two DIMM slots, but it should be sufficient if you pair it with high-speed memory.
MSI MPG Z390 Gaming Pro Carbon AC
A Good Balance of Features, Performance and Affordability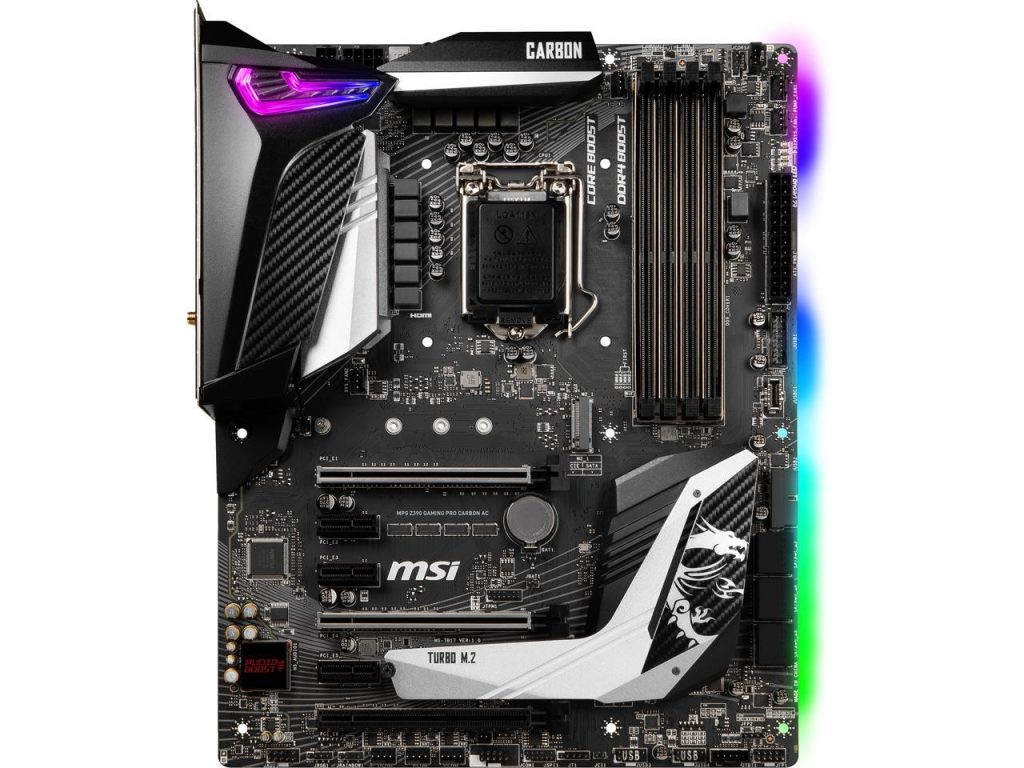 The MSI MPG Z390 Gaming Pro Carbon AC is another motherboard that was developed with gaming enthusiasts in mind. If you spend long hours gaming on your system, this chipset is a great choice to pair with your i7 9700K.
The MPG Z390 Gaming Pro Carbon AC comes with MSI's M.2 Shield Frozr technology to give you control over the heatsink on the motherboard. When your M.2 SSD devices experience a rise in temperature, the Shield Frozr heatsink helps retain the speed to make it work more efficiently.
The audio features on the MPG Z390 Gaming Pro Carbon AC are also remarkable. The motherboard has an ALC1220 audio processor installed along isolated circuitry to enhance the sound quality. Additionally, the audio capacitors and amplifiers fixed on the chipset have an excellent build quality. Overall, the audio system on this motherboard delivers exceptional quality sound.
In terms of connectivity, the MPG Z390 Gaming Pro Carbon AC has Intel Wireless-AC 9260 capable of up to 1.73 GB/s along with MU-MIMO for Bluetooth technology. Like the MAG Z390 Tomahawk, this motherboard has support for the Mystic Light application. It gives you control over the lighting effects of the motherboard to enhance your gaming environment.
ASUS TUF Z390-Pro Gaming
Best i7 9700K Motherboard for First Time Rig Builders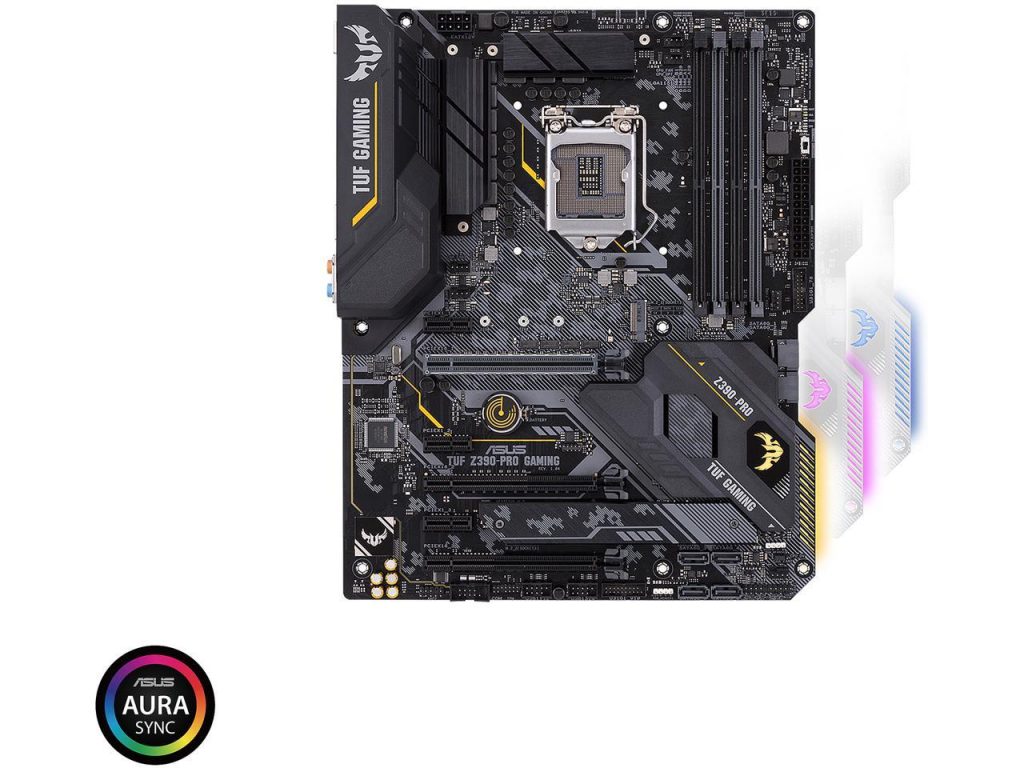 The ASUS TUF Z390-Pro Gaming is a rather affordable motherboard that is an excellent option for gamers on a budget. It is a beautifully designed chipset that is more than capable of handling your i7 9700K.
A consistent and stable internet connection is essential for an excellent gaming experience. Thus, the TUF Z390-Pro Gaming offers different featured LAN connections. TUF LANGuard and Dual interconnect b/w the MAC (Media Access Controller) PHY (Physical Layer) with the Intel 1219V, Turbo LAN. These support secure inter-connectivity connection to ensure that you get a fast and reliable internet connection.
The TUF Z390-Pro Gaming has a dual-channel memory architecture to support DDR4 RAM and runs at the peak of 2666 MHz. It has two dual DIMM slots that support Intel's Extreme Memory Profile XMP up to 64 GB of maximum capacity.
This motherboard also has multiple expansion slots, including dual M.2 slots for your SSD devices. If you want to have two SSDs on your system, you must install Hyper M.2 X 16 card into the PCI-E X 16_2 slot. All of the settings can be configured from the BIOS. Similarly, if you want to install three SSDs on your system, you can go to the BIOS settings and install a Hyper M.2 X 16 card into the PCI-E_1.
The TUF Z390-Pro Gaming is built with the military-shape. This design is optimized for safety and protection and ensures that you get a durable and reliable motherboard. It has a pre-installed I/O shield that supports the DisplayPort, an HDMI port, Type-A 4x USB 3.1 along with some audio ports.
Compared to the competition, the TUF Z390-Pro Gaming is much more affordable. If you are on a tight budget and want a functional home for your new i7 9700K, this motherboard is a wise investment.
ASRock Z390 Phantom Gaming-ITX/AC
Best Budget Motherboard for the i7-9700K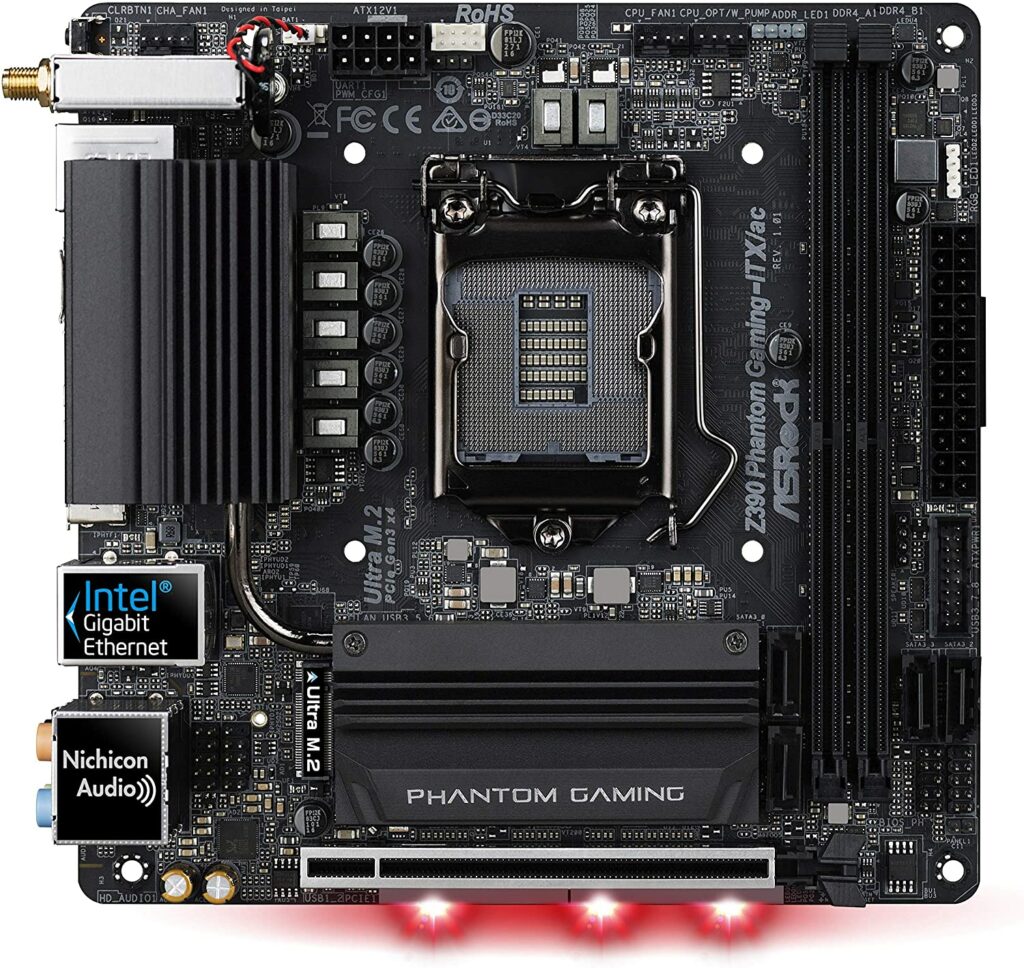 If you want to pair your Intel i7-9700K with an excellent budget motherboard, look no further than the ASRock Z390 Phantom Gaming-ITX/AC. It offers superb value for money and is the perfect foundation for a compact gaming rig.
The Z390 Phantom Gaming-ITX/AC features a 5+2 VRM configuration with 60A power stages and large heat sinks for effective passive cooling.
Because of its small form factor, it houses only two. However, it does have two M.2 slots for high-speed storage.
The rear panel of the Z390 Phantom Gaming-ITX/AC contains the following ports:
4 x USB 3.1 Gen 2 Type-A

2 x USB 3.1 Gen 1

1 x Thunderbolt 3

1 x Audio Jack
In terms of wireless connectivity, the Z390 Phantom Gaming-ITX/AC has built-in WiFi and Bluetooth 5.0 support. With so many features packed in a compact motherboard, the temperatures can become a concern. Fortunately, it has adequate heat sinks for passive cooling and plenty of fan headers for active cooling.
Overall, the Z390 Phantom Gaming-ITX/AC is one of the best budget-friendly motherboards for your i7-9700K. Although it has subdued aesthetics, it offers plenty of features that make it worth considering.
ASRock Z370 Extreme4
Most Affordable Motherboard for the Intel Core i7-9700K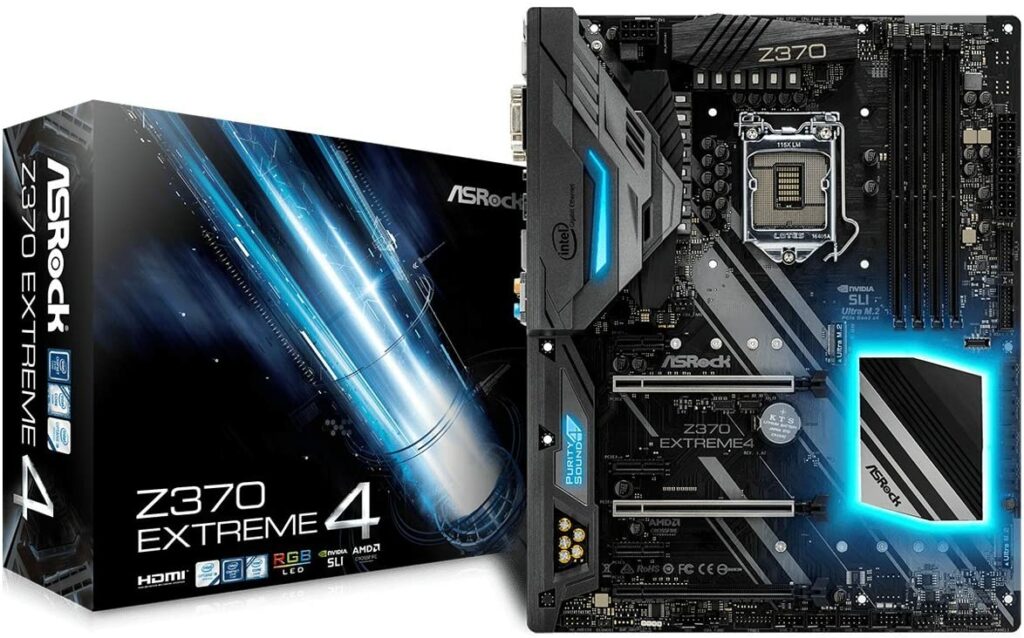 Although the ASRock Z370 Extreme4 is at the bottom of our list, it has plenty to offer in terms of performance. This motherboard has four DIMM slots that can accommodate high-speed memory overclocked to up to 4333 MHz. It has aluminum heat sinks over the MOSFETs to deliver passive cooling and maintain system stability.
The Z370 Extreme4 falls under the budget category, but it is one of the few affordable motherboards that support NVIDIA SLI and AMD CrossFireX. The rear panel of the motherboard features a variety of input and output ports, including:
5 x USB 3.1 Type-A

1 x USB 3.1 Type-C

D-Sub

DVI-D

HDMI
If you want to incorporate lighting effects into your rig, the northbridge of the Z370 Extreme4 has an elegant underglow that you can complement with light strips to add some character to your setup.
Factors to Consider When Buying a Motherboard
We asked some of our gamer friends on what factors do they consider when choosing a motherboard. Here's what they have to say.
One of the most important and often overlooked considerations when choosing a motherboard for your PC build is the number of USB ports it has. As a content creator and gamer, you accumulate a lot of peripherals; mice, keyboards, gamepads, cameras, mixers, headsets, etc. All of these items are vying for a USB port on your PC. I like to make sure that motherboards have at least 10 USB ports on the back panel.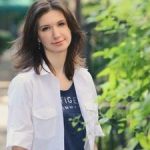 Catherine Consiglio
https://raidbuff.com
Considering you probably are putting together a CPU, first of all you should check that any possible motherboards are a match for your chipset. Features in general should be most important. This is the first step, and it is absolutely necessary! Second, check its performance. You should also check that your chosen motherboard supports your RAM speed. I tend to go with Asus because everything I have lately gotten from them has turned out to be great, so… why change? Ideally, you should have 3 to 4 fan headers installed, so check your motherboard supports that too. Check you will have enough ports below and front, particularly if you know you will get a ton of things plugged in. Finally, check the price range. Sometimes you can do without some of these things if the price is just right.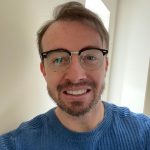 Joe Flanagan
Founder of 90s Fashion World
Bottomline:
This sums up our list of the best motherboards for i7 9700K.
These chipsets are the cream of the crop, and each has unique features that make them a deserving home for your new processor. We hope this list has helped you find a motherboard that fits your budget and your preference for features. If you are not concerned about the additional features that some of the more expensive options offer, consider getting the boards that cost less than $200. On the other hand, make sure you pick a more capable board if you plan on taking advantage of the overclocking potential of the i7 9700K.
Whether you are upgrading your gaming system or workstation, any of these models have the capability and compatibility to be the best motherboard for i7 9700K.