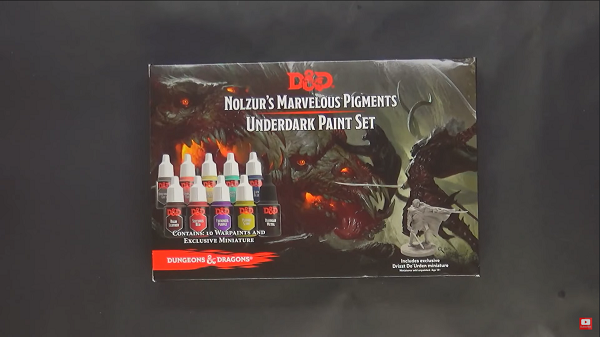 Art and adventure are inseparable things, especially in Dungeons and Dragons. It's common for a dedicated player to have a commissioned D&D custom character art piece that represents a male or female character. Or perhaps a DM might get a commission art of the whole party. In many ways, D&D artwork complements the narrative process of a game.
Do you want to make art pieces for D&D? We're here to help. This article will guide you through the important aspects of D&D art creation, such as fundamentals, commissions, and even marketing strategy. Plus, we've reviewed some of the most useful D&D art materials in the online market.
Making D&D Character Art – A Step by Step Breakdown
Choose Your Art Medium
Dungeons and Dragons art is divided into dozens of interesting mediums. Each medium has its share of appreciative fans and established techniques. If you're already skilled with a specific art medium, you can just follow that route and incorporate other mediums along the way.
Color art is the most common medium in D&D communities. The color art medium covers a wide range of artistic works such as pastel color, paintings, sketches, and caricature work. Many D&D fans love color art because of its accurate representation of a scene or portraits of a character. Veteran color artists also charge thousands of dollars for full-body art against wonderful scenery. D&D color art is a competitive space, so you may need to brush up on your marketing skills to build a client base.
Paper art is another interesting medium with lots of variations. Origami, for example, is a viable art form in D&D communities, albeit not too popular. Cardboard cutouts are more popular because finished figures can be used as markers or alternatives to expensive miniatures. Some paper artists also love to make D&D décor such as stationery pieces, gameplay mementos, custom character sheets, and personalized tokens. More often than not, consumers can save money by choosing high-quality paper artwork in bulk.
The most accessible medium nowadays is digital art. Basically, digital art covers all types of artwork created through digital means. Many fans love digital art because they can order art pieces within minutes. It's also easy to back up and replicate digital art pieces. One downside of digital art is the barrier of entry. You need to have decent equipment before taking on some large-scale commission projects. Additionally, you must know how to use some of the art industry's reliable graphics editings software like Adobe Photoshop or GIMP.
Clay art is common among miniature creators and scale modelers. Through molding clay, you can make a custom D&D miniature or item. If you're a beginner, it will take numerous times before you can make a detailed clay miniature. You must also ensure that your workplace has complete supplies and proper ventilation.
Pick Your Art Theme or Style
Committing to a theme or style is a fine way to improve your Dungeons and Dragons artistic career. However, picking a style can be tricky because of the countless examples you can find in the market. Some styles are easy to adapt and modify, while others require deep knowledge and artistic prowess.
If you don't want to pick a style right away, just examine your early DnD character. Do your characters have similar traits, goals, ideals, and flaws? Which character backstory resonates greatly with your personal life? These simple questions will help you develop a memorable DnD artwork style.
These are some popular art styles in D&D communities:
Caricature – Big heads, wacky poses, and loud emotions
Anime – Cool hairstyles, attractiveness, appealing costumes
Chibi – Same as Anime, but cuter
Burtonesque – Similar to Tim Burton's style (i.e. Nightmare Before Christmas)
Tiny – Full art of small figures
Stained Glass – Colorful, almost abstract representations of characters
Mecha – Android or cyborg versions of D&D characters
Monsterized – D&D characters represented as monsters
Noir – Black and white, moody, elegant
Victorian – Semi-expensive Victorian representation of characters
Vector – Nearly photorealistic renditions of characters
Abstract – Surreal, meaningful, and lots of strokes
Another way to find your artistic touch is to combine more than two art styles. Start with a style that you know and move on to other related styles. Your first creations might feel strange or even 'out of sync' but they're necessary for your improvement as a D&D artist.
Check Out the Current D&D Art Market
The wise artist always knows how to observe the general market. By understanding the market, the artist can make great masterpieces designed to tickle the senses of consumers. Still, some artists don't want to follow the whims of the market. They are rather content with following their passion and making art for their friends or relatives.
Here's the catch: you have a duty to the market as an art creator. Sooner or later, your followers will ask for more pieces of art and they will spread your name or brand.
The Amazon marketplace is a viable platform where you can get useful data for your artwork. In Amazon, you just need to enter some keywords related to your art style. Make a list of the top ten stores and figure out their weak areas. Focus on these areas and integrate them into your planned products.
While Amazon lets you see valuable technical data and other related illustrations, social media will help you figure out behavioral movement and aspects. You can start by visiting a popular D&D art page. Find out if the page is actively serving lots of customers. Check out the page's style and determine what you can do better.
Get Inspiration from Established Artists
One of the best ways to become really good at any craft is to study those who succeeded before. Studying your contemporaries is easy nowadays because of the Internet. You just need to find the artists related to your style and understand their techniques.
While studying your favorite artists, don't lose sight of your personal goal. Stick to your vision while making drawing inspiration from other artists. Many beginners tend to feel envious of other artists because they focused on novelty techniques, not fundamentals.
The fundamentals of your artistic work will help you through difficult times. Your personal goal or vision is one of the fundamentals. If you want to have a better shot at artistic success, you mustn't stray from your vision. The other things that you can learn from artists are 'enhancers' of your vision and techniques.
Ordering a piece of art from a D&D artist is also a beneficial technique. Once you have the artist's product, you can examine it thoroughly. You can also learn a lot by viewing illustrations of the artist's Youtube channel, Facebook page, website, or online portfolio. You can even do a portfolio search for illustrators to see more of their work.
Take Commission Work
Commission work is your bridge to the thriving digital world. Through commission projects, people will learn more about your brand, artistic skills, and unique style. Aside from the marketing fuel, commission work will fund your projects and extra needs.
If you're just starting out, just head straight to a D&D forum and make your profile. Be friendly with others and always share your artistic insights. Once D&D gamers realize that you're open for commissions, the requests will immediately reach your inbox.
Commission pricing is a common challenge faced by many D&D artists around the world. The first thing that you must understand about pricing is innate flexibility. Prices are flexible, and they are based on your current priorities, needs, and skills. You're free to charge thousands of dollars per artistic work, but a portfolio or sleek negotiation must back up your claim. All prices are valid, but not all of them are fair. The initial price is all up to you!
As you take more commission projects, your skills will gradually improve. Soon, you can take on complicated projects with premium-level fees.
Review D&D's Lore and Its Popular Characters
D&D is a complete sandbox of worlds and realms right out of the box. The D&D 5E core book or core books contain enough knowledge and tidbits of RPG wisdom. Every other sourcebook that you buy will increase your knowledge about D&D's growing trove of concept art, ideas, and rulesets.
Reviewing D&D lore from different book genres and other sources will help you become more familiar with fantasy, elf, and sci-fi tropes. Through a decent level of familiarization, your mind can play around with different D&D character art fantasy and ideas. You might even discover your favorite custom character and races for art purposes.
Aside from D&D lore, you should also check out the game's most popular characters. Volo, for example, is a quirky character that can represent a daring explorer or a curator. Volo's character template can be a solid subject for your new art piece. Other memorable characters are Count Strahd Von Zarovich, Durnan, Laeral Silverhand, Drizzt, and the recent Blackstaff, Vajra Safar.
Smart Ways to Share and Market Your D&D Character Artwork
Marketing your D&D art shouldn't be a complicated process. Yes, it's hard work, but you can follow a set of simple strategies that won't cost too much money.
These are some useful D&D marketing strategies:
Make A Blog With Different Types of Content
Blogging is an excellent way to jumpstart your simple marketing initiative. You can write about D&D art ideas and discussions of useful techniques in your blog. If writing isn't your strong suit, then you can just upload sketches of your work or day-to-day pictures. Many blog readers love to explore an artist's creative process. Think of your blog as the window to your artistic soul.
Short videos will also improve the value of your D&D art blog. Watching a video is faster than reading text, but it's always better to upload both types of content. The video will show the focus of your subject, and the text section will reveal additional information.
You can start a blog for free. Today's best blog platforms are WordPress, Blogspot, Wix, and Weebly. All of these platforms have their respective strengths and weaknesses.
Create Mini-Stories About Your Journey
Stories are the real conduits of marketing initiatives. Whenever a customer connects to a lingering story, he or she will eventually buy the product or take the next step towards conversion. Making your art and putting it on a platform is not enough – you have to make a couple of stories highlighting the ups and down of your journey.
Your blog is an effective platform for storytelling, but you can also try the narrative potential of Instagram. On Instagram, every story contributes to the growth of your personal brand.
Run Some D&D One-Shots
In D&D, running a game can be the gateway to new friendships, casual relaxation, job opportunities, useful trivia, and even business referrals. Sometimes, however, running a full D&D campaign is time-consuming and hard work. In this case, you can just start with a one-shot that lasts only a couple of hours.
One-shots are like bite-sized adventures for all D&D players. A one-shot may or may not develop into a long-term campaign, and the commitment required from players is not too high. If you're a beginner DM, running a one-shot adventure will ease you through the rules of D&D without too much pressure.
While you're running the one-shot, don't focus on marketing your products or artistic services. Just run the game as normal and put your masterpieces near the game table. If you have custom miniatures, just use them for the game and watch your players' eyes glimmer with interest.
Participate in RPG Forums (And Build a Shop Even!)
Despite the popularity of social media, RPG forums are still alive and kicking. Under these RPG forums, you can read about the dynamic history of tabletop RPGs and the plethora of adventures that are still running. Most RPG forums also have sections for aspiring artists, game designers, hobbyists, writers, build-testers, and Dungeon Masters.
Actively participating in RPG forums will give you a leg up when it comes to marketing efforts. You're only limited to some basic threads if your account is new. You must build up your account reputation by answering questions, talking to other forums, and helping other artists. In due time, you will gain the privilege to access the market threads or even your own shop to sell your artwork.
Your forum signature can also contain links and banners related to your art, portfolio, or website. Follow the rules of the forum and try to use creative signatures.
Join Chat Groups and Offer Your Advice
Chat groups or messaging groups are almost the same as forums, albeit they are quicker and more limited in nature. The most convenient D&D chat program that you can use is Discord. Aside from direct text chat, Discord also allows voice calls and video chat. Discord members can also access threads and categories related to their interests.
Instead of joining chat groups plainly, you should try making your own server. This way, you have full control over Discord's engagement and content creation functions. You can even run a D&D game within Discord while having a separate thread for your art services or products.
If you decide to join a chat group, do your best to help others by offering advice on D&D gameplay and art. Be the authentic friend that everyone is looking for. Do not peddle your wares because admins are strict about sales and transactions. Once you have established your reputation in the chat group, then you can start dropping subtle hints about your products and services.
The Best Crafting Materials to Help You Make D&D Character Art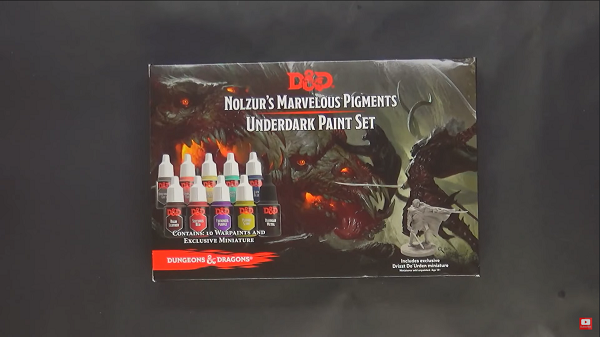 Brand: D&D Official
Weight: 9.2 ounces
Dimensions: 8.9 x 6.06 x 1.26 inches
Purpose: Miniature art, color art
Rating: 4/5
If you need strong colors for your D&D miniatures, you should check out the D&D Underdark Paint Set or also known as Nolzur's Marvelous Pigments. The Underdark Paint Set contains ten warpaints distinct enough to match the style of Underdark monsters and denizens.
Unlike other warpaints, the colors of the Underdark Paint Set are relatively easy to mix. You can use the paint directly or thin it out to achieve better consistency. The colors also match most types of bases, though you will get better results with darker shades.
A noticeable downside of the Underdark Paint Set is the size of each bottle. Typical paint bottles are more than 15ml, but the Underdark warpaints are around 12ml. Depending on your project type, the Underdark warpaints will run out quickly. You might also feel disappointed with the box's limited range of colors.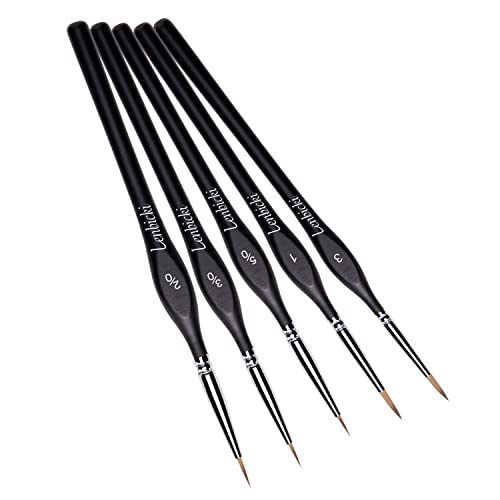 Brand: Lenbicki
Weight: 2.82 ounces
Dimensions: 11.42 x 5.91 x 0.39 inches
Purpose: Painting, color art, miniature art
Rating: 4/5
A good set of paintbrushes shouldn't drill a hole in your wallet. More importantly, premium brushes should last for dozens of big or small projects. In that case, one paintbrush set that you can trust is the Micro Detail Paintbrush Set from the Lenbicki store.
The Micro Paintbrush Set is one of the finest products of Lenbicki. Each paintbrush has a different size, allowing flexible painting strokes. The bristles of each brush are strong, and they won't fall out after long usage. Also, the handles are not stiff. They won't cause wrist strain, especially if you need to stay in one position for more than an hour.
The Lenbicki brushes are excellent for precision painting. If you need to work on miniature eyes, mouths, wrinkles, and facial blemishes, you won't be disappointed with the Lenbicki precision. But if you intend to paint wide surfaces, you're better off with thicker Lenbicki brushes or other brands.
Even though the Lenbicki Micro brushes have durable handles, they shouldn't be left too long on liquids. Prolonged liquid exposure will wear down the first layer of the brush, weakening its structure.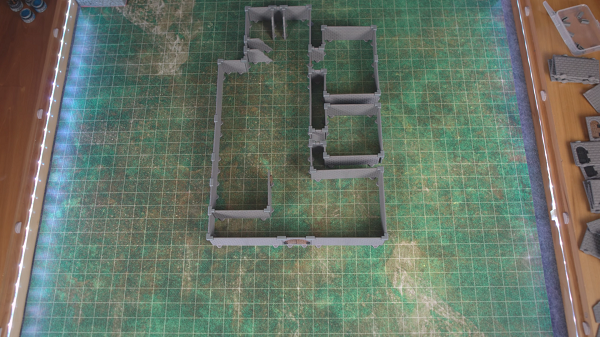 Brand: Dirt Cheap Dungeons
Weight: 40 ounces
Dimensions: 42 x 24 x 1.79 inches
Purpose: Terrain design
Rating: 4/5
Do you want to save time on making dungeons? The Modular Dungeon System from Dirt Cheap Dungeons is the answer. This boxed set contains 460 dungeon pieces such as stone walls, doors, and stairways. With the Modular Dungeon set, you can make different styles of dungeons in ten minutes or less.
The Modular Dungeon set is ready for play once it is opened. You just have to set up the pieces on the table and add your miniatures. Since the pieces are already painted, they have the right aesthetics to invoke the dungeon crawl feeling. But if you want to get more hyper-detailed, then you can add some color touches and weathering to the pieces. A couple of graffiti marks and dirt streaks (try Vallejo paints) will make the Modular Dungeon Set more immersive.
Some of the pieces of the Modular Dungeon Set are fragile. The crumbled wall pieces warp easily, and the doorways get flimsy over time. To slow down the set's wear and tear, you can always use a durable container or a traveling case.
DnD Art Tips Our Expert Wants You to Know
Always focus on one project at a time. Having a large backlog of unfinished D&D art projects is not productive at all. Rather, a large backlog is one of the classic signs of a lack of discipline.
You should invest in a set of high-quality art materials and tools. Low-quality tools will derail your progress and will also cause you to spend more money on replacements. On the other hand, poor materials will affect your art's final outcome and can also be toxic enough for your health.
If you're a beginner, always have a digital portfolio. This portfolio can be a website, a blog, or even a social media page that showcases your artwork. It's better to do the portfolio early than later – especially if clients are already seeking you out for commission projects.
If you're building and painting minis, keep in mind that beautiful and highly detailed bases will increase the aesthetic value of a miniature. Spend time beautifying your miniature bases!
Don't hesitate to ask for advice or insights from other artists. Perhaps their styles will give you new ideas for your art project, or they can share a useful tip that can boost your artistic career.
Find a style that deeply resonates with you. Not all art styles are the same, and they can even be combined to create a new and unique style.
A supply of polymer clay will always be handy. This type of clay can be used to form miniature things, and it can also be a flexible base for small items or tools.
Don't be pressured by the right prices for your artwork. You're free to set any price you like, and you can adjust it at any time.
FAQ About D&D Character Art
Is it difficult to make D&D character art?
Answer: It depends on your skill level and chosen medium. Some mediums are easier than others and also cheaper. But if you're skilled enough, you can apply some techniques to make the artistic process easier and more efficient. Your art equipment will also play an important role in the process.
What are the best mediums for making D&D character art?
Answer: Color art and digital art are currently the best mediums for beginners and pros. These mediums have continuous demand because of D&D's sudden surge in popularity.
Is it profitable to make artwork for D&D?
Answer: At first, you might have a difficult time making money from D&D art. One factor is the competition among artists, asset creators, visual character creators, and hobbyists. It's better to start slow, enjoy the process, and connect to the D&D community as often as possible. Once your name or personal brand has already been established, you can now start raking the dough from your D&D art masterpieces.
What are the materials needed for making D&D art?
Answer: The most common materials needed for D&D art are coloring paints, brushes, colored paper, molding clay, beads, ribbons, threads, cardboard, and wood chunks. Your D&D art medium will also determine the required materials. There are also fantasy character makers and even character creators dungeons and ideas.
What are the best YT channels for making D&D art?
Answer: There are dozens of YT channels about D&D art. Some of the praiseworthy choices are Sam Hogg (commission work), Real Terrain Hobbies (miniatures and terrain), and JP Coovert (paper character art).
Is Marketing required for D&D art creation?
Answer: Yes – if you want to make money from your art at least. But if you're just doing art pieces for your personal enjoyment, you don't have to stress over marketing strategies and tactics.
Can I sell my art in online stores?
Answer: Yes, it is possible to sell your art in online stores, platforms, and marketplaces. However, you must abide by the rules of your chosen platform. You can make a customized personal store from scratch if you have the right budget. Free blog sites are also great alternatives because of their built-in functions and affordable service packages.
How can I protect my artwork from copyright infringement?
Answer: If you're serious about copyright, you must register in your country's copyright office. Almost all types of artwork are eligible for copyright protection, but you must pay the registration fee. During the application process, the copyright office might require you to submit copies of your artwork along with other important papers.
What is OSR Art?
Answer: OSR simply means Old School Revival. This movement is all about the restoration of old D&D adventures, modules, and maps. Some hobbyists are also focused on making OSR art, such as miniatures and isometric terrain models. If you want to adopt a gritty adventuring art style, check out the wonderful things created by the OSR community.
Conclusion
Making D&D character art is a wonderful part of the adventure. Whether you're an artist or a dedicated player, you can always benefit from joining the realms of D&D art. Just remember to take your time, enjoy the process, and make new friends along the way.
If you could add to your favorites any DnD character, what would it be? What are your favorite types of D&D character art? Let us know. We might add your cool ideas in our next article!