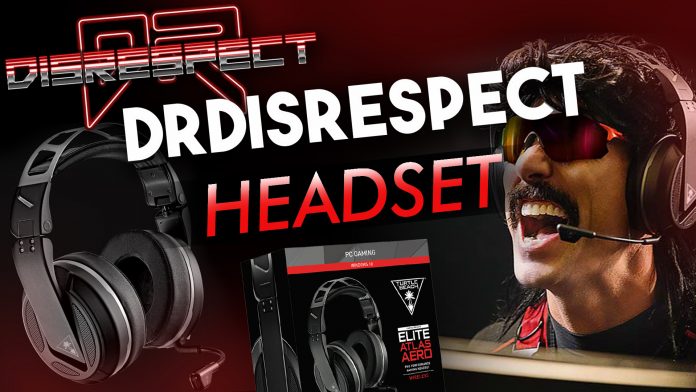 Herschel "Guy" Beahm IV, more popularly known as Dr Disrespect (also known as Two-Time and the Doc), is an American online celebrity and former Twitch streamer.
One of the main reasons why he became so popular isn't entirely because of how competitive he plays, but because of his funny humor on stream. Unlike most streamers that show their real faces, Doc wears a mullet, a mustache, and sunglasses to represent the character he wishes to portray.
Showtime.https://t.co/bHsMu8hnlN pic.twitter.com/Amk6PQh7pv

— Dr Disrespect (@drdisrespect) June 4, 2020
Since he started his full-time streaming career in 2015, he's garnered over 4.4 million followers on Twitch. Because of his outplays and epic clutches, many wonder what kind of gaming peripherals Doc has to stay superior in the FPS gaming community.
In this article, we've covered all the bits you need to know about Doc's headset, and even included a detailed buying guide in case this headset isn't for you.
What Headset Does DrDisrespect Use?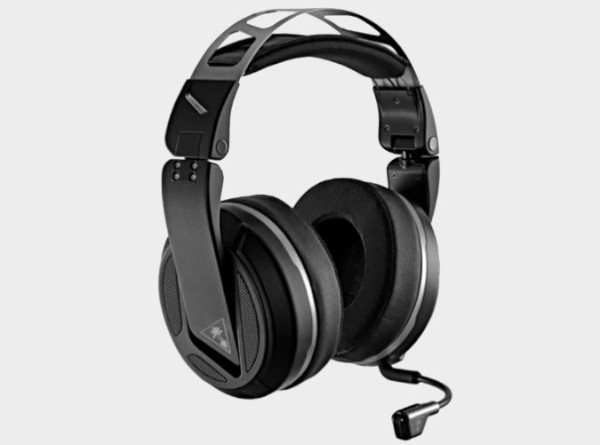 Tech Specs:
Weight: 816.5 g (1.8 pounds) | Design Style: Closed, Over-ear | Driver Type: 50mm Turtle Beach Nanonuclear | Frequency Response: 12 Hz – 20 kHz | Impedance: 32 Ohms | Microphone Type: Detachable, Omnidirectional | Cable Connectivity: 3.5 mm | Wireless Connectivity: 2.4 GHz USB Type-A wireless dongle
Turtle Beach sponsors DrDisrespect's pair of cans. But that's not the reason why he's using these bad boys. The build of the Turtle Beach Elite Atlas Aero Wireless is made of high-quality material that they deserve to be worn by the likes of Doc.
Although they don't belong to the premium-grade headsets, they still offer features that can easily compete with some big names in the headphones industry.
You see, the design is clearly for gamers, which is why Turtle Beach is thoughtful enough to use metal as bridges to connect the ears. Because of this, they do feel a little heavier than other premium-grade headphones in the market. But for someone like Doc, this shouldn't feel heavy.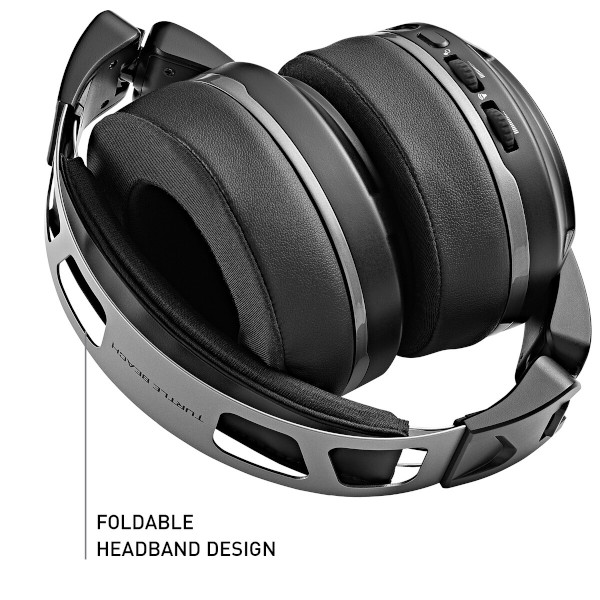 But I do like that the headset features a folding design that makes it convenient for traveling. Honestly, I'm surprised at how durable they feel, and I can tell Turtle Beach is taking this seriously since the folding design is supported with metal parts and screws.
However, there isn't much room to make adjustments, but they do swivel, so they lay flat on your chest when you take them off and hang them around your neck.
Unfortunately, if you're hoping to use these for your PS4 or Xbox One, you're out of luck. The headset is only compatible with PC users since it only has a 3.5 mm jack for audio. To help you find something you can use for a console, our roundup of the best earbuds for Xbox One should help.
If you wish to make adjustments, you can do so via the back of the left ear cup. However, note that these headphones feature plenty of adjustments. Here's a roundup of each button and their respective functions (from top to bottom):
Variable Mic Monitoring Wheel (Remappable)
Volume control wheel
Superhuman Hearing mode (Remappable)
Power on/off button
USB charge and update port
VR/Mobile headphone port
Microphone port (Detachable)
Mic mute on/off (located on the side of the left cup)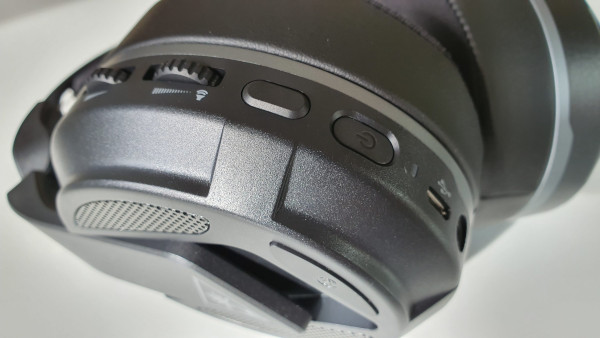 That's plenty of buttons for one side. And because of their proximity, it's easy to get confused at first. But hey, there's always a first time for everything, and you should get used to it after a few days.
In terms of performance, this thing delivers. As mentioned, this may fall short compared to other premium-grade headphones, but the 50 mm drivers of the Turtle Beach Elite Atlas Aero gives you stellar sound experience, even more so after tweaking. That's because this utilizes the Nanoclear technology by Turtle Beach, which basically amplifies the soundstage to give you clear team chats with less distortion.
If that isn't enough, you can further achieve an even better sound quality in games via Turtle Beach's Superhuman Hearing, which can be accessed via the buttons or its proprietary software, Turtle Beach Control Studio.
To be honest, the difference is relatively noticeable. With the Superhuman Hearing mode on, you can hear small audio cues like wind, insects, and little animal noises better. Also, the music is more pronounced and sound louder.
Battery life isn't phenomenal, and Turtle Beach was proud to claim that this will last up to 30 hours. On average, it only lasted 15 hours with the Superhuman Hearing, or 3D audio enabled. Thankfully, Turtle Beach is thoughtful enough to automatically shut the headphones off after being idle for 5 minutes.
Note that aside from the red LED indicator at the back of the left ear cup, there's no other way to check the battery life but through the Turtle Beach Control Studio software. Fortunately, you can charge the headphones while using them with the included micro USB to USB Type-A cable.
How Should You Pick the Right Headset for You?
If you can't get DrDisrespect's headset for some reason, then Shroud's headset or Ninja's headset might be the one for you.
If all else fails, you'll have to resort to finding the perfect one for you. But it's going to be hard, especially with the overwhelming options in the market today. Well, not unless you know what to look for in the first place.
Comfort
As a rule of thumb, a comfortable headset is a good headset. And of all the things you should consider, comfort should be at the top of the list, especially if you're looking for a gaming headset.
Gamers play for extended hours, and a lousy fit can cause physical pains that could lead to long-term health problems. Keep in mind that most headsets will feel good at first, so don't get hooked. Take your time when you have the time to test it out at a computer store, so you'll see how quickly the headset generates and traps heat in certain areas.
It's also important to check which part of the headphone is the heaviest because even the smallest of extra weight in the wrong spot can result in neck pains after hours of use. Similarly, bands that feel too tight can lead to sore ears or headaches.
Open or Closed Design?
Isolation is another thing you should look into. Poor isolation can change what you hear and affects your overall experience when gaming, and you don't want that when you play FPS games where directional audio cues matter.
While it's true that the pad's size has something to do with how well audio is sealed, other specifics such as foam and design also matter.
Open design headphones do not block out external sound, and they do not prevent audio from leaking out of the earpieces. But the audio quality does sound more spacious or "open" when compared to closed design headphones. Ideally, you'll only want these if you live alone; otherwise, the closed design headphones will be the better option.
Closed design headphones prevent any ambient noise from entering your ear canals with its large over-ear foams. In turn, this also prevents any leakage or keeps sound from getting out. Suppose you're a gamer who lives with someone. In that case, this might be the better option not just to disturb the people around you but also to experience immersive audio without interruptions.
Sound Quality and Performance
Aside from comfort and design, sound quality is yet another important thing you should look into. Ideally, you'd want a headphone that features a surround sound or one that features a 7.1 channel.
These multiple driver setups provide you with a truly immersive experience, which plays a vital role in FPS and fast-paced shooter games. If you're like Doc, who plays competitively, chances are you want to know where guns were being shot from– and nothing can give you that information but quality headphones that give off lifelike soundstage.
In case you play games where positional audio isn't essential to winning, then a stereo headset should be enough. Unlike the surround sound headphones, these don't distort the sound. But note that this depends on the driver quality, so make it a habit to always check before judging.
Material and Build
Unless you'll aim for a premium-grade headphone, most of the gaming headsets you'll find in the market are often made of plastic material, which is why you must find a headset that doesn't just feel comfortable but also built to last. Well, at least until you can save enough money to get an upgrade down the line.
It's a plus if you'll find something that's made of metal frames, but if you're stuck with plastic, see to it that the build allows enough range of movement for the shape of your head.
Note that even though most of them are made of plastic, there are still others ergonomically designed to feel comfortable even for extended periods. Ideally, you'll want to aim for a headset that doesn't feel too tight on your head because even the smallest of tension or pressure against your head or ear can add up.
Microphone
Since communication is essential in every online game these days, gaming headphones are sold with a microphone built into it. While most work just fine, it still pays to check the microphone's quality to ensure you don't sound muffled.
Just note that it's going to be impossible to find a recording quality microphone in any gaming headphone available. This is because most recording quality audio requires external power from a preamp to work.
However, some microphones are designed to make you sound better– take summit1g's headphones as an example. It has a super-cardioid design and a windscreen to amplify directional recording that makes you sound clearer while reducing ambient noise.
Wired or Wireless?
Both wired and wireless features their own pros and cons. But you'll want a wired one for PC gaming unless you can spare more money for a wireless gaming headphone.
You see, wireless gaming headphones are starting to compete with wired headphones in terms of overall performance. Plus, premium-grade wireless headphones also have longer battery life now than they did in the past few years.
But the same can't be said in the average to low-end gaming headphones. They either sacrifice battery life for a slightly better audio performance or boost the sound quality and experience in exchange for only a couple of hours of usage. Either way, you will have to compromise with at least one key feature if you're going wireless.
Ultimately, you'll want to get wired headphones for gaming and only opt for wireless if you can spend as much as Shroud or summit1g.
DrDisrespect's Banned Status
According to Shannon Liao on Twitter, on June 26, 2020, DrDisrespect's Twitch account was permanently banned for violating Twitch's Community Guidelines or Terms of Service.
Champions Club,

Twitch has not notified me on the specific reason behind their decision… Firm handshakes to all for the support during this difficult time.

-Dr Disrespect

— Dr Disrespect (@drdisrespect) June 28, 2020
Although actual reasons are still unclear, many are still waiting for the "Doc 3.0". Or at least until he got back to streaming on YouTube.
— Dr Disrespect (@drdisrespect) July 16, 2020
As of the time of writing, Dr Disrespect is back and is now streaming on YouTube. On his first stream on YouTube, Doc hit over 500,000 concurrent viewers in less than an hour.
Wrapping Up
DrDisprespect is popularly known for being competitive, and while it's true that his gears helped him, it doesn't mean it's for everyone. If you think this headset is for you, then you're about to experience some quality investment.
On the other hand, our in-depth buying guide section should help you pick the best one for your needs and specifics.