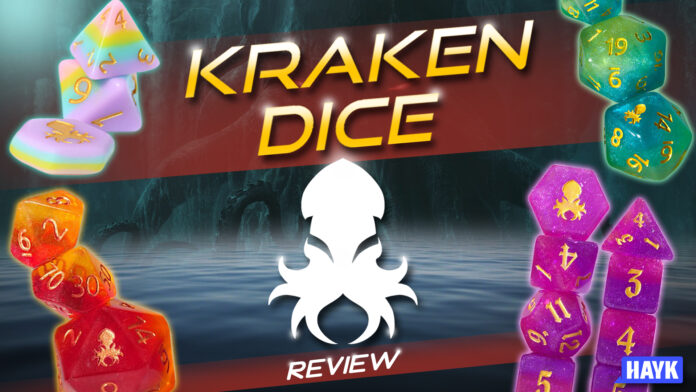 Started by Brian Patrick Wade and Diana Leyva, Kraken Dice is a Dungeons and Dragons dice company that started selling dice online in late 2017. In April 2018, they ran a Kickstarter campaign that grossed over $1 million. After the successful campaign, Kraken Dice filed as an S Corp and registered their business on July 20, 2018.
Kraken Dice continues to release unique and decorative poly dice sets. The majority of their customers use their dice sets for RPGs, otherwise known as role-playing games. Question is: Are they worth it despite the backlash and feedbacks? We have covered everything including their issues with the Better Business Bureau.
Kraken Dice offers many different dice sets made from various types of materials, such as acrylic, resin, metal, stone, and wood. Some of their more luxurious sets are made with semi-precious materials and glass. In addition to dice sets, the company offers other products and accessories, such as boxes, bags, trays, stickers, apparel, and dice mats.
Kraken offers dice sets manufactured in-house, as well as reselling sets manufactured by other brands. One of the most notable characteristics of their business is that their sets are limited release – usually just 500 sets for any newly released design.
Kraken Dice's Most Memorable Sets
Kraken Dice's most memorable sets are marked by beautiful colors, bright numbers and characters, and eye-catching color combinations. Many of these striking sets were first introduced on their Kickstarter campaign page. These include:
Unicorn Mythical Collection: This multi-piece set included various dice shapes with silver characters and light blue, turquoise, and deep purple ombre tones.
Mermaid Mythical Collection: Much like the Unicorn Mythical Collection, this dice set is marked by bright silver numbers and characters. These tri-color dice include ocean tones such as light green, sea-foam blue, and deep blue.
Phoenix Mythical Collection: This set included fiery tones like yellow, orange, and red with bright golden letters.
Nymph Mythical Collection: With white letters and blue, red, and purple tones, this set was unique from the other Kickstarter dice collections but stayed true to the brand's eye-catching designs.
Dragon Mythical Collection: One of the brand's most notable sets, the Dragon dice collection paired deep purple and green hues with silver letters.
Fairy Mythical Collection: Much like the Dragon Mythical Collection, the Fairy set included deep shimmery jewel tones, multiple sizes, and big and bright numbers on the faces of the dice.
While Kraken's dice sets have always been aesthetically pleasing and attention-grabbing, the company has not always received the best feedback from previous customers. While no company, product, or service is a perfect fit for everyone, it is worth noting Kraken's previous customers' previous grievances.
Kraken's Previous Feedback
Missing Pieces And Poor Customer Service
Kraken Dice is well known throughout the RPG community – albeit not always for the best reasons. One of the most notable complaints with Kraken's dice sets is that customers often discover that there are missing dice upon receiving their sets. Missing dice can create a major problem for those hoping to use the dice immediately after receiving the shipment.
In short, Dungeons and Dragons requires a certain number of dice to properly play the game. Each player needs a set of seven unique dice, including one of each: D4, D6, D8, D10, D12, and D20. The seventh and final die is used for percentile rolls. Without any of these essential dice, it isn't possible to play the game.
For those who receive sets with missing or damaged dice, a significant problem is created. In addition to this missing die problem, the company also faces many complaints regarding their customer service – or lack thereof. Customers who do receive sets with missing or damaged dice report poor or nonexistent customer service responses from the company.
One customer reported reaching out to the company via email after receiving a set with a missing D4 die. In this customer's report, they noted that they were met with a hesitant customer service representative who asked for photos and proof of the missing piece upon reaching out to the company.
After repeatedly waiting for a replacement to be sent – which the customer service representative continued to promise and fail to deliver, the customer was given a $6 credit from the company. The entire process took place over a month – not exactly what most would consider timely.
Free Sets, Poor Quality
Kraken is known for providing customers with free promo sets of their dice collections – a nice sentiment, but it is often overshadowed by low-quality pieces. In both paid and promo sets, customers report receiving certain die (most notably the D6's) with defects. In the case of the D6 dice, customers reviewed that when they received these pieces, they were deformed and defective.
One customer, in particular, noted that all sides of her D6 dice were slightly concave, with one side displaying more issues than the others. Unfortunately, when they reached out to the company's customer service line, they were told that defective shape of the pieces did not affect the functionality of the dice.
Another customer reported receiving a free promo set with a dead bug in the dice. Additionally, this customer pointed out that the dice that they received were a different color than what was displayed on the picture found on Kraken's website. Unfortunately, this is not the only account of issues with the company's quality control and customer service response.
Are They Filtering Reviews?
While this is something that can't be known for certain, many previous customers report writing negative reviews about the company's products that never seem to make their way to their reviews page. Additionally, many of the products and dice sets manufactured and sold by Kraken are limited edition sets or limited quantity releases. So, while many of their products do not have any reviews displayed on the product page, their limited release status should be taken into consideration as a potential reason for the lack of feedback.
However, customers do report sending in one to two star reviews that are never published on the product pages, while four to five-star reviews are made public for those same products. While this cannot be confirmed, it is important to point out that the company may have an issue with reporting their customer feedback transparently.
What They Are Doing Right
Even though there are some unique customer complaints surrounding Kraken Dice and their decorative, multi-piece collections, there is no denying that Kraken makes beautiful dice sets. Kraken offers a wide selection of dice sets that include different colors, materials, color combinations, and themes regarding their product offerings.
Not only do they have a wide variety, but the designs of their dice are also simply stunning. Each set offers a theme with unique colors, finishes, and numbers, and characters. Many customers have pointed out that they are satisfied with the feel, durability, functionality, and patterns within the dice. Another important factor to a good dice set is their readability.
Most customer reviews that touch on this aspect of the dice call attention to the large and bold style of the letters, numbers, and characters on the dice. With this in mind, the readability of the Kraken Dice sets is generally favorable regarding previous customer feedback and reviews.
Other details pointed out by satisfied customers include the packaging, dice bag, stickers, and their responsiveness on social media. One previous customer pointed out that the package the dice sets are shipped in is comprehensive and brand-centric, adding to the customer experience. Others have mentioned that their sets come with free stickers – something not often experienced with other dice companies.
Overall, Kraken has certainly had its fair share of both unhappy and satisfied customers. However, while their past reviews may not have always been favorable, it is clear that they create some of the best-looking and most visually pleasing dice sets in the market. Keep reading below to learn more about their five best-selling dice sets.
The Top Five: Kraken's Best-Selling Dice Sets
Kraken Dice offers a large number of uniquely designed dice sets. As you browse their site, it really does feel like there is something for everyone there. With so many different sets to choose from, it can certainly feel a bit overwhelming. A great place to visit on their website is their best-sellers page. Here are the top five dice sets from this page.
1. Unicorn Tears 12pc Layered Glitter Dice Set With Kraken Logo
Best Use Of Color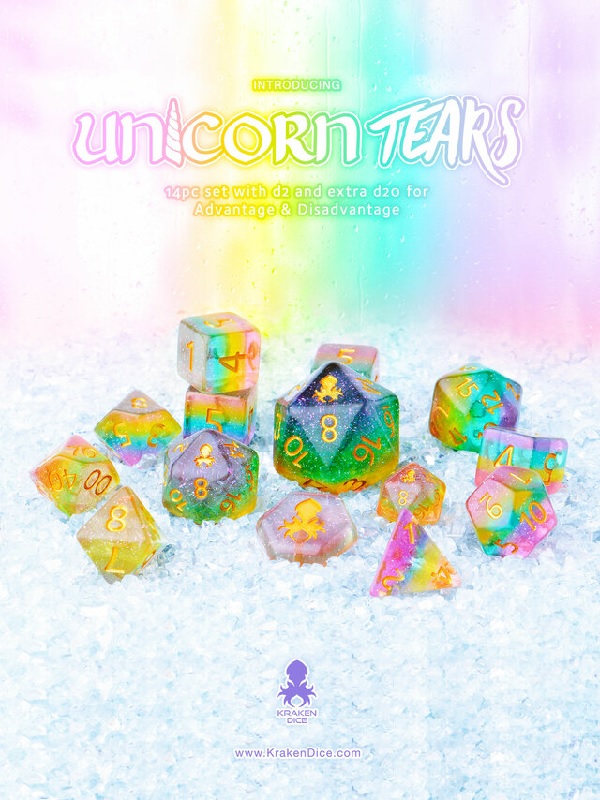 Specifications:
12pc Polyhedral Dice Set with 30mm and 15mm D20
Inked Gold Letters
Includes Dice Bag
Material Used: Resin
Dice Sizes: D2 – 22mm; D4 – 22mm; D6 – 16mm, D8 – 16mm; D10 – 16mm, D12 – 19mm; D20 – 22mm
Dice Set Includes:
1 of the following dice: d2,d4,d8,d10,d10(00-90),d12.
2 of the following dice: d20 with Kraken logo on 20
4 of the following dice: d6
Ratings
Design: 4 / 5
Pictures display a beautiful set of dice; however, many reviews mention that the dice are paler or less vibrant in person.
Weight: 5 / 5
With good functionality and easy rolling, the weight of these dice pairs nicely with the size and results in a set of dice that is easy to use.
Material: 4 / 5
The resin material lends nicely to the functionality and feel of the dice.
Although many customers report that the Unicorn Tears 12pc dice set is slightly less vibrant than advertised on the website, this dice set truly has a beautiful design. Their glittery finish creates a dreamy-looking dice set with variations of blue, green, pink, purple, and yellow. This set is sure to catch the attention of your friends as you play your RPG game.
The reviews for this set are mostly positive on the website, and to ensure that you get a good look at the dice, Kraken has uploaded videos of their dice set in both the sun and the shade – a great way to display the variation of color found within the dice set.
One of the best features of this set is that it comes with two D20 dice, perfect for sharing and playing. Not only does this dice set look fantastic, but the dice function very well. Made with a smooth resin material, these dice roll easily throughout your hands and land perfectly to ensure a fair and easy-going game. All in all, this is a great set for both experts and beginners, as anyone will appreciate the look and feel of this comprehensive, twelve-piece set.
2. Legendary 12pc Silver Ink Dice Set With Kraken Logo For TTRPGS
Clearest Numbers And Characters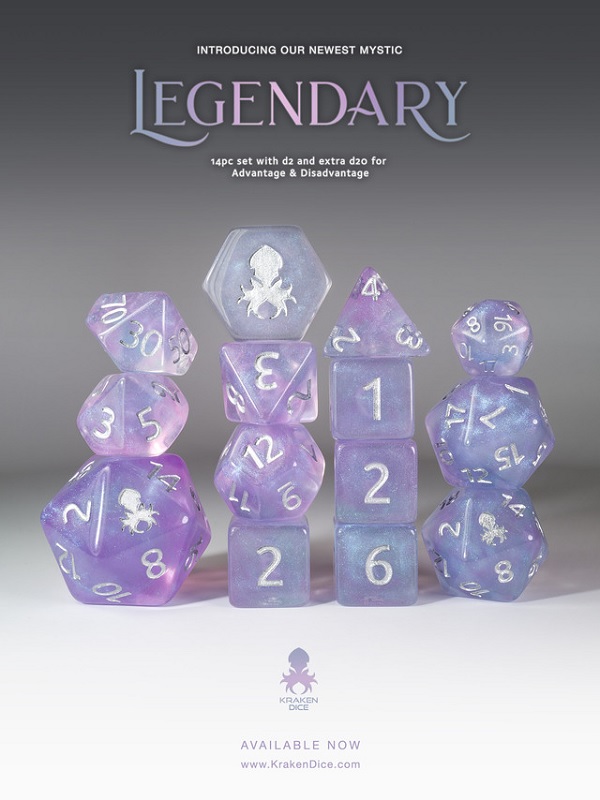 Specifications:
12pc RPG Dice Set
Inked Silver Letters And Characters
Kraken Logo on D20 Dice
Only 3,000 Sets Produced
Includes Dice Bag
Material Used: Resin
Dice Sizes: D2 – 22mm; D4 – 22mm; D6 – 16mm, D8 – 16mm; D10 – 16mm, D12 – 19mm; D20 – 22mm
Dice Set Includes:
1 of the following dice: d2,d4,d8,d10,d10(00-90),d12
2 of the following dice: d20 with Kraken logo on 20
4 of the following dice: d6
Ratings
Design: 4 / 5
While both the colors displayed and those received by customers are beautiful, they sometimes do not match what is advertised on the company's website. But, overall, a very beautiful mix of color, translucence, and glitter.
Weight: 5 / 5
These dice are made with materials that create a favorable and easy weight to work with – not too heavy, but not too light. This "goldilocks" weight allows for effective playing and durability.
Material: 5 /5
Made with quality resin, this set is both durable and functional. The quality craftsmanship used to manufacture the Legendary 12pc Silver Ink Dice Set With Kraken Logo results in a product that is long-lasting and perfect for play.
This is another beautiful set from Kraken. Legendary is a well-functioning and expertly designed dice set. Coupling galaxy-inspired colors with bright silver numbers and characters, there is no denying that this set looks fantastic while using and playing.
This dice set is a perfect match for Dungeons and Dragons, as well as other role-playing games. Not only do the dice move easily within the user's hands, but they also land and roll well, ensuring a fair and trustworthy game. Like most of Kraken's dice sets, the Legendary twelve-piece ink dice set comes fully loaded with a unique and vast range of dice, including two D20s for more convenient gaming.
While previous customers report color differences between what is advertised and what they receive, most are happy with the outcome of the set and enjoy the colors despite the variations. If you are more particular or prefer to know exactly what you are receiving in terms of color and design, use caution when purchasing this set.
3. Crimson Midnight 12pc Glimmer RPG Dice Set With Silver Ink
Best Beginner Dice Set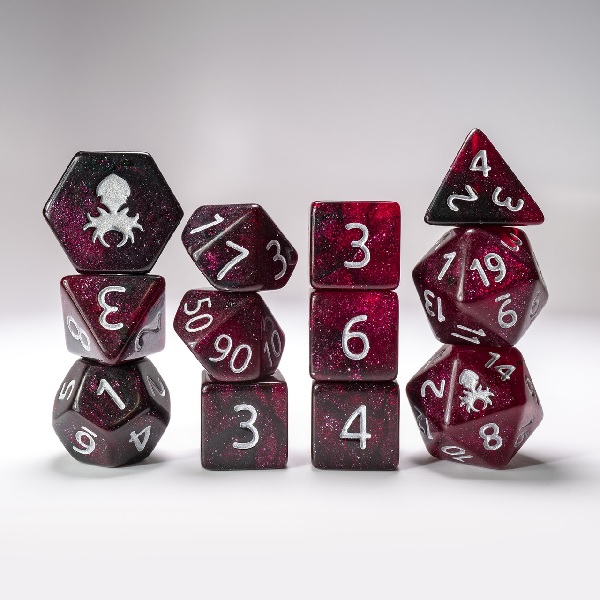 Specifications
12pc RPG Dice Set
Inked Silver Letters And Characters
Kraken Logo on D20 Dice
Material Used: Acrylic
Dice Sizes: D2 – 22mm; D4 – 22mm; D6 – 16mm, D8 – 16mm; D10 – 16mm, D12 – 19mm; D20 – 22mm
Dice Set Includes:
1 of the following dice: d2,d4,d8,d10,d10(00-90),d12
2 of the following dice: d20 with Kraken logo on 20
4 of the following dice: d6
Ratings
Design: 5 / 5
The deep-red wine tones mixed with deeper blacks give these glittery dice and magical and mystical feel – perfect for those looking to get truly immersed in the role-playing game. The dice included in this set are true-to-color related to the pictures, and the larger dice are easy to use and read for beginners.
Weight: 4 / 5
Depending on personal preference, these larger dice come with a bit more weight to them. Beginners will enjoy the visibility of the numbers on the faces of the dice, but the increased weight may be a bit too much for all players.
Material: 4 / 5
As a beginner set, these dice are crafted with acrylic, which is notably less durable than resin. Although they are made well, players won't be able to hold on to this set as long as a resin set without sacrificing some durability and design features.
The Crimson Midnight twelve-piece dice set is an excellent starter set for those dipping their toes into the RPG pool. While the collection doesn't include all of the bells and whistles of some of the other best-selling sets on the list, it gets the job done. With a rich, deep red hue and silver inked numbers, players are easily able to read the faces of the dice while in use.
This set includes all of the essential dice needed to play Dungeons and Dragons, among other games. While made with acrylic, which is less durable than resin, the price for the quality of this set is exceptional. The Crimson Midnight Set is not a dice set that is going to last forever, but it does exactly what it needs to do.
All in all, The Crimson Midnight dice set is a beautifully designed RPG collection that includes all of the pieces that are necessary to play a great game! Even though it lacks some of the premium features included with other sets, you are provided with everything you need and will be impressed with the quality and functionality of the dice for the price of the set.
4. Blood Curse 12pc Polyhedral Dice Set With Copper Ink
Most Mythical Dice Set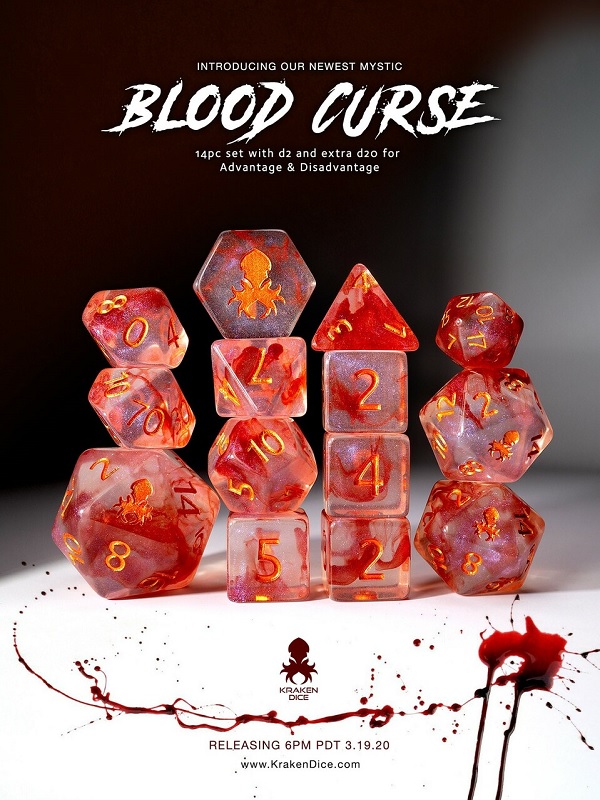 Specifications
12pc RPG Dice Set
Inked Copper Letters And Characters
Kraken Logo on D20 Dice
Shimmer Finish
Material Used: Resin
Dice Sizes: D2 – 22mm; D4 – 22mm; D6 – 16mm, D8 – 16mm; D10 – 16mm, D12 – 19mm; D20 – 22mm
Dice Set Includes:
1 of the following dice: d2,d4,d8,d10,d10(00-90),d12
2 of the following dice: d20 with Kraken logo on 20
4 of the following dice: d6
Ratings
Design: 5 / 5
The use of colors in this set is nothing short of extraordinary. Resembling the flow of blood throughout your veins, these dice showcase beautiful red and orange swirls throughout a translucent base. The large copper numbers are easy to read and a fantastic compliment to the color of the dice.
Weight: 5 / 5
Made with a larger-than-average mold, these dice are an ideal weight – giving off that perfectly satisfying clack when they land on a surface.
Material: 5 / 5
Made with high-quality resin, the Blood Curse twelve-piece set is great for those who like to play frequently. This high-quality set is very durable and sure to last.
The Blood Curse twelve-piece dice set is an excellent choice for experienced and frequent role-playing gamers. Not only is this set visually fantastic, but it also performs incredibly well. The Blood Curse set brings a whole new level of excitement to your game with beautiful red tones and fiery copper numbers.
The high-quality resin used to manufacture the dice is smooth and allows for superb functionality. With larger pieces, reading the numbers and characters is easy and convenient. Though this set is designed beautifully, it falls into the same issue as the other Kraken Dice sets as it does not perfectly match up with the advertised photo.
Even though they can vary slightly in color, each of the dice in the Blood Curse collection exceeds expectations in terms of design. Because this set is on the pricier side, it may not be a great choice for beginners who are still getting used to the game. Experts and frequent gamers will certainly benefit the most from a collection like this one.
5. Fern 12pc Glimmer RPG Dice Set With Silver Ink
The Crowd Pleaser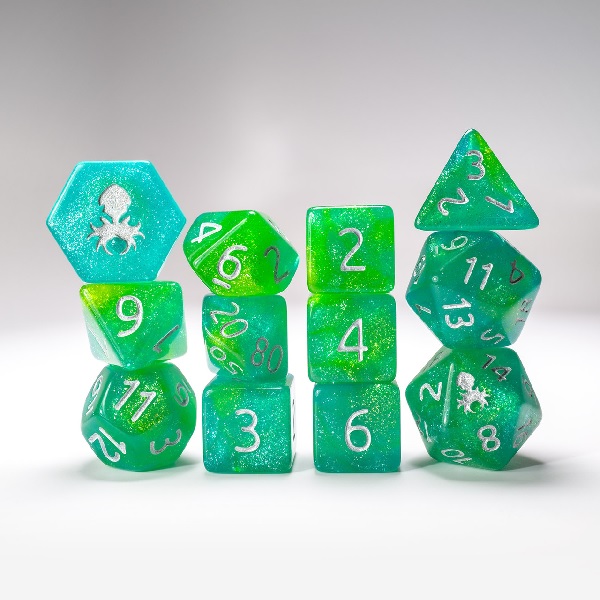 Specifications:
12pc RPG Dice Set
Inked Silver Letters And Characters
Kraken Logo on D20 Dice
Shimmer Finish
Material Used: Acrylic
Dice Sizes: D2 – 22mm; D4 – 22mm; D6 – 16mm, D8 – 16mm; D10 – 16mm, D12 – 19mm; D20 – 22mm
Dice Set Includes:
1 of the following dice: d2,d4,d8,d10,d10(00-90),d12
2 of the following dice: d20
4 of the following dice: d6
Ratings
Design: 3 Stars
Although the green, yellow, and shimmery tones create a beautiful design, some customers report their sets are a different color than what is displayed on the website. A few even contained blemishes on the face of the dice. Because of the inconsistency, this set receives three stars for design.
Weight: 5 Stars
Like most of the Kraken Dice set, the weight of these dice provides a perfect balance. Players can easily roll the dice through their hands, and rest assured that they have a durable dice set that will last throughout many role-playing games; although, do note that this is an acrylic set.
Material: 4 Stars
Though the Fern 12pc Glimmer set is made with a high-quality acrylic material, acrylic is not as strong or durable as resin. Players shouldn't worry about the longevity of the set, as it is made well with great-quality materials. However, don't expect this set to be the absolute best in terms of durability.
The Fern 12pc Glimmer RPG Dice Set With Silver Ink was given the Crowd Pleaser award because it is a great set for beginners, intermediates, and experts looking for an affordable quality dice set. With seven unique types of dice, it is an incredibly versatile set that works with many different types of role-playing games.
Gamers will love the colors included in this set. Bright greens, yellows, and blues are complimented with a sparkling shimmer finish and bold, silver numbers. This perfectly paired color combo makes reading the dice easy during games.
Made with a high-quality acrylic, these dice are smooth to the touch and roll easily through the hands and onto surfaces. With a well-balanced weight and quality manufacturing standard, these dice are sure to last through countless games despite being thrown around. Overall, this set checks all of the necessary boxes and makes a great addition for any level player.
Frequently Asked Questions About Kraken Dice
Is Kraken Dice A Good Dice Company?
Kraken Dice is regarded as a reputable company with dice that are manufactured well and of good quality. While the dice are made with high-quality materials, many of the sets include dice that are larger than most standard dice sets. Some appreciate this difference in size, while others would prefer more typical dice sizes.
Are Kraken Dice Balanced?
Kraken Dice are manufactured with a standard balance, meaning that they may be some slight, almost negligible, variations in balance. For those looking for a perfectly and superiorly balanced dice set, Kraken Dice may not meet these standards.
How Do You Know If Your Dice Are Balanced?
The easiest way to determine if your dice set is balanced is through a simple at-home test. Simply fill a glass with 1/3 cup of room temperature water. Then, add six tablespoons of salt. Afterward, drop your die into the cup one by one and spin it around in the water. If your die keeps stopping with the same number facing upwards, then something within the die is making it unbalanced.
What Materials Are Kraken Dice Made Of?
Kraken Dice makes their set using a variety of materials, including acrylic, resin, wood, glass, stone, wood, and even semi-precious materials that are used in premium sets.
How Long Does Kraken Take To Ship Their Dice Sets?
Most processed orders made on Kraken Dice's website ship within three to five business days. However, this isn't always the case, so be sure to pay attention to the fine print when ordering.. The sets ship directly from California using the USPS system and will also ship internationally through partnered carriers. Shipping costs are subject to change based on weight and location.
Can I Cancel My Kraken Dice Order?
The best way to inquire and place a cancellation is through the support email found on the website. Send your request and order number to [email protected] to process your cancellation and learn more about their policies.
Who Owns Kraken Dice?
Kraken Dice is owned and operated by Diana Leyva and Brian Patrick Wade. This couple started off as gamers and took their knowledge and passion for RPGs to create visually stunning dice sets.
What Are The Best D&D Dice Brands?
For beginners and experienced gamers alike, some of the best dice sets for Dungeons and Dragons players include:
Kraken Dice
Chessex
Awesome Dice
WizDice
Dark Elf Dice
Little Dragon Corp.
Q-Workshop
Critit
Are Expensive Dice Worth The Price?
RPG players don't have to shell out a lot of cash for a quality dice set. Expensive sets include premium features that aren't necessary for the average player, but they also add many beautiful design elements that add to the appeal and immersion while gaming.
The Conclusion
Kraken Dice creates beautiful dice sets, but that doesn't mean that this company does not have its fair share of issues. Some of the biggest complaints surrounding this company are that their dice do not always match the advertised photos, some sets contain missing or defective dice, and the company has received many complaints regarding poor customer service responses in the past.
While the company has had its fair share of bad customer service and product quality complaints, many of their customers report being satisfied with their orders and their colorful dice sets. Of the dice sets reviewed above, which included the Unicorn Tears, Legendary, Crimson Midnight, Blood Curse, and Fern twelve-piece sets, customers seem to most appreciate the quality of the dice sets and the comprehensive collection of the unique dice sizes offered by Kraken.
Ultimately, with Kraken Dice, the common theme is that their customers are at the mercy of luck. Those who receive all of the pieces that are supposed to be included in their sets are usually very satisfied with their dice sets. However, those who run into problems with missing or damaged pieces often report very poor customer service experiences. With this in mind, are you willing to take your chance on the prettiest RPG dice sets?