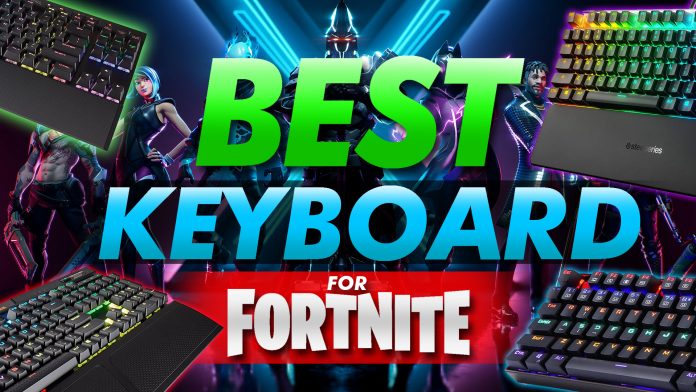 Top 7 Best Keyboard for Fortnite
Fortnite has enjoyed popularity for quite some time now. So, it is not a surprise if you also find yourself enjoying this fun yet competitive battle royale game. When we say competitive, we don't just mean in terms of the professional scene either. Even the most casual of players is sure to enjoy the game's inherent hectic competitive challenges.
If you seek to improve your rank in Fortnite's Arena Mode, it is only natural to arm yourself with the right gear. For example, you can own the perfect gaming laptop for Fortnite, best gaming mouse for Fortnite to improve your aim, or even get the best headset for Fortnite to slyly pinpoint your enemies' whereabouts. That is why investing in the best keyboard for Fortnite is your next step. If you are still unsure of what brand to get, read on to know more so you can be on your way to victory!
Best Keyboard for Fortnite – The Ultimate List
1. Corsair Vengeance K65 RGB
Preferred by the Pros: Tfue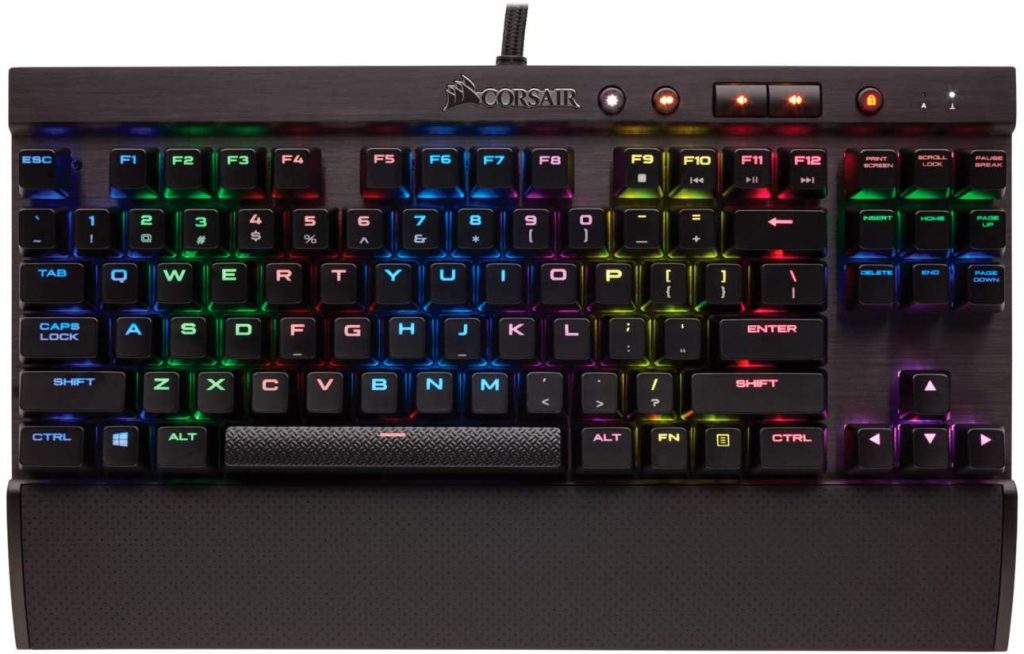 Specs
Weight: 862 grams | Keyboard Type: Tenkeyless | Switch Type: Cherry MX Red | Size: 1.50 x 6.50 x 14.00 inches | Wired or Wireless?: Wired
The Corsair Vengeance K65 mechanical gaming keyboard is a minimalist's dream that sheds all the extra features most gaming keyboards have for the sake of novelty and compactness. With its downsized build, it covers just the essential functions most average players need.
The K65 RGB is small and compact at just 14 x 6.5 x 1.5 inches. It also has a pair of retractable feet that raise the keyboard by a third of an inch. For the cord, it is fitted with a detachable braided cable, which is perfect if you want to bring the keyboard around with you. The casing and keys are all matte black, which looks clean and amazingly sophisticated.
Most Fortnite pros somehow favor smaller form factor keyboards as we move along this guide. As a matter of fact, the K65 RGB is also the preferred keyboard of Fortnite streamer Tfue. This tenkeyless keyboard is also perfect if you need a little extra desk space. Lastly, the Corsair Vengeance K65 also features a USB passthrough port and a detachable wrist rest.
Performance-wise, the Cherry-MX switches have linear switching characteristics, 2.0 mm pre-travel, and 4.0 mm total travel. This means that this switch is fast, so it will register your presses a lot quicker. It is also quiet as those with Cherry-MX Red switches are among the best silent keyboards out in the market today.
2. SteelSeries Apex Pro TKL Keyboard
Preferred by the Pros: Bugha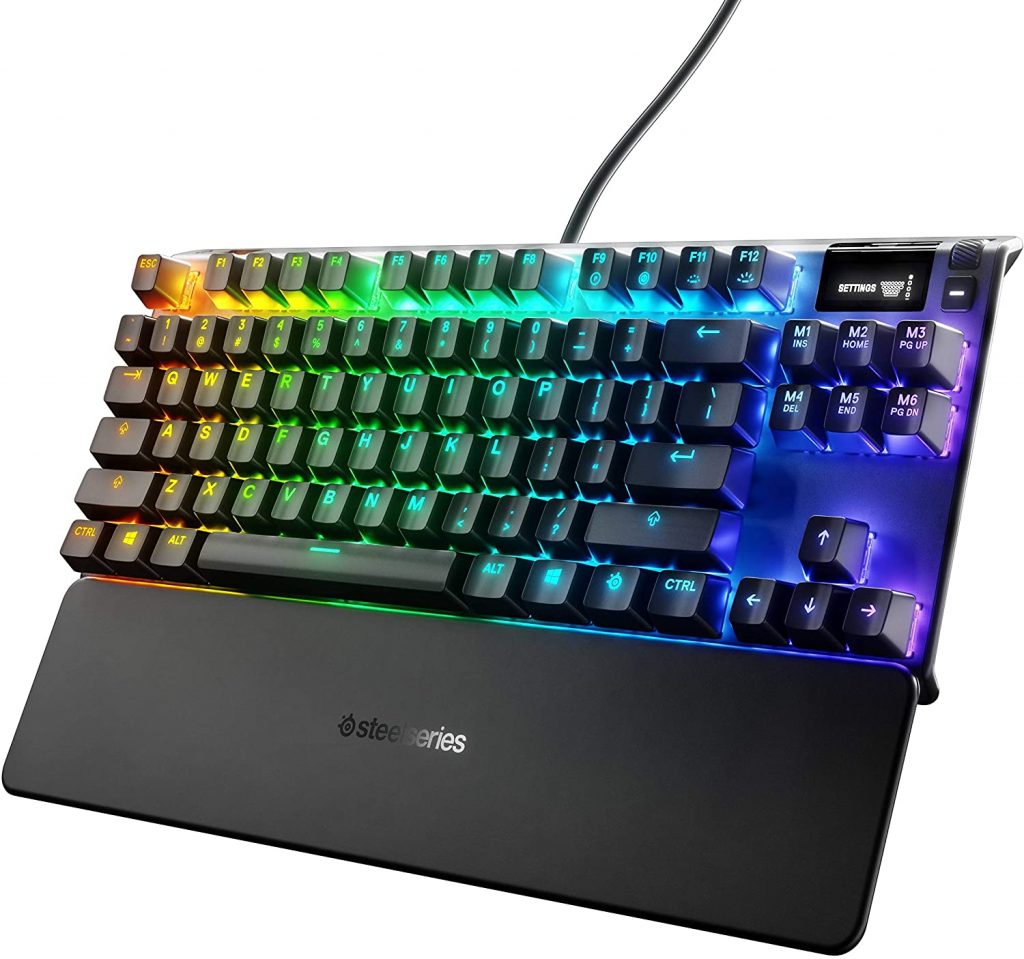 Specs
Weight: 771 grams | Keyboard Type: Tenkeyless | Switch Type: OmniPoint | Size: 5.48 x 13.99 x 1.60 inches | Wired or Wireless?: Wired
The SteelSeries Apex Pro TKL Keyboard is a good pick for those who want a low profile keyboard. This keyboard is one preferred by Bugha, the Fortnite player who won the first Fortnite World Cup solo champion with a $3 million cash prize. You can say that this keyboard is certified by a true master at the game.
The Apex Pro features a durable black steel chassis that is sure to last for a long time. It can pretty much handle all manner of wear and tear thanks to its build quality. Aside from that, this keyboard is also furnished with a magnetic wrist rest for better ergonomics. Though it has a small form factor, SteelSeries managed to add some multimedia controls and even an OLED Smart Display where you can see the sound volume and in certain games your Kills/Deaths/Assists and even in-game currency. If you want, you can also have your signature displayed there for added personalization. SteelSeries also made it a point to keep things minimalist. This keyboard is wholly software-free, so all customization can be saved locally on the keyboard.
For gaming performance, the SteelSeries Apex Pro TKL features OmniPoint switches. These switches have magnetic sensors that make for faster response times. They also have a smooth and linear feel and featherlight actuation that offers very little resistance. If you are into switches that feel tactile and clicky, you might find these switches awkward. However, OmniPoint switches do have a lower response time, and actuation point compared to other switches offer. So you can be sure that your key presses will be faster than ever.
3. Logitech G213
Best Spill-resistant Fortnite Gaming Keyboard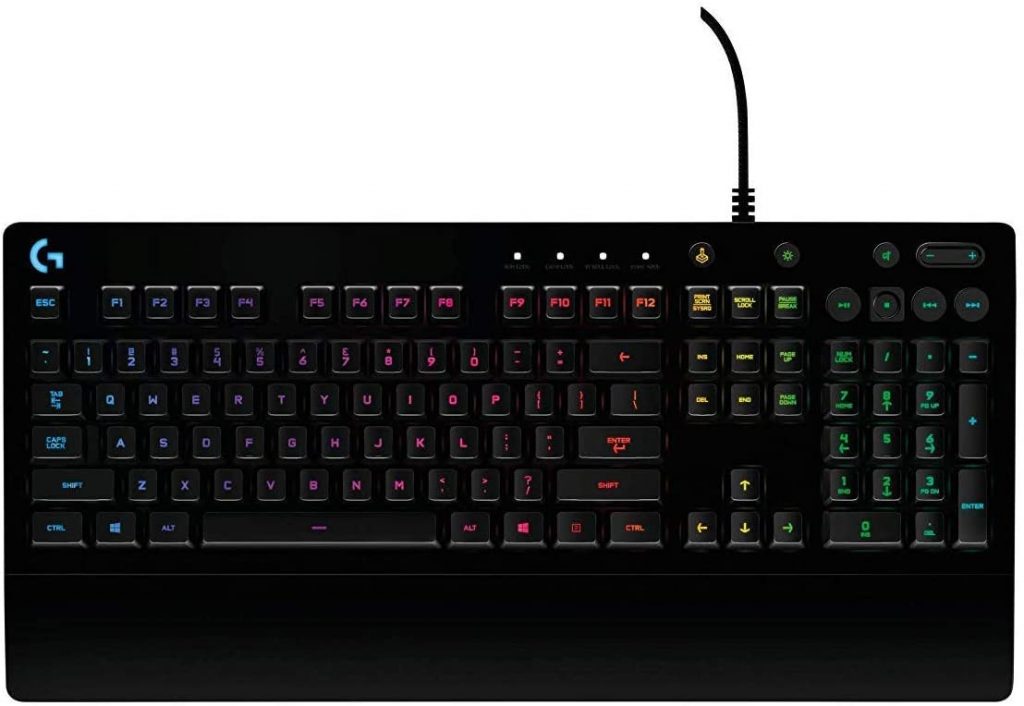 Specs
Weight: 1000 grams | Keyboard Type: Full Sized | Switch Type: Mech Dome | Size: 1.30 x 17.80 x 8.58 inches | Wired or Wireless?: Wired
The Logitech G213 is an excellent-looking keyboard that is a tad bigger compared to a standard office model. However, most of its extra width on the bottom part is for the hard plastic wrist rest, and on the top you have the dedicated media controls. Like most of Logitech's newer keyboards, the G213 can blend in well with an office set-up as it will in your gaming station.
Another selling point of the G213 is its durability. Most Fortnite gamers are known to have extended gaming sessions, so it is quite normal to snack while playing. However, a knocked over drink is usually enough to render your keyboard non-functional. However, the G213, with its membrane switch, will not be affected too badly by such accidents.
However, some gamers will find the membrane switch unappealing. After all, most gaming keyboards are equipped with mechanical switches that boast tactile responsiveness. Good thing that the G213 G does not use the standard membrane switches. Powered by Logitech's Mech-Dome keys, these switches are tuned to produce a tactile response that is similar to mechanical switches. The result is an overall performance that is quite satisfying and closer to the real thing. The Mech-Dome keys also deliver a full 4mm travel distance and a 50g actuation force. Since they are not mechanical, it is quite silent, so best for gaming in the middle of the night or if you are sharing a room.
For customization, the G213 is supported by the Logitech Gaming Software. So if you like playing with macros, you can simply personalize the keys from F1 to F12, to your heart's content. By activating the "game mode," you can disable any button combination so you can play Fortnite in peace. The G213 also offers full key-by-key RGB lighting despite being a membrane keyboard.
Overall, the Logitech G213 is an excellent alternative pick for those who can't afford a full-blown mechanical keyboard. It is highly functional, durable, and good looking that will agree to gamer aesthetics. Plus, it also offers a wide array of features despite its price tag.
4. Corsair K70 Rapidfire
Best Lightweight Keyboard for Fortnite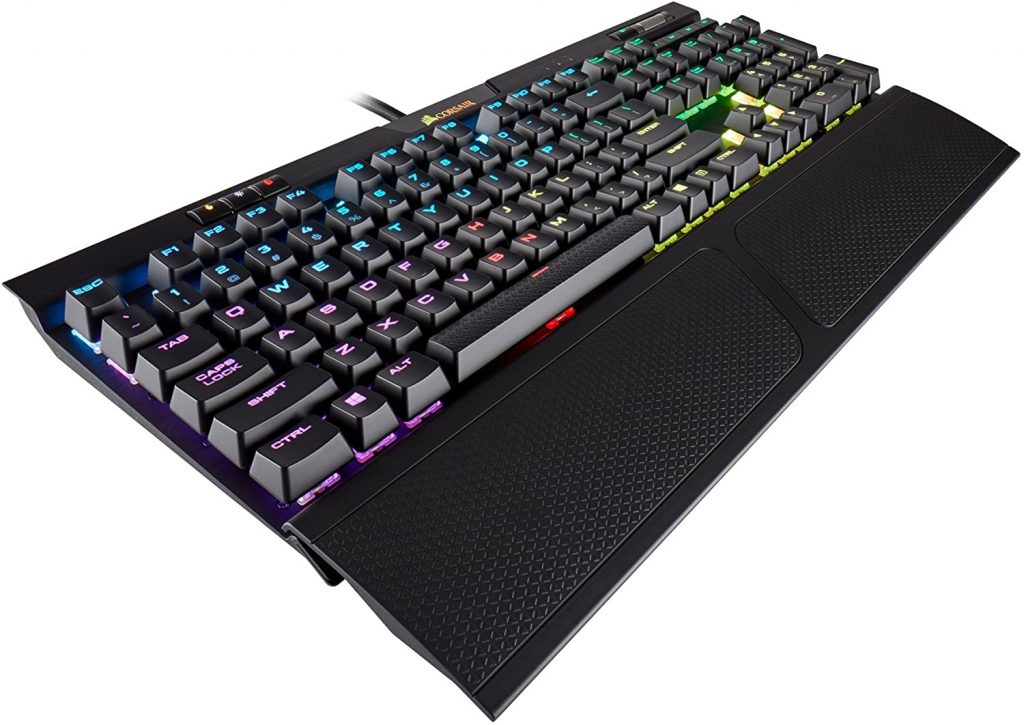 Specs
Weight: 1251 grams | Keyboard Type: Full Sized | Switch Type: Cherry MX Speed | Size: 17.24 x 6.53 x 1.53 inches | Wired or Wireless?: Wired
The Corsair Gaming K70 RGB keyboard is not tiny per se but compact enough to cut unnecessary space. This keyboard is also fitted with a large and detachable wrist rest for better ergonomics. The K70 Rapidfire also features a set of multimedia buttons and a volume controller.
For the keys, the K70 Rapidfire is one of the first gaming keyboards that used Cherry MX Speed keys. The keys look amazing and boast a much shorter actuation compared to traditional Cherry keys. Unfortunately, they are loud, so it is not good if you share living space and games during nighttime. When gaming, the Cherry MX Speed keys need only the lightest force to actuate. A great advantage when gaming as your reaction will be much faster than your enemies. Now you can be sure that you will be better equipped in your next Fortnite session.
If you are into customization, you can simply head over to Corsair Utility Engine (CUE) software. Not the most user-friendly software out there, but it will do. Once you get over the learning curve, you will be able to personalize this keyboard to its full extent. You can change its lighting effects, reprogram the keys, assign macros, and link your favorite games with their keyboard profiles.
5. Redragon K552
Best Budget Fortnite Keyboard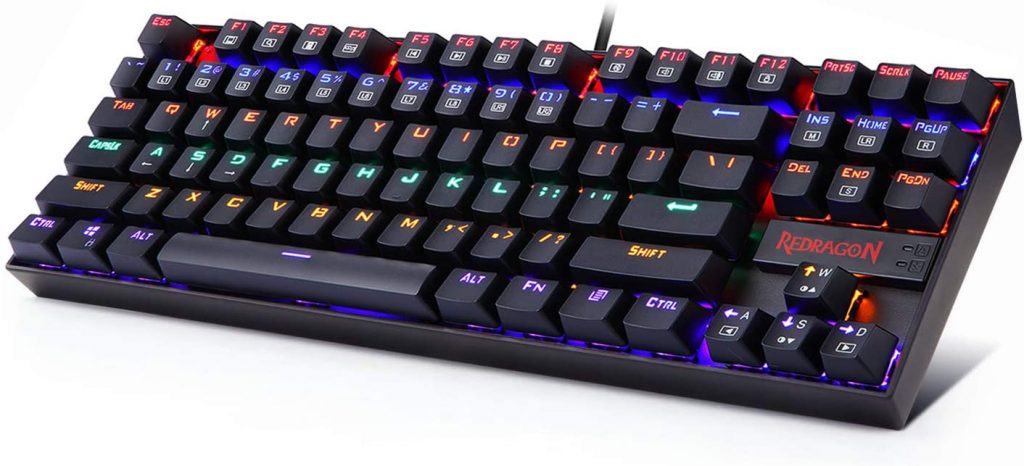 Specs
Weight: 980 grams | Keyboard Type: Tenkeyless | Switch Type: Outemu Blue | Size: 13.94 x 4.84 x 1.46 inches | Wired or Wireless?: Wired
The Redragon K552 is a decent gaming keyboard. The blue clicky switches are satisfying and responsive, but without software support, gamers won't be able to set macros or save profiles. The full RGB backlight is good for darkroom gaming, just don't expect a full array of customization options.
The Redragon K552 is an entry-level budget keyboard pick. Despite its competitive price tag, this keyboard has an excellent build quality. Constructed using hard plastic and a bit of metal, the K552 feels the keyboard feels heavy and solid. Though it does not have superior ergonomics, it is passable. Unlike most keyboard who sports a braided cable, this one is rubberized, it does feel sturdy enough, but most gamers might raise an eyebrow.
This keyboard is furnished with full RGB backlighting, despite being a budget pick. Unfortunately, there's no official software support customization, so all tweaks are done on the keyboard itself. There are also designated hotkeys for media control. When gaming, the click of the switch feels tactile, as the Outemu Blue switches do provide some satisfying feedback. It is decent enough for long gaming sessions as the keycaps are pleasant to the touch.
6. Ducky One 2 Mini
Best Mini Keyboard for Fortnite Players

Specs
Weight: 594 grams | Keyboard Type: Mini | Switch Type: Cherry MX Red | Size: 13.4 x 6.1 x 1.9 inches | Wired or Wireless?: Wired
The Ducky One 2 Mini is an excellent gaming keyboard that will appeal to Fortnite gamers with a unique style. The build quality is superb and feels premium. Its frame is built using solid plastic that ensures a long-lasting lifespan. You can also see that even the keycaps are robust and made using PBT double-shot keycaps. They also have a premium feel and pleasant to the skin. Unfortunately, the cord falls a little short, thanks to its generic-looking cable. On the bright side, this flimsy cable is detachable, so you can simply replace it should you wish.
When it comes to gaming quality, it is definitely one of the best mini keyboards out there. The Cherry MX Red is not just for show, as the keys are super stable. The red switches offer excellent tactile feedback upon the actuation of the keys. Though this mini version is a bit restrictive, it is still a treat to play on without the arrows and such. Since the keyboard is small, the keys enjoy generous spacing in-between, so you won't suffer from mis-presses.
If you love a fancy light show, then know that the Ducky One 2 Mini has full RGB lighting support. The max brightness is enough to be seen in well-lit environments. But, all the settings are tweaked on the keyboard itself, as the software is built-in.
Overall, the Ducky One 2 Mini is an excellent gaming keyboard. The actuation force and pre-travel are great for fast-paced games like Fortnite. The switch feels responsive and tactile. It is also very sturdy despite its small size.
7. Razer Huntsman Elite
Best Full-sized Keyboard for Fortnite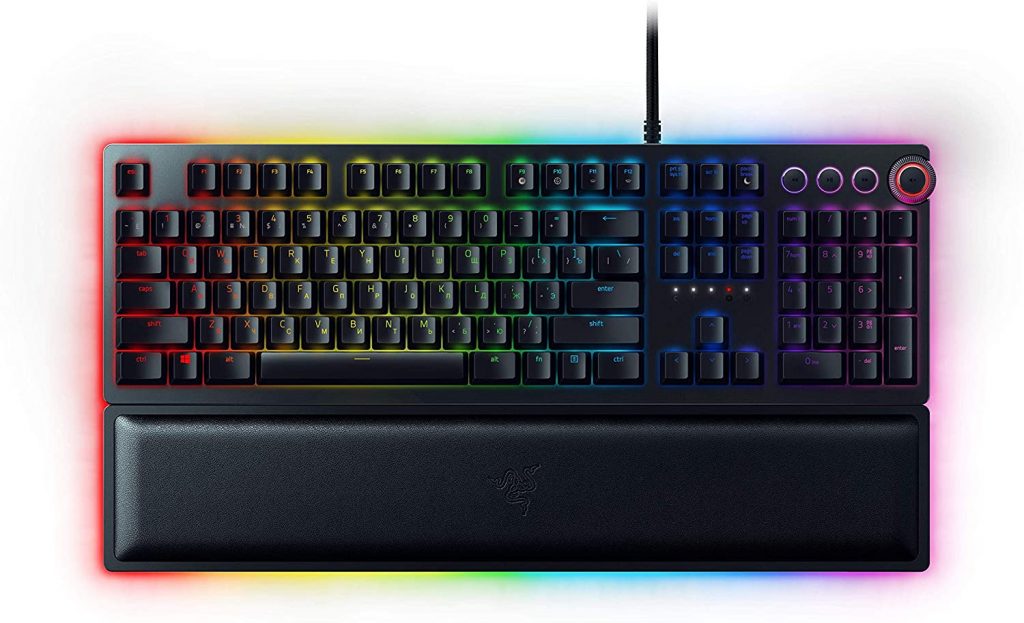 Specs
Weight: 1705 grams | Keyboard Type: Full Sized | Switch Type: Razer's Purple Opto-Mechanical | Size: 9.22 x 17.64 x 1.42 inches | Wired or Wireless?: Wired
Razer is known for its stylish peripherals, and the Huntsman Elite is no exception. This keyboard is charming and exudes a sophisticated gamer vibe that will fit right into your gaming station. The build and layout are superb, which will earn the gamer's seal of approval. The keys are elevated slightly, which is suitable for ergonomics.
The aluminum chassis is impressive and sturdy. Razer also included large yet comfortable wrist rest. It is made with a sturdy plastic frame and covered with plush foam fabric. This keyboard also featured some discreet and designated media controls rather than relying on the traditional Fn-key shortcuts.
Gaming-wise, the Huntsman Elite is powered by Razer's purple optomechanical switch. Unlike traditional mechanical switches that use electrical contact, optical switches function using infrared light. This switch is fast and super responsive. It is also linear and very tactile. Gaming using this switch is such a treat and will make your Fortnite gaming more enjoyable.
If you love customizing your peripherals, you can simply head over to Razer's Synapse 3 software. This software is intuitive and functional, so you won't have any issues with it. You can tailor gaming profiles to your favorite games and assign macros and tweak RGB lighting.
Your Guide to the Different Types of Gaming Keyboards for Fornite
Basically, there are three primary types of gaming keyboards available on the market. Though most pro-Fortnite players keyboards with small form factor, not everybody loves limited keys. So let us discuss the different keyboard types that you can buy.
Mini
Mini is a small and ultra-compact gaming keyboard that will appeal to minimalist. With the size that is almost half the size of a standard keyboard, it can fit inside your bag during out-of-town tournaments. The keys are also limited at just 60 keys, only the essentials. This small form factor makes it excellent for gaming, but not for office works. It also barely takes up any space and is ideal for small gaming desks.
The TKL
The TKL, or most commonly known as tenkeyless, looks like a regular keyboard. However, it ditched the Numpad and retained just the primary keys and the Fn functions and arrow keys. Though not as compact and small as the mini, it is still portable and a certified space saver.
The Full
Full-size keyboards are the standard size. It would boast a full set of 104-key and more if the manufacturer decided to add dedicated media keys. These pics are great for office workers who games on the sidelines. If space is not your issue, and you don't plan to bring it anywhere, then this pick is the best.
Factors to Consider When Choosing the Best Keyboard for Fortnite
When picking for the best keyboards for Fortnite, you must look for peripherals that will offer the most advantage. After all, Fortnite is super competitive, so you will need all the help that you can get. However, consider your game style and comfortability as well. After all, your keyboard must be as tailor-fit as possible, so you can game better and more effectively.
Price Tag
It is a good thing if you have deep pockets, but if you are operating on a tight one, you must be careful about choosing the right brand and model. However, don't settle on the cheapest just because of the price. Many big gaming companies are offering budget picks that are trimmed with features. If you could not care less about extra features, it would be better to invest in solid brands.
Switch Type
The core of your keyboard. Mechanical switches are superior from membranes but are considerably more expensive. But some gamers prefer the soft actuation and quiet operation of the membrane. So basically, it all boils down to preference. See the pros and cons below.
Type
Pros
Cons

Mechanical

Easy to clean removable keycaps

Durable and sturdy

Tactile and clicky

Has different gaming feature (anti-ghosting, n-key roll over)

Heavier

Expensive

Loud operation

Membrane

Lightweight

Affordable

Some are spill-resistant

Quiet operation

A bit mushy

Hard to clean

Shorter lifespan
Build Quality
Your keyboard will be your Fortnite gaming buddy for quite some time, so it is natural to invest in some heavy hitters. Many gaming companies use a combination of aluminum, steel, and hard plastic, for their keyboards. Make sure to get a feel of each material, so you'll know what you prefer the most.
Ergonomics
When your game, it will probably be for a couple of hours or longer. After all, with a game like Fortnite, time sure flies fast. That is why it is vital to invest in a keyboard that has ergonomic features. Extended typing and playing sessions will take a toll on your wrist. You don't want to injure yourself, right? So make sure that the keyboard is designed ergonomically.
Good-to-Haves
To be hailed as one of the best keyboards for Fortnite, you must have additional features. It can be customizable backlighting, anti-ghosting, and n-key rollover. These added features are essential for competitive play, so be sure to keep an eye out.
Wrap-up
Fortnite can be super competitive, especially if you play to win. That is why you need all the advantages that you need. By investing in a stable and reliable keyboard, you can be sure that you will be well equipped to fight and win for another day!
Recap: The Best Keyboard for Fortnite