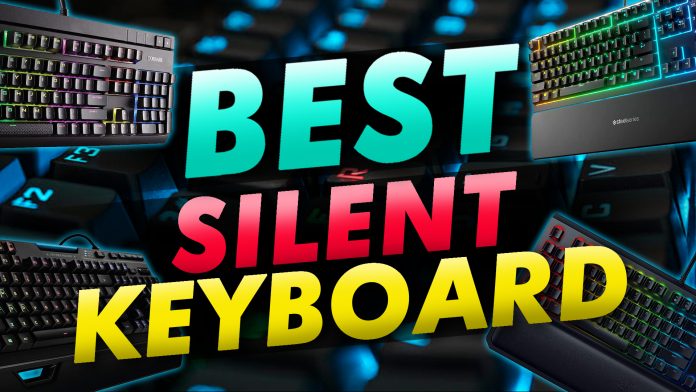 Keyboard strokes can be loud, and when I say loud, annoyingly loud. That is why with the rise of mechanical switches, the quest for the best silent keyboard has become popular. Whether you are a gamer or an office worker, some peace in quiet is long overdue.
I've been on the hunt for quite some time now. During my search, I've scoured everywhere for any clue. Now the wait is over as we have listed the best silent keyboards for gaming and typing. Read on and get ready to own your very own silent typing companion. Believe us, your roommate and co-worker will thank you for it!
Why Do I Need a Quiet Keyboard?
Many users favor the use of a silent keyboard. After all, co-working spaces and roommates are common, so it is common courtesy to go for a silent computer keyboard that will not disturb others.
Top 5 Silent Gaming Keyboards
Gaming sure is fun, even during the late evening, up to the wee hours of the morning. However, it is not fun for early sleepers, aka your roommate, or the entire household. Don't worry as the fun should never stop; check out these silent gaming keyboards, and you can game the night away without waking the entire house.
1. SteelSeries Apex 3 RGB Gaming Keyboard
Overall Best Silent Gaming Keyboard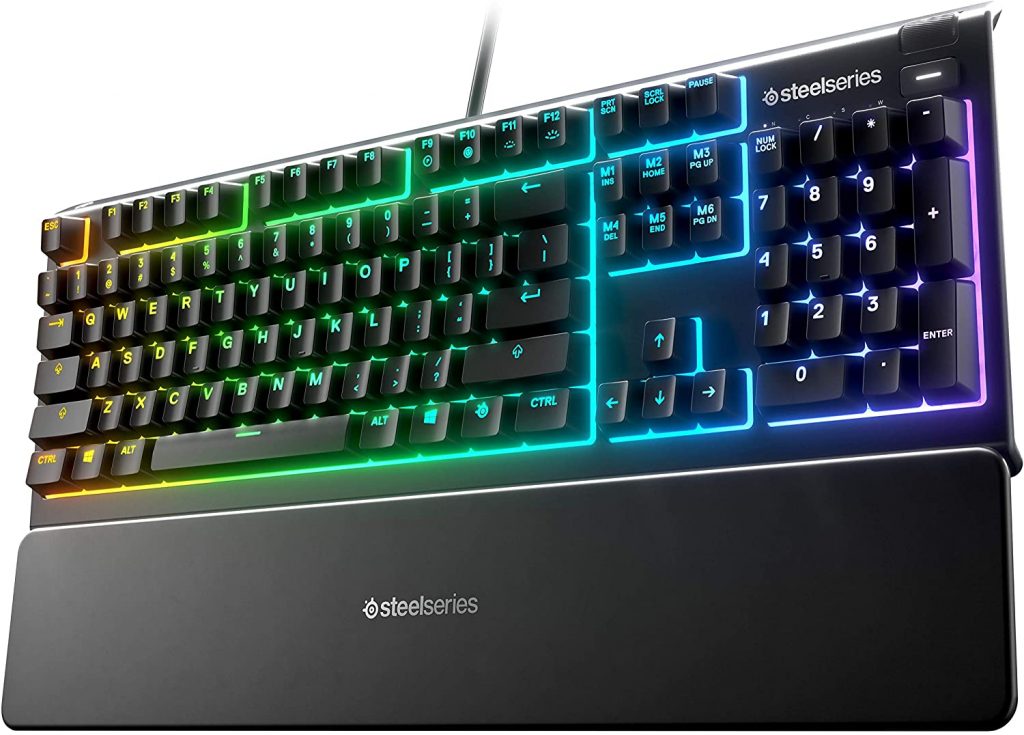 If you are not a fan of tenkeyless keyboards, then you will like the Steelseries Apex 3. This full-size keyboard, sport everything that you could hope for, a number pad, dedicated media buttons plus and a knob.
It is also relatively lightweight at just 2.80 lbs. Which makes it portable. Unlike some mechanical keyboard which is quite heavy, the Apex 3 can be easily carried around. The underside of the keyboard is equipped with sturdy hinged feet, so it will stay in place when in use.
Though Steelseries overblew the marketing of the Apex 3, it still stays true to its promise. This keyboard is quite the durable one, it is water-resistant and super durable. Many gamers will love this feature as many keyboards have fallen victim to toppled over drinks. That is the reason why water resistance is such an attractive selling point.
Gaming wise, it stayed true to its promise of quiet performance. This is probably the main reason why SteelSeries opted to use membrane switches for a gaming keyboard like the Apex 3. Powered by SteelSeries' Whisper-Quiet membrane gaming switches, it does live up to its name. Though it does not achieve the clickiness of mechanical switches, it still delivers satisfying feedback that gamers will approve of.
Overall, Apex 3 a reliable choice if you play or work a lot during nighttime while others are sleeping soundly inside the house. The Whisper-Quiet switches may not be as good as mechanical switches, but it still delivers. If you consider how SteelSeries sacrificed high-speed performance to achieve silence, you would agree that they did a pretty good job.
2. CORSAIR Strafe Linear and Quiet – Cherry MX Red Switch Keyboard
Best RGB Silent Keyboard from Corsair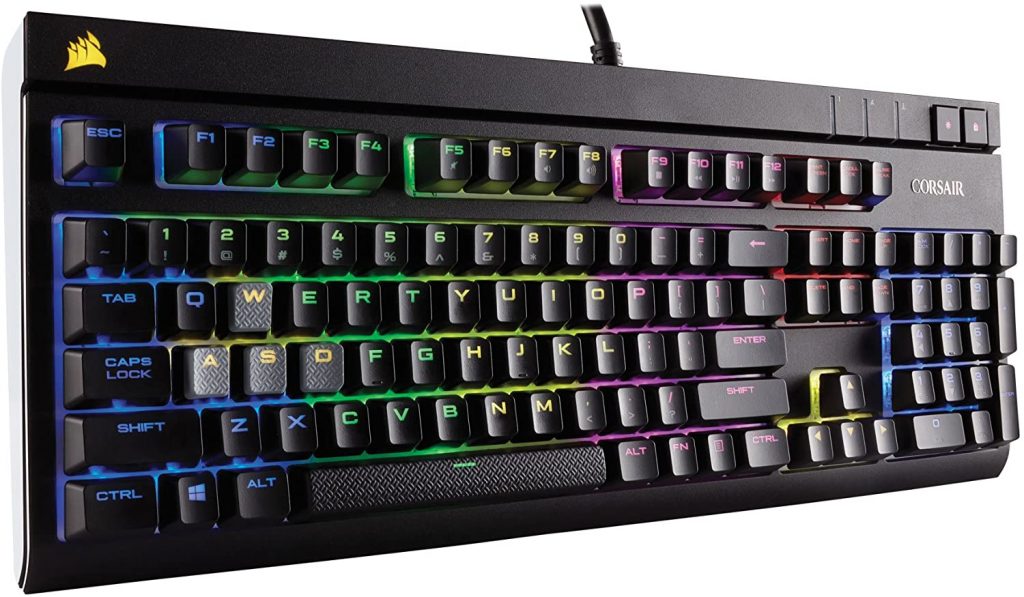 Corsair has been a household name for years and has frequently impressed gamers with their product lineups. Now with the arrival of the CORSAIR Strafe Mechanical Gaming Keyboard with its super sleek and attractive design, the company has struck again.
The overall build quality of the Corsair Strafe is superb. Sure, it does sport a plastic outer case, but the keyboard itself far from looking cheap. Thanks to the Corsair Strafe's aluminum support bar that runs through the middle, this keyboard is pretty robust. It does lack the sophisticated metal chassis of other Corsair keyboards, but the Strafe is still a handsome looking keyboard overall. Furnished with a gorgeous set of outlying LED, it definitely exudes a gaming aura.
Aside from being aesthetically pleasing, it is also charming to the ears. Gamers who love overall gaming function but could do without the noise will approve of this specialty keyboard. Powered by the Cherry MX Red mechanical key switch technology, you will find it quieter than other mechanical switches. The keys also boast a contoured and textured keycap that is a treat to type on.
These switches are quiet, but the keys are super responsive even without too much force, thanks to its linear behavior. The Corsair Strafe's high-grade circuitry makes it possible to register all your keypresses so you can compete with confidence. It is all fully backlighted, but unfortunately, it is non-RGB. The keys only sport a red LED-backlit option. It does shave off the price tag a lot, and it is still bright enough to easily see the keys during nighttime gaming sessions.
If you like customization, you can tweak this keyboard to suit your preferences. Using the iCue software, you can adjust the backlighting, re-program the keys, and assign macros. The USB passthrough is also an excellent addition to this keyboard, as it allows you to connect any additional device to your PC.
3. Razer BlackWidow Elite Mechanical Gaming Keyboard
Best Silent Mechanical Keyboard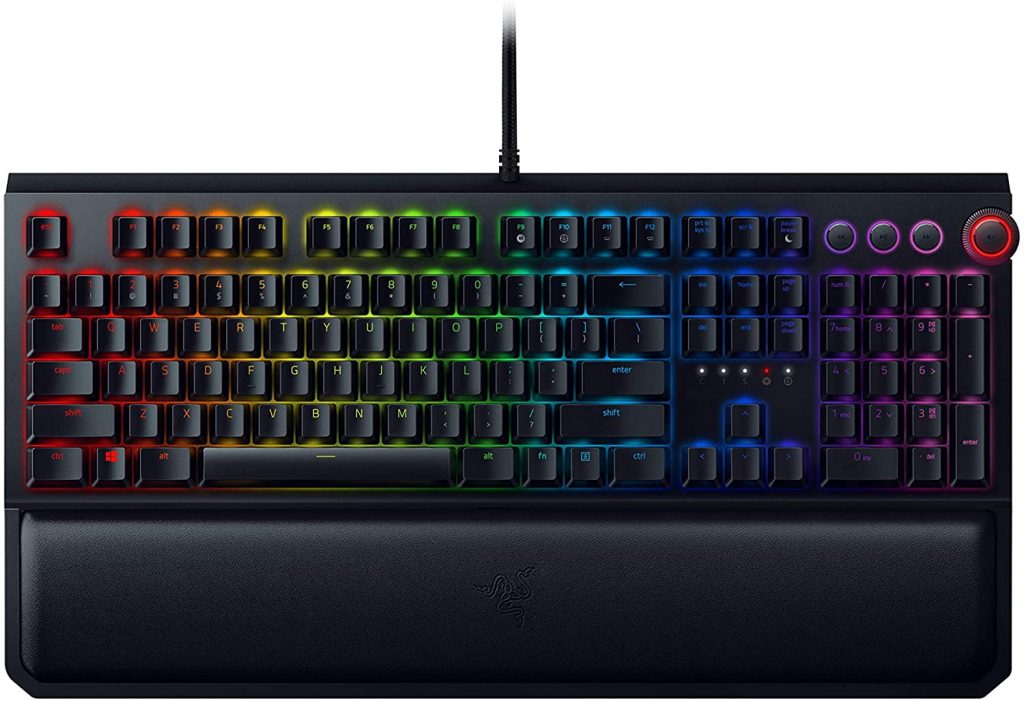 The Razer Blackwidow, mechanical gaming keyboards series, has been around for quite some time now. We have seen it evolved and underwent some makeovers and upgrades over the years. With each release, we see tweaks to the design that further adds to this keyboard's innate charm.
The Razer BlackWidow Elite Mechanical Gaming Keyboard is no exception, as it also received some upgrades. They have added a padded PVC wrist for better ergonomics. It easily attaches to the front of the board using magnets and is super comfortable to use. You don't have to worry about sweating either, as it still stays cool during hot seasons.
Unlike some gaming keyboards that use third party switches, Razer opted to uses its proprietary switches. The BlackWidow Elite is powered by Razer Orange Mechanical Switches, this version is quieter compared to their standard green switches. Apart from operating silently, it also boasts an extensive lifespan of 80 million keystrokes and protection against spills and dust. It is also super responsive and fast and can keep up with high-performance gaming. Razer is known for this, so it is not surprising to see the BlackWidow keyboard gracing the list of the best keyboards for Valorant.
With its anti-ghosting technology that is perfect for fast-paced games, the BlackWidow Elite is not just quiet but a top performer as well. It can also register up to 10 commands at a time, so you won't have to worry about your presses not registering.
If you want, you can also personalize the keys on this keyboard. Just head over to Razer Synapse and tweak to your heart's content. Through this software, you customize the RGB lighting and assign macros. Without a doubt, the BlackWidow Elite is one of the best keyboards Razer has ever created. It's beautiful, practical, quiet, and priced reasonably.
4. Logitech G910 Orion Spectrum
Best Silent and Highly Customizable Keyboard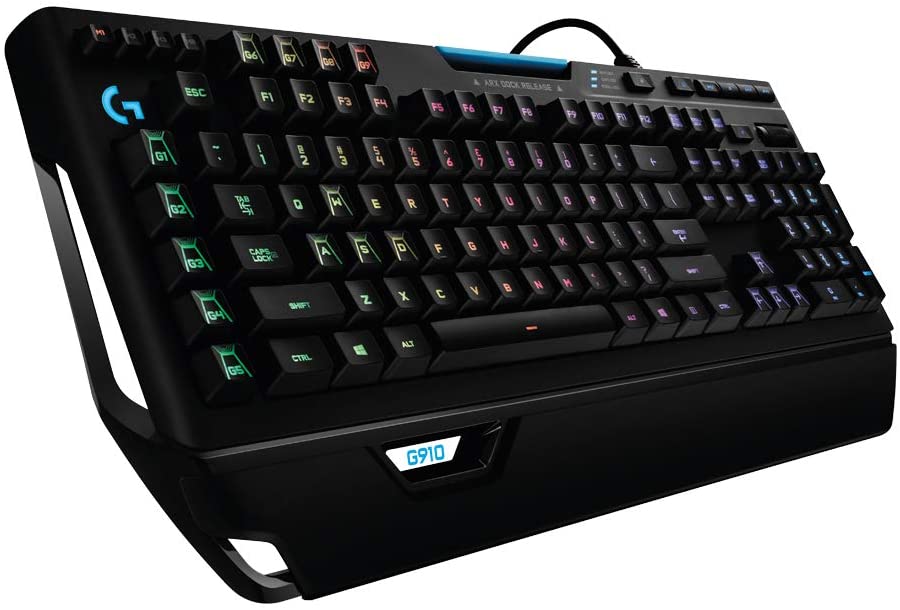 The G910 Spectrum is one of the best Logitech gaming keyboards out there. It looks sleek and charming, thanks to its 16.8 million customizable RGB light show. Unlike most gaming keyboard which only have RGB emanating from the keycaps, the G910 has the LED not just at the keycaps but the base too.
To achieve a silent operation, Logitech ditched the usual mechanical switches and opted to use its very own Romer-G switches. These keys are known to be responsive and tactile without being super loud. As a matter of fact, these switches are on par with the Cherry MX Red.
The Romer-G mechanical key switches are not just quiet, but it also a real beast in-game. Logitech claims that these switches will deliver a 25% faster key actuation compared to regular mechanical ones. This means that you will react more quickly compared to your enemies online.
If you are into customization, you can do a lot of control with this keyboard. Using its dedicated software, you can program macros and customize the function keys to your playstyle. You can also customize the keycap lighting to suit your taste.
Overall, the Logitech's G910 Orion Spectrum is undoubtedly one of the best high-end but silent mechanical keyboards. Its macro set up and customization options are one of the best ones on the market. Though it is made of plastic instead of aluminum chassis like some of its competitors, the G910 Spectrum with its Romer-G switches will keep your ears and fingers happy. Plus, your eyes will be entertained with its impressive lighting show.
5. Redragon K502 Backlit Illuminated Keyboard
Best Budget Quiet Keyboard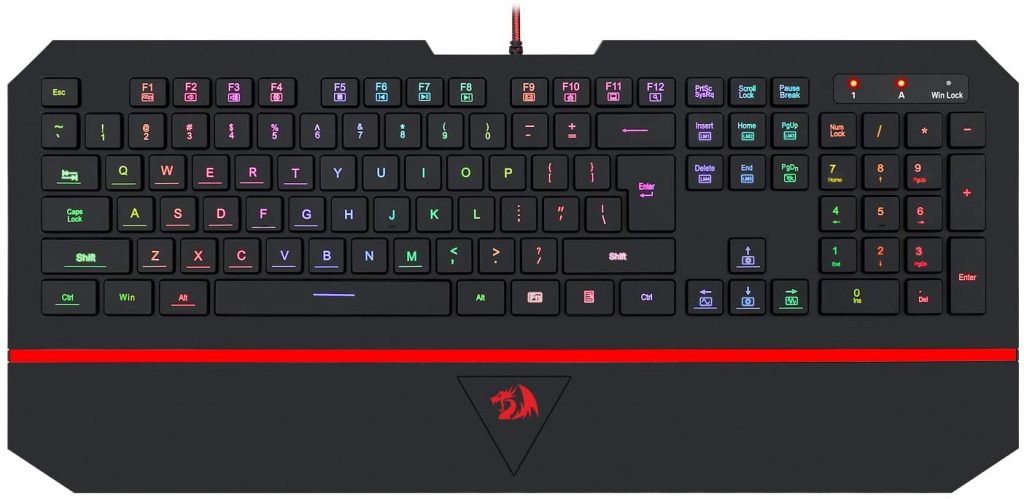 Redragon is known for making quality, yet affordable gaming peripherals and the K502 is no exception. This a 104 key keyboard, features a gold-plated corrosion free USB connector to ensure stable connection and durability. Despite its low price tag, the Redragon Karura K502 looks decent enough to fit into your gaming station. The material used does not look cheap and will last for years.
Gaming wise, the K502 does have silent in operation. Its membrane keys are quiet yet responsive. Thanks to it have 25 key anti-ghosting, you won't have to suffer from being "ghosted". As you may have already known, some keyboards have a hard time registering multiple keys that are pressed simultaneously. That is why having an anti-ghosting feature is a huge plus.
This keyboard also has a total of 12 multimedia keys that is super convenient. The RGB backlighting is a great addition as well, considering its price tag. They are bright enough to see the keys well in the darkness. Plus, the added wrist rest is a thoughtful addition that will reduce hand stress when gaming for hours.
Overall, the Red Dragon Karura K502 is a package of affordability, quality, and durability. If you are looking for a quiet keyboard for gaming but do not have a lot of cash to spare, then this keyboard is a great pick. This keyboard offers features that are on par with its higher-priced competitors.
Quiet Keyboard for Typing and Office Work – Top 3 Reviews
Your workplace or any other offices for that matter can be extremely loud. Although some people may tolerate the sound of chatters and loud keyboard typing, others find these noises very distracting. When your officemate's true wireless earbuds are no longer doing the trick to block noises, it's time to invest on some quiet keyboard yourself.
1. Jelly Comb Wireless Keyboard
Best Quiet Keyboard with Scissor Switch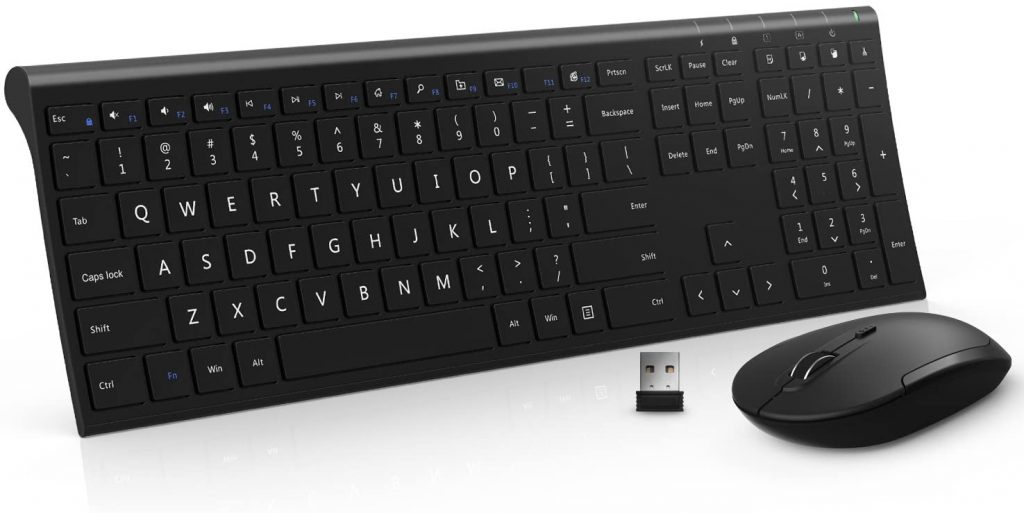 If you are a minimalist, loves peace and quiet at the office, then the Jelly Comb Wireless Keyboard is a great pick. Its versatile design supports not just your PC but almost all smart devices like your phone and tablet. Despite its small size, this wireless keyboard is sturdy, reliable, and super easy to use. Aside from portability, it is sleek looking as well, thanks to its all-aluminum build. If you are quite the fashionista, this keyboard comes in four different colors variants: black, white, white and gold, and white and silver. Now you can match your keyboard with your device and personality.
It is also ultra-slim and lightweight, so you can bring it anywhere with you with no worries. Perfect for home and office use. Powered by advanced wireless 2.4GHz technology, this keyboard is responsive and highly functional.
The Jelly Comb Wireless Keyboard is powered by a scissor-switch. These switches are attached to the keyboard using two plastic pieces that interlock in a "scissor"-like fashion. It also uses rubber domes, like membrane switches, but it has a shorter travel compared to them. These switches are quiet, and the keys need little force to actuate. That is why the Jelly Comb Wireless Keyboard is super smooth to use.
Unfortunately, keyboards like the Jelly Comb with Scissor-switch are expensive, and they are also challenging to clean. But aside from these, the Jelly Comb is still a solid pick. It is pleasing to the eyes, quiet and highly functional.
2. Apple Magic Keyboard
Best Silent Mac and iOS Keyboards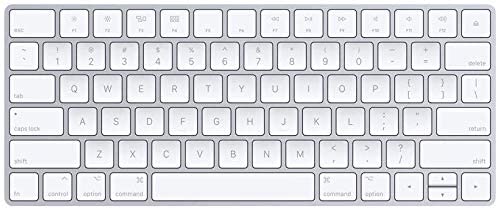 At a glance, the Apple Magic Keyboard is such a beauty. It has a sleek and charming form that will surely fit any posh office setting. But aside from being eye candy, it is also highly functional. The keys are quiet and have great feedback.
Powered by Scissor switch technology, you only need minimal force to actuate them. A feather touch will do the trick, which adds to this keyboard's silent operation. It also boasts optimized key travel and a stunning low profile. Whether you are a gentle typist or not, the Magic Keyboard offers an exceptionally comfortable and accurate typing experience.
Like most portable keyboards, the Apple Magic Keyboard is wireless, so tangled cords are the least of your concerns. Using Bluetooth connectivity, it is compatible with any Bluetooth supported device. Also, it will automatically pair with any Apple products. For charging, it usually takes about 2 hours to charge up, and this juice will last you to up to 2 months!
That is a pretty long time, so you won't have to constantly worried about running out of battery during office hours. Plus, you can still use it while plugged in, which, of course, is super convenient.
Overall, if you can get over the Apple Magic Keyboard's hefty price tag, you are in for a treat. It has silent keys, robust battery life, elegantly pleasing design, thus making it an excellent choice for decreasing keyboard noise in your workspace.
3. Microsoft Wireless Desktop 900
Quietest Wireless Keyboard

Microsoft has long reigned as one of the manufacturers who offer highly ergonomic and quiet keyboard designs. And with the arrival of the Microsoft Wireless Desktop 900, it is no exception. This package also comes as a set. Inside the box, you will find the keyboard and the mouse, which are both quiet in operation.
Unlike most wireless keyboards, the Microsoft Wireless Desktop 900 is a full-sized keyboard. Despite its full layout, it managed to maintain its slim and lightweight frame. The material used is also premium, thus giving it a solid feel. For the keys, Microsoft used chiclet-style keys, which are spaced adequately for typing without miss-press. It is also equipped with some kick-out legs for added slant. It is not much but will give a proper angle when typing.
The keys are powered by Microsoft's proprietary Quiet-touch key. It has a remarkably short mechanical throw that allows it to produce silent keystrokes, which impressively retains its tactile feedback. The key size is comparable to standard mechanical keyboards, but due to its lower profile, you get to experience a more comfortable feel.
Some function keys allow you to tweak necessary computer settings on the fly. Plus, the connectivity is pretty reliable, it has a 128-bit encrypted that will ensure the prevention of wireless keylogging. Overall, this is a robust and reliable mouse and keyboard combo that will complete your dream of a silent workplace.
Know Your Switch Type
Before you head out to get the quiet keyboard of your dreams, you need to know which switches are known for their silent operation. Remember that switch type is a vital factor in producing a quiet keyboard, after all, it largely contributes to the keystroke's noise level. Since you want to avoid spring switches and any other loud, loud switches for that matter, read on to know more about them!
Membrane or Rubber Dome Switch
This type is the most common key switch mechanism that most keyboards used. They are cheap to produce and sturdy, which makes them perfect for typing and office works. However, it is not favored by gamers as it lacks the feedback that gamers love. But make no mistake, these switches still deliver and quiet.
Scissor Key Switch
This type of switch is more like the membrane switch's upgrade. After all, by using a scissor-like mechanism, it greatly improves keystroke feel and shorten travel distance making it more responsive. Plus, this switch is known to be quiet in operation, making it perfect for office settings.
Mechanical Switch
Mechanical Switches are much favored by gamers, programmers, and heavy typists. Thanks to its better responsiveness and feedback it became a choice for the user who wants their keyboard tactile. Sure, they are not as silent as membrane switches, but most gamers are inclined to the mechanical feel and responsiveness. Fortunately, many gaming manufactures have made an effort to cater to players who want peace and quiet, and have released, mechanical switches that have a silent operation.
But What Are the Quietest Keyboard Switches?
See the table below for the quietest switches on the market today!
| | | | |
| --- | --- | --- | --- |
| Switch Type | Behavior | Feel | Sound Level |
| Alps SKCM Cream & White Damped | Tactile | Light | Quiet |
| Matias Quiet Click | Clicky | Light | Quiet |
| Matias Quiet Linear | Linear | Medium | Quiet |
| Rubber Domes (Membrane) | Linear | Light | Quiet |
| Cherry MX Silent | Linear | Light | Quiet |
| Zealpc Zilent | Tactile | Light | Quiet |
| Type-S Topre | Tactile | Medium | Quiet |
| Scissor Switches | Linear | Light | Quiet |
How to Make Your Keyboard Quieter?
Are your keyboard keys not quiet enough? If silent switches are not cutting it out for you, you can follow these tips so you can finally achieve a well-deserved peace. However, to do this, you will need Ring Switch Dampeners. See some products below.
Rosewill Mechanical Keyboard Rubber O-Rings
These dampeners are compatible with Cherry MX and Kailh Switches. Made from durable material, these rubber O-rings are resistant to breaking and ripping. They will last for a pretty long time as you enjoy a quieter mechanical clicking sounds.
ThreeBulls Clear Rubber O-Ring Switch Dampeners
The ThreeBulls Clear Rubber O-Ring Switch Dampeners feels soft and acts as an effective shock absorber. It also minimizes finger fatigue during overtimes and extended gaming sessions.
Captain O-Ring – Rubber O-ring Keyboard Switch Dampeners
The O-ring dampeners boast a 0.4mm travel reduction for better responsiveness and shock absorption. Since it has shorter travel and less impact, it minimizes finger stress by a lot. Made with high-quality EPDM rubber, it is highly resistant to cracks and tears.
Now that you have your dampeners follow these instructions below.
Step 1:
Carefully take off the keycap. Most keyboards are packaged with a key remover. Make sure to pry each key gingerly to avoid damage.
(Tip: Take a picture of your keyboard first so you won't have a problem putting them back, r you could just check for an image on the internet. Whatever works for you.)
Step 2:
Take out the dampeners and firmly press on the stem mechanism. Do this carefully not to damage anything. You will encounter some resistance, but that is entirely normal.
Step 3:
Return the keycaps to their respective places. Make sure to click them right back down. Now enjoy your newly muted keyboard!
TL;DR – Top Silent Gaming, Typing and Office Keyboards 2020
Keyboard noises can be a disaster, especially if you are not living alone, and if you don't have a separate office for yourself. However, you don't have to suffer in loudness (pun intended). These keyboards are here to help!
How about you do you have a horror keyboard story? Let us know down in the comments below!