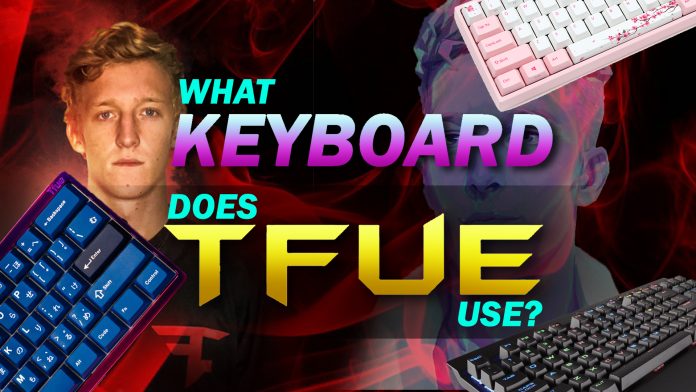 Who is Tfue?
Tfue is a professional streamer and esports gamer who is considered by many to be among the best Fortnite players in the world. He regularly competes in high-level tournaments and streams competition matches on Twitch where he pulls in tens of thousands of viewers.
Tfue's tremendous success has made fellow gamers curious about the monitor, mouse, keyboard and other equipment he uses to dominate the competition.
If you are itching to know what keyboard does Tfue use to become so agile and hard to eliminate, you're in for a treat! Because, fortunately, Tfue often shows his gaming setup on stream for his viewers to feast their eyes on, and we've kept a close eye to produce a list of the keyboards he currently uses.
Tfue uses these keyboards in rotation, but there is no way to tell which keyboard he uses for a specific period. Currently, Tfue is using a custom keyboard called Taeha Types Keycult No. 1/60 Tfue Commission to play Call of Duty: Warzone in 2021.

At any rate, these keyboards are guaranteed to give you a taste of professional gaming and a competitive edge over your opponents.
Keyboard Tfue Uses
Taeha Types Keycult No. 1/60 Tfue Commission

Quick Specifications

Chassis Material

Anodized aluminum and stainless steel

Mechanical Key Switches

NovelKeys Cream

Keycap Material

Double-shot ABS
The Taeha Types Keycult No. 1/60 is a one-off mechanical keyboard commissioned exclusively for Tfue. Put together through a collaboration between Taeha Types and Keycult; this luxurious keyboard is made entirely of premium anodized aluminum and polished stainless steel.
Design-wise, the Taeha Types Keycult No. 1/60 looks exactly like what you'd expect from a keyboard made for a professional Fortnite player. It features the signature colorway of the game, which is made even more mesmerizing by the exotic aluminum anodizing.
If you've been watching Tfue for a long time, you may have noticed that he is fond of 60% mechanical keyboards. Thus, it should be no surprise that a keyboard made specifically for him comes with a 60% form factor.
Despite its rather compact structure, the Taeha Types Keycult No. 1/60 bears a respectable weight of just over 1720g fully-built. Most of this weight comes from the stainless steel housing that also adds to the stability of the device.
Another notable design element of the Taeha Types Keycult No. 1/60 is its six-degree typing angle, designed to prevent carpal tunnel syndrome and other typing-related injuries. It also uses advanced mounting technology called gasket mounting, which you won't usually find in pre-built keyboards. This technology gives the board a unique typing feel and sound signature.
To add to its versatility, the Taeha Types Keycult No. 1/60 is fully-programmable to help the user create custom shortcuts for different functions. It comes with NovelKeys Cream Switches that have a well-balanced bottom-out force of 67g. This keyboard also uses Krytox GPL-205 Grade 0 lubricant to help minimize rattle.
For its keycaps, the Taeha Types Keycult No. 1/60 features the GMK Striker set with different shades of blue. They are among the highest-quality keycaps on the market, made of thick double-shot ABS.
These elements combine to create one of the most beautiful-sounding keyboards ever made. Just listen to the typing music it produces:
Previous Keyboards Used by Tfue
Custom Varmilo VA68M

Quick Specifications

Chassis Material

Aluminum

Mechanical Key Switches

Cherry MX Brown

Keycap Material

Double-shot PBT
The Varmilo VA68M is one of the few keyboards used by Tfue that you can accurately replicate. Varmilo creates mechanical keyboards that accommodate customer requests, meaning you can choose specific case colors, case materials, key switches, and keycaps.
The VA68M is an exceptionally built keyboard that finds the sweet spot between weight and stability. Regardless of what case material you choose, the keyboard won't twist, bend, or creak.
The VA68M has four rubber feet that help keep it in place when you're engaged in intense gunfire. You can also elevate the board using its flip-up feet for angled typing if you want a more comfortable experience.
In terms of design, you can choose between a variety of case colors, including space grey, silver, and electric blue. Varmilo is also developing new case materials for the VA68M, aside from aluminum, such as zinc and magnesium. Its keycaps are made of durable PBT, which you can fully customize with different colors and dye sub-options.
If you want an exact duplicate of the VA68M used by Tfue, you can have everything at default, but have it with Cherry MX Brown switches. He also went with a distinct color pattern for his keycaps, with the middle keys in milky white and the right and left keys in grey. Additionally, you can easily replace the keycaps since they are standard-sized.
Although the VA68M does feature RGB backlighting, the keycap legends aren't shine-through. Instead, the backlight generates a subtle underglow, giving the keyboard a more elegant appeal.
Arguably the biggest drawback of the VA68M is its use of the outdated Mini USB interface instead of the newer and faster USB Type-C. Other than that, it is a near-flawless keyboard for enthusiasts that looks, sounds, and feels extraordinary.
Corsair K65 RGB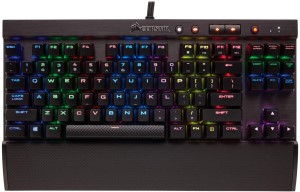 Quick Specifications

Chassis Material

Aluminum

Mechanical Key Switches

Cherry MX Speed Silver

Keycap Material

ABS
The Corsair K65 RGB is another compact mechanical gaming keyboard that makes its way on this list. Tfue paired this keyboard with Cherry MX Speed Silver mechanical key switches instead of the default Cherry MX Reds to suit his gameplay style.
Although Corsair heavily banks the marketing of the K65 RGB on its backlighting capabilities, gamers can make the most out of its impeccable programmability. It may have a rather steep learning curve, but once you get the hang of reassigning keys devising gaming macros, you have a guaranteed advantage over the competition.
You can perform all the key and lighting customization via the Corsair Utility Engine (CUE). If you have a Corsair gaming mouse, you can also adjust its settings through the same application.
One of the most impressive features of the K65 RGB is its backlighting that allows you to customize the color on every single key. Using the CUE, you can create lighting effects and set different levels of brightness. If you're creative, you can even integrate this feature to illuminate important keys in-game, such as WASD or function keys with assigned macros.
Unlike most premium mechanical gaming keyboards, the K65 RGB doesn't feature a detachable USB cable, heavily affecting its portability. It also comes with two USB connectors since it requires two USB 2.0 ports to power the backlighting. While you can fully power the device with one USB 3.0 port, you don't have an option to remove the extra USB connector. Nevertheless, the cord is braided with fiber coating for proper insulation and feels incredibly sturdy.
Another unique feature of the K65 RGB is the switch on the back of the keyboard, which allows you to select among different polling rates (1ms, 2ms, 4ms, 8ms). It also has an option to let you enter a BIOS setting for legacy use so the keyboard can get recognized at bootup.
Overall, the K65 RGB is a rugged and sturdy mechanical gaming keyboard with outstanding macro and lighting capabilities. With its compact form factor, it makes perfect sense for people with small and cluttered desks while giving you a taste of what it feels like to play like Tfue.
Ducky x Varmilo Miya Pro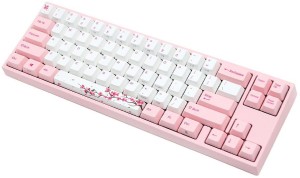 Quick Specifications

Chassis Material

Hard plastic and stainless steel

Mechanical Key Switches

Cherry MX Brown

Keycap Material

Double-shot PBT
The Ducky x Varmilo Miya Pro is the brainchild of a collaboration between two of the most renowned mechanical keyboard makers in the world. You can customize some aesthetic elements and choose from a variety of switches when you order this keyboard through their official website. Tfue pairs it with Cherry MX Browns, which are known for their tactile and silent characteristics.
In case you're what the respective keyboard makers contributed to the making of this mechanical keyboard, the case and the PCB itself are labeled Varmilo. That means it is essentially a Varmilo keyboard with some aesthetic input from Ducky.
Like many of the other options on this list, the Miya Pro doesn't take much space on your desk to give you more room for your mouse. It is remarkably well-built despite being made primarily of plastic and has a barely noticeable flex to the board owing to the thick steel mounting plate. Moreover, it features ultra-durable double-shot PBT dye-sub keycaps and a detachable USB Type-C cord for portability.
Despite its lightweight and compact form factor, the Miya Pro has dedicated arrow keys that help with navigation, especially for writers. The typing quality of this keyboard is also exceptional, with adequate travel and white-only backlighting. You can choose among any of the mechanical key switches they offer, and you can be confident that you're going to have a satisfying typing experience.
Unlike the Corsair K65 RGB, the Miya Pro doesn't ship with a wrist rest, but it is nevertheless comfortable. It features a one-incline setting, but even without using the flip-up feet, you shouldn't feel any fatigue after a long typing session.
While the backlighting on the Miya Pro is white-only, it still is capable of limited lighting effects that you can enable through the Varmilo Keyboard software. The keycaps aren't shine-through, so the backlighting serves as a subtle and refined underglow.
In terms of programmability, the Miya Pro lets you easily program macros and remap keys via the software. You can save these key customizations and macros by enabling gaming mode. It also has a host of extra commands that you can integrate, but you'll need to check out the manual to know which combination performs which command.
If you're looking for a compact and portable keyboard that is well-built and tested by Tfue himself, consider getting the Miya Pro.
Razer Huntsman TE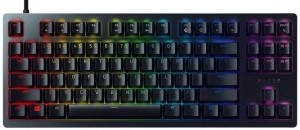 Quick Specifications

Chassis Material

Hard plastic and aluminum

Mechanical Key Switches

Razer Orange

Keycap Material

Double-shot PBT
The Razer Huntsman TE is a mechanical keyboard that incorporates the incredibly responsive proprietary Linear Optical key switches. Like the Corsair K65 RGB, it features fully customizable backlighting that is excellent for gaming in dark environments. It also comes with shine-through double-shot PBT keycaps that are sure to last a long time without fading or chipping.
As a TKL keyboard, the Huntsman TE is relatively compact while maintaining the practicality of navigation and function keys. It has an unusually high profile but sustains ergonomics owing to the light feel of the key switches, which also helps prevent fatigue when typing for extended periods. However, the space bar has a bit of a wobble that slightly throws off the board's overall stability. This issue is nevertheless compensated by the springy and responsive characteristics of the keys.
That being said, the Linear Optical switches are more suited for gaming than typing because of their highly sensitive actuation. Although the keys are well-spaced, they don't deliver any tactile feedback, making it hard to tell if your keystroke has been registered. In other words, you can expect to commit more errors than usual when typing with the Huntsman TE.
For a keyboard mostly made out of plastic, the Huntsman TE has an exceptional build quality. It does exhibit some flex, but the aluminum plate gives it rigidity and stability. However, you may notice rattling on some keys, which suggests that the keyboard has inferior stabilizers.
One of the strongest selling points of the Huntsman TE is its fully customizable RGB backlighting. Using the Razer Synapse 3 software, you can customize the color of the keys individually to suit your games. You can also set macros and save profiles through its on-board memory.
If you're a gamer who constantly travels, you'll appreciate the detachable USB Type-C cable that ships with the Huntsman TE. It is a valuable bonus for portability and durability since it's easy to replace in case it gets damaged.
Other extra features of the Huntsman TE include hotkeys that put your computer into a game mode, disabling the Windows Key function, so it doesn't minimize your game when you accidentally press it. You can also choose specific keys to disable using the software.
Overall, the Huntsman TE is a gamer's dream mechanical keyboard, especially for those who are always on the move.
Ducky One 2 Mini

Quick Specifications

Chassis Material

Hard plastic

Mechanical Key Switches

Cherry MX Brown

Keycap Material

Double-shot PBT
The Ducky One 2 Mini is one of the best mechanical keyboards in Tfue's arsenal for mixed usage. Hands down, it delivers one of the best typing qualities among its contemporaries while offering a ton of useful features without the need for an interfaced software.
Since the One 2 Mini is a 60% keyboard, it is small enough to leave a lot of room on your desk for your mouse and other things. Its frame is made of extremely rigid plastic that helps minimize the flex of the board while its ultra-durable double-shot PBT keycaps deliver a high-end feel while ensuring longevity. Additionally, the Cherry MX switch stabilizers make sure the keyboard doesn't wobble nor produce chatter.
The only downside we could point out on the One 2 Mini is the lackluster generic detachable USB Type-C cable that is slightly tacky. Nonetheless, you can easily replace it with a braided cord to enhance the sturdiness of the keyboard even further.
Ergonomics is another strong suit for the One 2 Mini. It has two incline settings that you can use for a more comfortable typing experience. While a removable wrist rest would have been much appreciated, you don't need it to prevent discomfort when using this board for long durations.
If you like to work or play games in dark rooms, you will undoubtedly appreciate the One 2 Mini's mesmerizing backlighting. It supports full RGB lighting and can get bright enough to illuminate the keyboard even in well-lit environments. However, you must keep in mind that all the customization you perform must be done directly on the board since it doesn't have a dedicated downloadable software.
If you're currently using a TKL keyboard and considering the One 2 Mini as your next daily driver, you won't be losing much in terms of functionality since it is fully programmable with two layers of hotkeys. It even features DIP switches that allow you to remap specific keys. Moreover, it has onboard memory that can store up to six profiles with three layers of macros.
All in all, the One 2 Mini is one of the best-feeling keyboards on the market. The variety of keys you can use on them are stable and of the highest quality. If you want to copy Tfue's version of this keyboard, go with Cherry MX Browns and get the Ducky Ultraviolet keycap set. Tfue also uses rubber keycaps on specific keys along with a custom escape key.
New Keyboard https://t.co/gF6wiuJwMz pic.twitter.com/hfkPaPqdcW

— Tfue (@TTfue) April 1, 2019
Quick Recap – Tfue's Complete Arsenal of Gaming Mechanical Keyboards
Conclusion
You can probably tell from now that Tfue loves to customize his keyboard to suit his gaming style. If you want an exact duplicate, you're going to have to spend extra on custom keycaps and whatnot. Nevertheless, you can rest assured that these are some of the best keyboards you can get for Fortnite and other battle royale games.
If you're curious about the other peripherals Tfue uses, check out our complete and comprehensive rundown of his gaming setup.
Follow Tfue
Social
Video Streams