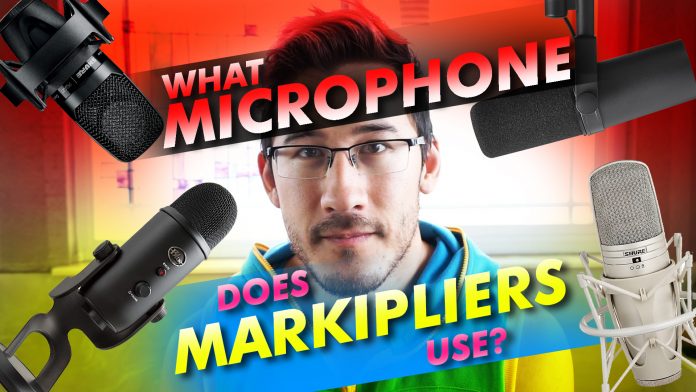 Markiplier, or Mark Fischbach in polite company, is one of YouTube's biggest stars. He's best known for his playthroughs of popular video games, mostly from the horror genre: Amnesia, Slender, Subnautica, and Resident Evil 2, among many others. People flock to him because of his high-energy gameplay, witty commentary, and all-around vibe. One thing Markiplier does that really pulls me in is his audio quality. I often find myself asking the question, "what microphone does Markiplier use?"
| Rank | Preview | Product | Type | Price |
| --- | --- | --- | --- | --- |
| 1 | | Shure KSM44A | Condenser | |
| 2 | | Shure PGA27-LC | Condenser | |
| 3 | | Shure SM7B | Dynamic | |
| 4 | | Blue Yeti | Condenser | |
To this end, I've scoured the internet looking at his past content, listing down the Markiplier's microphone choices over the years. I'm here to finally answer the maddening question in this article. Also, I'm going to be talking about a few things that you can do to make yourself sound as good as he does on your own stream or YouTube channel. With that said, let's get on with finding out what mic Markiplier uses.
Markiplier's Microphones at a Glance
What Microphone Does Markiplier Use As Of 2021?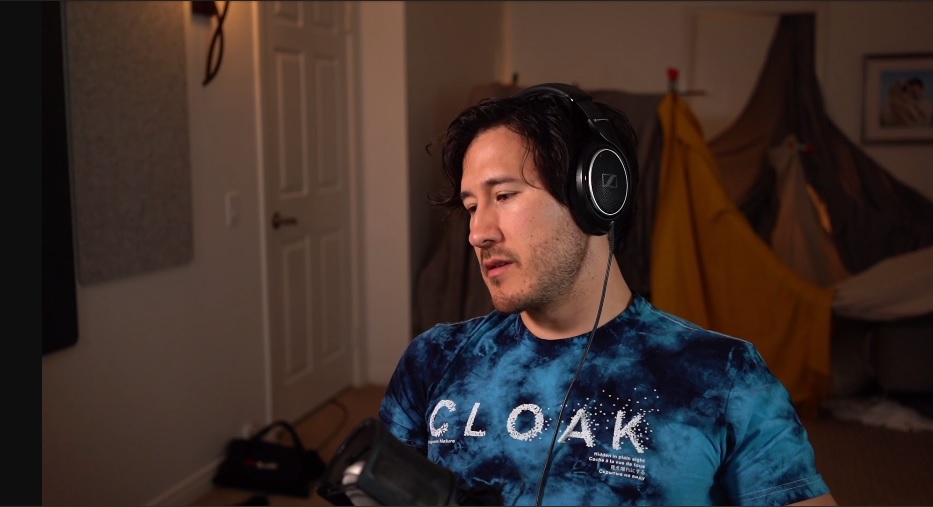 Markiplier is currently using the Shure KSM44A/SL, a side-address condenser mic with a massive diaphragm, which also features many polar patterns.
Like many YouTubers, Markiplier microphones didn't start out as the best of the best. Starting off with the SE Electronics M1C (which isn't even for sale anymore!), he moved on to Blue Yeti, then Audio-Technica.
As said above, it took some time for his content – and his audio setups – to mature. Let me take you through some of the mics he's used over the years, in reverse chronological order. Just because.
Best in Class: Shure KSM44A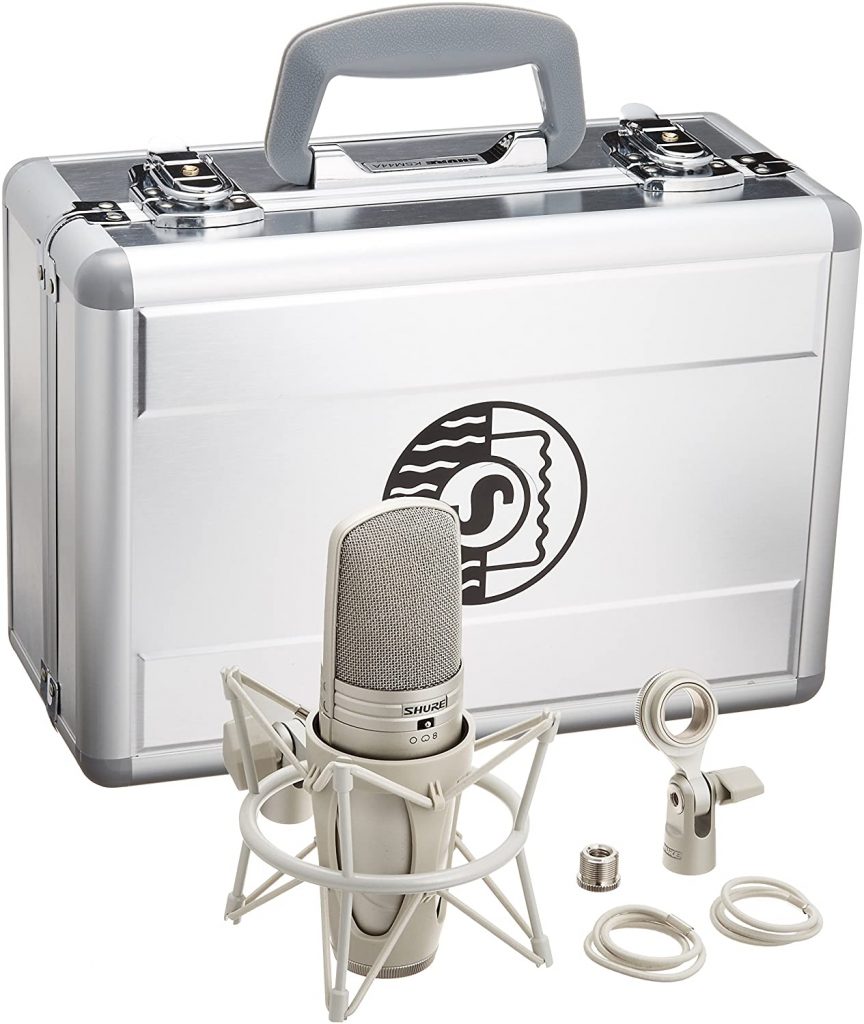 If you're one of the best YouTubers in the world, you've definitely got to have one of the world's best microphones. And Markiplier's microphone right now is the venerable KSM44A from Shure. The brand name alone should tell you the high quality, as Shure has been at the forefront of high-quality electronic audio for close to 100 years. So you know that when you ask what mic Markiplier uses, the answer's never going to be the "BM-800 Condenser Microphone." (If you don't know what that is, consider yourself lucky!)
The KSM44A is an amazing piece of technology. This allows the KSM44A to accurately depict audio sources, wherever they may come from – essentially mixing the sound as you record it. Cardioid, omnidirectional, and bidirectional, the KSM44A is definitely one of the best mics in terms of flexibility.
Its subsonic filters effectively kill any rumble heard from mechanical sources below 17 Hz, so it won't pick up any environment sounds such as your air conditioner or fans. There's also a three-stage pop protection grille that practically eliminates the need for an external pop filter – but having one won't hurt. The large capsule design, when paired with its internal shock mount and a good mic arm, keeps the microphone steady so it can keep recording your dulcet tones without a hitch.
The microphone was also made as if Shure had Markiplier in mind, as its housing is made with supremely durable zinc, while the grille is made with carbon steel – perfect for even the most rage-inducing moments where you can't help but flip your desk. And if you do, don't worry – the KSM44A is one tough puppy.
It's got a switchable 15dB pad that lets you adjust the microphone at any time to handle sound pressure above normal levels without compromising audio quality. So, if like Markiplier, you tend to scream yourself hoarse into the microphone, don't worry; just flip this switch and your audience won't have to seek treatment for the tinnitus you just saved them from.
Best for Deep Voices: Shure SM7B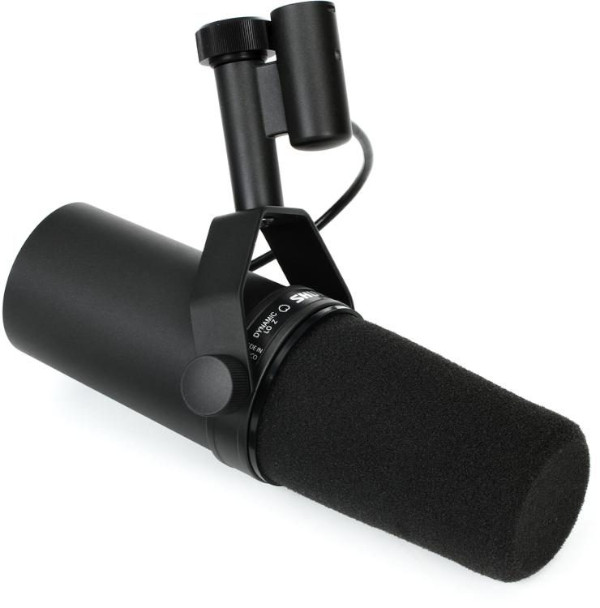 The Shure SM7B Cardioid Dynamic Microphone is a masterclass in microphone engineering, and who better to come up with it than our dear friends over at Shure. If you're asking about what Markiplier's microphone is, then this item is one of the greats that propelled his career even further. If you're looking for great audio quality from a microphone that's as tough as it is stylish (which, to be honest, is very) then look no further than this one.
Compared to many condenser microphones, the SM7B opts for flat, wide-range frequency response to better produce clean and natural speech, as well as music. It's a hallmark of Shure's line of SM microphones, making them industry standards for pop musicians and audio engineers of all levels.
Shure pulled out all the stops when thinking about what features to put into this bad boy. The SM7B comes with an internal pop filter that works very well against breath sounds no matter how close you may be to the mic, so don't bother adding an external pop filter to your cart upon purchase. Its internal air suspension provides excellent shock isolation, removing mechanical noise from your recordings.
Classic cardioid polar patterns allow for a consistent max-rejection, min-coloration of off-axis sounds – basically meaning multiple audio sources will come out clean as long as they're positioned up to 120 degrees around the microphone. If you've got a barbershop quartet for your stream, you can all share this one mic with zero problems.
Finally, the build quality is top-tier Shure. It's got a rugged construction that completely protects the cartridge from the shock caused by drops, whacks, and infernal screaming. Use this one to record a sandstorm and it'll come back with a few words left to say – the SM7B can take it like a champ. Markiplier definitely made a good choice for picking this one up.
Best for Recording: Shure PGA27-LC

The Shure PGA27-LC is one of the most popular microphones for YouTubers and streamers alike for a reason: it's one of the best condenser microphones for people on a budget. With an almost impeccable 4.9-star Amazon rating, it's easy to see why this unassuming little condenser mic is one of the first results you'll see when you look for what microphone Markiplier uses.
Its large diaphragm cartridge allows for a wider dynamic range, giving its users really clear highs and strong, resonant lows. People with baritone voices, such as Markiplier, will find the PGA27-LC to be faithful to their natural voice, if not enhancing it even further. Its cardioid polar pattern design lets the microphone pick up audio directly from the source, blocking out unwanted background noise. Your viewers (or listeners, if you're into podcasting) will forgive you as they won't hear your loud mechanical switches too much.
A high-pass filter lets you have additional control over low-end signals that you definitely don't want your audience to hear. Its frequency response of 20Hz ~ 20,000Hz is perfect for home recording, vocals, acoustic instruments, bass amps, and more.
Design-wise, this Markiplier-certified microphone is definitely a low-key looker, like that goth girl you had a big crush on in high school. Its industrial black metallic finish extends way up to the grille for that perfect, low-key-high-style aesthetic. If you're the type who likes to keep things minimalist, this is the best choice for you. As for the build, there's not much you can hate about Shure's attention to detail and build quality. Its construction allows this microphone to live through the worst abuse and come back fighting, making it the best microphone for ragers such as our dear YouTuber.
Best for Beginners: Blue Yeti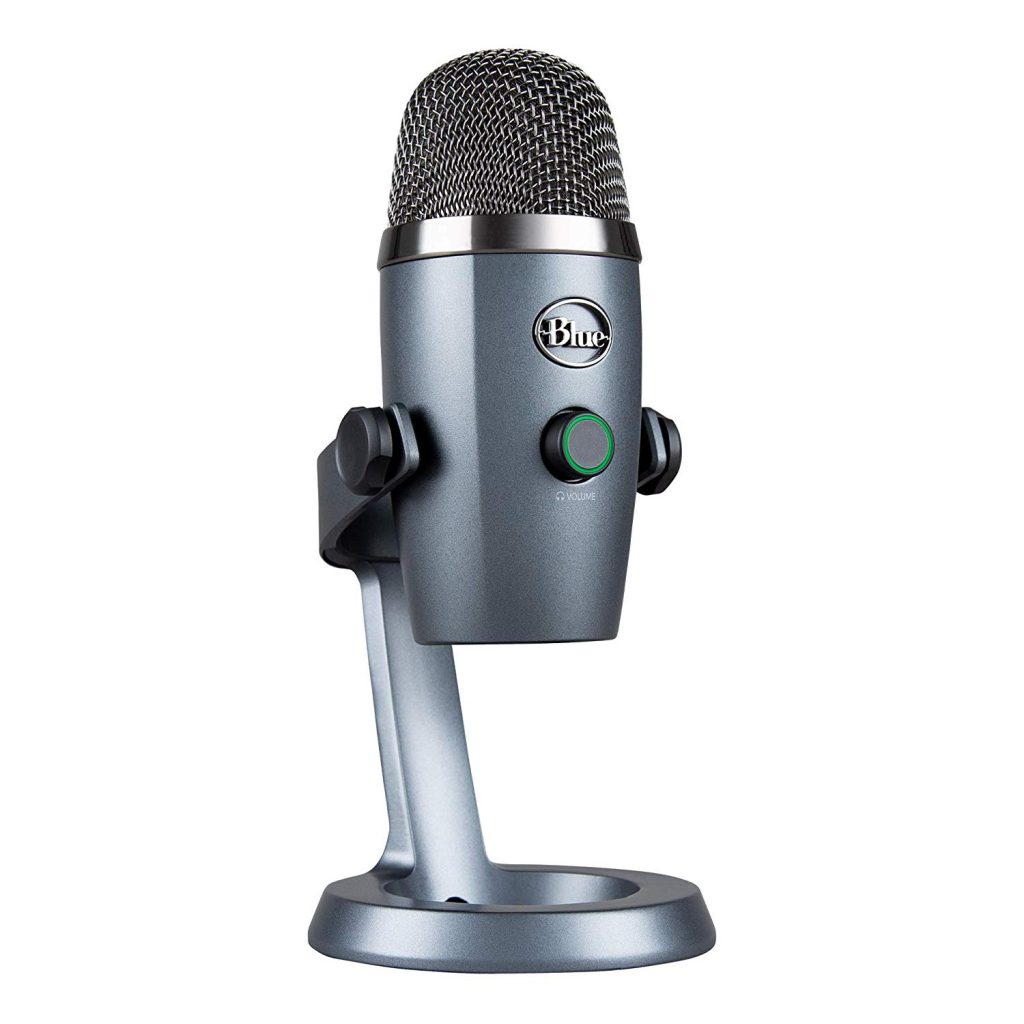 Ah, the Yeti from Blue. Every streamer's bread and butter, every YouTuber's first premium microphone. We've talked about the Blue Yeti in some of our articles before, and you probably know a lot about it by now – but we'll still be talking about it here. After all, you wanted to know what microphone Markiplier used. And as this is probably one of the most popular microphones ever made, it's no surprise that he dropped some of his hard-earned YouTube money on this. And of course, it did not disappoint.
Let's get nerdy for a bit and talk about the details: the Blue Yeti features a tri-capsule array, which allows 3 condenser capsules to record simultaneously. Think of it as three microphones in one. You can also select its recording pattern if you so wish, switching between cardioid, bidirectional, omnidirectional, and stereo, according to your needs. As a streamer or YouTuber hopeful, however, you'll likely stick to a cardioid – but the option is there if you want it.
All these features make the Blue Yeti perfect for recording vocals, podcasting, musical instruments, doing interviews and voiceovers, or even field recordings. And don't forget about its quality during conference calls. With everyone working from home lately, getting the Blue Yeti will put you miles above your coworkers still stuck using their laptop microphones.
The Blue Yeti features a gain control knob and mute button, as well as a built-in 3.5mm headphone jack. So if you'd like to save some space, you can just plug your headphones onto the microphone directly, no problem.
As far as the build quality goes, it's decent enough. It lasts as much as you'd let it, which means you probably shouldn't be throwing this across the room anytime you get pwned by someone in Valorant. It doesn't have the build quality that Shure always promises, but it can handle a few knocks. Just take care not to hit it too hard.
Who is Markiplier?
Markiplier is an American YouTuber, whose channel focuses on gaming and commentary. Born in Honolulu, Markiplier is the 6th biggest gaming YouTuber right now, with over 26 million subscribers and 13 billion total video views. Needless to say, Markiplier is – and will be for the foreseeable future – a big deal.
He is currently based in Los Angeles, California, like many YouTubers. This lets him collaborate with many fellow YouTubers, including big names like PewDiePie, Jacksepticeye, Matthias, Game Grumps, and SMOSH.
He uploaded his very first video on April 4, 2012, which sadly isn't viewable anymore. He wanted to do sketch comedy at first, stating that he wanted to "multiply himself" by doing every role, just like Eddie Murphy would in his movies. Thus, the name Markiplier was born. He then saw that gaming on YouTube was about to become the next biggest thing, so he pivoted his content.
Since then, Markiplier has ventured into movies and web series, appearing in Smosh: The Movie, Cyndago, asdfmovie, 2015's YouTube Rewind, and most recently, A Heist with Markiplier. He's also won several awards such as 2016 Celebrity of the Year from Make-A-Wish Foundation, Best Streamer/Broadcaster from the Golden Joystick Awards in 2017, and a nomination in 2018 from Nickolodeon's Kids Choice Awards for Favorite Funny YouTube Creator. Needless to say, Markiplier has come a long way since his first video in 2012.
His earliest videos showed that he wasn't really investing much in his audio setup, and Markiplier's microphones weren't the best during those dark ages. As he and his channel matured, so did the quality of his videos – he's since invested in great webcams for his videos and streams, and of course, Markiplier's microphones have gotten even better.
What Are Markiplier's Biggest Videos?
Markiplier's best videos are those where he games his heart out. If you've never watched him, or just want to relive the good ol' days, here is a list of some of his best videos:
Prop Hunt Series: Markiplier collaborates with Yamimash, SeaNanners, CaptainSparklez, EatMyDiction, and Wade and Bob on game after game of Prop Hunt, a Garry's Mod mode.
Amnesia: The Dark Descent: As we said earlier, Markiplier's best content comes from his horror games series, and topping that list is his Amnesia series. Prepare for ear-splitting screams from our favorite YouTuber – but at least it'll get you asking about what mic Markiplier uses.
Try Not To Laugh: Just like many YouTubers of 2017, Markiplier came out with a Don't Laugh series. It's extra hard for him because not only is the content his fans serve him very funny (had me in stitches too), you're also going to see – or rather, hear – the quality of his audio from the microphones Markiplier uses over the course of the series.
A Date With Markiplier: Markiplier pioneered a YouTube trend: an interactive video series of Markiplier taking his audience out on a date. It's a "choose your own adventure"-type video series, which ranges from poignant to hilarious – but never cringe.
If you want to know more about the microphones Markiplier used and how they sound, check out these videos and see how his voice varies depending on the mics he uses.
How Do I Sound Like Markiplier?
Markiplier has a loud voice, for sure. It's actually one of the many reasons people flock to his channel. He's been training his voice since he began YouTube, and it's a feat that wasn't achieved with great ease. However, it's not impossible. There are a few things you can do that can help you sound like Markiplier himself, short of imitating his voice, pitch for pitch.
Pronounce your words clearly. There's nothing more audiences hate than someone mumbling through your microphone. You may know what microphone Markiplier uses, but if you don't use it to its fullest potential by enunciating clearly, then you might as well have a hundred-dollar paperweight on your desk.
Be casual. No one likes a stiff, especially if you're streaming or making a YouTube channel for gaming! You can have a script, sure, but make sure to write it casually. When speaking live, just have fun with it. Pretend you're talking to a friend.
Be enthusiastic. For people to listen to you, you have to be enthusiastic about what you're doing. No one likes a monotone voice commentating on their gameplay! Again, have fun with what you do and share that joy with others through your voice.
Train every day. If you're not used to modulating your voice for the camera, it'll take some practice. Many news anchors practice their voice every day in front of the mirror just to get the modulation right. It's something that may not come naturally for some, and if you are part of that minority, training your voice for 5 minutes a day at least will help you develop a voice that's perfect for YouTube, Twitch, or Mixer.
Wrap Up
And there you have it, the best microphones that Markiplier ever used. If I were to rank them, I'd, of course, put the Shure KSM44A on the tippy top of this list. It's truly a one-of-a-kind, top-of-the-line masterclass in audio engineering, and it's no wonder why Markiplier would invest in such an epic microphone. If you have the budget for it and a big dream of making it big in YouTube or whatever streaming platform you choose, then you definitely won't go wrong with this microphone.
However, if you're straining your budget as it is, then the Blue Yeti is the perfect choice for you. It's one of those microphones that "does the job" and does it well, and you won't be wanting too much more when you purchase it. While there are definitely better alternatives, it's a great mic to launch your career off of.
But what do you think? Which of these microphones Markiplier used is the best for you, and which one will you get? Let us know in the comments!