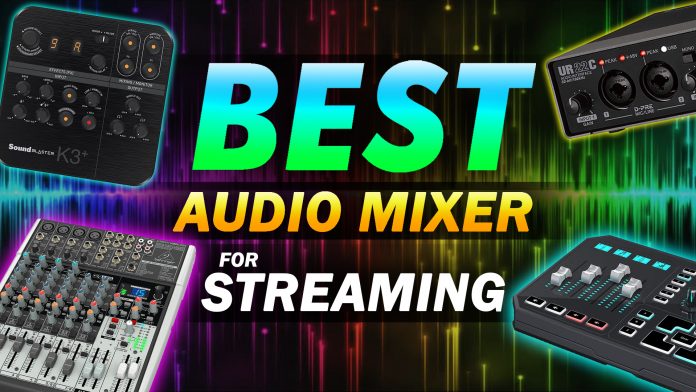 Quarantine's got you bored, and you've been spending your time on Twitch. You go through many streamers, and an idea forms in your head: hey, I can do that. So you go on Amazon, you put a Logitech 1080p webcam and ring light into your cart, then one of those Blue Yeti mics every streamer and their mom talks about.
But you wanted to go a bit extra – you want the best audio mixer for streaming. In for a penny, in for a pound, yeah? Now you're in the market for an audio mixer for streaming, and you're in luck! Today we're here to show you the tools you need so you can start sending out those dulcet tones out on Twitch, Mixer, YouTube, or Facebook Gaming.
The best audio mixers for streaming at a glance:
Best Audio Mixer for Music and Podcast Streams
Behringer Xenyx X1204USB Premium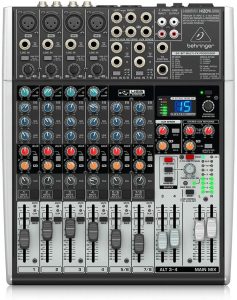 The Behringer Xenyx X1204USB is the big boy audio mixer for the big boy streamer. It's the one you go for if you're going for the extra mile without going broke. This sexy piece of hardware plugs right into your PC's USB port and it's good to go. You'll want to get this if you're the type that works with multiple audio sources.
It's a great little beast that allows for up to 4 inputs with several setting options, providing so much more than you'll ever need for your stream. If you're the type that likes to host podcasts every now and then, whether physically or online, this thing is a lifesaver. Having the option to mix audio at the tip of your fingertips lets you be so much more flexible when it comes to your stream.
The hallmark of Behringer's Xenyx series of mixers features high headroom preamps, which we mere, non-audiophile mortals know as "your voice on stream will sound like your sexy bed voice, but much clearer." It also takes a page from the old British consoles from the 60s and 70s, the same ones the Beatles used through its internal wiring, copied almost exactly from the mixing desks that made the British Invasion of those decades possible.
And if you're thinking of kickstarting your bass guitarist career while you work your way in the world of video game streaming, then you're in luck as the Behringer Xenyx has a 24-bit Multi-FX processor, providing you with nifty digital effect presets like adjusting your delay, chorus, reverb, and echo – all that good stuff. You can also apply these to any channel you wish, so if you feel like delaying the input from one of your co-hosts, go right ahead.
This audio mixer is a great choice if you've already been exposed to audio mixing before. If you're the technical type that likes to experiment and fool around with different audio settings, get the Behringer Xenyx.
Best Audio Mixer for General Streaming
GoXLR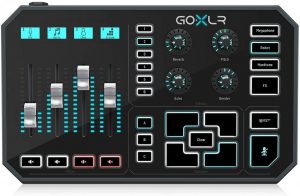 Low profile, high power, and customization, max style. Its Tron-inspired look might already give you an idea of who the GoXLR was designed for: streamers. It provides you with 4 audio channels, which is pretty much all you'll need for streaming.
As a gamer, you're already dealing with so many buttons, and the GoXLR understands that. Its very simple interface is easily controlled by easily customizable buttons. This lets you mix your audio in real-time, change your voice at will, switch between audio sources, and even play sound bites. Yes, you can play the "bruh" sound bite on command. Perfect for those bruh gamer moments.
The 4-channel mixer allows you to control the audio levels anytime you like, allowing you to focus your audio to where it needs to be at all times. The GoXLR also lets you control the reverb, pitch, echo, and even a nifty gender-bend option if you want it. And why wouldn't you; what's more fun than trolling toxic bois in your stack by pretending you're a gamer girl? 4 channels also work because you can connect multiple mics, headphones, line inputs, consoles, and even run an output into a second streaming computer if you're a Dr. Disrespect type.
If brain cells are in short supply because you're full tryhard on Valorant, then no problem – the GoXLR app gives you simple and easy-to-use controls that let you just take the mixer out of the box then set up presets and connect inputs and outputs. All you have to do is scream into the mic. (Don't do that though.)
And oh yes, RGB. What self-respecting gamer would not have RGB in literally any peripheral they have? The GoXLR allows you to fully customize its RGB lighting to match your rig's preferred color. You'll have your battlestation looking like the Enterprise's bridge in no time.
Best Audio Mixer for Low Profile Setups
Steinberg UR22C 2×2 USB 3.0

At first glance, the Steinberg UR22C 2×2 USB 3.0 seems unassuming and will make you wonder why it even made the cut for the best audio mixer for streaming. But plug this little baby in and prepare to be blown away. Don't let the small form factor (and the lack of RGB) fool you – this is one of the best audio mixers in the market right now.
It's got a ton of features that we'd be spending a month on just ticking off, so here's the short version: it contains two separate headphone inputs, each their own gain control which makes it great for couples streams. So if you'd like to include your lucky partner in your gaming session so you can show the world how you'd whoop their butts on Overcooked 2, then you can both have your own separate headphones on.
Its built-in Loopback function lets you playback your microphone's output along with what you hear on your headphones, you can check at will if you sound like Morgan Freeman or Danny DeVito, and adjust accordingly. You can do this with the help of Cubase AI, a downloadable plugin that helps you control even more of your audio settings that aren't built into the UR22C's hardware. Combine this audio mixer with the Cubase AI and you've got yourself a mini recording studio.
A nice little feature that we'd like to point out is the native USB 3.0 support. No longer will you have to suffer audio lag because your dinky USB 2.0 couldn't handle the load. And not that it matters, but the USB 3.0 support also helps with the Steinberg UR22C 2×2's compatibility with all major audio software, such as ASIO, Core Audio, or WDM standard.
One last thing to point out is the build quality. For its size, it's a hefty boi, which means it's as tough as the mixers grandpa used to play with. This is the perfect audio mixer for streaming if you wanna go long term, with a build quality that ensures you'll only buy this baby once.
Best Audio Mixer for Portable Streaming Setups
Creative Sound Blaster K3+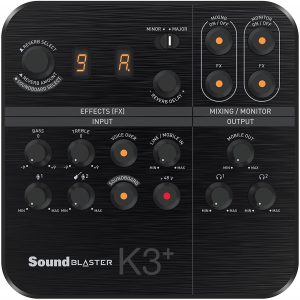 Anyone who's been around the gaming hardware sphere long enough will know Creative's Sound Blaster series. From external sound cards to audio mixers, the Sound Blaster series has never disappointed anyone who sprung for it. The K3+ makes this list of best audio mixers for streaming by virtue of its maker, and that's not just us being biased.
First off, let's talk about powering it up – it's so energy-efficient that you can connect it to a portable battery pack, your laptop's USB port, a wall socket, your car's lighter port, your phone (of all things!) and more. But of course, you're more likely to just plug this into your PC, so you don't have to worry too much about that. Yet that option is there if you want to put the mixer in a streaming backpack, for those outdoor streams where you just have to show your viewers that you're breaking quarantine. (Note: we highly encourage you to stay home in these trying times.)
This audio mixer is great for streaming with condenser microphones because its 48V phantom power helps your mic achieve near studio-grade levels (provided, of course, you're not using some cheap Chinese knock-off condenser mic.) The Sound Blaster K3+ takes it a notch further by letting you play with 9 adjustable reverb effects, which you can easily adjust with the flick of a few knobs.
Out of the box, the K3+ can support up to 6 (customizable!) usage scenarios, with the basics built into it, such as Music, Recording, Karaoke (you know you wanna do those mad libs, don't lie), DJ Hosting, and Broadcasting. It's so idiot-proof that all you have to do is press a few buttons and you'll have yourself sounding like the guy from NPR in no time.
In terms of control, you can easily adjust the gain of your mic inputs, bass, and treble through the four knobs present on the K3+'s deck, so you don't need to fool around in your OBS audio settings to get that perfect pitch. Insecure about your still-in-puberty voice? The K3+ has a built-in pitch correction option that allows you to synthesize your voice however you want, from the full range of C major all the way to B.
Are you the kind of person that likes soundboards? You're in luck because you can easily program the K3+ to let you have a soundboard at the push of a button, so load up your personal PogChamp or FeelsBad sound bites for extra fun times in your stream. After all, variety is always good when you're broadcasting.
If your battlestation requires the use of loud fans – maybe because your graphics card is working overtime trying to render all those god rays – then the Voice-Over function is a lifesaver for you. This nifty little feature lets you tune out annoying background audio so your viewers can focus on your beautiful baritone voice. Also good for ASMR streams.
Best Audio Mixer for Multiple Inputs
Yamaha MG10XU 10-Input Stereo Mixer with Effects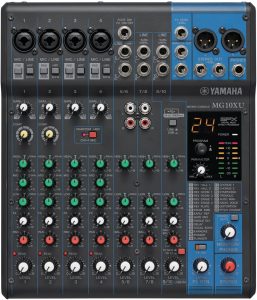 It'd be an injustice if we went through an entire article on the best audio mixers for streaming without mentioning one of the greatest names in audio production: Yamaha. And the MG10XU 10-Input Stereo Mixer is one of their best entries in the audio mixing scene.
Let's talk about the most absurd thing this mixer has to offer: 10 inputs. Yes, you heard that right. Having this many inputs allows you to have room for your microphone, a partner's microphone, a separate audio device, your PC, your streaming PC, a separate soundboard, and you'll still have room for more. Maybe your keytar?
This is great if you're someone like LilyPichu who keeps a Casio keyboard next to her for added whimsy, but a bit overkill if you're just a regular guy streaming regular games. However, if you'd like to try your hand at podcasting, this is definitely an audio mixer for your PC that's worth buying. As a bonus, each mixer features USB and SPX digital effects that you can play around with to fine-tune your inputs.
Its studio-grade class A D PRE amps have an inverted Darlington circuit; in other words, it lets you have natural-sounding bass, steady mids, and highs that would make an opera singer cry. The MG10XU's 3-band equalizer and high pass filters give you total control on how you'll sound on your stream, letting you clean up unwanted background noise for a cleaner mix on the air.
This mixer's compressors are controlled by one knob each, setting up easy, on-demand control whenever you want to adjust any of your inputs. Is the game sound too garbled? Turn the knob. Playing some EDM during your AFK screen? Turn up dat bass, playa. Mic sounding scratchy? A twist of the knob and you're right on the money.
Finally, let's talk about build quality. The MG10XU's a godsend for sound directors for events because of how tough it is. It's like your ideal lumberjack, in the way that its rugged good looks are not just for show. A tough, impact-resistant, powder-coated metal chassis ensures that this baby will take any abuse and come out fighting. So if you feel like smashing your keyboard against it, you can bet your Cherry MX Blues that that keyboard will break before it does.
Best Audio Mixer for General Use
Pyle Professional Audio Mixer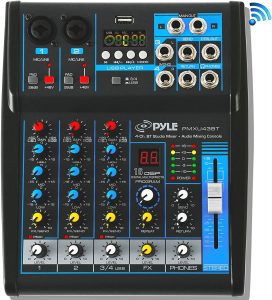 We get it – streaming can get lonely on your first few months, and you'll likely want to do "Just Chatting" streams with a few friends every now and then. And that's ok – people love listening to other people talk. If podcasting is more your speed than video game streams, then the Pyle Professional Audio Mixer is a great choice.
This little baby plugs right into any USB port and lets you get up to 8 inputs going simultaneously. It supports audio playing straight from a USB stick, so load up any album and just let them play for your audience.
One thing you haven't seen yet in this list is Bluetooth support – which the Pyle Professional Audio Mixer proudly touts. Connect your Android, iPhone, or iPad to this mixer and use it as your soundboard, call up people for your podcast without bothering with routing software, or just pull up Spotify and stream the tunes you want without any hassle. This helps when you'd prefer to have your soundboard in a separate device, but don't want to spend on an actual soundboard.
A quick rundown of the boring technical features: the Pyle Professional Audio Mixer hosts a ¼" headphone jack, stereo level fader/slider for easy volume control, and output signal level indicators so you can visually see if your inputs are performing beautifully (and they usually will.) This audio mixer also allows for independent channel input audio configuration, letting you adjust levels and effects for your multiple inputs at your leisure. This includes gains, highs, mids, lows, effects, levels, bass, and tone adjustments. And, as all good audio mixers should be, it has a 48V phantom power control that ensures no matter how power-hungry your inputs are, this boi won't let you down.
Beyond Audio Mixers
Tips on How to Make Your Voice Sound Better On Stream
Having an audio mixer is fine and dandy, but it's not a one-stop solution. There are a lot of factors at play when it comes to audio, so here are some quick tips for you to get the best audio quality when streaming. Hint: it's not about drinking ginger tea before every stream.
Invest in a good microphone. Your audio mixer will help any mic sound better, but a bad microphone is a bad microphone. You may have the best audio mixer, but if you don't have the best microphone for streaming (or even just a decent one) then you'll always get garbled, headset-quality audio from it. Investing in a decent microphone lets your audience hear you clearer, which makes them listen better. Good microphones are a must for streaming, because even if you don't use a webcam, then at least your voice is something people come back for.
Acoustic panels help. Yes, those egg carton-looking things you see streamers put on their walls are called acoustic panels, and they're amazing. These panels, usually made of compressed mineral wool or some sort of foam, help absorb sound waves to reduce general noise, make speech sound better, and tone down the reverbs in enclosed areas. This is great if you stream from a room that experiences a lot of ambient noise. Maybe your roommates are louder than you are, or you have kids, or you live next to a metro station. Whatever your situation, acoustic panels help focus your microphone to recording just your voice.
Get pop filters and windscreens. Pop filters are those big fly swatter things you see hanging just in front of the microphone. It acts as a noise protection filter and is typically used in recording studios or streaming setups. It helps reduce – and in some cases, totally eliminate – popping sounds thanks to fast-moving air during recording. That means your Ps, Bs, and Vs will sound a lot less harsh to your headphone-wearing audiences. Windscreens are a must as well because it blocks out, well, the wind. If you have fans that have to keep running to keep you or your PC cool, then a windscreen is something that you should be adding to your cart along with your streaming microphone.
Put a rug underneath you. If your parents still have their shag carpet from the 60s lying around in their basement, take it home with you. Rugs help reduce noise, especially if your flooring is made from concrete, tile, or hardwood. Studios are usually carpeted for the same reason – it keeps sounds from below muffled, and anything that hits the ground doesn't make a loud, annoying thump in the background. The only downside to this is you'll definitely have to clean it every other week.
Move that mic away from the keyboard.
Any gamer worth his salt will have a mechanical keyboard (with RGB, of course) as their daily driver. Clicky sounds are nice, and we're big fans of the Cherry MX series switches as well. The only downside to using mechanical keyboards when you're streaming is they. Are. Loud. Especially if you're using the noisiest ones, which many of us definitely have. Make sure that your microphone is mounted and pointed away from your keyboard as much as possible because no one wants to hear the obnoxious clicking while they're tuned into your gaming session. If space doesn't allow for it, consider buying a mechanical keyboard that isn't as loud.
Eliminate unwanted noise.
Once you get that keyboard out of the way, look for any sources of unwanted noise. Is your air conditioner too loud? Maybe try turning down the fan speed. Are your PC's fans too loud? Move the PC away from your desk on down on the floor. (Also has the hidden buff of more desk space.) Try to find any source of noise that you don't want to be heard and do your best to muffle or eliminate it. Again, acoustic panels will help massively here.
Talk louder. No, seriously.
No one wants to hear you mumble, so talking louder is the best way to make yourself sound better on the mic. Now for some people, this comes normally. But for others, it takes a bit more practice to be comfortable enough to talk loudly. However, the more you stream, the better you'll be at using your voice. You'll naturally pick up experience points when it comes to modulation, volume, and pitch. It's something that can take a bit of time to learn, but it's not something that's out of your reach.
How to Get Perfect Audio for Your Stream
A tool is only as good as the hand which wields it, and audio mixers are no exception. Before you even start plugging in those wires, check out this video from EposVox on how to get perfect audio for your live stream with a few simple tricks:
Wrap-Up
To tie this whole thing up, here's the skinny: out of all the audio mixers we've talked about today, we highly recommend picking up the GoXLR audio mixer. Not only is it blessed with RGB, but it's also the most intuitive audio mixer for streamers in the market right now. It's easy to use, programmable and comes with an app that makes it so much easier for streamers to utilize it to its fullest potentials. While the other entries in this list are definitely no slouchers, we still think it's a bit overkill to use those. However, if you're thinking about branching into podcasting or recording anytime soon, then they're definitely worth checking out.
Recap: Top Rated Audio Mixers for Streaming in 2020