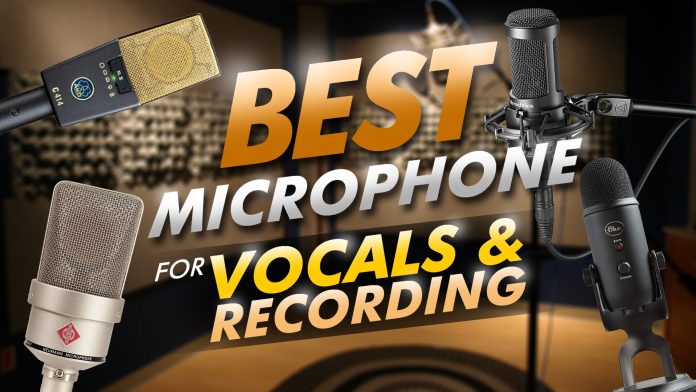 The best microphone for recording vocals is a hot debate between professionals in the field. Although some people agree on what they think should be the best in terms of microphone specifics, it still all boils down to overall performance.
Ordinary people might have a bit of an idea when professionals say that they need a "good mic" for recording purposes. But there are way more things to consider when choosing the mic that is just right for a specific purpose. Here are some quick questions to ask yourself first before trying to purchase a microphone:
What is your starting budget?

– A no brainer, since you will need to think of just how much will you be spending on gear you would be using. Will you be choosing to invest in a high-end mic now or spending just a bit less and upgrading along the way?

Will you use it for pure recording purposes?

– If you are going to use a mic strictly for recording, then you have to think of your setup. Check if there is something better than that specific microphone you are eyeing for.

Are you going to use it for live performances?

– Like the question above, this is another thing to take into consideration. Are you going to buy a separate mic for live performances, or will you buy an all-purpose mic?

Would you use this to pick up other sounds than vocals too?

– This might sound quite weird, but trust us, it's not that weird to think of. Many people find ASMR videos relaxing, and a lot of them aren't vocal-based. So if you are planning to join that bandwagon, you might want to check a microphone that picks up other sounds better as well.

Are you willing to pay for additional accessories?

– There are tons of accessories for a vocal recording that you might think isn't that necessary, but it is. Some of these are pop filters, extra cables, audio recording software, stands, mounts, and the list goes on. Some microphones might not need all of these, keep that in mind.
Types of Microphones
Once you have internalized and have answered the questions above, then, well, you still aren't ready to purchase a mic. First, you need to know the types of the mic being sold in the market, what they do, and what would possibly work for your vocal profession.
Condenser Mics
These are the granddaddy of them all. These are the most optimal 'types' of microphones in the market. Their whole build and parts make them very good for picking up delicate frequencies for sounds. Condenser mics are also well-known for only receiving sounds in front of the mic itself. This allows for a "condensed" output, eliminating a lot of background noise.
Tube Microphones
While still technically a type of condenser mic (which we will talk about below), we think that tube mics deserve to be in a category of its own. Tube mics are called as such because they use a tube where audio gets transmitted and transformed on instead of transistors. The result is a "classic" sounding output. As such, these microphones are often popularized as the ones used in the olden days of recording and performing.
USB Microphones
These are microphones that are very good for those who are just starting to go into the business of recording. As you can just plug it in your computer and run a simple recording program, you can easily record your voice tracks. Since these are technically condenser microphones as well, expect some sound output from them. Personally, when a friend and I were doing podcasts, we are using a USB microphone as well, and the audio for it was quite good.
There you go, the three "types" of microphones. Now, whether you are going for any of the types of mics mentioned above, it is always better to have a point of reference so you'd have a general idea of what to get. Let's take a look at the best microphones for recording vocals out there in the market.
Rode NTK – Vintage Output at its Finest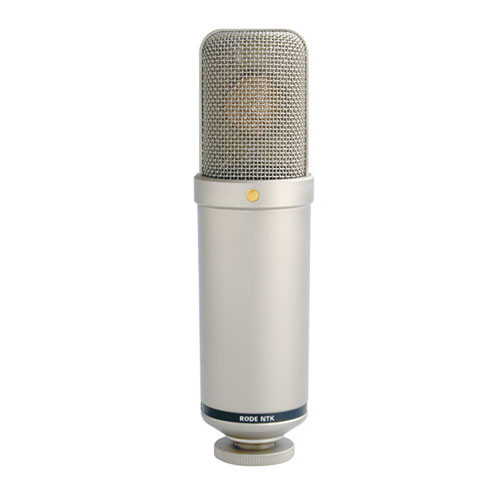 Professionals are in the same idea that nothing beats a mic that offers you the quality of a vintage-sounding output. That's where tube microphones come in. They deliver such an identifiable sound that our ears are used to, that you can't go wrong with it. The only thing is tube mics are expensive. A lot of them cost more than an arm and a leg, around more than $2000. Not really friendly for those who are aiming for a good quality even if they are short on cash, eh?
Enter the Rode NTK!
This mic is such a well-built tube mic that you wouldn't even notice that it is under $700 for a kit with necessary accessories with it. Yes, it comes with some essential recording gear such as a stand, cables, and a pop filter.
This mic retains a vintage feel not only in sound quality but because of the internals it has. It is run by a 6922 twin triode tube. It has a max sound pressure level (SPL) of 158 dB SPL, perfect for belting loud and high notes without losing quality over the recording. It has a frequency range of 20 Hz to 20 kHz and has a Pressure Gradient acoustic principle.
Famous musicians that have used the NTK include:
Well-known electronic musician

Rob Shrock

ProRec's

Bruce Richardson

Jeff Martin

of The Tea Party.
The Rode NTK is so popular that most sites that sell them run out of it, it is THAT great. If you have the chance to get across this mic, do grab it, we promise you that you won't regret it.
Audio-Technica AT 2035 – Modern Brand, Modern Mic, Same Good Quality Sound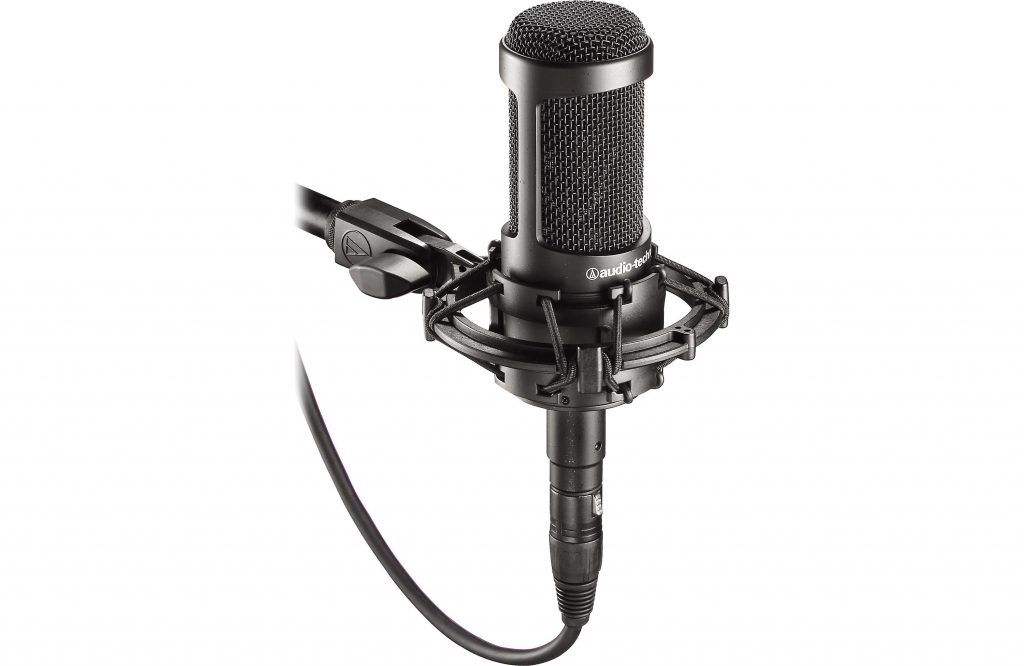 First on our condenser microphone list is the Audio-Technica AT2035 Cardioid Condenser Microphone.
This was a hard choice since a lot of AT's microphones are quite good. Personally, I am a big fan of the brand, as I am using their headphones and earphones for travel or at home. And it comes to no surprise that I would recommend this condenser mic to you guys. I would like to put this on top of the list, but man, I can't be biased here!
The AT2035 has a cardioid polar pattern that minimizes the sound picked up from the rear and sides of the mic, allowing you to focus on recording your voice in front of the mic. It has a 148 dB to 158 dB SPL, depending on settings. Its frequency range is around 20 Hz to 20 kHz.
The accessories it comes with helps you maximize your recording efforts with it. The AT2035 comes with a shock mount, which allows you to isolate your voice a lot better. For storage, it comes with a soft protective pouch to help you prevent unnecessary damage to your mic.
Popular artists that used the Audio-Technica AT2035 are:
Famous composer, artist, and YouTube star

Boyinaband

Singer, songwriter, and record producer

Tori Kelly
For maximum experience, we recommend that you use the Audio-Technica ATH-M50X as your recording headphones. Click here to find more information on the best headphones for mixing audio, which includes the ATH-M50X.
AKG C414 XLII – Another Powerhouse Condenser Microphone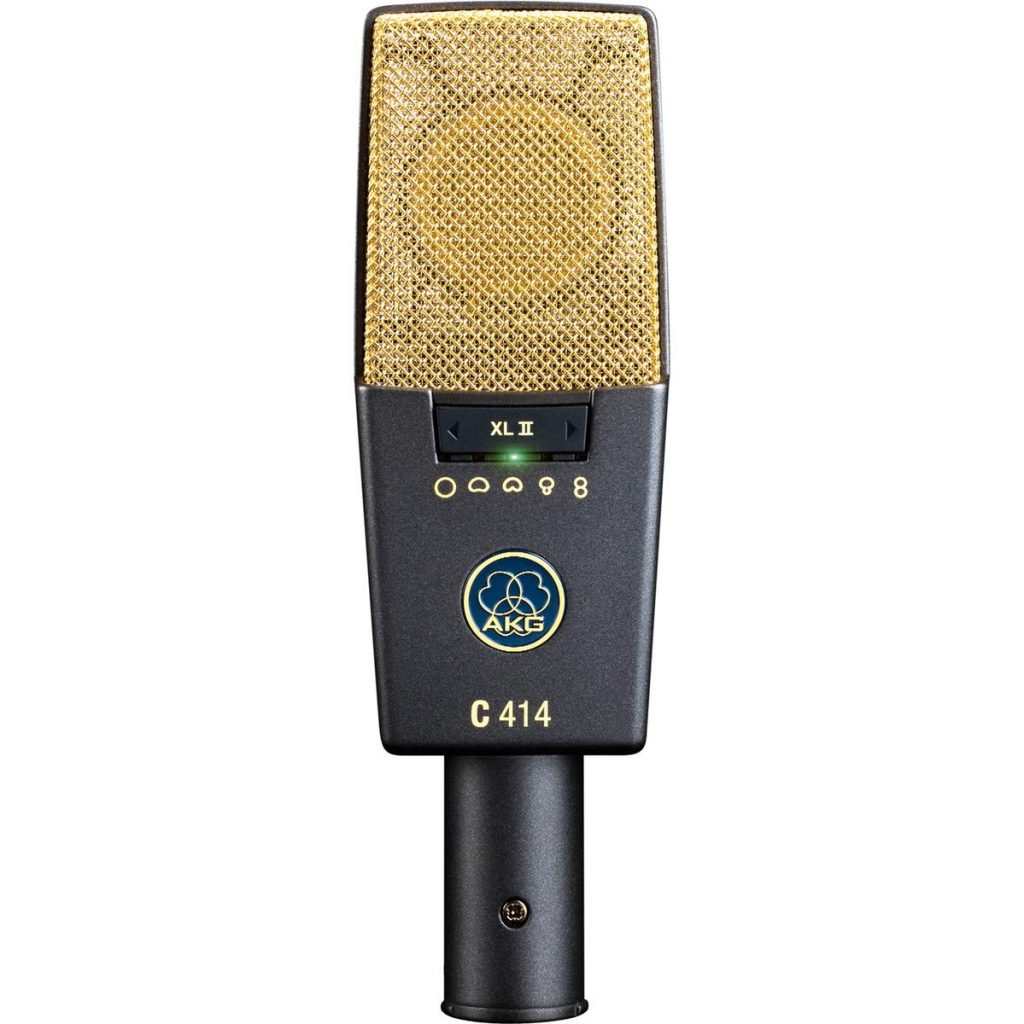 This mic's name is a doozy! The name does not contain any visible words at all. It sounds like a robot serial number. Good thing the quality it produces is closer to our human ears and hearts!
Kidding aside, the C414 XLII is an excellent condenser mic made by one of the most famous brands on the mic industry. It boasts of having the same soulful sound output from the legendary AKG C12, first made back in 1953.
Same as almost all the microphones in the list, it has a frequency range of 20Hz to 20 kHz. It comes with an H85 Universal shock mount, a pop filter, a metal carrying case (this looks slick!), and a W414 Windscreen C414.
This mic is well-known for having a polar multi-pattern build. Not only does it have a straight front cardioid polar pattern, but it has tons of sound pick up profiles for different uses.
The other polar patterns include the figure of eight, omnidirectional, hypercardioid, and wide cardioid, to name a few. This is perfect if you have multiple sources in your recording room that you would like to get sound from. Are you trying to record sounds from an instrument? How about ASMR? Why not focus everything on picking up music in just one sweet-spot?
There is nothing the AKG C414 XLII cannot handle when it comes to recording music and sounds, especially your vocals. This is why the C414 is a very colossal candidate for one of the best microphones for vocals in the market.
By the way, listing the number of musicians that have used the C414 is quite hard. A good question, though, is who HASN'T used one?
Shure SM7B – Defying the Standards Set by Competition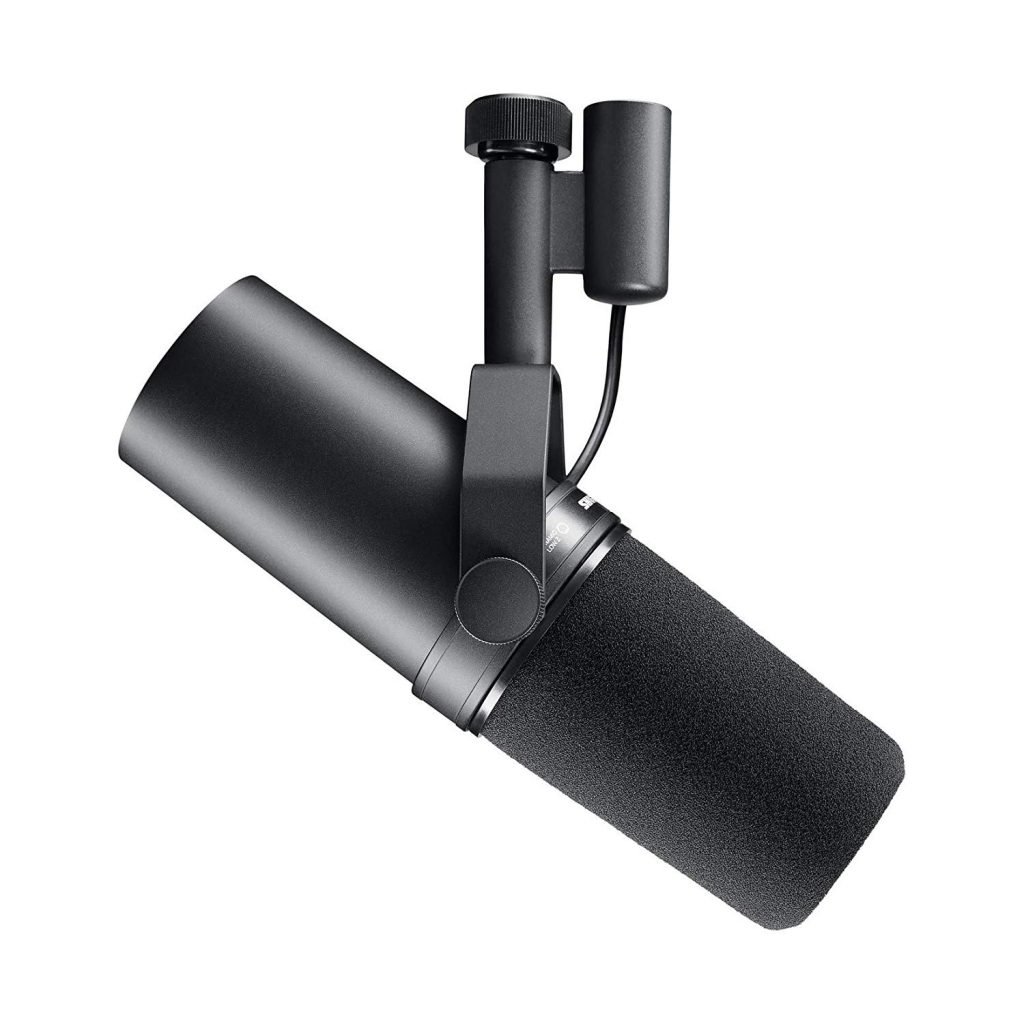 Okay, so we've talked about the three microphone types that are best for vocal recordings and performances. What we didn't tell you is that there are other types of microphones out there, one being the dynamic mic. These are quite sturdy pieces of equipment that are often used for live performances, but not so much for vocal recordings. Professionals usually prefer condenser mics for studio or home recordings, because they offer a much superior sound quality.
Yet, the Shure SM7B defies all these standards and sets itself as a significant competitor in the vocal recording department.
The SM7B is a top-rated contender. Since it is a dynamic microphone, it can withstand common impacts. Its rugged build helps protect the cartridge that allows sound to pass through. This dynamic cartridge helps get a more natural quality for the vocal sound it will record. The SM7B can also minimize noise and sound distortions from several sources due to its cardioid polar pattern.
The Shure SM7 has been around for a really long time since the 1970s. Many radio broadcasters have used this mic, as well as producers and solo artists. Legendary King of Pop Michael Jackson has used the SM7 to record one of his famous songs, Billie Jean. Other, known figures that used the SM7B are:
Singer, Songwriter, and Dubstep Lord

Sonny "Skrillex" Moore

Rockstar and Lead Singer of the Foo Fighters,

Dave Grohl

Acoustic songwriter and singer

John Mayer

Rock YouTuber

Jared Dines

for his vocal track recordings

Owl City

's studio

Linkin Park songwriter and rapper

Mike Shinoda

Slipknot's

Corey Taylor
… And the list goes on and on! Need we say more how this dynamic mic beats other condenser mics out there?
Blue Yeti Pro – YouTuber Starter Kit, Baby!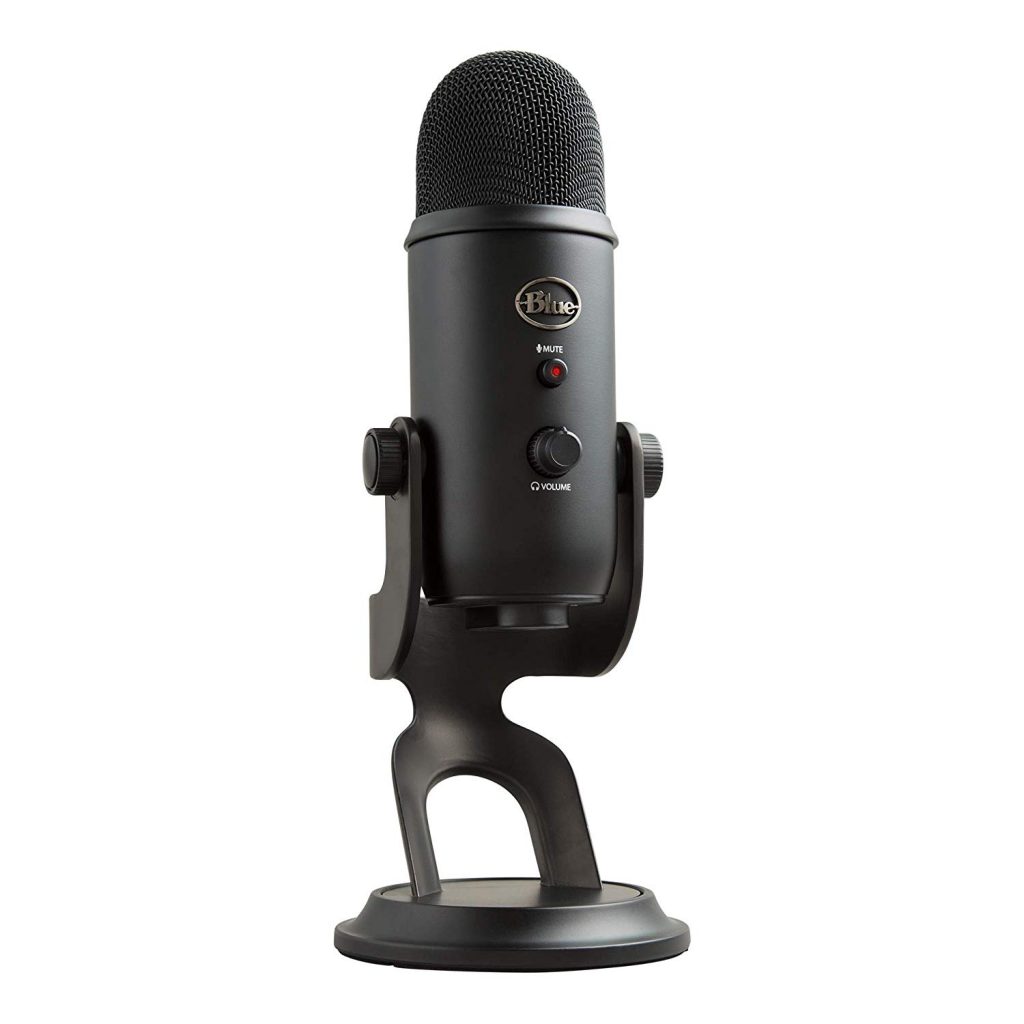 The first USB microphone in this list, and quite honestly, something very close to my heart, is the Blue Yeti Pro.
(The writer of this article will now proceed to fanboy over the Blue Yeti Pro, so prepare)
I love this mic, seriously! Remember when I mentioned that we have been using a mic for a podcast we've been doing? This is the one we have been using for more than a year, and it never failed to deliver.
The Blue Yeti Pro is a USB condenser mic, with several polar patterns for different types of recording purposes. It has the standard cardioid pattern for voice-overs, vocal productions, podcasts, etc. There is also a stereo pattern for capturing vibrant acoustic music. For those who want a full-blast recording, the Yeti Pro comes with an omnidirectional pattern, perfect for ASMR. And last but not least, it has a figure of 8m bi-directional pattern for interviews and duets.
A 14mm three-condenser-capsule array is what makes this mic unique. It has a max SPL of 120 dB in case your recording gets louder than usual. It has a 24-bit rate, which makes for lag-free recording, which is good stuff considering it's a USB mic. Drivers for the yeti pro can be downloaded on their website, in case PC, Mac or laptop doesn't recognize the equipment.
For recording software, there are tons of good programs out there, but we found success in using Audacity with the Yeti Pro. The quality given by the Yeti Pro is top-notch for its value. As long as you tweak the settings correctly, it should give you the quality you are expecting.
The Blue Yeti is often used for memes, as a part of the "YouTuber starter kit." This is true because most starting YouTubers use this mic due to the excellent quality it gives compared to its price. Other users of the Blue Yeti are also the following:
Imagine Dragons

Lars Stalfors

Naomi Kyle

DJ Rap

BT

Christian Burns

Billy Bush

Everclear

Terry Jackson
And more! I tell you: if you are a beginner in vocal recording, then the Blue Yeti Pro will do wonders for you.
Rode NT1-A – High-End Quality for a Budget Mic
It's a no brainer that Rode enters the list once more, with them producing top-quality microphones for a very long time now. With that said, let's take a look at the next microphone, the Rode Nt1-A.
First of all, for those who want a professional microphone without paying like a professional would, then the NT1-A is for you. Donning the same Pressure Gradient as the Rode NTK, it has a frequency range of 20 Hz to 20 kHz. However, it has a lower maximum SPL than its cousin, with only a 137 dB SPL handling capacity. But hey, it doesn't mean that it can't deal with loud vocals, which you might not even reach anyway. It has a cardioid polar pattern, letting you condense your voice to perfection to capture every detail of sound perfectly. A first internal part of the NT-1A is its 1-inch gold-plated diaphragm, which gives a warmer vocal recording as well as more neutral sound tones.
If you also plan to record instruments, then the Rode NT1-A can do just that. While not that flexible to record drum sounds by itself, this mic is perfect for recording string instruments. The NT1-A can make pianos, guitars, and basses shine with its build.
Getting an NT-1A comes with an SM6 shock mount, complete with a detachable pop filter. It also comes with an XLR cable and a microphone dust cover for storage.
Notable artists that have used and reviews the Rode NT1-A are:
Rob Shrock

, who also reviewed the Rode NTK

Rod Stewart

of Audio Technology

Travis Cullman

of Sweetwater
The NT1-A is an excellent investment for those looking for an excellent microphone for a price that doesn't burn holes in your wallet.
Neumann TLM 102 and TLM 103 – Microphone World's Wonder Twins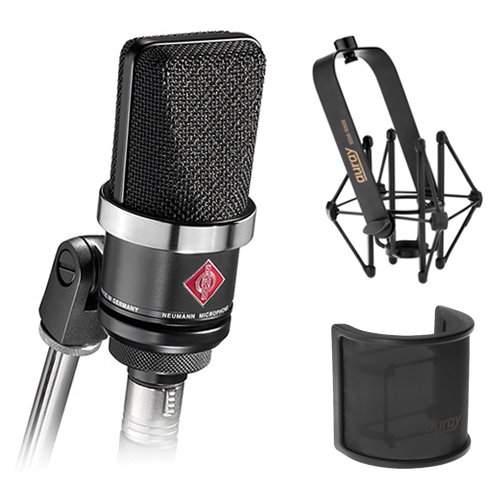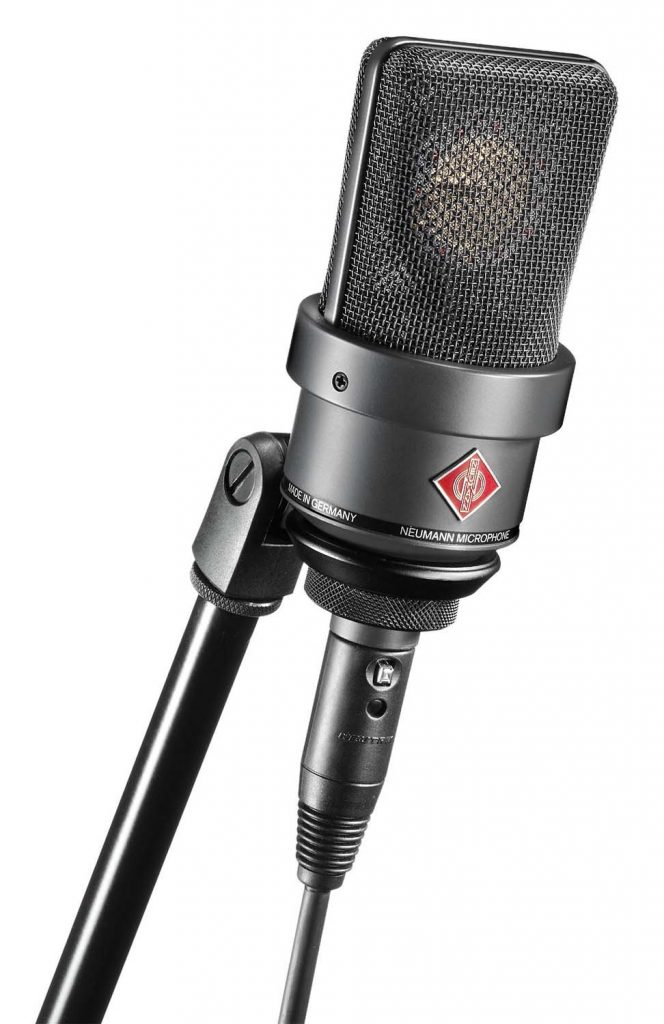 In this part, we'll be doing something a bit different. And it coincides with these two mics because even though they are made by the same company, and look almost the same, the performance differences will be critical.
Enter the Neuman TLM 102 Large Diaphragm Condenser Microphone and the TLM 103 Cardioid Studio Condenser Microphone.
These two microphones are made by the company Neumann, a leader in producing audio equipment for different purposes. The company is based in Germany. The TLM 102 and TLM 103 are both part of their high-end condenser microphone lines. This means that their price tags are a bit steeper than most of the ones on this list. But don't let the price tag fool you, these two are very hardcore condenser mics, able to dish out a quality that doesn't put their price tags to shame.
There are, however, several differences with the TLM 102 and TLM 103. Hence, we will nto post any pros and cons for this, as we will be getting a bit in-depth down below.
Their Max SPL is different: The TLM 102 seems to have a higher maximum SPL than the TLM 103. The 102 has a maximum SPL of 144 dB, while the 103 has max SPL of 138 DB. This means that when it comes to getting more precise sounds from a loud source, the 102 can do the job better.
Verdict: Max SPL goes to TLM 102. If you are recording vocals when shouting or something, for example, for comedy videos, streaming, or doing let's plays.
Self-Noise: Remember that feeling when you know a microphone is turned on? That really faint buzz you hear and feel? Well, apparently, it is actually a thing that manufacturers take note of, and professionals look out for. In this case, we are doing now, we are looking at TLM 102's 12dB self-noise rate versus TLM 103's 7 dB self-noise rate. The 103 is 5 dB quieter than the 102, and it might not seem much, but in a smooth vocal recording, the clean feel that the 103 is much more acceptable.
Verdict: Although not the quietest mic in the market, the Neumann TLM 103 shines in this regard when compared to the TLM 102
Output Signal: The TLM 103 has a significantly higher output signal than the TLM 102, by a margin of 6 dB. Again, these numbers might not mean much to beginner level recording. But you have to know that as you dive more into the business, the more these numbers increase or decrease matter. In this case, the dB difference means that if you start to use pre-amps, the TLM 103 will let you retain lower levels compared to using the TLM102.
Verdict: The TLM 103 is way friendlier when it comes to using other sound amplification devices together with it. No need to drive things higher than usual. The only trade-off is that the 102, as mentioned above, has higher levels of SPL than the 103 in general.
Famous figures that have used the Neumann TLM 102 are:
King of YouTube Felix "PewDiePie" Kjellberg

Paul Davids

Pan-Pot

TANZVERBOT

Mac Lethal
Meanwhile, artists who have used the Neumann TLM 103 are:
John Mayer

Steve Aoki

Pharell Williams

Cole

Drake

Billie Elish

Robert Downey, Jr.
All-in-all, it will boil down to preferences. Check whether what is in your tastes, as both the Neumann TLM 102 and TLM 103 are really great microphones than can handle various recording needs.
Conclusion
There are a lot of mics out there claiming to be the best option for recording vocals, but for us, these in the list are the ones that stand out because of sheer power. These mics can outperform various other mics in their price range, yet are friendlier on the wallet.
Note that you must always take caution when it comes to your purchases, and always go for the equipment that you will feel will make your career into a better spot.
TL;DR – These are the Best Microphones for Recording Vocals: