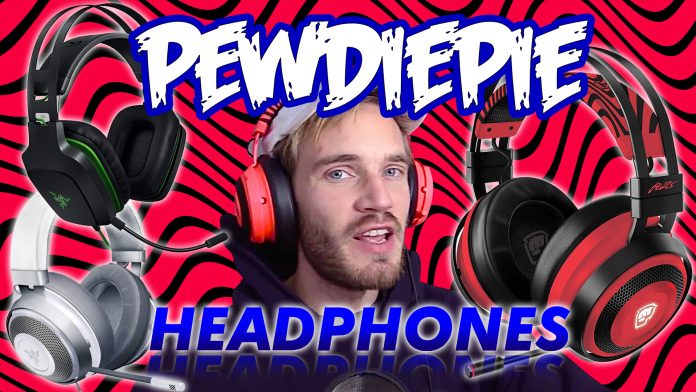 Almost everybody knows who Pewdipie is. If you are gamer and likes hanging out on YouTube for Let's Play videos, meme review, and walkthroughs, chances are that you have already encountered this online celebrity.
If you are a fan and a part of the Bro Army, it is understandable that you want to know what kind of equipment he uses. That is why if you want to know the headphones that Pewdiepie uses, you've come to the right place. Here we have listed the three most notable headphones that he is seen using.
Who is Pewdiepie?
Felix Arvid Ulf Kjellberg or famously known as Pewdiepie, is a Swedish YouTuber, that became famous thanks to his Let's Play videos and funny content. He is so popular on the platform that his channel was the most-subscribed channel on YouTube from 2013 to 2019, before getting defeated by T-Series.
Pewdipies' fame on YouTube has prompted his rise as one of the most well-known online personalities. Due to his immense popularity, Time even named him one of the world's 100 most influential people back in 2016.
What Headphones Does Pewdiepie Use?
The latest headphone model that Pewdiepies is using is the Razer Wireless Gaming Headphones Nari Ultimate Pewdiepie Edition. This unique looking pair of cans is functional as it is stylish.
Razer Wireless Gaming Headphones Nari Ultimate Pewdiepie Edition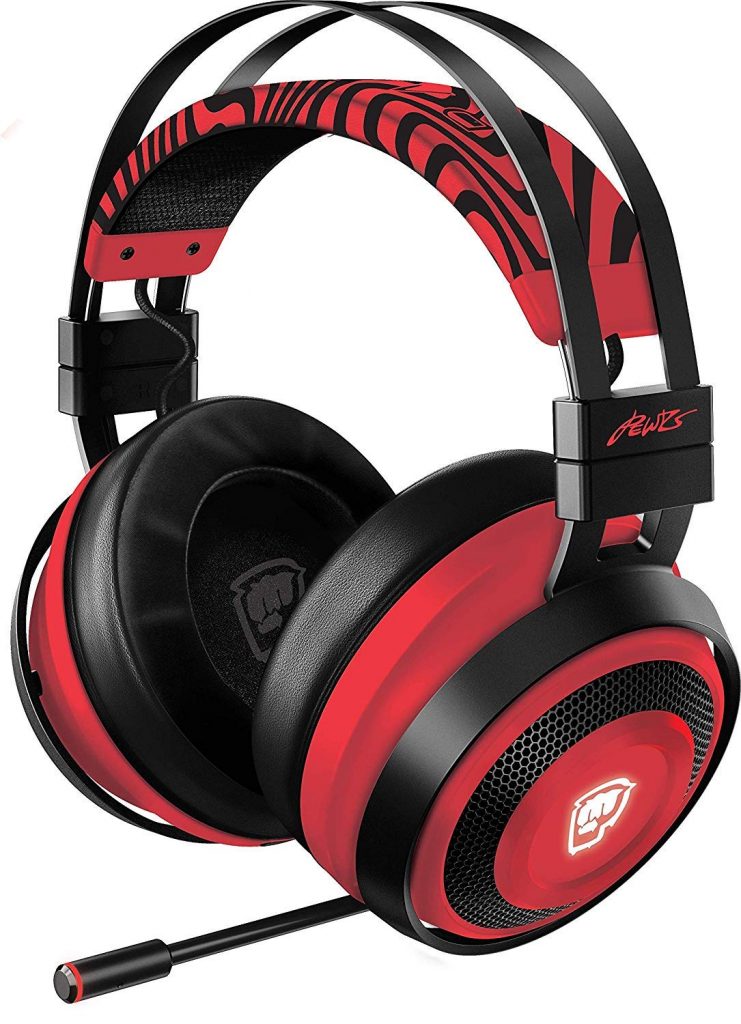 For years haptic feedback has been exclusive for consoles. From the Nintendo 64 controller Rumble Pak days, vibrating motors are quite the norm. Though the SteelSeries Rival 700 has already attempted this, Razer has also joined in by using the Nari Ultimate. By using the HyperSense haptic technology, it sports great specs that rival the best headphones today. Though the frequency range is rather short and lacking a noise-canceling feature, this headphone still packs a punch. Powered by a large 50mm, this pair can deliver.
Of course, what makes this pair stand out is its HyperSense. This feature processes audio signals from a source, aka your PC or console, and generates them as vibrotactile frequencies. Basically, the Nari Ultimate feels like you are donning a cool pair of subwoofers on the go.
The Razer Nari Ultimate can also be used for Discord sessions with the squad. Thanks to the convenient retractable mic, muting yourself is easy, just press the button located on the backside of the left earcup and you are good to go.
There is also a scroll wheel that you can use to tweak and adjust chat volume and in-game audio. This headphone is compatible with PC and PS4. Unfortunately for Xbox One and Switch owners, you will have to stick to the wired analog connection as the wireless functionality is not supported on these platforms. But for those PC and PS4 gamers, you will get to enjoy its battery life up 8 hours with both the Chroma lighting and HyperSense turned on. However, if you want to extend its usage, you may disable both features, and you can enjoy up to or 20 of battery life.
Overall, the Razer Nari Ultimate is a solid pair of closed-back over-ear gaming headphones, not just because Pewdiepie uses them. Though it makes sense as they are comfortable and well-built, perfect for someone like Pewds, who spends a lot of time wearing them.
However, they are a bit bulky for those with smaller heads, but if you don't mind readjusting them once in a while, then it is all good.
The audio is also high-grade, the 50MM drivers do a perfect job in supporting immersion and in-game music. It also has some interesting features, like the HyperSense, a haptic feedback system that produces vibrations to the end-user. Thanks to this feature, immersion get upgraded, so you get more out of your video game experience.
Razer Kraken Pro Gaming Headphone 2019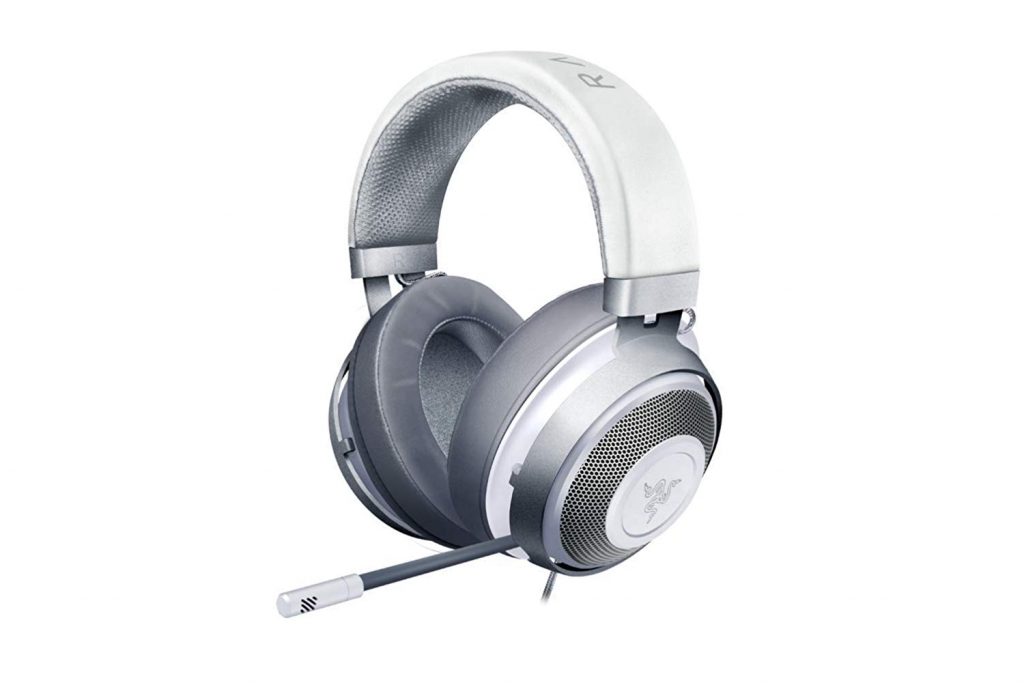 The Razer Kraken Pro comes from various colors the green, black, quartz, mercury, and neon red Pewdiepie edition. Though he is usually seen wearing the Pewds edition and the mercury one. This pair of cans screams gamer from the get-go thanks to its large and bulky design. It also sports a retractable microphone that is conveniently connected to the left ear cup. This design is quite handy for gamers who use Discord or in-game voice comms.
This headphone is also great for extended usage as the Razer Kraken Pro is fitted with soft earcup paddings and foam under its headband. This design is favorable for gamers and streamers like Pewdiepie, who spend so much time wearing headphones. After all, an ill-fitting pair is not really conducive to playing games.
The build quality of the Kraken Pro is also pretty impressive considering its price tag. The frame itself is constructed using metal and premium plastic. This pair would certainly endure abuse before breaking down.
Audio-wise, the Kraken Pro sports powerful bass. Its 40mm stereo drivers are not just for show as it can easily produce explosions and give justice to epic boss fights without problems. The boom microphone is also decent sounding, plus the flexible and bendy arm lets you tweak its angle for better voice capture. Now you can make plans with your teammates during dungeon raids or when playing any multiplayer games.
Aside from having great bass and immersion music, the Razer Kraken Pro does not have any fancy features, and that is okay. After all, it is comfortable, sports powerful audio, and has a clear microphone, which is everything to your average gamer. Since this headphone is purely analog, you don't need to install anything before using it. All you have to do is plug it in and enjoy its minimalistic goodness.
Sennheiser GAME ZERO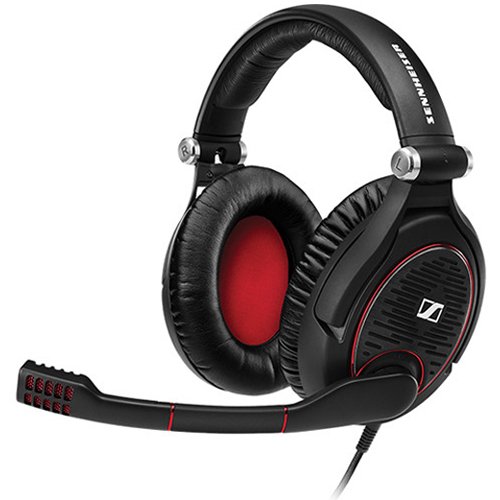 Pewdiepie is known to use different headphones, but the Sennheiser one is one of the most noteworthy. After all, this headphone came from a respected manufacturer that is known to produce professional-grade audio equipment, so we can assume that this pair is the real deal.
The Game Zero headphone is not the usual Sennheiser market. However, this product line still enjoyed accolades from gamers everywhere, and Pewdiepie is no exception.
The Game Zero has tons of features that make it one of the hardcore gamers' favorite picks. Since this pair is closed designed, gamers are guaranteed isolation from background noises that interferes with gaming and immersion. This design is also perfect for preventing sound leaks, so you can game in peace without disturbing anybody.
Since these are marketed toward gamers, the comfort level is a priority. Afterall, gamer's like Pewdiepie, spends more time using a headphone, so it is important to own a comfortable pair. Good thing that this pair is well-padded and covered in a soft leatherette material, so comfort is not an issue. The headband is also amazing as it is padded and covered with the same material. It's fit is just right and does not squeeze the temple uncomfortably.
Like most Sennheiser headphones, Game One is made from premium materials. It sports metal hinge joints and a flexible boom arm for the microphone. You can be assured that this pair will be your gaming buddy for the next few years. If you are always on the go, the Game Zero can be folded flat for easy storage, it also has a carrying case, so it is protected during travels. The microphone is also equipped with a noise-canceling feature, which is a huge plus to this already amazing pair.
Audio-wise, the Game Zero does not disappoint. The bass is there but not overpowering. The mids and highs are not muddled together and can easily be distinguished. In fact, it sports well-balanced audio that is perfect for games with tons of explosion and those with heavy dialogues. Whatever gaming genre you play, the Game Zero got your back.
Overall, these headphones are targeted for high-end gamers due to its price and features. So if you need a tried and tested headphones by someone like Pewdiepie and have the budget top cover it, you can never go wrong with this pick.
Razer Electra V2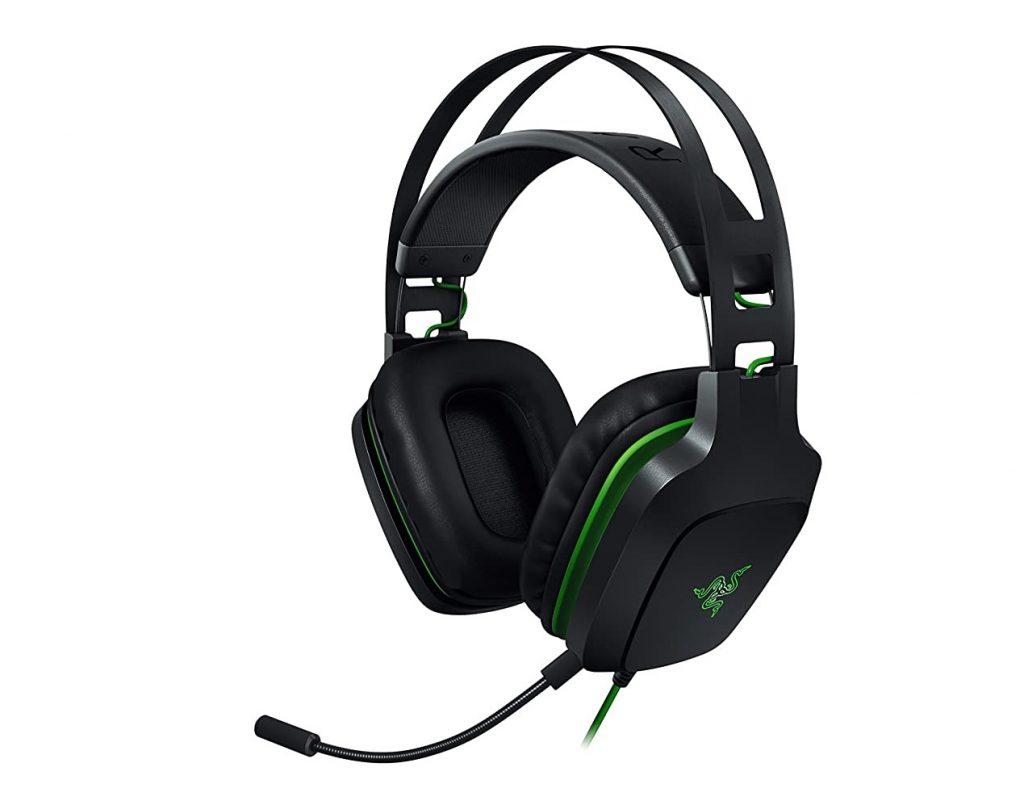 The Razer Electra V2 can be seen in Pewdipie's earlier videos. So you can say that this pair is nostalgic for original Bros. Though this headphone has been somewhat iconic, it is also a solid pick for gaming. Especially for gamers who just want a simple pair with no fancy add-ons.
The Electra does not have active noise canceling feature, so expect to hear some background noise during playtime. It is hardly noticeable in a normal environment, but in a noisy one, you will definitely hear the difference. The fit, on the other hand, is quite comfortable, thanks to the suspension band. The pads are also great and made from foam that is wrapped in soft leatherette. Overall, it is made from solid materials that ensure quality and comfort. Thanks to its aluminum frame and hard plastic body, you can be sure that it would take a few mishaps to disassemble this pair.
Sound-wise, the USB version of the Electra V2 supports 7.1 virtual surround sound if you use the Razer Surround software app. It is perfect for enjoying games with tons of explosions and if you want to have a slight advantage during firefights. Though the Electra V2 is not too keen on bass, it still performs in its mid and high frequencies. It still gives a decent punch during loud bangs and explosions but not as loud as other Razer headphones. So, this pair is perfect for gamers who play games with loads of dialogue and minimal explosions.
Razer Kraken Forged Edition Headphones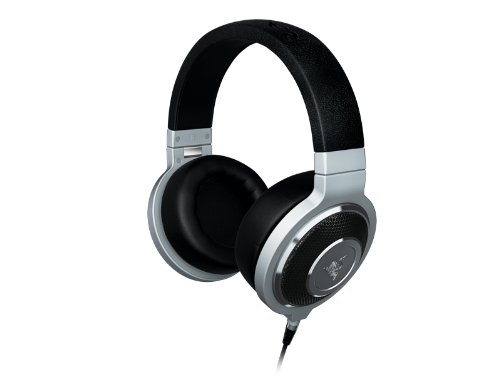 This pair is also from a few years ago but still hasn't lost its charm. This pair was seen during one of Pewdiepie's house tour, and it does look great. It looks elite and sophisticated, perfect for gamers who also plans to stream as the aesthetic value of these headphones are the real deal.
The Kraken Forged Edition headphones look premium thanks to its aluminum body and durable build. The earcups themselves are made from matte silver aircraft-grade aluminum, while the joints are made of durable metal. However, the Forged Edition is more than its visually appealing design, it is also highly functional. Aside from being eye candy, the Electra V2 also feels fantastic. The cups are stuffed with memory foam wrapped in black leatherette. You can comfortably wear it for hours and barely feel a thing.
In terms of audio performance, the Razer Kraken Forged Edition headphones are pretty fabulous. Powered by a pair of 40mm neodymium-magnet drivers, this headphone is more than capable of bringing your favorite in-game soundtrack to life. Also, the cans' inherent closed-ear design, is perfect for preventing sound leakage, so you can play in the middle of the night without disturbing anybody.
The mids and highs are there but not that well defined. The bass is not that powerful either. Not a bad thing if you prefer a balanced audio profile, but you might find it lacking if you like gaming headphones with booming bass.
Sennheiser RS 175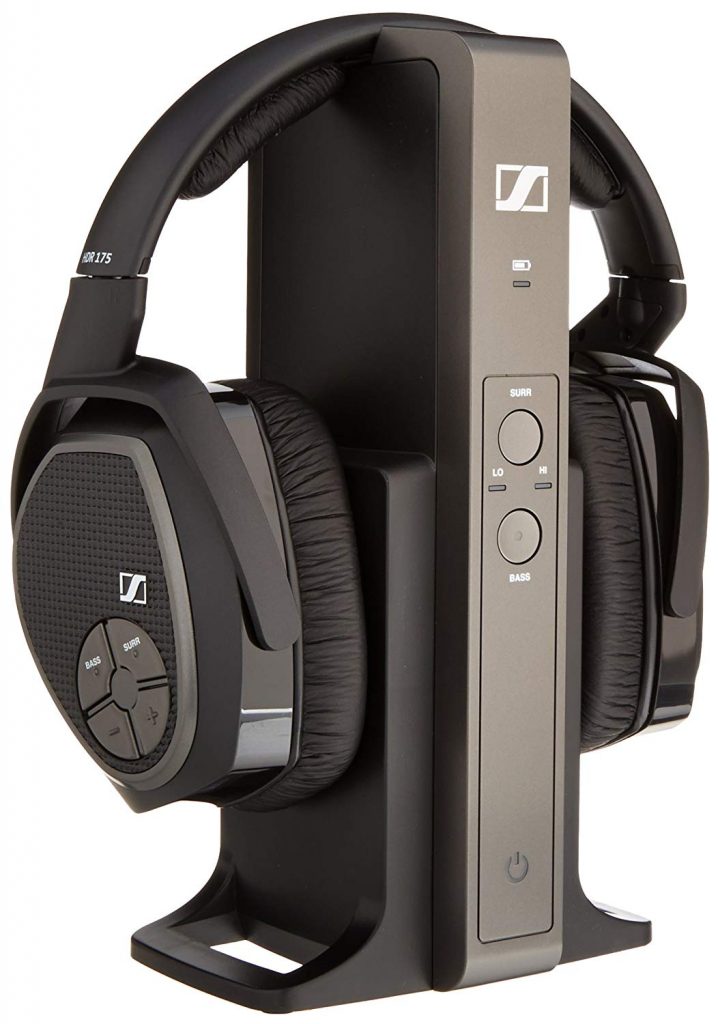 The Sennheiser RS 175 is also one of the iconic pair that Pewdiepie has ever shown on his channel. This wireless pair boasts powerful bass and a comfortable fit, which is an excellent choice for hardcore gamers.
Since the RS 175 is wireless, it comes with a TR transmitter stand that functions as a dock and a charging station. The headphone itself is built sturdily and not cheaply made. The headband is also a bit flexible and is further reinforced with a metal frame to ensure stability. The ear cups are a bit bulky, but the foam is soft.
Sound-wise, the Sennheiser RS 175 did not disappoint. Though it is a little bit bass-heavy, it did not sound muddy or distorted. It is boomy and rumbling yet not overpowering. The mids and highs are clear and crisp, perfect for immersive gaming. The RS 175 also sports a robust 24-hour battery life though it needs an 8-hour recharge once drained.
Wrap-Up
These headphones are the pairs that Pewdiepie has used over the years. Though some of them are already retired on his shelf, they are still immortalized in his popular videos.
How about you? What is your favorite Pewdiepie headphone? Tell us more down in the comments.