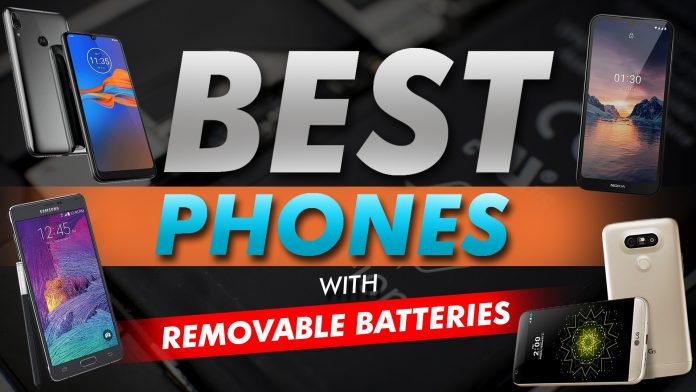 Most of the smartphones and tablets we see today have built-in batteries that aren't removable. Once their batteries are damaged, it's harder to replace them as you'd have to go to a specialist to have it removed. That's why other people opt for phones with removable batteries. They're just a sense of practicality in buying one.
Lucky for you, we've researched the best smartphones with removable batteries so you can easily change them once they run out of charge or once they get damaged. Just read through this article to know which one suits your needs best.
The best phones with a removable battery at a glance:
1. Samsung Galaxy Xcover Pro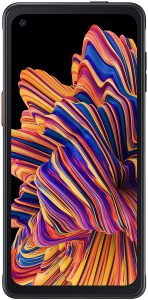 Specifications:
Release Date: January 2020
Screen Size: 6.3 inches
Memory: 4GB
Storage: 64GB
The Samsung Galaxy Xcover Pro was designed for enterprise users where it has extra protection (in which a case isn't necessary), customizable buttons for key functions, and long battery life.
It's one of the best rugged phones available in the market right now. Although 5G is not supported by this phone, this is not a major concern for most businesses. The Samsung Galaxy Xcover Pro was created for field workers and for those where connecting to other accessories is necessary in their line of work.
This device is sleek and can be used in both office and field environments. To unlock it, you simply place your finger on the side button. This is because the power button acts as the fingerprint sensor. On the upper right side are volume up and volume down buttons.
The design of the Samsung Galaxy Xcover Pro makes it usable even when you have gloves on. Plus, a touch display mode is available to help it detect finger taps for users with gloves. A customizable button is located at the top section of the smartphone including a 3.5mm audio port. In addition, the button for Push To Talk+ is located at the upper left side.
The Pogo Pins, speaker, and USB-C port are positioned in the bottom side of the phone. The back cover is removable so you can easily grab the battery off. The rear portion under the cover also contains the microSD card slot and SIM card slot.
Out of the package, the Samsung Galaxy Xcover Pro runs on Android 10. A few Microsoft apps and Samsung utilities are, by default, installed on it. Three physical buttons can be customized to your preferences. For instance, you can opt for Push To Talk (PTT) or you can also customize keys to launch apps with a simple press or a simple press + hold.
The cameras did function well where the rear has an ultra-wide camera that supports field work. It is a solid device that was designed to withstand work in harsh conditions. Best for first responders, frontline workers, and other field workers, the Samsung Galaxy Xcover Pro offers smooth performance, lengthy battery life, and solid communication utilities.
2. Motorola Moto E6 Plus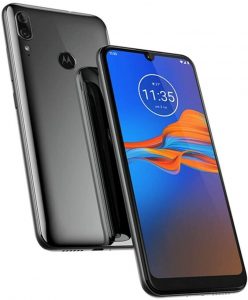 Specifications:
Release Date: September 2019
Screen Size: 6.1 inches
Memory: 4GB RAM
Storage: 64GB
The Motorola Moto E6 Plus offers a lot of features in a smartphone that has a removable battery. Each unit has a splash-resistant coating which means it should work even when splashed with water impromptu.
The design emphasizes an expansive display at 6.1 inches with a small notch for the front-facing camera. It also offers a fingerprint scanner with the absence of NFC for contactless payments.
The rear cover is swappable which hides its removable battery. It has a microSIM (not nanoSIM) card slot as well. The device is well-built and is delightful to use with one or two hands, depending on which you prefer.
As mentioned previously, the display is at 6.1 inches with a resolution of 720 x 1560 pixels wherein pixelation isn't a problem. Brightness is fine where it can be used both indoors and outdoors. The screen is reasonable for watching videos on YouTube or for binge-watching on Netflix.
The highlight of the Motorola Moto E6 Plus is its removable battery, the very reason why it's in this list. It packs 3000mAh and has above average battery life that lasts for up to two or three days depending on usage. It is a strong competitor not only in terms of battery life but in reliability and standby times too.
The rear cameras are a combined 13-megapixel main lens and 2-megapixel depth sensor. By default, High Dynamic Range and AI mode are activated. There are different options and modes as well. The pictures snapped are quite good with a noticeable weakness in colors.
In terms of performance, we're talking about the 4GB/ 64GB unit here. There's a 2GB/ 32GB unit but we won't get into much detail there. The 4GB of RAM is enough for most basic tasks and is acceptable for playing most games.
The Motorola Moto E6 Plus stands out from the competition with a confident design and a performance that is at par with the average. It tends to be a jack-of-all-trades as it doesn't excel in one area only.
This is a solid handset which is worthy of users' attention. The device is best for those who are looking for something that doesn't compromise on user experience. But, if you're looking to get the best specs in terms of camera or processor performance, then this isn't the top choice.
3. Nokia 1.3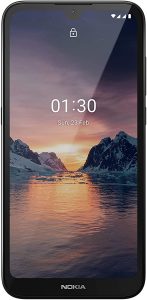 Specifications:
Release Date: April 2020
Screen Size: 5.71 inches
Memory: 1GB RAM
Storage: 16GB
We always spend a lot of time looking for the most expensive smartphone with the highest specs. Our Nokia 1.3 mini review will focus on something that doesn't go over-the-top in terms of performance but is still recommendable.
The Nokia 1.3 have certain inclusions not found in other phones like a removable backplate and battery, a microUSB port, and a headphone jack. These are usually not found in top-end mobile devices nowadays.
This device is made predominantly of plastic but has a textured finish in the backplate to help with your grip. You'll find a Qualcomm Snapdragon 215 chipset coupled with 1GB of RAM and an internal storage of 16GB. The internal space can be expanded up to 400GB with a microSD card.
The LCD display measures 5.7 inches and is acceptable. Brightness is decent as well. It has an aspect ratio of 19:9 and a resolution of 1520 x 720 pixels. Surprisingly, the screen is sharp with a density of 295 pixels per inch.
The Nokia 1.3 was created to be a basic phone for standard mobile tasks. You will notice that speed isn't its best asset. It may take a while for things to get going or load up. This may not be an issue if you're not used to the high-end devices with ultra slick performance.
A measly 1GB of RAM hinders a lot of things you can do with the Nokia 1.3. If you go for one task at a time, you wouldn't have any problems. But, multitasking is a whole 'nother issue because it's hard to do so with this phone.
It has an 8-megapixel camera where it's best to use the High Dynamic Range mode right away. Results aren't excellent, as you may expect. There's a lack of sharpness but sometimes, it can be decent.
The Nokia 1.3 comes with a removable 3000mAh battery which is great for a phone containing the specs mentioned above. You'll be delighted with its whole-day longevity but the microUSB port is quite disappointing as most units nowadays come with the USB C Type. Don't suppose it'll run for two days, though, unless you don't use it that much.
This is a solid option if you want to have a backup or burner phone that has a removable battery and dual SIM slots. It is great for emergency situations to give to an elderly relative or a small child. Of course, you should avoid using it as your main phone as it wouldn't live up to much tasks we do at this point in time.
4. LG V20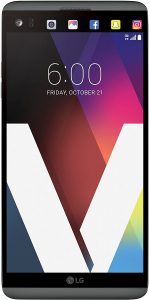 Specifications:
Release Date: September 2016
Screen Size: 5.7 inches
Memory: 4GB RAM
Storage: 64GB
The LG V20 comes with a base model of 32GB, but we're referring to the 64GB model here. It has a basic design like that of the LG V10, its predecessor. However, this model has an all-metal finish compared to the rubber-sporting V10. Of course, the LG V20 has a removable back cover so you can replace its battery when you want to.
The volume controls can be seen on the left side while the noise-cancelling mic is at the top section of the phone. At the bottom, you'll find a USB Type-C port, 3.5mm headphone jack, speaker grill, and the primary microphone.
The device itself is thin at only 7.6mm and has a weight of 174g. LG advertises the device as something that's "ruggedized." it means, it can withstand minor drops without getting damaged easily.
The main screen is an IPS LCD display that measures 5.7 inches and a quad HD resolution of 2560 x 1440 pixels. The pixel density is at an astounding 513 pixels per inch, one of the best available in the market. Images are seriously sharp and crisp where the screen is also bright and can be used both indoors or outdoors. You can double-tap the display to put the phone to sleep or to wake it up.
There's a mini horizontal secondary display at the top of the main one. It's about 2.1 inches and has a resolution of 160 x 1040 pixels. The secondary screen is customizable at a certain extent. You can also set it to be always switched on so you can see notifications (including the date and time) while the main display is off.
The first rear camera of the LG V20 is at 16 megapixels while the second one is at 8 megapixels. The former is great for close-up or portrait shots while the latter is excellent for landscape and wide-angle shots.
Those who are very particular about listening to songs will love the audio quality of the LG V20. It boasts of a quad DAC and amplifier. The B & O earphones that come in the package offer excellent audio output as well.
Connectivity options include LTE support, Bluetooth, Wi-Fi, NFC, GPS, IR blaster, and dual-SiM. In terms of call quality, this device is great. Voices and sounds are loud and clear. Signal strength for GPS, Wi-Fi, and mobile data connections are snappy.
It comes with a 3200mAh battery which is a day's worth of use. Performance-wise, it comes in 4GB of RAM and a Snapdragon 820 chipset. This means, it can multitask easily with different apps. You can also play power-hungry games with the device without leading to hitches.
Overall, the LG V20 is a great device you can go for if you want something that's reliable, has decent camera performance, and has the ability to run a lot of apps without lagging or crashing. Of course, the device is not without fault as it isn't water resistant. However, considering the specs of this phone with a removable battery feature, you'll know that the LG V20 is one of the most satisfactory options out there.
5. Samsung Galaxy S5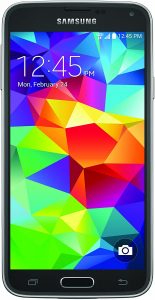 Specifications:
Release Date: April 2014
Screen Size: 5.1 inches
Memory: 2GB RAM
Storage: 16GB
The Samsung Galaxy S5 is an evolution of its predecessor packed with new and better features such as a heart monitor, a fingerprint scanner, and the improved S Health app. The screen is bigger compared to the S4 and the processor is also faster.
In terms of performance power, the Samsung Galaxy S5 has a 2.5GHz Quad-core CPU, 16GB/ 32GB of internal storage, 2GB of RAM, and 2800mAh removable battery. The storage space can be expanded up to 128GB through a microSD card slot.
The power button is on the right side while the 3.5mm headset jack is at the top located right next to the IR blaster. Its heart rate monitor is wittily integrated with the LED flash. The USB 3.0 port can be closed by a flap to make the device dust- and water-resistant. Software comes at Android 4.4 Kitkat right out of the package. Extra capabilities are added by Samsung's TouchWiz.
The Samsung Galaxy S5 offers the Toolbox which is a floating circle that will expand to display five shortcuts that are customizable. Ultra power-saving mode toggles off most of your connections and changes the phone from technicolor to grayscale mode. This will boost the runtime significantly which is great for people who've forgotten their charger.
The camera is at 16 megapixels where images snapped are definitely clear and colorful. This is especially true if you've taken the photo on ample lighting. The flash can be used in dim environments and photos taken in dim environments are definitely an improvement over the S4.
The front-facing camera is at 2 megapixels where it snaps photos with the Beauty Face mode by default. The slider will allow you to adjust the intensity of the airbrush treatment you get from it. You can crank it up to the maximum level for a mannequin-like effect or you can toggle it off entirely for a natural look.
6. Samsung Galaxy Note 4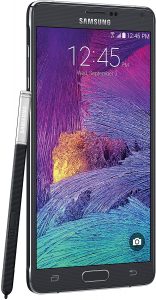 Specifications:
Release Date: October 2014
Screen Size: 5.7 inches
Memory: 3GB RAM
Storage: 32GB
The Samsung Galaxy Note 4 boasts of having a QHD screen measuring 5.7 inches. This Super AMOLED Display has a resolution of 1440 x 2560 pixels and is at 515 pixels per inch. The pixel density is so astounding that you'll expect the device to be vibrant and bright. You'll love watching your favorite series on this phone.
The dimensions are at 153.5 x 78.6 x 8.5 mm and it weighs in at 176g. The metal frame has a rear with a leather-like effect. What's disappointing is the fact that the Samsung Galaxy Note 4 isn't resistant to water or dust.
In terms of power, the device packs a 2.7GHz Quad-Core Snapdragon 805 processor coupled with 3GB of RAM. During its time, this was very powerful. It works without a hitch and supports 4G for great connectivity.. The download booster allows you to combine your 4G connection with your Wi-Fi for faster connection speeds.
It boasts of a 16-megapixel camera at the rear equipped with optical image stabilization to combat camera shake and motion blur. Amazingly, this camera performs great in both dim and bright environments. The front-facing camera is at 3.7 megapixels which is decent in taking your beloved selfies. You can even use the rear's heart rate monitor as a shutter button to take your selfies.
The highlight of Samsung Galaxy Note 4 is the S Pen Stylus making it a great tool for sketching or writing by hand. It's sensitive enough to make you feel like you're using a traditional pen and paper. Other features include a heart rate monitor and a fingerprint scanner. A UV sensor is available as well.
A removable 3220mAh battery stretches up to the second day, especially if you use your phone sparingly. The best thing is it supports fast charging, cutting you on those annoying waiting times.
Built-in storage is at 32GB and because Samsung loves expandable storage, you can do so with a microSD card of up to 128GB. Connectivity includes 3G, 4G LTE, Wi-Fi, Bluetooth, Infrared, and NFC.
Overall, the Samsung Galaxy Note 4 is a satisfactory removable battery phone that has an amazing QHD display. Plus, the added features and 4G connectivity make it hard to miss if you're looking for a great smartphone option.
7. LG G5
Specifications:
Release Date: April 2016
Screen Size: 5.3 inches
Memory: 4GB RAM
Storage: 32GB
The LG G5 has an all-metal body which feels very smooth to the touch. You get a choice of four different colors from silver, titan, gold, and pink. It ditched the curves to look more flat which is very popular nowadays.
It measures 149.4 x 73.9 x 7.7 mm and weighs in at 159g making it easy to grip in one hand. The LG G5 has a 5.3-inch display with QHD resolutions at 1440 x 2560. Pixels per inch are at 554 which boasts excellent clarity and vividness.
Specs include the Qualcomm Snapdragon 820 chipset and 4GB of RAM. These are enough to multitask and even play intensive games for long hours. The standard configuration is at 32GB internal storage which can be expanded with a microSD card slot.
The package comes with Android 6.0 Marshmallow which is known for its battery-saving tweaks. Using the phone is incredibly smooth and snappy even when you're opening a lot of applications.
The LG G5 comes with a 2800mAH battery which is disappointing as it has a short battery life. However, it does come with a USB Type-C port for faster charging times compared to the outdated microUSB port.
We liked the fact that the performance of the phone is super slick making everything from messaging to gaming very easy. The 5.3-inch QHD display makes both binge-watching and gaming impressive to look at. The dual cameras at the back — 16MP and 8MP — are great for taking impressive shots.
All in all, LG G5 is a great addition to our list of phones with removable batteries. The main drawback we can find is the battery life. But the performance and QHD display will surely make up for what it's lacking.
A Quick Guide To Buying Smartphones With Removable Batteries
Removable batteries aren't found in most top-of-the-line phones we see nowadays. But, they're still practical in a sense that you can bring extra batteries and simply swap it with discharged ones every time you travel.
But, how do you actually choose a phone with removable batteries? You actually have to take some factors into consideration. Let's check them out below:
Purpose
What's the purpose of getting phones with removable batteries? Is it an extra device coupled with your tablet? Or, will you be using it as a main phone for messaging, games, and watching movies? So, for instance, if you're going to use it for emergencies or as a secondary device only, then you can opt for feature phones with removable batteries.
Budget
One of the most important things you should consider is your budget. You have to make sure you're getting your money's worth. An expensive phone doesn't mean you get the most bang for your buck. You should consider if what you're paying for actually meets the needs you have to fulfill.
Performance
If you're going to give a removable battery phone to a senior family member for emergency calls, then you should go for at least 1GB of RAM for basic tasks. But, if you want to use the phone for multitasking and for playing games, then 3GB of RAM is the minimum amount you should aim for. Processors play an important role here too. Of course, using the device for intensive tasks will demand a processor with better performance which can typically be measured in GHz.
Battery Life
Battery life is not a big factor to take into account. But, it's still best to go for phones with longer battery life. If you usually go on travel adventures, you should get a device that lasts for a long time when used for standard tasks. However, this is not a big problem since these are removable batteries. You can simply swap the discharged battery with a full one. Plus, you can even purchase and bring a power bank if you wish.
Camera Performance
To make it simple, a higher megapixel is better. But that doesn't mean, it's the only thing you should aim for. Scour the net for camera samples before you purchase a phone with a removable battery.
If you love to take selfies, then a great front-facing camera is a must. And, if you like to travel and take pictures of landscapes, the rear camera is one thing to put a lot of focus on. Not all cameras are alike though. That's why we recommend checking out camera samples before actually purchasing a phone that will be used to take snaps.
Recap: The Top 7 Phones With a Removable Battery
1. Samsung Galaxy Xcover Pro
2. Motorola Moto E6 Plus
3. Nokia 1.3
4. LG V20
5. Samsung Galaxy S5
6. Samsung Galaxy Note 4
7. LG G5
There are times when batteries "bloat up" leading to a bulked up phone that doesn't work properly. Phones with removable batteries are great alternatives to the usual devices we see in the market today.
When your battery gets damaged, you simply replace it with a new one that can be bought in various stores. Removable batteries can come in handy if you're travelling or going on an adventure where you need to replace it with a fully-charged battery in case it gets discharged along the way (and there's no charging station nearby).
The top phones with removable batteries are usually in the low- to mid-tier range. We'd like to hope that there are high-end options out there as manufacturers tend to avoid this feature because of practical reasons. However, there's still hope. So, let's cross our fingers for top-tier phones with removable batteries!