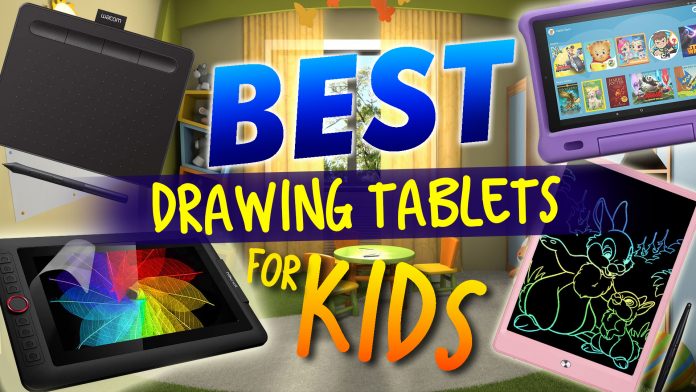 We use the traditional pencil and paper to teach our kids how to write and draw — that's in the past. With the popularity of tablets, mobile phones, and a wide array of gadgets, drawing tablets have risen to help our kids learn the basics.
Let's face it. Technology is evolving at a tremendous pace and we have to keep up with it. And if you've got kids in your home, you definitely need to teach them the right way of doing things. Fortunately, drawing tablets provide kids with fun, learning experiences.
Before we dive into the best drawing tablets you can buy for your kids, let's talk about its types. We'll move on to a list of top-notch drawing tablets and end with a buying guide to help you make the best decision thus helping your child learn in a faster, more enjoyable way. Let's start doodling!
| Preview | Product | Dimensions | Price |
| --- | --- | --- | --- |
| | Ansel LCD 10-Inch Drawing Tablet For Kids | 11.6 x 7.8 x 0.8 inches | |
| | Wacom Intuos Pro M | 13.2 x 8.5 x 0.3 inches | |
| | iskn Repaper Paper And Pencil Graphic Tablet | 7.81 x 0.36 x 10.94 inches | |
| | XP-Pen Artist 12 Pro | 13.84 x 8.87 x 0.51 inches | |
| | Amazon Fire HD 10 Kids Edition | 11.5 x 8.1 x 1.0 inches | |
| | Huion Kamvas Pro 16 Drawing Tablet Monitor | 17.32 x 9.84 x 0.39 inches | |
| | Apple iPad Mini 2019 Edition | 8.0 x 5.3 x 0.24 inches | |
| | Huion Inspiroy H640P Graphics Drawing Tablet | 10.23 x 5.81 x 0.3 inches | |
| | Wacom CTL4100 Intuos Graphics Drawing Tablet | 7.87 x 6.3 x 0.35 inches  | |
Types Of Drawing Tablets
There are different views regarding the types of drawing tablets. Some divide it into three categories while others divide it into four varying kinds. But, we'll go for the two major types of drawing tablets below:
Non-Display Drawing Tablets
These are also known as general graphics tablets and, as noticed in its name, doesn't have its own display. You need to connect it to a computer through a USB or HDMI cable. When you draw on non-display tablets, the art will be shown on the computer screen.
Kids have to undergo a bit of a learning curve when using this type of tablet. For instance, some kids may have to learn how to turn on the computer and connect the tablet to it. Plus, writing on the tablet while looking at the screen can be a bit challenging.
Typically, non-display drawing tablets are more compact compared to the other counterpart. Although they are portable, it's still not a good idea to travel with it because you have to ensure you have a computer or display to connect it to.
Compared to the other type of drawing tablet, non-display ones are significantly cheaper. In addition, they're popular for being very durable and last many years if given proper handling and care. However, since your kids will be the ones using it, this is not certain.
Display Drawing Tablets
This type of tablet is easier to use for beginners because looking back and forth between the tablet and the screen isn't necessary. It's similar to drawing using a pencil and paper because you can see it instantly on the built-in display. The only difference is you're drawing on a smooth screen as opposed to using a canvas or an ordinary paper.
Display drawing tablets include traditional tablets that come with a stylus pen such as the iPad Pro 2019 version. These are priced significantly higher compared to non-display drawing tablets because of their in-built screen.
This type of tablet is very portable since you only need to bring the entire gadget with you while on the go. The main drawback is the screen can easily be damaged especially if used by kids. However, you can purchase kid-proof tablet cases to make it more durable.
Now that we've given you the two major types of drawing tablets, let's dig into the top drawing tablets you can buy for your kids.
The Best Kids' Tablets for Drawing
Let's dig into the meat of this article. This section will go into the best drawing tablets you can purchase for your kids. They'll surely have fun, learning experiences once they get hold of these amazing devices.
Ansel LCD 10-Inch Kids Drawing Pad for Ages 2+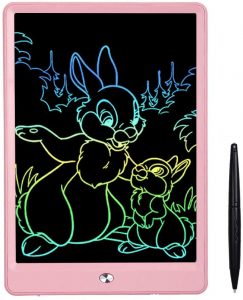 Specifications:
Colors: Pink, Blue
Dimensions: 11.6 x 7.8 x 0.8 inches
This is a smart, electronic drawing pad that gives your kid the surface he or she needs to draw, doodle, scribble, and write. Unlike other drawing tablets, your children will be delighted to notice that erasing their mistakes is easy.
It's the perfect gift you can give to your child since it feels similar to a pen and paper on a device that's very portable. The battery lasts for an average of 12 months so you don't have to charge it every now and then.
The Ansel LCD 10-Inch Drawing Tablet is very easy to use and is a portable device you can grab with your kid while on the go. It fits in your kid's backpack easily without having to deal with the mess of crayons, chalk, or markers. It will surely keep your kid entertained while travelling too!
Wacom Intuos Pro M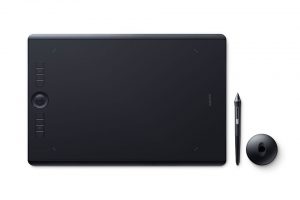 Specifications:
Color: Pure Black
Dimensions: 13.2 x 8.5 x 0.3 inches
Wacom is a popular brand for creating drawing tablets for professionals. The Wacom Intuos Pro M is the medium-sized drawing tablet in the series. There are three versions labeled S, M, and L, corresponding to small, medium, and large, respectively.
This sleek drawing tablet gives your kids a lot of control with its super-sensitive Wacom Pro Pen 2. Although built for professionals, it is still great for children who love to express their creativity through art.
You can use either use this tablet with a USB or a Bluetooth connectivity to link to an external display. Ergonomically-designed, this drawing tablet can be used by both right-handed and left-handed kids. Thus, your children don't have to worry about positioning the tablet in the correct manner.
The entire drawing tablet has a size of 13.2 x 8.5 inches. However, the active drawing area is at 8.7 x 5.8 inches. This is still a good size considering that your kid has smaller-sized hands as opposed to that of adults. .
Aside from two options for connectivity, this gadget supports both Windows or Mac computers. If you're a fan of one of the two operating systems, you won't have to face compatibility issues. Wacom Intuos Pro M comes in a package that is complete with what your kids need. It includes a Wacom Pro Pen 2 that is battery-free, a pen stand, four extra pen color rings, a texture sheet sample card, a USB cable, and a quick start guide.
iskn Repaper Paper And Pencil Graphic Tablet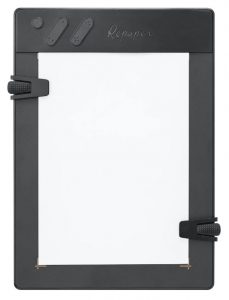 Specifications:
Color: Black
Dimensions: 7.81 x 0.36 x 10.94 inches
iskn Repaper Paper and Pencil Graphic Tablet is great for your kids if you want them to work on a paper-like surface. You simply slide the Repaper Ring on your pencil, attach a paper to the drawing tablet, and download the Repaper Studio app to start drawing. Your kids' scribbles and artwork will be displayed on the screen in an instant.
The great thing about iskn Repaper is it captures a time-lapse video that records what your kids do during the process. Your children will be thrilled to watch these videos and even share them with their friends.
The drawing tablet is compatible with a lot of computer and mobile devices including PC, Mac, Android, and iOS. It also has a mode called "No Screen" so you can use it independently without external displays coupled with a battery that lasts up to 6 hours. After use, you can simply import it to a device that you want.
It becomes a real graphics tablet once you connect it to your PC or Mac. Thus, editing is also possible using graphics software. Your kid will be inspired to draw at any point in time with its innovative Repaper Stylus and Faber Castell Limited Edition Graphite Pencil.
You'll love to know that your kids will be able to express their personality and style with iskn Repaper. The package includes the Repaper tablet itself, Repaper Stylus, Faber Castell pencil, Repaper Ring, Repaper Clips, Repaper Sketchbook, and micro-USB cable.
XP-PEN Artist 12 Pro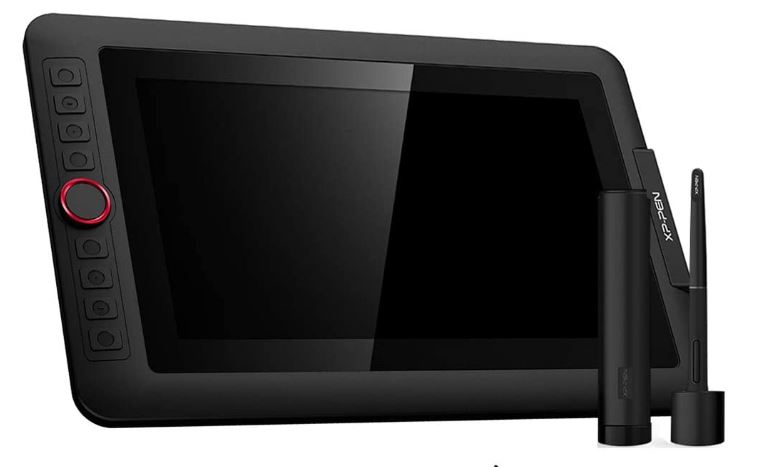 Specifications:
Color: Black With Red Dial
Dimensions: 13.84 x 8.87 x 0.51 inches
Don't let the word "Pro" fool you. The XP-PEN Artist 12 Pro is also an excellent choice to buy for your teenage kids. It boasts of an 11.6 inch IPS display with a resolution of 1920 x 1080. This means, it can wow your kids with vibrant images and rich colors in a wide view.
The cable is designed in a manner where you don't have to use adapters. Thus, you can teach your kids to easily connect it to a computer and let their creative juices flow. The stylus pen included is battery-free and prides itself in having superior performance. It also includes a pen holder that comes with eight pen nibs for replacement.
Since it has its own display, you don't have to connect it to your computer. Although, you can opt to do so if you wish. Customizable keys allow you to create shortcuts for your kids to easily get the functions they need.
The XP-Pen Artist 12 Pro is best for young, beginning artists who love to work on drawing tablets that have a paper-like feel. It is compatible with both Windows and Mac computers, the most popular operating systems used today. If you're buying this for a teenager, he or she will be thrilled to know that the drawing tablet supports popular software such as Photoshop, SketchBook Pro, Clip Studio, Illustrator, MediBang, and more.
Amazon Fire HD 10 Kids Edition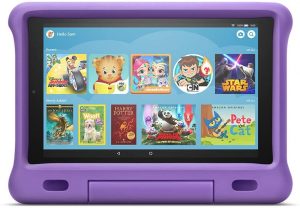 Specifications:
Colors: Purple, Blue, Pink
Dimensions: 11.5 x 8.1 x 1.0 inches
Amazon Fire HD 10 Kids Edition is one of the best drawing tablets you can get for your kids. It has a 10.1-inch screen coupled with a 1080p Full HD display — a reasonably-sized display and resolution for kids.
The functionalities you get from it is difficult to underestimate as you can use it for drawing and also use it as a full-fledged tablet in one device. It comes with a sturdy plastic case promoting durability, especially if it's used by younger children. The kid-proof case comes with a built-in stand so your kid can position it in an angle great for watching fun, interactive videos.
Purchasing the Amazon Fire HD 10 Kids Edition comes with a 2-year worry-free guarantee. If it breaks, you simply return it to Amazon and they'll replace it with no cost on your part.
This drawing tablet comes with parental controls wherein you can set educational goals, create screen time limits, and even filter content. It has a storage space worth 32GB, which is enough for kids, and is expandable up to 512GB with a microSD card.
The battery lasts for about 12 hours allowing your children to read, watch videos, draw, and listen to music whenever they want to. Portability is not a problem as you don't need an external monitor to connect it to.
Huion Kamvas Pro 16 Drawing Tablet Monitor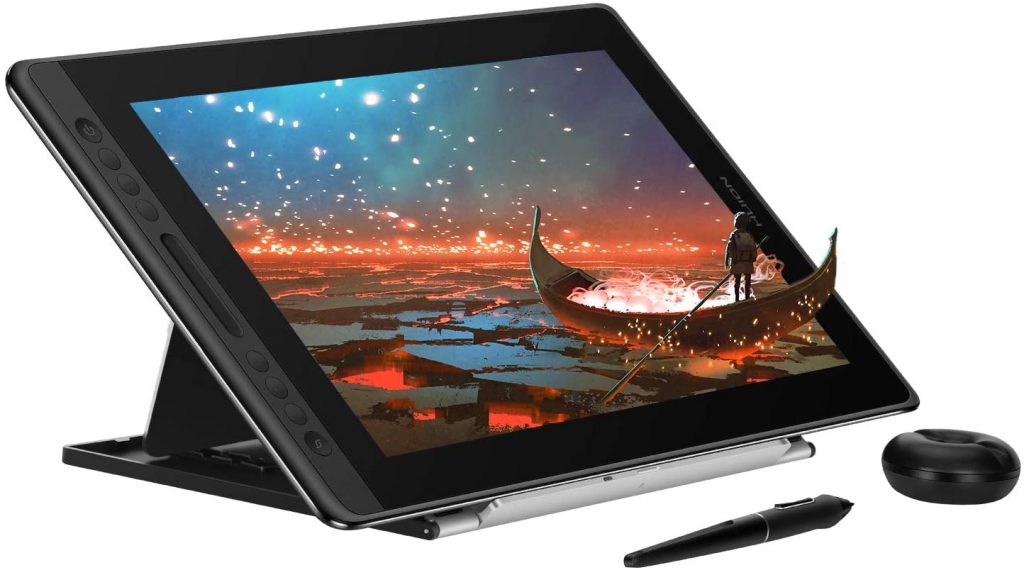 Specifications:
Color: Black
Dimensions: 17.32 x 9.84 x 0.39 inches
The Huion Kamvas Pro 16 Drawing Tablet Monitor boasts of a 15.6 inch full-laminated technology and is best for teenage kids that aspires to be future artists. It has an anti-glare feature reducing damage to human eyes. The distance between the pen nib and the cursor is shortened to feel like drawing on real paper. This means, better drawing experiences for your them.
The battery-free stylus has tilt support and 8192 levels of pen pressure equating to optimum performance similar to using a traditional pen or pencil. Plus, your child doesn't have to charge its pen every now and then.
Six different keys can be customized to your preference and are coupled with a functional touch bar. This drawing tablet has a sleek look that most teenagers will love. Plus, it is very portable with a weight of only 1.2 kg and a thickness of 11.5mm. It's thin, lightweight built is only a little bit thicker than a standard smartphone.
This device can be connected to a computer that has a USB or HDMI port. It is compatible with both macOS and Windows operating systems which means you don't have to worry about which type of computer you have. Once you purchase this amazing drawing tablet, you are eligible for 1-year's worth of warranty. Plus, they have a dedicated tech support team in case you or your kid face issues with the device.
Apple iPad Mini 2019 Edition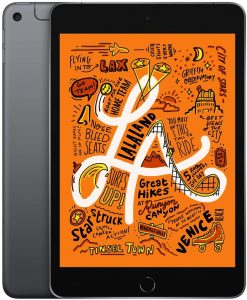 Specifications:
Colors: Gold, Silver, Space Gray
Dimensions: 8.0 x 5.3 x 0.24 inches
Our list of the best drawing tablets for kids won't be complete without the Apple iPad Mini 2019 Edition. Its thin, lightweight design and support for Apple Pencil makes it a great addition to our guide. This intuitive pencil will open up a lot of possibilities for your child. They can scribble and write their first ABCs. And, if you're giving it to a teenager, they can definitely use it to take notes, paint, draw, and sketch while on the go.
It was designed to help users enjoy a lot of features. Multiple kid-friendly, educational apps can be downloaded from the iOS App Store. Plus, your kid can watch videos giving them the freedom to learn and enjoy at the same time.
Are you sending it as a present to a teenager? This is probably one of the best gifts they can receive. This tablet takes pride in having a fast performance with its A12 Bionic chip. Plus, it has support for various graphic design software such as Illustrator and Photoshop. Your teenager will be pleased to know that it doesn't stop there. The App Store has a lot of applications formulated by the best developers specially for kid-friendly artwork and graphic design.
As a parent, you can use the iPad to save your kids' creations in Apple's cloud storage platform, the iCloud. Plus, you can take advantage of the high-definition built-in cameras to capture your kid's perfect moments.
It boasts of a 7.9-inch display which makes it easy to hold for kids. Plus, the display packs about 3.9 million pixels in this compact screen. Drawing their first artwork will surely be a delight to your kids once they see the vibrant, true-to-life display of Apple iPad Mini 2019 Edition.
If you're worried about your child breaking the device, you can choose from a wide variety of kid-proof cases available for the iPad Mini. You will notice that the most popular shockproof case brands have a lot of options for Apple's products.
Huion Inspiroy H640P Graphics Drawing Tablet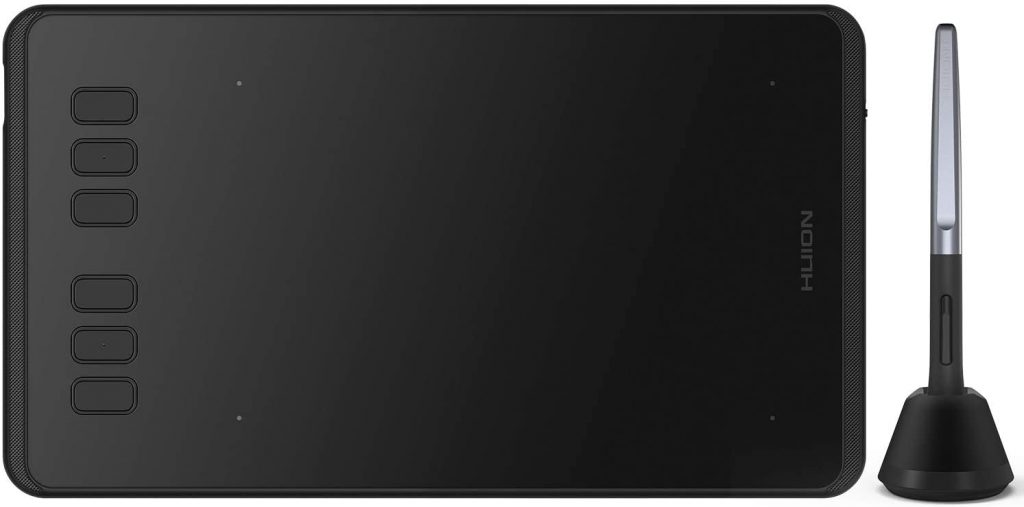 Specifications:
Color: Black
Dimensions: 10.23 x 5.81 x 0.3 inches
With 6.3 x 3.9 inches of workspace, the Huion Inspiroy H640P Graphics Drawing Tablet is a great addition to your kids' learning tools. It is compatible with Windows, macOS, Chromebook, and Android devices. The OTG connector can be used to connect it to an Android smartphone or tablet.
The Huion Inspiroy H640P Graphic Drawing Tablet comes with a battery-free stylus without the need to worry about charging. This stylus, like most modern drawing tablets, has a pen pressure of 8192 levels, meaning it is sensitive enough to provide accurate and precise touch.
It is only 8mm thick and has a weight of 2.27kg making it a portable drawing tablet for your kid. Six customizable express keys can have their own functions based on the user's preferences. The shortcuts come in handy with these customizable keys.
The tablet surface is very durable and feels like paper. It is coated with top-notch materials for fine texture and long periods of use. The entire surface is designed with bezel-less, rounded corners providing it a sleek look.
The downside to this drawing tablet is it isn't compatible with iOS devices such as the iPhone and the iPad. In addition, the cursor can't be displayed in some Samsung phones, thus you have to make sure your device is compatible with it. Nonetheless, if you're using a computer, you wouldn't have any issues.
Wacom CTL4100 Intuos Graphics Drawing Tablet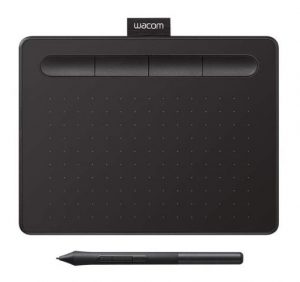 Specifications:
Colors: Black, Pistachio
Dimensions: 7.87 x 6.3 x 0.35 inches
The Wacom CTL4100 Intuos Graphics Drawing Tablet is great for kids who want to use a macOS or Windows computer while designing artwork. It can be connected to your computer using a USB cable which is very easy for them to learn.
It has a slim design and a compact size but doesn't compromise on a drawing area of 6.0 x 3.7 inches. Because of its compact design, it is great for cramped desktop spaces and is portable enough to bring when on the go. Great for both righties and lefties, this drawing tablet comes with a pen that doesn't need charging.
Four customizable keys allows your kids to put their favorite shortcuts for easy access. The pen has 4096 pressure levels, best for kids who love to learn and enjoy while doing so. Once you register with Wacom Intuos, you are entitled to three software titles including Corel Painter Essentials 6, Corel After Shot 3, and Clip Studio Paint Pro 2. Although, younger kids won't understand these, teenagers might find it very convenient.
System requirements include Windows 7, 8.1, or 10 and macOS X 10.11 or later. Since these are popular operating systems, you shouldn't be frustrated without having to purchase another computer just for your kid's drawing device.
Comprehensive Buying Guide: Drawing Tablets For Kids
There are different criteria to take into account when you want to buy the best drawing tablet for your kid. Below are some of them:
Purpose Or Use
Decide the purpose of the tablet. If it is for a teenager, for instance, you may want to opt for traditional tablets to have more functionality. This is because your teenager may already be familiar with graphic design or illustration.
But, if you're looking for a learning gadget for a younger child, you can get kid-friendly drawing tablets that are more durable. If you want the tablet to have functionalities such as watching YouTube Kids, then traditional tablets are the best. However, you may have to purchase a kid-proof case to make it sturdy and to avoid damage.
User-Friendliness
If you're buying a kid's drawing tablet, then it must be suitable for their age. If the tablet, for instance, is only compatible with Photoshop or Illustrator (both advanced software), then your kid may be disappointed with using the tablet. You must ensure that it's kid-friendly. Of course, your child doesn't have and probably doesn't want to take lessons just to use it.
Parental Control
If you're going for a standard tablet which can grab a lot of applications from its built-in store, then you must have parental control features. Kids can be put into a lot of danger when given access to the web without supervision. Thus, you must be able to control which apps or content can be accessed by your child through the gadget.
Display Size Or Drawing Area
In terms of purchasing drawing tablets, the bigger the display size or drawing area, the better. A bigger space for drawing will be a great help to your child in his or her expression of creativity. No one wants to draw on a cramped space, right?
It's important to note that the actual tablet size doesn't equate to the drawing area. Thus, the actual drawing area must be big enough to accommodate the needs of your kid. Plus, you must consider weight as well. This is to ensure that the kid can hold and handle the tablet well. And, of course, you're looking at portability features of the tablet in case you're going with your child on vacation.
Wireless Support
When it comes to drawing tablets, wireless support is always better compared to wired connectivity. Display tablets that have built-in screens are better because they are more portable. You can take these with you without the need to worry about where to get an external display to connect it to.
Battery Life
Battery life is another important feature you must take into account. It is best to go for those with USB-C charging which equates to faster charging times and less cables. There are tablets that come with a replaceable battery offering a year's worth of warranty. It's best to get drawing tablets that come with their own battery so buying them separately isn't necessary.
Warranty And Technical Support
Drawing tablets can last a long time if used and maintained properly. But, of course, this is not what you expect of kids. The constant running, throwing, and tantrum fits can cause their tablets to break. That's why you should get a kid-proof tablet or even opt for a warranty that will cover what you need in terms of damages.
In addition, it's important to purchase from brands that have great technical support. You don't want your kids to have a bad experience with their drawing tablets as it will hamper their learning. If you encounter an issue, it's best to go for those with excellent technical support so you (or the support team) can handle it immediately.
Material
It is recommended that you go for tablets that have a body designed from high-grade material (e.g., ABS plastic). This is because the kids will definitely handle the device carelessly and roughly. It must be durable enough to withstand a kid's wrath, if we might say.
Brand
A lot of companies are offering drawing tablets for both kids and adults. There are popular brands in the US. Thus, if you're conscious of quality and durability, it's best to go for popular options such as Wacom, XP-Pen, and even Apple.
Stylus Or Pen Quality
Your kid will surely use the stylus or pen to draw on the tablet, thus, you have to ensure that it is durable and of good quality. This is the counterpart to the traditional pen or pencil used on paper and will be used to scribble or create artwork.
Not all styluses are created equal. There are pens that require charging while others don't need it. It's suggested to go for a stylus that has a comfortable feel that mimics that of a standard pen or pencil.
Price
Drawing tablets range from $50 to $2000 in price. Of course, budget is an important thing you have to take into account. It all boils down to how much you want to spend and the functionalities you need in the device. Make sure you're going for a tablet that is not overpriced and will give you your money's worth.
How to Draw iPad Tablet PC for Kids Drawing and Coloring
Recap: Top 9 Options for the Best Drawing Tablet For Kids in 2020
1. Ansel LCD 10-Inch Drawing Tablet For Kids
2. Wacom Intuos Pro M
3. iskn Repaper Paper And Pencil Graphic Tablet
4. XP-PEN Artist 12 Pro
5. Amazon Fire HD 10 Kids Edition
6. Huion Kamvas Pro 16 Drawing Tablet Monitor
7. Apple iPad Mini 2019 Edition
8. Huion Inspiroy H640P Graphics Drawing Tablet
9. Wacom CTL4100 Intuos Graphics Drawing Tablet
Conclusion:
The best drawing tablets for kids are just around the corner and we've given you the top picks you can choose from. Keep in mind that it's best to go for tablets that are suited to your child's age.
And, you have to take into account factors such as budget, actual drawing area, material, durability, battery-life, parental control, and of course, user-friendliness. Once you buy one of these drawing tablets, your child will surely leap for joy.
These drawing tablets are best for both fun and educational experiences. They're not just here to keep your kid entertained. They're here to help you and your child in your journey to learning in a fun, creative way.