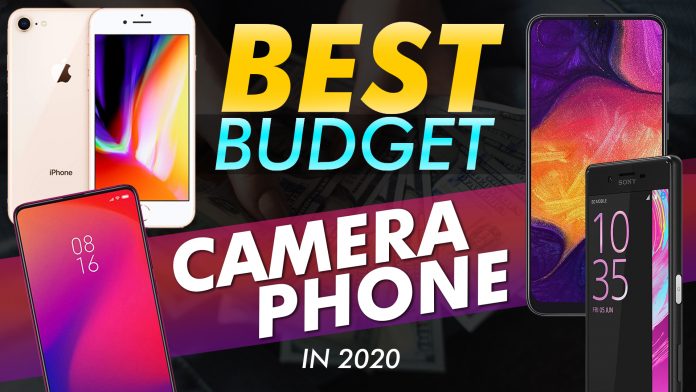 Smartphones may be ubiquitous and serve as handheld computers, but many people need them to do more than send messages, make calls, or browse the web. On top of that, the flagship models can be prohibitively expensive, with the most popular costing upwards of a thousand dollars.
If your looking for a camera phone with a limited budget, check this list of the 10 best budget camera phones and identified who each one is best for.
Top 10 Cheap Phones with Good Cameras
Xiaomi Mi 9T
Best Performing Budget Phone with
Triple Camera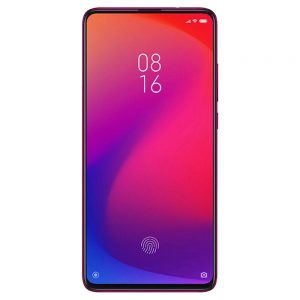 Xiaomi is another up and coming Chinese manufacturer that competes better with Huawei than most of the other companies we reviewed, but they also cost on par with the higher priced Huawei too.
Still, there is no getting around the fact that the Xiaomi Mi 9T offers some of the best hardware across the board that we found and is the only camera phone on this list that can upgrade to the Android 10.0 OS.
When you combine that with the Mi 9T's Qualcomm SDM730 Snapdragon 730 chipset and Adreno 618 GPU, you have the most powerful camera phone we reviewed. As if that were not enough, this is also the only product on this list that comes with an astounding 6 GB of RAM.
While the hardware and software ensure this camera phone can handle all of your general tasks, it also offers one of the best camera combinations we came across too.
For the back, the Xiaomi Mi 9T sports a 48 MP wide-angle lens, a 13 MP ultra wide-angle lens, and an 8 MP telephoto lens– which is as good as many other front cameras.
However, the Xiaomi Mi 9T still goes above and beyond and comes with a 20 MP wide-angle lens that employs a motorized pop-up function to save space for its second-best 6.39" screen. Oh, and the Xiaomi Mi 9T also offers some of the best recordings with 4K and 1080p, the latter of which can record at 240 fps.
BLU Studio Pro X8
Best Budget-Friendly Camera Phone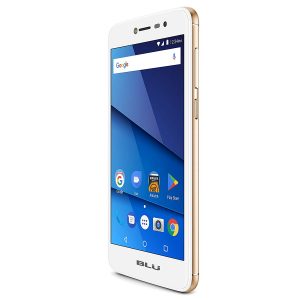 The BLU Studio Pro X8 is an adequate phone for plenty of basic tasks, but this product makes its mark with one of the lowest prices that we found, making it one of the most budget-friendly BLU phones.
Keep in mind, you should not expect the same kind of performance in any area given the extremely low cost of the BLU, but it is still reasonably good in a pinch. To further increase the overall value of this phone, the BLU Studio Pro X8 features one of the more durable builds and is less likely to break if dropped.
However, this camera phone tends to struggle significantly more than others on list when it comes to using social media apps or other 3rd party apps.
For the camera itself, the BLU Studio Pro X8 offers a bit of a mixed bag depending on what is most important to you. If you want a camera phone for selfies, this is likely not your best option as its front camera shoots with the fewest megapixels on this list at only 5 MP.
On the other hand, the rear camera is okay, especially for the price, with an 8 MP standard lens and a 2 MP depth lens. Combined with a veritable suite of built-in camera features, this phone can accomplish far more with less than some competitors.
Huawei P30 Lite
Best Budget Point and Shoot Camera Phone for Taking Selfies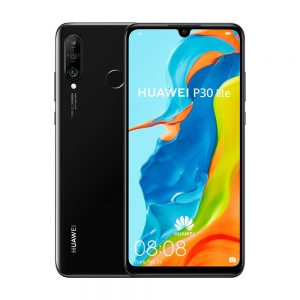 The first "official" Huawei camera phone onthe list certainly does not disappoint, though you will also have to pay a bit more for that quality– and maybe even the prestige.
While this model comes with two sets of options, we went with the less expensive model that trades a little bit in the rear to get a lot more upfront. That said, the P30 Lite also comes with plenty of other goodies like one of the largest screens which tops the measurement at 6.15". Even better, the combination of the Hisilicon Kirin 710 SoC chipset and 4 GB of RAM ensures that this camera phone can keep with the most punishing of tasks.
In terms of cameras, this might have the best combination easily tops this list when it comes to taking selfies thanks to an outrageous 32 MP wide-angle front camera. Of course, the rear cameras are no slouch either with the Huawei P30 sporting a 24 MP wide-angle lens, an 8 MP ultra wide-angle lens, and a 2 MP depth lens that all combine to offer one of the best camera suites on this list.
One thing that is a bit disappointing, especially given the P30 Lite's price point, is that it only records in 1080p resolution and only at 30 fps. However, the Android Pie OS helps take full advantage of the P30 Lite's hardware, allowing you to change a dizzying array of image qualities.
Huawei Honor 6X
Best Mid-Range Camera Phone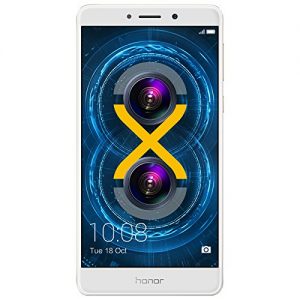 Following the company's accusations on insecure software, Huawei felt the need to provide a secondary option to put Western consumer's minds at ease.
Thankfully, Honor still keeps Huawei's philosophy of providing solid value at a significantly cheaper price than most of the competition. For example, though the Honor 6X may come with an outdated version of the Android OS, the inclusion of their proprietary EMUI 5.0 offers plenty of room to customize your phone. To get it out of the way, the only camera aspect of the Honor 6X that falls a bit too short is the video recording which, while 1080p, maxes out at 30 fps.
With regards to the camera, the Honor 6X is solid across the board without being spectacular in any particular area. The front camera shoots with a decent 8 MP, putting it around the middle of the pack for budget camera phones. The rear camera may not necessarily be anything to write about, but it does still offer a 12 MP standard lens and a 2 MP wide-angle lens.
Even better, the Honor 6X is another phone that comes with a wide range of different software features, including HDR, lighting painting, and even a dedicated food zoom, all of which allow you to take better photos even with an average lens.
Oppo R11s
Least Expensive 4K Camera Phone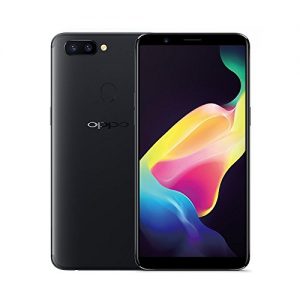 Oppo is another Chinese brand that is quickly taking over the market with highly-capable, budget camera phones.
For the price, the Oppo R11s might provide the best all-around value in terms of raw performance, though the company does leave a bit to be desired when it comes to software. Not only does it use an older version of the Android OS, but it also does not support NFC wireless connection— one of the biggest selling points of Android OS over other options. Still, the inclusion of the Qualcomm SDM660 Snapdragon 660 chipset at this price makes the Oppo R11s a strong contender.
However, the Oppo R11s truly shine when you look at its cameras which combine to offer the best range of lenses outside of higher-priced alternatives. For the rear, the Oppo R11s comes with a standard 20 MP camera and nearly doubles up with another 16 MP standard lens.
As if that were not enough, the Oppo R11s also sits near the top of the list for the front camera which is also 20 MP and takes some of the best selfies. However, the Oppo R11s' ability to take 4K videos is arguably its best feature and makes it one of the least expensive camera phones to do so.
Samsung Galaxy A50
Budget Camera Phone with the Best Screen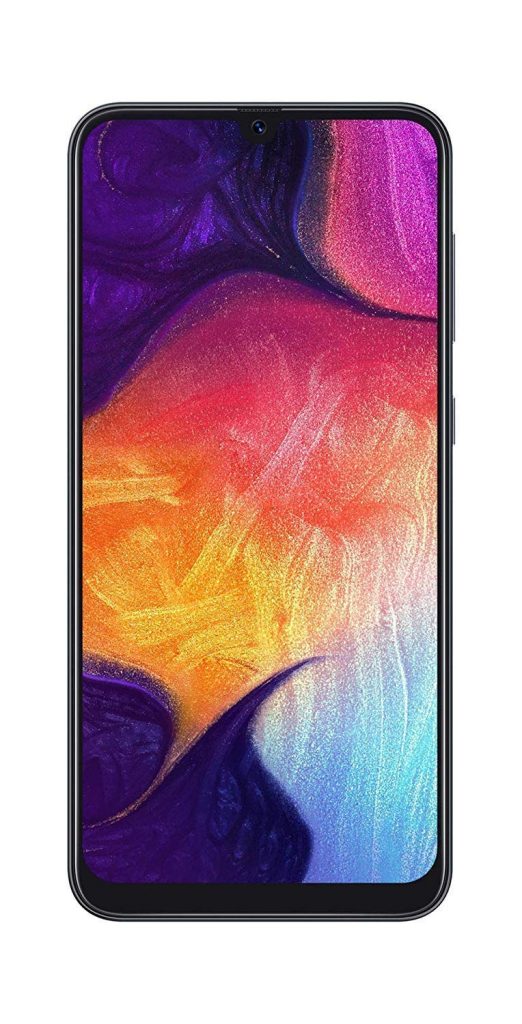 Samsung is one of the leaders in camera phones, both from a sales and performance perspective, but the company can still compete in the more budget-friendly market as well.
A perfect example of this is the Galaxy A50 which, while a bit more expensive than some of the other options we reviewed, offers the largest screen at a whopping 6.4" which is almost a full inch larger than the average.
Even better, the Galaxy A50 pairs that beautifully large screen with 4 GB of RAM and a Mali-G72 MP3 GPU, so you get the best looking images and can take even better photos. All of this hardware is further backed up with the Android Pie OS, the newest version out of any phone we reviewed.
The Galaxy A50 is another solid high-end camera that provides a great mix of cameras and lenses regardless of which side of the phone you use. For the rear cameras, the Samsung A50 comes equipped with a 25 MP wide-angle lens, an 8 MP ultra wide-angle lens, and a 5 MP depth lens.
As if that were not enough, the front camera also sits near the top of the list with a 25 MP wide-angle lens as well. That said, the cameras and lenses do all of the heavy lifting with the Galaxy A50, as this Samsung model does not offer nearly as many camera software features as some of the other products we reviewed.
Apple iPhone 8
Best Budget Camera Phone from Apple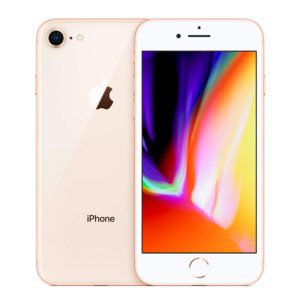 The iPhone is an iconic brand that virtually started the smartphone market and definitely made it into the juggernaut it is today. That said, iPhone's reputation often prices the newest models well outside of most people's budgets.
Thankfully, older iPhone models are still more than capable of competing in the budget-friendly market with a great mixture of hardware features and a rock-solid OS that continues to innovate and stay relevant well after Apple moves onto their next model.
Complementing the excellent iOS, the iPhone 8 includes the Apple A11 Bionic chipset as well as a 3-core Apple GPU.
Unfortunately, the iPhone 8 is a bit expensive for the camera quality that you get, and you can get a much better camera for far less money– though not all of the cameras are poor quality.
For instance, the rear camera comes with a 12 MP wide-angle lens and a 12 MP telephoto lens which offers some of the best zooming and focusing ranges that we found. On the other hand, the 7 MP standard front camera is merely adequate if a little bit below average.
However, the iPhone 8 saves some face by also providing one of the best recording capabilities we encountered with 4K recording at 60 fps and 1080p recording at up to 240 fps.
Sony Xperia XA2
Best Budget Camera Phone for Blur Free Shots

Though Sony might be better-known for home electronics, they still put out a solid camera phone that can more than compete with any option on o this list. The combination of the Qualcomm SDM630 Snapdragon 630 chipset and the Adreno 508 GPU means the Sony Xperia XA2 can handle pretty much anything you throw at it.
This camera phone also sports one of the newer Android operating systems in the budget-friendly market with Oreo. It is worth noting that the Xperia XA2 is the bulkiest camera phone we reviewed and is also one of the heaviest which can make taking one-handed pictures a bit more challenging.
The Xperia XA2 comes with a solid suite of cameras and lenses, starting with their 23 MP wide-angle rear camera. On the front, the Xperia XA2 also sits above average with an 8 MP standard lens, all of which uses phase detection autofocus for clear photos even in less than ideal conditions.
As with a number of the more advanced camera phones on this list, the Xperia XA2 records in 4K, though it is not as sharp as with some other models. Still, this camera phone goes a step further with one of the most comprehensive suites of camera features that allow you to change virtually all relevant aspects of the shot.
Motorola Moto Z Play
Good Camera Phone for Moving Shots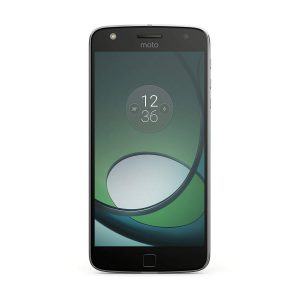 Motorola has long been one of the kings in the mid-tier and budget-friendly camera phone market and continues that trend with the Moto Z Play. While their standard camera phones can be a bit lackluster, Motorola more than makes up for this with their Moto Mod casings that can significantly expand a given model's capability.
Whether you want a camera phone that performs more like a real camera, one that can mimic an omnidirectional camera, or one that works as a projector, the Moto Mod lineup has something for you.
For the cameras, the Moto Z Play is okay in some respects and a bit disappointing in others, like with standard 5 MP front camera that is tied for the lowest on this list. Even the rear camera only uses a 16 MP standard lens, though the Moto Z Play does at least offer a laser autofocus with phase detection to get the most out of the lens.
One thing that is a bit surprising is that the Motorola Moto Z Play records in 4K and can even record in 720 at 120 fps which is great for moving shots. This may be somewhat due to the inclusion of a solid Qualcomm Snapdragon 625 chipset and an Adreno 506 GPU.
ZTE Axon M Z999
Foldable Budget Camera Phone Option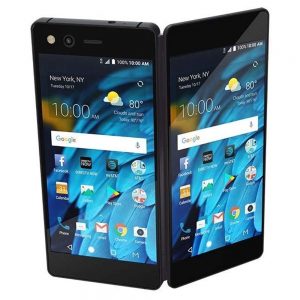 ZTE is another Chinese company focused on making high-end smartphones that cost a fraction of what the most popular brands do. That said, ZTE is another company recently come under fire for potential security issues with their products, but unlike Huawei, they did not develop a secondary separate brand to assuage those concerns.
ZTE saw rapid growth that has slowed which makes them perfect for the budget-friendly market. That said, the most notable quality of the ZTE Axon M Z999 is its foldable form function which provides significantly more usable space than a traditional smartphone.
Oddly enough, ZTE did not use this new profile to innovate the camera phone and instead arguably took a step back. For example, this is the only camera phone on this list that offers a single camera for both front and backside pictures depending on the arrangement of the phone.
The Axon M Z999 does come with a 20 MP standard lens that uses a mechanical autofocus as well as digital adjustments. Even better, the ZTE Axon M Z999 records in 4K and comes with a decent number of software camera features, all run by an impressive Qualcomm MSM8996 Snapdragon 821 chipset.
Features To Look for on Good Camera Phones
Smartphones offer plenty of features that set them apart from the competition. With all the marketing strategies manufacturers apply, it can be difficult to make the right selection.
This section highlights some of the most important things you should consider when shopping for the best budget camera phone.
Megapixels
The number of megapixels on a camera phone is an indicator of its quality. If you're in the market for a budget camera phone, you honestly can't expect to match the image quality of premium alternatives. Nevertheless, a phone camera with 12 to 21 megapixels is ideal in the budget price range.
Screen Size and Resolution
The screen size of a mobile phone matters as it determines if you can use the device with one hand comfortably. On the other hand, if you want maximum screen real estate for taking pictures, a large screen is essential.
Another thing you should consider is screen resolution. A high-resolution screen can display images more accurately than a low-resolution screen.
Apart from the screen size and resolution, bezel thickness is something you should consider—the thinner the bezel, the better the viewing experience when taking pictures.
Aperture
Smartphones from Apple and Samsung generally offer wider lens apertures than budget alternatives. With a large aperture lens, your images will look significantly better.
HDR
HDR or High-Dynamic Range helps you capture better images, particularly outdoor portraits, landscapes, other scenes in well-lit environments. However, you should avoid using HDR when taking pictures of moving objects since a phone camera's burst is too slow.
Optical Image Stabilization
Specific features like optical image stabilization also enhance camera phones, and they come in handy if you often take pictures or record videos while moving.
Camera Control Options
Some budget mobile phones offer extensive camera controls, while others provide very limited options.
Among the most valuable control modes is the automatic point-and-click option, a staple on midrange and high-end mobile phones. Unfortunately, budget phones with extensive camera controls often compromise on other aspects.
Most budget smartphones allow you to manipulate some of the most vital settings like ISO, white balance, and exposure. Some even feature modes like portrait, slow motion, timelapse, square cropped ratio, panorama, and wide aperture.
ISO Control
In instances where you want to take pictures in dimly-lit environments, you need a phone that lets you increase ISO levels to minimize image noise.
Conclusion
As we can see, even if you do not want to break the bank, you can still get a great camera phone. Of course, the quality of your smartphone's camera often does depend a bit on how much you are willing to spend. To get the best bang for your buck, we think the Samsung Galaxy A50 comes with great cameras on the front and rear as well as powerful hardware, software, and the largest screen.
But even the BLU Studio Pro X8 as an entry-level option or the Huawei Honor 6X as a mid-level option have plenty of tricks and features to make taking great photos easy. On the other hand, if you are willing to spend a bit more but still pay less than the "prestige" brands, the Xiaomi Mi 9T or Huawei P90 Lite offers incredible resolution for both the front and rear cameras, each with their specialty. For something a bit more niche, the Motorola Moto Z Play allows you to easily expand your camera phone while the ZTE Axon M Z999 unfolds for additional functionality.
Recap: Budget Camera Phones 2021