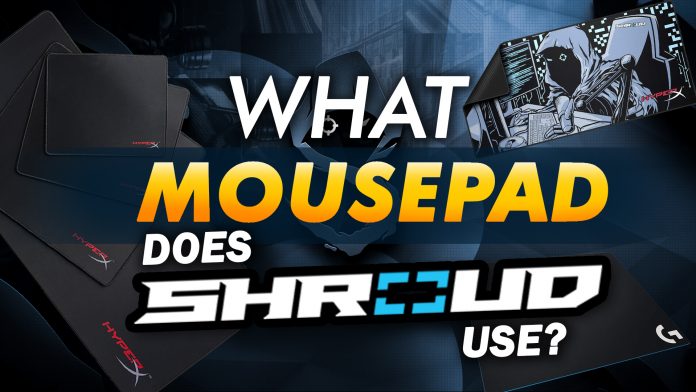 | Preview | Product | Dimension | Depth | Price |
| --- | --- | --- | --- | --- |
| | Logitech G640 Large Cloth Gaming Mousepad | 400mm x 460mm | 3mm | |
| | Hyperx Fury S Pro Gaming Mouse Pad (XL) | 420mm x 900mm | 3mm-4mm | |
| | Hyperx Fury S Shroud Limited Edition Pro Gaming Mouse Pad | 450mm x 400mm | 4mm | |
Shroud has been playing FPS (first-person shooter) games for years. He's so good in this genre that people are starting to follow him on Twitch and Mixer.
As of July 25, 2020, Shroud has over 7.1 million followers on Twitch. Before he was dubbed the "King of Reddit", Shroud started his streaming career playing Counter-Strike: Global Offensive.
Who is Shroud?
Michael "Shroud" Grzesiek has a stable career in competitive first-person shooter games. He's so good at competitive gaming that he was invited to join a professional eSports company to participate in various tournaments.
He initially started playing CS:GO (Counter-Strike: Global Offensive) and moved to other FPS games such as H1Z1, PUBG (PlayerUnkown's Battlegrounds), Fortnite, Apex Legends, Call of Duty, Escape from Tarkov, and the more recently, Valorant.
3…2…1… and pic.twitter.com/Bsgnw7R8YB

— Michael Grzesiek (@shroud) June 9, 2020
Shroud's Current and Previous Mousepads
Shroud's Current Mouse Pad: Logitech G640 Cloth Gaming Mouse Pad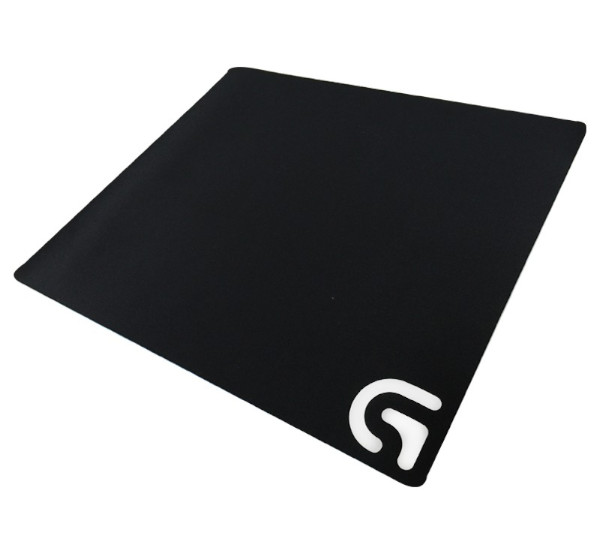 Specs:
Height: 15.75 in (400 mm) | Width: 18.11 in (460 mm) | Depth: 0.10 in (3 mm) | Weight: 12.42 oz (352 g, approximate)
Shroud uses the Logitech G640 Cloth Gaming Mouse Pad. If you've been following Shroud for quite some time, you know he prefers to set his sensitivity to low, so he can perform flick shots and execute 360 no-scope shots more accurately.
If you're also the type of gamer who prefers low sensitivity for this very same reason, you will surely love the Logitech G640 Cloth Gaming Mouse Pad.
The G640 mouse pad may have a decent size, but it's not large enough to take too much of your space. Flipping it over, you'll find that it comes with a Logitech Blue rubber that sticks very well to most surfaces.
Unlike other mouse pads that randomly fly off in the middle of a heated battle, you can count that this one will stay in place as if it doesn't even exist, giving you all the focus you need to take full control of the game.
Honestly, I'm surprised Shroud didn't go for a textured mouse pad since he's using the Logitech G Pro Wireless Gaming Mice. This gaming mouse only weighs at 80 grams– and that's very light.
In most cases, users with a lightweight gaming mouse would choose a textured mouse pad as it slows the mouse down as you glide across. But Shroud decided to get a smooth surface for his lightweight gaming mouse. Since it's his preference, we can't really say otherwise.
The surface of the gaming mice is cloth and does have a decent level of roughness and smoothness altogether. Nevertheless, gliding feels smooth on the mat. If you look closely, this doesn't have a stitched perimeter. While some find it great, others don't.
The only difference that stitched perimeters have is durability and longevity. And oh– the opportunity to put it inside the washing machine without damaging it.
Nonetheless, it still performs just as great. Although, note that some came with frays on the edges out of the box, so you might want to ship it back in case the damage is big enough to go unnoticed.
Also, the Logitech logo sits subtly on the lower right side of the mouse pad, which I honestly think is great since most people don't use that area. However, this could pose some issues for people who use that area, as the texture is very different from the cloth material.
It's surprising to see Shroud downgrade from a giant mouse pad to this. But I still understand and respect Shroud's decision to settle with a dedicated mouse pad. After all, it's all about preference at the end of the day.
Other Mouse Pad Shroud Used: HyperX FURY S Pro Gaming Mouse Pad (X-Large)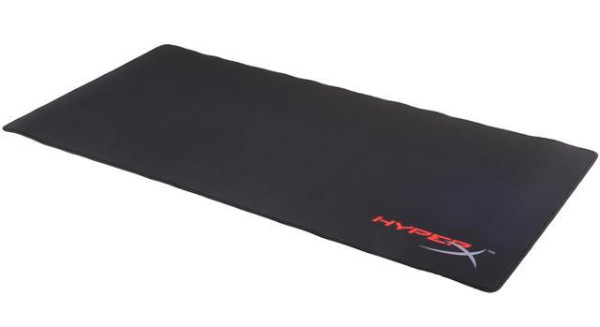 Specs:
Height: 420 mm | Width: 900 mm | Depth: 3-4 mm | Weight: 790 grams
Compared to what Shroud is using now, the HyperX Fury S Pro Gaming Mouse Pad (X-Large) really lives up to its name. Looking at it from the picture above, it seems broad, but wait till you get one yourself.
We're talking about a mouse pad that may take up the average Joe's desk setup. This mouse pad has a huge dimension of 420mm x 900m and weighs 790 grams.
It's so big that it deserves to have its own high-quality retail box. Towards the bottom of the rectangular box is a cutout so you can feel the Fury S Pro's soft cloth surface.
Once out of the box, you can see how big this mouse pad really is. It's so big that a lot of reviewers are so shocked to see them in person. To better illustrate, the standard mouse pads are around 305mm x 305mm. And if you're to compare them side-by-side, the standard mouse pad looks like a baby!
With a mouse pad this large, you can fit both your keyboard and gaming mouse on the mat and still have space left for your mobile phone and headphones. And the size isn't even its strongest suit.
Taking a closer look at the mat's surface, you can tell that this will provide an outstanding gliding feel since it doesn't have any visible textile pattern or texture that may slow your gaming mouse down.
The perimeter of the mouse is also stitched. And even though it does look robust, the stitching doesn't make the mouse pad look thicker. Also, the material used for stitching is soft and flexible, ensuring that it doesn't compromise the feel and should be comfortable even for extended use.
Even though a mouse pad this big is unlikely to move or slip around, HyperX still decided to take security a step further. By incorporating webbed stitching patterns across the entire bottom surface, you can ensure that no matter what happens, it'll stay on the surface.
Aside from providing extra strength for longevity, the bottom design also prevents the mouse pad from warping– a feature other mouse pads don't have.
If you frequently join LAN parties and tournaments, this mouse pad should excel. Since it has a thickness of 3mm to 4mm, it should easily provide you with a flat surface.
Other mouse pad Shroud Used: HyperX Fury S – Shroud Limited Edition Pro Gaming Mouse Pad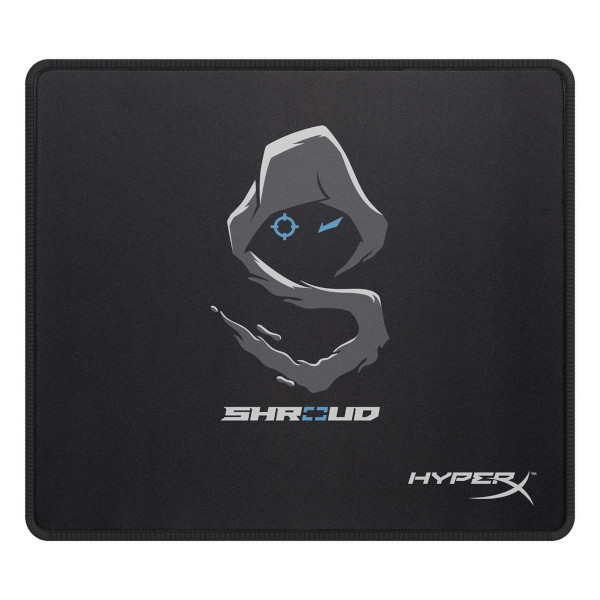 Specs:
Height: 450 mm | Width: 400 mm | Depth: 4 mm | Weight: 500 grams
As Shroud became more popular, big companies like HyperX sponsored him his gaming gears. But it doesn't mean that he's just using it because it's sponsored– no, he genuinely loved the quality.
HyperX went even further and made a limited edition custom-made Shroud edition mouse pad. But is it really good? The answer is yes, it's so worth investing that it's unlikely for you to find this limited edition around.
Just a few left of my Limited Edition HyperX Fury S Shroud Mousepad!! https://t.co/QpvME4NJU4 #ad pic.twitter.com/wFzigleLhn

— Michael Grzesiek (@shroud) December 12, 2018
So, let's take a look at what makes this unique than most of its competition back in the days.
Like the HyperX Fury S Pro Gaming Mouse Pad (X-Large), it has a quality box that houses the mouse pad safely and comes with a cutout to the bottom of the box so you can feel the surface texture of the mouse pad.
Outside of the box, the mouse pad is significantly larger than the standard size. And having a dedicated mouse pad for gaming really helps improve your focus, especially if the material is smooth enough to compliment your gaming mouse's capabilities.
At the center of the mouse pad is Shroud's logo, along with its name below it. To the lower-right portion of the mouse pad is where you'll find the HyperX logo. Like the Logitech mouse pad (the one he's using now), it's strategically located on the lower-right corner of the mouse pad.
The underside of the mouse pad features a very similar structure and pattern as the HyperX Fury S Pro Gaming mouse pad (XL). That means you can definitely count on the mouse's stability. When placed flat on your desk's surface, it'll be impossible to move or slip the mouse pad around.
It also has stitches around, which should significantly increase the longevity and lifespan of the mouse. If this accumulates dirt or dust over time, you can safely put it inside the washing machine with a dash of detergent soap to clean it.
Since it's a limited edition, you'll want to keep this for as long as possible.
Where is Shroud Streaming Now?
Shroud left Twitch on October 24, 2019, to join Mixer, another streaming platform.
But since Microsoft announced that Mixer will close on July 22, 2020, moving all of its streamers over to Facebook Gaming (fb.gg), Shroud's streaming status and whereabouts are currently unknown.
I appreciate the Mixer community and everything I've been able to do on the platform. I love you guys and am figuring out my next steps. 💙

— Michael Grzesiek (@shroud) June 22, 2020
Things to Consider when Buying a mouse pad
A quality gaming mouse deserves a quality mouse pad. Although finding the right mouse pad isn't nearly as technical as shopping for a new gaming headset or gaming monitor for Valorant, it's still overwhelming.
With many options to choose from, how can you tell which type of gaming mouse pad is the right one for you? If you're serious about choosing a mouse pad, consider the following when making your decision:
Pick the Right Size
How wide should your mouse pad be? You can't just choose because everyone's using it, or because Shroud is using it. You must choose according to your playstyle. But exactly how can you tell?
What's your go-to DPI and sensitivity settings? If you're used to playing on low DPI and sensitivity settings, you should get a large mouse pad so you can cover more area. This is because a gaming mouse set to a lower sensitivity will need to cover more distance.
On the other hand, if you're used to high DPI and sensitivity settings, small to medium-sized mouse pads should give you all the space you need. Compared to people who play games at low DPI, they don't usually use their whole arm to move around. And in most cases, their wrists and fingers are enough.
Surface and Material
If you think that mouse pads are all smooth, you're wrong. mouse pads have two types of textures: smooth and rough surface.
Smooth textured mouse pads help accelerate the mouse faster for swift movements and epic flick shots. Because of how it speeds up your glide, you should pair this with a heavy gaming mouse.
Heavy gaming mice need more effort to move around, which is usually the reason they are slower. Pairing them with a smooth textured mouse pad ensures a more seamless, more natural glide.
Do note that smooth textured mouse pads do an excellent job of keeping bruises on your wrists at minimal.
Rough textured mouse pads go better paired with a lighter gaming mouse since this slows the mouse down. Since smaller mice are known for being light, they tend to go over smooth surfaces when playing fast-paced and FPS games.
On a similar note, rough mouse pads are preferred by people looking to improve their precision since it also goes well with low DPI setups.
Hard vs. Soft mouse pads: Which is Better for Gaming?
Mouse pads can be hard or soft, depending on the type of material used.
Hard mouse pads can be made from any material, but among the most common include plastic and polycarbonate. While it's true that they don't provide comfort as good as soft mouse pads, they do an excellent job of making gliding smoother.
Because of this, users who are used to soft mouse pads will usually end up overcalculating their twists and turns. But with time, this can be mastered.
Soft mouse pads don't use plastic materials as hard mouse pads do. Instead, they use cloth material to provide users a cushioning effect for a more comfortable experience. Since gaming mice are known to "sink" into the material, they require more effort to glide through the surface.
In terms of durability and longevity, soft mouse pads wear quicker since the material suffers greatly from distortion. Furthermore, cloth material is also more prone to damage than mouse pads that use plastic and polycarbonate materials.
Base
The base of the mouse pad is probably one of the most overlooked features of a mouse pad. However, the base of a mouse pad can make or break your experience.
There are three types of base thickness that you should know about, and you should choose depending on your preference.
Slim base (2mm) – The slim profile of these types of mouse pads provides a solid feel, similar to how gliding feels on a solid surface without any mouse pad. They may not feel as comfortable as heavy base mouse pads, but they do make gliding more accurate.
Standard base (3mm) – The standard base is perfect for people who are unsure about which base they should get. Since most users are used to the average thickness of 3mm, taking this route shouldn't be wrong.
Heavy Base (5mm) – Those that prefer a more comfortable experience should opt for heavy base mouse pads. The surface is notably more comfortable than the slim base.
Furthermore, heavy base mouse pads are preferred by people who usually participate in LAN parties and tournaments since it does an excellent job of negating uneven surfaces. Since you're most likely unsure of what kind of surface you'll be playing on at these events, opting for a heavy base should offer you the flattest surface possible.
Edge
The material (or surface) of the mouse pad and the base are held together by an adhesive. Over time, this will begin to fray and detach. It's also the most common chase with poor quality mouse pads.
To solve this issue, mouse pad manufacturers reinforced their products with a stitched edge around the perimeter of the mouse pad to hold the entire thing more securely. Since the whole mouse pad is held securely, it lasts longer than the average mouse pad.
Another benefit that this brings to the table is the ability to withstand the pressure of washing machine washes. The overall construction primarily strengthens the entire mouse pad, which allows you to wash it with a dash of soap for a brand new look. But if you do so, note that mouse pads should only be air-dried.
Alternatively, the edge makes the mouse pad look aesthetically better since it can be made of a variety of colors– or RGB lighting.
Aesthetic [Optional]
Some companies have taken it to another level and added RGB lighting to make your setup look great. While they aren't recommended to be washed, they do offer a better experience and feel overall.
Honestly, going full-blown RGB boils down to preference. But whether or not RGB helps you become better in-game is totally out of the equation, as it's purely aesthetic at this point.
Mouse Pad Cleaning Tips
While wet wipes and tissues work for small dirt and stains, others will require a higher level of cleaning to get rid of the stain.
If you really have to wash your mouse pad, we highly recommend you check the material first and read up some reviews of users who've done this before. This is because every type of material reacts differently when washed– especially when washed with a washing machine.
But if you're certain at this point that your mousepad is as durable as Shroud's, then a dash of detergent is all it needs. Never iron your mousepad after washing as these are intended only to be air-dried.
Parting Words
It's not about what other people– or what Shroud is using, as choosing the right mouse pad has to be inspired by how you play games.
With the right understanding of what features matter, you should be able to see noticeable differences in both gameplay and feel after picking the perfect mouse pad for your gaming mouse.