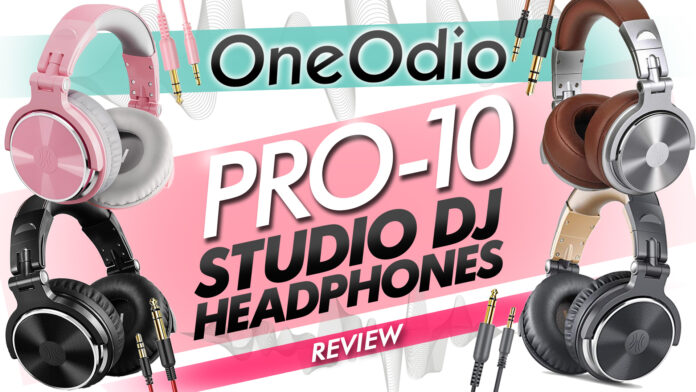 Are you an aspiring DJ? Then chances are you need a sound headphone that will offer optimum performance. Even though some can afford high-end audiophile headphones, others can't. And in most cases, you get what you pay for.
This is where the OneDio Pro-10 Studio headphones come into the picture. The Pro-10 Studio Headphones feature closed-back over-ear headphones that may be ludicrously cheap but offer way more decent features you don't normally find in other headphones.
But, is it worth it? Let's cover everything about the headphones in this article.
OneOdio Pro-10 DJ Studio Headphones
: Quick Specs
Model: Pro-10 | Color: Black | Speaker: 50mm | Impedance: 32 Ohms | Frequency Response: 20Hz-20KHz | Sensitivity: 110dB +- 3dB | Plug Type: 3.5mm/6.35mm stereo | Max input power: 1600mW | Cable 1: 2m-3m 9.8ft 3.5mm to 6.35mm coiled cable | Cable 2: 1.2m 3ft 3.5mm to 3.5mm cable with microphone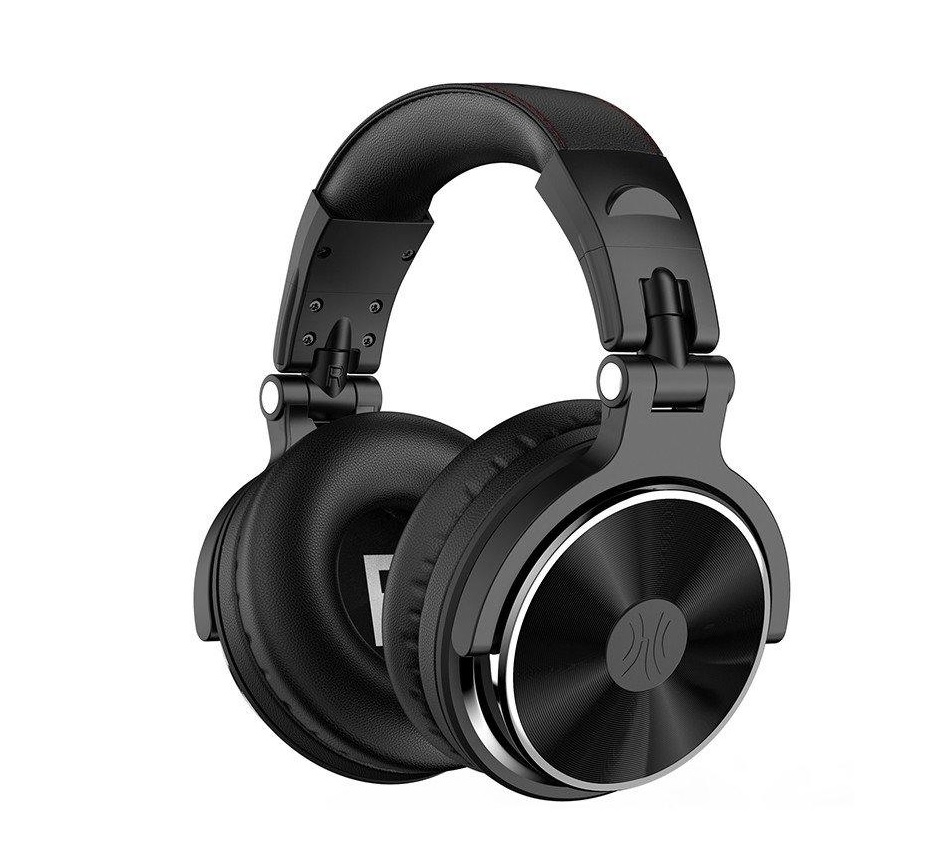 What's Inside?
You will find the following inside the box:
1x OneOdio Pro-10 DJ Studio Headphones

1x 3.5mm audio cable with microphone

1x 6.35mm audio cable (red)

1x small carrying case

Instruction manual
Compared to other headphones in this price range, you don't normally find one with both 3.5mmm and 6.35mm audio jacks. Having both jacks in one headphone makes it very convenient for DJs and mixers as it eliminates the need to have another adapter dedicated only to either 3.5mm or 6.35mm.
Moreover, the included leather-like carrying case ensures that
Design
The OneOdio Pro-10 DJ Studio Headphone has a design that isn't comparable to most low-budget headphones but strongly resembles that of mid- to high-end headphones. Apart from the design, it also functions similarly in terms of flexibility and portability.
Another thing that consumers will love about the Pro-10 headphones is how it comes in various different colors. If you are looking for a pair of headphones you can use for traveling, the OneOdio Pro-10 DJ Studio Headphones have a very presentable design you can proudly wear wherever you may be.
The Pro-10 headphones feature a glossy finish with a touch of black matte plastic that you don't normally find in cheap headphones. Because it comes at a really affordable price, you will surely be surprised to see these at such low price tags.
Furthermore, the headphones are also foldable– perfect for traveling music listeners. If you want to put them inside your bag or store them, you can just pop them flat inside their included pouch and you are good to go.
What makes the headphones even perfect for DJs is how the ear cups can rotate 180 degrees in either left or right, making them convenient if you swivel them for single-ear monitoring. Furthermore, the ear cups can be flipped up to 180 degrees, making them very convenient for DJs who want to listen to the crowd while playing their mixes.
Because the ear cushions are made of soft leatherette and memory foam padding, using them for extended hours should feel satisfying and comfortable.
Finding the right fit won't be a problem at all since the band can be adjusted to perfectly match your head size. The ear cups have a round shape, although it would have been a lot better if you can get oval-shaped ear cups as well. Regardless, the ear cups are comfortable on your ear since it has an ample amount of padding with a leatherette covering.
Unfortunately, the general construction of the headphones is made of plastic, and is not as durable as other headphones that are made of aluminum or steel construction metal.
Considering the price of the Pro-10 DJ Studio, we can't ask for more in terms of design and functionality as it easily stands out among its competitors in its price range. Sure, the looks may not be that easily comparable to headphones designed for audiophiles but the design and various color options sum up an all-around pair of headphones.
Key Features
The OneOdio Pro-10 has a 50mm neodymium driver, which is considered to belong under the high-end spectrum. Because of the large drivers, the headphones can produce a decent quality bass output. But note that larger drivers don't always mean they sound better.
The frequency response of the Pro-10 covers 20Hz-20KHz, which is just right for all consumers since humans can hear frequencies between 20Hz-20kHz.
Unlike other headphones in the market, the OneOdio Pro-10 comes with two detachable 10 ft spring cables. The generous length of the cables is enough to give you enough leeway to damage the 3.5mm or the 6.5mm gold-plated plug or even to avoid possible danger from getting entangled from the cables.
Another key feature DJs will surely love about the OneOdio Pro-10 headphones is the SharePort tech, which gives you the freedom to connect headphones without needing any forms of splitter switch.
The headphones have both 3.5mm and 6.35mm plug that assures no volume loss whichever plug you will be using. Unfortunately, the quality of the cables is a slight disappointment and could have been better.
Furthermore, the cables don't have any volume adjustment knob or modules, which could have been helpful to make adjustments on-the-fly.
RELATED: Oneodio Fusion A71D Headphones Review
Sound Quality
Now let's talk about how the OneOdio Pro-10 sounds. The design, functionality, and overall comfort does make its cut. But does it sound good?
Unless you have a trained ear, you can barely tell any difference at all and say there is not much difference compared to other high-end headphones. But you will surely notice how deep the bass is compared to other comparable products thanks to the 50mm drivers.
Apart from the deep quality bass, the headphones also handle mids and trebles beautifully. If there is something that the headphones might have problems with, it is only when it hits very high notes. Fortunately, the problem is nothing but a minor quibble.
Note that the OneOdio Pro-10 headphones utilize a close-back design, meaning, sound from the headphones will not leak outside, perfect for use in quiet environments. Because the headphones use thick memory foam pads, you can guarantee that it will still feel super comfortable while doing a good job of canceling ambient noise from getting in the headphones.
Keep in mind that OneOdio may not be as popular as other premium-grade headphones. But because of the Pro-10 Studio DJ headphones, the brand name OneOdio is starting to pick up some attention in various online shopping websites such as Amazon.
Conclusion
Let's be honest– the OneOdio Pro-10 DJ Studio headphones is not the best-sounding pair of headphones in the market but it does offer plenty of features that DJs and sound mixers will surely love. Considering its cheap price, you can surely say getting one of these will be worth it.
I'm not saying that OneOdio's Pro-10 isn't good by any means because it surely is. It's just not worth comparing its functionality and sound quality with a pair of professional headphones.
Given its price tag, it is very respectable in both sound quality and build, which is why we highly recommend them to students and aspiring DJs who are on a tight budget.