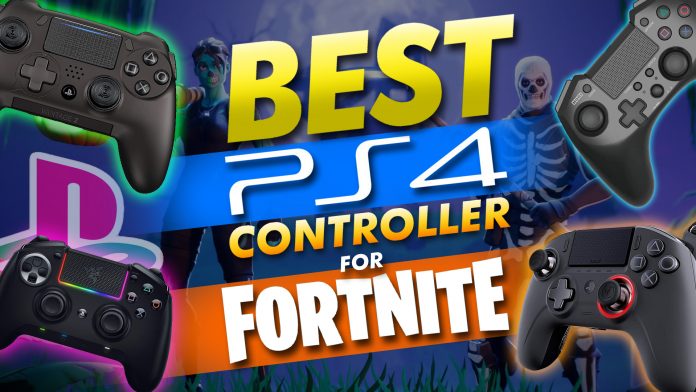 Fortnite is an intense game no matter where you play it. If you play Fortnite on PS4, it's so much different from PC in how movement is done. Instead of quick flicks with your mouse, you track things with an analog stick. While the PS4's DualShock 4 controller deals very well with pretty much any game you throw at it, playing Fortnite on a competitive level requires you to make some changes to how your controller works.
That's why today we're featuring some of the best PS4 controllers for Fortnite you can get right now to increase your chances of getting that Victory Royale. We've included some modular, highly customizable controllers that give you extra options on how you play your game, with some giving you an outright unfair advantage versus people who use the stock DualShock 4 for Fortnite.
The Best PS4 Controllers for Fortnite at a Glance
Scuf Vantage 2 | Best Overall PS4 Controller for Fortnite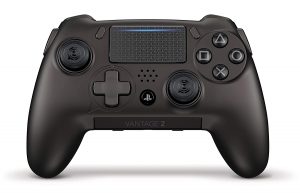 The Scuf Vantage 2 is possibly the best PS4 controller for Fortnite… or for any other competitive multiplayer game on PS4. This controller is a modular, highly customizable, and ergonomically designed PS4 controller with so many bells and whistles that you wouldn't know what to do with all of them.
It adopts the same layout as the Xbox One controller, with the PS4 touchpad neatly laid out in the middle. It has six extra buttons you can map to various keybinds, giving you that extra edge in clutch fights. You can even remap the d-pad and buttons onto the sax paddles, so your thumbs never have to leave the analog sticks.
It also prides itself on its modular setup, and it is mighty nice. Its coolest feature is a hair-trigger control system that increases sensitivity and decreases pull time: faster Combat Shotgun taps. Its magnetic faceplate lifts quickly to let you customize everything from the buttons to the thumbsticks, all the way to its vibration modules.
Sony DualShock 4 Wireless | Original PS4 Controller for Fortnite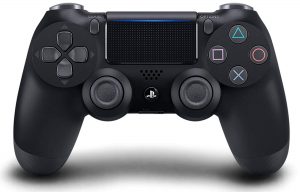 The one. The only. The OG: the DualShock 4 Wireless. This iconic controller is the PS4 controller that ships out with the PS4 you get. There's a reason why the design hasn't changed since the PS1 – it's tried and true. The DualShock 4 has a lot of nifty features that set it apart from its brothers from the earlier Playstation versions: motion detection, a fun touchpad, and an RGB lightbar just for a bit of flair.
Some other things we appreciate are its built-in speakers, wired capability, and even a headphone jack. If the DualShock 4 looks too plain to you, you can always choose to change its case or add some grips to it, all available on Amazon at low prices. You even have the option of pairing some PS4-certified headphones to your controller for an immersive gaming experience.
The DualShock 4 is the controller for Fortnite players who want the purest stock experience from their PS4. And don't worry – this controller is so good that you don't need to worry about being at a disadvantage, because more often than not everyone you're playing with is using the same controller.
Nacon Revolution Unlimited Pro | Xbox One Style Controller for PS4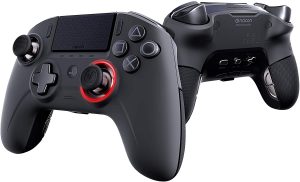 This controller is for our gamers out there who migrated from Xbox to Playstation, those who found their hands at home with the Xbox layout but wanted to make the switch to PS4 gaming. The Nacon Revolution Unlimited Pro is an Xbox-style controller with all the right parts of a PS4 controller, but with a couple of extra bells and whistles.
For example: instead of a directional pad that only goes four ways, the Revolution Unlimited Pro has an 8-way directional pad made for e-sports, allowing for four extra keys on the directional pad to be mapped however you wish. There are also a couple of extra buttons on the grips, which lets you assign additional commands to your buttons, or perhaps remap your keys to keep your thumbs on the analog sticks.
We think that the Nacon Revolution Unlimited Pro is an excellent third party, entry-level PS4 controller for people who want to up their Fortnite game. An ergonomic layout that lets you flick and track faster with the analog sticks, customizable keys, and all-around great looking design makes this relatively inexpensive option to pick up. Use the money you save to pick up a better PS4 monitor for Fortnite!
Razer Raiju Ultimate Wireless | RGB PS4 Controller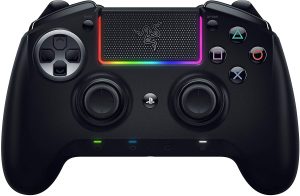 The gaming peripherals behemoth Razer is marketing the Raiju Ultimate Wireless as the ultimate replacement for the stock DualShock 4, creating a controller experience that feels like vanilla covered in RGB sprinkles.
It adopts the same shape and aesthetic of the classic DualShock 4, but with a few extras. One of these is its 'trigger top switches' that adjust your trigger's travel time, leading to faster quickscopes with your heavy sniper.
You can also adjust your thumbsticks with two standard modules, raised or smooth, just to help you customize your movement a bit more. There is also the addition of two extra buttons underneath the controller that you can map to other functions.
In terms of aesthetics, the Raiju Ultimate adopts the same RGB aesthetics as the Razer keyboards and mice but in a more subdued way. There's a single line of RGB LEDs around the touchpad, which is a charming little touch reminding us of Razer's PC roots – and its pricing. It's one of the most expensive PS4 controllers on this list, but also one of the best.
HORI Horipad FPS Plus | Minimalist but Customizable PS4 Controller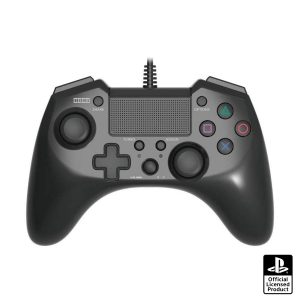 HORI isn't a new name by any means in the PS4 gaming scene. It's a Japanese company that's in tune with the fighting and FPS games market, which led them to develop the Horipad FPS Pro, a low-travel time and very customizable gamepad that doesn't break the bank.
Its asymmetrical thumbstick design mimics the Xbox One controller, putting the touchpad in the middle. The button layouts are nice and separated despite the small form factor, which does mean that these buttons are smaller in size than your average DualShock 4.
One major thing users will notice about the bumpers and triggers is the short travel time. HORI took the liberty of changing the traditional trigger design – which requires a longer time to pull down to register input – into buttons that let you just click instead of pull the trigger. This results in shorter travel time and, in theory, faster reactions.
It doesn't stop there. While hardly functions unique to the Horipad, it does include a remap button that lets you remap your keypresses however you wish. It also consists of a turbo button that enables you to translate one press into up to 50 presses in-game, essentially giving you a macro built-in.
Finally, a special shoutout to the rear target button that can replace any button you want to help keep your thumbs on the analog sticks.
Thrustmaster eSwap Pro | Modular PS4 Controller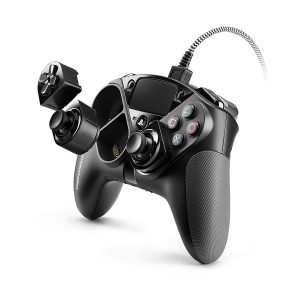 The eSwap Pro is an amazingly modular, highly effective wired PS4 controller that's customizable to the nines, has very low travel time, and the ability to swap modules around to create your perfect PS4 controller. The only downside this one has is how expensive it is to enjoy it truly.
Out of the box, you can switch the two thumbsticks and d-pad around where you wish, which lets you find your perfect configuration. Unlike the controller it's replacing, each button on the eSwap Pro has had its travel time reduced, and uses a mechanical switch to give it that genuinely tactile feel.
There is an app from Thrustmaster for the PC that allows you to remap your buttons however you wish, changing their function and customizing it for your game. Bind your builds to specific buttons so you can build faster and get that competitive edge.
It is, however very much wired, so expect that you'll have to be mindful of where these wires go as they're not very long. It does add the benefit of removing the very negligible input lag on wireless controllers, which may not be a problem for many Fortnite players, but a life-and-death situation for people in higher levels of play.
PS4 Controller for Fortnite: Frequently Asked Questions
What are PS4 Controllers for Fortnite?
A PS4 controller is a general term for a line of console controllers based on Sony's DualShock line of gamepads. Many third-party controllers base themselves upon the same architecture, with the same layout and control scheme as the DualShock 4. These controllers can work with any Playstation 4 console. You will need a PS4 controller if you wish to play the PS4 version of Fortnite, the world's most popular Battle Royale game.
Will PS4 controllers for Fortnite work on the PS5?
With the release of the PS5, people have been scrambling to ask this question, along with queries such as PS5 backwards compatibility with PS4 games. The short answer for if PS4 controllers for Fortnite will work on the upcoming PS5: yes. Long answer: PS4 controllers will only work on PS5 when playing PS4 games. Sony will be coming out with a brand new DualShock model with new extra features that will render PS4 controllers unable to adapt to the features upcoming PS5 games will ship out with it. Thankfully, the PS4 monitor you did get will be backwards compatible with the PS5.
Are PS4 controllers Bluetooth compatible with iPhone and Android?
Yes, you can use your PS4 controllers for iPhone and Android. DualShock controllers (as well as many other controllers on this list) are compatible with Bluetooth, which makes pairing them with your Android, iPhone, or iPad quickly. Fortnite Mobile, for example, would work well with your PS4 controller. Since you can change the sensitivity of your controller on Fortnite Mobile, you can build faster than people using their touchpads, and with even more accuracy.
DuckyTheGamer showcases how a PS4 controller helps out when playing Fortnite on iPad:
Can the PS4 controller work on the Xbox One?
First off, if you own both an Xbox One and a PS4 we say: "good job, man."
Secondly, if you wish to use a PS4 controller for your Xbox One, it's completely possible… but with the right equipment. Yes, it does take a bit of work to allow you to use a PS4 controller for Xbox One, but it's doable. You will need to use a controller adapter such as the Joytorn Wireless Controller Adapter, which also allows you to use your PS4 on pretty much any platform. If you genuinely prefer using the PS4 controller, there is a wealth of adapters out there that aren't expensive and can help you play your games in any way you wish.
Can the PS4 controller work on PC?
Yes, the PS4 controller does work with your PC. There are two ways to do it, both with their pros and cons. The DualShock PS4 controller, as well as some other controllers in this list, can be connected directly to your PC by either a USB cable or Bluetooth.
The first option, connecting with a cable, only requires you to connect your PS4 controller to a compatible USB cord and slapping that bad boy into an open USB port. Thanks to Windows 10 being an excellent OS, your PS4 controller should automatically hook up to any games you wish to play with it. It does, however, keep your controller wired to your PC, so you'll have to be careful not to let the wires hook to your memory foam gaming chair as you roll away, lest it comes crashing down to the floor.
If you want to go the wireless route, you can connect your PS4 controller via Bluetooth to your PC, but it won't recognize it right away. You're going to have to use a program called DS4Windows so your PC can recognize your controller correctly.
What PS4 controller for Fortnite should I buy?
When choosing the PS4 controller for Fortnite for you, it all boils down to your preference. You might prefer the Xbox One controller layout, or want something more durable, customizable, or responsive. In the end, the choice is up to you as it's a matter of preference. Choose the PS4 controller that works with your playstyle, not just with Fortnite but with many other games. The beauty of sports is customizability in the control scheme, so you can adjust and fine-tune your settings and controller to its most optimal settings for your games.
What PS4 controller do Fortnite Pros use?
Fortnite console pros either use the stock controllers they get with their consoles or third-party controllers that work better for your playstyle. Among the most famous brands used by Fortnite Pros on PS4 are the Scuf Infinity PS4 Pro, the Scuf Impact, and the Razer Raiju. These PS4 controllers have cemented their claim on the pro scene, and to good effect, as many of these pros have tons of Victory Royales against insurmountable odds under their belts.
Which PS4 controller is the most durable?
Out of all the controllers featured here, we found that the Razer Raiju is definitely the most durable PS4 controller on this list. The build quality and weight of this thing help it become a lot more sturdy than the competition. However, even the classic DualShock 4 can stand up against years of use, but not abuse. We do not recommend testing out your PS4 controller's durability by throwing it across the room.
PS4 controller versus Xbox One controller: which is better?
The battle between PlayStation and Xbox controllers have been raging since the PS2 and Xbox. While both controllers feature the same dual analog setup, the buttons are laid out is what makes them different – except for the PS4, which has a touchpad on the middle (that practically no game bothered to use.)
The Xbox One's analog stick setup is excellent for first-person shooter games as it gives your thumb more legroom (thumbroom?) to maneuver the stick around. Since the left analog stick moves the camera around, this makes tracking and locating enemies a lot easier. The PS4's dual analog system that's located next to the handles is pretty good for games like Fortnite because it allows you to have tighter control over how you move your analog sticks around.
Wrap Up
To wrap up this list of the best PS4 controllers for Fortnite, here are our recommendations: If you want the absolute best controller for Fortnite, we highly recommend picking up the Scuf Vantage 2 with its high customizability and amazing build quality. If swapping out physical layouts is your thing, the Thrustmaster eSwap Pro is the controller for you. For PC users who want to switch to PS4 without losing their RGB, the Razer Raiju Ultimate is a great choice. Finally, if none of these tickle your fancy, you can always go back to the DualShock 4.
Recap