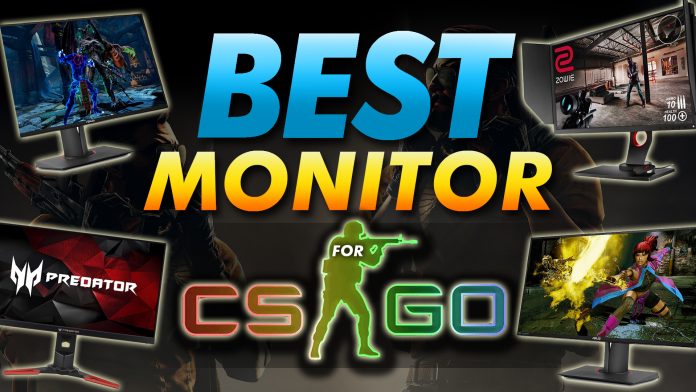 So you've been playing CSGO non-stop for years, hoping to get into the big leagues. You grind non-stop every single day trying to get to Global Elite, but found yourself hard stuck in Legendary. What is it that makes it seem like your enemies are one frame ahead of you? Why do your headshots never connect?
The easy answer to that is: you need the best CSGO monitor. Having a fast, responsive monitor allows you to hit your targets accurately, follow them with your crosshairs easily, and give you that competitive edge against your enemies. Get one of these and soon enough you'll be teabagging their top fragger as you ace them with one-deags.
The Best Monitors for CSGO at a Glance
What to Consider When Choosing The Best Monitor for CSGO
Refresh Rate
One thing to keep in mind when choosing your best CSGO monitor is that displays are not static – meaning, the monitor "refreshes" itself every so often to display the image being transmitted through it fro your computer. Stuff on your screen appears smooth because your monitor is working to update every single pixel to display what's currently on your screen. Simply put, your monitor's refresh rate measures how quick your monitor is when updating the display.
This is especially important in gaming, where the images displayed differ with every frame. This is why you need a monitor with a high refresh rate for CSGO. A screen that works twice (or four times) as fast as a 60Hz monitor will always display images faster, giving you an edge against plebs who use lesser monitors. A high refresh rate will help you be more accurate with your shots, make tracking easier, and basically make your game look so much better.
Panel Type
As of now, there are three categories of panel types available for modern LCD monitors: TN, VA, and IPS panels. A lot – if not all – of current computer monitors are based on LCD technology, but not everything is made equal. These LCDs are divided by type, with everything having their own pros and cons. We'll discuss the three types in better detail:
TN panels stand for Twisted Nematic panels. They are made en masse and have been around since LCDs existed, and are often the most affordable ones too. However, what you do sacrifice when using a TN panel is pixel density, better viewing angles, and color quality: things you'd rather not do without when it comes to playing CSGO.
VA panels stand for Vertically Aligned panels. This is kind of the middle ground between TNs and IPS screens. VA and its other types (PVA and MVA) adopt the IPS method of 8-bit color depth per channel, allowing its crystal design to display richer colors than the TN. However, it still doesn't have the refresh rate necessary to give you an edge for gaming – but it definitely does make your game look so much better.
IPS stands for In-Plane Switching. It was designed purely to put TN panels out of business. They use polarized filters, transmitters, and liquid crystals like the last two panels, but differ in their arrangement as crystals are set to be better aligned to allow for better visibility and less distortion. IPS also allows for higher refresh rates, which is what we want for gaming. Many phone screens already use IPS technology for a clearer, more responsive screen.
Response Rate
The response time is how long it takes your monitor to shift from one color to another, measured in terms of going from black to white to black in milliseconds. Many LCDs' response time is under 10ms with some of the best gaming monitors going as fast as 1ms. For games like CSGO, much like how sound cues are enhanced by the best gaming headphones, these little details are very important.
A millisecond is all it takes to decide a match during a fighting game or landing a perfect AWP hit. This is why a low response rate and a high refresh rate matter in gaming monitors. However, one trade-off for a fast response rate is that you might see duller colors and reduced brightness in your game. However, that's not usually a problem in the higher levels of play.
Resolution
Your monitor's resolution describes the visual dimension of a display. This is usually expressed in terms of width and height, measured in pixels. The monitor resolution is comprised by a specific number of pixels. For example, when they say 1920 x 1080 resolution, they are talking about how a screen can display 1,920 pixels wide and 1,080 pixels long. The larger your screen, the bigger your resolution. As of now, some gaming monitors go for 2560 x 1440 resolution, while some go as high as 4K resolution.
Screen Size
Does size matter when it comes to gaming monitors? Hard yes. Screen size basically dictates how much you see in-game. For example, when you're using a 4:3 monitor for CSGO, you're at a disadvantage as most of your challengers will be using bigger screens. Having a better FOV will not only help you acquire targets in CSGO, but will also help you see more in your peripheral vision.
Input Options
As of right now, there are three input options available for most monitors: VGA, DVI, and HDMI. Most major video cards support only HDMI and DVI. If you're using your gaming monitor for a gaming console, you can choose HDMI. However, for the best monitor for CSGO, the best choice will always be DVI as it takes advantage of the high refresh rates, response times, and resolution of gaming monitors.
Here is a video where the gaming god himself, Shroud, shows how important having a great gaming monitor is for CSGO and other games:
BenQ XL2536 | Most Versatile Gaming Monitor for CSGO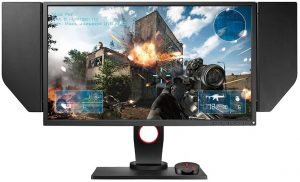 Screen Size: 24.5 inches Refresh Rate: 144 Hz Panel type: Twisted Nematic (TN) Resolution: 1920 x 1080
If you're looking for a gaming monitor for CSGO that even the pros swear by, the BenQ XL2536 is the best choice for you. It's the perfect size for desktop setups during pro league games, and will likely work for most people who choose to buy it as well.
The XL2536 is a good all-around performer as well. It features a 1920 x 1080p resolution on a 24.5-inch screen at 144Hz. It can use two types of outputs: HDMI 2.0, and DVI-DL. It displayed CSGO quite nicely, however, colors did feel a bit dull, especially the orange hues of the molotovs.
In terms of video, playback on Netflix and YouTube were nice and crisp, and high-quality video files did not look dull – but the brightness was a little thin. We think that the BenQ XL2536 is the overall best CSGO monitor on this list.
BenQ ZOWIE XL2546 | Best 240Hz Monitor for CSGO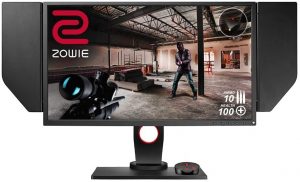 Screen Size: 24.5 inches Refresh Rate: 240 Hz Panel Type: Twisted Nematic (TN) Resolution: 1920 x 1080
The BenQ ZOWIE 2L546 is the ultimate gaming monitor for CSGO on this list, hands down. Boasting an incredible 240 Hz refresh rate and super fast response time, this is a particular monitor bred for a specific type of gamer: the pro.
It is a 24.5 inch monitor capable of 1080p resolution. Its 240 Hz refresh rate and 1 ms response rate is amazing for CSGO, making flicks and tracking so much easier. There is a clear difference for someone transitioning from a 60 Hz monitor to this one.
It also features BenQ's own touches. Its DyAc (Dynamic Accuracy) function is BenQ's proprietary tech to cut down motion blur from eye-tracking. The Black eQualizer feature is a brightness enhancement that helps you see darker objects.
ASUS ROG Strix XG248Q | Flashiest Monitor for CSGO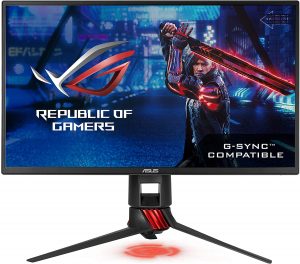 Screen Size: 24.5 inches Refresh Rate: 240 Hz Panel type: Twisted Nematic (TN) Resolution: 1920 x 1080
The ROG Strix XG248Q is ASUS' attempt at capturing the pro scene. As with all ROG peripherals, this one looks, feels, and is overkill – a trademark of the ROG brand. However, if you can get past all the flashy gamer design cues, you'll find a really amazing piece of tech.
This version of the Strix is an upgrade of the XG258Q (no idea why the numbering scheme is backwards!) It features pretty much the same things its older brother did except for an improve 240 Hz refresh rate, 1 ms response rate in a TN panel.
G-Sync and FreeSync functions are getting more and more common in games these days which makes this gaming monitor for CSGO future-proofed, even for games other than CSGO. It's a great purchase that's a good option even for the non-hardcore gamer.
ASUS ROG Swift PG278QR | Best 144Hz Monitor for CSGO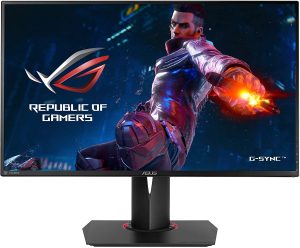 Screen Size: 24.6 inches Refresh Rate: 144 Hz Panel Type: Twisted Nematic (TN) Resolution: 2560 x 1440
Another entry from the ASUS ROG line, the Swift PG278QR picks up where the PG268QR left. It now features an upgraded chip that allows for NVIDIA G-Sync capability while maintaining the quick response rate and refresh rate its predecessor was known for.
The 24.6 inches of the Swift PG278QR is capable of 1440p resolution, 144 Hz refresh rate and a 1 ms response rate. It uses DisplayPort v1.2, which is a bummer for people who still use DVIs and HDMIs. People with outdated video cards may have to buy a new one just to accommodate this monster.
G-Sync compatibility makes this an easy sell as well. It removes the monitor's fixed rate limitations so it can lock the refresh rates to each other, resulting in a finer picture and no screen tearing. This is perfect for tracking those strafe shots.
ACER Predator XB271HU | Best Monitor for Mixed Usage and CSGO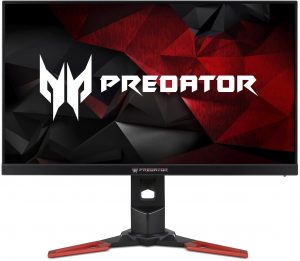 Screen Size: 27 inches Refresh Rate: 144 Hz Panel Type: In-Plane Switching (IPS) Resolution: 2560 x 1440
To be honest, for most people they won't be playing CSGO 24/7 like we assume some readers will be. For those types, we recommend the ACER Predator XB271HU – a mixed-use monitor that shines both in CSGO and in every day use.
This monitor is 27 inches wide and has a refresh rate of 144 Hz. It is capable of 1440p resolution. It is using an IPS panel, making it great for even content creators. And just as a bonus, ACER decided to load this up with G-Sync support as well.
The XB271HU is a great monitor for people who want to do things other than game with their PCs. It has a fast refresh rate, great viewing angles, and very, very low input lag. There's also zero flicker on this monitor. For hardcore and casual gamers alike, this is the 144 Hz monitor for you.
What's the best Hz for my CSGO monitor?
As a rule, you should always choose at least 144Hz for your CSGO monitor. While the average gamer should be pretty happy enough with a 60Hz monitor even for such a punishing game like CSGO, it does not give you the competitive edge that many look for in their gaming monitors. Therefore, you can get a 60Hz monitor if you wish to save some money so you can pick up a nice mechanical keyboard. However, if you're going for broke, we advise you to get at least a 144Hz monitor.
What's the best CSGO monitor size?
When deciding what monitor size is the best for you, you should look at how far you are from your desktop. Many gaming monitors are at least 24 inches wide, which should be good enough for most desktop setups. Those who prefer to have their screens a bit further away from them might get a gaming monitor that's at least 27 inches wide, which is pretty standard for CSGO players in the Pro scene.
What are the best CSGO monitor settings?
When it comes to your gaming monitor settings, it's a matter of preference. In games like CSGO, some people set their aspect ratio to be lower than 16:9. Some gamers prefer the 4:3 aspect ratio while keeping the high resolution, as the lower aspect ratio stretches out the image, making everything look a bit wider. This, in theory, makes heads easier to click.
Brightness is also a factor because it helps see enemies that are shrouded in shadows, such as those cubbies in banana. Another thing to consider is the graphics settings. While CSGO is a pretty easy game to run on even the most potato PCs, setting all the graphics to low allows the game to display higher frame rates – which go really well with high refresh rate monitors.
What's the best resolution for my CSGO monitor?
For most gamers, having 1920 x 1080 resolution should be more than enough. However, if you have a 144Hz refresh rate monitor, you might consider going for a 1440p resolution for a bit more overkill, a bigger field of view, and easier tracking of moving targets.
Does having the best monitor for CSGO make me better at the game?
Short answer, no. Long answer, maybe. Having the best monitor for CSGO does not necessarily make you better at the game – it just makes the playing field a bit more level. CSGO is an entirely skill-based game. Even if you have the best monitor for CSGO, if you have potato aim, you won't be getting those one-deags. However, it does make things a bit easier when playing, as you can view the images much faster than people in 60Hz monitors can. This helps you progressively get better, train your aim, and eventually, earn a spot in the pro scene.
Do I need gaming headphones, gaming keyboard, and gaming mouse with my CSGO monitor?
While it's not necessary to have the best gaming headphones, the best gaming keyboard, and the best gaming mice with your CSGO monitor, it does help a bit. Keyboards with n-key rollover allows you to press multiple keys without ghosting and delayed input. Gaming headphones, especially those with native 7.1 surround sound, help you deal with directional audio better, letting you hear footsteps from your enemies and allow you to peek them with confidence. Finally, a gaming mouse, especially one with adjustable DPI, allows you to fine-tune your aim.
So again: it's not necessary, but will definitely give you an edge against your competition.
Wrap Up
That's it for our list of the best monitors for CSGO. For our top picks, the best overall would be the BenQ ZOWIE XL2546, especially if you are a pro or a streamer trying to get into the big leagues. This affords you with the biggest bonuses to screen fidelity and allows you to see and track better than your competition. If you're a casual gamer just looking for an edge on your nightly CSGO session with your pals, the ACER Predator XB271HU is the best choice for you. This lets you enjoy things such as other games and movies at a quality that not even the best gaming monitor for CSGO is capable of.
Recap: Top 5 Monitors for Counter-Strike: Global Offensive