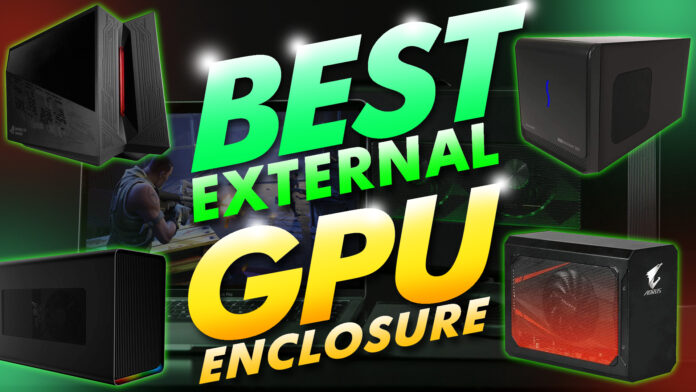 Laptop technology is evolving fast to surpass legacy desktop computers. Now, you can distinctly observe the stark difference between the two. However, even with all the development, it is still quite impossible to just replace or upgrade your laptop components, like you would do on a desktop.
Even so, there's hope for a breakthrough. But, in the meantime, you can use "MXM" modules to upgrade your laptop. You can use the modules to replace the old components with better processing performance, energy-efficiency, and advanced graphics.
This is particularly beneficial to laptop users looking to swap their existing GPUs with newer and improved models.
Aside from the "MXM" modules being relatively expensive, they are also not always compatible with all laptops. Hence the introduction of external GPU enclosures.
What Is an External GPU Enclosure?
An external GPU enclosure is very similar to a computer. It has its power source, cooling fans, and PCIe slots for the GPU cards. These tiny enclosures are designed to enable you to hook up your new and upgraded GPU to your laptop. And all you will need for this is a Thunderbolt 3 port.
Below, we discuss 7 of the best eGPU enclosures that best suit your needs:
Razer Core X
Razer Core X Chroma
AORUS/Gigabyte Gaming Box
Sonnet Breakaway 550
ASUS XG Station 2
AKiTiO Node Titan
Sapphire GearBox
1. Razer Core X Aluminum External GPU Enclosure (eGPU)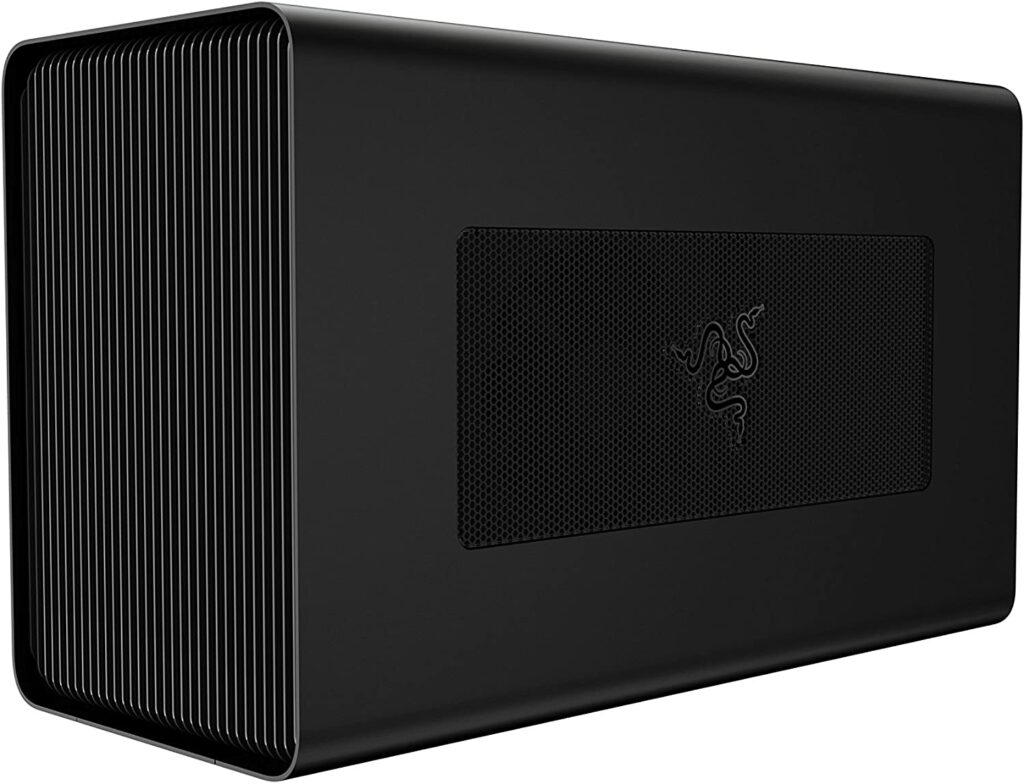 Some features on the Razer Core X include:
650W power supply
Can accommodate any graphics card
Light weight-fewer component and sheet metal casing
No lights on the enclosure- clean and sleek look
Razer went all out to cater to their American market's needs with the new external GPU enclosure, Core X.
With its black anodized aluminum shell, a vertical bar fascia, and a sturdy hinged handle, you can identify it to be one of Razer Core spectacular designs.
Since this enclosure is almost twice the original Core design's size, it houses a girth that can easily fit three graphic cards. And if that is not all, the Thunderbolt 3 enabled enclosure has no limitation to the GPU's length and height, making it even more versatile.
Swapping the GPU on Razer Core X is simple because you do not need any tools. The handle locks into position, and you can unlock it by pulling the handle outwards.
2. Razer Core X Chroma Aluminum External GPU Enclosure (eGPU)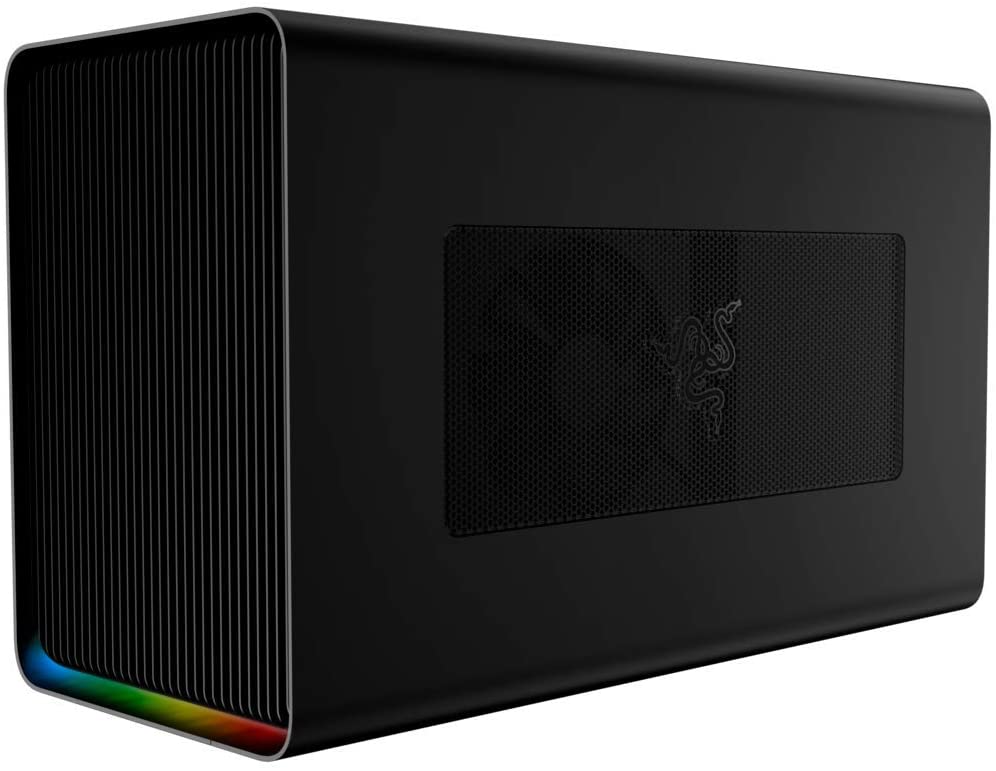 Although it looks like the base Core X, the Razer Core X Chroma packs a better power supply, 2 RGB lighting zones that are adjustable individually or in sync with other Razer products, and a second Thunderbolt 3 controller.
These improvements on the Core X Chroma makes it compatible with virtually any graphics card and Thunderbolt 3 hosts.
Even with Chroma sync to Razer products, this external enclosure allows for one-cable I/Os expansion. The Razer Core X Chroma could even accommodate an RX Vega 64 LC GPU in the 120mm fan mounting bracket without any modifications.
Core X Chroma is juiced up with a power output capability of up to 700W. Hence, it can run your graphics card way past its clocking limit.
Another improvement on the Core X Chroma is the one-cable solution for connectivity. And although single Thunderbolt 3 controllers faced mouse/keyboard lag in the early stages, Razer resolved the issue by introducing a second Thunderbolt e controller to the mainboard.
3. AORUS Gigabyte Gaming eGPU Box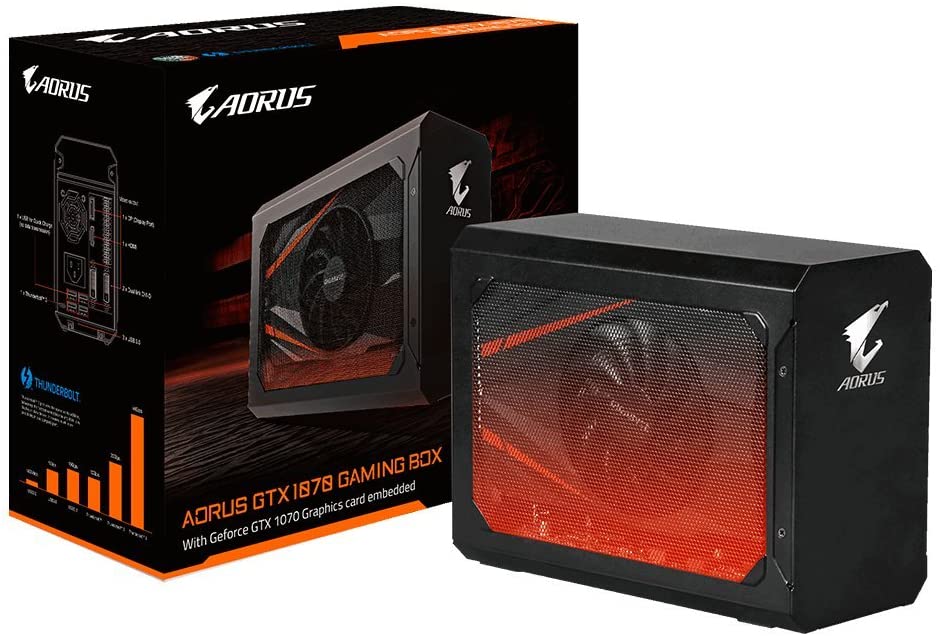 The AORUS GTX 1080 Gaming Box is one of a kind enclosure: one with a small build while hosting a beastly graphics card. Seven screws and one metal armor later, you can see the interior of the gaming box. The first thing you notice is the massive fan implemented to handle the increased thermal design power (TDP) produced by the GPU. But due to the large size of the fan, 130mm, there is no shroud covering.
The Thunderbolt firmware installed on the GTX 1080 Gaming Box is superior to H2D issues.
Other components on the GTX 1080 Gaming Box are almost identical to the 1070 Gaming Box model. These include:
A single 12V rail on the Enhance flex ATX 450W PSU
Thunderbolt 3 board with a 24-pin power cable
graphics card port with a 6+2-pin PCIe power cable
No power switch
Two 40mm fans
An RGB LED strip, controlled by AORUS Gaming Engine software
4. Sonnet eGFX Breakaway Box 550W (GPU-550W-TB3)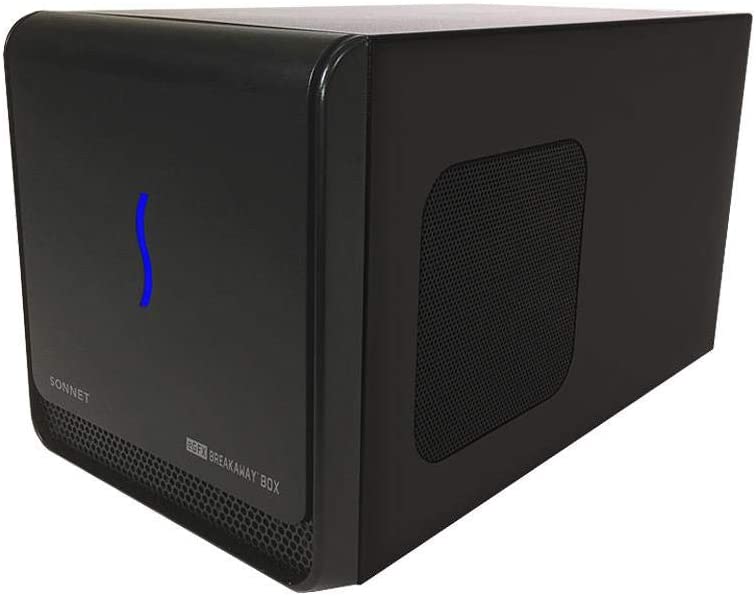 Sonnet focuses its production on work rather than play. Therefore, the sole purpose of Sonnet Breakaway is to boost graphics performance for professionals. It has a single Thunderbolt 3 port. Sonnet Breakaway features a PSU and cooling fan from Akasa, a major electronics supplier in the market.
Sonnet Breakaway Box also features a 350W power supply unit, custom-made with a 24-pin power cable and a six-pin +2 PCIe cable. The 120mm fan rated for 6.9-16.05dB pushes air in front of the PSU. With a sturdy bracket to prevent vibrations, the fun is almost inaudible, even with the most powerful graphics card running.
Thunderbolt 3 board lies at the heart of this enclosure. It has a USB-C controller that makes it easier to integrate with macOS.
The eGPU enclosure comes to life with the Sonnet logo lighting up as soon as there is connectivity with the Thunderbolt 3 host.
5. ASUS XG Station 2 External Graphics Card Dock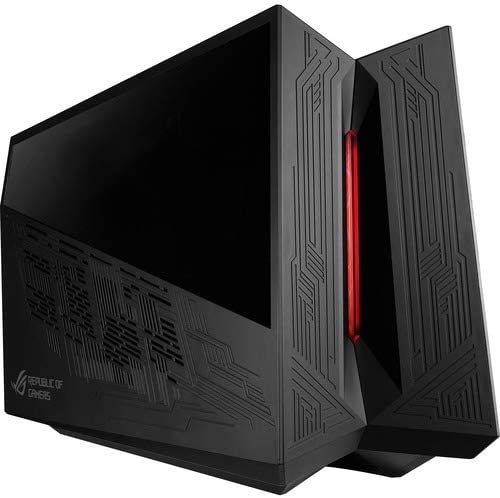 ASUS is already a developed brand in the gaming industry. Therefore, you can expect the hardware from this Taiwan-based company to perform exceptionally.
The ASUS XG Station 2 is the best embodiment of the company, with its sleek enclosure. The exterior is black, with holes and lovely textured stripes.
When in use, the enclosure lights up from the RGB lighting fixed on the front side. The ASUS XG Station 2 has an impressive design, with enough space. Therefore, it offers full-size graphics card support. And on top of that, it is compatible with old and new graphics cards, making it one of the most versatile enclosures in the market.
What of the TDP generated when in use? Well, the ASUS XG Station 2 comes with multiple fans in the enclosure to provide adequate cooling for your graphics cards.
Other features include:
USB Type-B port
4 USB 3.0 ports
An Ethernet port
6. AKiTiO Node Titan Thunderbolt3 eGPU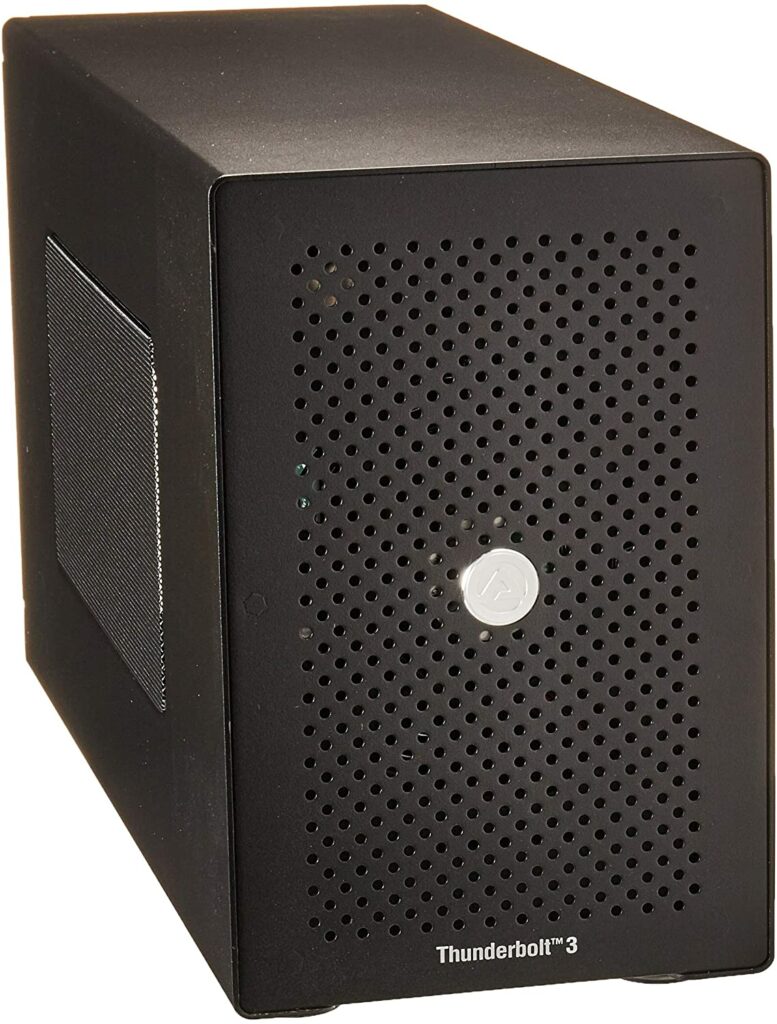 Like many other eGPU enclosures, the AKiTiO Node Titan connects to a Thunderbolt 3board and offers support for double-wide, full-length, and full-height graphics cards. That means it can accommodate a wide selection of the same.
The slots in this eGPU enclosure allow you to swap the cards easily. So, in the future, should you want to upgrade or replace your graphics card, the process is simple, and you get to choose whichever card you want to install.
The main features on the AKiTiO Node Titan include:
A retractable carrying handle- makes it easy to carry around
thumbscrews for tool-less access for when you want to install or replace your graphics card
650W power supply
Reduced edit and render duration with the ready ROI
Thunderbolt ports with up to 40Gbps speeds
85W charging port
7. Sapphire GearBox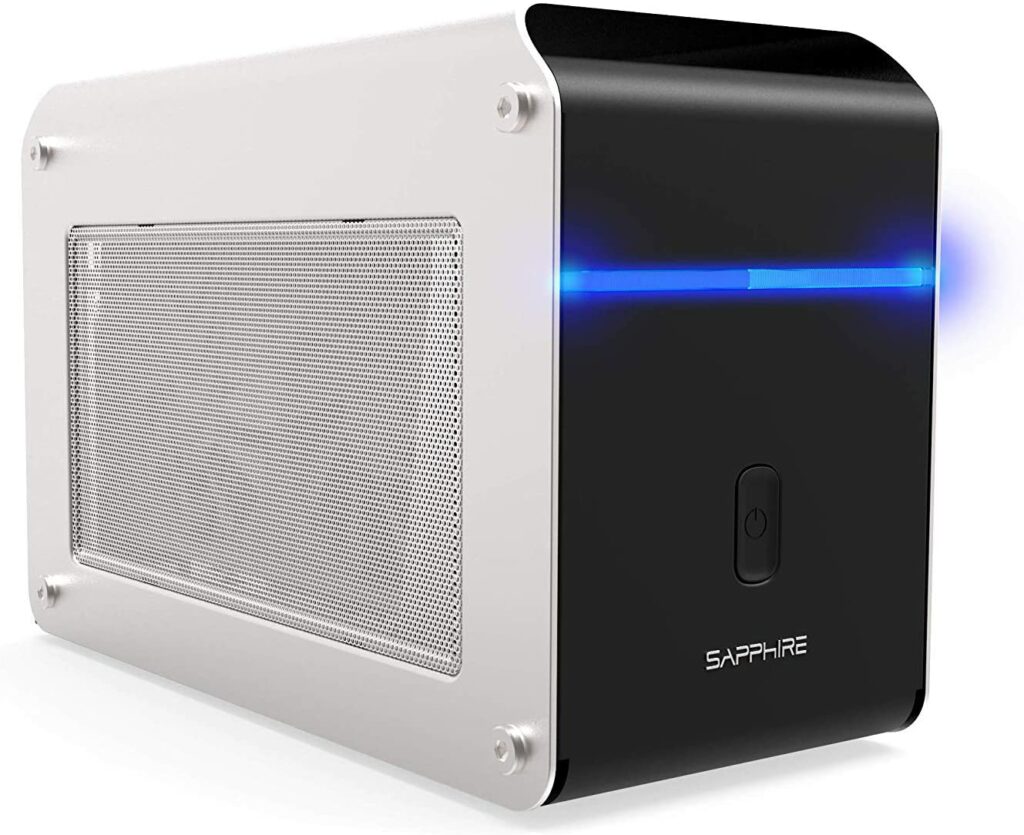 With the evolution of GPU enclosures in the market, Apple played its part by collaborating with Blackmagic Design to introduce the Sapphire GearBox. This full-length eGPU enclosure packs a compact footprint, with a 300W maximum output, a 60W power delivery, and expansion ports.
Sapphire GearBox has a rear expansion I/O unit that consists of two USB 3.0 ports and an Ethernet port.
The main panels on this enclosure are made of aluminum and are easy to take apart and reassemble.
Other features you can notice on the Sapphire GearBox include:
12V single rail 500W power supply unit
Two 6+2pin PCIe power cables
One 8EPS cable to connect to the Thunderbolt 3 board
Two 120mm cooling fans that draw heat from the GPU and PSU
How Do External GPUs Work?
An eGPU is an external enclosure for a desktop-style video card that can plug into a laptop or other systems to boost its graphical performance.
How does it do that?
Equipped with a power supply, a cooling system, a PCI slot, a card, and perhaps other kind of hardware, it facilitates your laptop's transformation into a gaming powerhouse. Thus giving you the ability to upgrade via an external solution rather than purchasing a new laptop.
These external GPU enclosures are also equipped with a different compatibility system. Therefore, you have to acquire the right laptop and Thunderbolt 3 USB cable to ensure a smooth video stream.
What Makes Them Efficient and Reliable?
Their highly parallel structure makes them efficient vis-a-vis the general-purpose central processing unit(CPU) for algorithms that process large data blocks in parallel. They majorly use their transistors to do calculations related to 3D computer graphics.
With basic 2D acceleration and framebuffer capabilities, this eGPU ensures compatibility with your gaming equipment that provides efficiency and higher compatibility.
How Can you Boost the Graphical Design?
External GPU enclosures have developments like the programmable shaders, which manipulate vertices and textures, oversampling and interpolation techniques. These features reduce aliasing and enhance very high precision color spaces that give mesmerizing and admirable results
Why You Need the External GPU
Most GPUs have graphic cards that record high definition videos on the card, offloading the central processing unit with the task. With fewer tasks to perform, the CPU increases the speeds with which it performs its assigned, high-priority duties. Hence accelerating the motion compensation decoding process commonly known as mocomp
What You Need to Know About eGPU Enclosures
As mentioned before, external GPU enclosures are like small computer cases. But unlike computers, they are solely made to hold graphics cards and nothing else. Some are compact, meaning you can't change the GPU inside, while others are not.
There are two types of external GPU enclosures:
I. Portable, but not mobile
These external GPU enclosures are made to sit on a desk. Since they double as laptop docks, they have additional IO interfaces such as USB ports and hard drive bays. When connected to the laptop, they access all data, meaning you can attach an extra display or peripheral device.
II. Integrated design
These enclosures have docking features. Also, they are light, such that you can easily fit them into your bag to go. Usually, they come with an already existing GPU card and are hard to upgrade.
Understanding Thunderbolt 3
Have you ever noticed how graphics cards are fixed directly to the motherboard and not through cables?
Well, while USB 3.1 is sufficient for broad bandwidth needs, it was not enough to fully serve a high-speed GPU. Therefore, there was a need to find better technology to help introduce external GPUs to laptops
The whole idea of external GPUs to use with laptops came to life with the Thunderbolt 3 technology. These cables and ports made it possible to connect your computer to an external GPU. The Thunderbolt 3 allows for a large enough bandwidth to cater to the hungry GPU needs.
Before you buy an external GPU enclosure, make sure you verify that the computer not only has a Thunderbolt 3 port but is also compatible with your GPU's operations.
After you have confirmed that they have a Thunderbolt 3 port compatible with your computer, consider the GPU's performance.
Performance of the GPU
When choosing an external GPU enclosure, the search boils down to the performance of the GPU. How much loss occurs when you connect the GPU? How is the performance affected by connecting the eGPU using a Thunderbolt 3 board rather than connecting it directly to the motherboard?
On average, you will experience a 10-15% drop in performance, but this varies depending on the card you use. However, even with this drop, the external GPU is faster than an internal GPU due to drive optimization.
Matching your CPU and GPU
One crucial point to consider when buying an external GPU enclosure is compatibility between your new addition and the CPU. Remember that the computer's CPU plays an essential part in the operation of your GPU.
The CPU will always be the one to receive instructions and send them to the GPU. So, without proper communication between these two components, you are bound to encounter problems. And no matter the speed capabilities in your GPU, a slow CPU will always slow you down.
When you decide to get an external GPU, make sure it is compatible and works at the CPU's best rate. i.e., If you have a lower-end CPU in your laptop, invest in a mid-range GPU for optimal performance.
Display support
Pairing your computer, external GPU, and a display go hand in hand. For a high-performance GPU, you need a high-end CPU and an appropriate display.
An external GPU enclosure comes with the ability to connect with a wide range of displays. However, this is not always necessary.
And since your laptop has its display, you can forego an additional connection, which often reduces your setup performance.
But if you need a display, keep in mind the optimal solution you can employ without affecting your performance.
Power and cooling
External GPU enclosures are self-sufficient. That means they have their power supply and cooling units.
When buying a GPU enclosure, you want to choose one that provides enough power to cater to the GPU's needs and has a reliable cooling system to dissipate the heat generated during use.
Dimensions of different enclosure differ. You will find one with a large space that can accommodate several cooling fans, while others use one.
Heat is one of the worst enemies of performance and durability. A GPU that remains hot for the better part of the day is bound to fail in no time. Also, you notice your performance dropping with every degree increase.
That is why you must choose an enclosure that serves your performance needs and takes care of your heat problem.
Now, there is another problem. Some external GPU enclosures have their fans running non-stop, which means more power requirements. Others are so loud from the constant vibrations of the motor and casings.
Before you settle for a GPU enclosure, be sure to read and watch reviews online to determine if you get the excellent, inaudible type of buzzing fans.
You can find this information on the spec sheet of the product you intend to buy.
Find an external GPU enclosure that has the juice to keep your system running smoothly.
Modifications
When buying an eGPU enclosure, most users want a sleek, elegant, plug-and-use kind of device. And most of the time, that is what you get. Now, suppose you find the perfect GPU, but you feel the need to tweak an aspect of your enclosure.
Maybe you want to import a Thunderbolt 3 slot and use an old graphics card. You should be able to access the components of your enclosure to make replacement easy for you.
So, you should avoid the tiny GPU enclosure that does not let you reach the GPU slot and go for one that allows for more straightforward modification.
Proprietary Connections and Docking Features
Before swiping your credit card to pay for an external GPU enclosure, always ensure that you have triple checked the compatibility. This is because, despite most enclosures using thunderbolt 3, others are still in the USB-C era.
But, if you find one with both, the better. That means you can use the external GPU enclosure as a docking station for other components such as monitors, mouse, keyboard, and speakers.
If your laptop allows for it, you could even use the Thunderbolt 3 slot to charge it.
When buying an external GPU enclosure, keep in mind your power requirements, the enclosure's size, support, cooling, and ports available for integration.
Limitations of eGPU enclosures
We have discussed how external graphic processing units work and which of them are the best. However, there are some drawbacks associated with the use of eGPUs that you should know about before buying one:
(i) External performance is not optimal
External GPU enclosures give you the chance to enjoy your laptop as a desktop computer, with added advantages. However, an external GPU's performance cannot be compared to that of an internally mounted graphics card.
After testing, there is an estimated 15% drop in performance when you use an external GPU. Although it is not that big of a deal, since the GPUs can sufficiently serve your speed needs, it is still a limitation associated with the use of external GPU enclosures.
(ii) External GPU Enclosures are expensive
A GPU dock is one of the smallest pieces you will find on your laptop's motherboard. But that is not to mean that it will be the cheapest.
Now, imagine having to buy a GPU and enclosure, connecting cables, and a compatible port with your laptop. And on top of the GPU, you buy a dock. For this, you have to choose one that is compatible with your computer, making your options very limited, in terms of prices and variety.
By the time you have everything you need, you will have a dent in your wallet.
It is a worthy investment because you immediately notice a change in performance and speed when working or gaming with your laptop.
(iii) A lot of research goes into the purchase
Buying products is now more accessible. Some platforms allow you to buy any product from the comfort of your home. However, this should not be any reason to get a sub-standard product that does not suit your needs.
Before ordering an external GPU enclosure, take some time to determine the type of laptop you have and compatible GPUs. Once you have the details about the CPU, I/O interfaces, and the graphics cards you can use, move on to the product.
Please find out more about the specifications of the external GPU enclosure before you buy it.
Although you spend some time doing so, you will be happier with your purchase if it is the one you wanted.
Recap: Below is a list of the best eGPU enclosures for different categories
i. Colorful Graphics – Razer Core X Chroma Aluminum External GPU Enclosure
ii. Sleek Enclosures – You can choose between Sapphire GearBox and Asus Xg Station 2 External Graphics Card Dock
iii. For Laptop gaming – Asus Xg Station 2
iv. Anything else you need out of an eGPU Enclosure-Go for a AORUS Gigabyte Gaming eGPU Box
In Conclusion:
After everything discussed above, you can make a more informed decision when buying an external GPU enclosure. Since it is a significant investment meant to serve you for months to come, consider all aspects.
External GPU enclosures are not the cheapest commodities in the market. That is why you should seek value for your money in whatever GPU enclosure you choose to buy. We have shortlisted 7 of the best eGPU enclosures in the market.
Depending on your preferences, you can choose between the different styles, appearances, performance, sizes, integration, and power supplies offered by the list mentioned above for your work and gaming experiences.
Investing in an external GPU enclosure is sure to improve your perfomance and experience with your laptop.