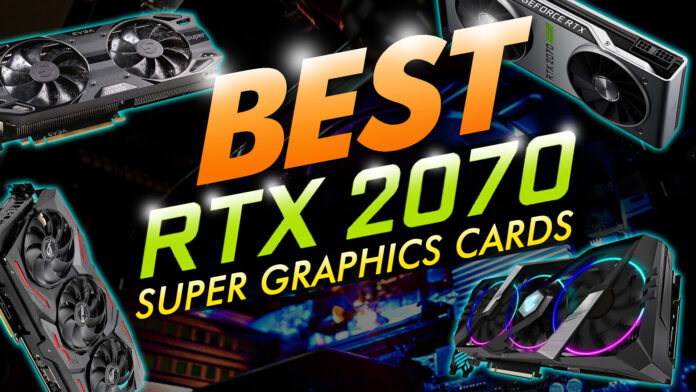 If you're in the market for a top-notch graphics card to play games in 1440p or 4K resolution, the best option to consider is the RTX 2070 Super. Since it's an upgrade of the popular RTX 2070, this GPU incorporates all its predecessor's features, particularly real-time tracing, but with an average performance increase of 16%. It delivers an incredible performance boost that is helpful when running modern and demanding games in high resolution.
In this review, we'll breakdown the best RTX 2070 Super GPUs on the market and help you identify the one that suits your demands best. Whether you are looking for the most affordable or the top-of-the-line RTX 2070 Super on the market, we have got your back! Read on to find out more about this special graphics card!
Top 6 Best RTX 2070 Super GPUs
1. GIGABYTE AORUS GeForce RTX 2070 Super
Best Overall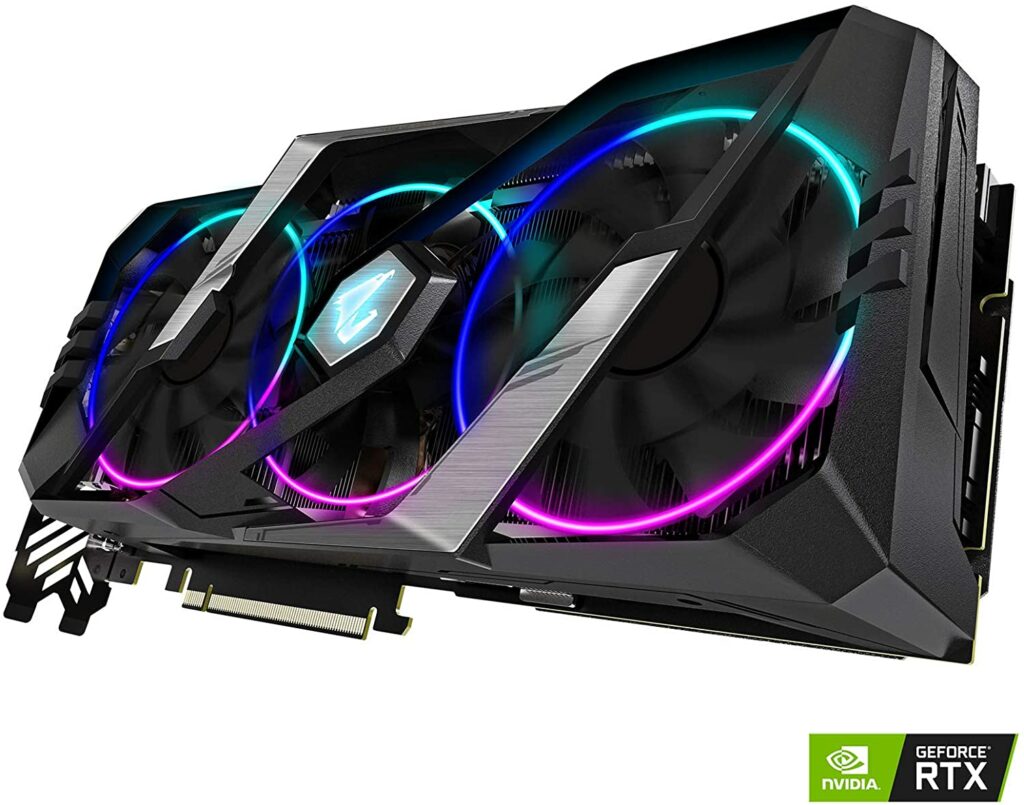 The best RTX 2070 Super in the present market is Gigabyte's Aorus. This graphic card boasts a unique futuristic design. It also comes with the incredible WindForce stack cooler that comprises three RGB fans placed on top of one another. The fans look sleek, thanks to the RGB rings around them. What's more, the Aorus logo lights up, too.
The card features a 12 + 2 power phase design alongside a huge factory overclock. Its core clock speed is rated at a staggering 1905 MHz, which is why it is quite costly compared to the others on this list. Another feature worth noting is the number of display ports. Gigabyte surpasses the reference design by incorporating three DisplayPort 1.4 ports, three HDMI 2.0 ports, and a USB Type-C port.
Overall, the Gigabyte Aorus RTX 2070 Super is an excellent card with an impressive factory overclock and extra overclocking headroom. If you're looking for the best, look no further! If you're working on a limited budget, it would be pretty difficult to recommend this card, considering its hefty price.
2. ASUS ROG Strix RTX 2070 Super
Best Cooling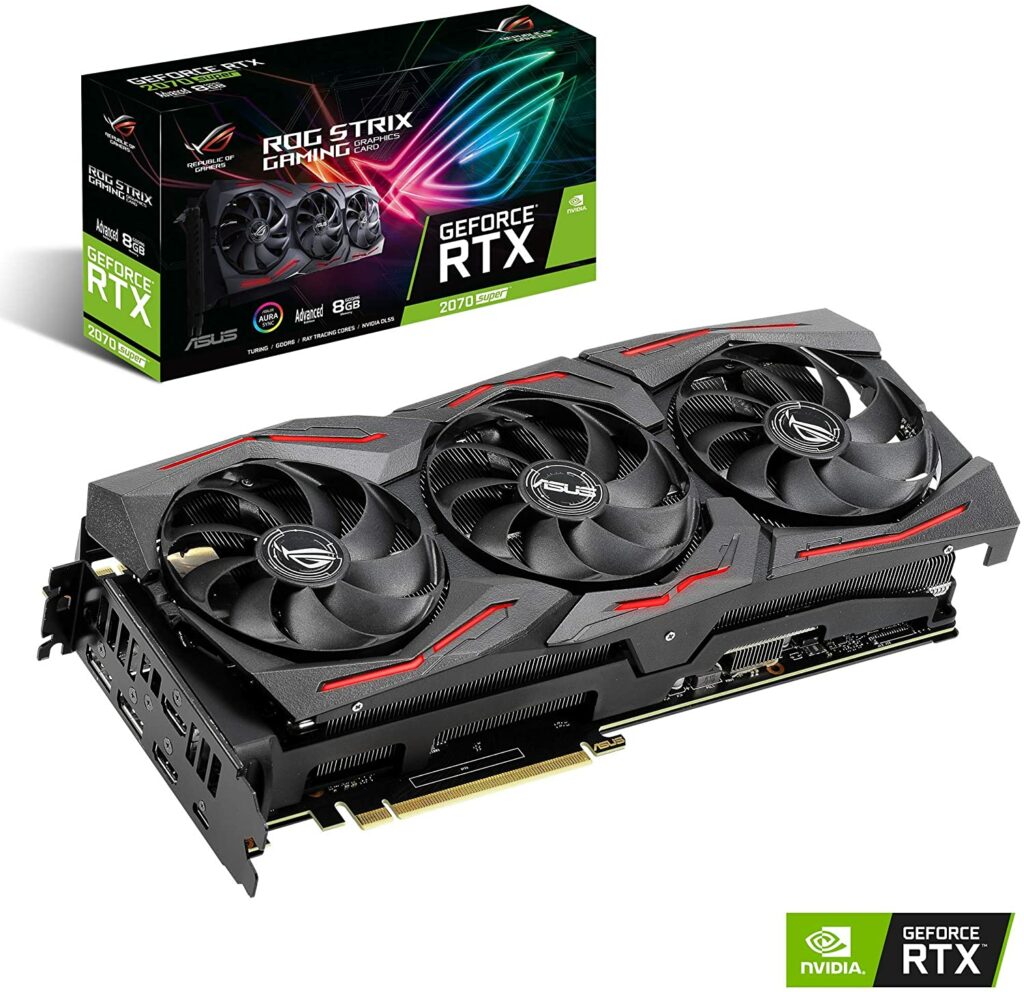 This RTX 2070 Super from ASUS ROG offers incredible performance, thanks to the Turing Architecture from NVIDIA. Besides having the ability to support up to four monitors, it is VR-ready. It comes with a reinforced frame to ensure durability and prevent the PCB from bending. It supports Aura Sync RGB for personalized lighting and triple Axial-Tech fans plus Max Contact technology for enhanced cooling.
The three fans feature a small hub that facilitates a barrier ring and longer blades to boost downward air pressure. The onboard controller stops the fans when the GPU core temperature hits below 55 degrees Fahrenheit. With this handy feature, you can enjoy light gaming in a quiet environment. The fans will automatically start when the temperature rises above the threshold.
With the ASUS GPU Tweak II utility software, you can modify vital parameters, such as the memory frequency, GPU core clocks, and voltage settings. Additionally, it gives you the ability to monitor everything in real-time via the on-screen display.
You can also use the Aura Sync RGB software to connect it to compatible products for a wholly personalized gaming setup. For instance, you can modify the color to match the temperature, sync music, or choose from a wide range of static options and patterns.
3. MSI Gaming GeForce RTX 2070 Super
Best Value for Money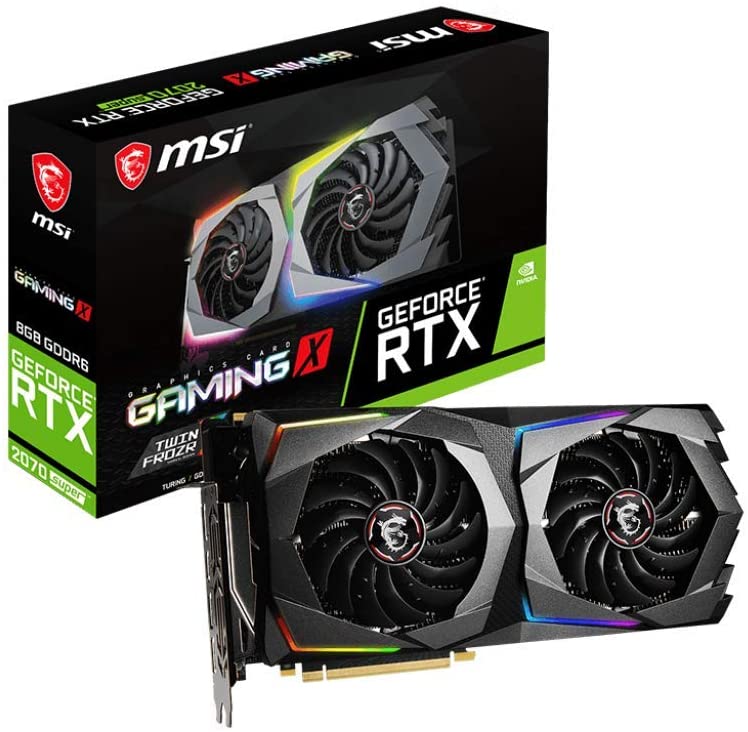 With this graphic card, you will get an RTX 2070 Super that offers amazing performance at a reasonable price. The manufacturer did a fantastic job incorporating the Turing architecture on this card, as it boasts a more flexible design than its predecessor.
Regarding its performance, the MSI RTX 2070 Super tends to run a bit hot. However, it's quite easy to push the GPU clock over the 2000 MHz mark. The fans are also remarkably quiet, making it an excellent all-around gaming solution.
This card comes with higher clock speeds, giving you performance up to 25% better than its predecessor.
If you need a GPU that looks good and performs like a beast, the MSI RTX 2070 Super is the card to consider.
4. EVGA RTX 2070 Super Gaming
Most Affordable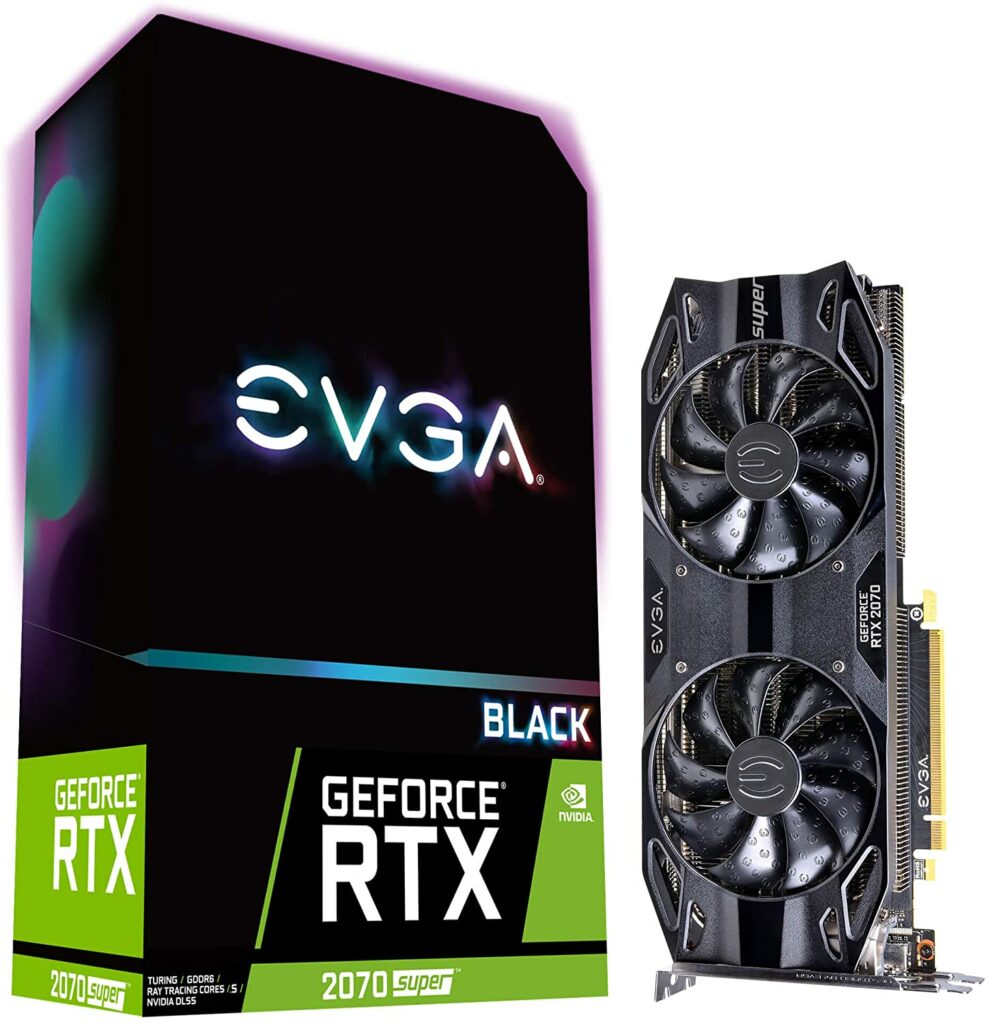 Now, if you are looking for a complete RTX 2070 Super that guarantees great performance without overstretching your bank balance, consider the EVGA RTX 2070 Super Gaming. With this unique card, EVGA utilized a similar shroud design in its first Turing card. It comes with a black shroud and fans that incorporate the EVGA logo.
It is worth noting that this graphic card lacks a backplate. While that isn't a big issue, it is uncommon to see a backplate lacking in a high-end card. As a matter of fact, backplates have become part and parcel of mid-range and budget graphics cards.
The RTX 2070 Super from EVGA boasts a clock speed of 1770 MHZ. With its massive heatsink, it has more overclocking headroom than most compact graphic cards on the market. In addition, the card runs pretty quietly.
Although it is not the finest RTX 2070 Super out there, this special model from EVGA assures good value for your investment.
5. ZOTAC RTX 2070 Super Mini
Best Mini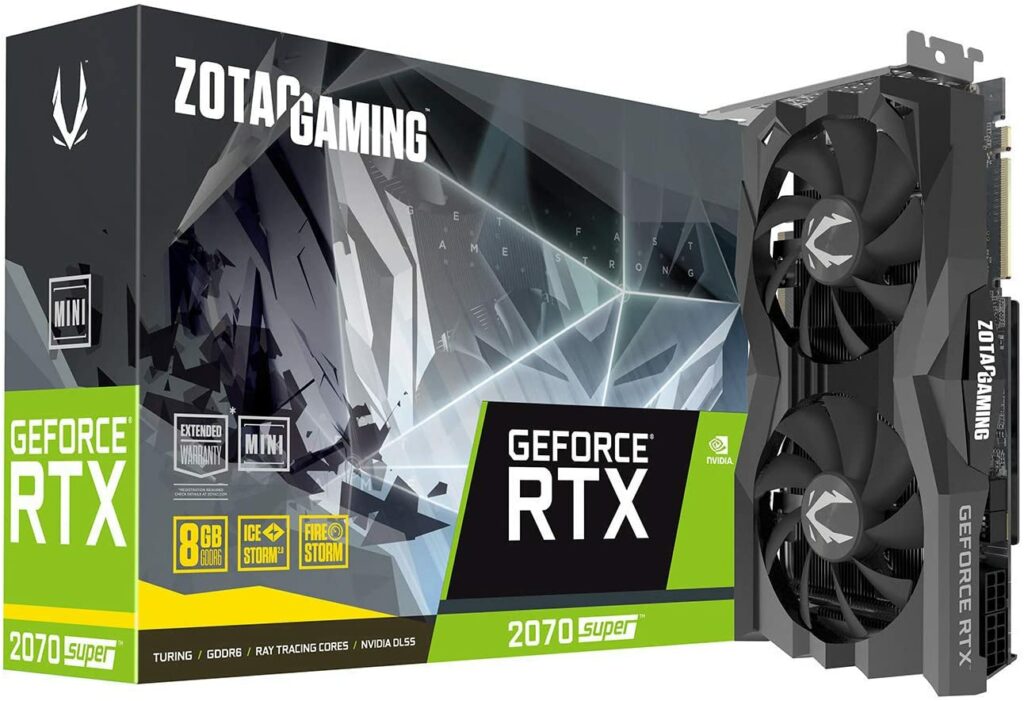 If you're looking for a compact and fairly affordable RTX 2070 Super, this card from ZOTAC should be your number one choice. Design-wise, the card takes after other mini cards from ZOTAC. Besides having a backplate, it features a relatively simple dark gray shroud with sharp angles.
Being an affordable model, the card features a dual-fan open-air cooling design that allows for impeccable performance, with a clock speed of 1770 MHz. However, like most compact graphics cards, it suffers from the typical shortcomings: noise generation and high temperatures.
Nonetheless, the temperatures it reaches when under heavy load aren't as bad as other compact models, but the fans can be pretty noisy. As you would expect, the ZOTAC RTX 2070 Super Mini won't cut it if you're looking for the best performance from an RTX 2070 Super. Even so, it's the best pick for a Mini-ITX gaming machine, thanks to its small size.
6. NVIDIA GeForce RTX 2070 Super Founders Edition
The Quietest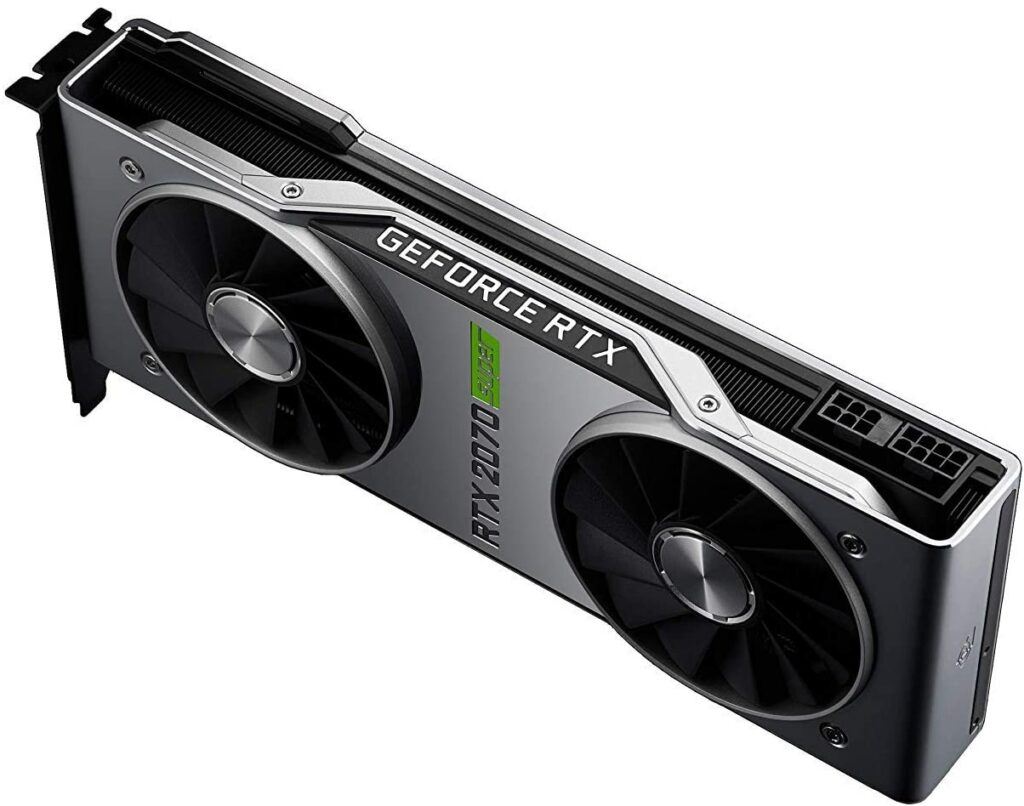 Nowadays, NVIDIA no longer designs graphic cards with blower style fans, and the cooling performance of the RTX 2070 Super Founders Edition is pretty good. However, the pricing for this card is relatively high compared to other models that have better cooling.
This card comes with a base clock speed of about 1605 MHZ and a boost clock speed of 1770 MHz. It comes with 2560 CUDA cores. Like other popular graphic cards, it incorporates incredible features, such as DLSS support and real-time ray tracing.
Lastly, while the Founders Edition does not offer the best value for money, it does have that unique signature NVIDIA look, which is perhaps why some users prefer it.
Factors To Consider When Buying Graphic Cards
Now that you know the best RTX 2070 Super cards on the market, what are some of the factors to consider when picking a graphics card? Read on to find out.
Size
When it comes to compatibility, one of the primary things to consider is the card's physical size. To ensure you're buying a card that comfortably fits inside your case, it's essential to consider its length and width.
Some graphic cards are significantly longer than others, so it's essential to ensure that the drive rack will not block the card.
When it comes to width, it's common to find cards that take substantial vertical space due to a bulky cooler or a thick heatsink.
The RTX 2070 Super is barely a compact card, and even the more compact ZOTAC RTX 2070 Super Mini is quite bulky. It is essential to be on the safe side and assess the desired card's dimensions. Besides that, consider the case's dimensions before buying.
Cooling
Most of the heat produced by your PC comes from the graphics card. Like other components that emit a lot of heat, it needs active cooling. Today's GPUs typically utilize these categories of cooling: blower, open-air, and liquid.
Open-air
Open-air is the most popular cooler design, and most graphic cards in the market use it. Open-air coolers are ideal for most gaming PCs because besides benefiting more from the case fans, they offer much better heat dissipation. Most open-air GPUs have two to three fans that help transfer heat away from its core components.
Blowers
Blowers contrast open-air coolers by offering a closed heatsink. Blower style GPUs have one fan that blows hot air from the card's back and straight out of the case. The benefit of this design is that it minimizes heat build-up inside the case, making it perfect for small cases with restricted airflow. Unfortunately, it is also relatively inefficient and loud.
Liquid Cooling
Liquid cooling is arguably the most effective cooling method, making it ideal for overclocking. Liquid-cooled GPUs boast the ability to hit extremely high clock speeds while operating at lower temperatures than the air-cooled counterparts. However, they're not extremely quiet because they require extra components to cycle the fans and liquid to cool the radiator.
Furthermore, the fact that liquid coolers are costly means they will only attract enthusiasts who can easily afford the high-end RTX 2070 Super cards.
Aesthetics
We did mention graphic card design in the article a lot. For sure, aesthetics is becoming more important than ever due to the rise in popularity of RGB lighting and translucent cases. With this development, manufacturers are working round the clock to make their graphics cards visually attractive.
The most notable factor in aesthetics is color. A couple of years ago, most graphics cards came in specific colors. For instance, ZOTAC had yellow, Gigabyte had orange, and MSI had red. The manufacturers made it quite difficult for their graphic cards to complement various setups by painting their backplates and shrouds a specific color.
Nowadays, most cards are much more neutral with black shrouds and much more subtle highlights. RGB lighting is also often integrated. It is an incredible addition if you want to incorporate some glitz into your setup.
Lastly, we have the backplate. Just like RGB lighting, backplates are gradually being used on low-priced cards. The primary purpose of backplates is to hide the circuitry and components on the PCB. They also prevent the PCB from bending. Moreover, backplates make it easier to remove the dust from the card.
Overclocking
In simple terms, overclocking can be defined as the act of boosting a GPU's clock speed and performance past its default speed as outlined by the designer. The RTX 2070 Super is a relatively commanding GPU.
So, how much additional performance can you push out of it via overclocking? An overclocked GPU lets you get about 5 to 15% higher frame rates than a graphic card operating on reference settings. However, it varies from one game to another.
Memory
VRAM holds anti-aliasing operations to eliminate sharp edges on objects and textures, making it a vital consideration when choosing a GPU. The memory certainly plays a crucial role in picture quality as it gives you the ability to play games at higher resolutions.
Bandwidth
Generally, bandwidth is the amount of memory that the GPU accesses at any given moment. More bandwidth translates to a faster rate at which data gets to the shader cores. Thus, bandwidth contributes to videos and games running with seamless clarity.
Platform
Your system determines the type of graphic card you need to acquire. Recognizing your system's limitations can save you a lot of money. For instance, if you own an outdated dual-core CPU, such as Celeron or Pentium, it can't keep up with modern graphics cards. In such situations, it would be worth opting for mid-range cards or upgrading your CPU.
Another important factor to consider is your display. If you're using an outdated 1280 X 1024 resolution monitor, you will not need high-end graphics hardware.
Is the RTX 2070 Super Ideal for Gaming?
Yes, it is. Currently, the RTX 2070 Super is one of the most powerful and efficient graphic cards on the market. However, it may not be ideal to get a new one as NVIDIA just released RTX 3000 GPUs. All in all, it offers a great performance boost, particularly when it comes to ray-tracing.
The RTX 2070 Super is ideal for 1440p gaming as it can achieve smooth and stable frame rates at this resolution. It also performs decently for 4K gaming. If you have a multi-monitor setup, the card will solve your worries. By default, it has one HDMI port and three DisplayPort, making it easy for you to use it on up to four monitors. Also, if you're willing to play with reduced details and lower frame rates, you can use the card for gaming on a multi-monitor setup.
Is it Worth Upgrading to the RTX 2070 Super?
Honestly speaking, the RTX 2070 Super provides a better price to performance value than the premium alternative. However, determining whether the card is worth it or not depends on what you want it to achieve.
For example, if you are building a gaming PC for a 1440p gaming monitor or even a 1080p high refresh rate monitor, having this card at your disposal is perfect for your setup.
Is the RTX 2070 Super Ideal for Work-Related Purposes?
Well, it depends on the programs you are using. If you want to use it for CUDA-accelerated 3D rendering, this graphic card is worth it. However, if you have extra cash to spend, it would be best to get a card that has more CUDA cores, such as the RTX 2080 Ti.
If you primarily deal with video editing, this graphic card attains excellent results compared to the AMD competitors. However, going for its predecessor would be much better considering the performance to price ratio, unless you integrate GPU-accelerated effects to your videos.
All in all, the RTX 2070 Super is great for all workloads that need a powerful GPU. If you are a gamer and use your PC for other work-related tasks, then this graphics card will be an incredible choice for all uses, except for CUDA-accelerated rendering.
Final Words
Now that we've come to the end of the review, which is the best graphics card? As is the norm, there's no universal graphics card because different users will have different needs and budget limits. If you have a limited budget, consider the EVGA RTX 2070 Super because it offers incredible performance at good pricing.
If you are building a small gaming rig, consider buying the ZOTAC RTX 2070 Super Mini since it's the most compact option you'll find on the market. If you want to spend a little more and get much better performance in a sleek looking card, consider picking the MSI RTX 2070 Super. As shown earlier, it's presently the best model that offers an elegant design, outstanding cooling, fantastic performance, and reasonable pricing.
Finally, if you need a premium card that excels at everything, then the GIGABYTE AORUS GeForce RTX 2070 needs to be your priority. The incredible performance and features offered by this card will enhance your gaming experience, making it worth the extra cash.
Recap: Best RTX 2070 SUPER Graphics Cards for 2020