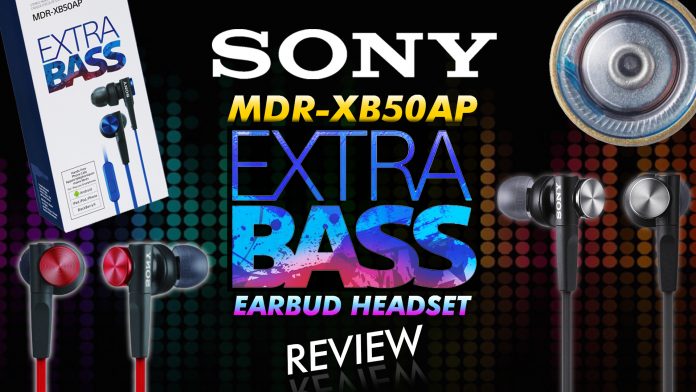 The Sony Extra Bass MDR-XB50AP Earbuds are from Sony's XB, or "Extra Bass", line of products, allowing users to experience clearer and more defined bass in their music without damaging the delicate earbud speakers. This makes them an especially great option for those who use headsets while gaming. But, what else do you need to know about them?
Budget and Quality
As far as the XB line of headsets go, this pair falls right in the middle of the road in terms of quality and budget. They are far more affordable that the top of the line XB headphones, but they are still pretty powerful in comparison to other options of a similar price.
It's made apparent throughout this review that the affordable price does not mean a lack of quality but rather a lack of premium accessories. If one can forgo all of the bells and whistles that some of the other XB models have and appreciate the headphones for their durability and sound quality alone, then they should be more than happy with these earbuds.
Design
There is no doubt that the Sony MDR XB50AP are sleek and aesthetically pleasing as far as headsets go. Many of the XB series headsets come only in black, but these actually come available in five different color options: red, black, white, blue, and yellow. This color is features on the outside of the earbud itself as well as the cord.
For earbuds, the MDR XB50APs are relatively large and bulky. This doesn't cause too much of an issue, but it does cause them to stick pretty far out of ears which may be annoying to some wearers.
Durability and Build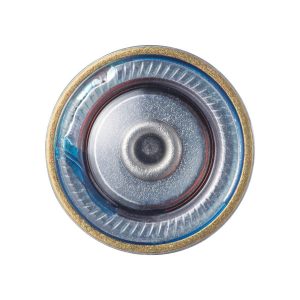 Many users will love that these earbuds were built to be lightweight and comfortable, but the downside of this is that they aren't necessarily the most durable headphones out there. To keep them weighing as little as possible, Sony constructed the MDR XB50AP earbuds with plastic rather than metal. They aren't going to break easily, but they definitely require more care than a stronger alternative – especially because they don't come with a hardcase.
Still, there are benefits to the way these headphones have been built. Weighing only 0.7 oz, they wear comfortably for long periods of time and won't fall out of ears easily. This makes them ideal for earbud wearers who keep them in for long periods of time, such as gamers or anyone with a long commute.
The silicon portion of the earbud is comfortable because it is soft enough not to hurt sensitive ears, but firm enough to offer a snug and secure fit. Anyone who plans on wearing these headphones during physical activity shouldn't have any issue with the earbud falling out due to movement.
It should be noted, however, that these earbuds are not sweat-proof and extra care should be used when using them during intense physical activity.
Packaging and Included Accessories
Like we mentioned, the Sony MDR XB50AP headsets don't come with the premium accessories that some of the higher end XB series options come with. They do, however, come with three sets of silicon ear tips that you can change out depending on size preference and comfort. They also come with a small velvet pouch that you can use to safely transport or store them. The bag doesn't offer as much protection as a hard-shell case would, but at least it's something.
Quality of Bass and Audio
Because these are in the "Extra Bass" collection from Sony, it is safe to assume that buyers of these headsets are interested in high-quality bass in their music or gaming. The bass quality through these earbuds is clear and especially deep, which is impressive for their small size and affordable price-point. Indeed, perfect for EDM lovers.
The Sony MDR XB50APs feature a 12mm dynamic driver, which allows the bass to come through the small speaker clearly and without causing any damage or sound distortion when properly equalized. Compared to other headphones of similar price and size, these definitely outdo the competition when it comes to both bass and sub-base. Their power and ability to withstand punchy, deep sounds makes them one of the best gaming earbuds on the market.
Users should keep in mind that these earbuds are specifically designed for those who love heavy bass, so anyone who enjoys a purer or more treble-heavy sound may not enjoy the sound quality as much as others. The deeper sounds in music or games will definitely overpower other ranges. Vocals specifically can sound more muffled in comparison to the other aspects of the audio.
Noise Isolation and Leaking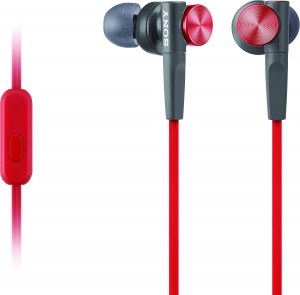 Very little sound escapes from these earbuds when the user is actually wearing them. Even at top volumes, the noise that escapes is minimal and would be unnoticeable to bystanders, especially is any background noise was present. One could use these on public transportation, in libraries, at school, or anywhere else without having to worry about bothering the person sitting nearby.
As far as drowning out background noise for the wearer, the Sony MDR XB50APs perform pretty well for a pair of affordable headsets. This is due to the snug fitting ear pieces and is almost certainly helped by the large, 12mm dynamic driver. To help increase noise isolation, users should try out the different sizes of silicon ear tips that comes with the headphones until they find one that is snug and air-tight.
Wrap Up
Overall, the Sony MDR XB50AP is a fantastic and powerful option that out-perform most earbuds in a similar price range. What they lack in included accessories or durability, they make up for with speaker and bass performance, aesthetic appeal, and comfort for the wearer. They are a great option for music lovers who enjoy rich, deep, and punchy bass in their audio as well as gamers who want to wear their earbuds for long periods of time.