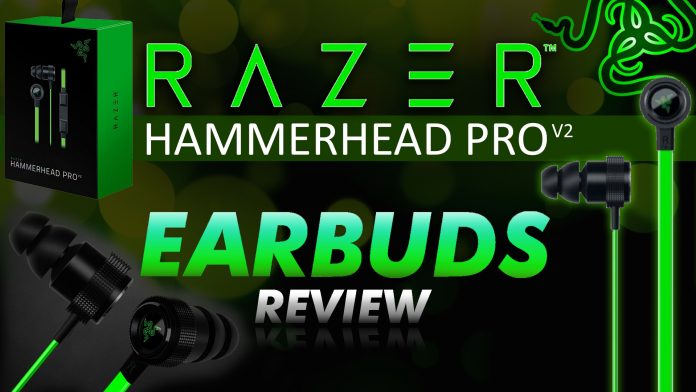 Razer sells headphones and earbuds that are specifically designed with gamers in mind, and that's exactly what people love about the Razer Hammerhead Pro V2 earbuds. Gamers aren't the only ones who enjoy these earbuds, however, and music listeners who like a fair bit of punchiness and bass in their music will love them as well.
Built for durability, clear but powerful sound quality, and with an aesthetic appeal that makes the headphones truly stand out in the crowd, the Hammerhead Pro V2s are an excellent gaming headphone option that are well worth the purchase. Despite a few minor flaws and annoyances, this is a great overall product for the cost and compared to the competition.
Razer Hammerhead Pro V2 – Review
As the second generation of Hammerhead Pro earbuds, the V2s come with some improvements over the last generation that makes them even more impressive to buyers, including a change in wire design, improved sound and bass quality, more included accessories, and others that will be covered throughout this review.
Durability and Product Quality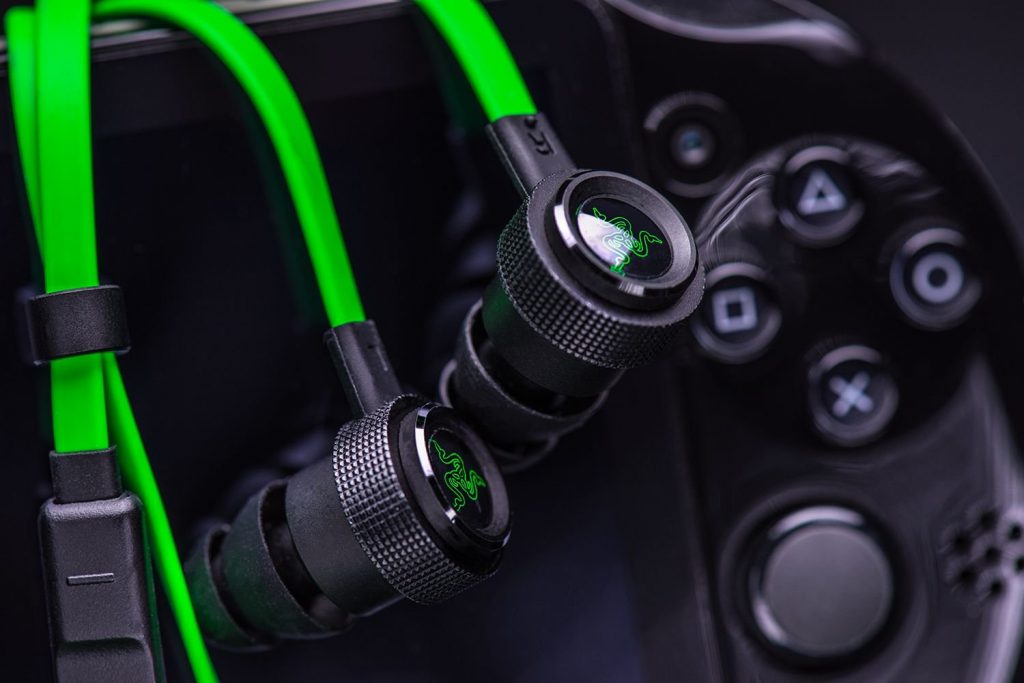 Razer designed their Hammerhead Pro V2 earbuds to be exceptionally durable, paying special attention to both the cord style as well as the earbud itself. This is definitely a set of headphones you could throw into a bag, travel with, and wear during physical activity without any worry.
The most noteworthy thing about these headphones in terms of their durability is the style of the cord. Rather than a round, thin cord that can get tangles and torn easily, these Hammerheads feature a flat, durable cord that can take much more of a beating. Even when they do get jumbled up in bags or drawers, they are easy to detangle with minimal effort and absolutely no damage to the cord itself.
The large, 10mm size drivers are also more durable than one would expect to find in a small pair of earbuds. They can handle powerful bass and high volumes without blowing out, so users won't have to worry about the headphones becoming useless after a short period of time. They are a great option for anyone who likes to listen to their audio at high volumes.
The earbud housings themselves are also quite durable and built to protect the driver and other internal components of the headphones. The earpiece is completely constructed with metal rather than the plastic one would typically see in a smaller earbud. This makes them far more resistant to damage when left out of a case.
Unfortunately, these earbuds aren't designed to be sweat-proof, so they aren't the best option for use during workouts. Users who like to take their headphones to the gym or on jogs or runs might want to consider a different option.
Price Compared to Competition
Razer's Hammerhead Pro V2s are fairly pricey compared to much of the competition, but they aren't expensive as one might expect once the sound quality, durability, and impressive amount of included accessories are considered.
Gaming specific headphones are known to be incredibly pricey, and they aren't always worth the investment of you are a more casual gamer. This is what makes the Hammerhead Pro V2s such a great option. Buyers can benefit from all of the great gaming qualities without having to pay for a more expensive and professional option that comes with bells and whistles they don't necessarily need.
All things considered, this product is well worth the investment for anyone looking for high-quality earbuds that will last for years to come.
Included Accessories
These earbuds come with a few different accessories that make them well worth the price you're paying for them and sets them apart from the competition. Each accessory is high-quality and useful to anyone buying these earbuds.
First, buyers will receive three additional sets of silicone ear tips with their earbuds. Having different size options for this part of the earbud is important. Not only does it make them more comfortable to wear, but it also ensure the kind of snug fit that one wants when trying to achieve the most noise isolation possible.
In addition to the three sets of standard silicone ear tips, buyers of these earbuds will also receive one double-flange set of ear tips as well. These are a great option for anyone who really wants t make sure no additional noise leakage happens while wearing the earbuds and makes them a great option for use in quiet, public spaces.
Second, these earbuds come with a short-wired splitter. On their own, the headphones have a single, four-pole, 3.5mm connector. With the included splitter, this easily becomes two three-pole, 3.5mm connectors. This is ideal for use with older laptops and gaming computers where the audio and microphone connections need to be different.
Finally, the third accessory included with the Hammerhead Pro V2 earbuds is a round, semi-harm carrying case. The case has an internal mesh pocket where the additional ear tips and splitter can be stored securely, and the case itself keeps the already durable earbuds safe from damage or tangling when they aren't being used.
Design and Aesthetic Appeal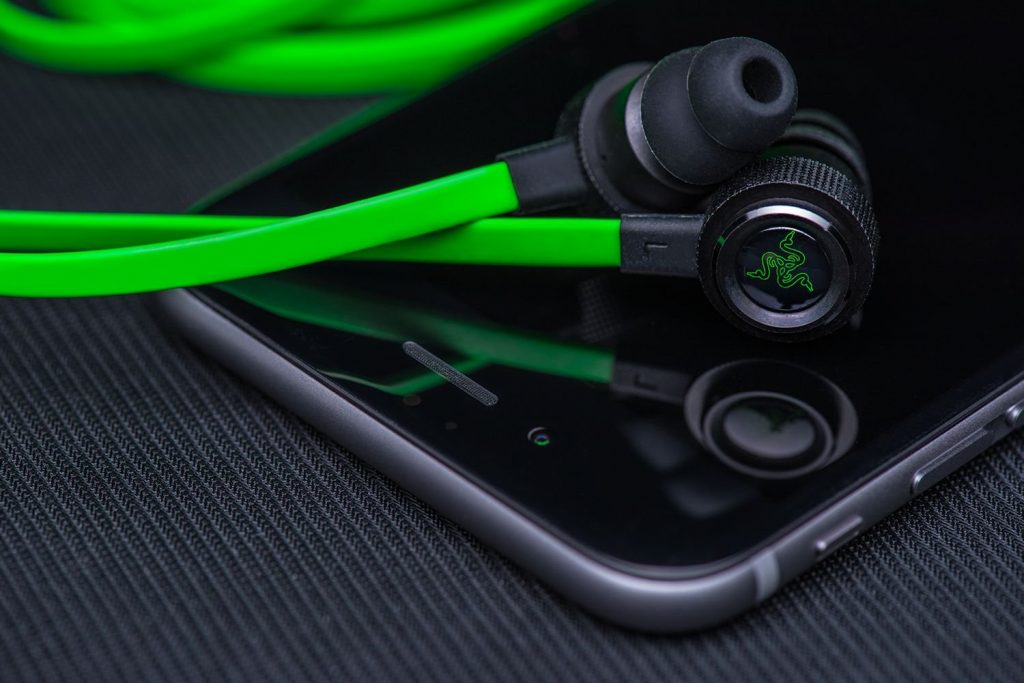 Simply put, these are unique and attractive headphones that certainly stand out among others. The vibrant, electric green color of the cord and small earbud logo are eye-catching, making these headphones more interesting than a standard all black or white option.
The in-line microphone as well as the earbuds and ear tips themselves are black, which creates a stark contrast against the bright green. The outer portion of the earbud housing features a textured ridge, giving them a more masculine and durable appearance than they would have had otherwise. The sleek, aluminum metal earbud housing allows these headphones to look just as tough as they actually are.
While many enjoy the bold appearance of these earbuds, users who prefer something a little less flashy may not be into the bright green color that Razer uses.
Level of Comfort
Nearly everything about these earbuds makes them an exceptionally comfortable option for headphone wearers. The double-flange silicone ear tips included with the headphones fit perfectly in the ear canal and don't budge. Not only do the leave ears comfortable and free from any soreness after use, they also ensure users don't have to worry about the earbuds falling out.
Although made of metal and extremely durable, the earbuds' featured aluminum housing is relatively lightweight compared to other metal options out there. This allows them to sit snuggly in the ears without being pulled out by the wires or their own weight. They can be worn for long periods of time without any discomfort, which is great for gamers. You can also read more about the best gaming earbuds here.
Quality of Sound and Bass
The Hammerhead Pro V2s were specifically designed with gaming in mind, but that doesn't mean they don't sound great in other contexts as well. During gaming, the larger than average 10mm drivers allow for deep, powerful, and booming bass sounds that really bring the game to life.
This can be an issue for music listeners who prefer clear treble and balanced acoustics in their music and media. However, music listeners who listen to bass-heavy audio regularly or prefer loud music – even in small earbuds – will appreciate all of the power and richness that these headphones have to offer.
This is not to say that the earbuds don't have any balance in their sound whatsoever. In fact, the highs are actually quite crisp for a pair of gaming headphones. There may be, however, a little muddiness when listening to music that is supposed to balance and blend together as opposed to a game that has distinct and separate audio.
The middle tones are what could easily get lost in these earbuds, but the sound quality is still great for the purpose and cost.
As mentioned, the audio quality during gaming is where these headphones truly shine and stand out among the competition. The distinct action noises all come through the speakers clearly and separately, bringing the game to life for the user and creating a rich experience one wouldn't be able to achieve in a set of earbuds not designed for deep bass.
Quality of Microphone Audio
Microphone quality isn't always something users care about when it comes to their headphones, but that's a whole different story when it comes to gaming-specific headphones. Voice chat has become an important part of gaming, so gamers want a high-quality microphone that works well even among the additional noise of the game.
Unfortunately, this is one area where Razer's Hammerhead Pro V2s definitely fall a bit short. While the in-line microphone isn't horrible, it definitely isn't what one would expect from a product specifically marketed to gamers. Users may find it to be a suitable option for voice calls and brief chat sessions, but problems arise when used during long-term chatting during competitive gaming.
A lot of gamers use a boom mic, which works well with gaming platforms and can be adjusted easily by the user. However, these Razer earbuds feature an in-line microphone that can cause some frustrating issues during game chatting. It is not the most effective gaming solution in terms of chatting.
Because the in-line microphone lays across the wearer's chest on the cord, any cord movement at all could cause annoying noise over the microphone. Rustling from clothes, thumping from banging against chests or controllers, or any other disturbance to the microphone could bother both the gamer and their chatting partners.
These are minor inconveniences at worst, but buyers should be aware of what they're getting into if they are looking for a high-quality voice chatting option. For the most part, these are still a great set of gaming earbuds for under $100 that offers tippy-top-level sound quality.
Noise Leakage and Isolation
Most earbuds will never be as good with noise isolation as actual noise canceling, over the ear headphones. That being said, the Hammerhead Pro V2s do a pretty great job for a small set of earbuds.
This is mostly due to the snug fit of the ear tips, specifically the double-flange option that reaches far into the ear canal comfortably. It conforms almost perfectly the the ear, not allowing much outside noise in to disrupt the quality and clearness of your own audio. Users should be sure, however, to choose the best fitting pair of ear tips for their own ears if they want to achieve a noise cancelling effect.
Along with not letting noise in, these earbuds do a pretty excellent job of not letting noise out, either. Users will experience very little sound leakage, even when using these earbuds at top volumes. This makes them a great option to use in libraries, at school, or on public transportation where you don't want to bother the people nearby.
Razer Hammerhead Pro V2 Earbuds – Pros and Cons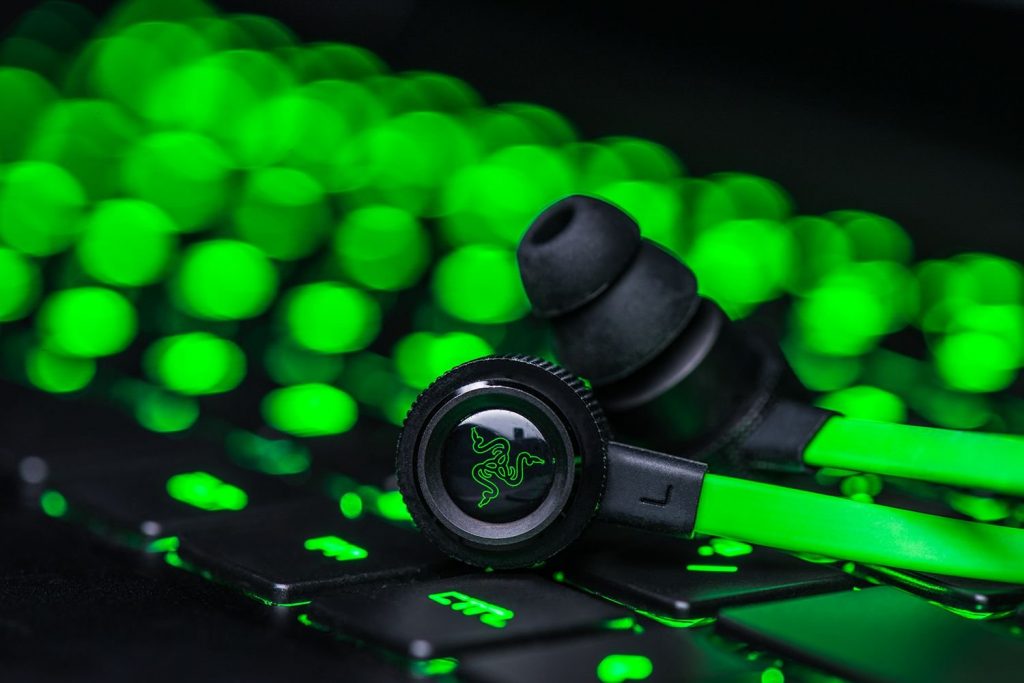 Razer Hammerhead Pro V2 Earbuds – Final Thoughts
Overall, the Hammerhead Pro V2 are an excellent set of earbuds for gamers and many music listeners alike. They stand out among the competition, and their durability and toughness alone makes them worth the initial investment of purchasing them.
The changes made between the first generation Hammerheads and the v2 model have made quite a difference in the product's sound quality, comfort, and durability. Users will likely enjoy the new flat wire, powerful driver, and aesthetic changes made by Razer which have made these earbuds a strong competitor on the market today.
While serious or professional gamers might prefer a more high-end, over the ear headphone option that allows for the use of a boom microphone, these earbuds are more than adequate for the everyday game enthusiast. The sound quality during gaming is incredible, and the annoyances during in-line microphone use aren't necessarily worth the investment of buying a more expensive set of headphones.
Anyone looking for a durable set of earbuds that will last for years to come and truly packs a punch when it comes to bass and loud audio is going to find what they are looking for in the Razer Hammerhead Pro V2 earbuds.