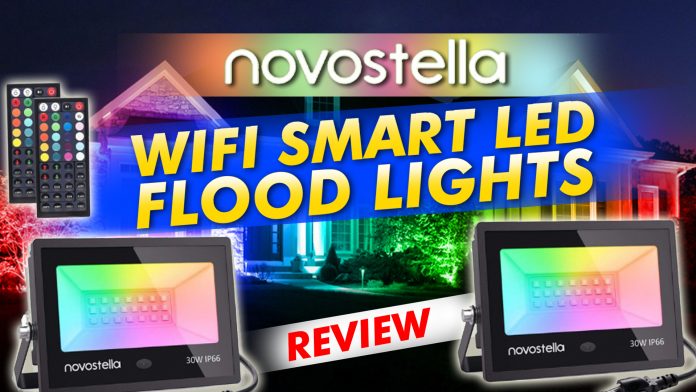 Nothing beats a great lighting scenario outside your house. It gives your residential space that "homey" feel that can be inviting to guests and relaxing for the homeowners. One such lighting that caught our attention is the Novastella WiFi Smart LED Flood Lights.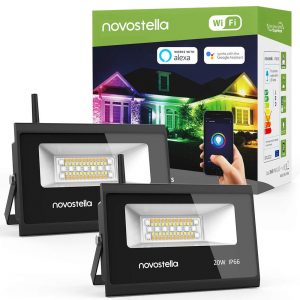 After checking out the product, we've come to realize that it's a great option for making your place appear lively and welcoming. Plus, it's great for occasions where you have to showcase the stunning landscape you have put a lot of effort into.
Novastella Smart LED Flood Lights: The Amazing Features
So, what's so great about the Novastella WIFi Smart LED Flood Lights? Well, apart from the scratch-resistant and fade-proof enclosure, there's a whole lot more to it. Let's dig into the features of these amazing lighting fixtures.
Bright At 2000 Lumens
Lumens is a measure of how much light you are getting from a bulb. The Novastella Smart LED Flood Lights boast of 2000 lumens which is more than enough for outdoor spaces (e.g., gardens and patios).
The two-pack flood lights means you're getting 2000 lumens each — a brighter landscape for parties, events, and when you simply want to gaze at your backyard. This home yard light will surely be bright enough to highlight the most important parts of your garden.
Huge Array Of Color Combinations And Scenes
Colors of these smart flood lights can be customized with a huge option of over 16 million different combinations. You can use the application and slide through the color wheel to specify any type of color within the RGB spectrum. It even allows you to adjust brightness, hue, and saturation for enhancements.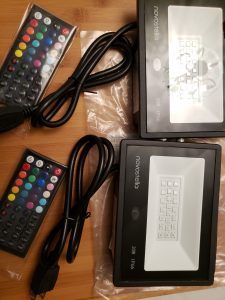 Since the color temperature range for the white light goes from 2700K to 6500K, you can customize from ultra cool to that of warmer yellowish hues. Again, you can simply move the slider using the app to pick the white light you want.
The Novostella WiFi Smart LED Flood Lights gives you 8 different choices for lighting scenes as well. With more than 16 million color combinations and 8 varied lighting scenes, you'll never run out of alternatives for different purposes or occasions.
IP66 Waterproof Rating
It's called a flood light for a reason — it has an IP66 rating. This means it is totally dust tight and has full protection against particulates. In addition, it also means that it can withstand high pressure jets of water. These 2-pack Novostella flood lights can be placed on uncovered locations because it is waterproof and is within a sealed enclosure.
Smart Controls
By using their digital application, you can easily manage your Novostella WiFi Smart LED Flood Lights through a smartphone or tablet. You can use the app to switch it on or off, to choose color combinations, to adjust brightness, to set a schedule, to choose preset or custom scenes, and to set sunrise and sunset.
The app has versions for both iOS and Android devices so you won't have to worry about being a left-ist or a right-ist. As long as there is a Wi-Fi connection, you can easily control the Flood Lights from any location.
With a simple tap on the app OR through a voice command on Amazon Alexa (or Google Assistant), you can manage the appearance of the lighting on your yard. Memory function is also available with the app.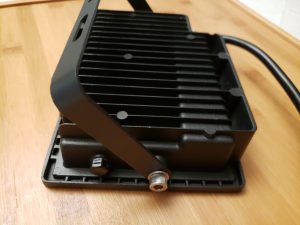 The Setup
Now that we've got the features covered, let's talk about the setup of these lighting fixtures. In our experience, the process is quite tricky but can be easily done once you read the manual.
Here's a quick rundown: You simply attach the antenna to the light, install and launch the Smart Life application on your mobile device, plug the Novostella light, use the app and click the plus (+) sign at the top right corner, choose lighting, select LED light, wait for the pairing to happen, and input your Wi-Fi password.
That's it! It may sound easy at first but once you get to try it, you may experience problems with the connection. Don't worry though, the brand has got you covered with their manual and instructional videos.
Note: If you can't seem to finish the setup process successfully, you can check out their video tutorial here. Make sure you follow the instructions carefully.
Our Thoughts
The Novostella WiFi Smart LED Flood Lights is a great option to light your yard for different purposes — may it be a grand party or just to simply make your garden appealing. We love two things about it, the fact that it has millions of color combinations and the ability to control your lights from any place where there's an Internet connection.
The only downside we can see is the setup process. But once you go through this tricky stage, you can control your lighting from an app and enjoy the scenery in the comforts of your home (or floor-to-ceiling windows).