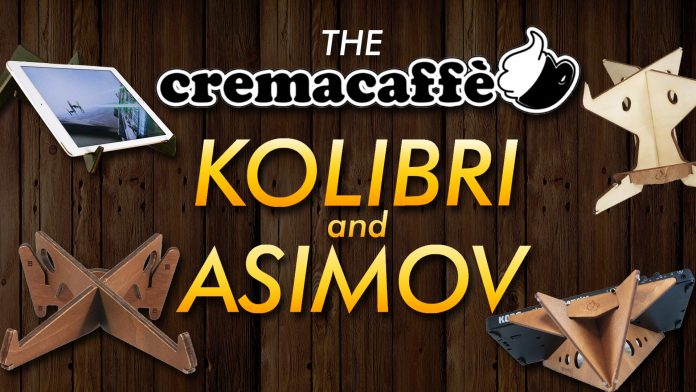 I'm the type who likes to have a lot going on in my desk. I have a second screen, a tablet, and a phone to think of while I'm facing my PC. The problem is, I only have so much desk space that it's cluttered – there's not enough room for my Mountain Dew can collection. That's why I'm so thankful Cremacaffē came into my life – they solved my space problem with just a few wood panels, great design thinking, and strikingly good looks.
This is my story of the Cremacaffē Kolibri and Asimov.
About Cremacaffē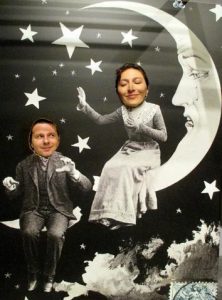 Cremacaffē is the brainchild of architect and designer Elisa Andretti with marketing specialist and musician Andrea Milana. The pair collaborate together to create stands built for musicians, music producers, video editors, graphic artists, multi-taskers, and streamers; pretty much anyone who needs to have multiple devices open at the same time.
They design beautifully crafted, handmade stands that use recycled and repurposed wood to create sturdy yet lightweight and intuitively designed stands that look cool in pretty much any setup. Besides that, they also create music and royalty-free sound packs for content creators. Talk about creative, amirite?
Cremacaffē Kolibri | Laptop, Tablet, and Audio Mixer Stand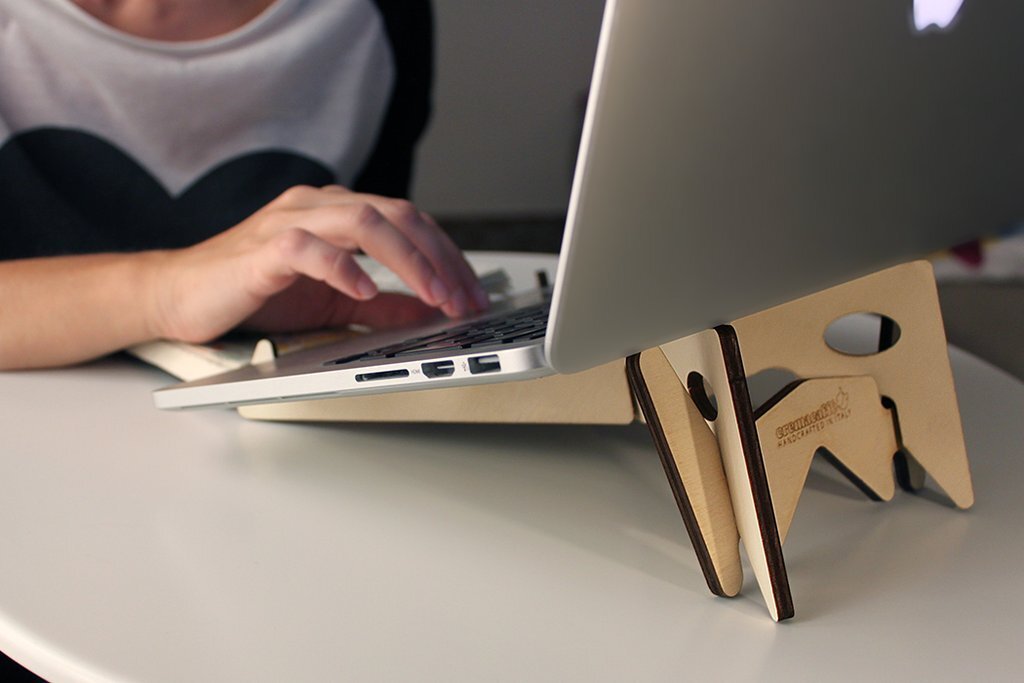 First up on our review is the Kolibri. It is a single-tier synth, laptop, and tablet stand. The Kolibri measures 9 x 10 inches, a perfect fit for devices up to 13 inches.
It comes in two finishes: the classic double face, which has natural poplar & walnut tones, and graphite – a meaner, more sleek finish that would work in any gamer desktop setup. I got the double face variant sent to me, and let me tell you – I fell in love with it the first time I propped my MacBook on it. Read on.
Design
The stand looks cool. That's all I have to say about that. It works in both landscape and portrait mode for those who want to use their tablets upright, such as those using their tablets to monitor their Twitch chats and such. It's a fun little thing, with the wood panels interlocking to form the shape of the stand.
Intended or not, the stand is very portable. It's got a very small form factor when disassembled, and fits right inside a regular work messenger bag. It's excellent for students or writers that need to have a book open during work. Just be sure to put it in a carrying case because having all these panels bump around in your bag can be annoying.
Build Quality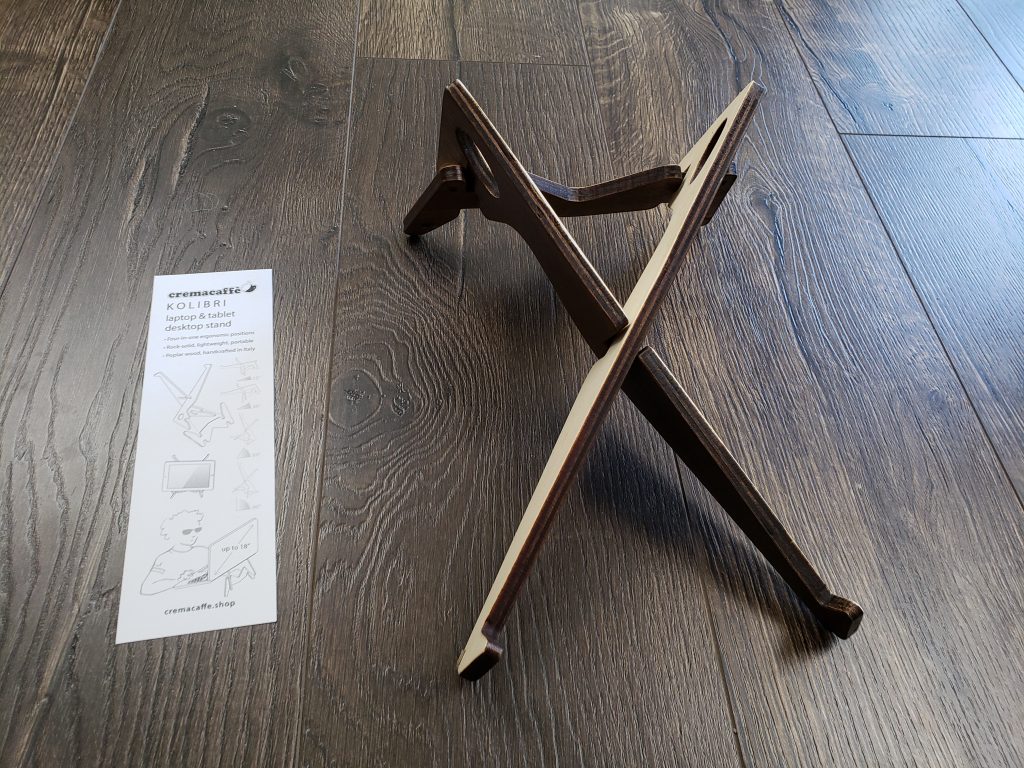 The Kolibri is made with repurposed wood panels that are laser-etched into a modular shape. Apparently, these are stained, sanded, and finished by hand. Each one has a unique number that's registered to the buyer – a nice bespoke touch we truly appreciate.
You can see the laser burns on the edges. Not a bad thing, mind – I happen to like the dark tone very much. The surface feels very, very smooth as well, I'd even go so far to say that it's sanded perfectly. The staining is really fine as well, and highlights the grain of the wood, which gives the stand a very rustic feel.
Features
The Kolibri is designed to hold up to 18" laptops and a wide range of iPads, Android tablets, and synthesizers. Hell, I even propped a dictionary up on the Kolibri and it worked just fine. The design is made up of interlocking wood panels. It's easy to assemble if you read the manual. I, being the true blue gamer that I am, did not. But I figured it out in the end, and here's the result:
It's very low-key, and doesn't look out of place on my desk. I prop up the MacBook here because my main screen is my PC, and I usually answer emails from my MacBook. It also works well as a second screen, with my movies streaming from it. It saves me the hassle of having two Chrome windows side-by-side if I want to look at two separate web pages at the same time.
Usage
For myself, I found myself using the Kolibri for my laptop, for use as a secondary computer. It does increase (at times, decrease) my productivity, but it's definitely great to have a second screen. Since I'm using a Logitech bluetooth keyboard, it was easy to switch between devices. It actually frees up a ton of space on my desk since the laptop isn't taking up the desk space it used to, since the Kolibri has a much smaller form factor.
The Kolibri is a great addition to any desktop for creatives and people who need multiple screens. There are options, such as portable monitors, that you can use in place of a second computer or tablet that extends your screen without much hassle, and they would fit perfectly fine on the Kolibri.
Cremacaffē Asimov | Two-Tier Laptop, Tablet, Keyboard, and Audio Mixer Stand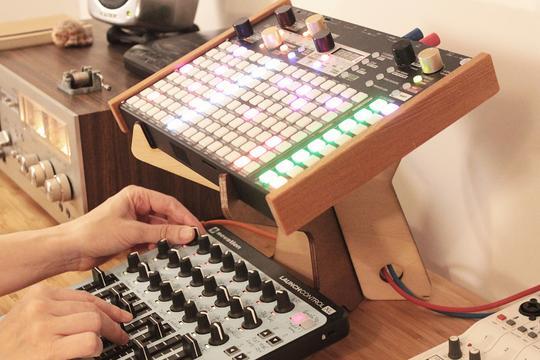 The Asimov is another excellent stand from Cremacaffē, and one of the coolest too. It's a two-tier stand that's designed to work with laptops, synths, and other medium to large devices. It measures 8 by 8 inches and has two tiers, with one propped up by a small stand built on the base. It's got an integrated cable organizer and is made of three interlocking wooden panels.
Design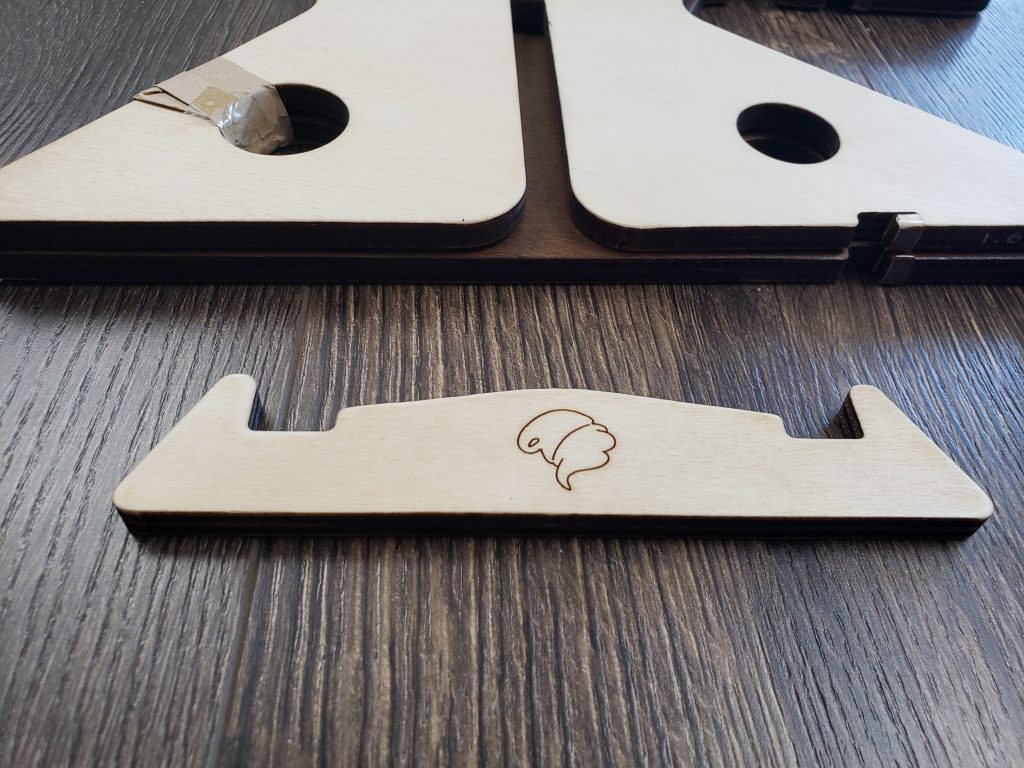 I think anyone who would say this isn't a well-designed product wouldn't know a good design if it bit them on the ass. That's how much I like how the Asimov looks. It's designed to be a two-tier stand for creatives: musicians, designers, and streamers. With only three interlocking panels, it's elegant and simple – and every bit as portable as the Kolibri – great for DJs and musicians who need to lug their stuff around.
Build Quality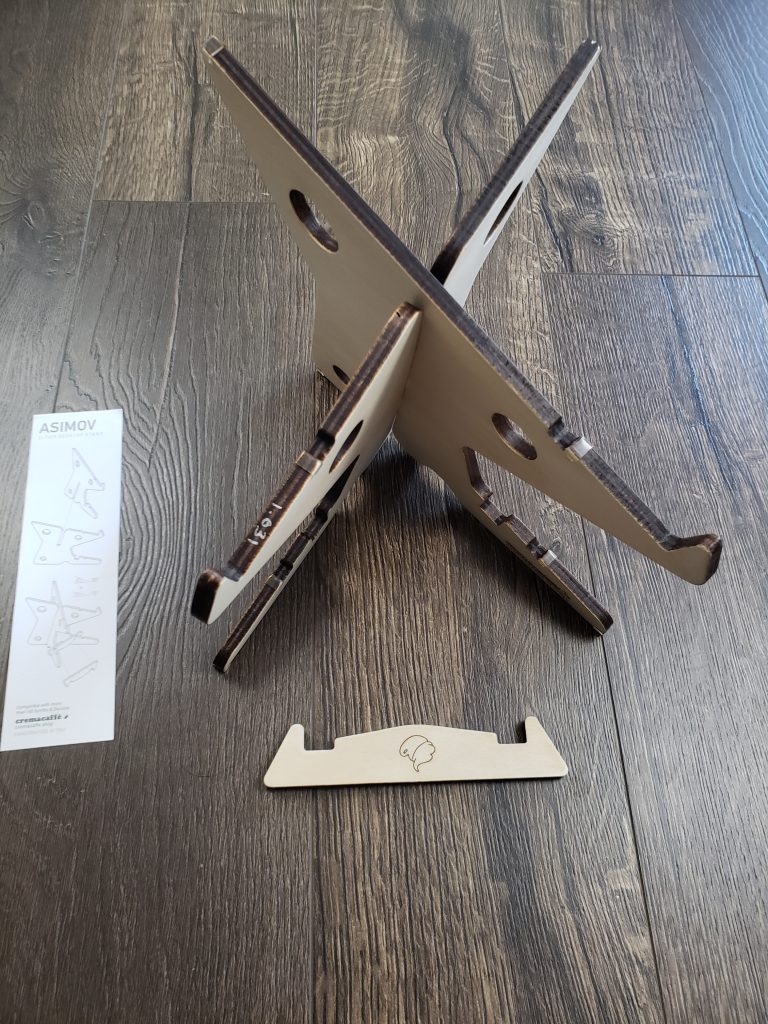 It uses the same repurposed wood the Kolibri does, and is surprisingly sturdy. I didn't have an audio mixer or a hefty keyboard on hand, so I used my laptop to try it out again. However, based off some of the pictures from their website, this thing is equipped to handle even the most heavy audio mixers for streaming.
Features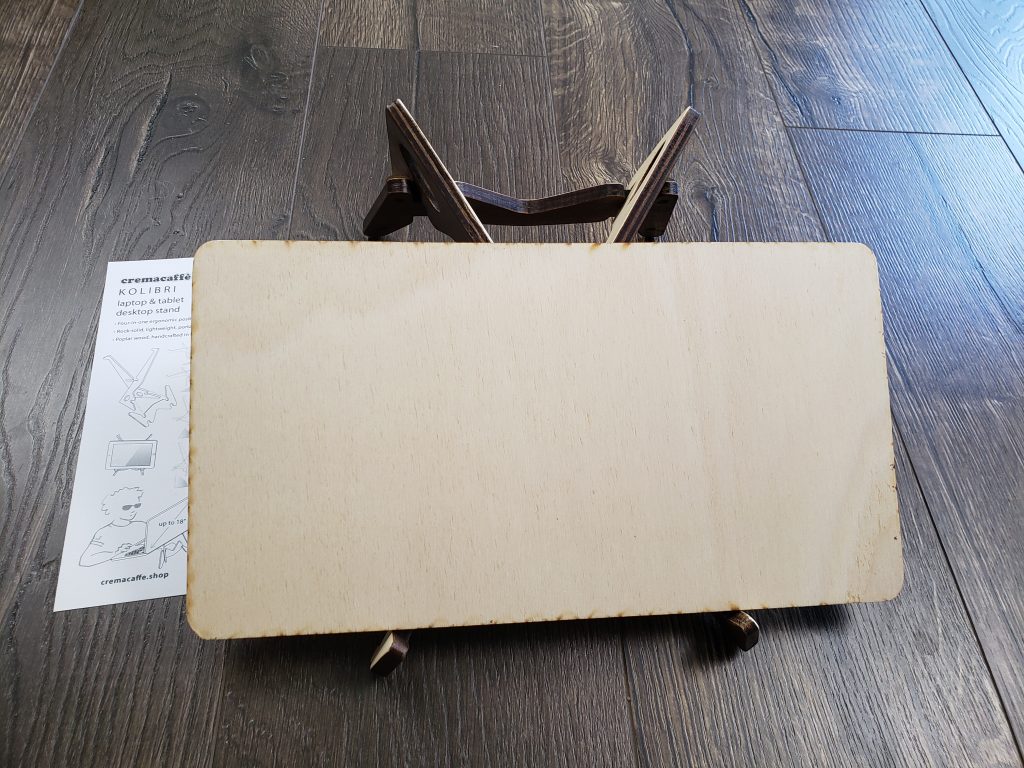 The two-tier system is pretty cool. Having the option to have two devices within one hand's reach isn't an entirely new idea, but the Asimov makes it look so, so cool. This is great for musicians and video editors who need a bit more fiddle than what their software is capable of. I think designers and artists would like this too, both digital and analog. You can keep a sketchbook up top and your Wacom tablet down low – it's awesome!
Usage
As per our audience, I highly recommend this for people who want to stream and are using a gaming laptop or portable monitor as a second screen, then keep the audio mixer on the second tier. It's a great way to streamline your setup as it keeps everything in one place, letting you control your stream, chat, and audio all at the same time. Consider the Asimov a must-buy if you want to start streaming the right way. Trust me, you're going to thank me later.
Wrap Up
Thanks to Cremacaffē, I've now got a less-crowded desk and so much more screen space. Whether that's a good thing or a bad thing for my productivity remains to be seen, but I would highly recommend this stand to anyone who needs extra screen space, more room on their desk, or need to use a lot of different hardware to do their work. These things are well-designed, handcrafted, sturdy, and really just super useful.
Check our Cremacaffē, their products, and their music here: https://cremacaffe.shop/