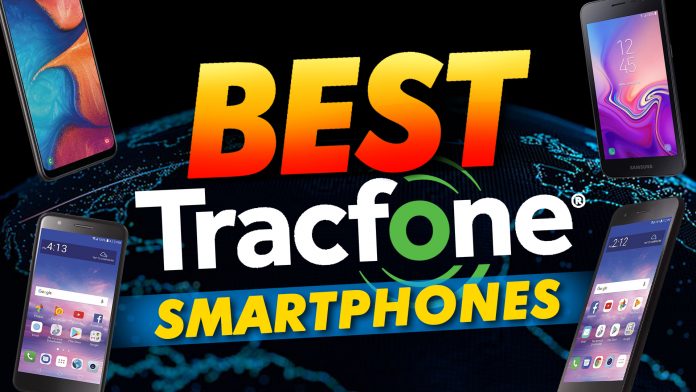 Some people are really into smartphones. They invest heavily in which phone they get and drop mad cash on peripherals such as cases, earbuds, and the like. And while that's all well and good, some of us would rather spend their money on better things; such as a monster PC, great smart lighting, awesome gaming monitors, and more.
If you are that type of person, you would probably be happy with picking up a cheap, affordable smartphone with a cheap, affordable plan. TracFone is one of the few companies that can scratch that itch for you, and they have a decent lineup of smartphones that you can choose from if you are not looking for high-spec phones, like the iPhone 11. If that is your jam, choose the best TracFone smartphone from this list today!
The Best TracFone Smartphones Options At a Glance
| Rank | Preview | Product | Year Released | Price |
| --- | --- | --- | --- | --- |
| 1 | | Samsung Galaxy A21 (newer model) | 2020 | |
| 2 | | Samsung Galaxy J2 | 2015 | |
| 3 | | Samsung Galaxy A10E | 2019 | |
| 4 | | Apple iPhone 7 | 2016 | |
| 5 | | Apple iPhone 8 | 2017 | |
| 6 | | LG Premiere Pro Plus | 2020 | |
| 7 | | LG Rebel 4 | 2018 | |
| 8 | | Motorola Moto G7 Optimo MAXX | 2020 | |
What is TracFone?
TracFone Wireless, Inc. calls itself America's #1 Prepaid Mobile Provider. They are a subsidiary of Mexico's biggest telecoms company, América Móvil, which is the 7th largest telecom provider in Mexico. They do not own any wireless network infrastructures themselves but instead piggyback on America's Big 4 telecoms providers, namely: Verizon, AT&T, T-Mobile, and Sprint. That said, you can be sure that you will always find good reception with your TracFone, provided you are within reach of cell towers servicing the aforementioned Big 4.
Why should I get a TracFone smartphone?
Sometimes, people do not get as hyped as many others when it comes to the latest smartphones. Some cannot afford to pay for an expensive subscription from the Big 4: Verizon, AT&T, T-Mobile, and Sprint. Others simply prefer to use a prepaid subscription compared to postpaid. To them, it might make more financial sense to use prepaid SIMs rather than postpaid plans. Still, others might not really need the big data plans offered by major providers, and instead, choose to have just SMS and calls on their phone.
Does TracFone use refurbished smartphones?
Yes and no. TracFone does provide refurbished smartphones at a much lower cost – sometimes free – for its users. This is to ensure that everyone can find a phone that fits their price range. They market themselves as a very affordable brand, so the cost of entry is so much lower compared to major providers. There are brand new phones for sale as well, which is what this article will focus on completely. However, if you are willing to use a refurbished smartphone instead of a brand new one, you definitely have that option.
Are TracFone phones locked?
By default, yes. TracFone phones come out of the box locked to the network, meaning you may not use other SIM cards from other service providers with their phones. However, after an FCC order that ruled against TracFone, the company is now required to unlock phones after a certain period of time. They may also offer credit for a phone exchange, or a cash refund for older devices.
How do I unlock my TracFone smartphone?
You can easily do this in three easy steps, without needing to visit the store or a shady smartphone repair shop.
Step 1: Visit tfwunlockpolicy.com and input your current phone number at the bottom of the homepage.
*If you cannot access the internet at the moment, you may call them at their toll-free number: 1-888-442-5102. They operate within normal business hours.
Step 2: Find out if your current phone is eligible for an unlock. If it is, you will then continue with the process to receive an unlock code for your particular model of smartphone.
*Newer ones are more likely to be eligible, but TracFone's older smartphone models may not be. In which case, you may be eligible for a cash refund from TracFone.
Step 3: Once you get the unlock code, input it, and buy a new SIM from a new provider of your choice. Then, power down your phone, replace the old TracFone SIM with the new one, and power it on.
If you followed all three steps correctly, you should now be a proud owner of an unlocked TracFone smartphone.
The Best TracFone Smartphones Options for 2020
Samsung Galaxy A20 | Best TracFone for Long Battery Life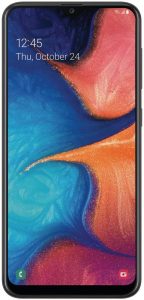 If you've been following smartphone trends, then you know that Samsung produces Android phones with their OneUI OS at the mid-to-low range level. They are mostly marketed towards Asian countries to lower the barrier to entry for some demographics. One such phone is the Galaxy A20: a budget-range Android smartphone that has a lot of heart in it. It's surely a device worthy of your attention.
The Galaxy A20 is powered by Samsung's own Exynos 7904 CPU, with 3GB worth of RAM, base storage of 32GB, and a microSD card to expand it further by up to 512GB. It's got two rear cameras: a 13-megapixel lens, and a 5-megapixel wide-angle lens. The selfie camera is a nice 8-megapixel shooter. Everything is powered by a chunky 4,000 mAh battery, which is surprisingly good especially for a smartphone at this range. And all this is packed into a tight little 5.86 ounces worth of phone.
The design isn't bad either. As this only came out in 2019, it follows many of the design cues from its more expensive flagship counterparts. The screen is nice and wide, with really skinny bezels allowing for more real estate. The front camera is nestled in a cute little notch in the top middle of the screen. However, you would see some of the trade-offs for the price with the plastic casing – easily remedied with a phone case.
The A20 works best if you're a bit of a light user: just a few apps, some streaming, not a lot of browsing. However, if you want to play more CPU intensive games such as some Android RPGs, you might find performance to be a bit disappointing. The Exynos 7904 is a budget chipset, which comes with a lot of shortcomings. You're better off playing with the gaming PC that you bought with the money you saved from your TracFone.
The camera is an amazing addition, however. The phone's cameras are well-engineered, both the front and the rear ones. The rear cameras provide excellent detail and play really well with natural light. It doesn't do too bad at night, but expect your photos to be dimmer compared to say, a Galaxy S10. The selfie cam brings with it Samsung's Live Focus, a feature previously seen only in their flagship phones.
There's not a lot to say about the A20 that won't sound entitled. It's a budget smartphone, so you shouldn't expect performance as good as its more expensive brothers. However, it does pack a huge battery life and some great shooters, making it one of the best choices for a smartphone from TracFone.
Samsung Galaxy J2 Core | Best TracFone for Android GO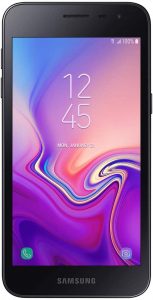 The J2 Core is the first smartphone from Samsung to ever run Android Go – a stripped down, optimized version of Android designed to run well on lower-end phones. This feature makes the J2 Core a great performer when it comes to handling tasks (to an extent, of course.)
This smartphone has at its heart a Samsung-built Exynos 3475, with 1GB of ram, 8GB of internal storage (with a micro SD slot for further expansion), a 5 megapixel rear camera and a 2 megapixel front camera. Its display is a humble 4.7-inch touchscreen. Everything is powered off a 2000 mAh battery.
Its plastic chassis is kind of a great selling point: it's sturdy and comes in really striking colors. They look pretty enough on its own, without the need for a case. It's got iPhone-esque rounded edges, lending a certain softness to its overall look. The bezels on the sides of the screens aren't too big, giving a lot of room for real estate; but of course, it is still a budget phone so that real estate isn't looking any clearer either.
The cameras are as basic as you can get. At 8 megapixels for the rear camera, it will be a bit challenging to snap photos worthy of an Instagram post with them, without running it through VSCO. However, Samsung does put a lot of effort on its camera sensors. The rear camera is still pretty good with natural light but really struggles with dim lighting, even with the night mode on. The selfie camera isn't exactly a slouch either, as it comes with Samsung's Beauty Face mode, touching up your face to be selfie-worthy.
Don't expect too much when it comes to performance. You will likely lag if you keep multiple apps open in the background, and will struggle with demanding apps such as games and streaming apps. However, if all you need is a phone that works as a phone, there's a lot of room to be satisfied with the J2 Core's performance.
To sum it up, the J2 Core is a decent, basic phone with great looks and a passable camera. It's a great choice if you want something lightweight and easy to carry around, and you don't care too much about using many apps from your phone. We'll understand if you'd rather splurge on a pair of the best gaming headphones with the money you save from this.
Samsung Galaxy A10E | Best TracFone for USB Type-C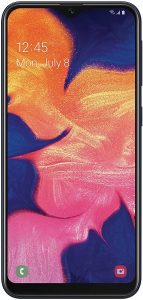 The A10E from Samsung came out in 2019 as an entry-level phone, but with better design. It's part of Samsung's newer design ethos, which mimics the look of their flagships to give their entry-level phones an attractive aesthetic. We're all here for it, and it's pretty much one of the reasons why you should choose this as a smartphone for your TracFone subscription.
It runs off Samsung's own Exynos 7884B, with 2GB of RAM. It comes with 32GB worth of internal memory, with a micro SD slot for those wishing to expand its memory. It features a basic low aperture 8MP rear shooter, and a 5MP selfie camera. Everything is powered by a 3,000 mAh lithium ion battery, chargeable through a USB Type-C cord (!), plus there's also a headphone jack. Great phone for its price!
The screen is a 5.83-inch IPS screen with 720p resolution, with a cute little notch up in the top middle housing the selfie camera. The screens are almost bezel-less, with the whole phone able to display up to 720 x 1560 resolution – pretty big for a budget smartphone. It even looks just like a flagship, even from behind. It's covered in a plastic case coated with a glossy, almost glass-like finish. Since the plastic is made sturdier than glass, you wouldn't even need to use a case for this phone.
Out of the box it runs on One UI 1.1, the Samsung default, and with all the bloatware it brings with it. However, it will still work with Samsung's upgrades for 2020, so this phone can still serve you well for a few years. The performance when brand new is pretty decent, with apps feeling snappy, and even a few low-spec games feel a lot better. But, keep in mind that the phone runs on an Exynos chip – an underpowered budget chip that can choke when loaded with too many tasks.
The cameras are terrible, however. They lack the warmth many Samsung cameras have, with pictures looking a little bit bluer compared to some of Samsung's better cameras. But you're not using this phone for its camera anyway. You could buy something much, much better if you want a phone with a great camera.
Overall the A10e is a good enough smartphone for people who don't expect too much from it. It's good enough to run most apps that people use, but mobile gamers may not have much fun with it. However, the inclusion of a headphone jack means that while you may not have the best gaming smartphone, it can definitely use the best gaming earbuds you just bought. Money well spent, we say.
Apple iPhone 7 | Best TracFone for People Who Miss the Home Button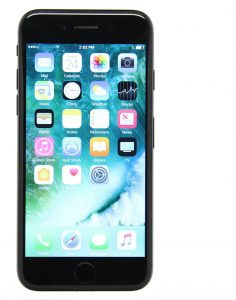 Don't be surprised to see an iPhone from 2016 here – it is part of TracFone's offerings, and it's darned cheap with them, too. But don't fret, the iPhone 7 is still a pretty solid phone, even at 4 years old. And while Apple doesn't officially sell it anymore, refurbished units – sometimes new ones, too – can be found with providers such as TracFone, or on Amazon.
The iPhone 7 is run by Apple's very own A10 Fusion processor and comes loaded with 2GB of RAM, and 32GB or 128GB of storage. Its display is a 4.7 inch touchscreen, with a screen resolution of 750 x 1334. It has a 12 megapixel rear shooter and a 7 megapixel selfie cam. It runs reliably for 12 hours before needing to charge, and is possibly one of the best iPhones to ever come out.
It definitely looks like an iPhone, and once you've seen one, you've seen them all. But the iPhone 7 (and its bigger brother, the 7 Plus) is one of the last places people have seen the home button; a feature Apple thought we didn't need anymore, but sorely miss. The tactile feel of the button may be enough for some to pick up this aging smartphone.
The cameras are incredible for a smartphone this old. The iPhone 7 was a flagship phone, after all, and Apple pulled out all the stops to make this camera as great as possible It's got a state-of-the-art (at the time) sensor that captures photos with great detail in almost any lighting situation. Movies have been made with the iPhone 7, and the camera in this phone will show you why.
The only thing we regret seeing is the absence of the headphone jack. The iPhone 7 was a turning point for Apple, as this is the first time they abandoned the headphone jack; a trend followed by other smartphone brands in the succeeding years. If you already have AirPods, you wouldn't mind this so much. But for those of us who still love our audiophile wired headphones, there's nothing to see here, move along.
If you're thinking that the iPhone 7 is still a good phone to get from TracFone in 2020, it absolutely is. Apple's engineering has created a phone that can probably last you at least 2 more years before needing to finally upgrade. But if you're not looking to use your iPhone 7 for anything other than basic phone tasks and maybe some videos for your TikTok account, this is a great choice.
Apple iPhone 8 | Best TracFone for Future-Proofed iOS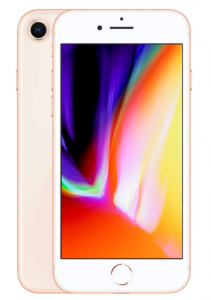 The Apple iPhone 8 is still a great phone to have in 2020, even if it is starting to show its age. It was only released two and a half years ago, and since it's a flagship phone, it packs a lot of flagship level features that were top of the line at release. Long story short: it's a perfectly capable smartphone, even if you purchase it today.
The iPhone 8 is running on an Apple-made A11 Bionic processor, and comes with either 64 GB or 256 GB of onboard storage. It's got a single 12 MP camera in the back and a 7 MP selfie cam. The screen is a crisp Retina IPS LCD touchscreen measuring 4.7 inches, capable of displaying 16 M colors. Everything is powered by an 1821 mAh lithium ion battery. And of course, the ever-recognizable home button is still present in the front.
The design feels premium, which it should, because it's an Apple iPhone after all. We're not completely sure what colors you can get with your TracFone subscription, but it looks best in black. The phone is coated in Gorilla glass, making it tougher than most other phones; however keep in mind that glass still breaks when subjected to enough force – such as dropping it from the table. We recommend using an iPhone case to mitigate this kind of damage.
The cameras, of course, are excellent. The iPhone 8's sensors were some of the best Apple made during that generation and are definitely still heavy-hitters today. You can make a decent living shooting stock photos with this thing thanks to its wide f/1.9 aperture. The selfie cam is no slouch as well, with great lighting and Apple's awesome post-processing making sure your selfies are always IG-worthy.
The iPhone 8 is still subject to Apple's updates in 2020, with no word on the succeeding years. However, it does mean that this smartphone will still be able to play with the big boys, just not as well. It's an aging phone so you shouldn't expect too much when it comes to its performance. It starts to lag with more recent games and will probably choke if you have more than two or three apps running at a time.
Overall, the iPhone 8 is a great choice for your smartphone for your TracFone subscription. It's a good enough smartphone to carry you for at least the next two years, but expect a significant slowdown after that.
LG Premiere Pro Plus | Best TracFone for IPS LCD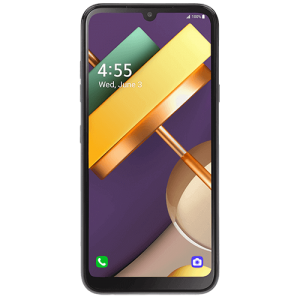 Released this year of 2020, the Premiere Pro Plus is LG's foray into the budget smartphone market. It's one of the newer offerings on TracFone's stable. While significantly more underpowered than many of the other smartphones released this year so far, it's a great basic smartphone with good battery life and a screen that's worth the purchase.
It runs off the lesser-known Helio P22 processor from Mediatek and is held up by 2 GB of RAM and 32 GB of internal storage. It features a nice 6.5 inch IPS display, capable of crisp 720×1520 resolution. LG sprung hard for its camera, featuring two rear lenses – a 12 MP main camera and a supporting wide angle lens. There's an 8mp selfie cam in the front. Everything is powered by a 3,500 mAh non-removable battery that can keep this phone running for the whole day, if used conservatively.
The build quality on the LG Premiere Pro Plus is amazingly good. It uses a metal chassis covered in 2.5D Arc Glass that provides a smooth grip. It also makes it look really, really premium, despite its budget pricing. The 6.1 inch screen is an amazing IPS LCD display, with colors as crisp as 720p can get.
The LG Premiere Pro is a great little phone with a decent, but arguably inferior, processor. It's a phone that you get if you don't mind sacrificing performance for stability, a good camera, and a decent battery life. And if you're okay with that, this TracFone option is a great choice for you.
LG Rebel 4 | Best TracFone with Quick Processor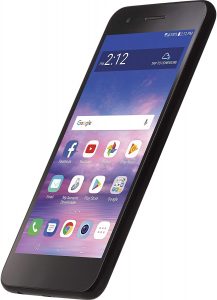 The LG Rebel 4 is a rebel in a lot of ways, but most especially for this: having a Snapdragon processor in a budget phone. It's surprisingly quick and handles processes like a charm, which makes this a great TracFone option to have in 2020. If you're looking for a basic smartphone that can last you a few more years, then the LG Rebel 4 is the phone for you.
This LG budget smartphone is run by a Qualcomm Snapdragon 425, a chip seen in Samsung's newer J series phones. It's got 2 GB of RAM and a base internal storage of 16 GB, expandable by up to 32GB through a MicroSD slot. The display is a crisp 5.0 inch LCD touchscreen capable of 720 x 1280 resolution. In the rear is a basic 8MP shooter, while the front cam is a modest 5MP lens.
On the design front, there's really not much to say about this smartphone. It looks like an iPhone 5, sans the home button. The bezels are thick and take up a considerable amount of space, but keeps the focus on the crisp 720p LCD display. It's a joy to watch movies on the go on, and good enough for basic photo viewing.
Cameras have never been LG's strongest suit, as photos from the rear camera come out a bit blue from its auto white balance. This camera works better in natural light, but don't expect to win any Pulitzer prizes for your photojournalism with this phone.
The real star of the show is the Qualcomm Snapdragon 425, a beast of a chip rarely seen in this budget range. This speedy little processor can handle even the most processor-intensive apps without overheating, making it a good phone to have for the future. However, the 2 GB of RAM means you won't be playing much of the more popular Android games, unless you like lag.
We think the LG Rebel 4 is an amazing companion to your TracFone subscription, if only because of the processor. Its processor alone can carry the phone all the way to 2 or 3 years in the future, if you plan to keep it that long. But as far as your first TracFone handset goes, this might be a winner.
Motorola Moto G7 Optimo MAXX | Best TracFone for Octa-Core Processor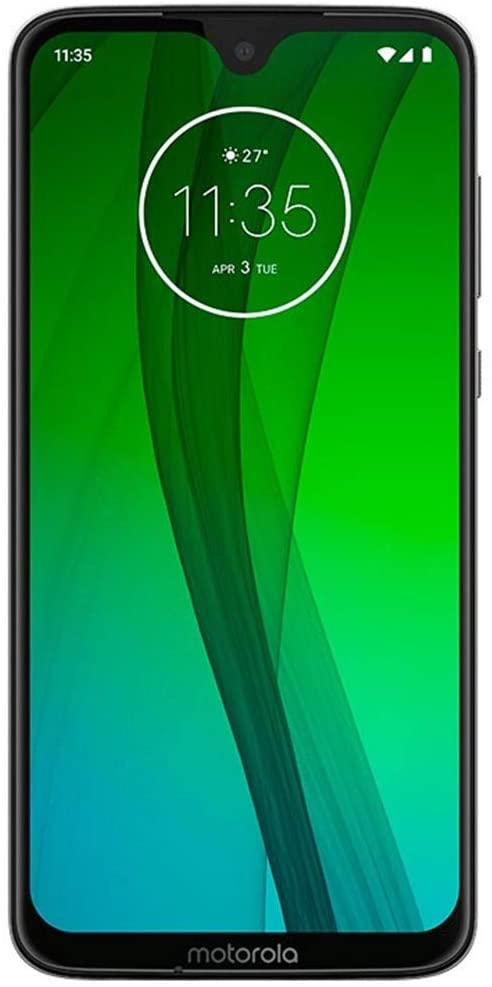 Released by TracFone as a phone option just this April 2020, the Moto G7 Optimo MAXX (yes, it is spelled in all caps) is a beastly phone with great features internally, but pales a bit externally. But the pros truly outweigh the cons with this phone, as you will see in the next few paragraphs.
This phone is run by a Qualcomm Snapdragon 632, with 3 GB of RAM. Base internal storage is 32 GB, but is expandable up to 512 GB with a MicroSD card. It's got a 6.2 inch LCD touchscreen with a resolution of 720 x 1570. The rear camera is a cool 12 MP shooter, backed up by an 8 MP selfie cam in the front. Everything is powered by a hefty 5,000 mAh battery. With a battery this size, you could go two full days without charging with minimal use.
The G7 Optimo MAXX features design cues clearly taken from the Samsung S8, the thin bezels mimicking Samsung's Edge screen. This also means that there's a lot of screen real estate here – which is a shame because the display really isn't all that good. Colors feel blah and muted on this screen, which takes a lot of fun out of watching really colorful videos, or the best games.
Speaking of which – you can reliably game with the G7 Optimo MAXX thanks to its snappy Snapdragon 632 and 3 GB of ram. You can play games like Asphalt, COD Mobile, or even PUBG Mobile reliably well on this device. There will be some overheating when playing for long periods of time, but as it is a budget smartphone, there's not really much to complain about.
The camera is nothing special, to be honest. While it does capture detail quite well, Motorola's sensors aren't exactly the best here. The only saving grace is the front cam which uses Face Recognition software for your selfies, which automatically tune up blemishes and such with every shot.
We're big fans of the G7 Optimo MAXX thanks to its monster processor. It's a surprisingly great budget smartphone that blew us away with its specs, but left us wanting with its display. Still, with the money you'll save, maybe you can finally buy that cool new monitor for your PS4 instead?
Wrap Up
That's it for our list of the best smartphones you can get from TracFone right now. It's an amazing lineup filled with new players and old, and there's definitely a lot to love with these phones. Besides, people who choose TracFone would rather save money than drop a lot of cash for a phone to begin with, so we consider each phone here a win.
However, we have to give the win to the G7 Optimo MAXX, an unexpected standout in this battle. With its future-proofed processor and other great internal features, you can probably keep this phone running well into the future… or at least for the next 4 years.
Let us know which of these phones struck your fancy in the comments section below.
Recap: Top TracFone Smartphones for 2021
1. Samsung Galaxy A21 (newer model)
2. Samsung Galaxy J2
3. Samsung Galaxy A10E
4. Apple iPhone 7
5. Apple iPhone 8
6. LG Premiere Pro Plus
7. LG Rebel 4
8. Motorola Moto G7 Optimo MAXX