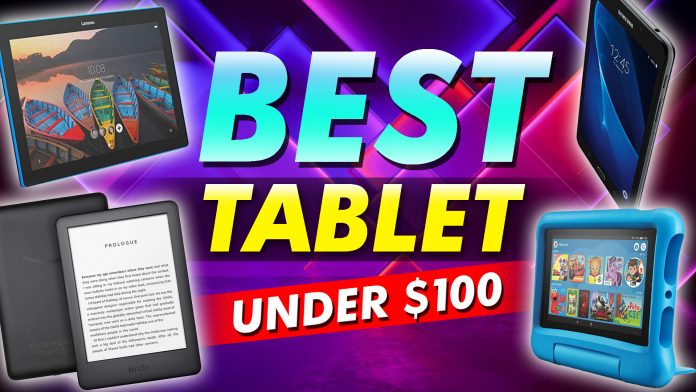 People on the go work best with a portable device that helps them with their workflow, and tablets make the perfect go-to devices for these kinds of tasks. While laptops and PCs remain to be the more powerful and customizable option, tablets easily give you a laptop-like experience with that lightweight convenience and portability of a mobile phone.
How To Choose The Right Tablet
So, how do you choose the right tablet? Well, lucky for you, it's an easy process and we've divided it into categories to help you figure out what you need. Obviously, you'd have to take in almost every factor into account to make an informed decision.
What's The Tablet For?
What's the purpose of buying a tablet? Is it for watching movies? Will you use it as a replacement for your bulky laptop? Is it to read comic books and articles? Do you need a stylus or a keyboard? Do you need a good camera?
Similar to buying any gadget, you have to figure out the "why". This will help you learn which specs you need. Figure out the things you would use the tablet for and jot it down on your computer or notebook. Your answer here will affect the actual tablet you're going to purchase.
What Operating System Do You Want?
The most popular operating systems are Android and iOS. However, Windows is slowly growing to meet the demands of consumers. Let's take a look at these platforms below:
Android
This operating system was developed by Google and has a robust roster of applications that can be grabbed through Google Play. With this OS, you can avail of Google's suite of services including Google Drive, Google Photos, Google Calendar, and more. A lot of these services are also available in other platforms. However, the integration is seamless with Android.
iOS
The iPad uses the iOS and has custom-built apps designed specially for it. This platform has a slick and accessible user interface but doesn't give way to heavy customizations. Compared to Android, iOS devices and apps are more expensive.
Windows
The mobile operating system for Windows is the closest to that of the standard computing experience. If you wish to run MIcrosoft Office, for instance, the full version can be used on a Windows tablet. However, when it comes to the touch screen experience, Windows is lacking in quality. It still appears to be a combination of a PC and a mobile device. Apps are limited, lower in quality, and more expensive.
Kindle Fire HDX Game
The tablets offered by Amazon run a limited Android version. They don't have the Google Play Store but you can grab apps from their own Appstore instead. Amazon formulated tablets that are less expensive compared to their competitors. However, when it comes to a choice of apps, it is fairly limited. User interface is not that slick or good-looking compared to the first three options here.
What Features Do You Want In Your Tablet?
Once you know the purpose of the tablet, you'll have to dig deeper and choose the right features that you want. Let's take a look at some of them.
Screen Size
Tablets range in size from 7 inches to 13 inches and it's possible to say that they're not stopping there. The size will actually depend on what you want. It is safe to say that 7 to 10 inches is the average range you may aim for.
Resolution
Of course, when it comes to resolution, the higher the better. A 1080p tablet with 1920 x 1080 pixels is good but you'd be better off checking the pixels-per-inch (PPI) to see the sharpness of the visuals.
For instance, the iPad Pro 12.9 inch (2018 version) has a resolution of 2048 x 2732 pixels which translates to 264 PPI. If you're going to use the tablet to watch movies, then you may go for devices with a higher resolution.
Performance
Aim for quad-core processors if you wish to launch and run the latest apps without issues. As most people know, the higher the GHz, the better. A good amount of RAM to go for is at least 3GB to 4GB.
Wi-Fi Or Cellular
If you're always on the go, then it's best to opt for tablets with cellular connections (e.g., 3G or 4G LTE). But, if you prefer to stay at home all the time, then a Wi-Fi only option, which is less expensive, may be for you.
Storage
Most Android and Windows tablets allow you to expand your storage using a micro SD card, for instance. Apple and Amazon tablets don't support expandable storage. So, if you need a lot of space, you may want to get the first two options.
Camera
Aha! Most Gen Ys and GenZs love to look at the camera specs. Of course, if you want to take selfies on your tablet, you should go for those that offer both front and back cameras. The higher the megapixels, the better.
Best tablets under $100 at a glance.
Tablets have different usage and can be expensive depending on the specs, and brand. Thus, to help you decide, here are some budget-friendly tablet PC that you can buy under $100. 
Best for Heavy Readers – All New Kindle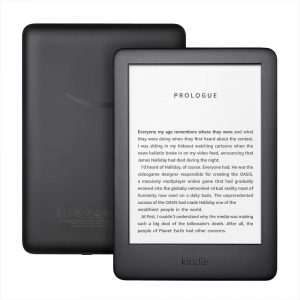 The latest iteration of the Kindle e-reader that spawned the entire lineup of Amazon tablets, this device is a barebones option for dedicated readers. Built with a 6 inch glare-free 167 pixel per inch display, this is a small and lightweight option for readers who prefer portability and simplicity.
Coming in either black or white, this e-reader has 4 GB of internal storage for holding thousands of books or audiobooks. This also includes free Amazon cloud storage, allowing you unlimited storage of Amazon content. Due to the Amazon ecosystem, the easy integration with the Amazon e-book marketplace, as well as Audible, makes it simple to access new and old best selling books. This also includes free access to thousands of books and magazines for Amazon Prime members. With the built-in WIFI, purchasing and downloading books can be done quickly while on the go. If you are more interested in audiobooks, the new Kindle features Bluetooth 5.0 for connecting headphones and wireless speakers.
The glare-free display acts to replicate the natural feeling of reading on paper, making outdoor reading clear and headache-free. In dimmer lighting, however, the Kindle has 4 front screen LEDs, allowing for reading in any environment while being easier on the eyes than traditional backlit screens.
While reading, you are able to highlight and save passages, look up definitions, and translate words all while staying on the page. Because of the barebones interface, this results in an all encompassing and distraction free reading experience. This also includes accessibility controls, allowing you to adjust text size for easier reading.
Depending on the use of WIFI and the LED lights, the new Kindle has a maximum of up to four weeks of battery life, while charging from 0% to 100% in approximately four hours. This results in days of non-stop reading, allowing you reliable entertainment on long trips without the worry of charging.
Best for Children – Fire 7 Kids Edition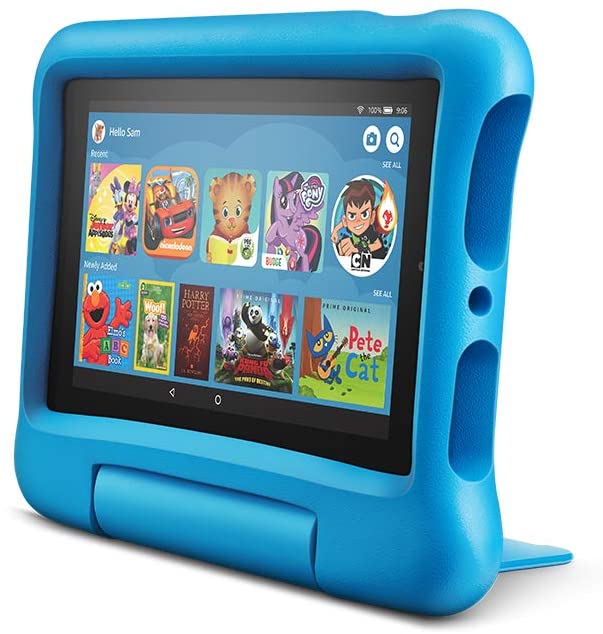 One of the few mainstream tablets built for children, the Amazon Fire 7 Kids Edition is a child-friendly take on their popular tablet. Coming in three color options including blue, pink, and purple, it comes with a 7 inch display in a Kid-Proof housing, with a built-in stand on the back of the device. The screen is a respectable 1024×600, coming in at 171 pixels per inch. Internally, Fire 7 Kids Edition comes with a Quad-core 1.3 GHz processor and 1 GB of RAM, for responsive and speedy app and game navigation. The built-in storage is capped at 16 GB out of the box, but it can be expanded up to 512 GB via MicroSD. With a maximum of 7 hours of battery life varying on use, this tablet has a perfect blend of internal power and child-proof build quality.
Externally, you'll have access to both front and rear 2 MP cameras, allowing for up to 720p HD video recording. For media playback, the Fire 7 Kids Edition features a built-in mono speaker as well as a 3.5 MM stereo headphone jack. Additionally, this tablet also supports Bluetooth for wireless headphones and speakers.
In addition to the kid-friendly build quality and colors, the Amazon interface and operating system is also catered to the younger audience. Allowing for parental controls, including screen time limits, educational goals, and filters, you'll be able to monitor the frequency and content that your children will have access to. Additionally, the Amazon FreeTime Unlimited subscription service allows for child-centric content from a number of popular publishers. This includes PBS Kids, Disney, Nickelodeon, and more. With over 20,000 child-friendly books, games, videos, audiobooks, apps, and educational content catered to children between the ages of 3-12, this monthly service is a great alternative to the traditional app and game store found on most tablets.
Best for Value – Fire 7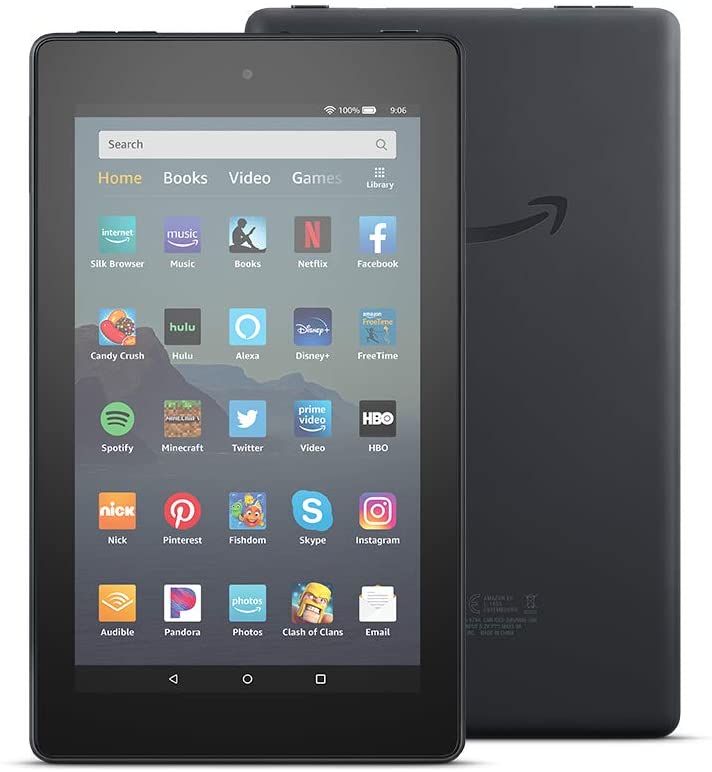 One of the more compact and portable tablets throughout the Fire lineup, the Fire 7 features a 7 inch 1024×600 171 PPI IPS panel. Coming in four colors, Black, Plum, Sage, and Twilight Blue, this is a small but adaptable tablet for reading and light gaming or app usage. A perfect middle ground between the traditional Kindle e-reader size and the functionality of bigger tablets, the Fire 7 retains the ability to be used with one hand while also giving you the option for media consumption and mobile game apps. Coming with options for either 16 GB or 32 GB of internal storage, the Fire 7 can be expanded up to 512 GB of storage via MicroSD. Similar to the above tablet, the Fire 7 features a Quad-core 1.3 GHz processor with 1 GB of RAM, so basic games and apps will have smooth functionality on this device.
With access to thousands of apps including Netflix, Starz, and Disney +, watching all of your favorite television shows and movies can be accomplished while still featuring a small build size for portability. Additionally, the Amazon Alexa voice control integration makes this a great starter option for light tablet use.
Best for Media – Fire HD 8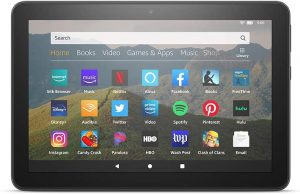 The bigger brother to the aforementioned Fire 7, the Fire HD 8 is a slightly larger and more powerful device while retaining similar functionality. Built with a higher resolution screen, the Fire HD 8 features an 8 inch 1280×800 189 PPI IPS panel. The slightly heavier weight of 12.5 oz is justified by the beefier internals, boasting a Quad-core 2.0 GHz with 2 GB of RAM. With storage out of the box coming with either 32 GB or 64 GB options, this can be expanded up to 1 TB via MicroSD.
Media is not only more immersive because of the larger screen, but on the Fire HD 8 you'll also have dual front speakers for increased audio performance. Additionally, you will also experience better battery life on this iteration of the Fire tablet, with up to 12 hours of life depending on use. Unlike the above-mentioned Fire 7, the HD 8 includes USB Type C charging in place of the micro-USB, with the option for the use of fast charging via (sold separately) 15 W chargers. Reaching a full charge in under 3 hours, this is a significant improvement above its predecessor.
Best for Battery Life and Charging – Fire HD 8 Plus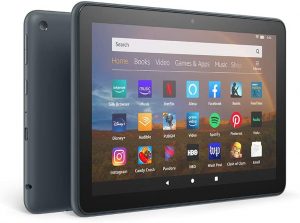 A slightly modified version of the Fire HD 8, the Fire HD 8 Plus boasts many of the same core specifications with its 8 inch HD screen, Quad-core 2.0 GHz processor, and 32 GB or 64 GB storage options with up to 1 TB of expandable storage via MicroSD. However, the Fire HD 8 Plus includes upgraded RAM at 3 GB, for faster app and game navigation.
The differences between these two tablets mainly come with the addition of fast charging in the HD 8 Plus. Shipped with a 9 W fast charger, this will charge your device from 0% to 100% in under 4 hours. Similar to the above tablet, the HD 8 plus also supports (separately sold) 15 W adapters for a full charge in less than 3 hours. Additionally, the Fire HD 8 plus supports wireless charging, displaying Amazon "Show Mode" while placed in supported docks for voice-controlled Amazon Alexa commands.
Hoozo Tablet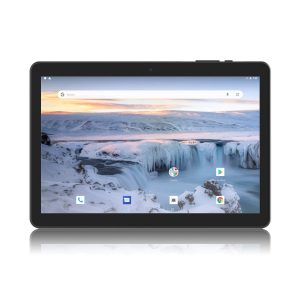 With a 1.3 GHz quad-core processor, Hoozo tablet has incredibly improved performance. It has 1GB RAM with 16GB storage, this tablet plays out the job perfectly. The capacity is additionally extendable up to 64GB with an additional microSD card. It has a 10-inch screen with IPS show up to 1024 X 800 pixels. This is a decent size for gushing recordings or working with efficiency applications. The tablet is 0.6 pounds and 0.3 inches thin, this makes it helpful and versatile to utilize. The dark metallic completion gives it a classy and snappy appearance. 
You can also use this as a phone since it has an unlock sim feature.It does not come with a sim card but you can buy one for a very low price. Because of its large screen, you can enjoy the movie that you like in a very lavish way. 
The tablet's cameras are planned with a blend of programming and optical parameters so it can convey astonishing pictures. All the standard modes are accessible on your preferred tablet for tapping the image.
A 7" Samsung Galaxy Tab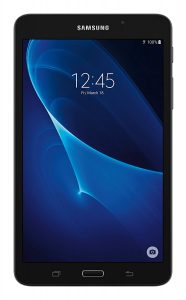 This compact tab weighs no more than one pound and is good for holding in one hand. It is most appropriate for reading ebooks, web browsing, gaming, and streaming on the web recordings and music. The tab likewise has an additional microSD card space that enables one to stretch out the memory up to 200GB. An entire universe of data, pics, tunes, and recordings can be put away with this extra space. It has a battery life of 11 hours which makes it appealing to its buyers. 
With its 5-megapixel camera at the back and a 2-megapixel camera on the front, it can take great photographs and recordings. The propelled highlights like scene and a ceaseless shot is additionally bolstered by the camera that makes it stunningly better to utilize. The majority of the top performing tabs do not have a straightforward component of FM radio, yet this tab has an application that plays radio music for you while you are going out and about or at home. This tab additionally comes with fundamental Apps offered by Samsung. These are complementary applications that are now introduced in your tab which can be altered according to your necessities.
Lenovo Tab 10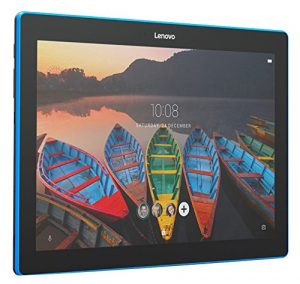 The Lenovo Tab 10 is stuffed with an incredible 10.1-inch Full HD show with a 1280 X 800 goals. It comprises of Snapdragon quad-center 1.3 GHz processor and 1GB RAM. The tablet has an extra room of 16GB which can be stretched out till 32GB with a microSD card. The most recent Android OS, Marshmallow, is introduced on the gadget and it underpins 10 hours of use on a solitary charge. 
The Apps and amusements run easily on this tablet with high enumerating. The back surface is made marginally harsh to guarantee a decent grasp. It has a 5-megapixel camera on the back and a 2-megapixel camera on the front. These cameras are not superb ones. Pixels are plainly noticeable and pictures can be foggy in some cases if you zoom it in. 
The video recording quality is great and the camera modifies rapidly to the outside lighting to catch a better than average video or picture. The speakers have good quality and one can interface different speakers or earphones with the 3.5 mm association gave in the tablet.
Final Thoughts
The tablet that you are planning to buy should meet your needs. It depends on the specs, features and technical uses, but most of them are very affordable. Since it is a competitive market, different brands focus on specific consumers and design their PC tablet accordingly. The listed above are good examples of high performing tablets that are just within your budget. These are the best tablets under $100 that can make your experience worthwhile. 
However, most buyers prefer a long-lasting battery life in a tablet. It is because as a handy and portable device, charging it from time to time is counter-intuitive for busy people. 
Thus, take your time deciding on which tablet you are going to buy. Start by evaluating your needs and usage. You have plenty of brands to choose from, and, hopefully, we were able to help you find the perfect laptop for you. 
Recap: Top 8 choices for the best tablet under $100