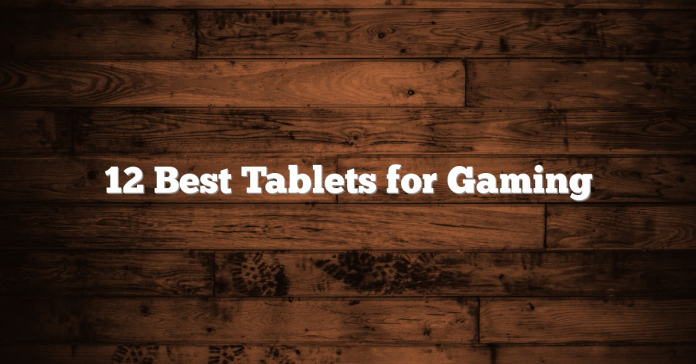 For Gaming on The Road
Mobile gaming has moved from just a simple way to past time to mainstream. It is now a $68.5 billion gaming business. Great titles are being launched one after another, and of course, you would like to get the top-notch experience, right?
Sure, you are okay with just playing using your trusty smartphone, however, what if you could go further? Gaming tablets are the next big thing, multi-functional, longer battery life, powerful processor yet still compact. If you have no idea what to pick, then this listing is here to help.
Best gaming tablets for 2020:
iPad Pro (11-inches)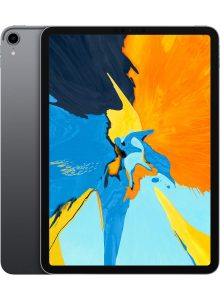 Specifications:
Weight: 468g
Dimensions: 9.75 x 7.03 x 0.23 in
OS: iOS 12, upgradable to iPadOS 13.1.2
Screen size: 11.0 inches
Resolution: 1668 x 2388 pixels (~265 PPI density)
CPU: Octa-core (4×2.5 GHz Vortex + 4×1.6 GHz Tempest)
RAM: 4GB, 6GB RAM, 4GB RAM
Storage: 1TB, 64/256/512 GB
Rear camera: 12 MP
Front camera: 7 MP
If you are a true-blue iOS user, then no one can beat the 3rd generation iPad Pro in terms of value. There is a 12.9-inch model, but the 11-inch one is more practical to hold when gaming. What makes the iPad Pro powerful is the A12X Bionic chip that is on par with the iPhone, faster and solid processing power. There is no longer a Touch ID but it has been duly replaced by the Face ID, a convenient switch to be honest, and has also made way for a smaller bezel and a more charming design. 
The screen is crystal clear thanks to the HDR Retina display technology. It is also big enough that you can see your game vividly and will definitely upgrade your gaming experience. This screen is perfect for playing Alto's Odyssey as it will help you enjoy this side-scrolling adventure game, even more, thanks to the fantastic display.
The iPad Pro is not just one of the best tablet for gaming, as it is ideal for making artwork. Now, if you love making fan arts for your favorite video game, then it can accommodate your other hobbies, as well. It is also big enough for binging Netflix or watching your favorite YouTube shows. Overall, this tablet is a frontrunner in tablet design and technology. If you have extra cash to spare, you can invest in an Apple Pencil plus a smart keyboard to complete the package that can rival all-rounder devices like the Microsoft Surface Pro.
Lenovo Tab 4 10 Plus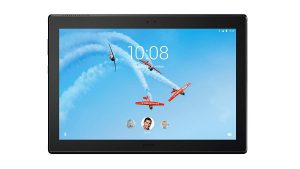 Specifications:
Weight: 475g
Dimensions: 247 x 173 x 7mm (9.72 x 6.81 x 0.28 in)
OS: Android 7.1
Screen size: 10.1 inches
Resolution: 1200 x 1920 pixels, 16:10 ratio (~224 ppi density)
CPU: Octa-core 2.0GHz Cortex-A53
RAM: 4GB/ 4GB RAM
Storage: 64/128GB
Rear camera: 8MP
Front camera: 5 MP
This old yet trusty tablet is still a solid pick, especially if you are working on a tight budget. These days, it is challenging to score a tablet that has a robust build and reliable components that won't cost an arm and a leg. That is the reason why the Lenovo Tab 4 10 Plus is still going strong despite its old age.
For its price, the resolution of 1920×1200 and the occasional glare is to be expected, thankfully it still retained a crisp color reproduction. Also, the display is bright enough to survive outdoor gaming sessions. It will have no problem running the cult favorite Superbrothers: Sword & Sworcery EP, the screen size is suitable in maximizing your gameplay.
Overall this tablet is a solid buy for those who want a portable gaming device that functions as a smartphone as well. The display is decent, and with its 7000 mAh battery, you are sure to play lots before it needs charging.
RELATED: Best Tablets Under $100
Mircosoft Surface Pro 7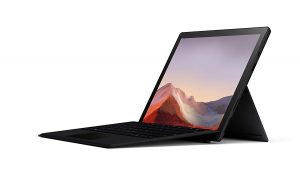 Specifications:
Weight: 1.06 lbs
OS: Windows 10 Home
Display: 12.3-inch PixelSense
Resolution: 2736 x 1824
GPU: Intel Iris Plus Graphics
CPU: Intel i5 Processor / i7 
RAM: 8 GB, 16 GB RAM
Storage: 128 GB, 256 GB
The Microsoft Surface Pro 7 is a leading technology for highly functional portable devices. It has an aesthetically pleasing design and a compact build ideal for gamers, creative and professionals on the go. The versatility and the value you can get from this device can justify its significant price tag. If you have the extra cash to spend, and if you require a robust device, then it is worth the dough. Games like Riptide GP: Renegade is sure to be given justice thanks to this device's advanced specs. The big screen will also help in playing this jetski-style racing video game.
The Microsoft Surface Pro 7 comes with either an Intel Core i5 or an i7 processor, depending on the model that you are going to pick. Graphics and performance heavy mobile games are super smooth on this device. Thanks to its 8 GB to 16 GB RAM, multitasking is also a breeze, now you can game while leaving your other apps open. 
Samsung Galaxy Tab S5e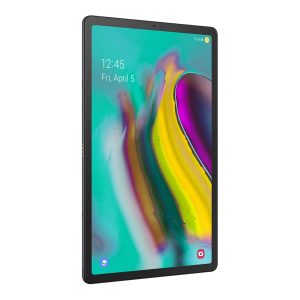 Specifications:
Weight: 399g
Dimensions: 0.22 x 6.3 x 9.65 in
OS: Android 9.0 (Pie); One UI
Screen size: 10.5 inches
Resolution: 2560 x 1600 pixels
CPU: Dual 2.0GHz + Hexa 1.7GHz
RAM: 4GB / 6GB
Storage: 64GB / 256GB
Rear camera: 13 MP
Front camera: 8 MP
The Samsung Galaxy Tab S5e is the major upgrade of the previous S4 model. This tablet is excellent in different areas, thus making it one of the top picks. From the Super AMOLED screen display, down to the quad stereo speakers, this tablet is a one mean gaming machine. If you play Shadowgun Legends on this device, the console-level graphics of this game will surely pop out.
It is also lightweight making it super portable. This simply means that long gaming sessions won't leave your arms feeling numb. If you are worried about the price, then the S5e got you covered. Sure, it is not the cheapest one out there, and it comes with a fairly reasonable price tag. Unfortunately, it copied a from Apple's books, as this tablet is missing its headphone jack. But aside from this unnecessary "upgrade" everything else on the Tab S5e is ideal for any gamer out there.
Huawei MediaPad M5 Pro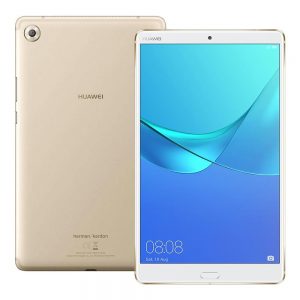 Specifications:
Weight: 1.1 lbs
OS: Android 8.0 Oreo
Display: 10.8″ IPS LCD
Resolution: 2560 x 1600 
CPU: HiSilicon Kirin 960 Octa-Core Processor
RAM: 4 GB RAM
Storage: 64 GB
The Huawei MediaPad M5 Pro is probably one of the most underrated tablets that are out in the market right now. Quite confusing as it has premium features like a big 10.8″ screen, high-grade quad speakers, and Quick charge support. The MediaPad M5 also looks minimalistic and straightforward, which reinforced that elegant vibe. The metal body is sleek and robust while the display is crystal clear and suffers no glares.
However, you will notice that the bezels are big but not that big to cause distraction. Overall it looks promising as it is powered by Huawei's HiSilicon Kirin 960 Octa-Core chipset, which would significantly increase game framerates. Now gaming is smoother, and you won't have to worry the next time a good game comes out, for sure, the Huawei MediaPad M5 Pro can run it with no fuss. If you love playing games like Hearthstone Mobile, you are sure to enjoy this tablet, even more, thanks to the big display and more fluid gameplay.
Amazon Fire HD 10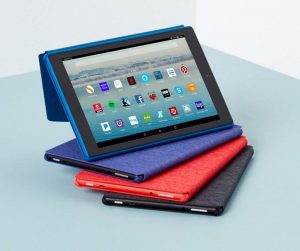 Specifications:
Weight: 500g
Dimensions: 262 x 159 x 9.8mm
OS: Fire OS
Screen size: 10.1-inch 
Resolution: 1920 x 1200
CPU: Quad-core
Storage: 32/64GB
Battery: Up to 12 hours
Rear camera: 2MP
Front camera: VGA
If you are looking for a tablet for your kids or you are on a super tight budget, then the Amazon Fire HD 10 got you covered. For its price, its sports a full HD screen that is ideal for gaming. Though the body itself is plastic, it is easy to look past that considering the price tag that it is sitting on. It is a small price to pay, considering that this tablet is still functional.
The value will be better if you are an Amazon Prime customer as you will get tons of additional perks. However, even non-members can enjoy the Amazon Underground game store for free. It is highly affordable, has decent specs, and gives free games. So, who is in?
Asus ZenPad 3S 10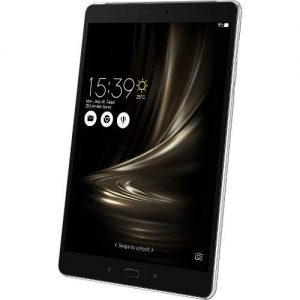 Specifications:
Weight: 430g
Dimensions: 240.5 x 163.7 x 7.2mm
OS: Android 6.0 (Marshmallow), upgradable to 7.0 (Nougat)
Screen size: 9.7-inch
Resolution: 1536 x 2048
CPU: Mediatek MT8176
RAM: 4GB
Storage: 32/64GB
Rear camera: 8MP
Front camera: 5MP
Asus is not new in the gaming industry; from PC components down to gaming peripherals, this company has it all. So, it is not surprising to see them gracing the best gaming tablets list. Obviously motivated by the Apple iPad and the Samsung Galaxy Tab series, the Asus's very own ZenPad line is a worthy contender.
The ZenPad 3S 10 flaunts a bright and richly colored screen, as well as enough firepower to run demanding mobile games. This tablet can run games smoothly without any hitch. The only small complaints that we can think of are the clumsily placed speakers that can get in the way of your overall gaming experience. But then again, a good pair of gaming earbuds can quickly solve this problem. 
iPad (2018)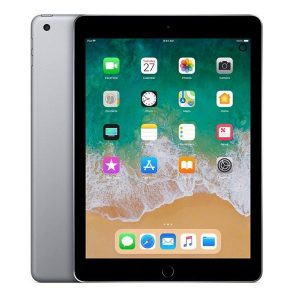 Specifications:
Weight: 469g
Dimensions: 240 x 169.5 x 7.5mm
OS: iOS 11
Screen size: 9.7-inch
Resolution: 1536 x 2048
CPU: A10 Fusion
RAM: 2GB
Storage: 32/128GB
Rear camera: 8MP
Front camera: 1.2MP
If the iPad Pro is way out of your spending limit, then here is the next best thing. The 9.7-inch iPad 2018 is still an ideal pick for gaming when you are on a limited budget. After all, it is considerably more affordable than both iPad Pro models, but it still packs a punch. It comes with a vibrant display and dominant processing power. Under the hood, it is equipped with the Apple A10 Fusion chipset, which guarantees a lightning-fast iPad performance. This productivity is not just for gaming but for professional and business purposes as well.
If you are love producing artwork or a creative for hire, then you can use your Apple Pencil on this device. This tablet is an excellent alternative option for those looking to dip their toes on the Apple experience, but not committed to blowing tons of cash, yet.
Samsung Galaxy Tab A 10.1″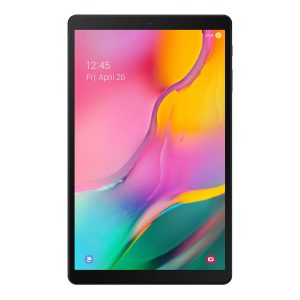 Specifications:
Weight: 1.03 lbs.
OS: Android 9.0 (Pie); One UI
Resolution: 920 x 1200
Display: 10.1-inch IPS LCD
CPU: 1.8 GHz Samsung Exynos 7940 Octa-Core Chipset
RAM: 2GB, 3 GB RAM
Storage: 32 GB, 64 GB, 128 GB
Rear Camera: 8 MP
Front Camera: 5 MP
The Samsung Tab A series has been dominating the budget segment for some time now. The Galaxy Tab A sports a 10.1″ screen, excellent audio, robust battery, and enormous storage expansion. All of this is packed neatly in a very competitive and attractive price point. Unlike its predecessors that sports plastic builds, this one is reinforced by metal elements to bolster that premium appeal. 
There is also no physical button on the front side, and the bezels are considerably thinner than before. This looks awesome while playing games and watching movies. Unlike the other Samsung tablet on this list, this one sports a headphone jack, so you will still have that port to use your gaming headset. Another impressive thing about the Galaxy Tab A is that you can connect an external SSD to expand your storage further. 
iPad Mini (2019)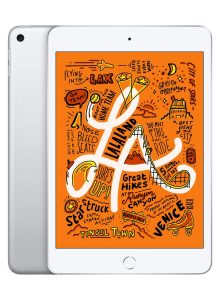 Specifications:
Weight: 300.5 grams
Dimensions: 203.2mm x 134.6mm x 6.1mm
OS: iOS 12.1.3, upgradable to iPadOS 13.1.2
Screen Size: 7.9 inches
Resolution: 2048×1536 pixels, 4:3 ratio (~326 ppi)
CPU: 2.49GHz Hexa-core
RAM: 3GB LPDDR4X RAM
Storage: 64 or 256GB flash memory
Rear Camera: 8MP
Front Camera: 7MP
The iPad Mini 2019 doesn't bring new features on the table, nor does it have some breathtaking innovations. Not a bad thing as the iPad Mini 2019 does its job pretty well, to bring the iPad experience in a more compact body. Sure, the screen is not that big than standard smartphones, but that extra pixels are a lot when playing games. It contributes significantly to upgrading the gaming experience to a few notches.
Now you can enjoy iOS goodness on a more convenient and compact package with the iPad Mini 2019. Additionally, creatives will find this tablet super useful as the iPad Mini 2019 is compatible with the1st gen Apple Pencil, so play and draw away!
Lenovo Flex 14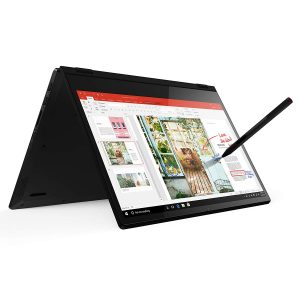 Specifications:
Weight: 3.52 lbs.
Display: 14″ IPS LCD with
Resolution: 1920 x 1080 
OS: Windows 10
CPU: AMD Ryzen 5 3500U
RAM: 12GB DDR4 RAM
Storage: 256 GB SSD
Front Camera: 720p
Lenovo Flex 14 is technically a convertible laptop that managed to land in a well-balanced price spectrum. The design is premium, functional, and well put together. The frame is manufactured using polycarbonate that added to its premium feel. 
For gaming, it has sufficient firepower to run games smoothly without lags. However, display and battery life are a bit lacking. Under the hood, it is equipped with AMD Ryzen 5 3500 U CPU and is run by a12 GB DDR4 RAM. Combine them, and you will get enough juice to play the most demanding mobile game titles. Besides, Lenovo Flex 14 is supported by a 256GB SSD, which, again, a huge gaming performance booster.
Samsung Galaxy Tab S6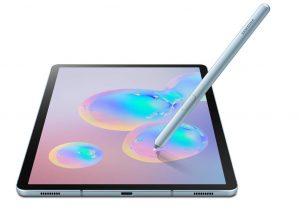 Specifications:
Weight: 420 g
Dimensions: 244.5 x 159.5 x 5.7 mm
OS: Android 9.0 (Pie); One UI
Screen Size: 10.5 inches, 321.9 cm2 (~82.5% screen-to-body ratio)
Resolution: 1600 x 2560 pixels, 16:10 ratio (~287 PPI density)
CPU: Octa-Core Qualcomm Snapdragon 855 
RAM: 6GB RAM/ 8GB RAM
Storage: 128GB/ 256GB
Rear Camera: 13 MP
Front Camera: 8 MP
The Samsung Galaxy Tab S6 is a powerful tablet that is perfect for gamers out there. Games like ARK Survival Evolved will be beautifully rendered thanks to its Octa-Core Qualcomm Snapdragon 855 and 6GB to 8GB RAM. These specs are sure to accomplish its mandate to offer a high-quality gaming performance. It enables you to run any graphics-intensive title on this tablet smoothly. The large 10.5-inch display also upgrades the gaming experience while the four-speaker setup enhances the gaming audio as well. 
Overall the Galaxy Tab S6 is made to work correctly with popular mobile games like Fortnite and PUBG Mobile. The battery lasts for a long time, perfect for extended gaming sessions. The tablet is also ideal for casual gamers who use their tablets for work during the day and game with the squad before hitting the sack.
Wrap-Up
Gaming tablets are an ideal way to enjoy games. Because unlike your smartphones, they offer bigger and better screens, convenient controls, and longer battery life. Perfect for grinding levels or online matches with the squad. Sure, some smartphones will have no problem belting out the graphic-demanding games, but who would want to game on their primary communication device and risk of draining its battery on a busy day? That's why it is highly advised to invest in a tablet for convenience and better gaming.
However, it is not a walk in the park to get the one that suits you best. But if you read this listing well, I'm sure you will have an idea or two. And with mobile gaming getting bigger than ever, it is best to be prepared, right?
Recap: The 12 best tablets for gaming.