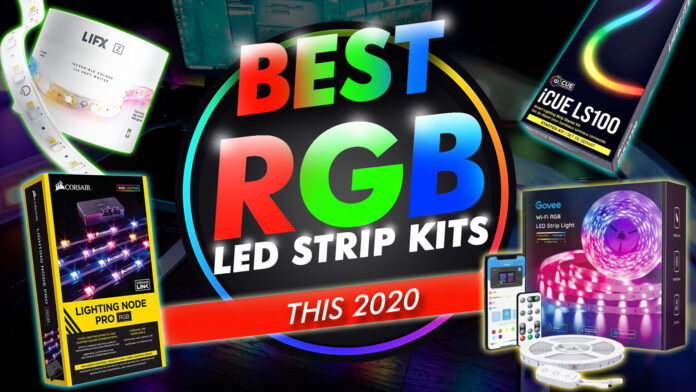 The world is becoming more and more fond of RGB LED strip lights. From industrial, commercial, and residential projects, designers and consumers are using LED strip lights to make offices, entertainment rooms, and computers look more appealing.
On top of making things look good, LED strip kits are also very easy to install and are highly customizable. But due to the overwhelming number of options on the market, it can be hard to pick the right product, especially if you have no idea what factors matter.
In this article, we rounded up the best RGB LED strip lighting kits you can buy this 2020. We also included a detailed buying guide to make you an educated buyer.
Best RGB LED Strips
1. NZXT HUE 2
Best RGB LED Strip Kit for Gaming PC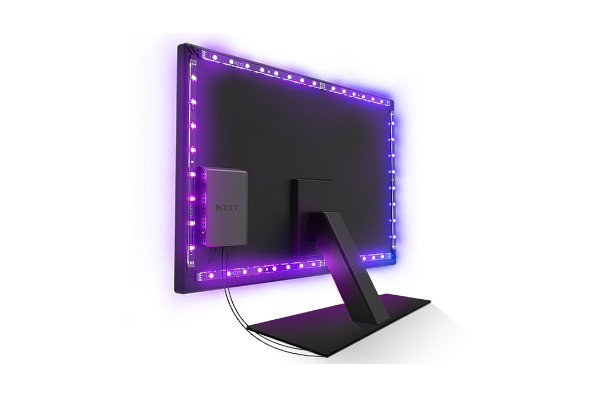 Tech Specs:
Color Type: RGB Addressable | Control Method: CAM Software | Number of Included LEDs: 10 each strip (40 in total) | Length: 300 mm | Is it Extendable?: Yes | Mounting Type: Magnetic and double-sided adhesive tape | Wattage: 17 watts | Connector: 4-pin and MOLEX
There are plenty of known gaming companies producing lighting kits, and NZXT is among those offering stellar lighting products. That is why the HUE 2 is our top pick for the top RGB LED strip this year.
Even before lighting became a trend, NZXT was already mass-producing accent lighting cases, so it is no surprise that their HUE product lineup remains one of the most popular options on the market.
With the HUE 2, you already have enough to start an RGB case party. You see, it comes with 4 LED strips out of the box, each with ten individually addressable LEDs for maximum customization. With this kit, you can develop a wide variety of color moods, themes, and virtually endless lighting combinations.
Customizing the LEDs can be done through NZXT's proprietary software called CAM software. It's also pretty straightforward to set up, even for beginners.
Unfortunately, the HUE 2 is primarily made to light up a desktop PC setup. You'll need to connect this to a MOLEX to power it up and a 4-pin connector to control the lighting effects. Fortunately, the strips are magnetic and have a double-sided 3M tape to ensure it stays firmly in place.
Apart from lighting up the insides of your case, you can also hook this to the back of your gaming monitor for immersive visuals. With the HUE 2's diffusion option, you should be able to achieve eye-friendly lighting. Combine it with your fan's RGB, and you should achieve a stellar color combination.
Overall, the HUE 2 is packed with everything you need to make your computer setup look professional. That is as long as money isn't an issue.
2. Corsair Lighting Node Pro
Best Alternative RGB LED Kit for Gaming PC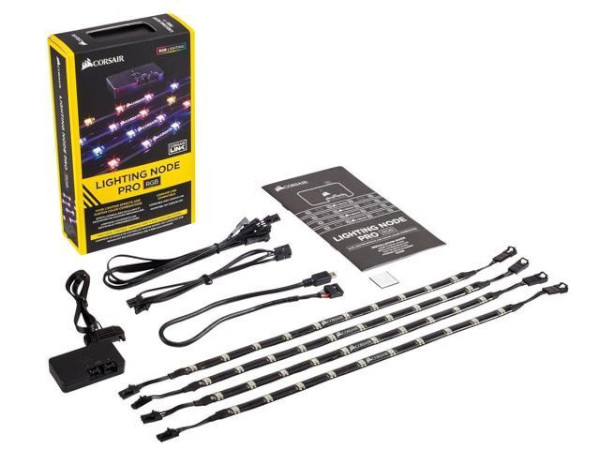 Tech Specs:
Color Type: RGB Addressable | Control Method: iCUE Software | Number of Included LEDs: 10 each strip (40 in total) | Length: 345 mm | Is it Extendable?: Yes | Mounting Type: Double-sided adhesive tape | Wattage: 14.4 watts | Connector: SATA and mini-USB to 4-pin connector
Corsair is another name that's been known to produce high-quality RGB lighting products for computers. Similar to the NZXT HUE 2, the Lighting Node Pro RGB controller allows you to manipulate a total of 40 addressable LED lights.
Setting up the Lighting Node Pro is straightforward. All you have to do is connect the control hub to your computer's SATA connector to power it up and the mini-USB to your motherboard's 4-pin connector to control the lighting mode. The package also contains extension cables to route everything in and around your chassis with relative ease.
You can set the LED lights individually through Corsair's proprietary iCUE software. This software allows you to assign and choose from a vast array of lighting effects, animations, and presets. Furthermore, you can sync other Corsair lighting peripherals through iCUE, allowing you to achieve immersive lighting effects across all your devices.
Even though the Lighting Node Pro only has a double-sided tape to stick it on to surfaces, it's highly reliable. However, it doesn't come with magnetic mounting capability.
On the upside, the Lighting Node Pro comes with a two-year warranty. If you have a Corsair RGB mouse or keyboard, you should see a massive difference in your overall gaming experience.
3. LIFX Z LED Strip Starter Kit
Best DIY RGB LED Strip Lights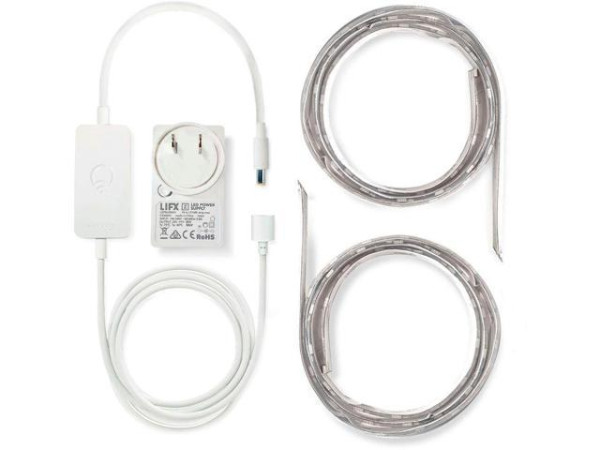 Tech Specs:
Color Type: White and RGB | Control Method: WiFi, Controller | Number of Included LEDs: 8 each strip (16 in total) | Length: 2 x 3.3 inches | Is it Extendable?: Yes | Mounting Type: Double-sided adhesive tape | Wattage: 17 watts per 2 meters | Connector: Has its own power adapter
If you're looking for an RGB LED strip to light up your room or computer table, you won't go wrong with Lifx Z WiFi dimmable controller and multi-color LED light strip. That's a mouthful! Instead, we're going to refer to it as the Lifx Z LED light strip.
Unlike the two RGB LED strips mentioned above, this product lets you take control over everything to achieve your desired ambiance. There are also eight addressable zones per meter of LED lights for more customizability.
Take note that the Lifx Z starts out with 6.6 feet of lighting, which can be extended to a total of up to 10 meters. So, regardless if you want to light up your computer station or your entire entertainment room, this product should be able to cover it.
But what makes the Lifx Z stand out is that it uses WiFi technology so that you can make adjustments on the fly. Once connected, you can dim the lights from 1% to 100% or choose from over 16 million colors to achieve the right ambiance while working or playing games.
To top it all off, the Lifx Z works with voice recognition software like Amazon's Alexa, Apple's HomeKit, Google Assistant, and more. With all these features at your disposal, you should be able to come up with whatever color easily. To give you even more versatility, it also comes with a controller and can even be synced with an RGB speaker for that disco effect.
In terms of set up, installing the LED strips is easy as it comes with a reliable double-sided tape. Unlike the two light strips featured above, this product doesn't need any fancy power connector as it comes with an adapter.
4. Corsair LS100 Smart Lighting Starter Kit
Best RGB LED Strips for Desk and Monitor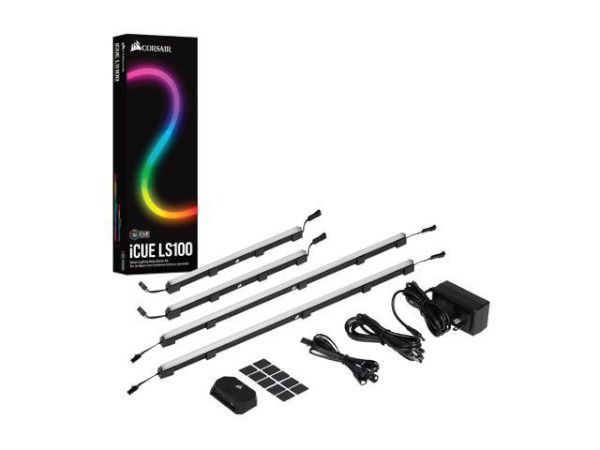 Tech Specs:
Color Type: RGB Addressable | Control Method: Controller | Number of Included LEDs: 27 LEDs for 450 mm strips, 15 LEDs for 250 mm strips (84 total) | Length: 450 mm and 250 mm | Is it Extendable?: Yes | Mounting Type: Magnetic and adhesive| Wattage: N/A | Connector: USB
The Corsair LS100 is the second Corsair product on this product lineup, and that's because the brand has done an excellent job at producing quality lighting kits. If you want to add more RGB lighting to your computer setup or add more lighting under your desk, consider this product.
It's effortless to install as it doesn't need to be plugged into your motherboard at all. Instead of using MOLEX connectors to power it up, it comes with an adapter. You won't have to plug this into a 4-pin connector on your motherboard as it can be done via the included USB cable. If you're using an RGB motherboard, you can set the light moods differently to achieve a customized lighting theme.
There is a central control hub for all the lights and connections included in the box, which is also easy to set up. It can be placed at the back of a table or monitor– whichever you prefer to have it. You will also find two channels on the central hub for the LED strips.
Corsair is considerate enough to ensure that the strips are held tightly as it comes with secure fasteners. Moreover, a combination of magnets and adhesive holds the strips in place after installation.
You'll find two 450 mm strips in the box with 27 LED lights each and two 250 mm strips with 15 LED lights each. Note that you'll need to download Corsair's iCUE software, their proprietary software that lets you customize all your Corsair peripherals in sync.
You can do plenty of things in the software, such as changing the colors of each LED, dimming, and diffusing. Since it heavily relies on the iCUE software, the RGB LED light works best with a computer.
Overall, the Corsair LS100 is an excellent RGB LED strip for people looking to lighten up their rooms or desktop setups. But note that because it's so durable and straightforward, they come at a price.
5. Govee WiFi Light Strip
Best Budget Smart RGB LED Strip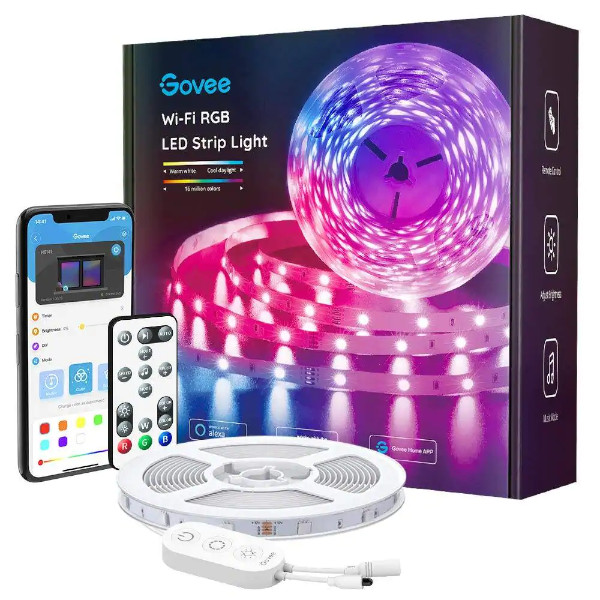 Tech Specs:
Color Type: White and RGB | Control Method: Voice control, app, control box | Number of Included LEDs: 144 | Length: 16.4 ft | Is it Extendable?: Yes | Mounting Type: Double-sided adhesive tape | Wattage: N/A | Connector: Adapter
Now that we've covered the premium-grade RGB LED strips, let's take a look at our budget option.
Govee is a company that isn't as known as the popular brands above, but they manufacture quality products at a significantly more affordable price.
Govee's WI-Fi Light Strip allows you to achieve an ambient lighting mood without relying on your computer. If you want to add some ambient lights in your entertainment room, office, or living room, this affordable RGB LED strip kit should do the trick.
Inside the small box, you'll find the LED strip tucked safely in a separate pouch, together with the control unit, clips, and power adapter. You'll also find an instruction manual along with a small alcohol wipe to clean the surface before installing the LED strips.
They are easy enough to install on almost any surface. Whether you want to add some lighting behind your television or under your office table, it should stick easily without problems. However, some users have reported that the adhesive tape doesn't last long, so we highly recommend using the included reinforcement clips to hold it in place.
Unlike most alternatives on the market, this light strip isn't cut into smaller sections out of the box and is packed as one long strip. Fortunately, there are special sections on the strip where you can cut off for a more manageable length to achieve a neat finish. However, it should also be noted that you can't reuse the extras you cut off.
Because of its non-modular design, it can be a bit challenging to twist and turn the long strip during setup. But the hassle of installing the lights is justified by the wide variety of ways they can be manipulated: voice control, app, and control box.
The control box comes with a microphone, allowing you to make adjustments on-the-fly. It can also be connected to your Alexa device. Just download the Govee Home app and select "H6110" in the Device page, setting icon, then "Using guidance." There should be on-screen instructions there to complete the connection.
Unfortunately, the Govee WiFi LED light strip doesn't support 5GHz WiFi yet. But the company did mention that they will update their chip to support the 5GHz network in the future. For now, you can use only a 2.4 GHz WiFi network.
Essentially, this product is a budget option that does way more than its competitors combined. So, if you're looking for the best budget light strip, look no further.
Things To Consider When Looking for LED Strip
Because of how LED lights make rooms and gaming setups look significantly better, these are becoming more and more popular. They are also eco-friendly because they consume less power and come at incredibly low prices.
Because they're so easy to manufacture, plenty of unbranded light strips have been manufactured, making it even harder to choose the right product. In this section, we cover the essential things that matter to make an informed purchase.
Know Your Needs First
Start by knowing how you will use LED strip lights and what you are looking to achieve. To give you an idea, ask yourself the following questions:
What do you want to light?

Where do you plan to use the LED strip lights?

Do you want to have the option to increase/decrease brightness?

Do you prefer a specific color?

Does the area have other lights around?
By answering these things, you should significantly narrow down your options to only a handful.
Check the Length of the Strip and Number of LEDs
Not all LED light strips are made the same, so make sure you check the strip's length to ensure you get the right size.
Typically, LED strips vary from 5 to 10 meters to make it easy to mount on any surface. Moreover, the strip's length also changes the number of LEDs it contains, typically ranging from 150 to 300 LEDs.
Fortunately, most LED strips can be cut into smaller segments to ensure they fit just right.
Mind the Quality
Like all consumer products, it's essential to look into the quality of the material to get a clear idea of how effective it can work or how long it will last.
Most of the RGB LED strips are equipped with double-sided copper capable of withstanding extreme conditions. But there are also light strips made of plastic material and suffer poor durability. On top of that, most of these low-quality products consume more power.
Power Supply
Speaking of power, it's also vital to check the required power to run the strips. Even if you're going to invest in high-quality LED strips, you still need to check the necessary power for safety purposes.
If you have no idea or are unsure about the required power, you can check the website to learn more about the product. You can also check review websites like this one to understand a strip's specifications.
Safety Features
Most LED strips are made with safety in mind. Specific types of technology are incorporated into these strips to protect them from the environment.
One of the safety features you'll find in high-quality LED strips includes water-proofing. But note that submerging your LED strips underwater or placing them near a water source isn't advised. Apart from protection against rain, some LED strips are made to withstand daily wear and tear.
Another safety technology incorporated into high-quality LED strips is shock resistance. Like other consumer electronic devices, shock resistance plays a vital role in keeping you and members of your family from harm's way.
Unbranded LED strips are usually of low quality and don't have safety features like water or shock resistance, so it's vital to plan where you place them ahead.
Ease-of-Use
Like how consumer electronics have become more accessible and convenient, LED strips can now be manipulated with just a single click via a smartphone app or remote control.
Older LED strips just connect to the power supply and can't be controlled in any way. But newer models can be connected via Bluetooth or even WiFi to make communication and monitoring a lot easier, even when you're not physically there. Of course, these features come at a cost, but they are worth the money, especially if you're going for specific builds.
Other LED strips have controllers where LEDs plug into. These controllers are responsible for adjusting the brightness level and the type of light pattern it shows. In the case of computers, some controllers can be connected directly to your motherboard.
There are two types of LED controllers for computers: single-channel and multi-channel controllers. The difference between the two is the number of lighting zones you can control.
Suppose you want to have different light levels for the back and the front of your controller, then a multi-channel controller is ideal. However, if you don't need varying brightness levels, a single-channel controller should work perfectly.
Warranty
Of course, the next things you should look into are the LED strip's price and warranty.
In most cases, budget products won't last long because they're made of low-quality materials. On top of that, they are likely to cause a short circuit or electrical problems.
With high-end models, you get a more durable and reliable product. Plus, they last longer and often come with a warranty, minimizing your overall expenditure.
Essentially, they all have their pros and cons, but if you want the best, our list should have provided you with everything you need– from the most expensive and the most reliable to the best bang-for-your-buck alternative.
Conclusion
That's it! Our list of the best RGB LED strips and our detailed buying guide to help you make the right choice. To give you a summary:
Which among our featured RGB LED strips are you planning to get? Tell us in the comments section!