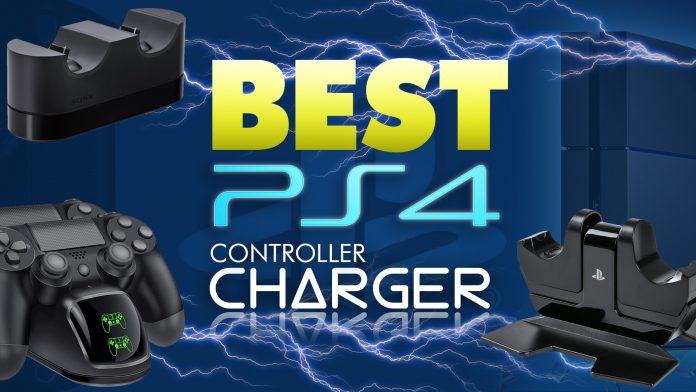 When the DualShock 4 controller was released, gamers all over the world rejoiced and marveled at the significant refinements it had from the previous version. These include a more ergonomic design, an integrated touchpad, and much-improved triggers and thumbsticks. No one wanted to look back at the DualShock 3 after gaming with the DualShock 4. However, it fell short in one of the most vital aspects of any wireless controller—battery life.
Fortunately, the measly four to eight hours of battery life on the DualShock 4 has a rather simple solution. All you have to do is pick the best PS4 controller charger on the market. You don't even need to do the research yourself because we've got you covered.
BEBONCOOL PS4 Controller Charging Dock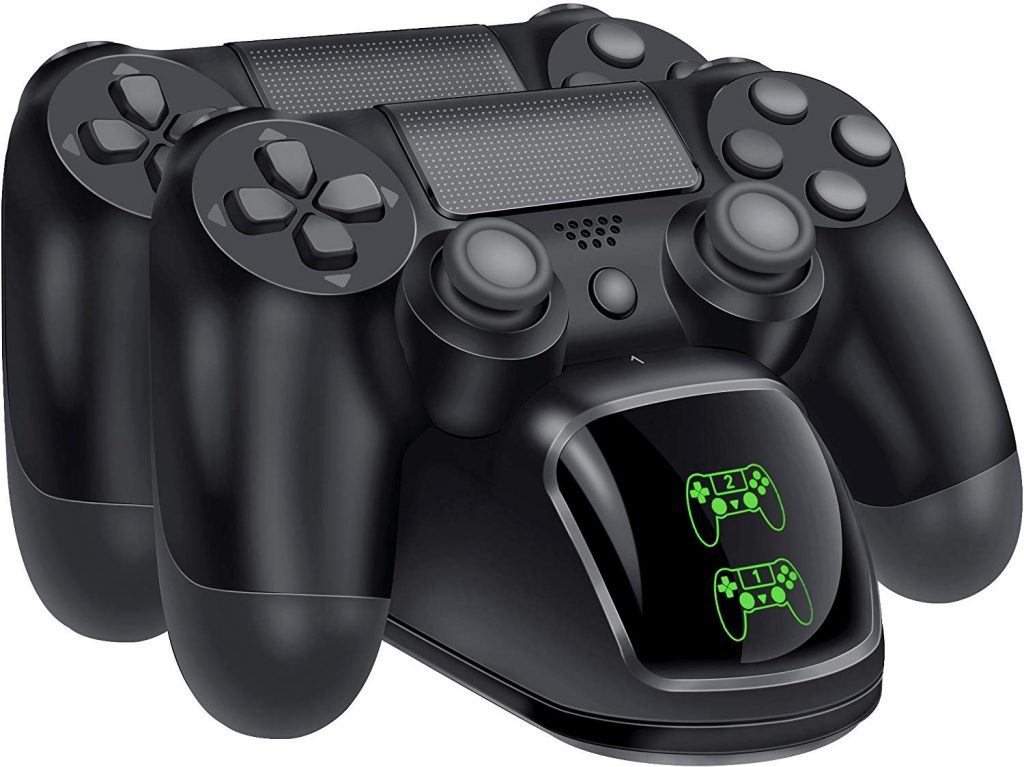 The BEBONCOOL PS4 Charging Dock is one of the most affordable accessories that give you great value for its price. This device comes with two charging ports that also double as an excellent place to store your controllers when not in use. You don't have to worry about overcharging your controllers since the dock comes with a built-in protector chip.
In terms of performance, a full charge will take about two hours. It may not have the fastest charging numbers, but it is good enough, especially if you have two DualShock 4 controllers. You can use the other and place the other on the dock. Overall, it an excellent compact PS4 controller charger that is not only functional but also saves space and prevents clutter.
Sliq Gaming PS4 Controller Charging Station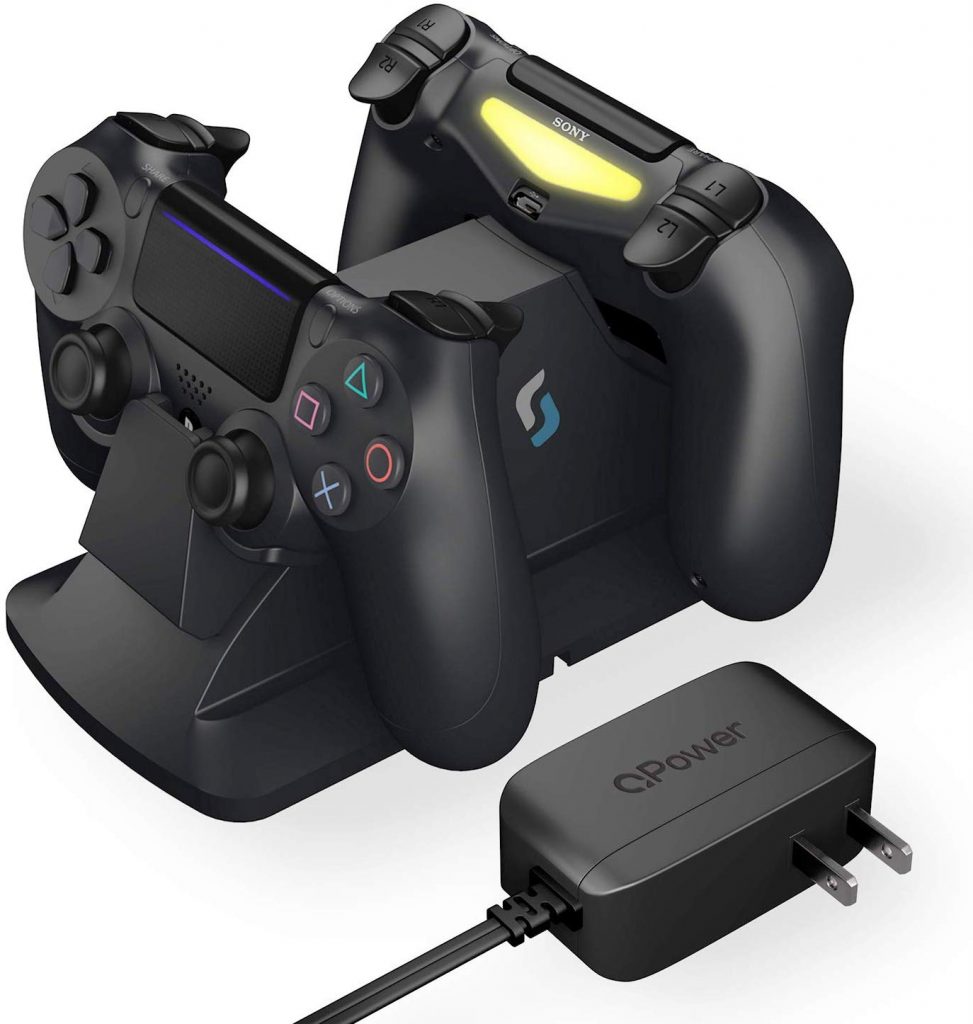 The Sliq Gaming Charging Station is one of the fastest PS4 controller chargers on the market. While most of its competition can fully charge a controller in two hours, this dock can do it in only one hour. It is because of the included QPower AC adaptor with a 5V/2A output. Moreover, it has an innovative push-down and placement charging design that keeps your controller in place while they charge. The position of the controllers also helps keep them stable as the charging ports use the microphone jack at the bottom instead of the Micro USB port.
Y Team PS4 Controller Docking Station Stand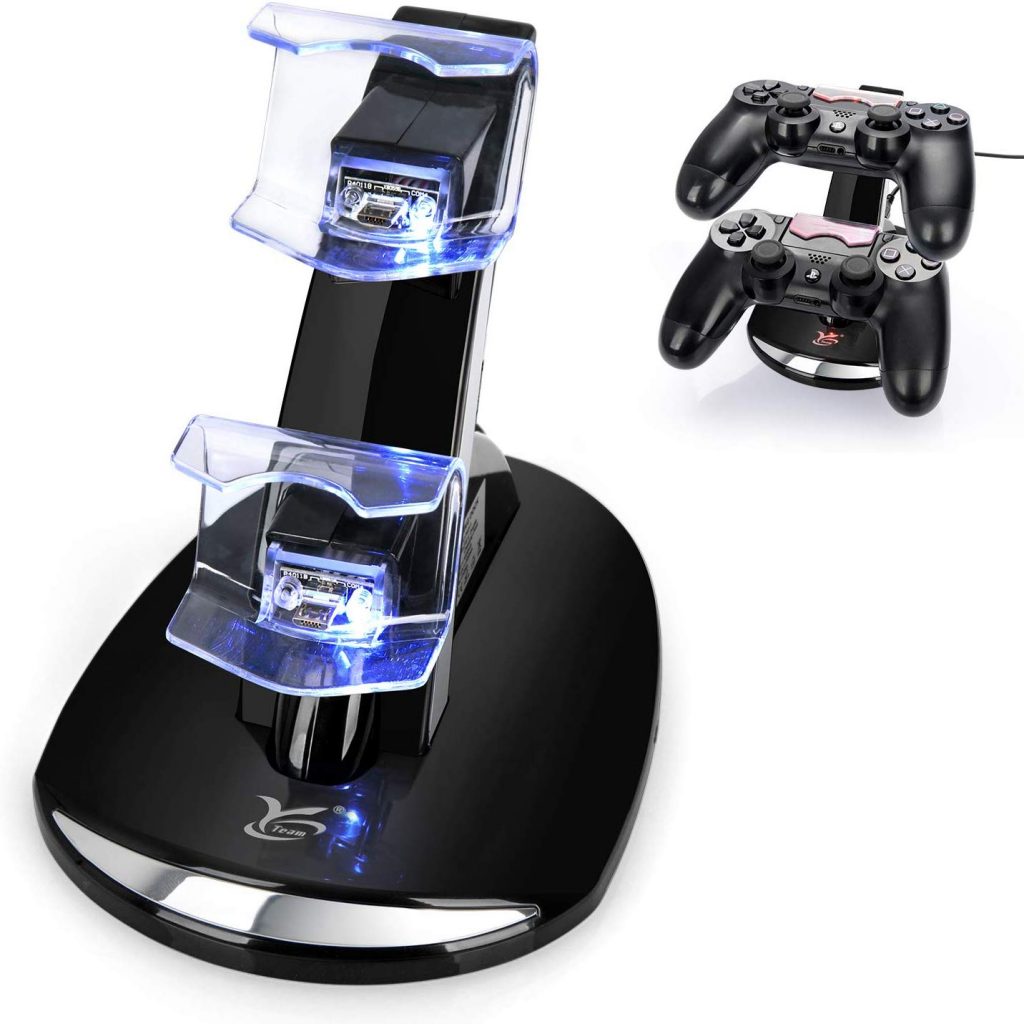 The Y Team PS4 Controller Docking Station Stand does not look like your conventional charger. Instead of powering your controllers through the EXT port at the bottom, it uses the Micro USB port at the top. This design makes it necessary for the dock to be in a vertical position to accommodate two controllers. It may not matter much in terms of charging performance, but rather how you want your PS4 gaming setup to appear.
Concerning performance, this device takes roughly the same time to charge a controller fully as our top pick. It also has a similar protection chip that prevents your controller batteries from overcharging. The only downside to this docking stand is that it takes some time to get used to lining up the controller correctly.
PowerA DualShock 4 Charging Station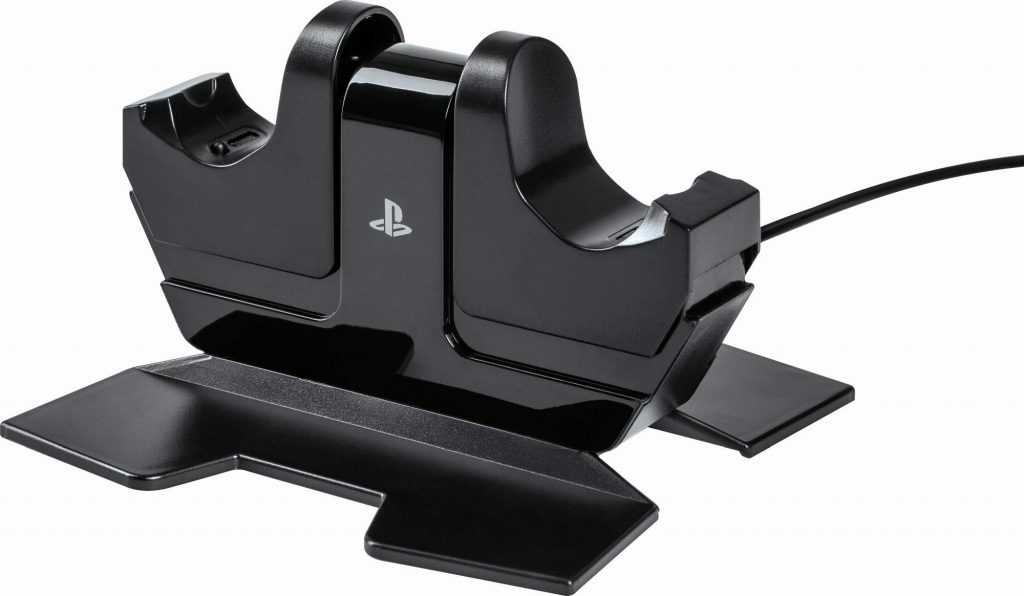 The PowerA DualShock 4 Charging Station is a Sony licensed product. It has a handy locking mechanism that keeps your controllers in place while they're charging. Additionally, it connects to an AC adaptor to fill your controller batteries faster than the other PS4 controller chargers on this list. A full charge will only take around a little over an hour instead of two hours. The straightforward compact design, along with the embedded PlayStation logo, makes it fit easily into your gaming setup. The only downside is that it costs a few extra bucks than the other options that are just as functional.
OIVO PS4 Vertical Cooling Stand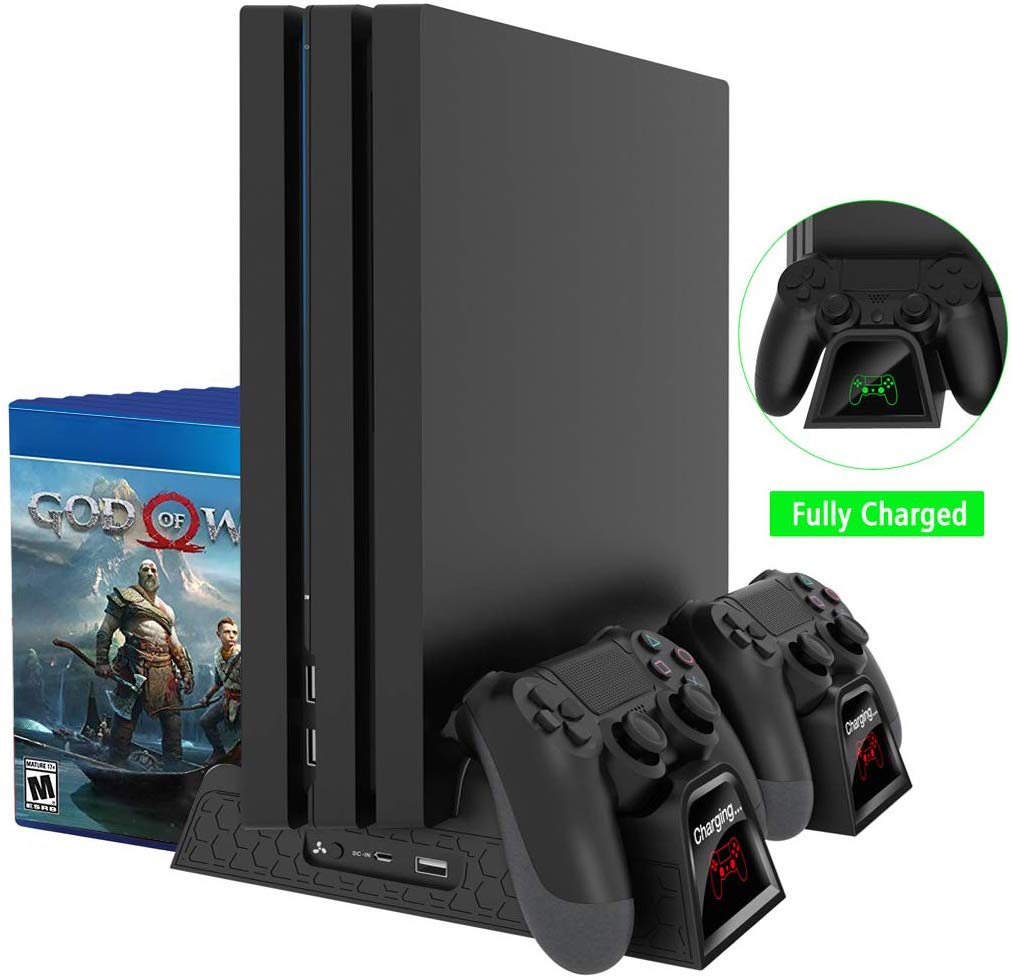 The OIVO PS4 Vertical Cooling Stand has a multi-functional design that can fit any model of the PS4. The charging docks use the EXT port instead of the Micro USB to hold your controllers in a more stable position. You don't have to worry about overcharging as it has a built-in protector chip.
The base cooling stand has a metal structure that keeps the air that is blown through your system cool. It has a switch out front that you can use to turn off the fans when necessary. Additionally, there are protrusions behind the unit designed to hold up to 12 of your favorite games.
Kootek PS4 Vertical Cooling Stand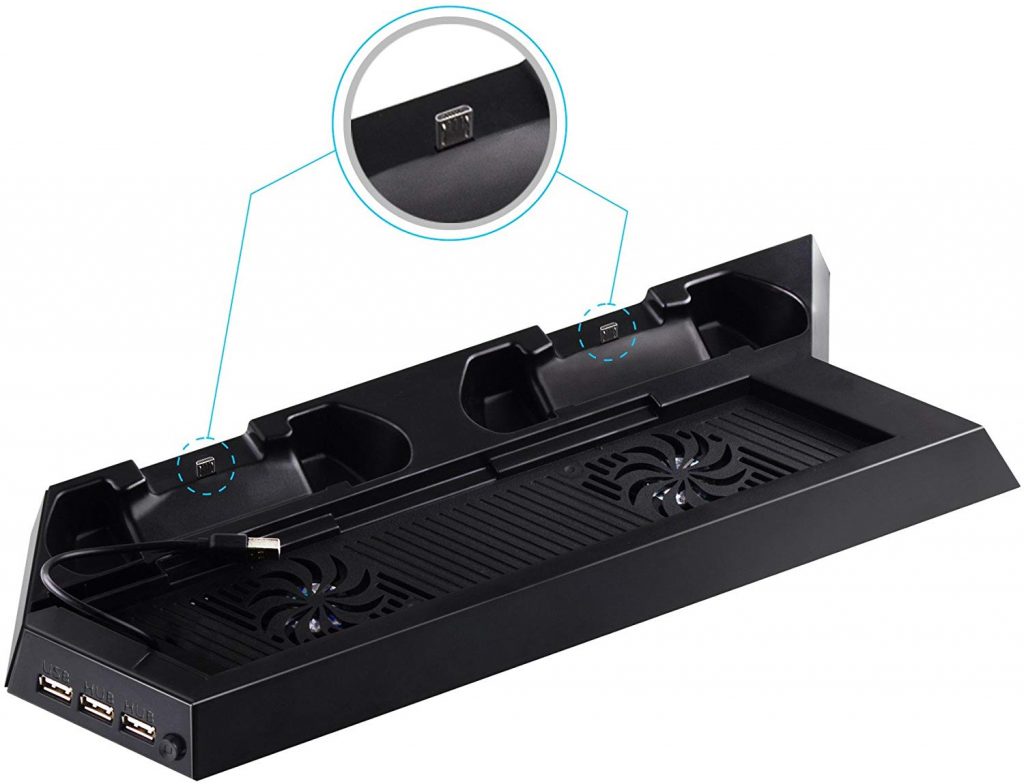 The Kootek PS4 Vertical Cooling Stand not only charges your controllers but also provides much-needed cooling for your PS4 during intense gaming sessions. It has two cooling fans at the bottom that improves system airflow to prevent overheating. Moreover, it has three USB expansion slots that you can use to connect your gaming peripherals. Overall, this an excellent multi-functional accessory that is well worth the price.
NYKO Modular Charge Station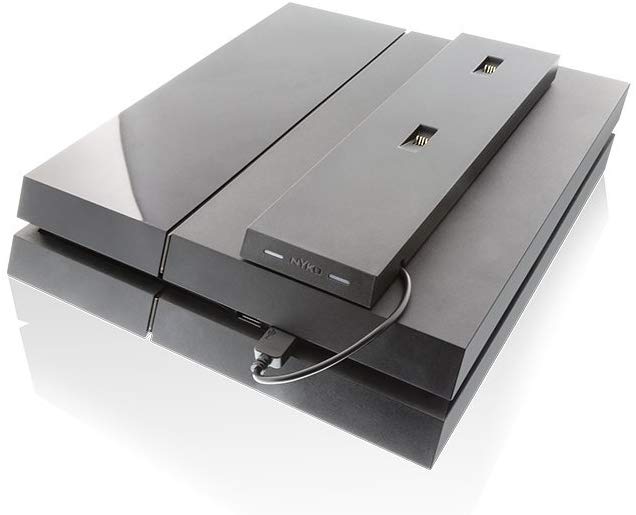 The NYKO Modular Charge Station is ideal if you want to optimize your gaming area while keeping your PS4 in a horizontal position. You won't need any additional space as it can be positioned on top of the PS4 and powered via the USB hub behind the system. That way, you can still use the front USB panel for your gaming accessories.
This charge station also comes with two patented dongles that attach to your controllers and works by sliding them in place to the charging ports. It is easy to install and works as advertised.
Sony DualShock 4 Charging Station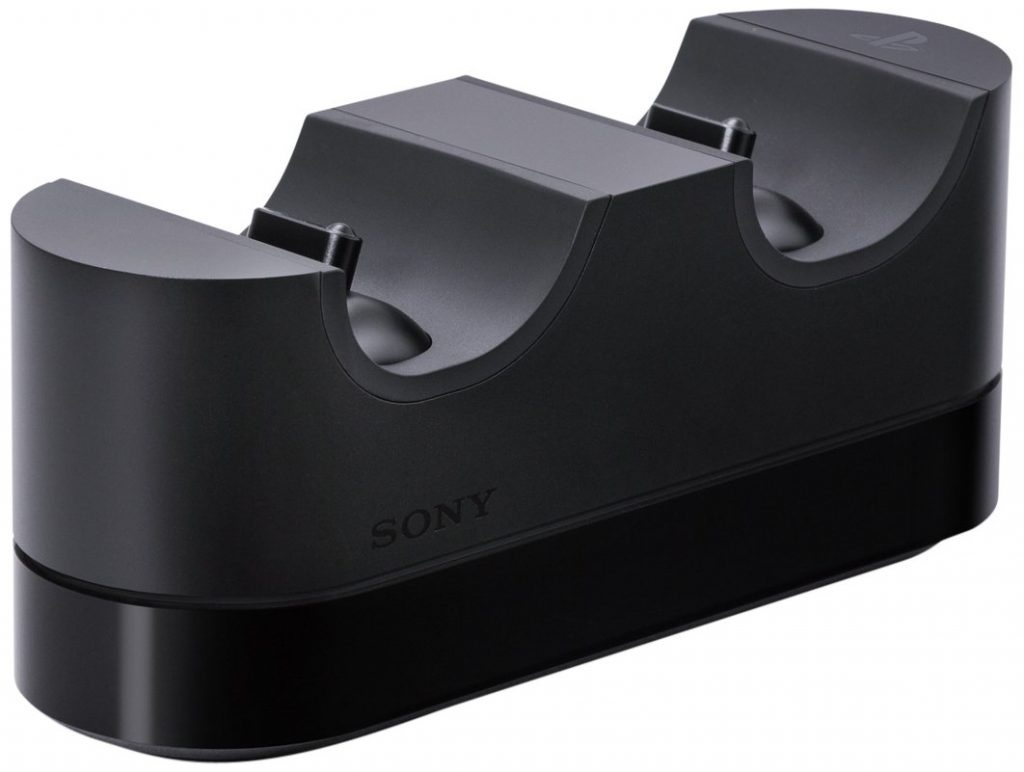 The official Sony DualShock 4 Charging Station is what you should get if you want reliability and durability. It is compact and has a matte and glossy black finish that emulates the original PS4 model. This device will look great next to your PS4! Moreover, it has an auto-standby feature that immediately stops the dock from charging once your controllers have a fully-charged battery. You don't have to worry about overcharging your controllers and can leave them on the dock as long as you want. The only downside is that it is quite expensive. You can get something with more functionality for the same price.
Asterion PSVR Charging Stand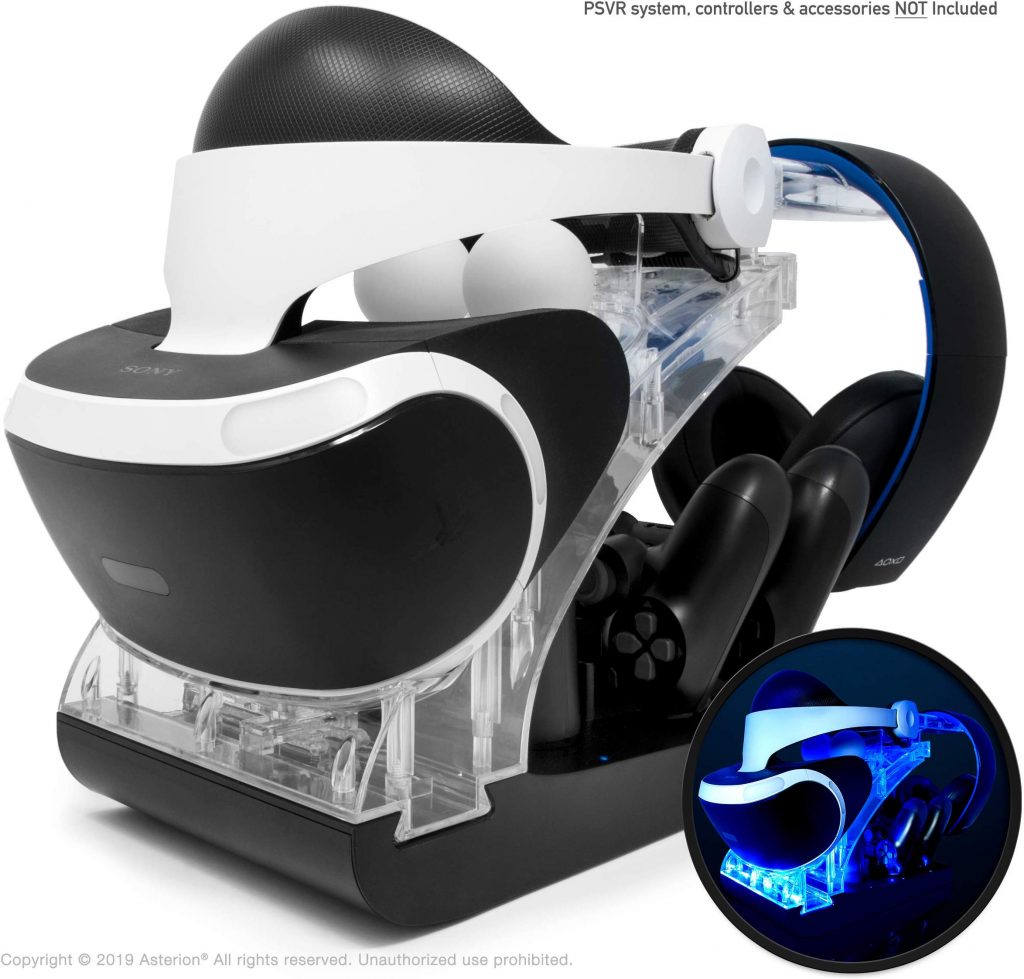 The Asterion PSVR Charging Stand is a multi-functional device that can charge up to five accessories at a time. These include the PSVR headset, two DualShock 4 controllers, and two Move controllers. This stand can cradle all of these devices as compact as possible, while still having room for a couple of headsets. It also does an excellent job of managing the PSVR cable. Additionally, you have the option to activate a vibrant blue LED glow to bring a unique ambiance to your gaming setup. The illumination can be too bright, but you can turn it off through the touch-sensitive button.
Sony Move Charging Station with DualShock 4 Adapters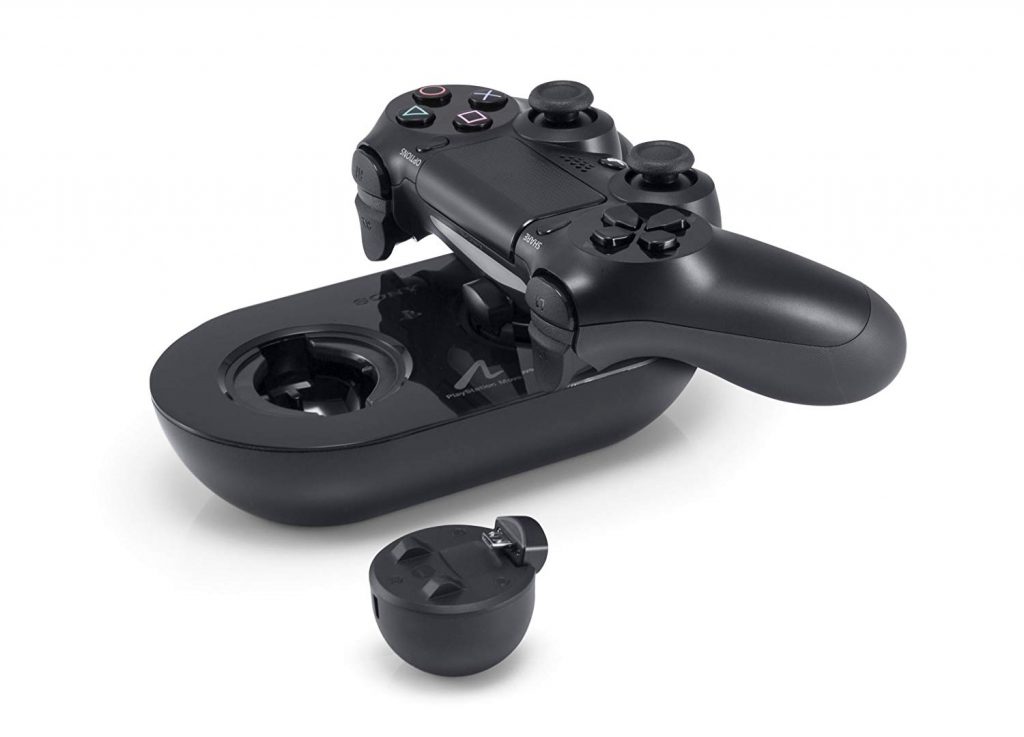 The Sony Move Charging Station with DualShock 4 Adapters is an excellent device if you want an official PlayStation product and often use both types of controllers. It is very compact and keeps your accessories organized and ready for play. Moreover, this charging station won't occupy any of the USB ports on your PS4. Instead, it is powered by a standard wall outlet for fast and efficient charging.
One drawback of this bundle is that the included adaptors can be finicky and hard to align with the charging ports. Nevertheless, it is a great functioning device that is easy to recommend if you play PSVR games.
PDP Energizer PS4 Controller Charger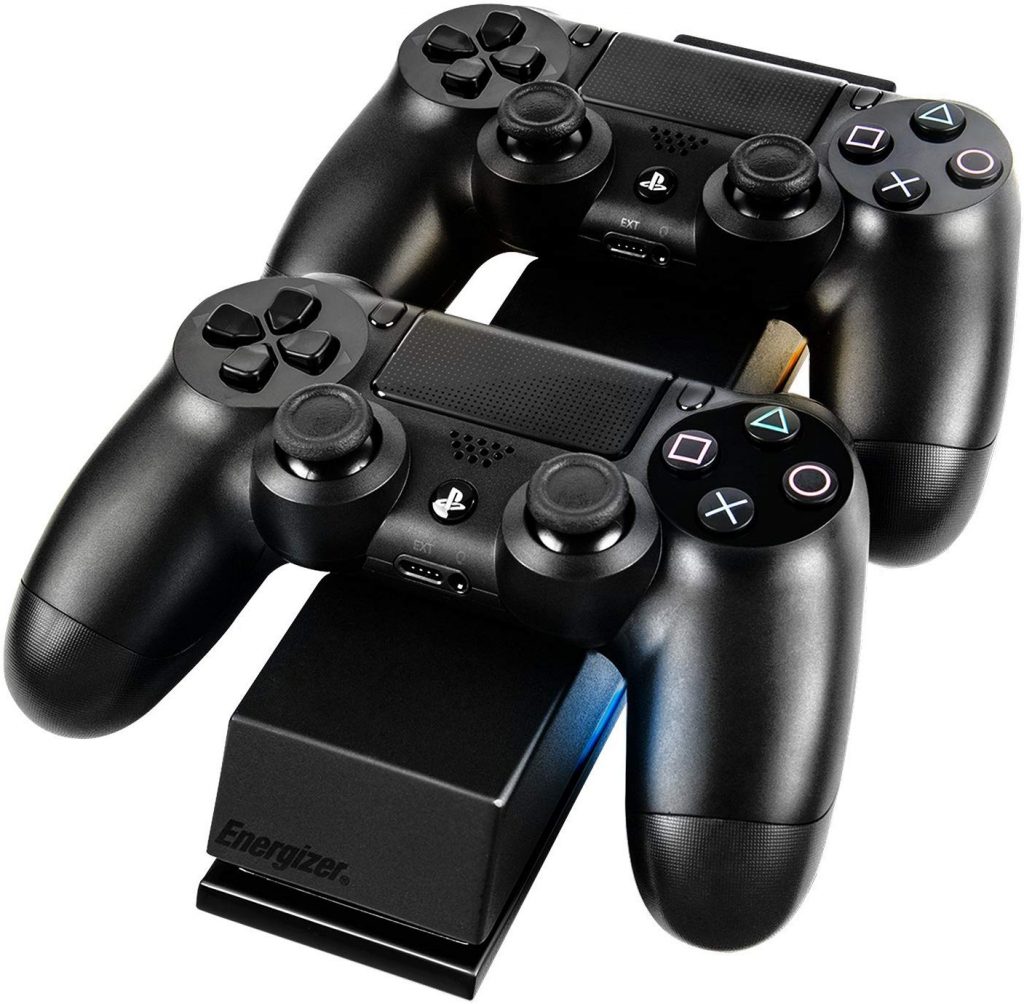 The PDP Energizer PS4 Controller Charger is unique to the other alternatives on this list. It comes packed with two rechargeable lithium battery packs that can be reloaded through the included docking station. This feature enables your controllers to have extra juice to last up to 16 hours of playtime. If aesthetics are an essential factor for you, this controller charger has a matte and glossy chrome detail that complements any model of the PS4. With extended battery life and durable design, this device is well worth your money.
HyperX Chargeplay Duo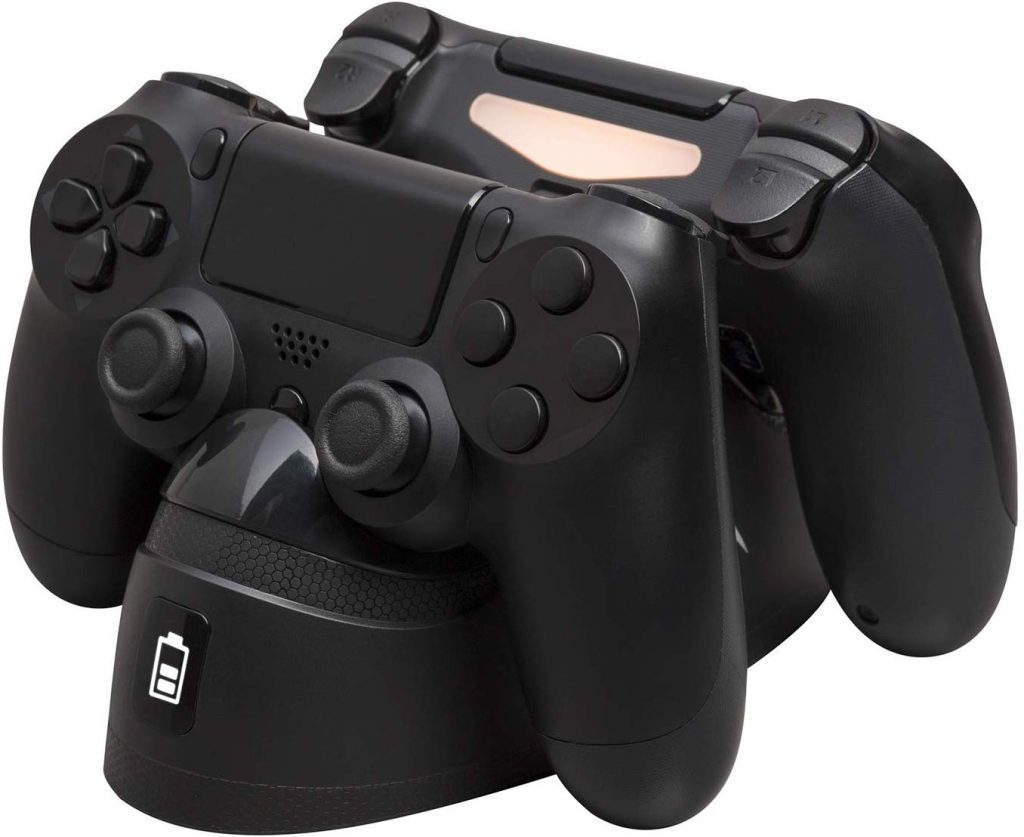 The HyperX Chargeplay Duo has a similar click-lown docking mechanism as the Sliq Charging Station. What makes it unique is the weighted base that helps keep the device stable. Additionally, it has a three-level battery indicator that lets you know the status of your batteries at a glance. On the downside, it is not as fast as its Sliq counterpart. Although AC adaptors power both docking stations, the HyperX Chargeplay Duo takes twice the time to charge a controller fully.
3 Important Features to Look For in a Controller Charger
Searching for the a PS4 controller charger takes a lot more consideration than you might think. There are several options on the market that have their unique features.
Please don't fret, because we've got you covered. The following are some aspects that you must take a closer look at before deciding to buy a charging dock.
Ease of Use
One of the most critical factors you should consider before buying a PS4 controller charger is its ease of use. Never pick a device that is too complicated to operate. You want something that you can slide your controllers in place and leave them without having to worry about overcharging.
Safety and Reliability
You must review the specifications of a controller charger before deciding to make a purchase. Doing so will avoid being at risk of your controllers overheating or short circuit of your device. The most effective way to ensure that the charger your getting is reliable is to read reviews and learn about the manufacturer.
Charging Station LED Indicators
When it comes to charging your controllers, you must know about the status of its batteries, especially if a charging dock doesn't have a protector chip. Otherwise, you might risk overcharging your controllers and spending more of your hard-earned money.
3 Ways To Fix Ps4 Controller: Not Working, Doesn't Charge, Won't Connect
Recap: The best Ps4 controller chargers in 2021