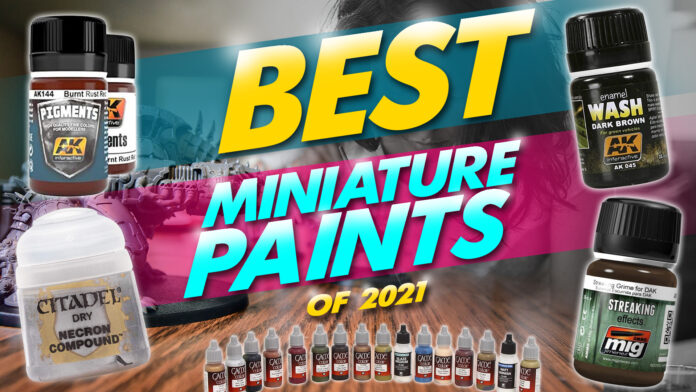 When it comes to miniature painting, paints are always important parts of a discussion. Wargamers and hobbyists analyze paints as if they're comparing vintage cars, computer parts, or appliances. They have a reason to think that way because paints are specialized and nearly complicated.
Do you want to save time in finding the best miniature paints? We've created a detailed guide for you!
How to Pick High-Quality Miniature Paints – Your Easy Buying Guide
It's a wise thing to know the best miniature paints even before you place an order. But if you want to narrow your options smartly, you can take note of some important reminders.
Before Everything Else: Workplace!
You shouldn't paint miniatures anywhere. After every painting session, you'll commonly see blotches of paint and other smudges on the table. If you don't like your furniture stained or damaged, you need to have a dedicated workplace for miniature painting.
Since light can affect your painting process, you must have a lamp. The best lamp shouldn't be too bright or big. Otherwise, you might accidentally knock off the lamp and mess up your paints. Some of the best lamps are LED variants, particularly the ones manufactured by TaoTronics and TW Lighting.
Don't forget to put a decent plastic cutting board over your working table. The board will serve as your outline guide if ever you need to cut something. Other workplace things you need are small containers, shelves, and trays.
Know Your Current Painting Priority
Many beginners are guilty of buying as many paints as possible. If you do the same thing, you'll waste money, time, and space. Always check the required paints of your chosen kit. The kit will likely affect your painting priority, especially once you've read about the required colors and textures. The scale of the miniature is also an important factor that can help you make an informed decision.
But if you have the budget and space for extra paints, then start shopping right away! Just keep the extra paints in closed containers so you won't feel overwhelmed.
Do Brands Matter?
Aspiring miniature painters love to rely on brands in terms of choosing paints. Right now, if you're just starting on this hobby, you shouldn't stress yourself too much about brands. Otherwise, you might feel overwhelmed with the amount of information online.
In the long run, brands do matter. Let's take a look at Citadel paints as average examples. Citadel paints have remarkable shades and weathering textures since they're specialized for Warhammer 40K models. If you're looking for beginner-friendly paints, you can never go wrong with Mig Jimenez basecoats.
Despite the importance of brands, nothing trumps your scaling proficiency. Just keep painting and you'll find it easy to work with different paint brands.
Complete Your Arsenal – Top Painting Tools & Accessories
Do you want to get the most from your miniature painting journey? Then by all possible means, you should get some starter accessories!
Here are some of our top suggestions:
Mig Jimenez AMMO Metal Modeling Pigment
As one of the simplest Mig Jimenez paints in the market, this high-quality metallic pigment is a must-have in your painter's arsenal. The pigment is detailed enough to mimic the appearance of real polished metal, and only a few pigments come close.
The Mig Jimenez polished metal pigment is a great option for modern figures, small-scale weapons, wires, antennae, and even paladin shields. If you're looking for a darker aftereffect, you must apply some shades. Or just pick a different paint for the larger part and use the Mig Jimenez polished metal for smaller areas.
One downside of this Mig Jimenez metal pigment is the extra effort needed for thinning. It'll take a couple of swirls before the pigment attains a soft consistency. Well, this just means that the pigment will create detailed impressions later!
Pros:
Easy to apply
Accurate metal color
Cons:
Mig Jimenez AMMO Streaking Grime Effects
Weathering is an important part of miniature painting. You can always apply different brush strokes to create a weathering effect, but you'll save time by using Mig Jimenez special grime streaking paint.
The Mig Jimenez AMMO grime paint can create short or long streaks of dirt. The effect is like seeing a water container exposed outside for a long time. This high-quality grime paint works best on light surfaces and neutral grey basecoats. You can still apply the grime paint to darker shades but the effect is less visible.
While all weathering and streaking paints require a degree of skill, this Mig Jimenez streaking grime paint is more challenging. Try to use this grime paint on extra sprues before applying it to your model.
Pros:
Remarkable weathering effect
Top-tier option for tanks, ships, and military bases
Cons:
Needs a bit of skill for greater results
AK Interactive Enamel Wash Paint
Just like Mig Jimenez, there are dozens of reliable AK Interactive paints. However, the AK Interactive Dark Brown Enamel Wash deserves a special mention. From WW2 tanks to the occasional Gunpla, this AK Interactive paint will always be an excellent weathering option.
You can make numerous combinations with the AK Interactive dark brown paint. The paint is adaptive enough to work on light basecoats such as green, light green, light brown and even plain yellow.
If you're planning to use this enamel wash paint for dark basecoats, you need to make adjustments. Just increase your shading strokes to make a better impression against the dark basecoat. Weathering dark basecoats with this paint is doable but it takes extra effort.
Pros:
Easy to thin and apply
Great for green vehicles
Cons:
Not great with other basecoats
AK Interactive Slimy Grime Dark Paint
Grime looks good from afar. It reflects the unchallenged reach of time, further emphasized by a model's depth and scale. Instead of going over dozens of grime-producing paints, you can just add this AK Interactive Slimy Grime paint to your list.
The best thing about AK Interactive's slimy grime paint is the degree of realism. By mixing the paint properly, you can achieve the desired aesthetic effect. Additionally, the paint blends easily with brown, black, and red colors.
Just like other weathering paints, it takes a bit of practice to use this AK Interactive grime paint. It won't take long though – simply practice some strokes on paper so you'll have an idea about the paint's result. You must also mix the paint vigorously along with a high-quality thinner.
Pros:
Natural-looking grime
Made from safe materials
Blends easily with terrain
Cons:
Takes skill to blend with lighter colors
AK Interactive Burnt Rust Pigment
Here's another great weathering paint from AK Interactive: the all-popular 1.23 Oz Burnt Rust pigment. This type of paint contains precise and non-toxic materials meant to last for a long time.
Mixing this burnt rust pigment is easy. Just do a couple of measured swirls to achieve a satisfying consistency. You can even adjust your mixing motion to get varying levels of rust. With a highly realistic rust appearance, your models will look battered – as if they survived dozens of encounters and challenges.
The AK Interactive Burnt Rust pigment is a highly specialized paint. It works greatly on light basecoats, revealing strong details and complementing terrain. However, the paint doesn't look appealing on darker basecoats unless you've done some preliminary shades and combos.
Pros:
Natural-looking burnt rust
Easy to mix and apply
Cons:
Not too appealing on dark basecoats
Vallejo Game Color Specialist Acrylic Paint Set
Any beginner painter will benefit from a highly detailed paint set. One example is the Vallejo Specialist Acrylic Set containing 16 colors. Whether you're finishing an old kit or starting a new one, this paint set from Vallejo will hit the spot.
The Vallejo paint set contains basic colors that you can use as primers and basecoats. You can even blend these colors as often as you want. Included among the acrylic paints is a 17ml eyedropper bottle to ensure precise paint distribution.
Vallejo's acrylic colors do the job well but they don't have significant traits – unlike the common colors of other brands. Still, you shouldn't miss this paint set because it will help you play around with various starting colors.
Pros:
16 colors in a pack
Non-toxic
Cons:
Games Workshop Citadel Drybrush: Necron Compound
It's not easy to recommend a Citadel product since Games Workshop has already launched dozens of paints. But we're ready to present a special drybrush paint: Necron Compound.
The Necron Compound paint has a strong metal aesthetic that fits modern and futuristic models. Some great examples are Warhammer 40K (Necrons are space undead), Star Wars, Star Trek, and Dune. You can also use the Necron Compound for WW2 tanks and planes. If drybrushing is your thing, you should add the Necron Compound paint to your toolbox.
There are numerous concerns about the Necron Compound's shipping quality. Some users reported that the paint dried off fast even without exposure. Other users complained about the paint bottle's loose cap. To minimize or avoid this from happening, try to order from popular stores. Don't pick stores with poor reviews and feedback.
Pros:
Beautiful acrylic paint
Visually pleasing 'war-like' textures
Cons:
Dries easily once shipped
The AORAEM electronic magnifying station is a must-have for any miniature painter or scale modeler. It has a strong magnifying glass, as well as LED light and strong clamps for your model or miniature.
With this magnifying station's shadowless lamp, you'll have an easier time painting your miniature parts. You don't have to worry about light obstructions that can slow down your progress. No flicker effects too – say goodbye to your midnight eyestrain!
Power isn't a problem with the AORAEM magnifying station. It operates with three AA batteries but you can also use external power for greater convenience. AORAEM station's magnification level is also flexible, allowing you to take care of a miniature's most intricate details.
If you're working on a difficult miniature part, simply adjust AORAEM's clamps so you can get an accurate view. The clamps are strong enough to hold small and medium parts.
One downside of this magnifying station is the number of moving parts. If you have to move the tool, always be careful. Some of the moving parts that you should consider are the clamp joints, magnification handles, and airbrush holder. Also, the magnifier station is not suitable for big, non-detachable models because of the clamp size and distance from the base.
Pros:
Flexible multi-purpose tool
Different magnification levels
Has a high-quality LED light
Durable frame
Cons:
Not suitable for larger and bulkier models
Lots of fragile moving parts
TAMIYA America Super Large Thinner Bottle
Running out of paint thinner is a real hassle – especially if you're keen on using an air brusher. Sometimes, the best solution is to go all-out, and you can do that by ordering TAMIYA America's Large X20A paint thinner!
Made from 100% pure paint thinning solution, the TAMIYA X20A thinner will ensure the quality and detail of your paints. The solution is so strong that you need to use a non-corroding stir stick.
Many users have complained that this super large TAMIYA thinner bottle is bulky. They're actually right because this 250ml paint thinner is meant for serious miniature painters. Once you have this bottle, you rarely need to buy other thinners, thus saving your time and money. The TAMIYA thinner, after all, is five times better than plain water!
Pros:
Large bottle for continuous painting sessions
World-class acrylic paint thinner
Cons:
Boao 12-Pack Mini Clear Acrylic Easel
The Boao 12-pack clear acrylic easel is a great addition to your workplace. In this product pack, you'll get 12 high-quality easels for your models.
Without an easel, it's difficult to paint a model's small and narrow areas. Any of Boao's easels will solve such a problem by creating mild elevation. Aside from that, the easel can hold the miniature and prevent accidental toppling. You can also use the easel for many things such as smartphones, fountain pens, business cards, greeting cards, and commemorative coins.
If your model is big or bulky, the Boao easel might be a little problematic. Each easel can only accommodate small and medium figures. Heavier models might topple over to the sides, messing up your fresh basecoat. The easel designs are also plain transparent with no significant details. Still, you can spruce up the easels with custom designs before displaying them.
Pros:
Multi-purpose easel
Product pack starts with 12 easels
Excellent balance
Cons:
Boring easel designs
Not advisable for big models
What's better than air-brushing a mini in your spare time? Well, the answer: air-brushing multiple minis at the same time! Instead of putting your minis on a table and letting the spray loose, you should use Games Workshop's special Citadel Spray Stick.
To use this spray stick, just strap your minis with the help of adjustable elastic bands. You can adjust the bands to fit the round bases, ranging from 20mm to 65mm. The stick also has an ergonomic grip to offer maximum leverage. With this useful plastic stick, it's possible to spray-paint five models in minutes.
The spray stick is durable but you must store it properly to keep the elastic bands durable. While this plastic stick costs more than basic miniature holders, you won't have issues with continuous usage.
Pros:
Saves time through mass-spraying
Can handle 25-65mm round bases
Adjustable elastic bands
Cons:
Tickas Wooden Paint Rack With Cabinet Holder
Do you need a comfortable mini-storage for your paints? The quick answer is Tickas Wooden Paint Rack. With two convenient cabinet holders, this rack can accommodate your brushes, stirring sticks, and other important tools.
This wooden paint rack has 16 large holes for jumbo paint bottles and 42 standard holes for average paint bottles. Plus, the rack offers 22 mini-holes for paint thinners and enamel washes. All of the holes are segregated neatly so you can access the most important paints without hindrances.
Durability is a small problem of the Tickas wooden paint rack. This rack is made of thin wood that can get damaged easily. Be careful moving this rack around. Also, the rack's surface is not paint-resistant. You might see small blotches against the surfaces and cabinet holders, especially if you've been working on a project for a long time.
Pros:
Compact paint rack
Has a cabinet holder for brushes
Lightweight
Cons:
Thin wood
Not paint resistant
If you're new to miniature painting, then it won't hurt to learn some useful techniques every now and then. Once you're aware of painting techniques, you'll have a lower chance of making mistakes, saving your paints and precious minis.
General painting techniques are useful for most types of minis but you need adjustments for complicated figures. Warhammer 40K figs, for example, rely on consistent weathering, protruding pieces (lasguns & comms), and tons of futuristic details. Therefore, you need to be accurate with paintbrush positioning and getting through small areas.
Now, with high fantasy pieces – like dragons and knights – there are large areas requiring broad strokes. These strokes still depend on numerous factors like model scale, painting style, paint quality, brush quality, and your experience on painting minis.
Here are some techniques that you can analyze and use:
Always Mind the Sprues
Miniature painters, especially beginners, tend to become excited whenever they have new kits to paint. This causes newbie painters to cut up some important parts on the sprue, messing up huge details. Small parts are almost indistinguishable from sprue lines, particularly small weapons, antenna lines, and sticks.
As much as possible, you shouldn't remove parts from sprues by hand. The best tool that can untangle parts from sprue lines is a clipper. Determine the connecting edge of the part and cut away from there. If the detail is too small, try using a magnifying glass. Every now and then, you'll also encounter sprue extensions due to cutting. Just file these parts carefully before painting the miniature.
Figure By Figure Painting
Once you've painted one or two figures, you'll probably have the urge to paint entire scenes or even medium-scale battlefields. While it's tempting to combine multiple pieces and paint them afterwards, this manner will actually impede your progress.
If you can't paint one part of a figure because of hasty assembly, you just have to keep up with wasted aesthetics. So, just be patient and paint all figures one by one.
You can even divide your activity into phases. The first phase should cover small pieces and accessories like attachable capes or scabbards. The second phase is the time where you paint riders, mounts, assembled vehicles, and large scenario pieces.
Base Coat Adjustments
Mistakes are common in miniature painting especially if you don't have the right type of holder. Sometimes, you'll end up with thick lines, irregular paint strokes, and below-average color balance. As you become more proficient with painting minifigs, you'll have lesser mistakes. One technique that can minimize painting mistakes is base coat adjustment.
Normally, your base coat is the first layer of paint for your minifig. If you continue adding more paints and committed a mistake, just use your base coat to paint over the error. Before doing this, ensure that the paint is thin and still pure.
You can also use your chosen base coat for other small areas or figures.
Grey Priming
Your primer paint depends on the overall theme of the project. Warhammer Fantasy models are great examples because of their varying factions, magical scenes, and gargantuan battle encounters. Models in highly active environments will benefit from grey or neutral grey priming paints.
If you're still having doubts about priming, simply keep in mind that prime-coating will allow you to see model defects later. In turn, this will make the whole painting process easier and nearly error-free. Say goodbye to wasted paints!
The Essentials of Shading
Shading is one of the most useful techniques that you should know as a miniature painter. Basically, shading improves the appearance of a model so that it stands out among other figures.
An easy way to start shading is to use paints on specific areas instead of covering a large surface. Remember, shading is all about proper color transition. You can show this mode of transition by applying shades on movable parts like cloaks and armor guards.
One common shading technique is continuous (or progressive) highlighting. This technique is adaptable, letting you adjust the shades based on the model's distance from the nearest light source.
Blending is another method that you can practice, although it's a bit advanced. Try to master the basics of paint thinning, broad strokes, specific strokes, edge highlighting, and layering before blending two or more colors.
Color Spectrum Basics
Understanding the color spectrum is a great way to become a master minifig painter. You don't need to be a wizard of colors but you should know the most viable combinations for highlighting and detailing.
The red-orange paint combination will evoke a feeling of unique ferocity, making it effective on models with fighting stances or tribal mounts. Conversely, a blue-violet paint combo helps the model attain an 'eldritch' style or a strange appearance.
Try to experiment with different color combinations. If you've painted two or more kits already, you'd feel more comfortable making custom paint schemes.
Drybrushing Like A Pro
Drybrushing is an essential technique that will improve the small details of your minifig. To start drybrushing, you need to dip your paintbrush in a small blotch of thin paint. Remove extra paint from the bristles and keep them steady. After that, you can now drybrush small elevated parts of the model.
To improve the drybrush effect further, you can do mild edge highlighting. This quick process will eliminate traces of drybrushing and improve the model's aesthetics further. While drybrushing and edge highlighting are excellent for protruding surface parts, they create minimal effects on base textures and terrain pieces.
There's no perfect way to approach drybrushing. It's even more fun and worthwhile to cultivate your signature drybrush technique!
Thin Your Paints!
Thin your paints – you've probably heard this outcry from miniature circles before. Many people, especially wargamers, built memes around the concept of paint thinning. Well, they have a reason for such a statement.
Thick basecoats are not beautiful to look at – even if your intended model is weird. It's easy to distinguish beginners from pros by analyzing the thickness of their paints. Also, thick paints are notorious for leaving unsightly brushstrokes. They also make bristles harder to clean and manage.
Thinning your paint is easy. Just remember the consistency of skimmed milk or melted ice cream. You can reach that level of consistency by mixing a portion of paint with two parts of water (2:1 ratio).
Speed Up Your Process By Black-Priming
Painting is a slow and hard grind. You might spend weeks on a batch of miniatures, especially if you're planning to use custom basecoats. If you're part of a miniature painting group, you might slow down due to conflicting information. To speed up your process, you can prime models by using black paint.
Black paint absorbs color easily, creating better contrast within a small time frame. Of course, you're not just limited to black – you can try other darker shades while finding the best color combination.
Achieve Better Look By White-Priming
What if you're not pressed for time and you want to achieve near-perfect miniature aesthetics? You can start by choosing the most neutral primer: white.
White-priming is an advanced painting strategy that beginners can also try. However, if you're still a beginner, expect for less desirable results the first time around. As you get better, your models – primed by white paint – will look crisper and more realistic.
Light colors are great alternatives but nothing beats the neutrality of white. So do your best to get a white miniature paint as soon as possible!
Bigger Brush, Better Strokes
Practically, a bigger paintbrush will increase the precision of your strokes. Some painters might disagree but they're probably well-experienced with different painting styles and model scales. Small brushes are great for working on hyper-realistic details and micro areas.
The traditional #2 paint is a winning option for pros and beginners alike. You'll rarely miss important parts and you can even save precious time. Only move to smaller and finer paintbrushes as you get better.
Be Old School: Saliva Still Cool!
Veteran painters will tell you quick tales about how they used saliva to blend their paints. This is not an exaggeration! Even though it's easy to use water for blending paints, saliva is the most accessible. Just lick the tip (don't overdo it!) of your brush or spit in a water cup and blend away.
Saliva is useful because of its slippery nature and tendency to not stick to brushes. Blending formulas are also useful but they can affect the blended paint's consistency. Still, saliva is free and can be reproduced anytime!
If you're going to use saliva often, make sure that your paints are non-toxic. Don't buy paints from shady aftermarkets. You can just order directly from big manufacturers like Games Workshop and Mig Jimenez.
Learn & Master Feathering
Feathering is a basic technique where you apply pain in vigorous yet predetermined motions. One common motion is zigzag, allowing maximum distribution of paint quality over a large surface. The vigorous movement will ensure that specific colors attain a high degree of synergy and aesthetics.
Using this technique on smaller surfaces is a bit challenging. If you find it difficult to start, try to use smaller strokes with decent speed. Keep practicing until your strokes become steady and surgically precise.
Shadowing The Right Way: Loaded-Brush Painting
Have you always wondered how to make paint shadows? Do you want to make your models more realistic and impactful? In that case, you should try loaded-brush painting.
Just like the feathering technique, loaded-brush painting relies on vigorous movements. The difference is that you're working on two layers. First, try to make a darker primer – black will always have a nice touch. Second, use a lighter paint in the second layer while using feather-like movements. By doing so, you'll distribute the lighter paint evenly, creating an even better impression.
Feathering and loaded-brush painting work side by side. Use these techniques to bring your painting game to a greater level.
What's Up With Wet Blending?
Wet blending is always open for debate. You probably know by now that water-thinned paints look more beautiful over time. With wet blending, it's a little bit different. In order to wet-blend, you need to apply more water. This will cause the paint to stay wet for a longer period, thus slowing down the process.
What's the catch? Wet blending is excellent for blending multiple layers and showing better aesthetics. Your planned 'Warboss of the Rainbow' will definitely have stronger color combos through wet blending.
If you don't like wet blending, it's okay – you can always double up on other primary techniques like loaded-brush painting or just the traditional style. The intensity of your strokes will still play a bigger factor after you've painted dozens of models.
Got A Fearsome Demon Model? Stipple It Away!
Stippling was once considered a technique for beginners. Now, miniature painters around the world believe that stippling is a saving grace – a unique technique reserved for the most difficult, detail-hungry models.
Remember, fantasy miniatures – especially the big ones – will always benefit from visible textures that depict their adventures or lunacy. Stippling is a great way to make these textures more defined, increasing realism and style.
To start stippling, dip your brush in small paint and leave dots on several areas of the model. Just trace the model's outline, stopping with small intervals. Afterwards, you can transition to your favorite painting style and work normally. Well, if stippling is your favorite, then you'll probably become a great commissioned painter!
Pro tip: use old brushes to put the stipple dots in your model. These brushes have strong bristles that will make the 'paint dots' clearer.
And Of Course – Airbrushing At Your Peak
Eventually, your unpainted models will pile up because of impulse buying. This situation is common among intermediate and professional painters. The long-term solution is airbrushing.
Airbrush is a significant investment because it requires, well, an airbrush and a high-powered compressor. Through airbrushing, you can make powerful paint distribution, transition, and smooth layering. It will take a while to master airbrush movements, and you also need to keep your hand steady.
Play around with an airbrush and do your best to find your signature movements!
Conclusion`
Miniature painting is a therapeutic and productive activity but only if you have the best paints in your working space. As much as possible, avoid low-quality paints if you want to make your minis eye-catching. But if you have the budget for some dry runs or you just want to test a color combination, basic starter paints are viable options.
So, buy the best miniature paints today and start working on some kits!