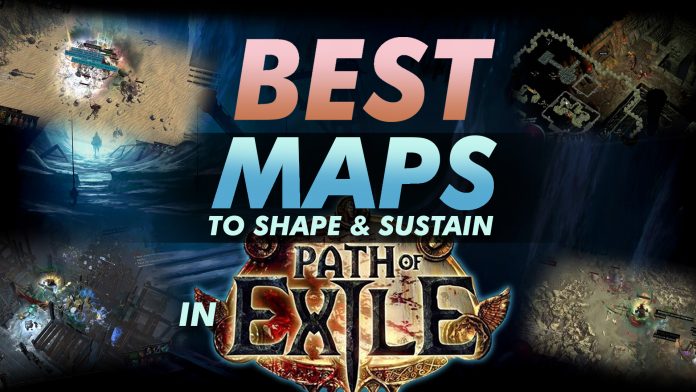 Path of Exile is more than just a 'Diablo successor.' It redefined the ARPG genre, introduced a plethora of systems, and allowed a deep level of customization that all gamers can enjoy. You can basically flesh out a character class based on aesthetics, or you can min-max it to glory. But Path of Exile goes beyond character dynamics – you now have the option to craft your Maps and personalize the journey.
Knowing the best maps to shape in POE is a great way to have a satisfying gaming experience. You'd know what Maps to grind for, what types of currencies to go after, and how to gauge your trades. 
Here are some of the popular Atlas Maps that you can explore:
Beach Map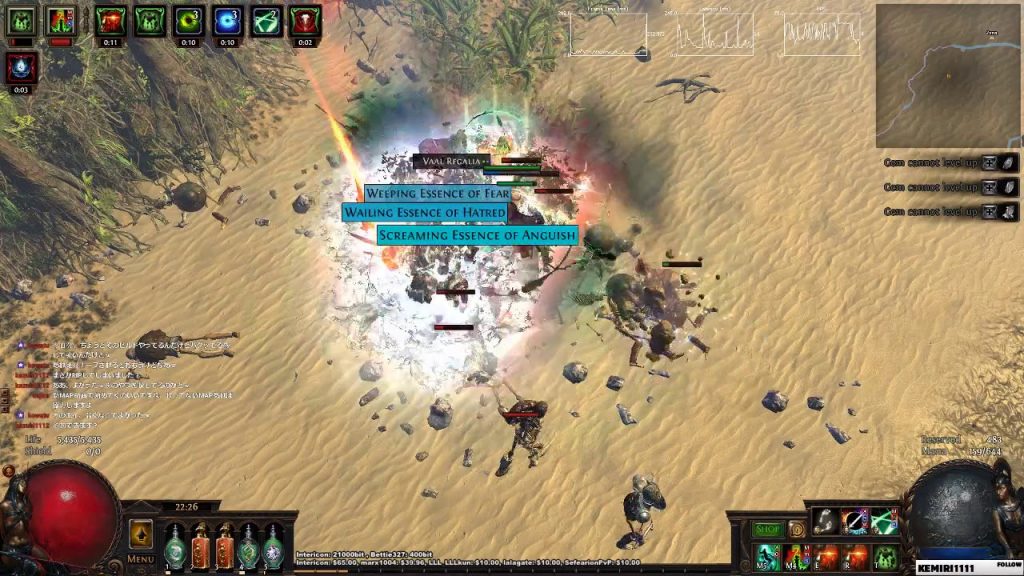 Upon reaching the Beach, you will notice that it's similar to Act 6's Beacon. This is because the Beach and Beacon utilizes the same tileset. The only difference is that the Beach is relatively harder than the Beacon. 
Navigating the Beach Map is easy since it is just a broad corridor with little environmental obstacles. At the end of the Map is Glace, the Beach Boss – a user of ice magic. Defeating Glace is easy, since you can just pump your cold resistance. Aside from that, it's easy to evade his multiple ice spears. 
Notable Area Drops:
Divination Cards: Hope, The Gambler, Her Mask

Gripped Gloves (Lvl 70)

Spiked Gloves (Lvl 70)

Cerulean Ring (Lvl 80)
Desert Map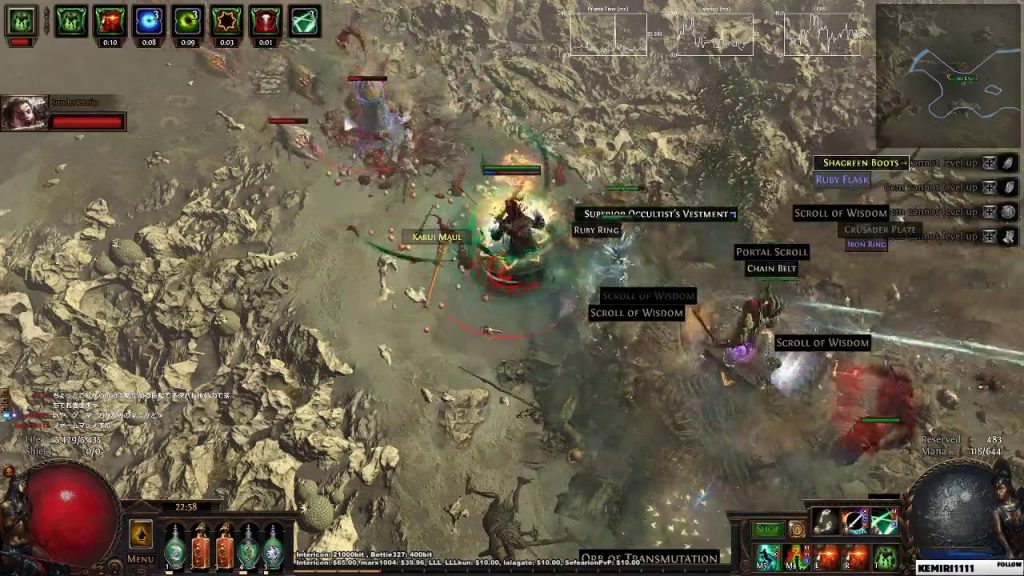 Arid, dangerous, and packed with monsters – these are the best qualities of the endgame Desert Map. You will face scores of enemies with different loots and abilities, though most of them will succumb to your character's power. 
The Desert's boss, Splinter Liege, doesn't hit that hard but he can summon copies of himself. You must kill these copies as fast as possible because of their collective total damage. Take note that the original boss walks around the area, while the copies are mostly stationary.
Notable Area Drops:
Divination Cards: The Gambler, Her Mask, Earth Drinker, Imperial Legacy

Two-toned Boots (Lvl 70)

Vermillion Ring (Lvl 80)
Lookout Map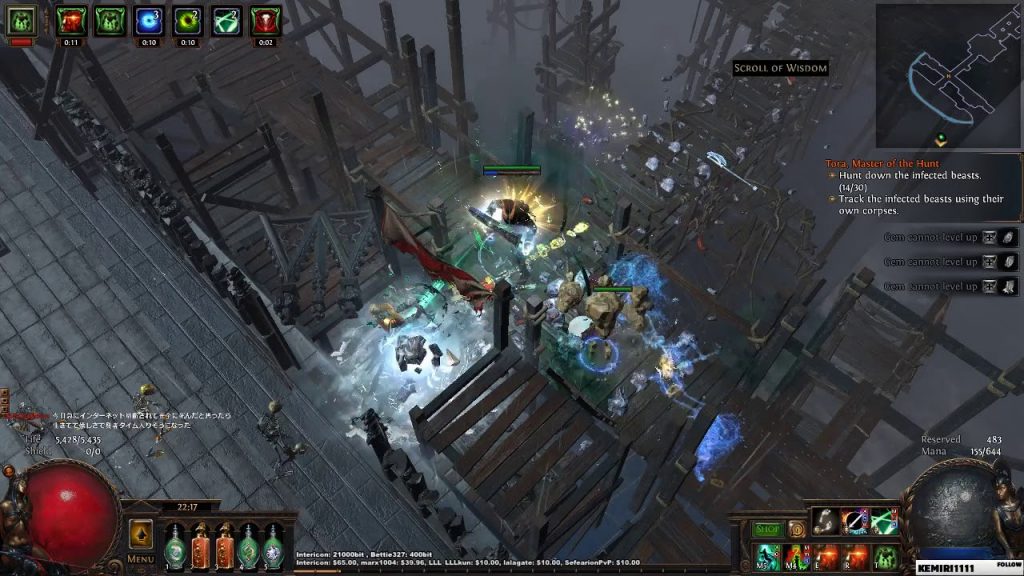 The Lookout is grim and filled with signs of destruction. Upon arriving, you will be attacked by monsters guarding the entire place. There are lots of chokepoints in the map, so it's very easy to solo the monsters. 
The Grey Plague is the boss of the Lookout. It's an easy boss that you can pepper down with ranged attacks and magic. Ranger and Witch builds are potential superstars of the Lookout.
Notable Area Drops:
Divination Cards: Hope, The Gambler, Her Mask

Fingerless Silk Gloves (Lvl 70)

Vanguard Belt (Lvl 78)
Burial Chambers Map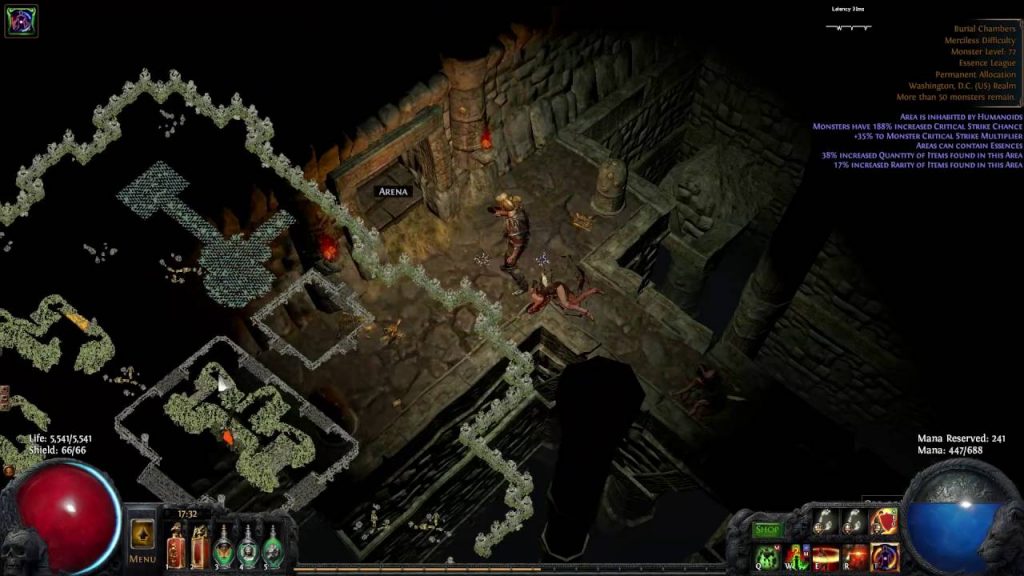 Burial Chambers can be annoying the first time around, especially if you're not prepared. The Map has multiple chambers loaded with enemies like zombie, undead, and foul spirits. Still, Burial Chambers is worth the risk because of the loots that you can farm. 
The Witch of the Cauldron hides beneath the chambers. Somehow, it's easy to kill the witch with the right combination of offensive skills and passives. But you need to tank the witch right away in order to prevent its accelerating DPS!
Notable Area Drops:
Divination Cards: The Doctor, The Gambler, The Incantation, The Betrayal, Her Mask, Lingering Remnants, The Witch

Fingerless Silk Gloves (Lvl 70)

Vanguard Belt (Lvl 78)
Lighthouse Map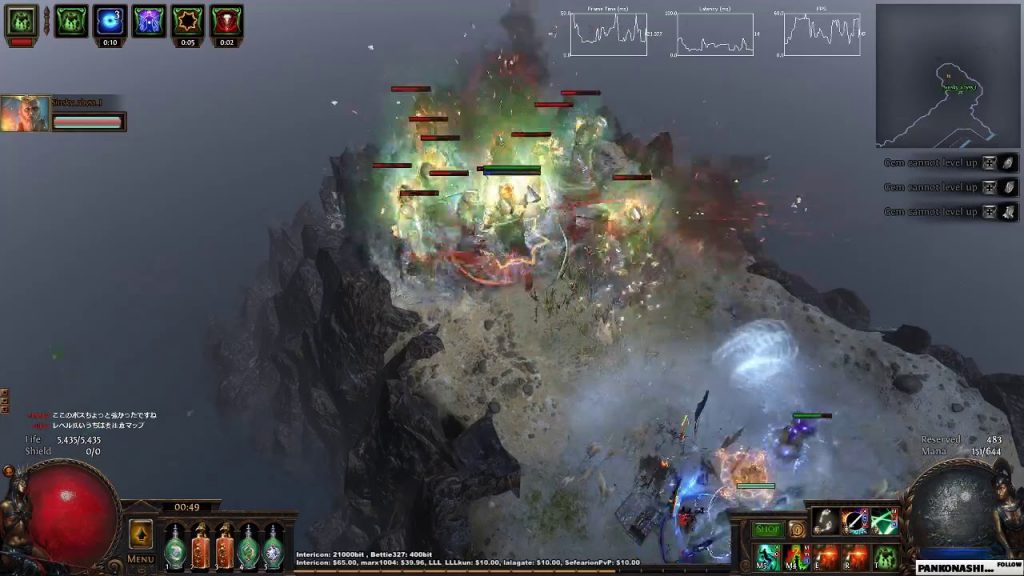 An impressive Map, especially at high tiers, the Lighthouse will allow you to see the potential of your build against a throng of foes. You will encounter loads of enemies everywhere, particularly in the sections near the lighthouse itself. 
Fire resistance is important in Lighthouse because Uruk Baleh – the Map boss – is known for its fire attacks. Uruk Baleh can also dish out strong DPS, so you have to be prepared. 
Notable Area Drops:
Divination Cards: Lantador's Lost Love, The Gambler, The Journey

Fingerless Silk Gloves (Lvl 70)

Vanguard Belt (Lvl 78)
Courthouse Map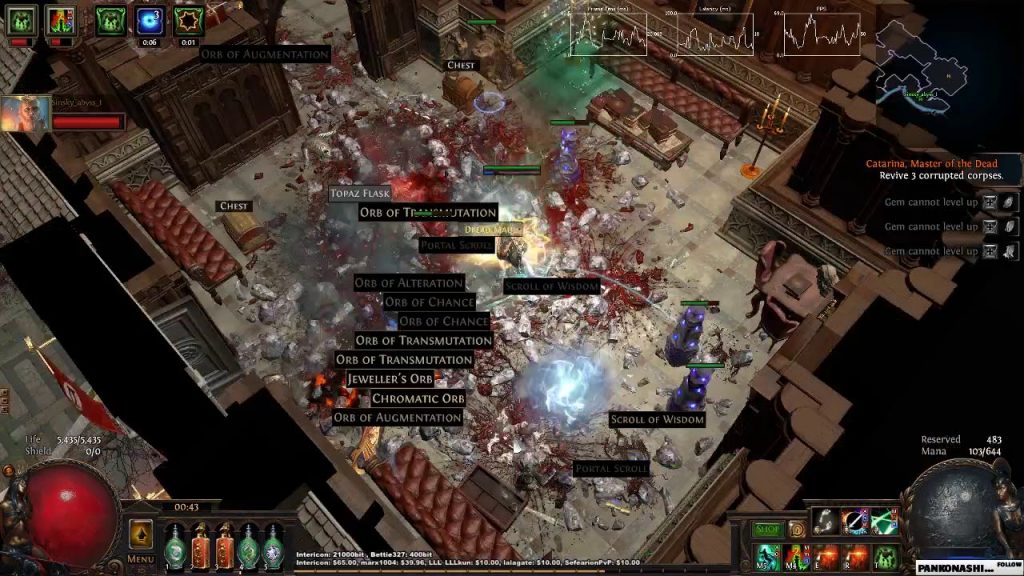 Justice is never served in the Courthouse – at least for your enemies. Full of chokepoints and rooms, the Courthouse can be a downright challenge if you're caught underhanded. Be wary of entrances and spam your offensive AOE spells whenever you can.
Courthouse's boss, Bolt Brownfur, is not much of a threat if you can tank his physical damage and quake slam skill. If your character relies on minions, you can just kite Brownfur until he falls down. 
Notable Area Drops:
Divination Cards: The Gambler, Lingering Remnants, The Rite of Elements, The Undaunted, Three Voices

Blue Pearl Amulet (Lvl 77)

Vermillion Ring (Lvl 80)
The Perandus Manor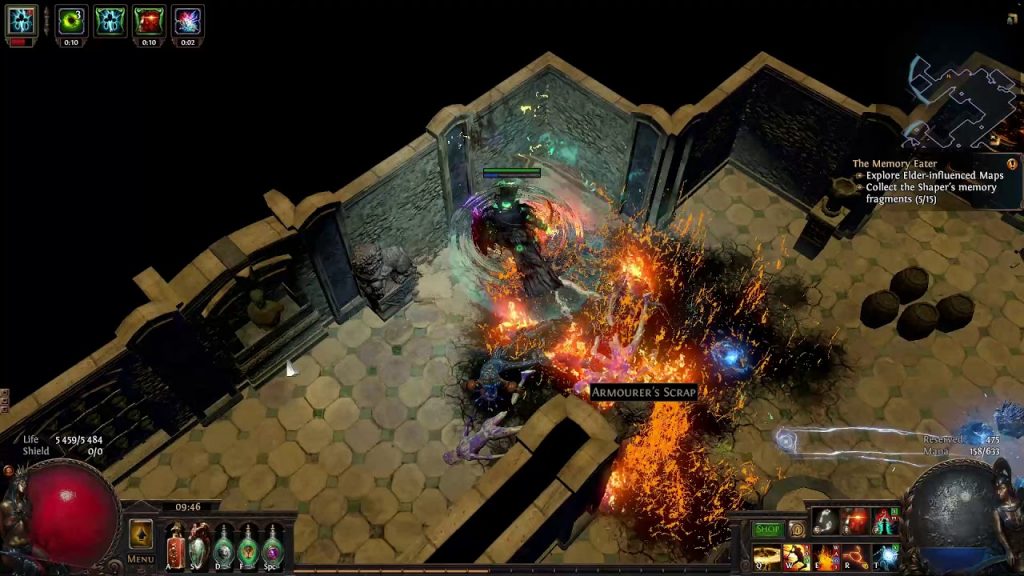 Known as one of the most valuable Maps ever made, the Perandus Manor should be a part of your POE checklist. It's a large map separated into various rooms, pathways, and secret areas. Players are always seeking the famed Grand Perandus Vault because of its high-tier equipment loot that complements all builds. Perandus Manor is pretty costly, so you might consider trying several strategies to recoup your expenses.
Perandus Manor has multiple bosses. The bosses are Platinia, Auriot, Rhodion, Osmea, Pallas, Argient, and Rhenlot. Each of the boss guards a highly valuable Perandus Chest. The bosses are challenging enough, and their minions will even make things complicated. Make sure that your AOE skills are always ready and don't get yourself cornered in any of the Perandus rooms!
Notable Area Drops:
Many, many divination cards in Catalogue area

Additional Maps

Perandus Coins

Gems, jewels, rings, amulets, & belts

Other currency items & orbs

Unique item(s)

Skill gems

Cosmetic & functional armor
Volcano Map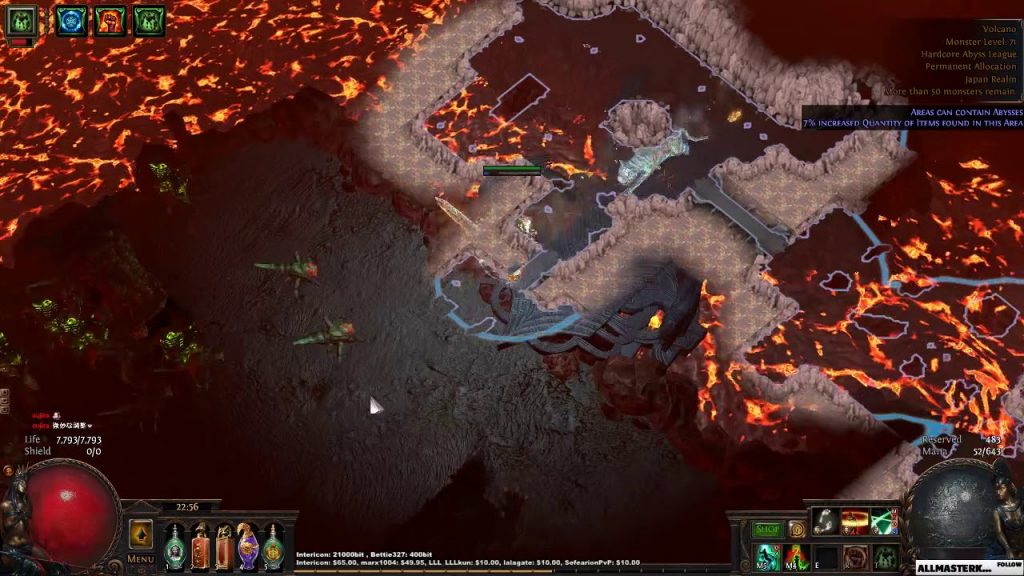 The Volcano is a great map for efficient crowd-control and skill spamming. All of the enemies here are 'tankable' with a right combination of multiple passive skills. Volcano is more rewarding at high tiers. 
The Forest of Flames is a decent Map boss that will give you excellent drops. To add more challenge and excitement, you can always play the Map with powerful mods. At this rate, your build will be strong enough to solo the boss. 
Notable Area Drops:
Divination Cards: The Battleborn, The Gambler, The King's Heart, Pride Before the Fall

Two-toned Boots (Lvl 70)

Vermillion Ring (Lvl 80)
Vaal Pyramid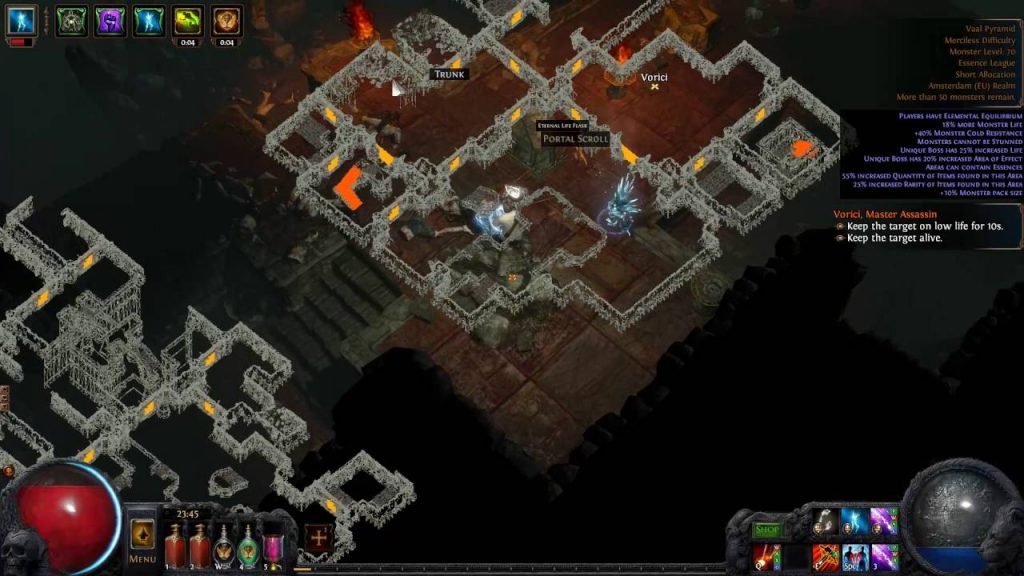 A popular Map-sustaining Map (say that again), Vaal Pyramid is a must-have in your personal trove. Just like most Atlas Maps, it has multiple rooms loaded with undead, restless ghosts, constructs, and even serpents. It's easy to get lost in the labyrinths, but you will get the hang of it as you go deep into the pyramid.
The bosses that you will encounter are Fallen Queen, The Hollow Lady, and the Broken Prince. All of these bosses hit hard, so kiting them is a viable strategy. 
Notable Area Drops:
Divination Cards: The Gambler, The Inventor, The Encroaching Darkness, The Spoiled Prince, The Trial, The Catalyst, The Admirer, Three Voices, The Hive of Knowledge

Marble Amulet (Lvl 74)
Underground Sea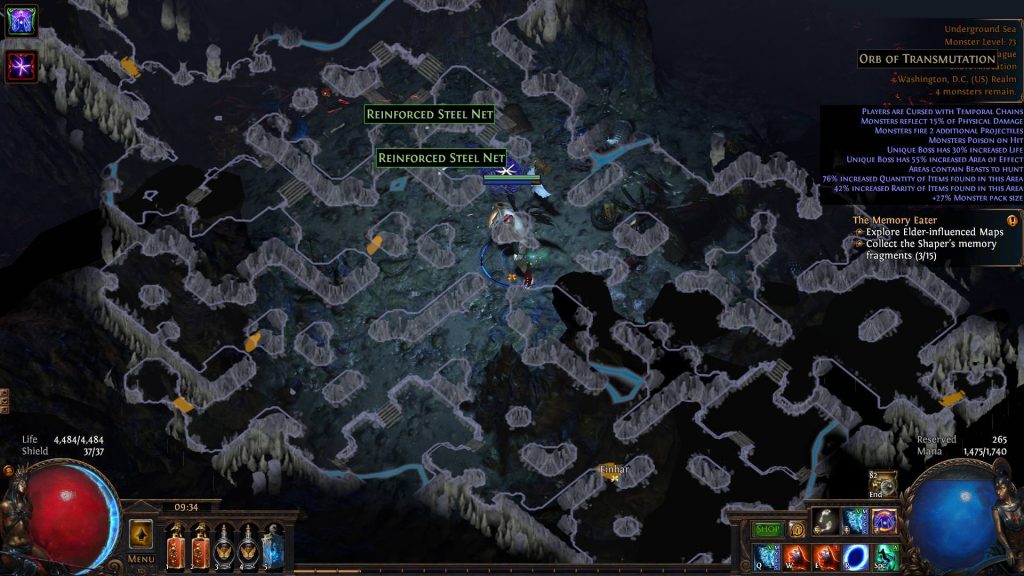 The Underground Sea is an excellent Map that can yield valuable divination card drops. Finishing the Map is easy, since you can just bring any full-geared character and spam your skills without doubt. 
While the other monsters can be defeated easily, the Map boss – Merveil the Reflection – is not a fudge cake. She can fling high-damaging ice storms, as well as spears. If cornered, Merveil can call forth monsters to assist her. At a certain stage of the battle, Merveil will transform into a monstrous squid with stronger damage. Dodge the attacks and keep moving to survive Merveil's onslaught. Ranger builds will always excel against her.
Notable Area Drops:
Divination Cards: Lantador's Lost Love, The Lover, The Gambler, The Encroaching Darkness, The Siren, The Survivalist, Glimmer of Hope, Treasure Hunter, Lysah's Respite, The Fathomless Depths

Two-toned Boots (Lvl 70)

Vermillion Ring (Lvl 80)
The Pale Court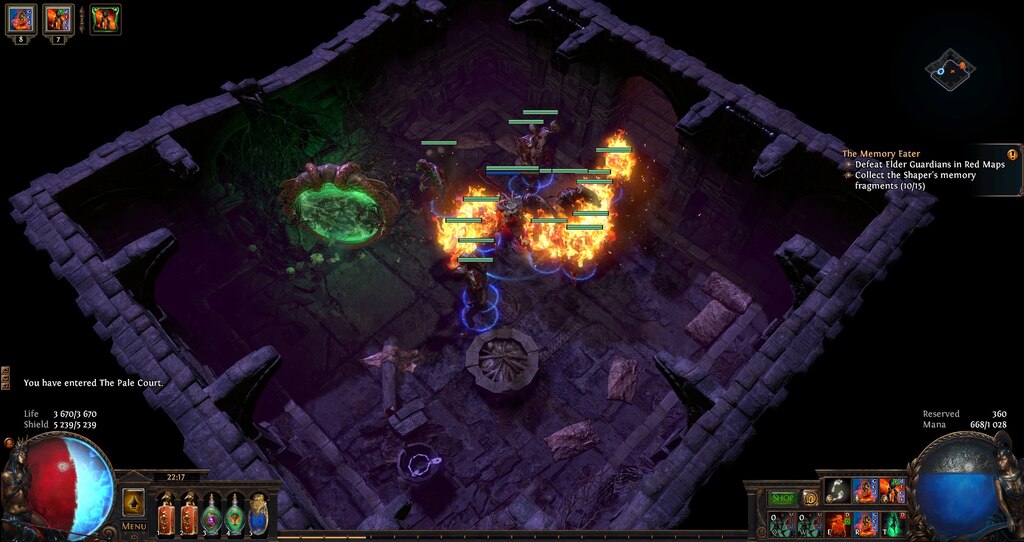 The Pale Court will require a high level of your patience. In this Map, you will fight a total of four strong bosses and their minions. The drops are exceptional and will boost your wealth significantly. 
All bosses are invulnerable at first, since they are surrounded by purple energy shields. A random boss will lose its shield, allowing you to cause damage. As its health plummets, the shield will go up again but another boss will become vulnerable. This process loops on and on until you or the bosses are vanquished. The Pale Court's bosses are Yriel the Feral Lord, Eber the Plaguemaw, Inya the Unbearable Whispers, and Volkuur the Unbreathing Queen.
Notable Area Drops:
Divination Cards: The Gambler, Left to Fate

Crown of the Pale King (Lvl 52)

Inya's Epiphany (Lvl 61)

Volkuur's Guidance (Lvl 43)
Common Yet Useful Atlas of Worlds Strategies
The Atlas of Worlds is considered as the endgame of Path of Exile. Using your Personal Map Device, you can explore a few starter maps to grind for items, currencies, and other Map drops. It's a unique concept which makes POE exciting and addictive.
But Atlas of Worlds is not just apples and peaches. You have to work hard in grinding and sustaining maps. Additionally, you have to allocate Watchstones in the most efficient way possible.
Atlas of Worlds is also a constantly changing endgame activity. Strategies will change over time, so feel free to test which ones will match your playing style.
Sustaining Maps
It's normal to get excited upon unlocking the Atlas of Worlds. There are lots of Maps waiting for you, but their availability depends on the way you purchase or unlock them. Sustaining Maps is a common way to make your endgame journey more effective. 
The premise of sustaining POE Maps is simple: you have to finish Maps in order to gain loots and other Maps. It's like playing on several Maps to grind more Maps. Great fun, right?
Meticulous preparation will save you from lots of hassles as you become stronger. But don't over-prepare! Safe to say, you need to farm several story Maps until you reach a formidable level range (70-75). If you farm regularly, you will have a healthy pool of T1 Maps. Farm those Maps until you get higher tier drops.
Careful Watchstone Placement
Many players are having a hard time completing their Atlas because they just placed their watchstones anywhere they want (areas they've unlocked). Practically, a watchstone will increase the tiers of all Maps in any given region. 
High-tier Maps are valuable in terms of loots but they will make it harder for you to pass through a new region. Therefore, you must place your watchstones within a path that you wish to advance in. This will make your passage more manageable but never easy. Keep in mind that you might not get to finish your Atlas at every available league.
Managing Risk by 'Vaaling' Maps
A Vaal Orb is a controversial item. Its purpose is to corrupt an item, granting powerful yet unpredictable traits. For many players, the negative factors outweigh the benefits of Vaal Orbs. But if you're a risk-taker, you can utilize Vaal Orbs to your advantage!
Once you've used a Vaal Orb to a Map, it has approximately 50% chance to gain a tier increase. The Map can even be rerolled into a new item with up to eight beneficial affixes. Most of the time, there will be no effects – other than leaving the Map corrupted. 
Because of the accelerating level of risk, you should only use Vaal Orbs on a few Maps. This way, you can handle the risk without the potential of losing too much.
Trading & Vendoring
Many dedicated players from the ever-growing POE community believe that trading is not beneficial for sustaining maps. Others also think the same about vendoring (exchanging low-tier Maps for a high-tier one). You should take those preconceptions with a grain of salt. 
Trading will give you a way to fix your Atlas regions if ever you're stuck with highly inefficient Maps. Grinding T3 or T4 Maps for the rest of the league will get boring really fast. The major challenge is finding a player who will purchase your Maps. Trading is a long-shot activity that will pay off in the long run.
Vendoring is a quick fix. If you have multiple inefficient Maps, you might gain a better one that's useful for your Atlas progression. RNG is a problem, so you shouldn't do vendoring often. 
Important: Path of Exile is a huge, system-taxing game. Upgrading your motherboard is a nice way to ensure that your POE experience is smooth, streamlined, and 150% satisfying!
If you want to take a break from POE's complex Atlas progression, you should try some popular and equally rewarding games. Such games will refresh your mind until you realize which Atlas path to take.
Final Reminder
Sustaining maps in POE is complicated but it shouldn't deter your enjoyment. Just understand the risk-reward balance of every map, and work hard to improve your character build as much as you can. By focusing in your build, you won't get burned out from grinding one map after another. And always remember – it's all about the adventure, Exile!