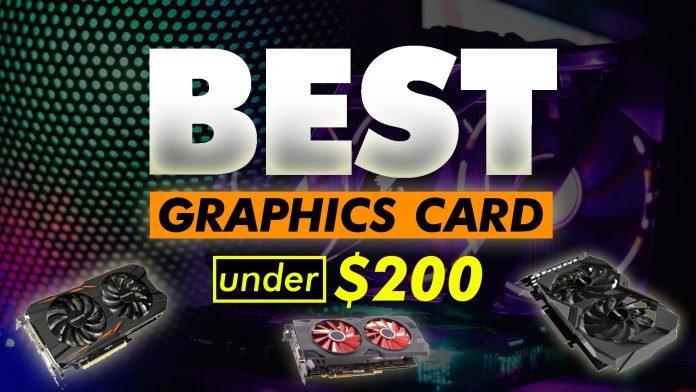 Not to burst your bubble but being a member of the PC master race is quite expensive. High-end PC parts, especially the best top of the line graphic cards, cost a fortune. If your pockets are not deep enough, then your dream PC might get derailed. Good thing that there is pick out there that caters budget gamer like yourself.
Here are the Best Graphics Card Under $200 that you can add to your build today!
Gigabyte GTX 1050 Ti Windforce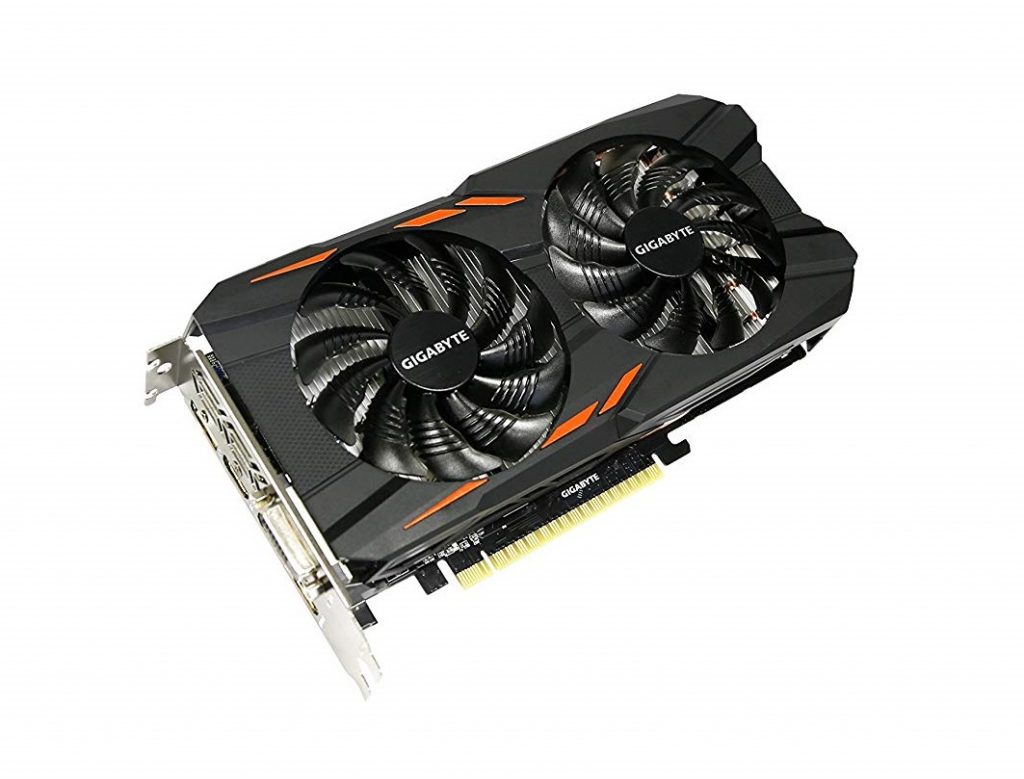 Specs:
Clock Speed: 1468MHz
Graphics Memory: 4GB DDR5
Ports: 3x HDMI 2.0b, 1x DVI, 1x Display Port 1.4
The GTX 1050 is one of those purchases that will leave you extremely satisfied. After all, scoring this decently powered GPU is not that harsh on the wallet. This is definitely a wise option for hardcore gamers but lacking in finances. This graphics card has a total of 4GB of V-RAM with a clock speed runs at 1468MHz. Aside from these specs, the Gigabyte GTX 1050 Ti Windforce is packed with useful features to help gamers maximize their gaming rig's performance.
For less than $200, the Gigabyte GTX 1050 Ti Windforce can keep up with demanding games. It can play virtually any new title at 60FPS in 1080p. Sure the GTX 1050 Ti GPU won't let you experience playing the most graphics hungry games in 4K, but you can still run them in 1080p, and that's a fantastic deal considering the price tag that it is sitting on.
To make sure that your system will remain cool, the GTX 1050 Ti is equipped with two WINDFORCE fans. These fans blow air in opposite directions, perfect for better airflow. This fan system also allows a tunnel of air to be created to remove heat packets efficiently. Making your system better protected against overheating.
In the event that you fancy tuning the GTX 1050, it is supported by Gigabyte's Xtreme Engine utility software. Access this anytime to better optimize the GTX 1050 in upgrading your gaming experience.
RELATED: The 10 Best Gaming Monitors Under $200
XFX Radeon RX 570 RS XXX Edition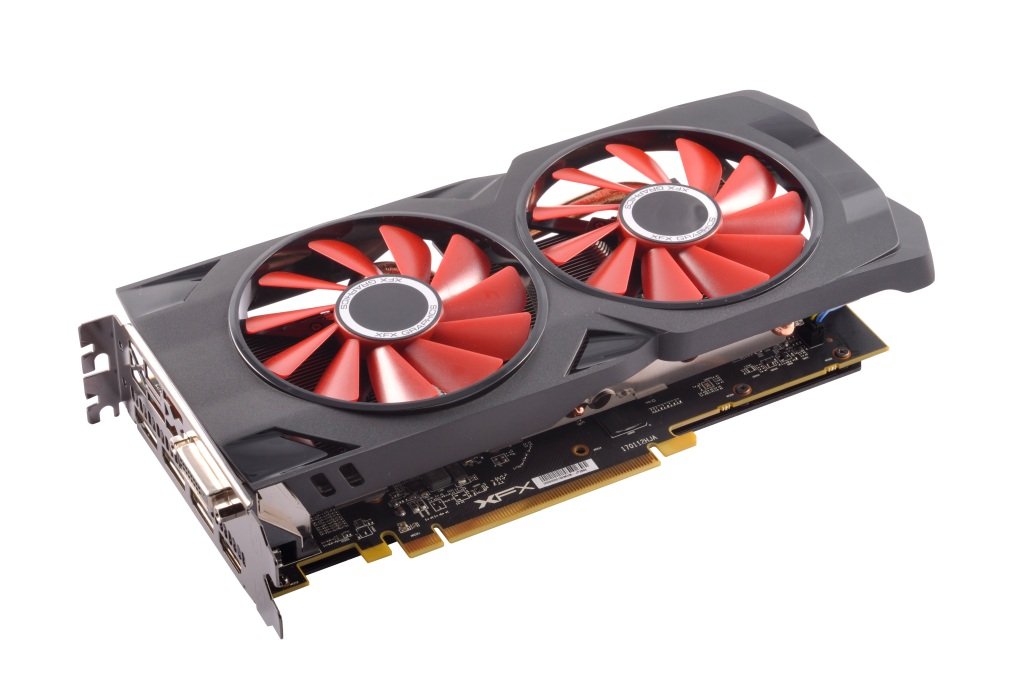 Specs:
Clock Speed: 1286MHz
Graphics Memory: 8gb GDDR5
Ports: DX12 VR Ready, Dual BIOS, 3xDP HDMI, DVI
The XFX Radeon RX 570 RS XXX Edition is a Polaris-based GPU that packs a decent resolution at1920x1080. With its features, it has proven to provide excellent value for your money. After all, scoring a decent buy on this price range can be a chore.
This GPU is ideal for gamers who are just dipping their toes into PC building. If you are someone who recently switched to PC gaming or have a limited budget to work on, then this graphics card is an excellent place to start. It has a mid-range gaming performance that is perfectly reasonable for its price. As a factory overclocked card, the RX 570 RS 8GB XXX uses 8GB of high-speed GDDR5, enough to offer smooth sailing of mid-range gaming titles.
For a GPU that is priced under $200, the RX 570 RS 8GB has managed to land a spot where it can remain reasonably priced without resorting to substandard performance. Faithful to other XFX products, this GPU is not short on features. This AMD card is VR ready, so if you love playing games with extra immersion, then this card will definitely deliver. It is also HDR (High Dynamic Range) ready, meaning that it is more than capable of delivering more enhanced colors, high-grade contrast levels, and improved brightness. Compatible with AMD's FreeSync, you are sure to enjoy liquid-crystal displays and a better dynamic refresh rate. If you love fast-paced FPS games, then you won't have to worry about tearing and stuttering that is typically caused by frame rate misalignments.
Worried about heat management? Don't worry as the XFX uses Supercell 100mm fans with a Ghost Cooling solution. The fans also support ZeroDB load sensing technology, so you are assured that your GPU is well equipped with an excellent cooling system.
ASUS ROG Strix Radeon RX 560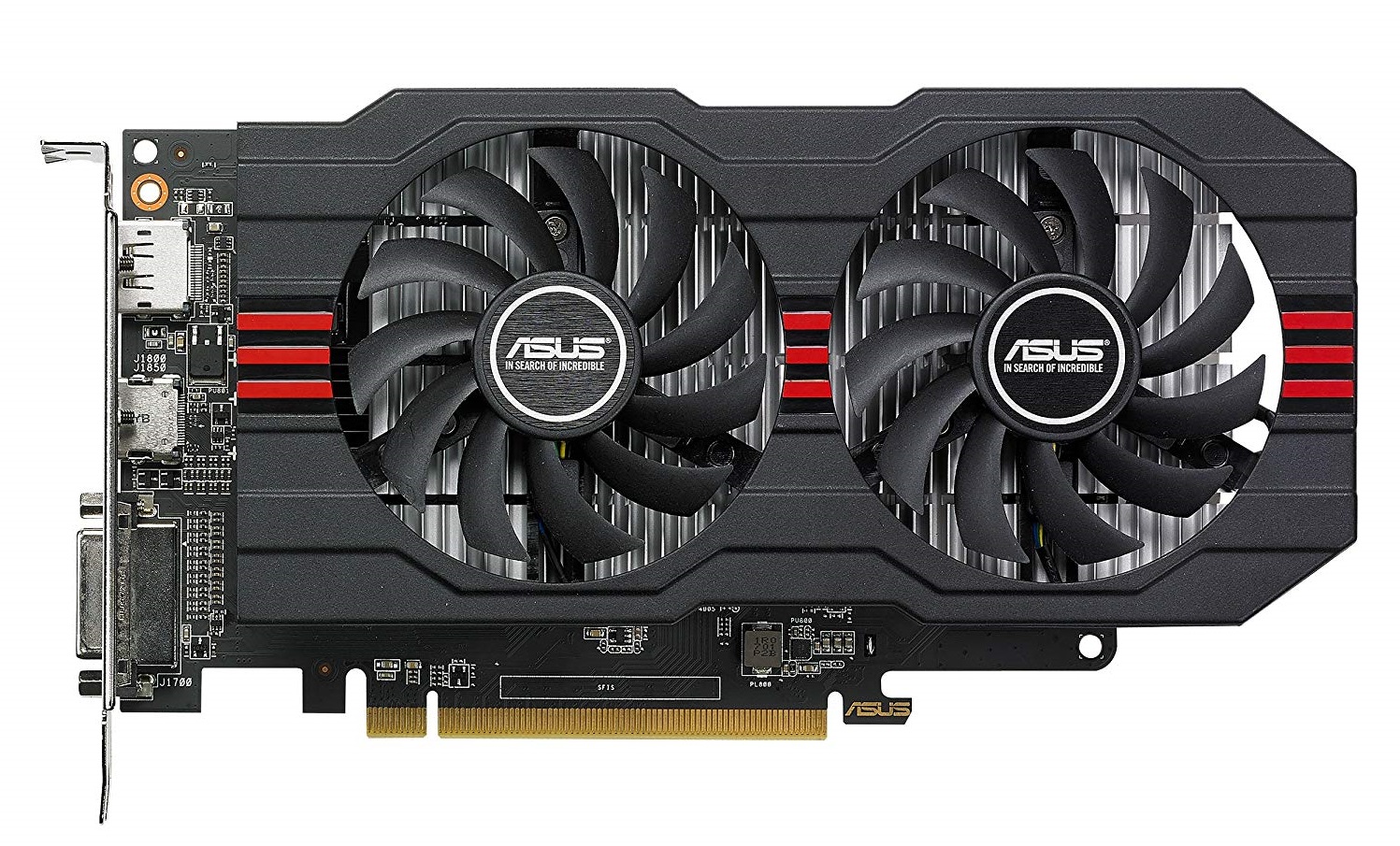 Specs:
Clock Speed: 1285MHz
Graphics Memory: 4GB GDDR6
Ports: 1x DVI, 1x HDMI, 1x HDCP, 1x Display Port
The ROG Strix isn't the most powerful card on this list, and gamers that play demanding titles will probably want to go with one of the other cards on this list. However, it's a great graphics card under $200, and it is powerful enough to play titles that don't require a lot of processing power.
It has a pair of Wing-Blade fans to provide enough cooling for most applications. Some users have complained that it overheats during very strenuous sessions, but ASUS includes the Tweak II interface to allow you to adjust it for more optimal performance.
The technical capabilities of the Strix aren't awe-inspiring. They're just enough to allow casual gamers and enthusiasts to play the most popular titles. For that reason, we recommend that die-hard gamers try the RX 580 that we reviewed. Casual players will enjoy the lower price of the Strix.
Our Asus ROG Strix Radeon RX 560 O4GB Gaming OC Edition sample facilitates respectable overclocking headroom, operates at acceptable temperatures, and isn't particularly loud. It does require a six-pin power connector and two available expansion slots, but those are relatively standard requirements these days.
ASUS ROG Strix Radeon RX 570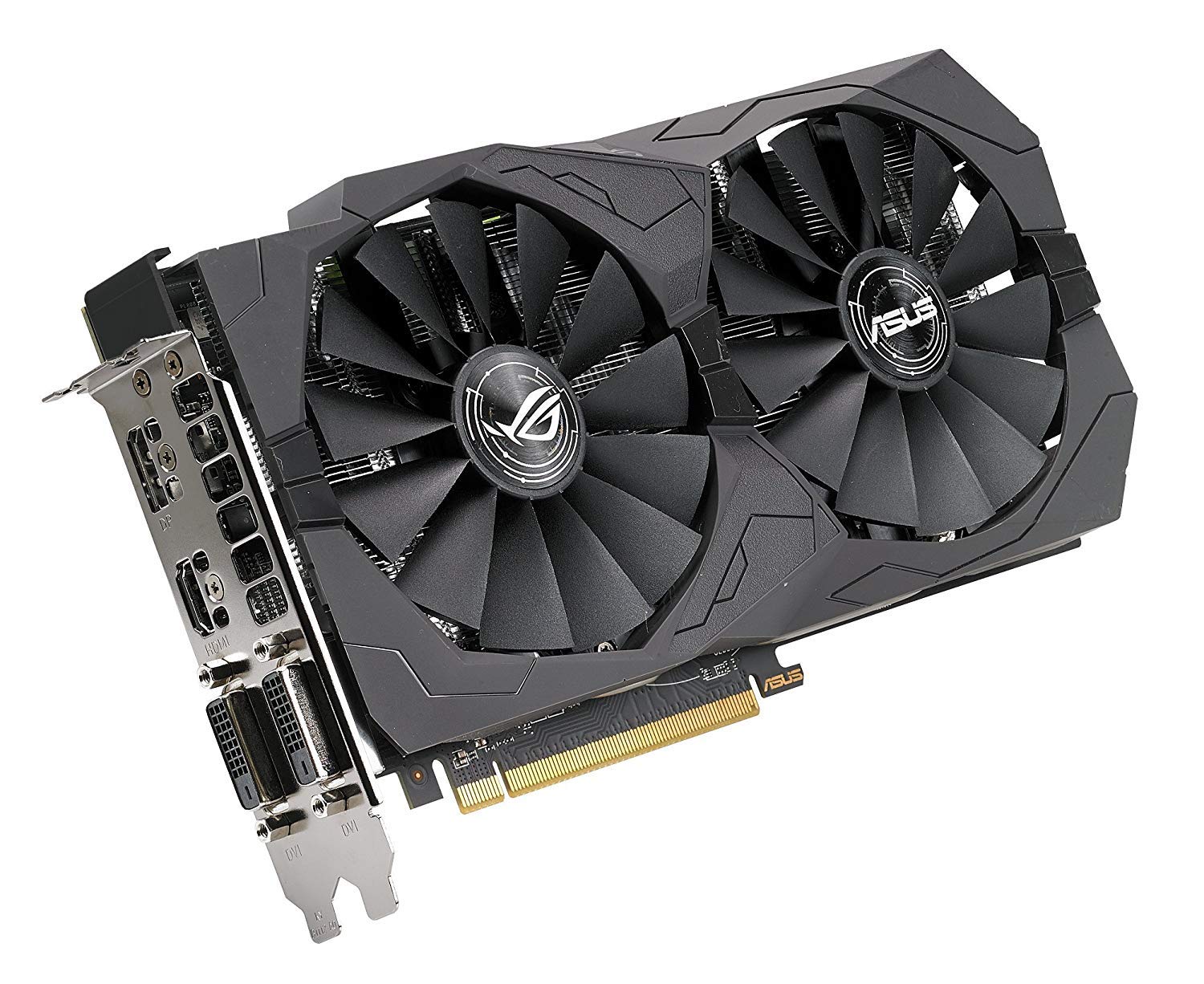 Specs:
Clock Speed: 1300MHz
Graphics Memory: 4GB
Ports: HDMI, DVI, VR
The ROG Strix Radeon RX 570 can be called the mini-upgrade version of the RX 560. Unlike the 560, which is a good pick for casual and start-up players, the RX 570 is the better choice for gamers who demands more. Sure the 570's upgrades make it a bit more fitting for veteran gamers, but it's still managed to maintain its cost-effectivity for casual players. Overall it caters to both groups, as it is gentle on the bank account and still performs well.
The clock speed runs at a standard rate of 1300MHz, but if you want, you can overclock it to 1310MHz. Undeniably a reasonable improvement compared to the 560. The fans and cooling pipes are identical to what the 560 had.
The software is also the same, so no significant change here. By accessing the Tweak II, its software, you can change your GPU's settings or play around the fancy lighting show by tweaking the Aura Sync RGB. Aside from this software, the 570 is compatible with Far Connect II. Far Connect II is the software responsible for real-time monitoring of the graphic card's temperature. You can also use this app to manually adjust your cooling system to make sure that eveything are within safe temperatures.
Though the 570 doesn't have dramatic advantages to topple the 560, it's also true that it processes graphics much faster. Sure, it cost a bit more, but not much to leave you bankrupt. Overall, the ability of this card to cater to both casual gamers and veteran ones is what makes the ROG Strix Radeon RX 570 an attractive pick.
ZOTAC GeForce GTX 1060 Mini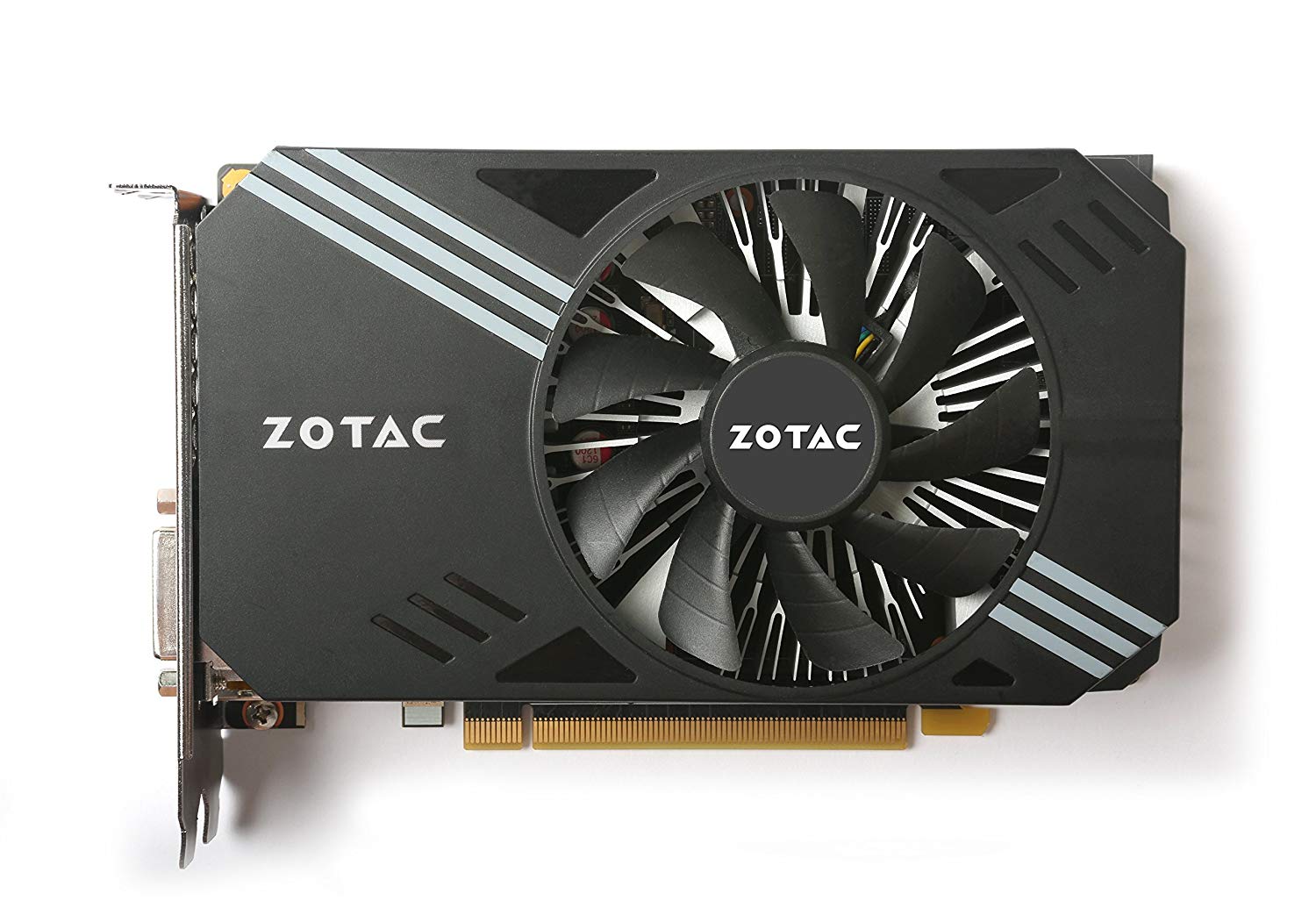 Specs:
Clock Speed: 1708MHz
Graphics Memory: 3 GB
Ports: 3x Display Port 1.4, 1x Dual-Link DVI, 1x HDMI 2.0
The ZOTAC GTX 1060 Mini is a modest but charming graphics card. It sports a matte black and grey shroud that gave it a clean, mess-free look. Don't be surprised, though, as they are faithful to the namesake "mini." This GPU is tiny, measuring 174mm x 111.15mm and is cooled by a single 90mm fan. Though it does have an all-aluminum heat sink, there are no heat pipes included. So keeping the temperature low might prove to be a challenge. But on the bright side, you should be able to integrate this card into any gaming rig as long as it supports dual-slot GPUs.
Amazingly the ZOTAC GTX 1060 performs even though it comes as a relatively small package. Sure it's not as powerful as its big competitors, but it's still one of the most robust cards on this list. And looking at its price tag, it is a reasonably good bargain.
Inside its small body, the ZOTAC houses a total of 3GB of V-RAM and 1152 CUDA cores. Its clock speed can run up to 1708MHz. Attaching cables to it is no problem at all as it has more than enough ports, impressive considering how small this thing is. It is quiet too, which is essential, as no one wants a GPU whirring likes its nobody's business as 3 am.
This graphic card can more or less satisfy the needs of hardcore budget gamers. After all, it is one of the best graphics card solutions that is priced under $200. But if you are a casual gamer and just looking for a decent GPU and you don't plan to play any graphically demanding game anytime soon the this is more than enough for you.
Overall the Zotac Geforce GTX 1060 Mini 6GB is a fabulously versatile graphics card for gamers who are looking for a good steal. If you are targeting to run your favorite titles at 1080p at 60fps, then you will be very content with this pick. For mid-range titles, it can run games like that at 1440p with 60fps with no issues.
MSI GeForce GTX 1650 SUPER GAMING X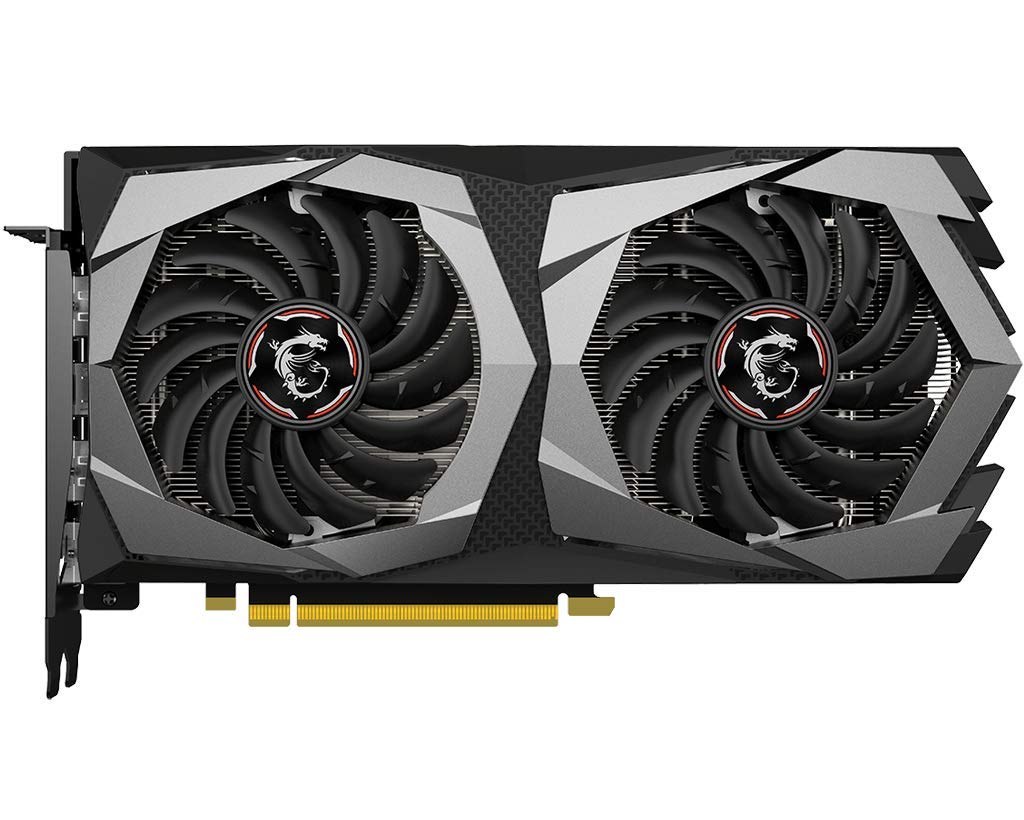 Specs:
Clock Speed: 1755 MHz
Graphics Memory: 4GB GDDR6
Ports: DisplayPort 1.4 x 3, HDMI 2.0b x 1, VR
Another contender that performs super well is the GeForce GTX 1650 SUPER. What makes this GPU "Super" is first is that it is clearly the upgraded version of the 1650 regular model. It has enough power to run some games at 2560×1440 but of course, with some limitations considering its 4GB graphics memory.
It is rated to be 40% faster than the previous GTX 1650 model and positioned to best the GeForce GTX 1060 6GB as well. This graphics card is offering equal or better performance than the Radeon RX 580, which is rated by many as the most reliable mainstream graphics card pick from the AMD lineup.
GTX 1650 SUPER is developed using the Turing GPU architecture. It also comes with 1280 CUDA Cores along with a 4GB GDDR6 memory. By having a 128-bit interface, this GPU can run at 12Gbps. This is an excellent pick for a 1080p gaming card that can run new games on ultra-graphics settings at 1080p with an average of 60FPS. This card is also power-efficient as it only consumes around 100W and only needs at least 350W PSU to operate normally.
The MSI GeForce GTX 1650 SUPER GAMING X uses the MSI TWIN FROZR Thermal Design for its cooling needs. This cooling system consists of a heatsink that is reinforced with large aluminum fins, copper baseplate, three copper heat pipes, two 85mm TORX 3.0 fans. It also sports a traditional fan blade, a design that is perfect in providing high airflow and good static pressure for upgraded cooling performance.
MSI's Zero Frozr technology also provides a semi-passive cooling and maintains the card running in super silent mode during low GPU loads. Another useful feature is when the temperature of the graphic card crosses 60°C, it then automatically starts to cool down. Perfect for keeping the card from overheating. Make sure that you have a 6-pin PCIe connector ready so the GPU can draw enough power. It also has three DisplayPort and a single HDMI port for connectivity. You can also overclock, tweak, or adjust to get your preferred settings using the MSI Afterburner software.
XFX Radeon RX 580 GTS XXX Edition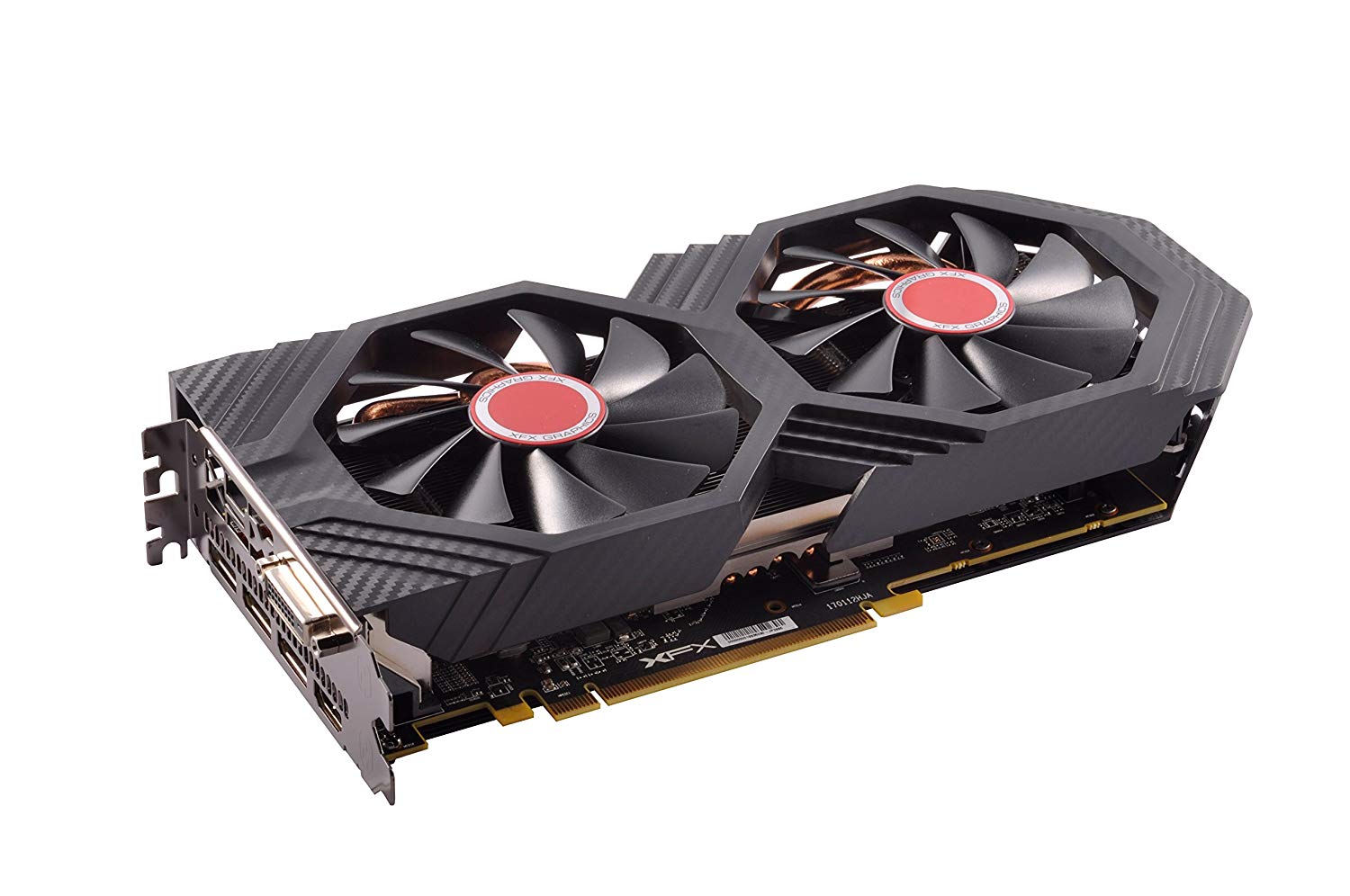 Specs:
Clock Speed: 1366MHz
Graphics Memory: 8GB GDDR5
Ports: 3x HDMI 2.0b and 1x Display Port 1.4
The XFX Radeon RX 580 GTS XXX Edition is another powerful pick from this list. Aside from being priced under the $200 range, it is also loaded with extra features to make your gaming better. This graphic card is powered by RX 580 GPU and a total of 8GB of V-RAM. Keeping the card cool is also not a problem as the RX 580 uses Radeon's propriety Chill technology. This cooling system is made of a Unibody Heatsink, upgraded cooling pipes, FreeSync 2, and the Eyefinity technology. Now you can be assured that this card can withstand long gaming sessions with no overheating.
The XFX Radeon RX 580 GTS XXX Edition also uses True Clock technology to obtain the optimum performance out of the GPU's clock. So instead of relying on the software to manage the clock, the clock uses hardware. This design allows the card to be more stable and faster compared if a software is running it.
This GPU is an excellent pick for start-up PC builders to seasoned ones. After all, it is cheap enough for everyone to be able to afford, and it has enough juice to run modern games. If you are looking for a cost-efficient card you, then you can definitely not go wrong picking this graphics card. Overall, XFX's take on the RX 580 is a trustworthy choice for 1080p gaming and is a worthy rival to Nvidia's GTX 1060.
Gigabyte GeForce GTX 1650 WINDFORCE OC 4G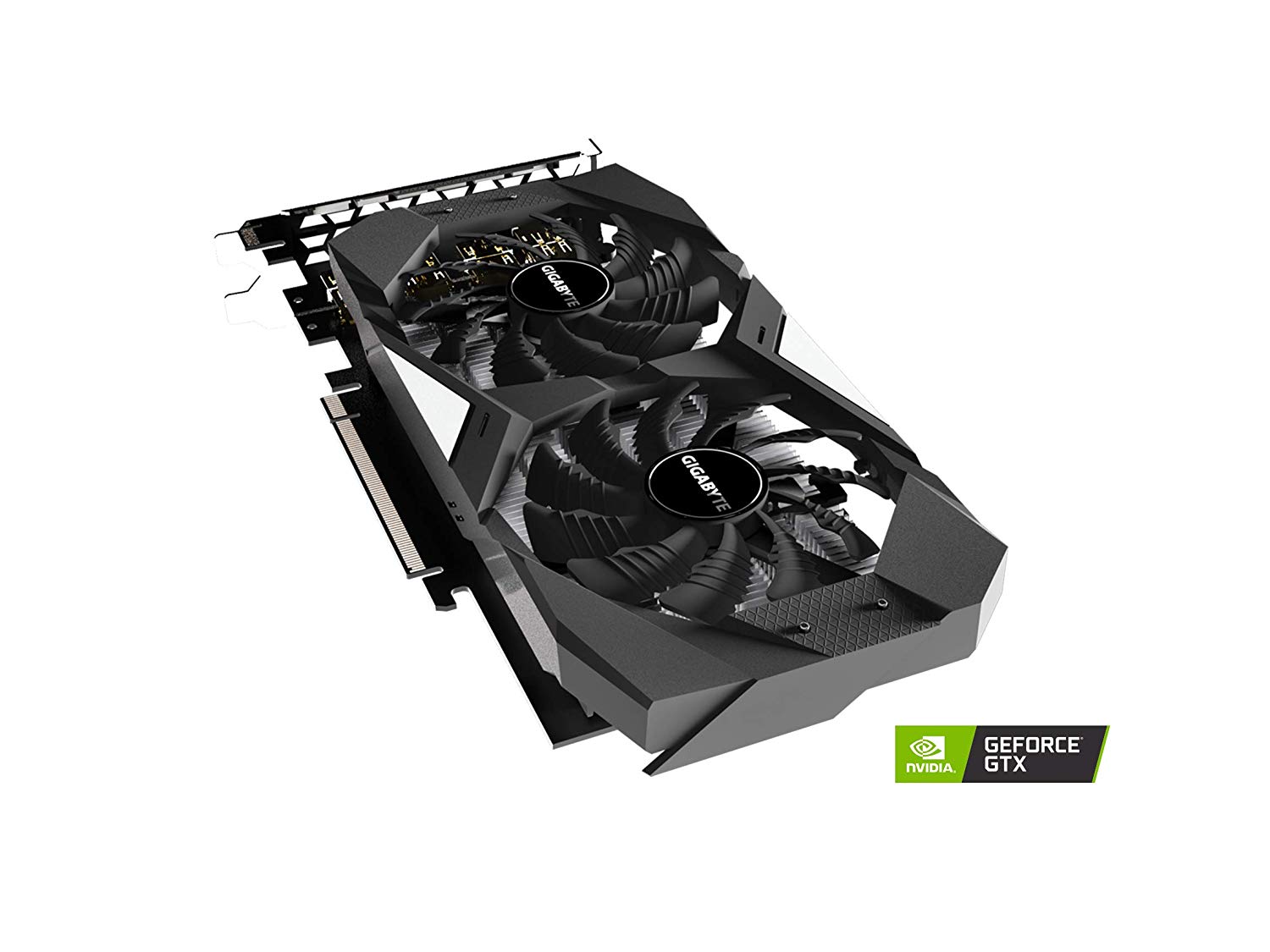 Specs:
Clock Speed: 8002 MHz
Graphics Memory: 4GB GDDR5
Ports: DisplayPort v1.4 x 1, HDMI 2.0b x 3
The Gigabyte GeForce GTX 1650 WINDFORCE OC 4G is one of the few graphics card under $200 from Nvidia's GTX 16 series. The card is built using the latest Turing GPU architecture. It also comes with 896 CUDA Cores along with a 4GB GDDR5 memory while having a 128-bit interface. Quite impressive for a budget pick.
The card is rated to be 70% faster than its predecessor, the GTX 1050. Also, it is deemed to be 35% faster than GTX 1050 Ti. Knowing this, we can say that it is a rather powerful graphics card. By settling on this pick, running the almost all latest games on very high to ultra-graphics settings at 1080p with 50FPS to 60 FPS is no longer wishful thinking. Though this performance varies, especially on the recent releases.
Undeniably, Gigabyte's GeForce GTX 1650 WINDFORCE OC 4G is one of the most solid GTX 1650 cards under this price spectrum. Making it ideal when building a budget gaming PC. For cooling needs, the card is supported by the WINDFORCE 2X cooling system. It features two 90mm fans that sports a unique blade design. These fans spin in the alternate direction to decrease turbulence airflow. This system also allows smoother airflow for more dependable cooling and heat distribution.
This GPU also highlights its 3D Active Fan technology that enables semi-passive cooling for a quieter and smoother performance. This means that the fans remain idle during low GPU usage, and it will start automatically when firing up your game or working on some high GPU demanding programs.
To power this card up, it requires a single 6-pin PCI-E connector and at least a 300W PSU. It also got a 3+1 power phase design for stability, especially if you plan on overclocking it. If you do plan on overclocking, you may do so by accessing the Gigabyte AORUS Engine or any other compatible graphics card overclocking software. For Display connectivity options, there are three HDMI and one DisplayPort available.
How to Buy the Right GPU
Whether you're buying a pre-built rig or building your own, the graphics card is a critical component that needs extra attention. Sadly, the process of deciding the best GPU, especially with a limited working budget can be harrowing. After all, there's so much to take into consideration. From the type of monitor you own, the PC case that you have, down to the games that you play. Don't worry, though as all you need to know is here!
Allotting Budget
Though GPU is essential, make sure to save extra money for your CPU. Don't blow all your money on the graphics card and sacrifice the processor. Sure, your system might perform well on benchmarks but won't prosper in real gameplay, and you will be plagued with dropping framerates. That is why spend only on what you need. What do you play most of the time? If you only play games with low requirements, then you don't need a high-performance card.
Monitor Compatibility
Before buying, make sure that you know your monitor well. Does your pick match your monitor resolution? Remember, standard GPUs cards are enough for gaming at 1080p resolutions and 30-60 fps, but if you own a 4k monitor, then consider investing in a high-end card.
Also, consider the monitor's refresh rate. If your monitor has higher refresh rates, then a powerful card to draw its full potential is the better choice. However, if your monitor is just at 60Hz and 1080p, there's no need for a powerful card, and a budget pick is more than enough.
Power and Space
Another important factor, do you have the power supply and space to run your GPU? Make sure your tower has ample room for the card that you're considering. Additional double check if your power supply has sufficient watts to spare.
AMD or Nvidia? Which has better features?
Though there are tons of graphics cards from multiple manufacturers, only two companies make the GPUs that run these components. Nvidia and AMD are the players in this field. AMD has the edge in upper-mid-range and budget picks. While on the high-end of the market, Nvidia is the king.
Unless you have a preferred one over the other, the best reason for picking should be whether if your monitor supports AMD FreeSync or Nvidia G-Sync. If your monitor does not have this technology, then you can pick whatever brand you want.
Wrap-Up: The Best Graphics Card under $100 for 1080p Gaming in 2021
Now that you are armed with knowledge, the next thing you have to do is think about what suits you best. There are tons to choose from and it gets tougher when you work on a limited budget. So read this guide and enjoy every bit of the journey. After all, putting together the gaming rig of your dreams is one hell of a ride!