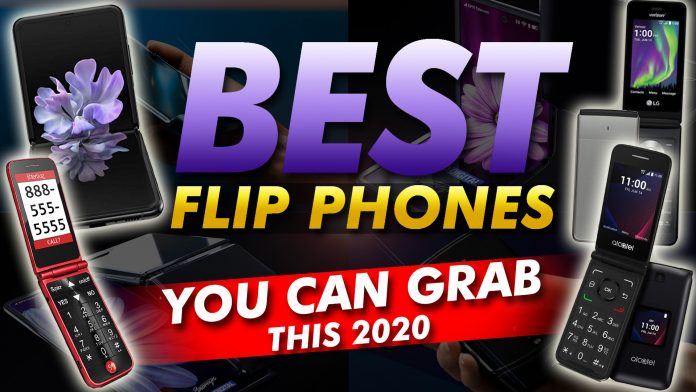 There was a time when flip phones were all the rage. You look cool flipping the device and taking a call. And, if you're here, you may want to purchase a flip phone that will act as your main device or as a secondary one.
Fortunately, we've got you covered with different flip phones that range from low- to top-tier specs (including price). These flip phones will definitely turn out to be a chic device that suits your personality and preferences. Let's start with the list.
The Top Flip Phones You Can Purchase In 2020
1. Samsung Galaxy Z Flip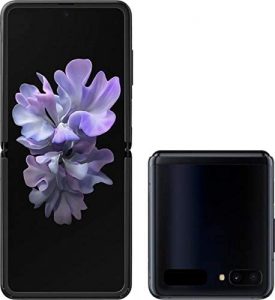 Specifications:
Release Date: February 2020
Memory: 8GB RAM
Storage: 256GB
Operating System: Android
The Samsung Galaxy Z Flip is designed to flip open for approximately 200,000 times. This is made possible by the durable horizontal hinge. It can withstand minor drops without resulting in damage to the display, outer case, or hinge.
When the device is opened, the screen measures 6.7 inches from one corner to the other. The display is Full HD+ having a resolution of 2636 x 1080 pixels. There's still a crease where the two halves meet which can be upsetting. But, this crease goes away when you're Netflix or playing power-intensive games on the device.
The display is not limited to the internal area of the device. At the exterior, there's a Super AMOLED panel that measures 1.1 inches for notifications and alarms. This external panel also shows the date and time so you won't have to waste the 200,000 limit when flipping the device open (and close).
Once you use the phone, you will notice that it is seriously solid and durable. Plus, you don't hear a "creaking" sound when you flip the phone.
The main camera of Samsung Galaxy Z Flip coupled two 12-megapixel sensors which captures impressive photos. It also snaps a wide view even without using the ultra wide angle lens. It also offers a Night Mode you have to enable to work.
The front camera is at 10 megapixels for taking your selfies. It does a great job at doing it with a Smart Selfie Angle that switches to the wide-angle shot automatically if there's more than one person in its view.
The Samsung Galaxy Z Flip is powered by the Snapdragon 855 Plus which means it doesn't support 5G networks. Still, the flip phone is snappy because the processor is coupled with 8GB of RAM. A massive amount of storage space is available at 256GB which is plenty for media files, games, and other types of apps. With these performance specs, you can play power-hungry games with the device with ease.
It comes with a 3300mAh battery which lasts for almost a day when used on demanding tasks. This flip phone also supports Wireless PowerShare and fast charging. In its package, the phone comes with a 15-watt charger.
We have realized that the Samsung Galaxy Z Flip is one of the best flip phones you can get. It is well-built and offers a vibrant display that is sure to please the eyes. It's not an alternative to top-tier phones like the iPhone 11 Pro Max and the Samsung S20 Ultra. But, in terms of flip phones, it's definitely a cream of the crop.
2. LG Exalt VN 220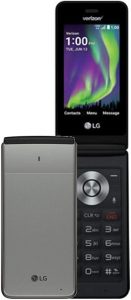 Specifications:
Release Date: March 2018
Memory: N/A
Storage: 8GB
Operating System: Proprietary Android Fork
The LG Exalt VN 220 is a great flip phone with one big flaw — it lacks an external display for incoming notifications and easy caller ID. However, if you think this is fine, then this phone is an excellent choice, especially in terms of simplicity.
Let's take a look at the LG Exalt VN 2020's design first. When it is closed, it looks like a silver plastic coupled with a red notification indicator. Obviously, this is not top-notch design as you still have to flip the phone open to check who's calling before you actually answer the call.
Once you open the phone up, you will be greeted by a 3-inch 400 x 240 LCD display that offers a customizable background. The phone is about 8 inches long when flipped open. The keys are big and separated perfectly for easy button-pushing and handling.
On the side, you will have the volume controls while the other side will have the camera button. This flip phone isn't waterproof but it can withstand minor drops.
It's not 5G-capable, but it supports 4G connectivity. If there's no coverage, the LG Exalt VN 220 makes calls through your Wi-Fi connection. GSM is also available for global roaming. Connections made through LTE and WI-Fi aren't the best but they do work in a pinch.
Call quality is decent with clear voices and great transmissions. Speakerphone is fine as well, but not excellent. It can connect easily to Bluetooth headsets and works properly without experiencing any issues.
Battery is at 1470mAh and is worth over seven hours of talk time. Since this is a small phone, it consumes a significant less amount of power during standby. Thus, the battery can last for a little under two days.
With regards to the processor, it comes with a 1.1GHz Qualcomm Snapdragon 210 chipset. User interface is smooth and fast. It comes with a basic browser application where GPS capabilities are absent.
Apps are not downloadable — which may be a bummer. Still, there are a suite of tools available such as an alarm clock, timer, voice recorder, stopwatch, calculator, and file manager. It doesn't come with a magnifier or flashlight though.
Texting can be done in a breeze and you can send and receive picture messages as well. Of course, you can save contacts; it wouldn't be a phone without this feature. Surprisingly, the phone has decent media playback capabilities and a microSD card slot. It plays MP3, FLAC, WAV, AAC, OGG, and even MP4. Unfortunately, there's no FM Radio.
Finally, the LG Exalt VN 220 offers a 5-megapixel camera that's not that good. But, overall, if you're looking for a basic phone that will simply get the basic tasks done, this flip device is a great choice.
3. Samsung Galaxy Fold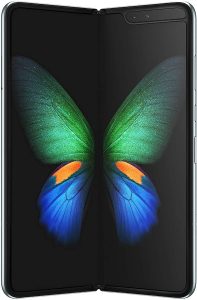 Specifications:
Release Date: September 2019
Memory: 12GB RAM
Storage: 512GB
Operating System: Android
Before the release of Samsung Galaxy Fold, the company has been developing ways to provide a true folding mobile device to consumers — we're referring to a screen that actually folds in one way or another.
So, what's inside the box of the Samsung Galaxy Fold that's been the subject of a massive number of reviews? Of course, it comes with the actual Galaxy Fold phone, the Galaxy Buds Bluetooth headphones, the USB-A to USB-C data charging cable, a SIM tool, and a basic case.
The phone is quite heavy and measures 160.9 x 117.9 x 6.9 mm when open AND 160.9 x 62.8 x 15.7 mm when closed. It weighs a whopping 276g which is heavier than average phones. It's made out of different materials including meta, glass, and plastic which doesn't feel cheap. The overall design is really amazing. It's kind of both awkward and enjoyable to fold the device open and close.
The display is at 7.3 inches with a 2153 x 1536 resolution at 326 pixels per inch. The aspect ratio is at 4.2:3. Its Dynamic AMOLED is clear and bright where photos, videos, and other elements look impressive. The large screen is great for watching YouTube and Netflix.
The external display is at 4.6 inches with a 21:9 aspect ratio, 399 pixels per inch, and 1680 x 720 resolution. It is bright and crisp and you can use it indoors without experiencing any trouble at all. Colors of the external display are good and overall we can say that it is decent.
Of course, this mini review won't be complete without looking at performance. The Samsung Galaxy Fold comes with a Qualcomm Snapdragon 855 chipset, Adreno 640 GPU, 12GB of RAM, and 512GB of storage.
These specs are best for both low- and high-intensity tasks. Sadly, even with these characteristics, the Samsung Galaxy Fold lags here and there. This may be due to the actual form of the device.
It is powered by a battery jammed with 4380mAh. It supports rapid and wireless charging. Wireless PowerShare is supported as well. You can use it for an entire day with basic tasks and notice that the battery hasn't been drained. Charging this foldable phone is quite fast.
In total, the Samsung Galaxy Fold has six cameras where you can take photos even when the device is folded. So, how do the photos look? They're actually really good. The photos are fantastic with this superb camera-loving phone.
In terms of audio, the device emits sounds through stereo speakers but doesn't have a 3.5mm headphone jack. The Dolby Atmos suite enables you to tweak the sounds based on your liking. With all that being said, the sound is undeniably excellent. It is clear, loud, and free of distortion.
4. Kyocera DuraXE Rugged Flip Phone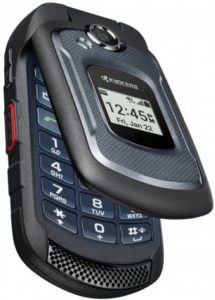 Specifications:
Release Date: January 2016
Memory: 1GB RAM
Storage: 8GB
Operating System: Proprietary Non-Touch
The Kyocera DuraXE is a waterproof flip phone that looks rugged. It was created for those who love to go outdoors and don't mind having a bulky device. It's best for anyone who wants to be connected while out in the field, for instance, and for people who'd like to have a feature phone coupled with a tablet.
The design of Kyocera DuraXE is not surprising as this is how the company wants it to look like — rugged and chunky. The phone's plastic material has different textures for an easy grip. Most of this material is matte black combined with a gray frame that outlines the external display. There's also a red accent on the button for the walkie talkie.
Even if this phone is bulky, it's still compact. You can easily hold it tightly even if it's wet. This phone's weight is excellent as it's not too light and not too heavy. You can use it with one hand and it fits into pockets well. Within the frame is a 3.5mm headphone jack and USB port. These are both protected by hatches making them waterproof.
Similar to a lot of rugged phones available in the market, the Kyocera DuraXE has a removable back cover. You will need to loosen the screw first to do so. Once the back cover is detached, you can remove the battery and gain access to both the SIM card and memory card slots.
The highlight of this phone is its toughness. It is protected from liquids, salt, fod, vibration, shock, and temperature extremes. It lives up to its promises as one of the most durable flip phones for adventure lovers.
The main display is at 2.6 inches with a resolution of 320 x 240 pixels. It has ample brightness so you can see the screen without issues in any type of environment (and lighting conditions). The outer screen was created to provide notifications and is 1.08 inches in size with a resolution of 102 x 90 pixels.
3G and 4G connectivity are excellent. Plus, phone calls can be clearly heard at any location you take the device with you. It cranks a decent level of volume with speakers that are clear and excellent.
Kyocera DuraXE comes in a 1500mAh battery which can last up to two days under normal age. However, when using 4G connections, this will only last you for a whole day. This flip phone comes with an FM radio as well but doesn't have NFC.
Overall, if you're looking for a great phone to use outdoors, then the Kyocera DuraXE is an excellent device. Its durability, connectivity options, and sound clarity make it great for hiking, mountain climbing, and even sea adventures.
5. Jitterbug Flip
Specifications:
Release Date: March 2016
Memory: 1GB RAM
Storage: N/A
Operating System: Android
The Jitterbug Flip was created not for young adults who want to look cool. It was made for seniors in case of emergencies. Designed to be robust, compact, and small, it was also created with simplicity in mind. It's easy to understand how to use the phone and nothing is ambiguous. Using this flip phone could literally mean life and death for the person who owns it.
You should guess that in terms of design, the Jitterbug Flip was made to be uncomplicated. It is available in graphite or red colors featuring two displays. The larger is at 3.2 inches with a resolution of 320 x 480 pixels. While the smaller screen found at the exterior is at 1.44 inches.
As you may have noticed, the phone is not for watching movies and reading PDF files. The user interface over large fonts that are easy to read for the purpose of being able to key in a phone number easily. The external display can be used to tell time and doesn't negatively affect the device' battery life.
In order to send and receive calls, you flip the phone open and you're ready to dial or talk. That's just it. The numeric pad is made up of large buttons and non-complex YES or NO options. Additional features include a basic 2-megapixel camera, flash, microSD card slot, headphone jack, Bluetooth 3.0, and micro USB port for charging.
Battery is at 1780mAh which can power the phone for up to five days — a stunning number as we might say. During emergencies, seniors can simply press the 5Star button connecting them to a support representative who can contact loved ones for both major and minor scenarios. GPS allows the support team to locate the phone so help should arrive quickly.
The drawback we can find with the Jitterbug Flip is its lack of functionality for email and 4G LTE connectivity. But what it does best is to provide a simple means to access the right people during emergency situations. It is best for seniors who don't want the complex high-end smartphones nowadays and just need something to allow them to get help when most needed.
6. Alcatel GO Flip V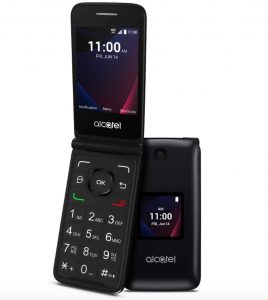 Specifications:
Release Date: July 2019
Memory: 1GB RAM
Storage: 8GB
Operating System: AOSP-Based OS
The Alcatel GO Flip V is another flip phone that aims for simplicity. It focuses on an easy-to-use interface and comfort for its target market. In terms of appearance, it features a mixture of contemporary and old-school.
This classic phone can be gripped and handled easily because of its compact build. The keypads are very ergonomic and satisfying to press. Plus, they're large enough to see so users won't have issues typing with it.
Important features can be accessed through shortcuts. For instance, the button with a message icon on it will take you to the messaging app. With one click of the camera button, you can instantly be redirected to the camera app.
Two displays are available where the external display is at 1.44 inches allowing you to check who's calling before actually flipping the phone open. The internal display is a 2.8-inch QVGA screen with a resolution of 320 x 240 pixels. This screen with an aspect ratio of 4:3 is covered with Acrylic glass. The main display is actually big and vibrant enough for you to see the details with ease. The only disadvantage to this display is when surfing the net. You'll notice that it's difficult to view a webpage with such a small screen.
The Alcatel GO Flip V has a 2-megapixel rear camera with no LED flash. In addition, a front-facing camera is absent. Of course, the 2MP camera doesn't lead to excellent results in terms of capturing photos. But it comes with a fixed focus feature instead of the typical autofocus feature found in phones today.
The phone comes in 8GB of storage space which is obviously not a big number. However, you can expand it by adding an SD card with a max capacity of 32GB.
Since the phone is advertised as a device that's reliable, performance is a big priority for Alcatel. It is powered by a 1.1GHz Qualcomm Snapdragon 210 processor with 1GB of RAM to help with processing tasks.
Other capabilities include 4G connectivity and HD Voice. When using Alcatel GO Flip V, you'll feel comfortable moving seamlessly from one app to another. The phone is delightfully pleasant to use.
Multiple apps are included such as those for SMS, calling, and email messaging. A browser, calculator, and music player can also be accessed within the phone. Unfortunately, downloading new apps from the App Store isn't an option here, so you may be bummed by that
The Alcatel GO Flip V supports 4G and Voice Over Wi-Fi (VoWIFI). Bluetooth and location features are included as well with the absence of NFC. Battery is long-lasting with a capacity of 1350mAh and a standby time of up to 300 hours. Fast charging isn't available but given that the battery will last for days, this wouldn't be a problem.
Overall, the Alcatel GO Flip V is for users who want a flip phone that's reliable and compact. In terms of essential features, this device doesn't disappoint. Plus, it has an intuitive user interface and a ton of productivity tools.
7. Samsung Galaxy Folder 2

Specifications:
Release Date: July 2017
Memory: 2GB RAM
Storage: 16GB
Operating System: Android
The Samsung Galaxy Folder 2 is a smartphone that comes with a display that measures 3.80 inches and has a resolution of 480 x 800 pixels. It runs on a 1.4GHz Quad-Core Qualcomm Snapdragon 425 processor coupled with a RAM of 2GB. The operating system it carries out of the box is Android 6.0.
The battery capacity is at 1950mAh and is non-removable. It is packed with two cameras, one 8-megapixel at the rear and one 5-megapixel at the front. Since this flip phone is not targeted to users who love taking photos, it won't be the best option for snapping your much-loved selfies.
The 16GB built-in storage space can be expanded up to 128GB through a microSD card. It is a single-SIM flip phone that measures 122.0 x 60.2 x 15.4 mm and weighs in at 160g. Connectivity include 4G LTE< Bluetooth, GPS, and Wi-Fi. It also features sensors such as proximity, ambient light, and accelerometer.
Recap: The Best Low- To Top-Tier Flip Phones This 2021
1. Samsung Galaxy Z Flip
2. LG Exalt VN 220
3. Samsung Galaxy Fold
4. Kyocera DuraXE Rugged Flip Phone
5. Jitterbug Flip
6. Alcatel GO Flip V
7. Samsung Galaxy Folder 2
Smartphones and tablets may be the rage but flip phones are not yet out of style. They've proven their staying power by evolving throughout the years. This type of mobile devices range in specs from low- to high-end. Because of this, it caters to a wide target market who loves to flick their phones open and close.
Most flip phones are basic in nature, they only contain the essential tools you need from a phone. However, more and more companies are going through hoops just to provide a unique device to hungry consumers.
Who doesn't love flipping phones open just to take a call? We bet you'd look cool and stylish on one.