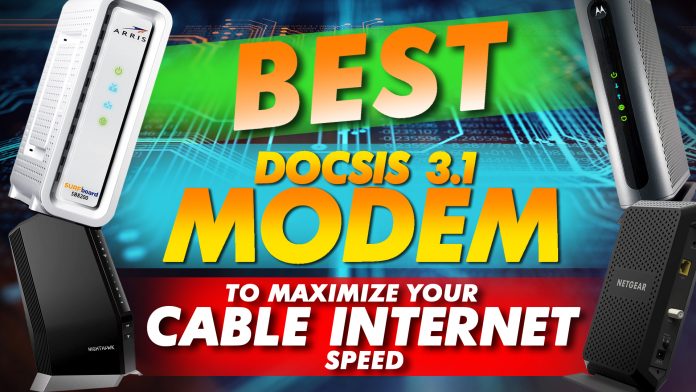 As the development of internet based services have become increasingly complex and demanding, including the progression of services such as Netflix, Hulu, YouTube TV, and online gaming platforms, the need for more powerful internet connections and speeds has become self-evident.
While the services may be more demanding, unfortunately, the infrastructure provided by the internet service providers may still be running on slightly older hardware. Because of the need for higher speeds, and the inability to completely overhaul the infrastructure laid out by the companies, this has lead to more innovative solutions to the problem.
Specifically, DOCSIS 3.1, a development based around the efficiency of transferring information through already existing cable lines from ISPs such as Spectrum andmodem Cox. DOCSIS, or Data Over Cable Service Interface Specification, has seen multiple versions over the years since its inception, progressively improving its ability to transfer increasingly more data through the same coaxial cable infrastructure. The biggest jump to DOCSIS 3.1, and most relevant to our standards today, allows for speeds up to 10 Gbps.
While the ISP may support this standard, owning the necessary hardware that is compatible with this protocol is a pivotal and necessary part of the equation.
7 of the best DOCSIS 3.1 modems available:
1. ARRIS SURFboard SB8200 – Best DOCSIS 3.1 Modem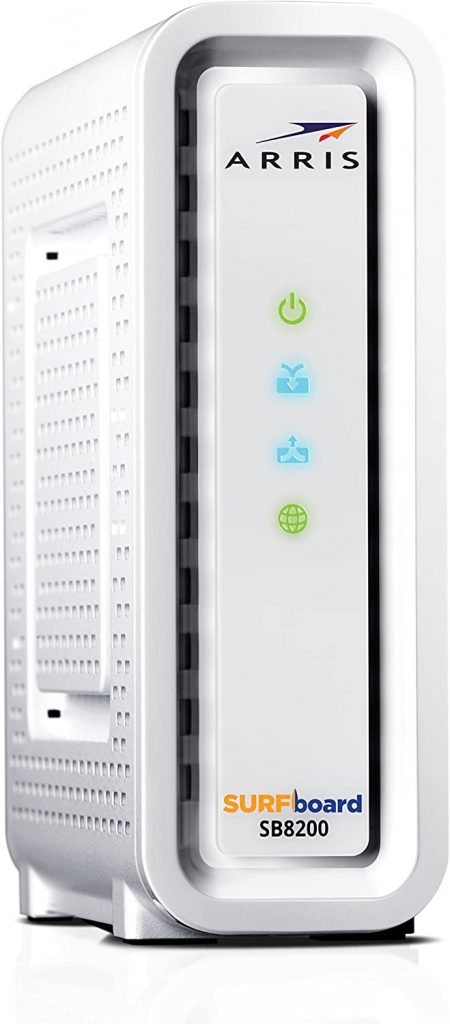 One of the best DOCSIS 3.1 modem in the high-speed consumer marketplace, ARRIS is one of the few brands to offer DOCSIS 3.1 speeds with this iteration of the 'SURFboard' modem series. Compatible with COX, Xfinity, and other major internet service providers, this is strictly a coaxial cable modem. Supporting speeds up to 2 gigabits per second, this will safely accommodate the upper limits of most home internet providers.
While this is strictly a modem, not supporting WIFI access out of the box, it does include two 1-gigabit ethernet ports with support for link aggregation. With 32 downstream channels and 8 upstream channels, this is a no-frills albeit powerful modem to expand upon with your own WIFI router. There are some downsides however, not supporting voice over IP services, DSL connections, or fiber internet connections.
2. NETGEAR CM1000 DOCSIS 3.1 Gigabit Cable Modem

Notorious for its ability to handle high-speed internet access, the NETGEAR Nighthawk has been a mainstay as one of the premier modems on the market. Usually in conjunction with one of their powerful WIFI routers, the Nighthawk CM100 is an excellent choice for both gaming and high bandwidth media streaming. With support for up to 6 Gbps download speeds, this easily eclipses the standard network capabilities for home internet access. Featuring a barebones layout with one 1-gigabit ethernet port and one coaxial connection, this will need to be paired with a high-speed wireless router for best results.
Supporting major internet service providers such as Comcast, Spectrum, and Xfinity, owning the Nighthawk CM1000 will not only allow for the highest capable home internet speeds, but it will also eliminate the need for costly modem fees usually found with most ISPs.
3. MOTOROLA MB8600 DOCSIS 3.1 Cable Modem

Released from the tech giant Motorola, the MB8600 is a DOCSIS 3.1 modem with support for a wide range of internet service providers. With a maximum download speed of 6 gigabits per second, this coaxial modem features one 1-gigabit ethernet port for expansion with a wireless router. Offering support for Comcast Xfinity Gigabit, Cox Gigablast, and CableOne, it lacks coverage however for providers such as Verizon, AT&T, and CenturyLink.
Although this modem does not feature a built-in WIFI router, it does support popular devices such as Google Mesh WIFI, Eero WIFI, and Orbi WIFI. Additionally, the MB8600 offers DDOS (denial of service) protection with their Broadcom chipset, increasing the reliability and safety from unwanted internet attacks. As with the above-mentioned modems, the impressive maximum download speeds will provide you low latency support for multiple devices simultaneously. This means lag free gaming, smooth high definition streaming, and speedy downloads regardless of the number of devices on your network.
4. NETGEAR Nighthawk Cable Modem CM1200

Similar to the above-mentioned modem from the NETGEAR Nighthawk series, the CM1200 is a beefier version offering many of the same benefits. The CM1200 still supports cable internet from Spectrum, Cox, and Xfinity, ideally for internet plans up to 2 gigabits per second. The biggest difference, however, comes with the additional access to 4 total 1-gigabit ethernet ports. Because of the additional ports, you will not only have easier access for expansion, but link aggregation for faster speeds is easily achievable.
The additional ethernet ports will allow for the hardwire connection of printers, scanners, fax machines, gaming systems, or multiple routers directly from the modem itself via an ethernet switch. While this modem will only support coaxial cable connections, not supporting DSL or fiber connections from companies such as AT&T or Verizon, it still offers top of the line speeds and port access for multiple devices.
5. ARRIS SBG8300 DOCSIS 3.1 Gigabit Cable Modem and Dual Band Wi-Fi Router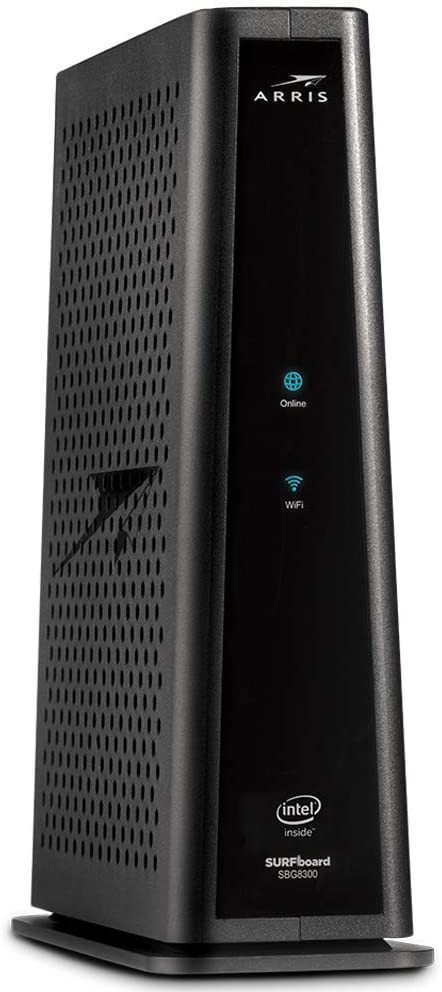 Unlike some of the previous modems on this list, the ARRIS takes the first step into combining some of the core functionality found in the average modem while also acting as a traditional WIFI router. Additionally, the ARRIS SBG8300 is not only multifunctional but it provides top tier speeds and offers easy expansion throughout its multiple ethernet ports.
Affording you the ability to declutter your workspace, this slim modem and router combo offers up to 10 gigabits per second download speeds and features 4 1-gigabit ethernet ports for hardwiring additional devices. If you are looking to go wireless, the SBG8300 also features Wave 2 AC2350 dual-band concurrent 802.11AC WIFI. This means you'll not only get the superior speeds of DOCSIS 3.1 through LAN connection, but you'll also see the performance boost through wireless devices such as laptops and cell phones. While you still won't get support for fiber or DSL connections, high-speed connections from ISP such as Cox, Xfinity, and Spectrum will be fully supported.
6. NETGEAR NightHawk CAX80 Cable Modem WiFi 6 Router Combo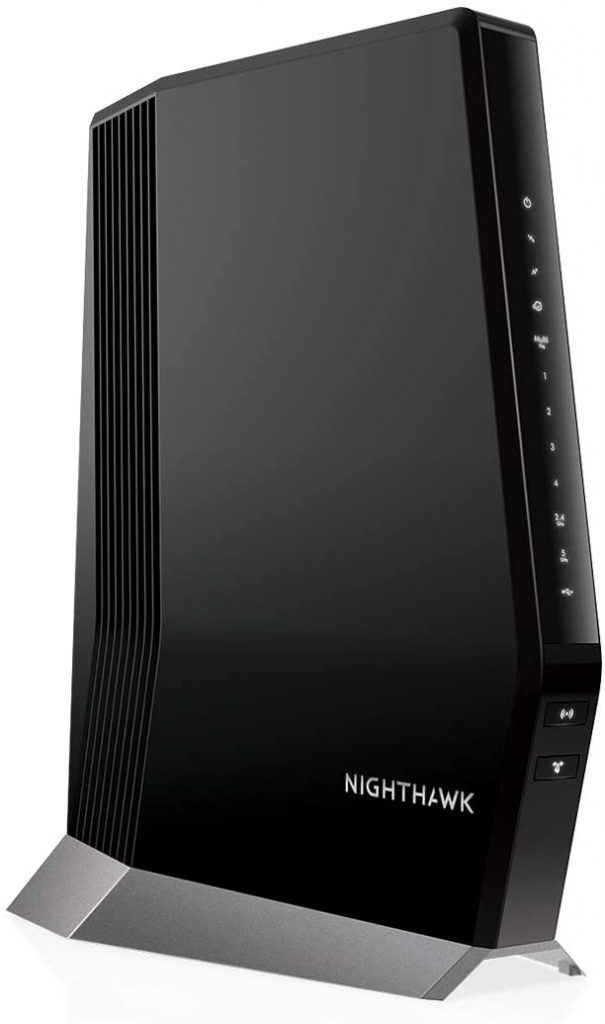 Another Nighthawk series modem released from NETGEAR, similar to the previously mentioned device, this is a combo wireless router and modem covering all of your in-home networking needs. Ideally supporting internet plans with up to 2 gigabits per second download speeds, the Nighthawk CAX80 is perfect for Cox, Spectrum, and Xfinity internet users.
The powerful built-in wireless router will cover an area up to 2,500 square feet, featuring 802.11AX dual-band WIFI 6. This means you'll be able to connect up to 30 devices wirelessly, with a maximum speed of up to 6 Gbps. Not only will you be able to connect your wireless devices for high-definition streaming to supported televisions, usb tablets, or laptops, but the additional 4 1-gigabit ethernet ports will allow for high-speed LAN access for desktop computers and gaming systems. Furthermore, the CAX80 also features an additional USB 3.0 port, so you'll be able to connect to this modem regardless of the port type.
7. ARRIS Surfboard T25 DOCSIS 3.1 Gigabit Cable Modem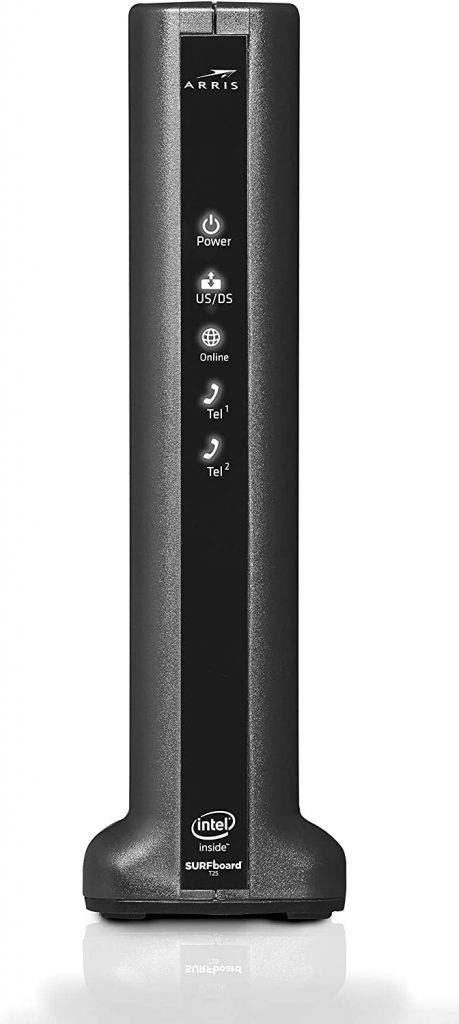 Built specifically to support Xfinity internet connections, this DOCSIS 3.1 modem is designed for internet plans with speeds up to 2 gigabits per second. Featuring 2 1-gigabit ethernet ports on the rear, you'll also find two additional ethernet ports that specifically accommodate the Xfinity voice over IP phone system.
While the T25 doesn't feature built-in WIFI access, it does support the connection of a wide variety of home networking devices. Because of the additional ethernet port on the rear, you'll be able to connect not only your wireless router but an additional desktop PC or gaming system via hardwire connection.
Why are Gigabit Internet Speeds Necessary?
As devices have increasingly become more internet friendly, you'll find that your home internet speeds have faltered under the heavy demand. The widespread use of services such as Netflix, Hulu, or Disney+ has increased the demand for internet bandwidth due to their HD and 4K content. Additionally, internet TV services like YouTube TV, Sling, and others have lead many down the path of "cord cutting", relying purely on internet based content and canceling their traditional cable television subscription.
In addition, computer programs, media, and games have all seen a massive increase in overall file size. When you throw in the fact you'll oftentimes have multiple devices connected simultaneously, all of these strenuous tasks can significantly slow your network performance. This is even more apparent if you are a gamer, whether on PC or on a gaming system, with slow network speeds severely impacting your in-game lag and overall gaming experience.
Due to all of these factors, increasing the maximum bandwidth accessible through your ISP plan is not only suggested but oftentimes necessary. Especially when you take into consideration how infrequently you may make changes to your internet plan, you could be on an outdated and ineffective service.
How to Get Gigabit Home Internet Speeds
Depending on the ISPs (internet service providers) that are available in your area, there will be a plethora of available internet plans that will be options when you are looking to increase your internet speeds. While gigabit connections were a rarity a decade ago, they are widely available through cable internet providers due to the aforementioned development of DOCSIS 3.1. Because of the development of DOCSIS 3.1, cable internet providers were able to make use of their existing infrastructure, increasing speeds without the need for physical upgrades to cables and hardware.
In most cases, simply adjusting your home internet plan to their gigabit plan and purchasing a supported modem and router (or a combination device such as the above mentioned) will easily set you on the path to blazing download speeds. While it may require some in-home maintenance from a technician through your ISP, it is usually an effortless process in the pursuit of faster internet speeds.
Because of the development of internet based services, the increase to these high-end speeds will oftentimes be warranted. The transition to internet television services such as YouTube TV, online streaming platforms such as Netflix or Hulu, or even online gaming and their necessary downloads will all see an increase in performance with gigabit internet speeds. The days of a clogged home network will quickly and easily be a thing of the past with the increase in home bandwidth, so the importance of upgrading can't be understated.
How to Set Up Your Home Modem and Router
After you have upgraded your internet plan to accommodate gigabit speeds, the process of setting up your new modem and router is relatively simple. Whether you have two separate devices or one of the modem and wireless router combination devices mentioned above, it is simply a matter of connecting the devices and testing the speeds.
Connecting the Coaxial Cable
Similar to your previous modem, your internet connection will be accessible through the coaxial cable provided through your ISP. These cables are oftentimes run throughout homes in one or multiple places, providing access points in the walls. Providing your ISP doesn't require maintenance on these cables, you'll simply need to connect this cable to the back of your new modem.
Connecting Your Wireless Router
If you have a modem and router combination device this won't be applicable, but if you have a separate router this is the time to connect it. Depending on the number of ethernet ports on the back of your modem, you simply need to connect a high-speed ethernet cable from the LAN port on the modem to the router. If you have multiple ports, you will have the option for link aggregation, allowing you to connect multiple LAN ports from your modem to your router for increased speeds. If you are simply connecting one port to another, the additional ethernet ports on the back of your modem will serve as optional connections for wired devices such as desktop PCs or gaming systems.
Setting Up Your Router
Once you have successfully connected your router to your modem, there a few security steps as well as settings to update. Your router will come with a default name and password for your first connection, oftentimes found within the paperwork or on the back of the device itself. This will come in handy if you are connecting wirelessly for the initial setup. If you are connecting via a hardwire ethernet cable straight into the router, you will be able to update your network settings without the need for the wireless password on the initial setup.
Once you have connected to the network, simply type your IP address into the address bar of your internet browser. This will bring up the login page to your wireless router settings. For the majority of new routers, the login credentials will oftentimes be 'admin' for both the username and password fields (although consult the manual for your specific device if this doesn't work.) Once you are logged in, you'll be able to update the wireless network name, password, security settings, and parental controls.
Connecting Additional Devices
The final step will be deciding on the best method for bringing all of your devices back online to complete your new in-home high-speed network. While the majority of devices will function perfectly simply through a WIFI connection, there are a handful of devices that will see a benefit through a hardwired ethernet connection into either the back of your modem or router.
Devices such as gaming PCs or gaming systems will greatly benefit from a hardwired connection, lowering overall ping and latency experienced with online gaming. You will also see a benefit with hardwired connections if you are doing large intra-network file sharing, allowing for the fastest possible transfer from one PC to another. As long as you have a high-speed ethernet cable (Cat 6 or above), you will be able to see the fastest connection possible from your device to your router.
Other Tips for Maximizing Internet Speeds
In addition to the steps we've mentioned above about high-speed modems and changes to your ISP plan, there are a few additional tips and tricks in maximizing your internet speeds and overall performance.
Choosing the Right Ethernet Cables
While to the uninitiated ethernet cables may all look and function the same, there are actually quite a few options and differences between the various categories. On the outside they may all aesthetically look the same, but their core functionality will vary quite a bit. Here are the various 'categories' of ethernet cable and their maximum speeds:
Cat 1 – Max. 1 Mbps
Cat 2 – Max. 4 Mbps
Cat 3 – Max. 10 Mbps
Cat 4 – Max. 16 Mbps
Cat 5 – Max. 100 Mbps
Cat 6 – Max. 10 Gbps
As you can see, the speeds vary quite a bit between the various types of ethernet cable. Anything above Cat 6 is recommended for in-home networks, maxing out at 10 Gbps and eclipsing the needs of any realistic daily task.
Modem and Router Location
While the location of your modem is oftentimes dictated by how closely you are located to your coaxial cable connection, your router should be more strategically placed. Depending on the size of your home, your wireless router should be placed in a central location for the most effective coverage. Certain aspects such as building materials, inner wall cables or wiring, or other devices can all affect the strength of your wireless signal. Taking all of these factors into account will not only improve the speed of your connection but the distance of your wireless access.
Final Thoughts
While your internet service provider may have the ability to massively increase your internet speeds, and you may subscribe to their specific plan guaranteeing speeds, finding the supporting hardware is a necessary step in the process. The best DOCSIS 3.1 modem will ensure that you are able to handle the increase in internet bandwidth that you are paying for. Whether it is a barebones modem or a router-modem combo, these will be able to handle the massive uptick in internet bandwidth from your provider via the DOCSIS 3.1 standard.
Adhere to the best practices outlined above as well as what is recommended by your ISP, and you will be sure to experience smoother online gaming, movie streaming, and productivity centered around your higher bandwidth plan.
Recap: 2020's Best DOCSIS 3.1 Compatible Modems for Gigabit Internet