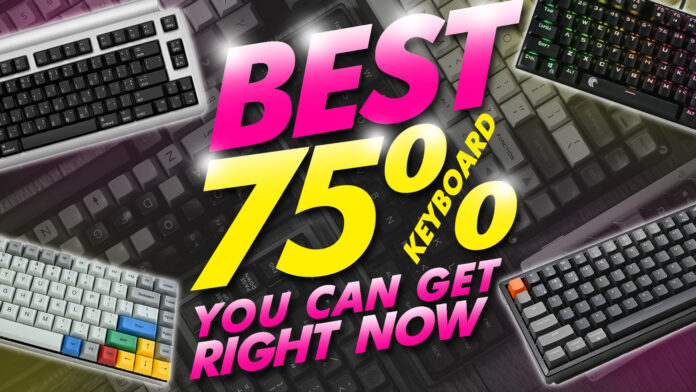 There's a wide variety of keyboards on the market. From 40%, 60%, TKL, and full-sized keyboards, mini keyboards, to silent keyboards, you will find yourself overwhelmed with all the products you can choose from.
In this article, we discuss the best 75% keyboards you can buy today. And to ensure you will make the right purchase, we included a buyer's guide that highlights the most important things you should consider.
Does a 75% Keyboard Perform Better Than the Rest?
75% keyboards have their pros and cons. They are slightly more compact than TKL (tenkeyless) keyboards, but the arrow keys and home buttons are clustered and placed in an unusual row to save space. In other words, the keys on a 75% keyboard look packed and snug. If you plan to invest in this type of keyboard, you likely have a small desk or just fancy compact keyboards.
If you play games that require only a few keys to work, a 75% keyboard is perfect for you. But note that it will take some time to get used to the distinctive key size and placement. For instance, the right shift key will be smaller than usual, so developing muscle memory may take some time.
Let's take a quick look at our featured 75% keyboards before diving into the actual reviews.
5 Best 75% Keyboards
1.
Keychron K2
Best Wireless 75% Keyboard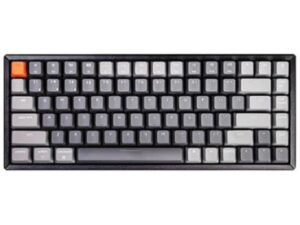 Tech Specs:
Size: 313 mm x 123 mm x 54 mm | Switch Type: Gateron switches (Red, Blue, Brown) | Connectivity: Wireless | Supports LED?: Yes | Battery Life: 4000 mAh
If you are looking for a keyboard for gaming and typing, the K2 is a great option to consider. This keyboard offers extensive compatibility and plenty of features geared towards gaming.
Although the K2 is very compact, it has enough weight to keep it in place. The material used for the frame is aluminum to give it some heft and added durability. Moreover, the switches are designed to endure 50 million keystrokes, so much more than the average dome-switch keyboards on the market.
One thing we like about the K2 is how the keycaps can be replaced with ease. It even has a keycap remover included in the package.
If you are always on the move, you will love the K2 for its portability. It comes with a 4000 mAh battery that can last at least six months to over a year on a single charge. The left side of the keyboard has a USB port and a switch that can change compatibility to Mac or Windows.
The overall performance of the K2 is excellent as the keys feel responsive. The texture of the keys is smooth but doesn't feel slippery. If you want a more comfortable typing experience, you can flip the feet on the back of the keyboard.
Like most mechanical key switches, the keys tend to feel taller. If you have small hands, it might take some time for you to adjust to the feel of the keys.
The K2 uses Gateron switches. Like Cherry MX buttons, they also come in various switch types that feature different actuation points. All three switch types are tactile and clicky, with red being the least-tactile among the three.
The K2's capability to connect to multiple devices simultaneously is what makes it the best 75% keyboard on this list. By holding down Fn and pressing either 1, 2, or 3, you can easily switch between devices seamlessly.
The K2 also comes with 15 different lighting modes. Some modes are animated while others are fixed. You can even switch between lighting modes instantly by holding down the Fn button and pressing either the left or right arrow key.
2.
Matias FK303QBT Laptop Pro
Best Wireless 75% Keyboard for Mac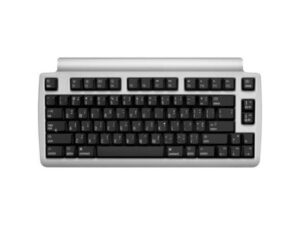 Tech Specs:
Size: 337 mm x 165 mm x 35 mm | Switch Type: Mechanical switch (Type not indicated) | Connectivity: Wired (USB 2.0 Type-A) | Supports LED?: No
If you are looking for the best wireless 75% keyboard for your Mac device, the compact Matias FK303QBT Laptop Pro is worth considering. It delivers unmatched comfort without compromising the tactile feedback you need to enhance your typing experience.
The Laptop Pro is a wireless keyboard, saving more space on your desk and eliminating the hassle of wires. Another thing we like about this keyboard is how easy it can be packed for travel. Its overall profile is narrow enough to fit in any laptop bag.
If the hotel you stay in has a small desk, you can use the keyboard wirelessly and place it on your lap. You can also buy a portable keyboard stand for comfortable typing.
The Laptop Pro also comes with a 1600 mAh battery, enough to last at least six months on a single charge. It doesn't turn off automatically when you leave it for an extended period, but the massive battery capacity should endure these instances.
The design of the Laptop Pro strongly resembles an old keyboard. But don't let the looks fool you since it is equipped with modern features, such as the USB charging port that enables you to charge another device conveniently close while you work.
Mechanical keyboards are known for being tactile and clicky. The Laptop Pro is not as loud as alternatives, making it ideal if you work in an office environment.
The Laptop Pro features Apple function keys that let you open iTunes, control the screen's brightness, and adjust the volume.
3.
Vortexgear Race 3
75% Keyboard, 100% Performance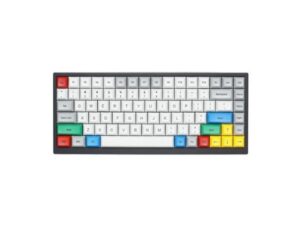 Tech Specs:
Size: 120 mm x 309 mm x 30 mm | Switch Type: Cherry MX Blue | Connectivity: Micro USB | Supports LED?: Yes | Wireless?: No
You can tell from the packaging that the Vortexgear Race 3 is simple but elegant. The box itself has a premium feel with nothing but Vortex's logo embossed on each cardboard face.
Opening the package will reveal the keyboard, wires, and replacement keycaps. The box has some bubble wrap that keeps the keyboard safe during shipping. The package also includes a well-written note explaining the basics of the keyboard. However, it doesn't contain a keycap puller, which is something we expected. Nevertheless, it is safe to assume that buyers will already have one tossed in their drawers since this product is aimed towards enthusiasts.
We like how the Race 3 has an aluminum outer case, giving it the durability to withstand daily wear and tear. The cable is moderately thick and has gold-plated connectors to prevent the ends from developing corrosion. There are two velcro cable ties included in the box, which are great for storing the cable when traveling. The feet under the keyboard have rubber bumpers to keep it from slipping.
The Race 3 uses Cherry MX Blue switches, so you can expect it to be tactile and responsive. The keycaps are made from PBT plastic, making them resistant to shine and yellowing (a common problem with old keyboards). The letters and numbers on each key are printed with dye sublimation, so they don't wear off even when used heavily.
Unfortunately, the Race 3 doesn't have a software to customize the lighting effects. It also lacks waterproofing, which is a major selling point for some of its competitors.
Nevertheless, the Race 3 offers outstanding performance at an excellent value.
4.
E-Element Z-88 (Huo Ji E-Yooso)
Best Budget 75% Keyboard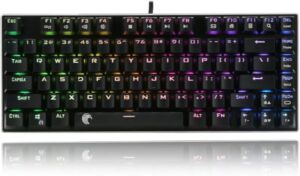 Tech Specs:
Size: 309.9 mm x 122.9 mm x 35.5 mm | Switch Type: Outemu | Connectivity: Wired USB | Supports LED?: Yes | Wireless?: No
A sea of undistinguished brands saturate the budget gaming peripherals market, and it can be hard to tell which products are of high-quality. So, to help you save a lot of time, we present the Huo Ji E-Yooso Z-88, one of the best budget 75% mechanical gaming keyboards you can buy right now. It comes with all the essentials and is equipped with swappable mechanical switches to give you added versatility.
Before we get to the upsides, let's first talk about its main drawbacks. The Z-88 doesn't have a wrist rest or a software where you can customize the backlighting. It is also more expensive than our other budget options, but it is worth the extra cost.
To give you a bit of background about Hou Ji: it is a Chinese brand that produces computer peripherals like mousepads, keyboards, and mice.
The E-Element Z-88 has customizable switches and RGB backlighting packed in a compact frame. It comes with Outemu mechanical switches that are comparable to the Cherry MX Blue or MX Speed. Even though Cherry MX has become the standard in the mechanical switches industry, Outemu sets itself apart by offering more switch types at lower prices.
Even though they don't perform as well as their Cherry MX counterparts, the gap is minimal, especially considering the significant price difference.
Like the Cherry MX switches, the Outemu has red, blue, brown, and black variants. The E-Element Z-88 comes with five spare switches in case some of them die randomly.
The E-Element Z-88 has remarkably bright backlighting, making it suitable for dim rooms. And because it is so compact, you can carry it around with ease.
You won't have to worry about splashing some water on the E-Element Z-88 because it features a spill-proof design with three drain holes.
Overall, the E-Element Z-88 feels comfortable and tactile and produces a sound that rings nicely with each keystroke. If you are a budget consumer who can spare a little more, this product is worth it.
5.
Velocifire TKL78 MK
Most Affordable 75% Keyboard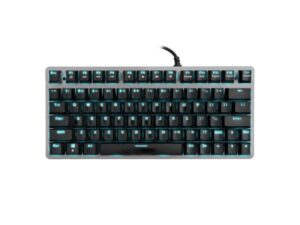 Tech Specs:
Size: 363 mm x 137 mm x 40 mm | Switch Type: Outemu Brown | Connectivity: Wired, USB | Supports LED?: Yes | Wireless?: No
At first glance, the Velocifire TKL78 MK looks like an ordinary mechanical keyboard. However, it features a unique ergonomic design that makes it more reliable and easy to carry around. Moreover, the Outemu mechanical switches make each keypress feel smooth and tactile.
Because of its small size, the TKL78 MK can fit on any desk seamlessly. The keyboard has a slant delineation, making it comfortable to type on for extended periods. Remarkably, it is rated to withstand up to 50 million keystrokes.
Every keypress delivers a slight palpable feedback, enough to confirm a key register without being too loud.
If there is something you should be concerned about, the shift key is a little too narrow. If you are accustomed to using the right shift key, it might take you some time to get used to the TKL78 MK. Moreover, the keyboard does not have flip-out feet at the bottom, so you can't adjust its height. It won't be as stable as some of the other options either since it doesn't have rubber feet.
Even though the Outemu Brown switches feel just as tactile as their Cherry MX counterparts, they produce a more subtle click sound when pressed. This quality makes the TKL78 MK ideal if you live with someone or work in an office environment.
The design of the TKL78 MK seems cramped up, but it is easy to get used to after a few hours of use. Unfortunately, this keyboard's backlighting options are limited to dark blue and teal — you can't adjust it whatsoever.
Overall, the TKL78 MK is easily one of the best budget 75% keyboards on the market. If you're just looking for something that covers all the essentials, it is the perfect product.
Essential Things To Consider Before Buying a 75% Keyboard
Now that you have narrowed down your options, it is crucial to know what sets 75% keyboards apart from other layouts. In this section, we cover the critical things you should consider before making a decision.
Layout
Even though most 75% keyboards are identical in size, they often differ in structure. Some have keys clustered with no blockers, while others have keys placed in different rows to fit compact frames. Familiarizing the key placements beforehand ensures that you invest in something you will be comfortable with.
Mind the Switches
Mechanical 75% keyboards have switches that perform distinctly from one another. For example, some of our featured keyboards use Cherry MX Reds, while others use Cherry MX Blues.
More affordable keyboards are infamous for using cheaper switches from brands like Outemu, which may not be as great as Cherry MX but proposes excellent value for money.
On the other hand, some keyboards use membrane switches. These switches are not as tactile or durable as mechanical switches but are cheaper.
Due to the wide variety of switch types, it is critical to check ahead to ensure that you buy a keyboard that suits your preferences.
Do You Intend to Change Keycaps?
Some mechanical keyboards let you change keycaps to achieve a personalized look. There are plenty of third-party keycaps on the market, and you can easily swap them out if you want to.
Most of our selections are built with aesthetics in mind to make them stand out on your desk. You should pick a keyboard that complements the rest of your peripherals.
Does LED Matter?
LED lights are a niche among gaming peripherals. While they do not impact your performance, they do make your setup suit your style.
If you value aesthetics over performance, there are a handful of keyboards that fit your preferences.
Conclusion
There you have it! Our list of the best 75% keyboards on the market today! To give you a summary of our review:
Get the Keychron K2 if you want the best 75% keyboard available. Due to its extensive compatibility, you can rely on it to work regardless if you are a Windows or Mac user.

The Matias FK303QBT Laptop Pro is the perfect 75% keyboard for Mac users. It may not look as advanced as some of the other products on this list, but it gives you everything you need.

The Vortexgear Race 3 is a colorful 75% keyboard that is durable, elegant, and reliable.

You should consider the E-Element Z-88 if you are looking for an affordable option that doesn't compromise.

Finally, the Velocifire TKL78 MK is the perfect budget 75% keyboard.
Which among our featured products do you like most? Tell us in the comments section below!