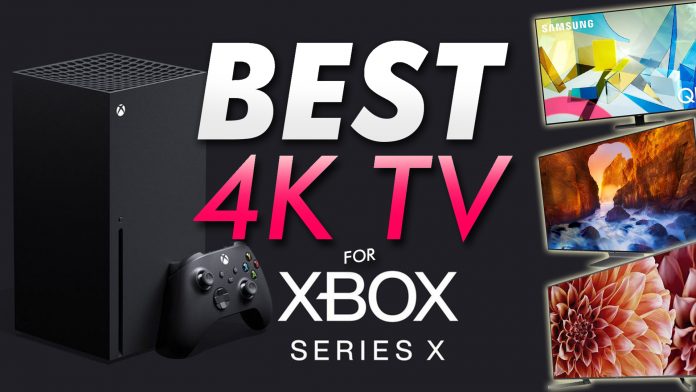 Modern problems require modern solutions– or so the saying goes. But to exploit the next-gen graphics in the next-gen consoles, namely, PS5, Xbox Series X, and Xbox Series S, you need a top-of-the-line TV.
Don't worry– you can still connect your new game console to any TV you have as long as it has an HDMI port. But if you want the ultimate gaming experience, you'll probably want a new TV that can support 8K resolution and can hit frames up to 120 Hz.
If you can only spend so much, then a 4K TV for Xbox Series X is your best option. We've checked and reviewed the best in the market with the most reasonable prices now and rounded them up to save you time.
Here's What You Must Know About the Xbox Series X
Probably the most highlighted improvement on the new Xbox Series X console is its HDMI 2.1 support. Compared to the former HDMI cable, the HDMI 2.1 allows more data to be transferred at once to support the 8K resolution and up to 120 frames per second on 4K resolution.
The Enhanced Audio Return Channel (or eARC) is yet another feature implemented in the most recent HDMI 2.1 specification. Apart from the improved speed and bandwidth, you also get higher-quality audio from your TV to a soundbar.
While playing games at 8K resolution looks appealing, 4K quality is still a more economical and desirable option, which is why we're going to talk more about those below.
You can still play pretty much every game released on the Xbox, Xbox 360, and Xbox One in terms of game support. And suppose you want to truly experience some of the best graphical demanding games you can play on Xbox Series X, you won't get disappointed at some of the popular titles today: Far Cry 6, FIFA 21, Assassin's Creed Valhalla, Cyberpunk 2077, Forza Horizon 4, Gears 5, Halo Infinite, and Destiny 2: Beyond Light.
Best Gaming TVs for Xbox Series X this Spring 2021
1. LG C1 (2021 Model): Best TV (OLED) For Xbox Series X Gaming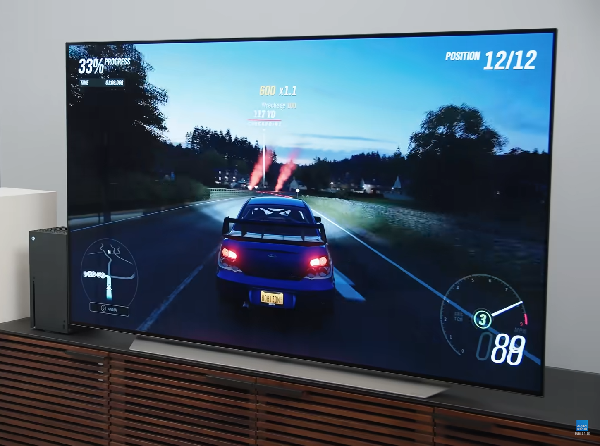 Size: 48 in | Type: OLED | Input Lag: 9.5 ms | Refresh Rate: 120Hz | Connectivity: 4x HDMI 2.1 input
Rating
Video Gaming: 4.6 / 5
HDR Gaming: 4.5 / 5
Extended PC Monitor: 4.5 / 5
Movies: 4.7 / 5
Sports and Entertainment: 4.4 / 5
TV Show: 4.1 / 5
The LG CX (2020 model) was highly recognized as one if not the best TVs in terms of exact brightness, darkness, and clarity. But the LG C1 (2021 model) just bested it.
Apart from showing a better balance of noise suppression, the LG C1 OLED also exhibited better shadow detail presentation– and you can see how it differs from the previous model on screen. With better highlights where it's needed and darkness where required, this massive OLED LG C1 OLED screen is a crisp display that can bring the best view out of your Xbox Series X games.
Moreover, the LG C1 OLED also features a new cinematic movement setting that will smooth out the stutter while introducing fewer interpolation artifacts than the Cinema Clear setting on the LG CX. You also have a new UI on the LG C1 OLED compared to the LG CX.
HDR is still supported on the LG C1 OLED, but there aren't any significant differences you will notice. You still have the Fine Tune Dark Areas settings on the LG C1 OLED, so you can make adjustments as needed.
Gaming on the LG C1 OLED is phenomenal because apart from the improved color accuracy, it's also has a lower input lag than the LG CX. To give you an idea, the LG CX has an input lag of 14.6ms on 4K60, while the LG C1 OLED has an astonishing 9.5ms of input lag. Playing competitive or split-screen Xbox Series X games should feel a lot responsive.
Note that LG's proprietary webOS smart TV function is still present on the LG C1 OLED, but now covers the entire screen when you the home button, unlike the LG CX, where it only occupies the lower half. If you are used to the LG CX UI, it might take you some time to get used to the UI on the LG C1 OLED.
No more do you have to be chained to your Apple TV box, Amazon Firestick, or Chromecast. You can enjoy YouTube, Netflix, Prime Video, Disney+, Hulu, Apple TV, and more streaming services straight off your TV without needing to connect to anything except an Ethernet cable input.
The LG C1 OLED has a very slim profile with a stand that supports the TV well and feels solid. If you wish to have this on your wall, you can do so as it supports VESA 300×200. Overall, the C1 feels incredibly built with a metal back to complement its premium features.
The only thing holding this back is how expensive it is. With new 4K TVs coming out from smaller companies, it's hard to justify a luxurious TV such as this. However, if you want the absolute best 4K TV for your console, the price is definitely worth it.
A wealth of built-in enhancements plus the option to add more than one HDMI 2.1 output is an attractive enough option to drop your hard-earned money into this screen.
2. Samsung Q90 QLED: Best 4k QLED TV For Xbox Gaming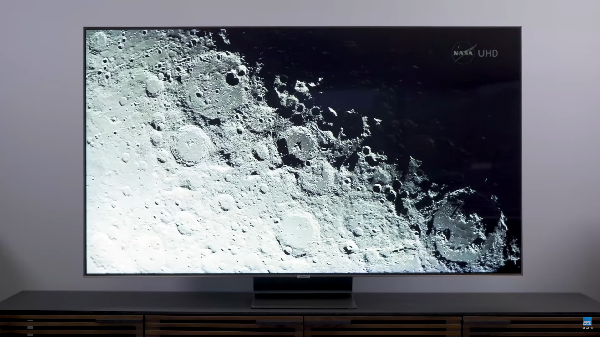 Size: 65 in | Type: QLED | Input Lag: 7.1 ms | Refresh Rate: 120Hz | Connectivity: 4x HDMI 2.0 input
Rating
Video Gaming: 4.3 / 5
HDR Gaming: 4.3 / 5
Extended Monitor: 4.4 / 5
Movies: 4.2 / 5
Sports and Entertainment: 4.2 / 5
TV Show: 4.3 / 5
Many home theater fights start over whether LCD or OLED is the better class, with LCDs still being the top dog even during the 4K era. Samsung comes along with QLED tech and fast input lag, looking to compete with the guys at the top. The Samsung Q90 is an improvement from last year's Q80, making this one of the best all-rounder 4K TVs for 2020 and your Xbox Series X to experience great view angles.
The sleek and striking design can remind fans of the previous Q80 of how slick that TV looked, and Samsung seems to have not strayed from its design choices from 2019, and we're all here for it. The design lets you have so much more screen space than cheaper screens, with the HDR capability to make use of all that real estate.
The colors are beautifully bright, and the lines are so much defined. Black tones are deep and imposing when they need to be. HDR content looks great on this display that's only made better by its backlighting and deep black filtering, courtesy of the QLED screen, which uses proprietary tech to make this magic happen.
We were blown away by its excellent performance when we watched 4K videos on this TV, which is only enhanced by the fantastic 4.2 channel speaker setup. Tested on Modern Warfare for the Xbox One X, we found the sound quality very loud and clear, which is never bad for gaming.
We think the Q90 is a solid choice for the upcoming Xbox Series X, even if it isn't capable of HDMI 2.1 input. QLED technology works around that limitation by delivering better brightness and software improvements through its Quantum Processor 4K technology.
3. Samsung Q80T: Best 4K LED TV For Your Xbox Games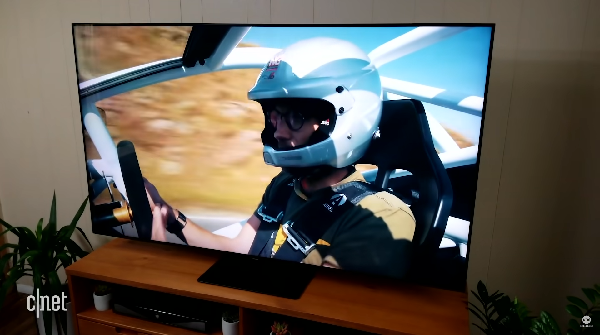 Size: 65 in | Type: VA | Input Lag: 8.7 ms | Refresh Rate: 120Hz | Connectivity: 4x HDMI 2.1 input
Rating
Video Gaming: 4.3 / 5
Extended PC Monitor: 4.4 / 5
Movies: 4.1 / 5
Sports and Entertainment: 4.2 / 5
TV Show: 4.2 / 5
If you're more on the budget hunting side, the Samsung Q80T is going to be one of the best TVs you can buy for Xbox Series X. It's a decent offer from Samsung featuring its QLED screen that offers excellent full-array backlight for precision HDR, as well as better contrast.
Its screen is amazingly bright and responsive for a device that's not fitted for HDMI 2.1 input. The Q80T's shining talent is its upscaling function that allows low-res sources to look even better than they have any right to. Choppy streams, Blu-rays, and even DVDs experience less jagged edges and silky smooth gradation. You'd have to see it to believe it.
For those who used Samsung TVs before, you might be familiar with its Tizen smart suite that comes with native support for all major streaming services.
An Ambient Mode turns your TV into a photo gallery or news feed while idle. You even have the option to beam your smartphone's screen onto the TV through Mobile Multi View. Imagine stream sniping your favorite streamer on Warzone with this… just kidding.
The sound quality is excellent with the Q80T. It has additional drivers that give off the impression of a huge soundstage. Even without a soundbar or any sort of surround sound setup, it still felt like the sound fills the room even though it's coming from a single point.
It was great to play some racing games, Modern Warfare on the Xbox One X as every shot and explosion rang out loudly and clearly.
4. TCL 6 Series/R635: A Cheaper 4K TV For Your Xbox Series X Games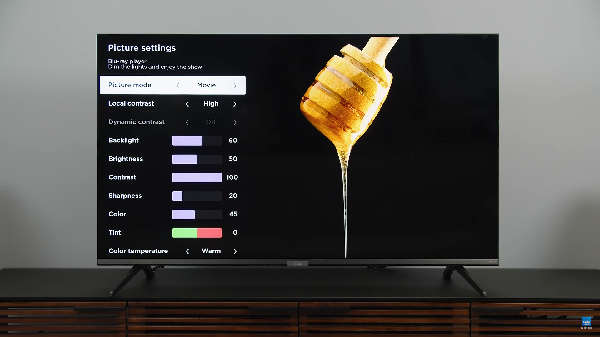 Size: 55 in | Type: VA | Input Lag: 17.8 ms | Refresh Rate: 120Hz | Connectivity: 4 x HDMI Type A input
Rating
Video Gaming: 4.0 / 5
Extended Monitor: 3.9 / 5
Movies: 4.0 / 5
Sports and Entertainment: 3.9 / 5
TV Show: 3.9 / 5
The TCL 6 Series is TLC's flagship TV lineup. The overall performance is an upgrade from its previous model in 2019.
Thanks to the QLED technology, the TCL 6 series can provide a very wide gamut for HDR content. The HDR handles bright scenes well that highlights will pop.
Furthermore, a full-array local dimming feature allows users to see things well in dark scenes, which is very handy when playing Warzone. Unfortunately, the local dimming feature is a disappointment to some as it doesn't perform well and blooms around bright objects.
Users will also find the Roku Smart platform to be easy-to-use and handy as it comes with a ton of apps that you can easily download. In terms of build, the TV is well-built and is easily considered a good choice in a well-lit environment due to its excellent peak brightness. Moreover, reflection handling is also decent enough to counter reflections.
Even though the TV supports Variable Refresh Rate (VRR), other users noticed that FreeSync doesn't work well. But overall, the TCL 6 series is an excellent choice if you're looking for a TV that provides you a decent performance at relatively reasonable prices.
5. Vizio MQ7: Best Gaming TV that's Affordable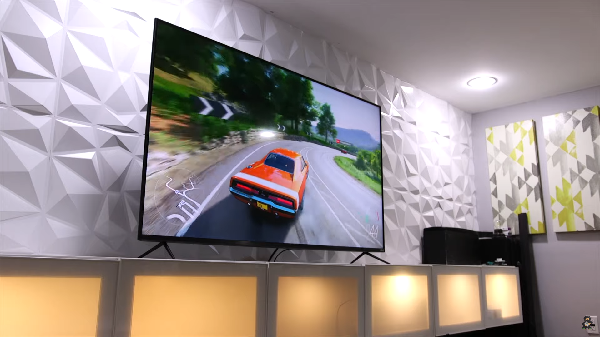 Size: 55 in | Type: VA | Input Lag: 10.7 ms | Refresh Rate: 120Hz | Connectivity: 2x HDMI input
Rating
Video Gaming: 4.2 / 5
Competitive Gaming: 4.2 / 5
HDR Gaming: 4.1 / 5
Extended Monitor: 4.1 / 5
Movies: 4.2 / 5
Sports and Entertainment: 4.1 / 5
TV Show: 4.2 / 5
If you are looking for a budget-friendly 4K telly that you can hook into your Xbox Series X console, then the Vizio MQ7 (also referred to as M7) is one of the best gaming TVs in this category.
Following the massive success of the 2019 Vizio model, the 2020 Vizio M model continued its excellence in both picture quality and gaming-focused features.
While it's true that there are other similarly-priced TVs like the TCL C9 that perform slightly better, the M7 is packed with plenty of features that gamers will surely love, such as the deep black levels and fast input lag. Furthermore, the M7 is also the cheapest TV on the market that supports Variable Refresh Rate (VRR), a gaming feature that reduces tearing and other artifacts.
In terms of design, there is not much to differentiate from other TVs on the market. It features a matte black color and a border on top with a thicker, metallic bottom edge atop its stand legs.
Considering that the monitor's price is friendly for budget users at a whopping 50-inch screen, the M7 is easily among the best budget 4K TV perfect for your new Xbox Series X console.
Things to Consider when Buying A 4K TV for Xbox Series X
Needless to say, 4K monitors are definitely worth getting for gaming. But like buying any other computer parts, picking the perfect 4K TV for your Xbox Series X should not be a daunting task. But because of all the jargon, it can be overwhelming.
In this section, we will be talking about the most vital features that matter so you can check and evaluate them before you buy.
Know Your Needs
Before ever deciding to buy, you must know what you are looking for. Among the things you should consider is to see whether you are looking to play competitively or looking for a more immersive experience.
Knowing this ahead will significantly impact your decision-making, which will help you understand your path better and help you know what to look for in a monitor.
To give you an idea, here are some of the most critical specs you should consider and look for apart from looking at prices:
Competitive Experience:
Low input lag
Fast response time
High refresh rate display
Adaptive Sync support
Variable Refresh Rate (VRR)
Better Gaming Immersion:
4K resolution
32-inch screen size (or higher)
HDR support
IPS panel technology
Fast response time
Of course, the above factors are just guidelines that you can either mix and match or not follow at all. Essentially, it boils down to your preference and your budget.
Panel Type: TN vs. IPS
The performance and price of the panel depend significantly on the type of display the TV utilizes. This section will discuss the difference between TN and IPS panels to make you understand which panel suits your needs.
TN panels are generally cheaper than IPS panels and have fast response times (1ms vs. 5ms for most IPS panels). However, they have poor viewing angles and have poor color reproduction.
Because TN panels have poor viewing angles, placing them according to your gaming chair's direction is essential, especially if you plan to mount your TV on the wall. If you are a competitive player, TN panels are the way to go as it gives you a fast response time.
On the other hand, IPS panels offer excellent color reproduction and better viewing angles. The picture quality will be better than your standard HDTV but not as sharp and refined as a TV with HDR-10 features.
Because the IPS panels have sharper and better color reproduction, it compromises other factors such as response time. Due to the low response time, IPS panels aren't recommended for competitive gamers but are perfect for gamers looking to experience better immersion.
Ultrawide or Not?
Going for ultrawide monitors benefit both competitive and casual players in various ways.
Ultrawide TVs provide a broader FOV since most ultrawide TVs have a 21:9 aspect ratio, compared to the average 16:9 aspect ratio in non-ultrawide TVs. Because you see more of what is happening in the game, you have the upper hand when playing competitive games, especially when playing FPS games.
Unfortunately, consoles do not support the 21:9 aspect ratio natively. Furthermore, console games don't support ultrawide resolutions since most consumers opt for the more traditional 16:9 aspect ratio.
Even though the possibilities are limitless, especially with how fast the technology is evolving, the case is still yet to be determined. For now, we'll have to settle for 16:9 4K televisions for Xbox Series X.
Response Time
There is a reason why PC gamers never opt for TVs as displays, and it is because most TVs don't have response times as low as most monitors.
However, technology nowadays is advancing so fast that TVs can now compete and even top some of the high-end gaming monitors in response time.
Essentially, you will want a TV with a fast response time, especially if you play competitively on your new next-gen Xbox Series X console. But if you are a casual gamer, TVs with 5ms response times should suffice.
Refresh Rate
In the past, refresh rates weren't a big deal since most TVs support 60 Hz– that was until the next-gen consoles, PS5 and Xbox Series X, came into the picture.
Both PS5 and Xbox Series X utilize powerful graphics cards to output frames of up to 120 per second. Of course, this still depends on whether the game supports frames of up to 120 fps.
Nevertheless, it is crucial to opt for a TV with 120 Hz to future-proof your investment, especially if you own the new next-gen Xbox Series X console.
Size
The size of the TV should be compatible with its resolution to display the best image possible. In 4K televisions, it is ideal for getting a TV with at least 32 inches since anything smaller will make everything on the screen look a lot smaller.
Furthermore, you will also be likely playing a few meters away from the TV, so it is ideal to choose a minimum of 32-inches.
HDR (High Dynamic Range)
Considering how popular this feature is on mobile phones, I assume you already know what this does. But in case you don't know what this is, we'll briefly talk about what it is and why you should opt for a TV that supports HDR.
In simple terms, Dynamic Range is the measurement that shows the gap between the brightest area of an image from the darkest. HDR or High Dynamic adjusts the dark areas by adding details and improving the color palette to make it look more true-to-life.
TVs that support HDR will make dark areas visible enough so you can make out what's happening in the dark area. If you are going to play competitive FPS games on your Xbox Series X, you will want to buy a TV that supports HDR so that you will see better in dark areas.
Note that not all consoles support HDR, but next-gen consoles like Xbox Series X, Xbox Series S, and PlayStation 5 support HDR. Needless to say, it would benefit for you to get a TV that supports HDR.
FAQ
What 4K TV is best for Xbox Series X?
The best 4K TV for Xbox Series X and Series S in 2021 are brands from popular TV manufacturers like LG, Samsung, Sony, TCL, Vizio, among others.
What TVs work best with Xbox Series X?
The Xbox Series X supports the HDMI 2.1 cable; therefore, any telly that supports up to 8K resolution is nice. Ideally, you will want a TV that can display 4K resolution at 120 Hz if you can't afford to spend a ludicrous amount for a television.
Will the Xbox Series X work on a 4K TV?
Yes, the Xbox Series X will work perfectly on a 4K TV. And if you don't own a 4K TV yet, then you should be able to now considering how affordable 4K TVs have become.
Is Xbox Series X worth it without 4K TV?
Your Xbox Series X will still have advantages on a TV that doesn't support 4K, but you should consider getting a 4K TV especially since you can afford to buy an Xbox Series X at this point.
Summary of the Best 4K TV for Xbox Series X
1. Best OLED TV For Xbox Series X: LG C1
2. Best 4k QLED TV For Xbox Series X: Samsung Q90 QLED
3. Best 4K LED TV For Your Xbox Series X Games: Samsung Q80T
4. A Cheaper 4K TV For Your Xbox Series X Games: TCL 6 Series/R635
5. Best Budget 4K TV for Xbox Series X: Vizio MQ7