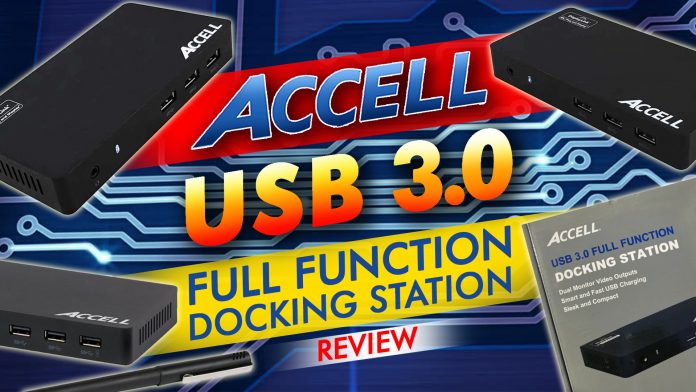 Spaghetti Wires No-More
Accell USB 3.0 Universal Docking Station
Dimensions: 6in x 3.1in x 1in | Weight: 9.7oz (275g) | USB-A to USB-B 3.0 cable length: 27.5in (0.7m)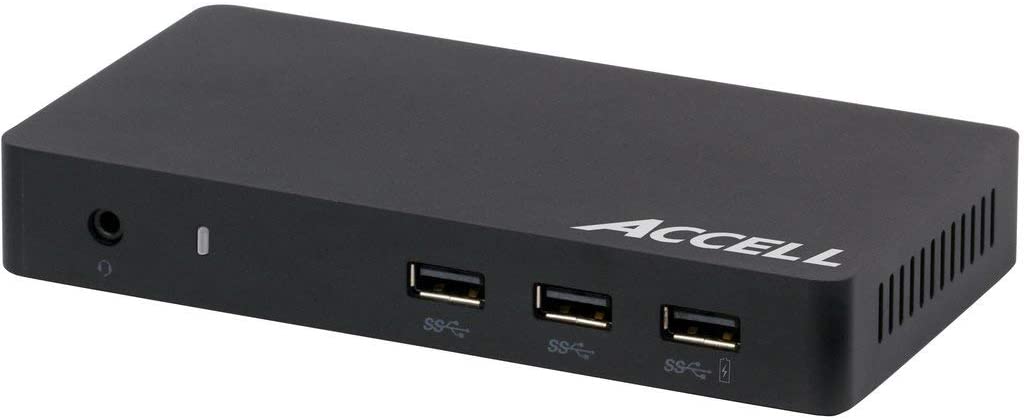 Specifications and Features
Full function docking stations have made the offices and tech-savvy people's lives easier. After all, a docking station is a heaven-sent device that connects a PC to all your additional peripherals, without the messy wires. Just plug it to a single USB port, attach your PC, tablet, and voila, you can connect it to whatever you want.
That is why having one is such a great convenience. If you are like me who connects tons of peripherals to my computer, the ACCELL USB 3.0 Full Function Docking Station may trigger your fancy. However, don't merely take my word for it, join me as I thoroughly dissect this station if it is fit for the job.
DisplayPort single display resolutions up to 4K@30Hz (3840×2160)
HDMI 1.3 single display resolutions up to WQHD@50Hz (2560×1440)
Dual display resolutions up to 2048×1152@60Hz
Supports 10Mbps/100Mbps/1Gbps Ethernet
USB-A 3.0 charging output up to 900mA
The USB-A port with BC 1.2 supports up to [email protected] of charging output
What's on The Box?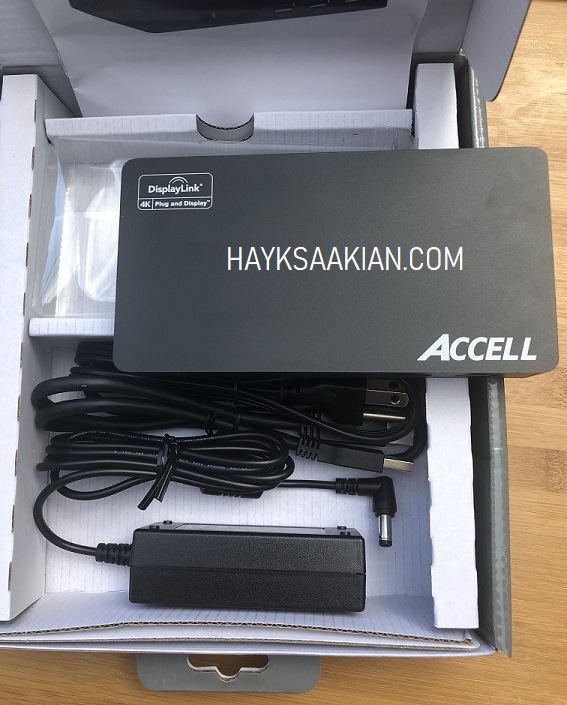 The product includes the following:
USB 3.0 Docking Station
2ft USB-A to USB-B 3.0 Cable (Male to Male)
AC Power Adapter
User's Manual
Build and Design
The market is brimming with docking stations that are offering convenience and clutter-free desks. However, Accell has been a known provider of trusted power products and A/V, so their USB 3.0 Full Function Docking Station piqued my interest. It is small and portable, but fully packed and supports DisplayLink. If you are not familiar, DisplayLink technology enables wired and wireless VR, monitors, docking stations, video adapters, and many more.
You can easily fit this docking station on your gaming desk as it is compact and can comfortably fit on my palm of your hand. Measuring at 8.3 x 2.3 x 9 inches and weighs at just 13.1 ounces, it is a barely-there PC gadget. This dock is ideal for remote workers, small business start-ups, students, and on the go professionals who hate cluttered desks and wires.
Design-wise, the Accell USB Docking Station is pure black and sleek looking. The build quality is fantastic as well, and won't break down from minor mishaps. Like if you travel a lot, you can be assured that this docking station won't easily kick the bucket when thrown around in your bag.
For the ports, you can see them on the front and back part of the. You can find: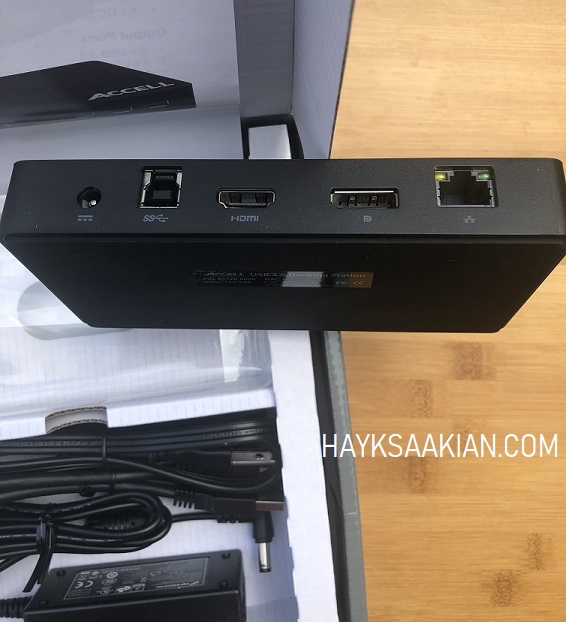 DisplayPort output
HDMI 1.3 output
3 USB-A 3.0 ports, including 1 port with BC 1.2 (USB-IF Battery Charging Standard)
Gigabit Ethernet (RJ45) port
3.5mm audio/microphone port
Powered by the DisplayLink™ DL-5900 USB video processor
Setup
If you are like me who likes their technology uncomplicated, then you'll love this docking station. The setup is effortless, the Accell docking station will start-up automatically once you hook it on your PC's USB 3.0 port. But, make sure that you install all the drivers before you connect the station for the first time.
Don't worry, though, as the box comes will all the needed drivers. They are stored on a flash drive for ease of use. Super convenient as it can be easily attached to your keys and can be accessed anytime during your travels.
The power adapter cord is long while the plug itself small, so it won't clutter your wall socket. However, this docking station can only be used for North American plugs, and there are no adapter plugs included in the package.
System Requirements:
Windows 7 or above (Latest drivers are available here)
Mac OS 10.6 through Mac OS 10.11 (Latest drivers are available here)
1 USB-A 3.0 Port
4 GB of RAM
Intel HD4000, ATI Radeon HD 5000/AMD Radeon HD 6000, NVIDIA GeForce 400M or better
Performance
This docking station is really good at its job. It performed without a glitch, and I managed to run my three-screen gaming setup. Just connect it directly to the DisplayPort, and you are good to go. The HDMI port also initialized without problems. Switching screens and dragging windows from screen to screen is super smooth with no hiccups. Even, picture the quality is still the same with all pixels intact. The refresh rates stayed the same, which are very important for gamers.
I also connected this dock to my soundbar, and the sound card functionality works like a charm. You will be able to tweak with the controls using your PC with no problems. My audio system is not that expensive, but definitely one of the best soundbars under $100, and this docking station was able to do it justice. The sound quality did not degrade at all.
Also, the USB 3.0 ports are quite handy in writing data at 60 Mbps. The Gigabit NIC also works perfectly, the ethernet cable immediately lit up after plugging it in. The docking station did not interfere whatsoever with the internet connection.
Wrap-Up
Overall, the Accell USB 3.0 Full Function Docking Station is an excellent addition to your gadget arsenal. It is sleek, portable, compact, and super easy to use.
If you are like me who does not want desk clutters and prefer to have wires connected on a single space, then this docking station is a great buy. Sure, it is not as cheap as other generic brands, with its functionality and performance quality, you are sure to get what you pay for.