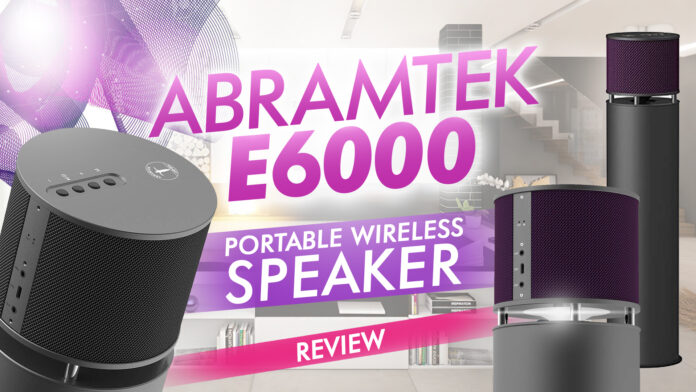 The ABRAMTEK E600 speaker was given to me by the company for review, so I'll be going in-depth about what I think of the speaker and how it will benefit you. Appearance-wise, it's a massive speaker that looks very durable in terms of design. It blends seamlessly within the household with its solid black/gray cylindrical design. You can set it up outdoors to deliver sound that can cover your entire backyard. It's probably one of the coolest speakers I've ever seen in my life.
Key Features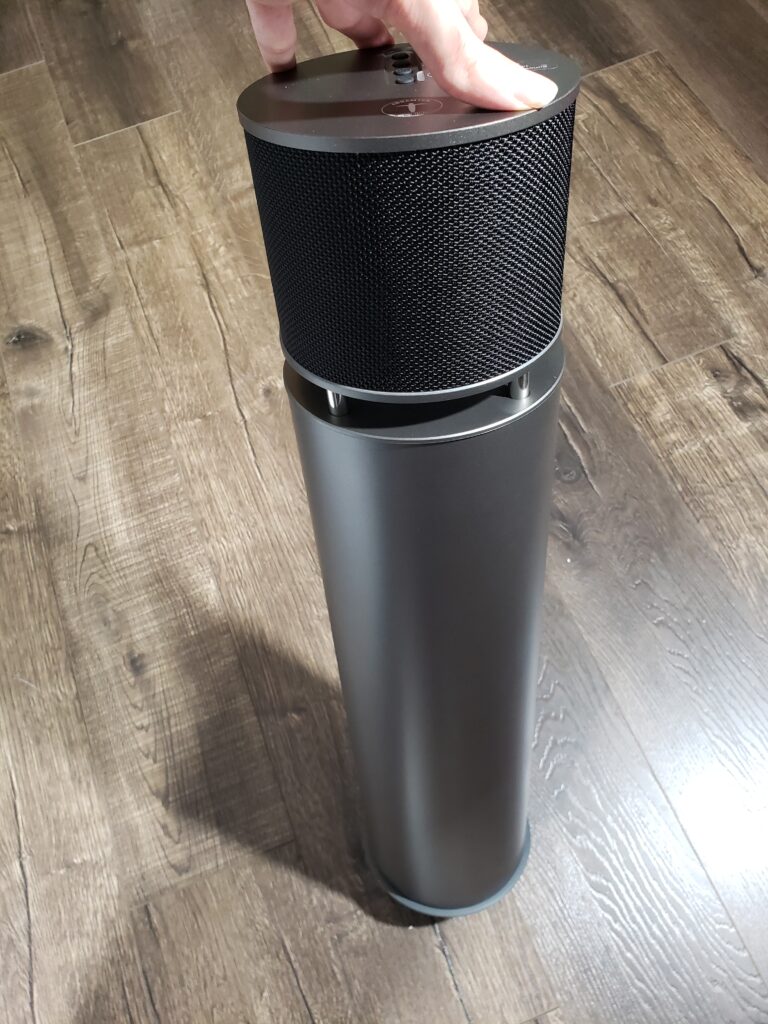 Type: Subwoofer | Maximum Output: 100 Watts | Range: 20 meters/66 feet | Charging: 5W (via USB cable) | Size: 5.3"L x 5.3"W x 23.6"H | Weight: 7.5 lbs
One outstanding feature of the E600 speaker is its DPAC (dual pressure air compression) super bass technology. It's a unique driver configuration that utilizes air pressure via the radiator in the center and delivers it in a 360-degree radius. The result is a surprisingly rich and deep bass that you can hear from a long distance (66 feet/ 20 meters). It's not only ideal for the indoor environment but is useable outdoors whenever you're hosting parties or family barbecues. It's also the perfect speaker to have a personal movie theater in your home and need a sound system to deliver rich bass tones.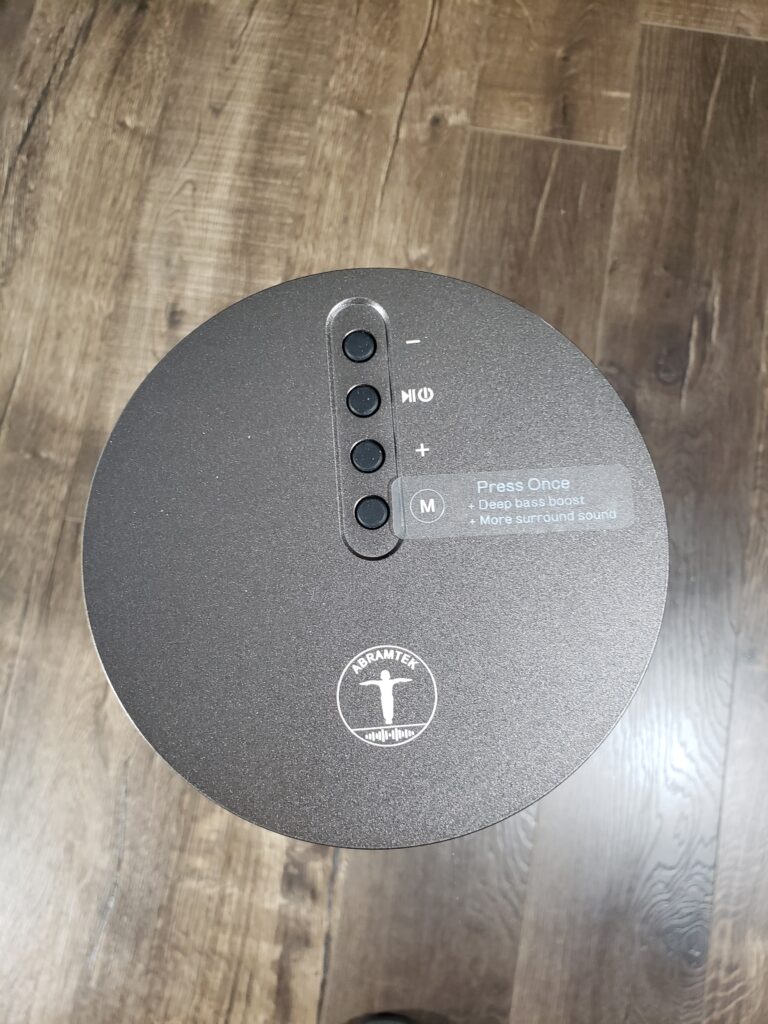 Controls for the speaker are situated at the top, containing play and volume controls to adjust personal preferences. You can adjust the volume via the plus and minus buttons and play different tracks with the play/pause button. The M button changes the equalizer modes to hear the different mode types as the tracks play through. The two sound effects are music mode (low bass that's deep) and movie mode (360 sound). The interfaces for the physical connections like the USB port and the audio jack are mounted in the top front portion of the speaker assembly so you can plug and play.
Construction and Build Quality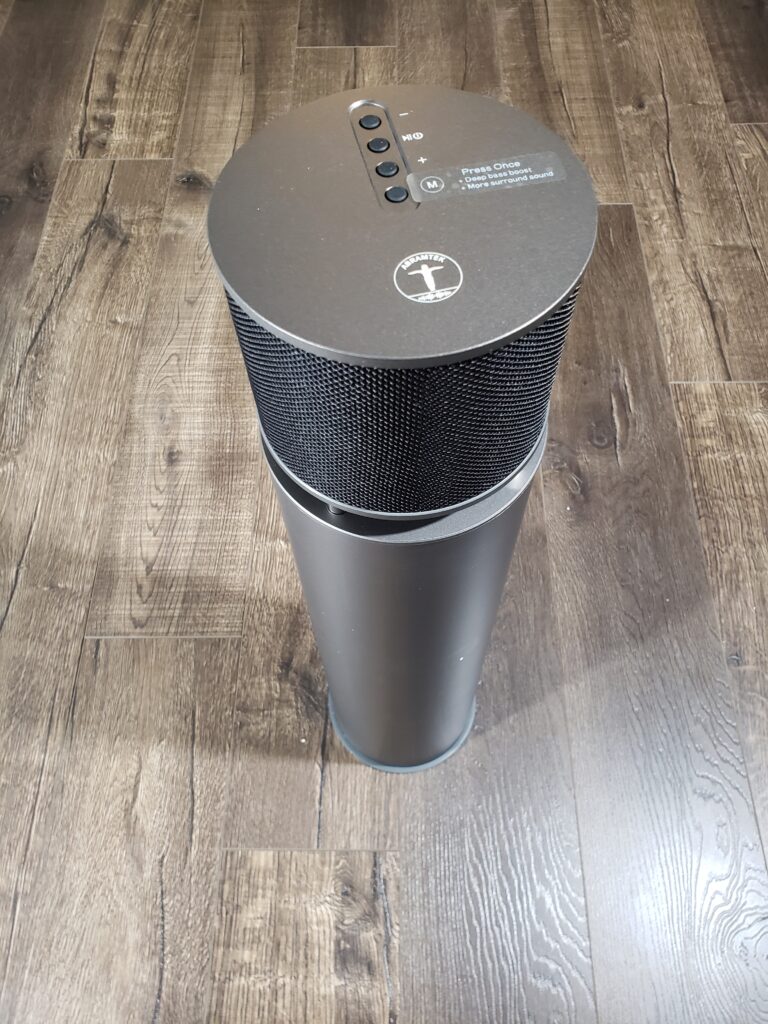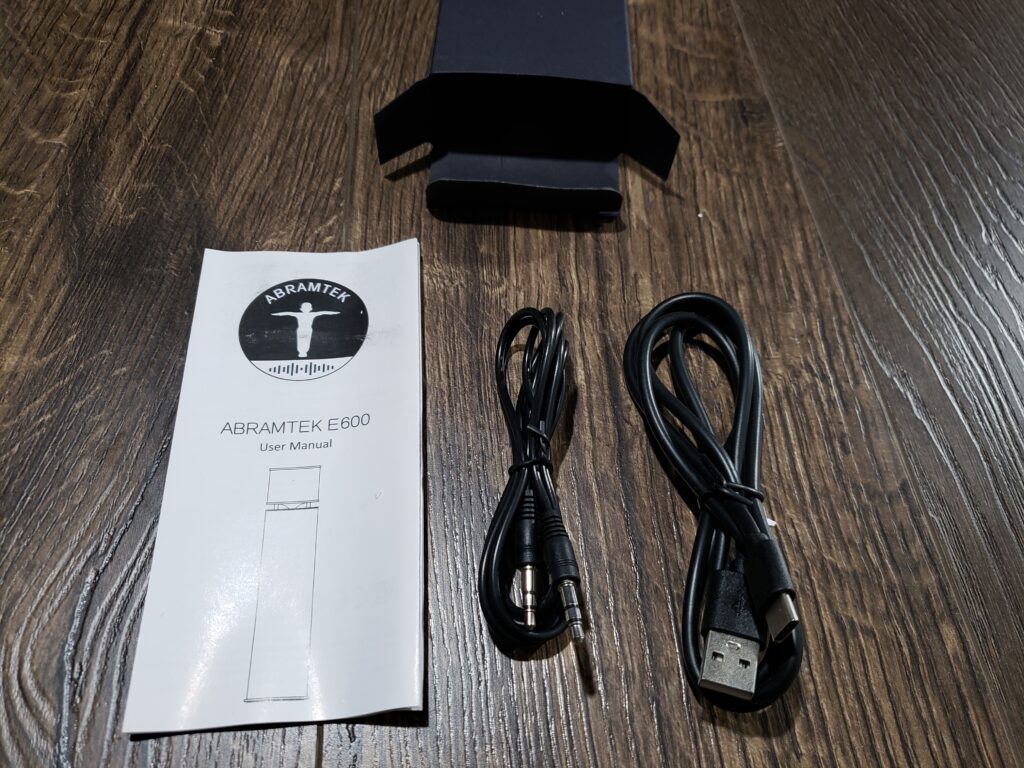 The cylinder measures 23.6 inches in height with a length and width of 5.3 inches. It's a fairly large speaker with a decent amount of weight, and you won't have to worry about it falling to the floor since the base is stable. The main speaker assembly is covered entirely in a purple or black mesh pattern on the top of the cylinder. At 40Hz, even if the volume is relatively low, the sound emissions are powerful enough to tear through paper sheets covering the top assembly.
Battery life is very solid on the E600. When fully charged, you can expect four and a half hours of playtime on a single charge. The speaker is power via a USB-C cable (included in the box) and comes with an aux cable. Soft light is emitted via the LED status on the main assembly as it undergoes the charging process. Unfortunately, that process is slow, so you'll need to purchase a 12W charger to compensate for that.
Sound Quality
The DPAC technology propels the E600 propels it above all other speakers within its class. Sound emissions from the E600 are easily loud at medium volume settings. The coverage of the sound could easily reach within twenty meters whenever you crank the volume higher. When it comes to the bass effect itself, it's nothing short of amazing. It gives the impression that you're part of a music festival stage than what it is, and that's quite a feat unto itself.
You can play electronic dance artists like the Bassjackers or Steve Aoki to take advantage of this feature. Whenever I host parties of my own, I have my playlist of EDM artists ready to play on my smartphone. The bass for several of the tracks showcases very well through this speaker.
And the best part is that this is just from one E600 speaker. When coupled with another E600, the soundstage is amplified even further and gives a great audio experience. You can link them together via the audio cable that comes with the package or the Bluetooth connection. When you hear "right channel" and "left channel," you have successfully paired both speakers.
Connectivity
The E600 is connected via Bluetooth 4.2 and can interface with two other identical speakers on the same connection. You can control the speaker remotely at the touch of a button through your phone, with no need to download additional apps. An additional option is you can wire the speaker via a 3.5mm audio cable to your music player for right/left audio synchronization.
Utility for Gaming
Sound-wise, the E600 rivals Logitech, Bose, and other premier companies in terms of speaker quality. Not only can it be used for simple gatherings as described above, but can be used as a wireless gaming speaker for Xbox Series X, the PS4, Nintendo Switch, and gaming PCs. You'll appreciate the depth of sound as bullets fire and rattle on the ground or the echo of explosions as glass shatters from destroyed buildings.
Conclusion
Performance-wise, the E600 delivers in spades. It's a powerful speaker built to last. It makes it a wonderful addition to a soundbar or surround sound system if you're looking to create a massive soundstage that delivers a powerful audio experience. Despite its bulky appearance, you can set it up anywhere in the house.
If you're still figuring out what to get your friends for Christmas, this would be an ideal gift, especially if they're the electronic dance music bass-loving types. This is also a good speaker to buy if you're looking to enhance your television or gaming setup.