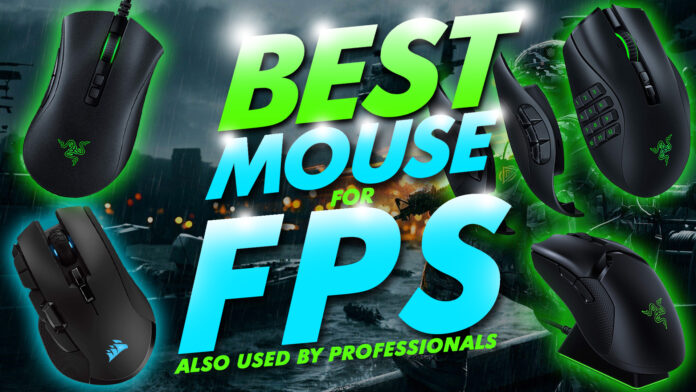 Picking the best mouse for FPS can significantly enhance your gaming performance. Similar to how an RTX 2070 graphics card can help improve your frame rates, a quality gaming mouse can help improve your K/D/A ratio.
If you are playing casual games or AAA title games, this upgrade might not be as significant– it just makes your experience more responsive and comfortable. But if you play fast-paced games like Apex Legends or Valorant, this upgrade will do you wonders.
Why Does Buying the Right Mouse Matter?
Gaming mice are equipped with features that are not as important to the average computer user.
One of the main benefits of buying the right mouse for your game preference– in this case, FPS– is that it will feel right at home and give you a competitive advantage. The right mouse should also fit perfectly in your hand for effortless gripping and gliding.
Another thing that makes picking the right mouse matter is responsiveness. Have you experienced how slowly a regular mouse moves on screen or just doesn't point to where you want it to? That is called input lag, and it negatively affects your performance.
With the right DPI or CPI settings (more of this explained briefly below), your cursor will move perfectly and in sync with your wrist movement. A gaming mouse's polling rate is also designed to be high, making it perfect for fast-paced FPS games.
Lastly, a gaming mouse should have an accurate and precise sensor, allowing you to hit your target even when they are inside a moving car.
Best Mouse for FPS Review
1.
Razer Viper Ultimate
Best Wireless FPS Mouse With High DPI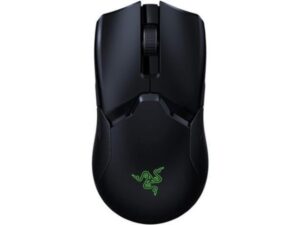 Sensor: Optical | DPI: 20000 | Buttons: 8 | Ergonomic: Ambidextrous | Interface: Wireless | Weight: 0.16 lbs (74 g)
Razer's Viper Ultimate wireless gaming mouse utilizes the latest Focus+ optical sensor that can crank to as high as 20,000 DPI.
The Viper Ultimate has incredible accuracy at tracking fast movements with a 650 IPS rating. Moreover, it has extremely low latency that you almost can't tell the difference between wired and wireless mode.
Another thing that makes the Viper Ultimate great is how it incorporates an ambidextrous design. Regardless if you are left-handed or right-handed, the mouse should feel just as comfortable. If you have small to medium-sized hands, you can comfortably use this mouse with any grip style.
The Viper Ultimate is a wireless gaming mouse, so you will need to change batteries or charge regularly. We like how the charging station doubles as a receiver range extender so you can play from a distance.
The Viper Ultimate also has RGB lighting that can be customized to your liking or complement your system's theme.
If you play FPS games like Valorant, PUBG, or Apex Legends, you know how important it is to use a competitive gaming mouse. The Viper Ultimate has a total of eight buttons– the left and right buttons, the scroll wheel button, macro buttons on each side, and a DPI-switching button on the underside of the mouse. Unfortunately, you won't be able to use the other two thumb buttons on the side of the mouse. Similarly, you will never use the DPI switch located underneath the device.
Despite housing a battery and RF (radio-frequency) components, the Viper Ultimate is surprisingly light at only 2.6 ounces or 74 grams.
Ultimately, the Viper Ultimate is a well-balanced mouse that will surely give you the edge you need to stay competitive.
2.
Razer DeathAdder V2
Best Gaming Mouse for Most Gamers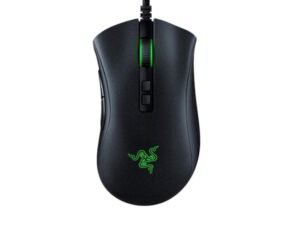 Sensor: Optical | DPI: 20000 | Buttons: 8 | Ergonomic: Right-Handed | Interface: Wired | Weight: 0.18 lbs (82 g)
The Razer DeathAdder V2 is truly one of the best gaming mice on the market and a significant improvement from its predecessor. Arguably the best improvement with the DeathAdder V2 is how it uses the Focus+ optical sensor, which tracks 20,000 DPI, as opposed to V1's 16,000 DPI.
The scroll wheel is also a significant improvement. Razer calls this design "Instinctive Scroll Wheel Tactility," and it allows you to feel every notch of each turn, so you can fully control the page when scrolling.
Unlike some of the gaming mice in the market, the wire on the DeathAdder V2 is so flexible, greatly reducing the risk of accidental tugs. There are a total of eight buttons that can be customized to your liking. And if you want, you can switch between custom profiles to achieve precise sensitivity settings and synchronized lighting effects. You can also download Razer Synapse to unlock an unlimited set of profiles.
The DeathAdder V2 feels great in the hand since it allows your thumb, pinky, and ring fingers to sit comfortably on the pimpled portions of the side panels. This layout also eliminates the possibility of slippage when performing epic maneuvers.
The DeathAdder V2 lacks the seams that separate the portions of the mouse. With this new design, dirt buildup in between these sections are less of a concern.
Overall, the DeathAdder V2 feels accurate and snappy, perfect for people looking for an all-rounder gaming mouse to improve their KDA ratio in FPS games.
3.
Corsair Ironclaw RGB
Best Gaming Mouse for FPS Players With Large Hands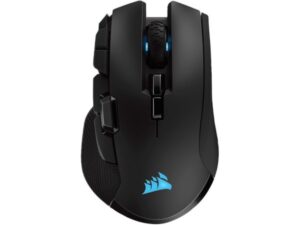 Sensor: Optical (PixArt PMW3391) | DPI: 18,000 DPI | Buttons: 7 | Ergonomic: Right-handed | Interface: Wired | Weight: 0.23 lbs (105 g)
Don't let the name of the Corsair Ironclaw RGB fool you. Even though the word "claw" is present, the mouse is actually ideal for large-handed palm-grip users.
The Ironclaw RGB has a unique combination of materials. The buttons have a matte black finish, which feels pleasant, but tends to get greasy over time. On the bright side, it doesn't grease as much as other soft-touch materials.
The sides of the mouse are made of hard plastic highlighted by a soft-touch section and bordered by the side grips to give off a reflective shine.
Unlike the matte black-finish left and right buttons, the DPI and the profile buttons have a glossy black surface. The thumb buttons also use the same material. The scroll wheel has its own rubber texture that feels very similar to the side grips.
The Ironclaw RGB is fairly wide and hefty, but it's super comfortable for large-handed users. It comes with a braided cable and a lightly reinforced and durable mouse end. When you move the mouse around, you will also notice how it has no hollow parts.
Even though the mouse features RGB lighting, it is very subtle. The Corsair logo located where your palm rests lights up, but it isn't something you'll be able to appreciate when using the mouse. The middle mouse button also has RGB lighting, but it's barely visible, especially when used in well-lit environments.
Since the mouse is designed for competitive gamers, you can rely on it to perform exceptionally well in FPS games. Unfortunately, the DPI range is not as high as the two above-mentioned products as it can only reach up to 18,000 DPI.
In real-world usage, high DPI doesn't really matter to most gamers, but the high 1,000 Hz polling rate does make the mouse exceptionally responsive. Even when used to run games on a 144 Hz monitor, there is no noticeable input lag. If you want to calibrate the mouse, you can download Corsair's iCue software.
Overall, the Ironclaw RGB feels great and comfortable in your hand. Clicking feels consistent even without the physical split buttons. If there is one issue we could point out, it's how you need to apply some pressure to push down the middle mouse button. Other than that, it's an outstanding gaming mouse.
4.
Razer Naga Pro
Best for FPS and MMO Players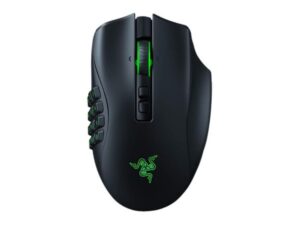 Sensor: Razer Focus+ | DPI: up to 20,000 | Buttons: 19+1 programmable buttons | Ergonomic: Right-handed | Interface: Wireless | Weight: 0.26 lbs (117 g)
Not all gamers play FPS games, which is why gaming mice like the Razer Naga Pro exist. If you also fancy MMO games, you know how valuable it is to have all the keybinds within your reach. The Naga Pro lets you swap out the side buttons with your preferred panel type to suit your play style and game genre. It is equipped with the Razer Focus+ optical sensor that can be adjusted up to 20,000 DPI for superior and consistent accuracy.
The Naga Pro lets you swap between three plates with two, six, and 12 buttons– all of which can be remapped and customized to suit your needs and preferences. You won't need any tools to swap plates as they can be pried off with your fingernail. Thanks to the magnet underneath, switching plates can be done in a few seconds.
Even though the Naga Pro is made of plastic, it feels great in hand. It has a grainy texture and has intricate rubber hexes, giving it a premium feel.
In terms of performance, the Naga Pro can be used for working and gaming. The superb hardware integrated into the mouse allows you to fully realize your gaming potential regardless of genre.
The Naga Pro also lets you adjust lift-off distance and polling rate, conserve battery power, and customize the lighting effects through Razer Chroma. It can be hard to keep up with all the changes, especially when you need to change panels. Fortunately, you can save the profile presets to the mouse's onboard memory.
Even though the Naga Pro wireless, the cursor responds to your movements with little to no input lag. Compared to the average wireless mouse, the Bluetooth signal is 4-6 ms faster.
If the mouse runs out of battery, you can just plug the bundled USB-A cable and continue. Unfortunately, the Razer Mouse Dock is sold separately.
5.
Glorious Model O
Super Light Mouse for FPS Gamers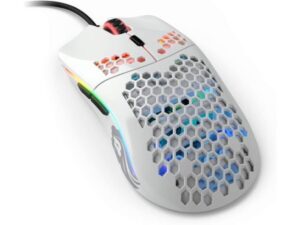 Sensor: PMW-3360 Sensor | DPI: Up to 12,000 | Buttons: 6 | Ergonomic: Ambidextrous | Interface: Wired | Weight: 0.14 lbs (67 g)
One of the Glorious Model O's selling points is its highly customizable RGB lighting located on each side, the scroll wheel, and inside the mouse. It incorporates a honeycomb pattern that highlights the illumination inside the device to give you a stellar RGB light show.
The overall design of the Model O is rather subtle, but it offers a variety of color options that range from glossy white, glossy black, matte white, and matte black. The mouse features an ambidextrous design, so it should feel comfortable regardless if you're left-handed or right-handed.
Even though the mouse has plenty of honeycomb holes, you can barely feel them when playing games. These holes provide ventilation to keep your palms from sweating. Another benefit to having these holes is how easy you can clean the mouse. With a few blows of an air canister, your mouse should look good as new.
If you think the Model O is too big, you can get the smaller Model O- instead. The Model O- also weighs lighter at only 58 grams compared to 67 grams, making it the more portable option.
Both the Model O and the Model O- have six buttons. Unfortunately, they aren't customizable. The DPI can be adjusted from 400 / 800 / 3200 up to a maximum of 12,000 DPI.
The Model O sports a Pixart 3360, an eSports industry-standard sensor that offers a 1000 Hz poll rate. Paired with G-Skates feet and you have a mouse that isn't just equipped with competitive hardware but also feet that glide like blades on ice.
6.
Steelseries Sensei 310
Best Ambidextrous Gaming Mouse for FPS
Sensor: Optical | DPI: Up to 12,000 | Buttons: 8 | Ergonomic: Ambidextrous | Interface: Wired | Weight: 0.2 lbs (92.1  g)
The SteelSeries Sensei 310 is a sleek mouse that features an advanced sensor. Even though this mouse is relatively affordable, it is categorized as professional-grade.
The design of the Sensei 310 may not be as fancy as other premium gaming mice, but the sandy matte coating gives it a classy appeal.
The sides have silicone padding to reinforce your grip and give you the confidence you need to hold the mouse firmly.
The Sense 310 has a lightweight and ambidextrous design that makes it suitable for both left-handed and right-handed players. Whether you prefer the claw grip or the palm grip, this mouse should feel right at home.
The most attractive feature of the Sense 310 is undoubtedly the updated TrueMove3 optical sensor. SteelSeries engineered this sensor in partnership with Pixel to ensure that your accuracy and tracking is on point.
Overall, the Sensei 310 features an outstanding design, stellar sensor performance, and legs that help the mouse glide smoothly.
7.
Logitech G203 Lightsync
Best Budget Gaming Mouse for FPS Gaming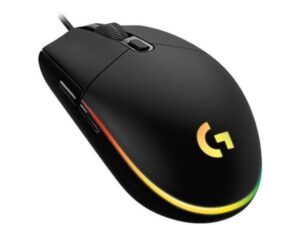 Sensor: Gaming-grade sensor | DPI: 8,000 | Buttons: 6 | Ergonomic: Right-handed users| Interface: Wired | Weight: 0.18 lbs (85 g)
If your budget is limited, you'll never find anything better than the Logitech G203 Lightsync. It offers all the features you need to improve your KDA in fast-paced FPS games.
Ths G203 Lightsync is the ultimate no-frills gaming mouse. It is light, fast, and versatile enough for any game genre. The sensor isn't indicated on the spec sheet, but it does perform just as accurately as other mid-range sensors.
The design of the G203 Lightsync is very identical to most Logitech mice. There are a total of six buttons: two clicks, two macro keys, a DPI-preset selection button, and a scroll wheel.
If you're just starting out, this mouse is an excellent option. The mouse is light at only 0.18 lbs– the average weight for competitive mice.
If you're looking for just the basics, the G203 Lightsync should give you everything you need.
Things To Consider When Buying a Mouse for FPS
To enjoy your favorite game, you will need a mouse that fits your play style and gives you a competitive advantage
Over the years, there have been plenty of developments made, and improvements range greatly from being able to adjust both DPI and CPI, lighter frames, and customizable buttons.
When buying a gaming mouse for FPS, here are the most crucial factors you should consider before making a decision:
Know What Matters
The type of games you play determines the factors that should matter to you. In the case of FPS games, accuracy and quick tracking are two aspects you must consider.
The ideal gaming mouse should fit your hand perfectly. It should also have enough buttons to minimize distractions and possible misclicks.
Wired or Wireless
Gone are the days when a wired mouse was expected to always perform better than a wireless mouse. The hardware being incorporated into the latest wireless gaming mice allow them to perform on par, if not better than their wired counterparts.
As such, it boils down to whether or not you value portability. But of course, wireless mice tend to be more expensive since they offer performance and versatility.
Another thing that makes a wireless mouse better than a wired mouse is how clean it will look on your desk without the cables. However, you should take note that you will need to charge or change batteries regularly. If that seems to be too much of a hassle, you can also choose to invest in gaming mice with charging mousepads.
DPI or CPI
When shopping for a gaming mouse, it is easy to get lost in various marketing strategies. In most cases, they will help you identify if a mouse suits your play style, but it can get overwhelming, especially with the abundance of options on the market.
DPI and CPI are among the most common features presented to attract customers, and it is important to distinguish the two.
DPI or Dots Per Inch is a measure of spatial printing or video dot density. It represents the number of dots that can be placed in a line in one inch. On the other hand, CPI or Counts Per Inch is used to count the steps the mouse will reflect on the screen when it moves one inch in the real world.
A gaming mouse that allows you to tweak the CPI is valuable, especially since sensitivity is a massive factor in FPS games.
Weight
Another factor that should be considered is the weight of the gaming mouse.
A mouse's sensitivity determines how often, far, or strong you can flick your mouse to aim accurately. If the mouse is too light, it is likely to overshoot your flicks. If the mouse is too heavy, your aim could fall a few pixels short.
Consider the Grip Style
Another thing you should take into account is the mouse's grip style. Over the years, it has been found that people hold their mouse in a specific manner. Hence, mice these days are designed the way they are today.
There are three popular grip styles today, and they are as follows:
Palm Grip
This grip style is the most popular among gamers. Your entire hand rests on the mouse with your thumb and pinky finger lounging comfortably on both sides of the device. You rely on your arm to move the mouse, making this style perfect for gliding motions when playing FPS games.
One significant downside of the palm grip is how your arm and shoulder can build up strain over time. Moreover, it affects your aim since the effort needed to glide the mouse requires you to move your entire arm.
Claw Grip
The claw grip is when you rest your palm on your mouse while your index and middle fingers pose an arch on the mouse's left and right buttons, allowing you to react quickly during intense situations. The ring and pinky fingers support one side of the mouse while the thumb supports the other side.
Because the index and middle fingers are posed in an arched position, the claw grip can cause strain in return for better precision and stability.
Fingertip Grip
Among the three styles, the fingertip grip allows the user to react and perform clicks most swiftly since there is minimum contact between your hand and the mouse. Unfortunately, this grip is also the hardest to master.
Does Customization and Lighting Matter?
One of the features that define a gaming mouse is how far you can customize them to fit your personality and game style. Most gaming mice have RGB lighting that can be customized to match the rest of your setup's theme.
Conclusion
To give you a summary of everything we've covered, here is our list of the best mice for FPS:
Which do you think is the perfect gaming mouse for you? Tell us in the comment section below!