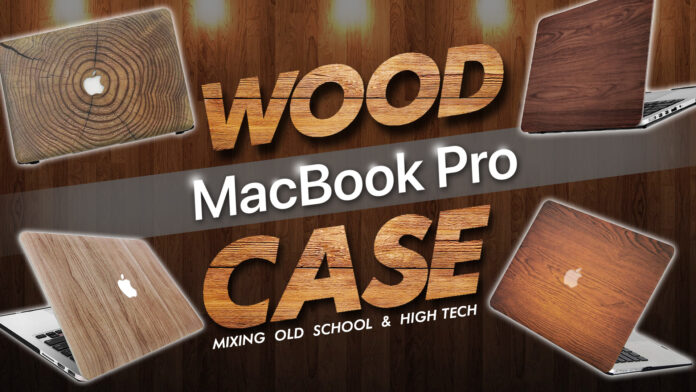 The not-so-new year will still continue to cause a lot of trends to fluctuate. What is popular last year might not be popular this year. Yet one thing has continued to be trendy these days that has gained popularity for quite some time now: wooden Apple cases.
For some reason, we can't find the dude who first posted a wooden MacBook Pro case. But whoever he or she is, I hope they are happy creating such a trend. More and more people are opting for this kind of case because of several things:
The illusion of having the durability that wood can provide. Although these are textured, it gives off the feel that it is actually real wood. Wood is generally sturdier and more resilient than plastic when it comes to protection

Wood is also more "breathable" than plastic, adding an extra layer of protection for your expensive MacBook Pro. Most cases in this list actually give off the same protection that wood should

It provides this classic, yet sophisticated look that gives your MacBook Pro an elegant feel. Eat your hearts out, hipsters!
So maybe there are some things with wooden MacBook Pro cases that are worth its popularity. Hence we concocted this list to provide you with information regarding the top wooden cases that money can buy.
Do note that these cases cater to specific MacBook Pro models. There aren't many "one size fits all" cases out there. Be wary of buying products without knowing their specifications first. Also, these aren't arranged from "best to worst" or vice versa. It's more of a general list of top wooden MacBook Pro cases that people are already enjoying.
Ready? Let's begin!
iCasso Wood MacBook Pro 13 Retina Cover
Hard Shell Protective Wood Case Cover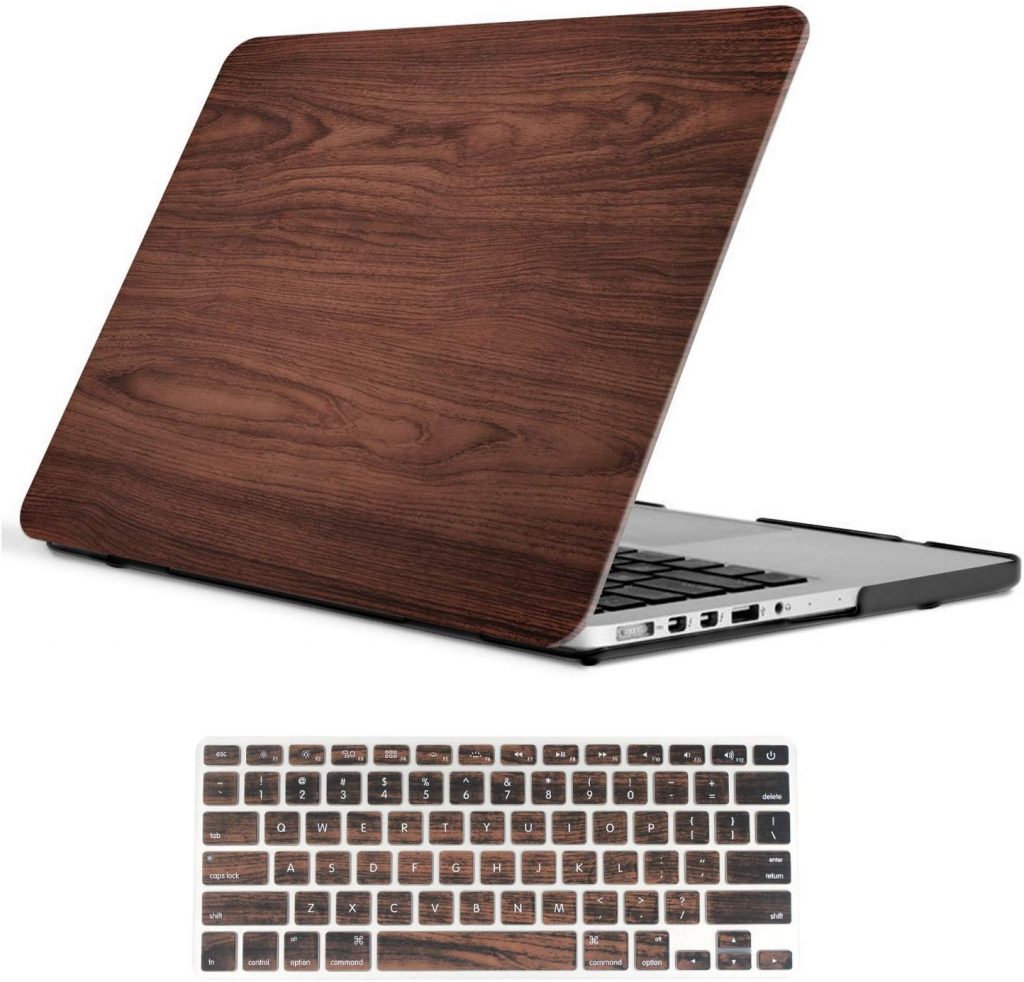 Caters to: MacBook Pro 13 Retina, A1425 and A1502 models
If you haven't seen the iCasso Wood MacBook Pro 13 Retina Case, then you should probably take a look at it. Built for the MacBook Pro A1425 and A1502 models, the iCasso wood case defines what a standard wooden MacBook Pro case should be.
This product is a snap-on case that easily fits a MacBook Pro 13 Retina. It offers robust protection for the cover and the base, as the hard shell prevents your MacBook from unwanted scratches and cracks. The case also lets you access all your ports buttons without ever finding the need to remove it just to plug in your peripherals. The iCasso Wood MacBook Pro 13 Retina Case have fully vented holes that allow excellent heat dissipation. These holes are not "cut out" and are entirely crafted and integrated into its design.
To prep up things more, the iCasso Wood MacBook Pro 13 Retina Case also comes with a keyboard cover. This lets you protect your keys, as well as give it a stylish look that carries on even if you are using your MacBook Pro.
Do keep in mind that even if this helps you protect your MacBook Pro from scratches, it does fully protect it from falls and other shock-related damage.
KECC Laptop Case for MacBook Pro 16″ (Pinewood 2)
Perfect Fit and Level of Grippy-ness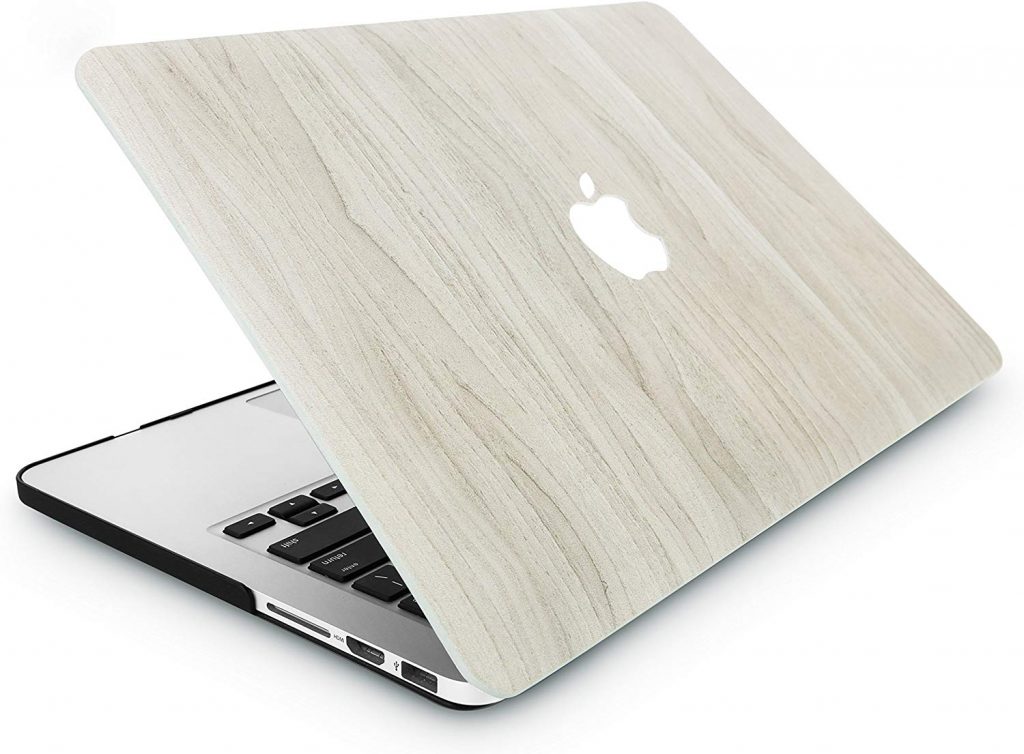 Caters to: MacBook Pro 16″, A2141 model
If you are looking for a wooden MacBook Pro case, but you don't want to let go of the standard MacBook colors, then maybe this is the one for you: the KECC Laptop Case for MacBook Pro – Pinewood 2 edition.
Because of the pinewood motif, this case lets you retain that silver/ash white color that Apple products are known for. But don't let the sleek design full you. The hard shell of the KECC laptop case contains a rubber oil paint layer that offers a solid amount of protection. This case protects your MacBook Pro from slipping, getting scratches, dirt and fingerprint smudges, and more. It also protects your device from minor drops. Still, the grains on the texture feels pleasant to touch. The wood case also feels very lightweight and does not add unnecessary trouble when transporting your MacBook Pro.
Some reviewers have claimed that the KECC Laptop Case for MacBook Pro also works with the latest generation of MacBook Pro 13″. If you own that device and want this, please check the appropriate info first before committing to buy this.
B BELK MacBook Air 13″ Wood Texture Pattern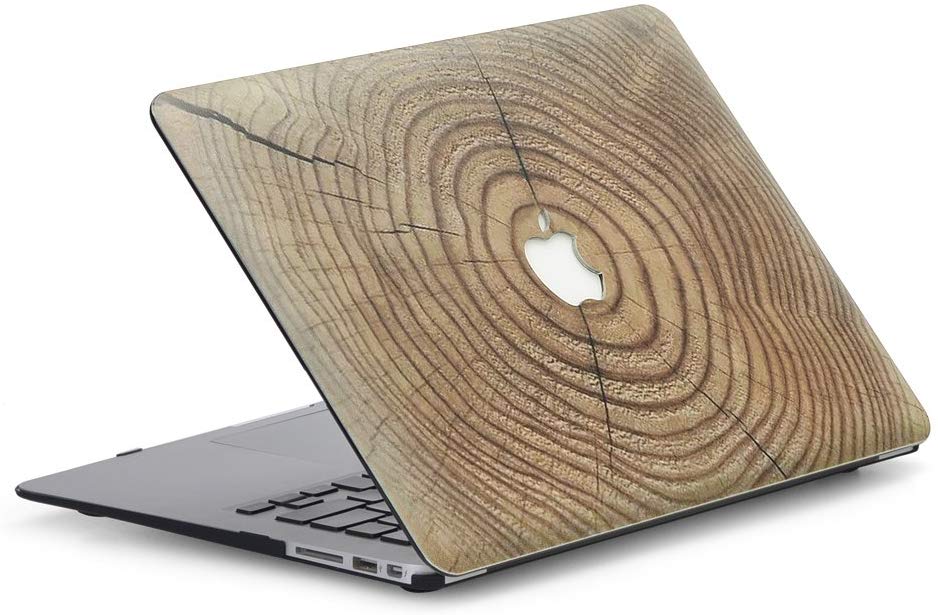 Caters to: MacBook Pro 13.3, models A1369 and A1466
Compared to the solid wood design on most of the cases here on this list, the BELK Wood MacBook Pro 13″ Case stands out above the rest.
This case has a "cracked" wood design and texture. It gives off the "natural wood" look that is a bit weathered, which looks authentic. That beauty alone separates this case from the rest on the list, and that's saying a lot.
A MacBook Pro is naturally slippery if you think of how it's designed to be sleek. With the BELK case, it removes this liability. A thin polyurethane layer of leather protects the hard shell, preventing dirt build-up, scratches, and slips ups while handling your MacBook Pro. This wood case also comes with a "breathing" function, allowing excellent heat dissipation. This prevents your laptop from overheating, despite having an encased feel.
If you do not like a cracked wood design, the BELK Wood MacBook Pro 13″ comes in 2 other wood designs to choose from. All include the apple logo "carving" in the middle of the case.
LuvCase Hard Shell Cover for MacBook Pro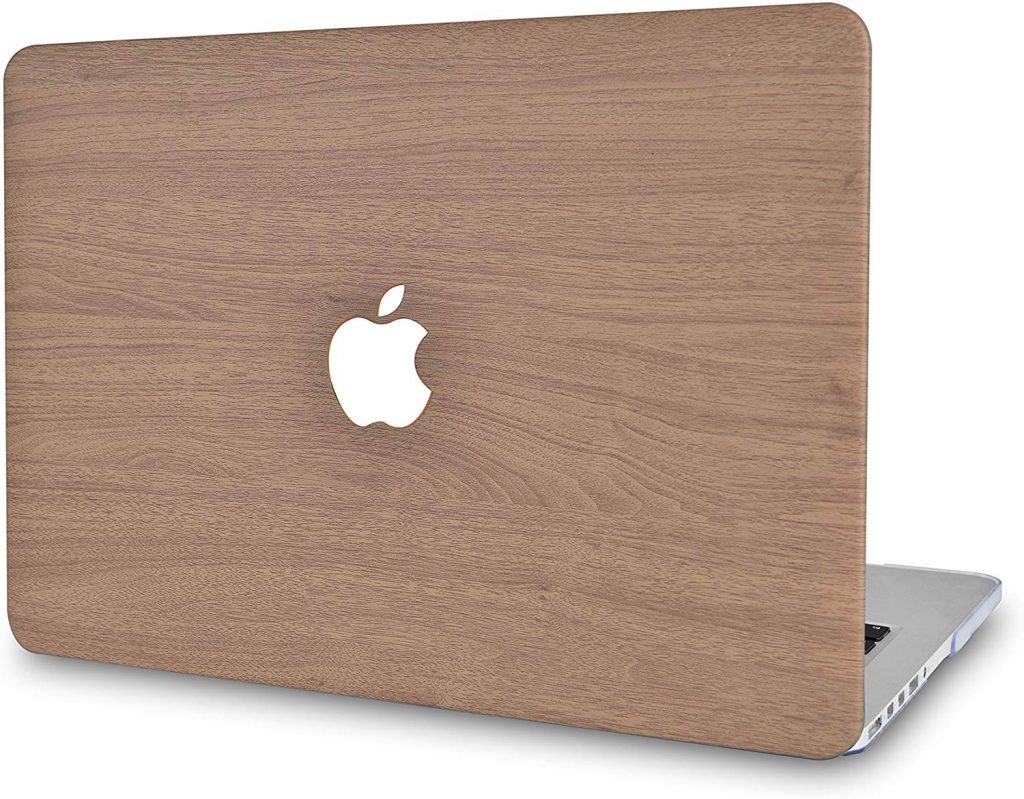 Caters to: MacBook Pro 13″, models A2159, A1989, A1708 or A1706
Another wood MacBook Pro with a cut-out design, the LuvCase Hard Shell, is another inexpensive gear that you might want to pick up and add to your arsenal.
The LuvCase Hard Shell Cover offers excellent protection against several damaging things. Like the KECC Laptop Case for MacBook Pro 16″, it also has a thin rubber oil paint layer. This protects from scratches, dirt, slipping, smudges, fingerprints, and even liquid contact. Yes, water will just slide off easily without even wiping water off. But of course, please wipe off liquids properly to avoid accidentally damaging your MacBook pro.
The LuvCase Hard Shell Cover also has 4 rubberized feet on the bottom case. It prevents your MacBook Pro from slipping on surfaces, keeping it in place. To be fair with the other wooden MacBook cases on the list, they also have these rubberized feet on their bottom case as well.
Now for the Real Wooden MacBook Pro Cases
What we have talked about above were wood-themed MacBook Pro cases. Those are wood textured that invokes a feeling of "What if I have a wooden MacBook Pro case? Would it work?"
Here's the answer: Yes, they do.
Protection wise, these cases offer proper protection against shock-related incidents. Minor drops won't have substantial effects on your MacBook Pro. They have a smooth finish, which also protects them from dirt, fingerprints, and other smudges and blemishes. They consist of a top case which fits on the laptop top area. The bottom case fits underneath, and have slits and circles that allow maximum ventilation and heat dispersion. They also don't obstruct ports, keys, buttons, and lights from your MacBook, so you can use them to your heart's desire.
Below, we have two actual real wooden cases that we are going to introduce to you. These are more expensive than the ones above, so be prepared to dish out higher amounts of cash. Then again, if you are using a MacBook Pro, you might actually be able to buy one of these.
Alvin Industries Real Wood Apple MacBook Cases
Alvin Industries have actually been around since 2013. They have been making MacBook, iPhone, and Keyboard cases and skins made from different types of real wood. They are based in Austin, Texas. They process everything, from cutting down the wood used for the cases to sanding, oiling, and layering the case with a smooth finish. They also handle the packaging.
For those who are worried about massive lumbering, Alvin Industries does not partake in this. They source all their wood sheets from certified lumber mills in the USA. They are FSC certified, meaning the materials are taken down from wood, which is cut ethically from particular forests.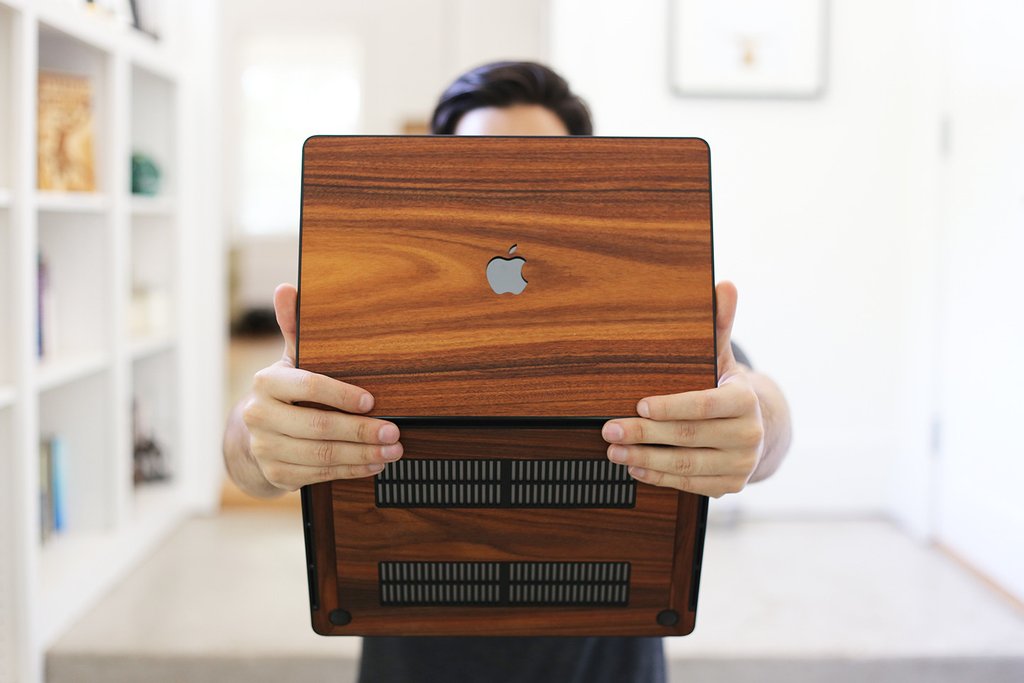 Each of the cases they do is carefully taken and done to perfection. Because of this, no two examples are the same. No two grains of wood does have the same pattern, after all. This means that if you purchase one of their products, you will have something that is personally yours, and no one will have the same thing, ever. At least, design-wise.
Speaking of getting personal, you can actually personalize your case. For a touch of flair, you can opt to add an additional fee to get customized engravings on your cases. Add this info once you contact them to order.
Currently, Alvin Industries are making real wooden MacBook Pro cases for the following models:
MacBook Pro 13″ with TouchBar A1706

MacBook Pro 13″ A1708

MacBook Pro 13″ with TouchBar A1989

MacBook Pro 13″ with TouchBar A2159

MacBook Pro 13″ A1988
Prices range from $79 to $99, depending on the wood you would like to use as a case. The different wood types they use are Rosewood, Walnut, Black Ash, Teak, Cherry, and a limited edition Ebony case.
Other products that they have for MacBook Pros are laptop skins, which come in versions of the wood used for the case. They also have MacBook pro keyboard skins, which are available in Cherry, Mahogany, Rosewood, Teak, Walnut, and Zebrawood.
If you want a surreal feeling of owning a real wooden case, they definitely check out Alvin Industries Real Wood Hard Shell MacBook Cases.
Touch of Wood Real Wood MacBook Pro Covers
Another company that caters to producing real wood MacBook Pro covers is Touch of Wood. They may be younger than Alvin Industries, but their products have the same wooden feel as their competitor.
Touch of Wood began its roots when a guy named Brendan Heppell was in his university library. According to their origin story, he has a dream of bringing back wooden designs into our everyday lives. He was puzzled at how a lot of people have laptops with the same silver finish and would have like to add more flair to them. He had a background with woodworking, so this dream is not far from being possible. Then in 2015, they launched on the worldwide market, offering accessories for Apple products made of wood.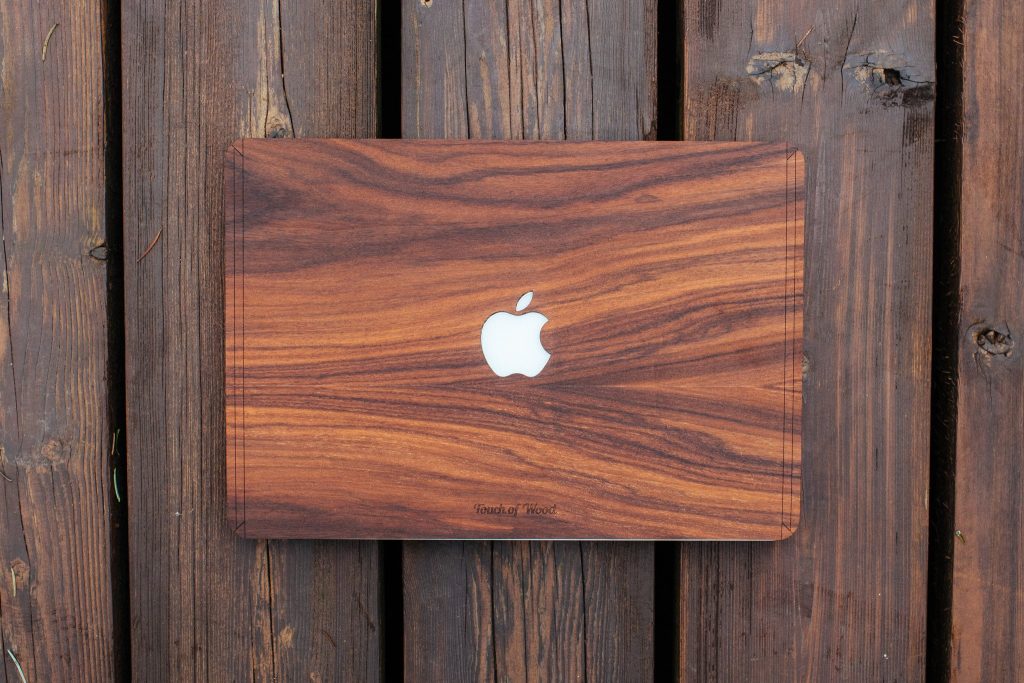 Unlike Alvin Industries, Touch of Wood partnered with a manufacturing company to create their products. But like the previous company, they also source the wood using ethical and environmental-friendly means. Also, they declared that the design is "slightly different" in each case. This might mean that they are using a single large piece of wood for manufacturing several pieces of the cases.
Either way, the finish for their wood cases are very sleek and clean. They cater to two MacBook Pro products: the MacBook Pro 13″ Retina, and the MacBook Pro 15″ Retina. For the wood types that they use, they include Rosewood, Real Maple, Real Teak Wood, Real Walnut Wood, Real Zebrawood, and Real Cherry Wood. If you are interested in MacBook Pro wooden keyboard skins, they also have Cherry Wood, Maple Wood, Walnut Wood, and Zebra Wood. These also cater to both the MacBook Pro 13 and 15-inch Retina models.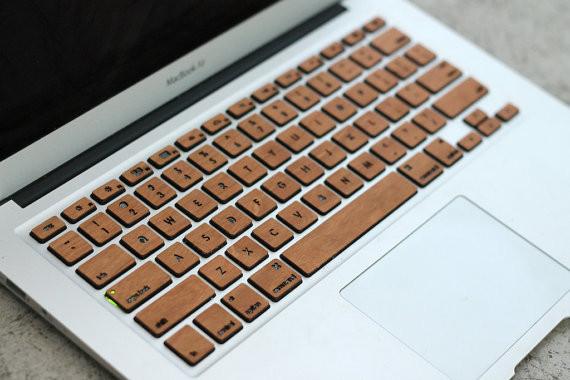 Touch of Wood is aiming to bring wooden products and accessories to our homes again, in the forms of laptop accessories. If you support these kinds of goals, then you can visit them on their website.
Conclusion
Wooden cases had been famous last year, and they still are making their stand. As an end, let's make a quick comparison of both the wood-textured plastic cases and the ones that are made from real wood:
Plastic cases are inexpensive and are very good for those who are looking for extra protection. While they are durable, they usually do not offer heavy protection. They are easy to attach and easy to take off as well, so you can get multiple cases and swap them off if you like.

Actual real wood cases are much more expensive, but offer better degrees of perfection. Since these are made from wood, the design is authentic, and it is possible that you might be the only one that has that exact design.
Recap: Top 4 Recommendations for the Best Wood Macbook Pro Case
As a last reminder, please check if the case actually fits your laptop model. You might be eyeing something, but you can't use it because it does not fit your device.
If you like the article or would like to suggest other wood Apple cases that you find interesting, please leave a comment down below!