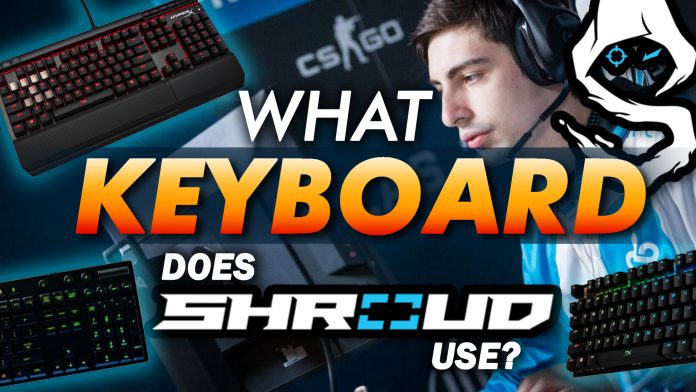 Who is Shroud?
Michael "Shroud" Grzesiek is a professional streamer and competitive first-person shooter gamer.
He started his streaming career playing Counter-Strike: Global Offensive. Due to his accurate aims and epic clutches, he gained a significant boost of followers. At the time of this writing, Shroud has over 7 million followers on Twitch.
No lie though, I bet most highly skilled controller players could be really really good on mouse n keyboard. Get to practicing ppl it's VALORANT TIME!!!

— Michael Grzesiek (@shroud) March 31, 2020

But on October 24, 2019, Shroud officially announced his move from Twitch to Mixer. He would be broadcasting exclusively on Microsoft's streaming platform.
He was a part of ESEA and CompLexity Gaming before Cloud9 acquired him. In 2016, they placed first at ESL Pro League Season 4 and then placed second at ESL One Cologne 2017.
After spending thousands of hours playing professionally, Shroud decided to quite CS:GO entirely on April 18, 2018, and focused on his streaming career playing PlayerUnknown's Battleground.
What Other Games Does Shroud Play?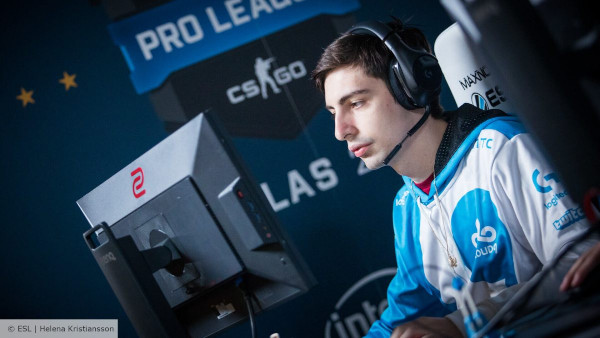 Since he left Cloud9, he spent thousands of hours on PUBG. He also played other first-person-shooter games such as Call of Duty Black Ops 4: Blackout, Rainbow Six Siege, Apex Legends, Battalion 1944, and more recently Escape from Tarkov, Fortnite Battle Royale, and Valorant.
What Keyboard Does Shroud Use?
Shroud uses the Logitech G PRO X Keyboard – Shroud Edition. Over the years, he has used three different gaming keyboards. So, let's look at what keyboard shroud has used in the past and look at what kind of keyboard he's using now.
Shroud Keyboard Update
New keyboard: Logitech G PRO X Keyboard – Shroud Edition
Dimensions: 34 mm x 361 mm x 153 mm | Keys: GX BLUE CLICKY, GX BROWN TACTILE, GX RED LINEAR | Wired or Wireless: 1.8 m detachable cable | Programmable F-keys: 12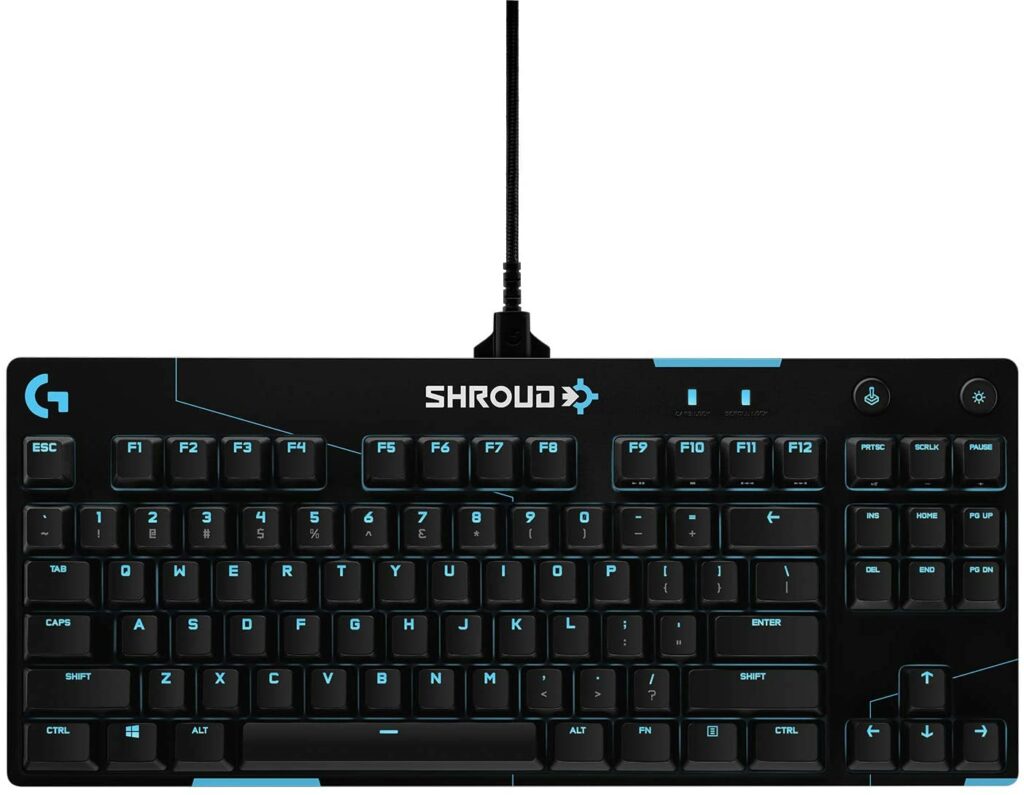 Over the years, we can see how Shroud favors Logitech gaming peripherals over others as seen in this list of keyboards Shroud has used throughout his professional streaming career.
That is why we weren't surprised to finally see the Shroud Edition gaming peripherals from Logitech. In this section, we'll cover the new Logitech G Pro X Keyboard SE (Shroud Edition) and talk a little about how it differs from the previous keyboard he's been using.
The Pro X Keyboard (Shroud Edition) has a new design that focuses on what you really need– a solid mechanical keyboard with a tenkeyless design fitted with pro-grade GX Red linear switches that are also compatible with LIGHTSYNC RGB.
The keys can also be swapped to attain your preferred key profile.
Specifically, the Pro X Keyboard SE is designed to give you the quality of competitiveness. It is also pro-tested, tournament-assured, and built to give you nothing but a quality gaming experience.
Overall, the tenkeyless design gives you more room for your mouse movement. When the game gets intense, you want to be able to move your mouse around freely.
Another feature you will definitely love about the Logitech G Pro X Keyboard SE is the durable chassis that keeps everything protected and secured from accidental falls or slips.
Each key can still be customized to your preferred lighting pattern and animation, which can be accessed via the Logitech G HUB software. Moreover, you can save a static lighting design to the onboard memory so you can use them on tournament systems, giving you everything you need to be able to press the keys as accurately as you can.
The cables are still as durable as the Pro X and they are detachable for safe and easy transport. To ensure the safety of the cables, the cable on the Shroud Edition still features the three-pronged design.
Overall, the keyboard features just about the same features you would find in the G Pro X– but more.
Logitech G810 Orion Spectrum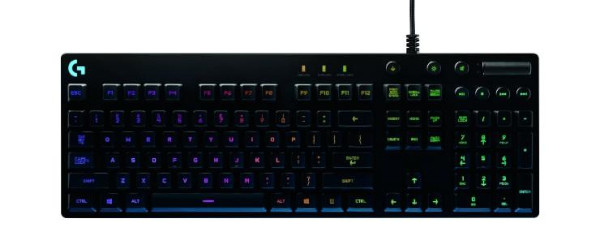 Logitech is one of the most reputable companies producing many quality-grade gaming peripherals, including keyboards.
Looking at the build quality, you can rely on it to last. The G810 Orion Spectrum doesn't use Cherry MX switches. Instead, Logitech decided to use its proprietary Romer-G switch manufactured by Omron. Though it has the tactile feel of a Cherry MX switch, it's surprisingly quiet. Moreover, it has a fast actuation compared to the average Cherry MX switch because it has a shorter actuation distance.
Although the G810 Orion Spectrum is ideal for minimalists. It has a full-length design and over 300 preload game lighting profiles to ensure you'd find one that would work according to your gaming preference.
While it's true that Shroud had used this for most of his CS:GO career, this is actually better suited and designed for occasional players. Regardless, it performs greatly across the board. And even though it lacks a wrist-rest, the macro/key customization makes up for it.
Temporary but still, I'm down. pic.twitter.com/xkKmR8bpRo

— Michael Grzesiek (@shroud) January 16, 2019
HyperX Alloy Elite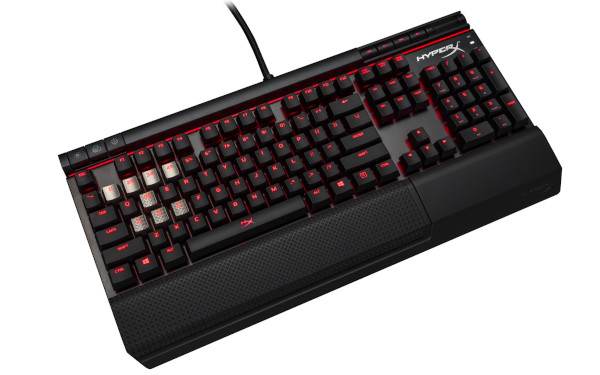 No wonder shroud decided to upgrade to this from the Logitech G810.
The HyperX Alloy Elite has an excellent build. Honestly, it feels like a tank– and I'm not even joking. Even though it has a frameless design, there's a new row of dedicated media buttons above the group of keys.
The added buttons, especially the volume rocker, are a plus. Having these buttons at the top make it easy to play some tunes, and possibly skip tracks in between fights.
Unlike the Logitech G810, it has Cherry MX keys that make every keypress satisfying. If I were honest, you'd probably notice and admire how durable this is over how great each keypress feels.
It's just unfortunate that some people are having problems with the wrist-rest and say it's not comfortable enough. Moreover, it does not have any RGB lighting features. However, the lack of lighting features isn't a loss since the lack thereof can be present in other aspects (such as durability and material).
Overall, it's a gaming keyboard that's perfect for both casual and competitive gaming. Plus, listening to music can be done on the fly with the media keys.
HyperX Alloy FPS RGB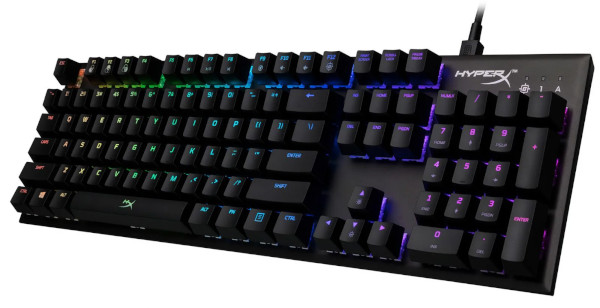 Both typists and gamers would find this mechanical keyboard excellent. What makes this flexible is that it comes with three different types of Cherry MX switches to choose from: Cherry MX Red, Cherry MX Blue, and Cherry MX Brown.
That means if you want a full, tactile experience when playing games or wish to still feel the tactile experience without being too loud, you can do so with ease. Just remember that some switch types are not available in selected countries. So, make sure to check that before making a decision.
Since it's compatible with the HyperX NGenuity software, you can customize the lighting feature using different profiles. Similar to the non-RGB version, this has media controls that you can use on the fly.
What's more surprising about this, which I think is also the reason why Shroud decided to use this, is even though this is a full-size gaming keyboard, it has a rather small design compared to the average full-size keyboards. To give you an idea, it's more comparable to the size of a TKL keyboard.
It's a robust keyboard with an excellent steel frame that you can undoubtedly trust to last. Do note that the wrist-rest is one of the main concerns about the keyboard. A handful of people mentioned this doesn't fit well with their large hands.
To make that worse, it's an optional purchase. But overall, it's great if you're going to use this for gaming and casual typing. Buying one will surely last because of its durable material and reliable Cherry MX keys.
Buying Guide
Shroud has been active at staying competitive over the years, and the right keyboard has played a significant role. But just because Shroud uses these, doesn't always mean that you should, too.
Keyboards come in various types, sizes, and switch types– and it's easy to get overwhelmed with all these kinds of stuff. That is why we came up with the most effective buying guide so you can pick a keyboard that will up your A-game.
How to Choose the Right Gaming Keyboard for You?
We've filtered all the tips you would find online and rounded up only the things that matter when choosing a gaming keyboard. We want you to go straight to the good part and save a significant amount of time here.
Budget
Shroud doesn't need to run a budget check. So, see how much you're willing to spend and stick to it. Note that you can easily go a little over the budget, so you might want to consider that and limit how far you can go.
Good gaming keyboards cost around $85, although you can quickly get as cheap as under $50. Anything above $100 is considered a premium-grade keyboard, and these can cost as much as $200 and over. But ideally, you'd want to settle around $130-$150 for a good quality gaming keyboard.
More expensive keyboards boast unique features that may or may not benefit you. So let's take a look at what features keyboards have so you can identify what you need from what you don't.
Switch Type (Membrane vs. Mechanical)
Between membrane and mechanical switches, membrane keyboards are the most common. But they aren't recommended for gaming. They give a mushy feel, don't last long, and feel cheap.
The way a membrane keyboard works is it registers the key when the membrane is pushed to the circuit layer. Because it lacks a mechanical mechanism, it's a lot quieter. However, these aren't easy to clean and can't be customized in any way.
Mechanical keyboards are notable for their satisfying tactile feel because, unlike membrane keyboards, they have mechanical switches. These switches are spring-loaded and give off a loud sound that varies depending on the type of switch.
Cherry MX switches are the most popular type, but other companies like Razer have started producing their proprietary switches that basically mimics Cherry switches. In terms of longevity, these are proven to last longer than membrane keyboards.
These kinds of switches can also be customized. With a keycap remover, you can take the cap out and swap them with plenty of available caps available in the market.
Needless to say, mechanical switches are the way to go.
Wired or Wireless
While there are plenty of wireless mechanical keyboards that were said to perform just as close as wired keyboards, wired are still preferred by gamers— and for a better reason.
Wireless signals tend to cause input lag, which is not good for gaming, especially when you're playing competitively. If you wish to improve your gaming experience, you'd want to invest in a wired gaming keyboard.
Overall, there's nothing wrong with going wireless if you so wish. It boils down to what type of keyboard is perfect for your needs.
Form Factor
Keyboards come in different sizes, and picking the right size is just as important as choosing the right type of features.
Full-Length Keyboard
These have all the 104 keys, including the numerical keypads. If space is not an issue or you need numerical keypads for purposes other than gaming, full-length-sized keyboards are for you.
TKL or TenKeyLess Keyboard
TKL keyboards are keyboards that don't have number pads. That means they're 20% smaller than full-length and only 87 keys to play around with.
If space is somewhat a concern, this may just help give you a little more real-estate. Or, if you don't see any need for a numerical keypad for your setup, this should make it worth getting. After all, TKL or Tenkeyless keyboards are ergonomically designed to give your elbows less pressure since they'll be closer.
75% Keyboard
The 75% keyboard is very similar to the TKL keyboards, but all the keys are clustered together, leaving little to no space in between keys. These usually have no arrow keys as well.
Although they're smaller, you still have the function keys at the top-most part of the keyboard. However, because there are no spaces between the numbers and the function keys, this may cause a problem if you're used to where the function keys are originally found. However, a few hours of use should make it feel more comfortable
60% Keyboard
These are the smallest type of keyboard, and probably the most common keyboard type after full-size and TKL. To sum up, 60% keyboards only have the QWERTY keys, left and right CTRL and shift keys, tab, escape, and number keys at the top, backspace, and enter.
Software
Keyboards nowadays can be customized with the help of their proprietary software. These can be used if you want to add extra keys or Macro commands.
If you're playing a game that requires a sophisticated combo of keys, a gaming keyboard with a user-friendly software can help you execute these combos with a single press of a button.
Do note that the number of macro commands you can save will vary from one model to the next. This is why we always recommend that you look into each of the proprietary software so you can compare and choose according to your needs.
Here are some of the links to some of the popular keyboard software:
In all honesty, you won't go wrong with any company as long as it meets your custom-mapping needs.
Final Thoughts
Being inspired to be the best you can be is something you shouldn't take away from someone. But buying a gaming keyboard has to be inspired by what you are as a gamer.
Shroud has a lot of money to get whatever type of keyboard he wishes to get his hands on– even more expensive than what he's using now. However, he decided to settle with these for a reason.
Having evaluated the keyboard shroud uses, we really hope you're inspired to evaluate your capability yet again so you can pick the perfect gaming keyboard for you.