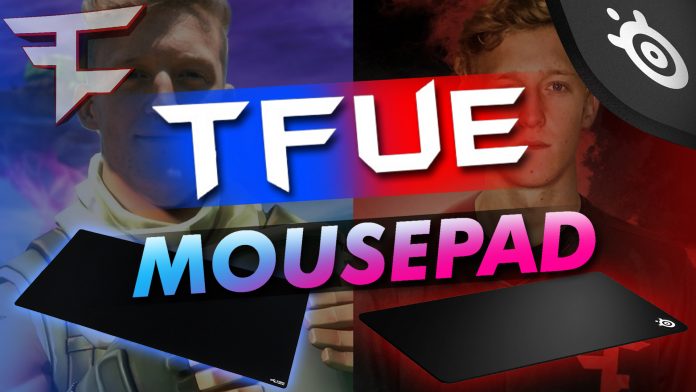 Tfue is one of the best players on Fortnite for winning many tournaments. His consistency in pulling off epic clutches and outplays on Fortnite is one reason people have been following him. As of July 29, 2020, he has over 8.8 million followers on Twitch.
Besides being entertained, people also want to play as good as he is, which is why people are also wondering what kind of gaming peripherals he's using. Aside from his mouse, keyboard, and monitor, many wonder what type of mouse pad he's using.
Who is Tfue?
Turner Ellis Tenney, popularly known as "Tfue", is an American online streamer personality and eSports player. He may be playing other games such as Call of Duty: Warzone on Twitch now, but he's popularly known for playing Fortnite Battle Royal.
GOT MY FIRST SOLO WIN ON WARZONE WOOOO😂 pic.twitter.com/clNCy2hJtc

— Tfue (@TTfue) May 25, 2020
On April 30, 2018, he joined FaZe Clan, a professional eSports team, and participated in various tournaments.
He also joined and won many tournaments– one of the more recent ones was the SuperGames Charity Tournament, where two streamers teamed up with two other professional athletes to compete as a four-person squad against 19 other squads.
Tfue's Current and Old Mouse Pads
Tfue's Current Mouse Pad: Glorious 3XL Extended Gaming Mouse Pad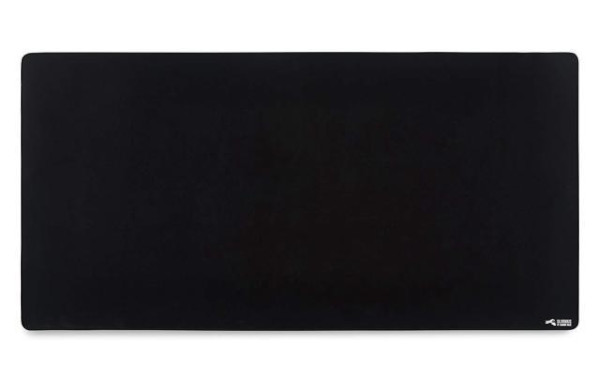 Specs:
Height: 24.02" (601 mm) | Width: 48.03" (1220 mm) | Depth: 3 mm | Weight: 1000 grams
It's not a desk; it's not a table mat, it's Tfue's giant mousepad!
Starting Stream…. https://t.co/gF6wiuJwMz pic.twitter.com/3MSWPSvubQ

— Tfue (@TTfue) October 21, 2019
Wait– Tfue is using a mousepad?
Well, yes. Tfue is using the Glorious 3XL mouse pad. It's so large some people mistook it for his desk! Unlike many streamers, Tfue went all out to achieve maximum movement when spraying his guns.
The dimensions of this mousepad surpassed the width of most mouse pads by over half a meter and over one meter long in length! It's a 24″ x 48″ mouse pad that many think is overkill. To some, maybe, but for competitive players, larger mouse pads matter.
Like other mouse pads in the market, this comes rolled up in its package and immediately lays flat when taken out of the box.
The mouse pad is finished with high-quality stitched edges that ensures longevity and durability altogether. The only thing you'd notice on the mousepad is the logo on the lower right corner of the pad– don't worry, it's so small you won't even see it's there.
The underside of the base has a textured rubber, which does keep the pad in place. Just don't try to move it around to test any slippage because a mouse pad this large is already enough to keep the entire thing in place.
It has a smooth surface that's comfortable enough for most gaming mice you'd find in the market. For an FPS player, the large area is an attractive feature and should allow you to perform epic flick shots.
But is it necessary to get a mouse pad this big? Not really, especially if you don't have a desk as large as Tfue's.
Tfue's Old Mousepad: SteelSeries QcK XXL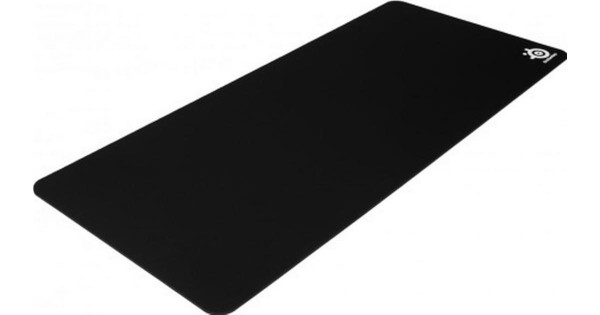 Specs:
Height: 15.75 inches (400 mm) | Width: 35.43 inches (900 mm) | Depth: 0.16 inches (4 mm) | Weight: 7.1 ounces (200 grams)
Before Tfue decided to use the super large mousepad by Glorious, he's using the SteelSeries QcK XXL mouse pad. This is a tournament-grade mouse pad that delivers.
It is packed inside a high-quality retail box with a small cutout at the bottom of the box so you can feel the surface and the mouse pad in general. If you're planning to get one of these, I recommend you "feel" it out first in your nearest computer retail store.
If you're unsure if it's right for you, check our detailed buying guide section below so you'll know what type of mouse pad is perfect for you.
The surface is specifically designed to meet tournament standards; From the size that can fit both keyboard and mouse to its tournament-grade surface optimized for both laser and optical mice.
You'll also find a non-slip rubber base that doesn't just prevent slippage but also provides additional comfort since it has a depth of 4mm.
It rolls out perfectly once taken out of the box, and the only thing you'd notice is the white SteelSeries logo located on the bottom right corner of the mouse pad. But it's so small and shouldn't bother you at all when playing.
Do note that the material is a magnet for specks of dust and dirt, so you'll need to clean it regularly.
Essential Things to Consider when Looking for a Mouse Pad
You have to pair your mouse with the right mouse pad to give justice to your gaming mouse. But will all the selections, it can be hard to come up with the right one.
If you're planning to get one, make sure you refer to the following to boost your gaming experience and potential significantly.
How Big or Small do You Need?
Do you need a mouse pad that's as big as Tfue's, or does a smaller one– like Shroud's mousepad enough? Similar to choosing a mousepad, you have to pick according to your game style.
Most FPS (first-person shooter) players would set their DPI lower so they can aim more accurately. This means a larger mousepad should give enough area to cover all your mouse movements.
On the contrary, if you're used to playing at high DPI settings, a small mouse pad should be enough since you won't be using all the area anyway.
Ultimately, it boils down to which DPI setting you're used to. By referring to the above statement, you should have a good idea of what size is best for you.
Which Surface is Ideal for Your Mouse?
Mousepads with a smooth surface area are perfect for heavier gaming mice. Since you'll need more effort to glide the mouse around, the smooth surface should help make gliding easier and more balanced.
On the contrary, textured mouse pads should be paired with lighter gaming mice, since lighter gaming mice are known to overshoot intended targets. With a rougher texture, this should help minimize these overshoots and increases your chances of hitting your targets more often.
Do You Prefer Hard or Soft Mousepads?
Choosing between hard and soft mousepads may vary from user to user. They may have their pros and cons, but it ultimately boils down to which type you're most comfortable with.
Soft mouse pads offer a more comfortable experience since they're usually made of cloth material. This lets your mouse "sink" in a way, which means you need some effort when gliding across. They may last longer than hard mouse pads, but they tend to wear in time.
Hard mouse pads usually are made of plastic material, which makes gliding easy, since it doesn't "sink" your mouse into the material. However, they're more prone to damage than cloth mouse pads.
Check the Base
The base of the mouse pad is another crucial feature you should take into consideration.
There are three (3) types of mouse pad base:
Heavy Base (5mm) – This provides the most comfort among the three, but can significantly jeopardize your aiming and gliding performance.
Slim Base (2mm) – This is the least comfortable among the three, but they do an excellent job of making gliding easier.
Standard Base (3mm) – This is the perfect base for most users as it isn't as thick or thin as the two above mentioned types. If you're unsure, this should give you everything you need.
Another thing you should look at is the construction underneath the mouse pad. Mouse pads with poor base quality tend to move around easily if you move your mouse a lot, and that's something you don't want to happen in the heat of the battle.
To ensure that it'll stay in place, make it a habit to check how the base underneath is constructed.
Is it Stitched or Not?
Stitched mouse pads are highly recommended for people who frequently join LAN parties as they're more durable overall than mouse pads that don't come with stitched edges.
If you accidentally spilled something on the mouse pad, you can leave it in the washing machine for a few minutes as they're known to handle the pressure reasonably well than non-stitched mousepads. But note that mouse pads are intended only to be air-dried. So you might want to take note of that.
Non-stitched mouse pads may not interfere with your gliding experience, but they aren't as durable as a stitched mouse pad. Plus, the surface material and the base detach easily since they're only held together by an adhesive. But if you're just going to use them at home, it should still last long enough.
Do You Fancy RGB?
Like all things "gaming-related", some mouse pads are built with RGB lights. While they don't help improve aim and experience, they do look nice.
However, other gaming companies went for the extra mile and added additional features that may work well with the RGB lighting feature. A good example is the Logitech G PowerPlay Wireless Charging System.
If you're using a wireless gaming mouse (like the Logitech G903 and the Logitech G703) that's compatible with Logitech's PowerPlay, you can play for as long as you want and not worry about charging or changing batteries since it wirelessly charges the mouse as long as it's on the mouse pad.
Ultimately, it boils down to whether you can afford to spare a few more for these "extra" features.
Conclusion
There you have it– our in-depth review of Tfue's current and previous mouse pads. What do you think?
Note that not everyone would benefit from either mouse pads, as it still depends on which is perfect for you. If you're still unsure, check our detailed buying guide above to make the right choice.
Do you want a mouse pad as big as what Tfue is currently using? Tell us in the comments!