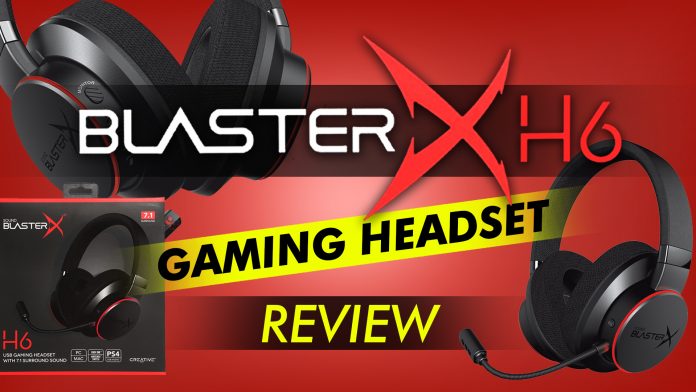 Quick Specifications
Type
Over-ear
Enclosure
Closed-back
Driver Size
50 mm
Frequency Response
20 Hz to 20 kHz
Sensitivity
114 dB
Impedance
32 Ω
Weight
330 g
Software Support
Sound Blaster Connect
Creative is a brand once renowned for producing excellent gaming headphones. The company has been relatively quiet in recent years, so I was thrilled when they sent over a review sample of the Sound BlasterX H6. Having been overshadowed by gaming industry giants like HyperX and Razer for quite a while, Creative managed to put together one of the few gaming headsets on the market that strikes a perfect balance between value and performance.
Package Contents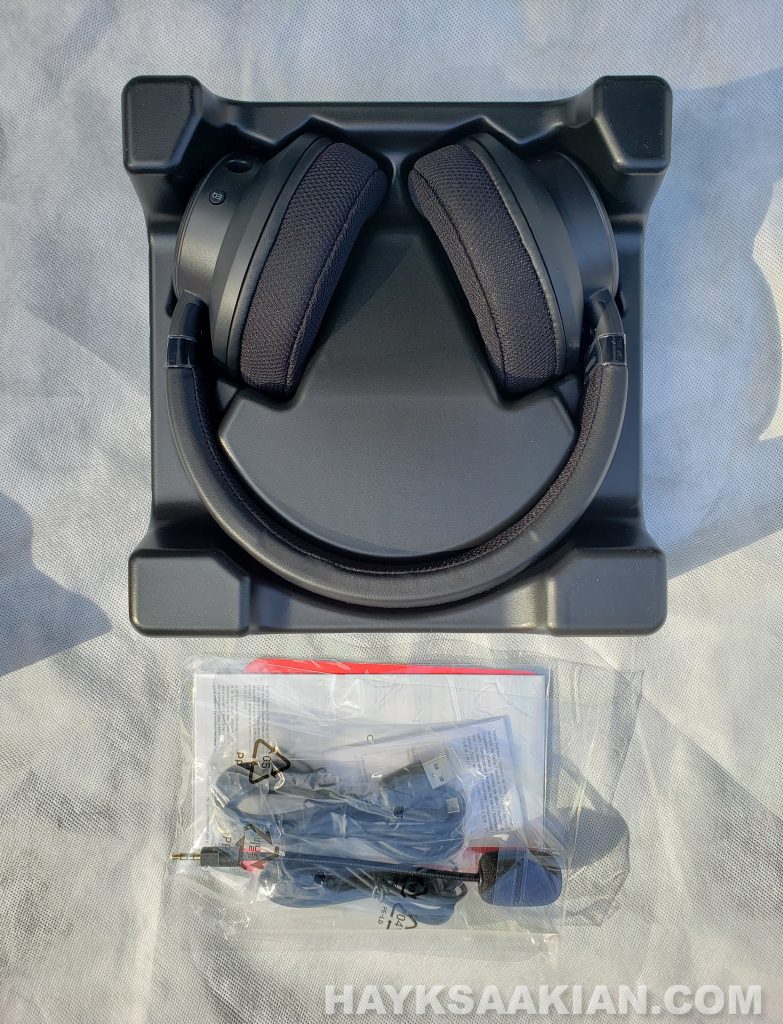 Creative Sound BlasterX H6 Gaming Headset

Detachable Microphone

USB Cable

Audio Jack Cable

Quick Setup Guide
Design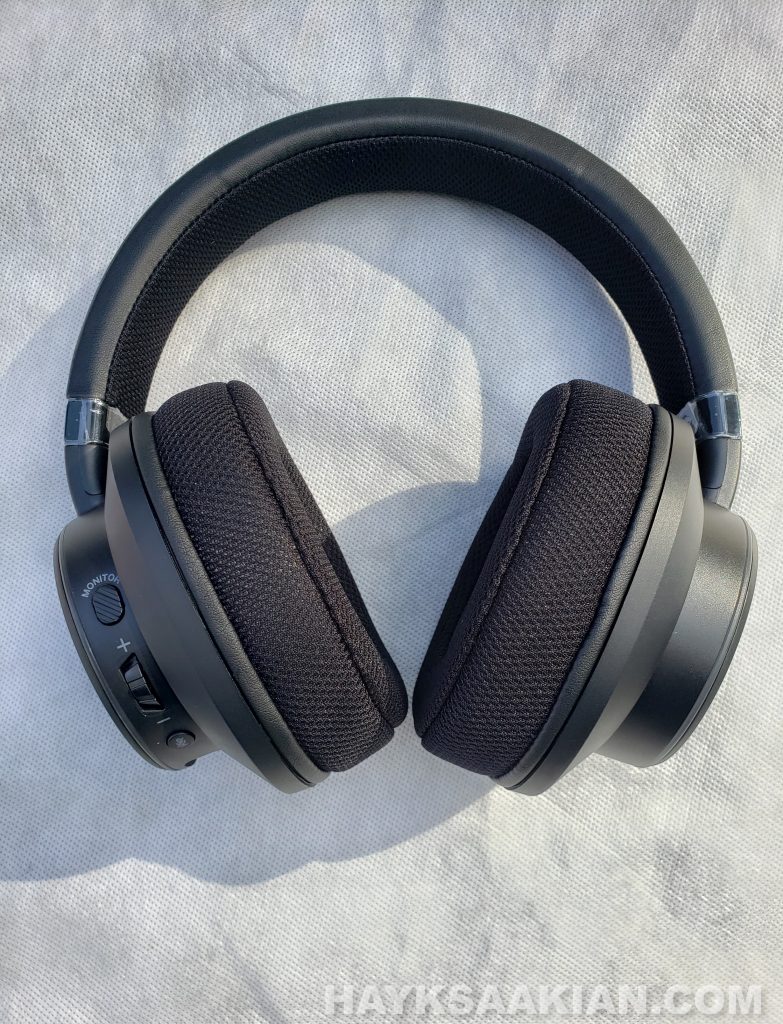 At first glance, the Sound BlasterX H6 looks like your run-of-the-mill sleek gaming headset. It features a traditional over-ear headband design with an all-black housing that is fairly common with these types of products. Controls are embedded onto the left earcup to make them easily accessible. The only aspects of this headset that appeals to visual flair are the subtle lighting rings around the earcups that can be customized via the software. As polarizing as this design choice may be, it certainly bodes well for user comfort and stability.
Comfort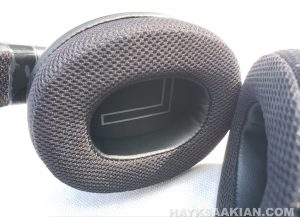 When I first used the Sound BlasterX H6, I found it to be lighter than expected. It immediately conformed to the shape of my head to create a snug fit without excessive clamping force. The ear cushions made of high-density memory foam and breathable fabric material are also cozy and do a decent job of blocking ambient noise and preventing audio leakage. I used the headset for around two hours straight, and I didn't feel any discomfort or ear fatigue afterward. While it should be worth noting that the padding on the headband is rather thin, it didn't feel uncomfortable at all.
Build Quality
The Sound BlasterX H6 is made primarily of plastic, but it is supported by a flexible metal band to provide stability and durability. It has a premium appeal despite the all-plastic and lightweight design. Moreover, all the individual components are robust enough to survive accidental drops. The control buttons feel tactile and responsive, while removable earcup cushions fit securely in place.
Adjustability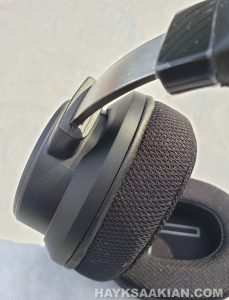 The Sound BlasterX H6 has an extendable headband to accommodate users who have wide-shaped heads. It allows you to conveniently slide the earcups up or down until you find the right adjustment. Unfortunately, the earcups don't swivel, which I found to be annoying since I like to rest headphones around my neck when they're not in use.
On the other hand, I liked the included detachable boom microphone as it is highly ergonomic and adds to the overall versatility of the headset. If I wanted to go for a walk and casually listen to music, I just had to remove the microphone.
Sound Quality
The Sound BlasterX H6 features large neodymium magnet drivers that are optimized to deliver a slight emphasis on bass for an immersive gaming experience. Nevertheless, I found the audio reproduction to be very well-balanced and suitable for multimedia use. I didn't even have to toggle with the software equalizer for it to generate the sound signature I wanted.
While most gaming headsets fall flat in midrange frequency sounds, the Sound BlasterX H6 is perfectly serviceable in this regard. Using the music hardware equalizer preset, it gave me a warm presence while listening to jazz music. Dialogue audio was rather hollow-sounding, but this product isn't marketed for cinephiles anyway.
Gaming
As a headset that is centered around gaming, the Sound BlasterX H6 is compatible with PC, Mac, Xbox One, PlayStation 4, and Nintendo Switch. This versatility is made possible by the variety of output options it offers, including both USB and the traditional 3.5 mm audio jack. I played Apex Legends using this headset, and I was genuinely impressed by the wide soundstage. It has a gaming feature called "Scout Mode," which essentially raises the frequencies of distant sounds to improve positional awareness. I enabled this feature, and it allowed me to pinpoint the source of detailed audio like footsteps and gunshots.
If you're not a fan of first-person shooters, the Sound BlasterX H6 also performs well in other video game genres. I played Animal Crossing: New Leaf on the Switch, and the background music sounded clean and crisp. I could even hear the bugs flying around my character, made even more immersive by the virtual surround sound.
Mobile
The Sound BlasterX H6 isn't certified for mobile use, but I still decided to test it out using my Samsung Galaxy S9. If your smartphone also has an audio jack, you can easily plug this in and use it as a headset. Surprisingly, call audio quality exceeded my expectations. It was very easy to hear the other person on the line during a phone call. I even tested the microphone, and it had no problem transmitting my speech to the person on the other end of the call.
I also used the Sound BlasterX H6 to play music on Spotify Premium, and I didn't notice a difference in audio quality compared to my tests on PC and the Nintendo Switch. However, it is worth noting that manually toggling the equalizer and creating custom presets can only be done through PC.
Other Features
Equalizer Presets
The Sound BlasterX H6 comes with three on-board equalizer profiles for games, movies, and music. You don't need to access the proprietary software to activate these presets as they are hardware-embedded. Instead, you can switch between them by pressing the EQ button on the left earcup. While I liked the addition of these equalizer profiles, I could barely tell the difference between them and preferred using the neutral setting.
Ambient Monitoring
Since the Sound BlasterX H6 has a closed-back enclosure design, it doesn't let in much ambient noise. The ambient monitoring feature uses a tiny microphone inside the headset to pick up environmental sounds so you can be aware of your surroundings while keeping the headset on.
Virtual Surround Sound
I've never been a big proponent of virtual surround sound since they pale in comparison to the real thing, but the application of this feature on the Sound BlasterX H6 is quite decent. It effectively expands the soundstage without making audio seem too distant and thin.
Microphone
While playing Apex Legends, I used the detachable boom microphone to communicate with teammates. I instantly appreciated the inclusion of a windscreen since it helped block plosive sounds, and my teammates were able to hear me loud and clear. However, don't expect this microphone to be serviceable if you want to use it for streaming, podcasting, or any other serious recording work.
Controls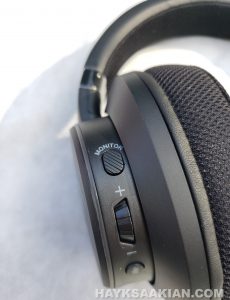 The control layout of the Sound BlasterX H6 is simple yet highly functional. The buttons and volume control dial are strategically placed on the left earcup for easy access and allows you to focus on your game without having to take your right hand off the mouse. It has two specialized buttons for the EQ and Monitor features.
The volume wheel is a particularly interesting aspect of the Sound BlasterX H6. It is designed to give users maximum control over the volume level, but it only works when the headset is receiving power through a USB connection. Other than that, the controls are really easy to get accustomed to and work as expected.
Software Support
The Sound BlasterX H6 has a proprietary software application for PC called Sound Blaster Connect. I was quite fond of the program and found myself spending a significant amount of time altering and creating custom audio profiles. It even allowed me to customize the ring lighting, choosing between effects like solid color, pulsating, music reactive, and color cycle.
Conclusion
The Sound BlasterX H6 is undoubtedly one of the most well-rounded gaming headsets on the market. It offers great value for money, supreme comfort, excellent software support, and great connectivity.