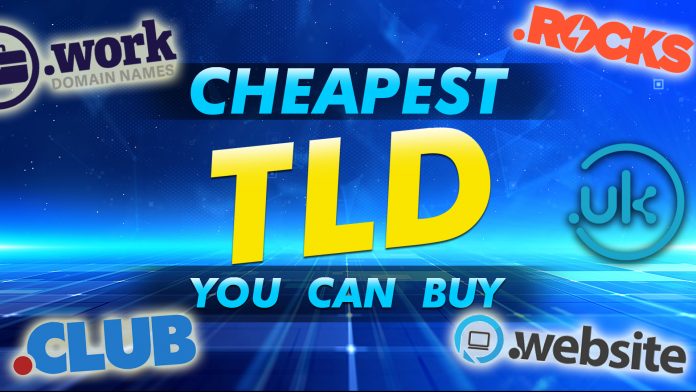 There are many new TOP level domain names being released to the public every month.
I have compiled a spreadsheet of TLD prices on google docs.
Cheapest Prices on November 28 2018
I sampled the most inexpensive domain extensions available on 11/28/18 and organized them into a table below:
| | | |
| --- | --- | --- |
| TLD | Price | Yearly Renewal Rate |
| .icu | $0.98 | $7.88 |
| .us | $1.88 | $8.48 |
| .name | $8.88 | $8.88 |
4/4/2020 Update: NameSilo is another registrar that offers cheap domains. Currently an .XYZ domain goes for $0.99. See detailed pricing here: https://www.namesilo.com/pricing
Lowest cost registrars to buy from:
PorkBun.com

RegTons.com

Alldomains.hosting

crazydomains.com
Table of Contents for TLD information
Why should you care about the new TLDs?
For example, let's say you have a new business idea and you want to buy the domain name for your company. Instead of using reallyverboseandlongname.com you might use a clearer, and shorter shorter.website or shorter.club among hundreds of generic top level domains.
How do you pick the Best TLD for you?
Conveniently, enom.com has categorized the new names based on your company's industry.
Imagine you're a limousine company, among thousands in a given city. What domain name would you choose for you website?
Many limo companies use something like CITY_NAME + "towncarservice.com" because when they registered their website in the mid 2000s that's all that was left of the most obvious dot com names.
In 2015, you might still find the lucky CITY_NAME.limo or AIRPORT_NAME.limo as available options on namecheap.com or various other registrars.
Compared to 2005, you have many more options in 2015.
ICAAN is the organization responsible for permitting new .names — technically known as generic top level domains. In the past few years they have released an increasing number of new names like .limo, .club, and .website among others.
There are so many new names, that if you try and search for a new TLD domain name on namecheap.com your browser window will slow down after loading all of them. If you just want a cheap tld, then sorting through the list is even harder.
How do you sort through it all? Beyond topic or category, price is also very important when you chose a new domain.
Some top level domains like .inc cost around $2100 per year from most registrars ($2,098.00/yr on namecheap when I checked). Others like .best might cost $90 per year — quite far from the cheaper tlds.
Here are a few more expensive TLDs, with some of the highest prices I've seen for non-premium domains.
name — cost on namecheap
.realty – 298.00
.creditcard – 118.88
.ceo – 88.88
.credit – 78.88
For reference, the average .com name is 10 dollars per year from most domain name registrars — and that's before using any coupon codes.
Under $10 – Cheapest new gTLDs (generic top level domains)
The cheapest domain available on any given day will vary, but these extensions should generally be very good deals:
.work 4.88
.website 4.88
.uk 7.58
.rocks 7.88
.club 7.88
.click 8.88
.link 8.88
.fr 9.05
.audio 9.88
.juegos 9.88
.pictures 9.88
If you want to see the full list of the best deals, I made a list of cheapest TLDs along with their prices on google docs.
Now that you're informed, I wish you good luck with your next domain purchase.
Useful lists of top level extensions
TLDs under $1.00
.host
.icu
.pw
.website
.xyz
TLDs $1.00 to under $2.00
.club $1.28
.site $1.49
.space $1.49
.fun $1.49
.info $1.99
.press $1.49
.us $1.88
.agency $1.88
.pro $1.88
.world $1.88
.services $1.88
.rocks $1.88
.live $1.88
.life $1.88
.today $1.88
.online $1.99
Lowest renewal prices
.icu renews for 7.68 per year
.pw renews for 9.88 per year
.space renews for 9.88 per year
.us renews for 8.48 per year

TLDs that get really expensive after the first year (avoid these)

.host renews for 84.88
.press renews for 63.88
.site renews for 25.88
TLDs with meaningful names (Useful for SEO)
.club
.host
.site
.space
.us
.website
.fun
.info
.agency
.pro
.world
.services
.rocks
.press
.online
.live
.life
.today
Frequently Discounted Extensions
The most popular tlds are often discounted on namecheap. Look for their coupon codes before paying for any of the following names:
.COM = $9.95 + $0.18 ICANN Fee
.NET = $12.09 + $0.18 ICANN Fee
.ORG = $11.51 + $0.18 ICANN Fee
.INFO = $12.21 + $0.18 ICANN Fee
.BIZ = $13.12 + $0.18 ICANN Fee
Question for the Audience on TLD Prices
Finally, Let me leave you with a parting question: have you recently bought a domain name with one of these new gTLDs? If you have, you can share the domain in the comments. If you haven't, then I'd like to know why not. If you found a sale that's even cheaper than my cheapest TLDs list then please share it below so that I could improve my list.